New York City, Newark officially contenders for Amazon's HQ2
Amazon announced on Thursday it narrowed its list of potential cities for its second headquarters to 20, with New York City and Newark as candidates. The tech giant said it received 238 proposals, evaluating each based on the criteria outlined in their RFP and then selecting cities to move on to the next phase. The 20 chosen cities will now work with Amazon to provide any additional information needed, with the company expected to make a decision in 2018 about where its HQ2 will land.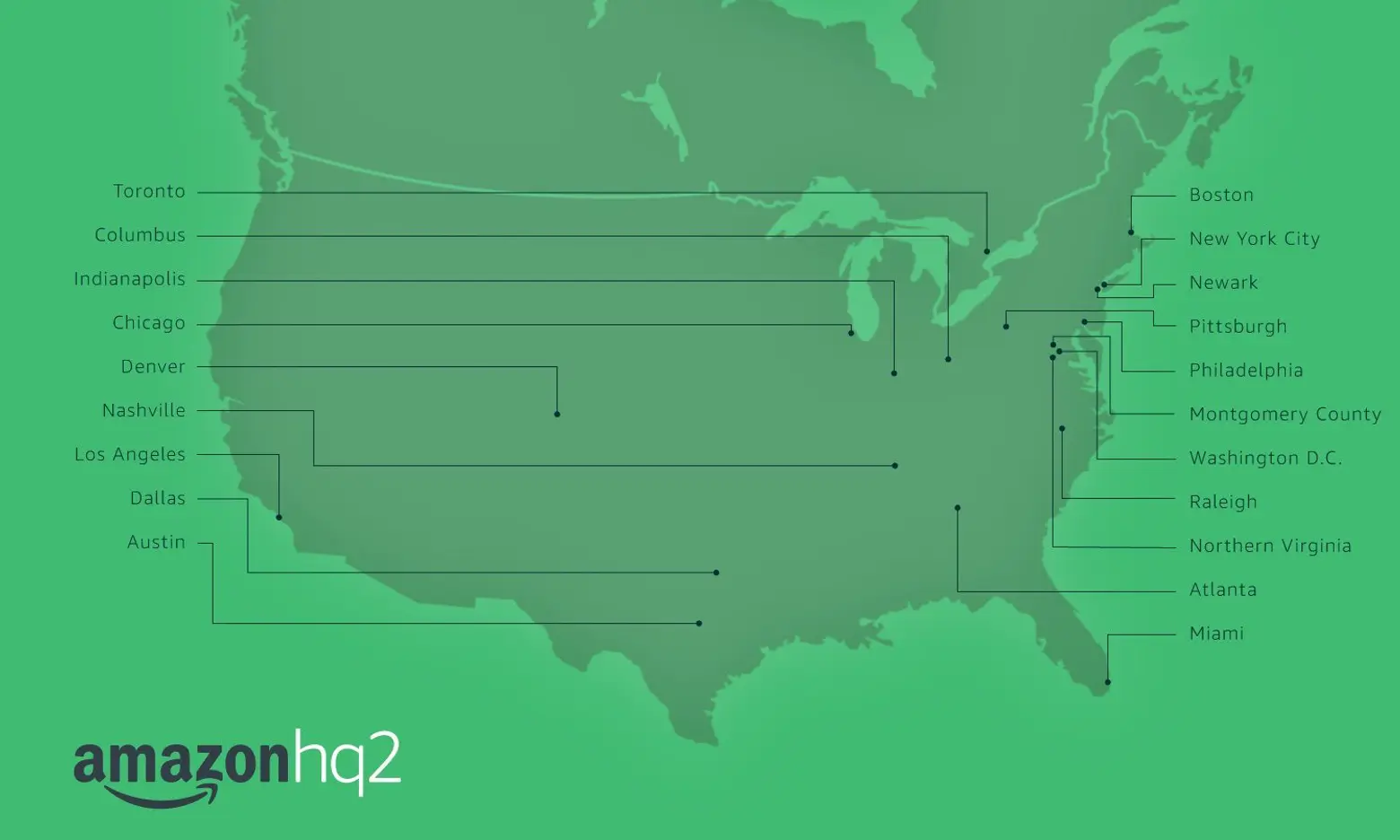 In September, Amazon first announced plans to build a second corporate headquarters in North America, sending cities scrambling to get their proposals together. According to the company, HQ2 would bring $5 billion in initial city investment and 50,000 high-paying jobs. New York City pitched four neighborhoods in their bid: Midtown West, Long Island City, the Brooklyn Tech Triangle (DUMBO, Downtown Brooklyn and the Navy Yard) and Lower Manhattan.
In his pitch, Mayor Bill de Blasio called the city "uniquely qualified" because it boasts the country's largest tech talent pool, competitive labor costs and the largest air-transit and public transportation system in the nation.
We're excited to be one step closer to landing the 50,000 good-paying jobs in Amazon's HQ2. No city in the world has the talent New York City can offer! https://t.co/4Z3nLBDZoi

— Bill de Blasio (@NYCMayor) January 18, 2018
Located just across the Hudson River, the city of Newark has also secured a spot on Amazon's HQ2 shortlist. In addition to being located to a major airport, Newark is home to six colleges with 60,000 students and has a lot of undeveloped space that could accommodate the 500,000 square feet of office space and eventually another 7.5 million square feet required for Amazon's headquarters. The city also has much more reasonable rents than NYC.
The mayor of Newark, Ras Baraka, told the New York Times that Amazon had a chance to redeem itself after the company pushed out lower-income residents in Washington to make room for its Seattle headquarters. "There's an opportunity to turn the page here and create a new narrative for the company," he said.
See the full list of 20 HQ2 candidates below:
Atlanta, GA
Austin, TX
Boston, MA
Chicago, IL
Columbus, OH
Dallas, TX
Denver, CO
Indianapolis, IN
Los Angeles, CA
Miami, FL
Montgomery County, MD
Nashville, TN
Newark, NJ
New York City, NY
Northern Virginia, VA
Philadelphia, PA
Pittsburgh, PA
Raleigh, NC
Toronto, ON
Washington D.C.
RELATED: