10 iconic hot dog joints in New York City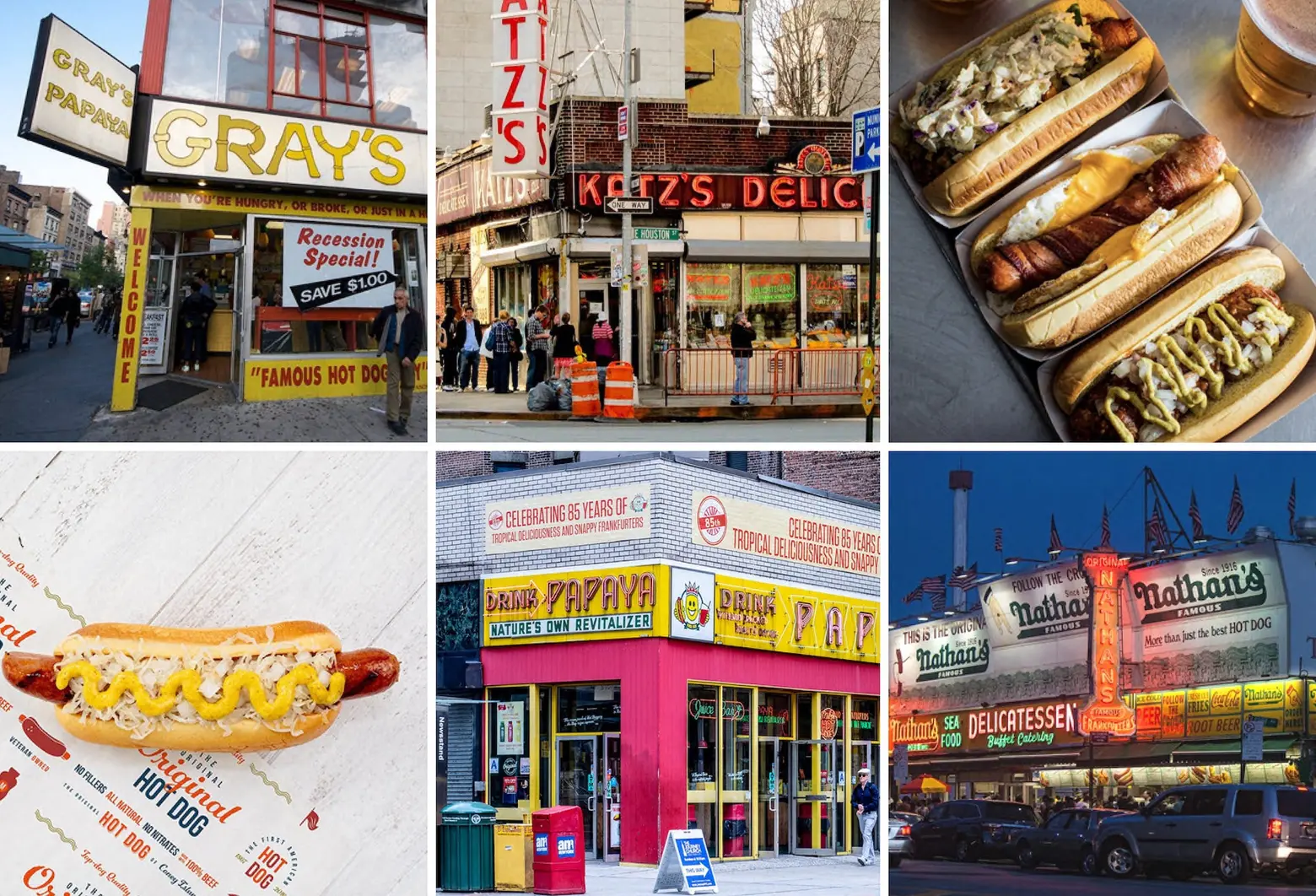 On July 20, the country celebrates National Hot Dog Day, the commemoration of a delicacy synonymous with New York City and summer. The origins of the hot dog can be traced to German immigrant Charles Feltman, who sold frankfurter sausages on a long bun as a convenient snack for hungry beachgoers during the late 1860s. More than 150 years later, New Yorkers still love hot dogs as a quick and affordable meal and there is no shortage of great spots throughout the city to grab a frank. From internationally-known Nathan's Famous to local favorites like Papaya King, here are 10 iconic hot dog joints in NYC.

Photo by Mike Licht on Flickr
Papaya King
179 East 86th Street
This Upper East Side hot dog haven has been feeding New Yorkers since the 1930s and is known for its tasteful combination of hot dogs and tropical fruit juices. Unfortunately for many of the storefront's loyal patrons, the renowned establishment may be facing its end, as the property it sits on was sold to a new developer last year for $21 million whose plans to demolish the site were filed with the city on June 28, 2022, according to the New York Times.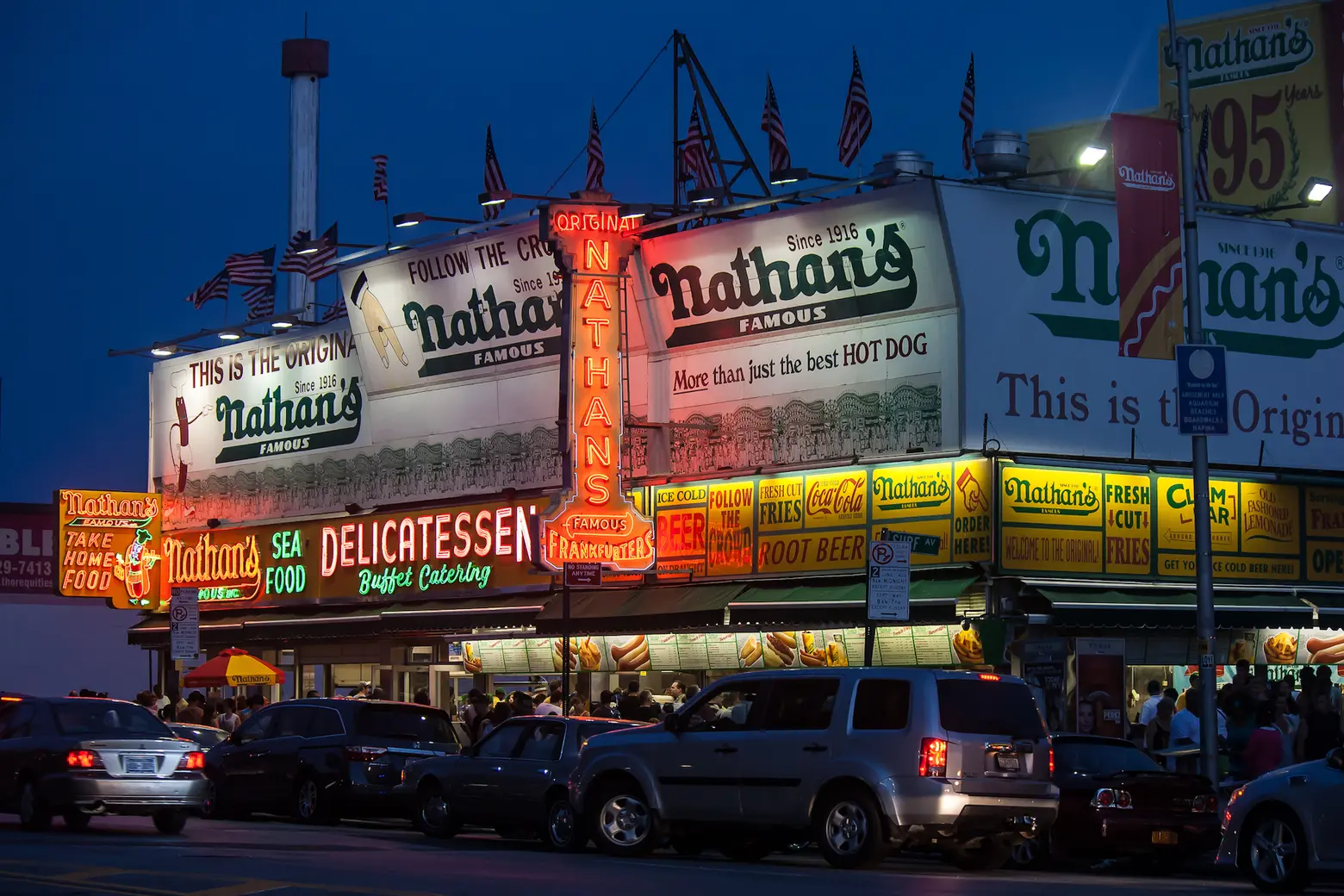 Image courtesy of drpavloff on Flickr
Nathan's Famous
In celebration of national hot dog day, one of the food's founding fathers is offering their famous dogs for free. On July 21 from 6:30 a.m. to 9 a.m., the Coney Island hot dog institution Nathan's Famous is setting up a cart in Rockefeller Center. While it established its notoriety on Coney Island's boardwalk, Nathan's has grown to be one of the largest hot dog brands, with its products being marketed for sale at approximately 78,000 locations across the country, according to the company.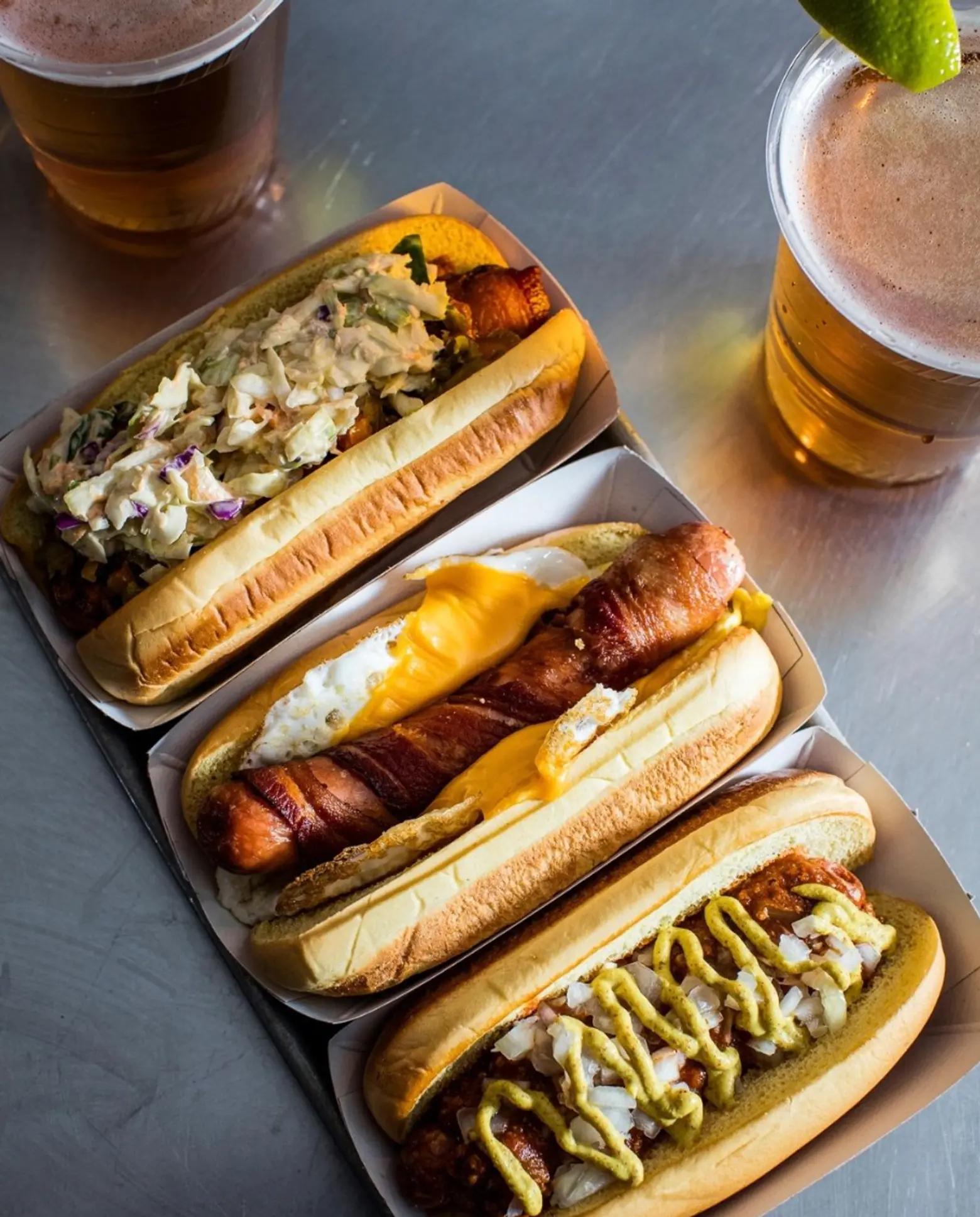 Image courtesy of Crif Dogs
Crif Dogs
113 St. Marks Place, Manhattan
First opened in 2001, Crif Dogs changed the hot dog game when it introduced its signature deep-fried, bacon-wrapped dogs and other creative combinations into the mix. New Yorkers quickly fell in love with Crif's unique style of hot dogs and two decades later, it's still one of NYC's best. In addition to hot dogs, Crif's also serves burgers, tater-tots, and drinks. In celebration of National Hot Dog Day, Crifs is offering a special "Franks and Dranks" deal from 4 p.m. to 6 p.m. nightly, which includes a build-your-own Crif Dog and a drink for $7.95. Please Don't Tell (PDT), the speakeasy situated behind Crif Dog through an inconspicuous-looking phone booth, will be offering cocktail specials to celebrate the special occasion.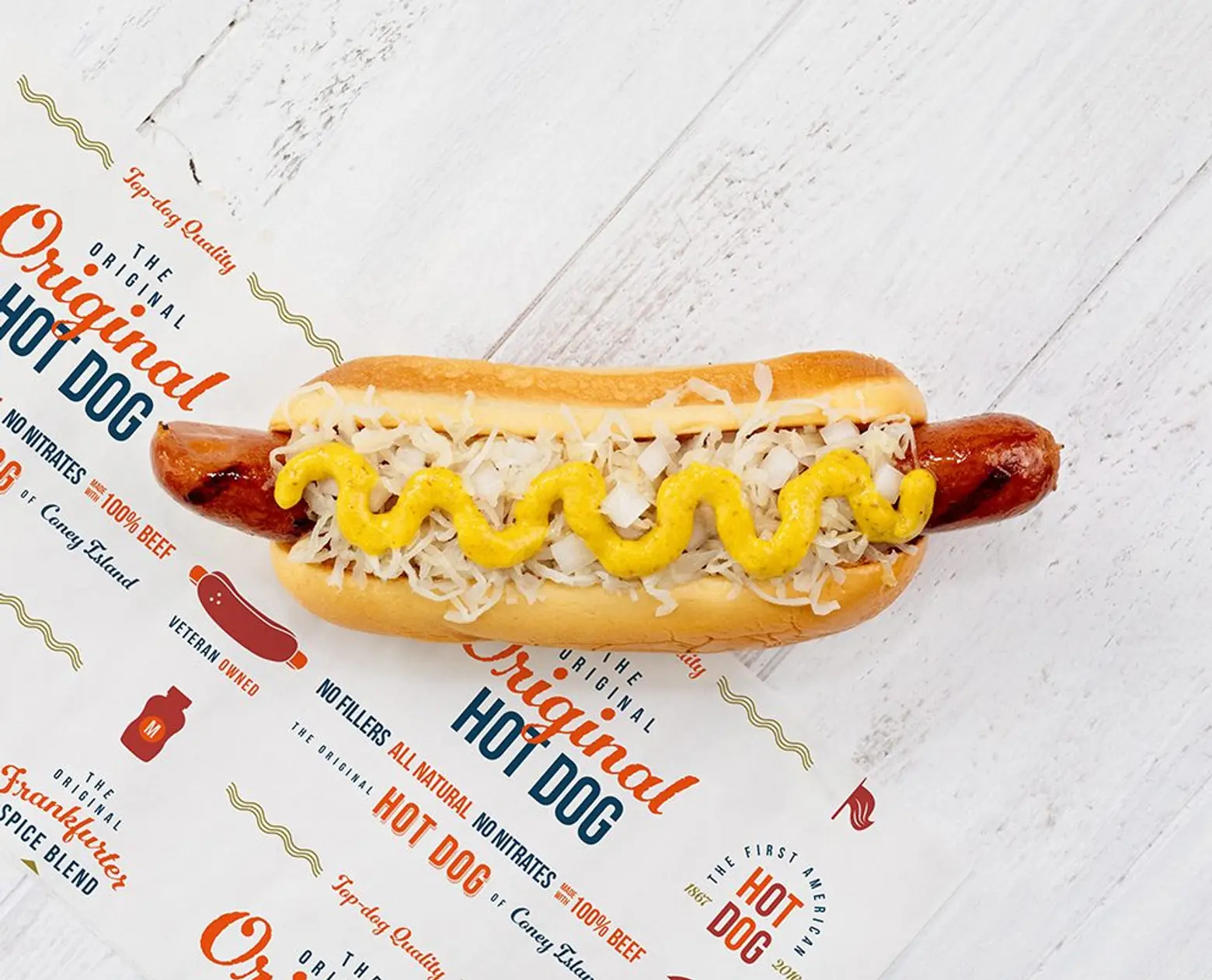 Image courtesy of Feltman's
Feltman's of Coney Island
Considered the inventor of the hot dog, Feltman's was established in 1867 on Coney Island by Charles Feltman, a German immigrant who invented the food as a quick, cheap, and easy meal for beachgoers to enjoy. Feltman's grew to become one of the world's largest restaurants at the time, growing from a humble pushcart to a block-long pavilion serving more than five million customers a year. Feltman's offers home delivery and their products can be found in grocery stores throughout the nation.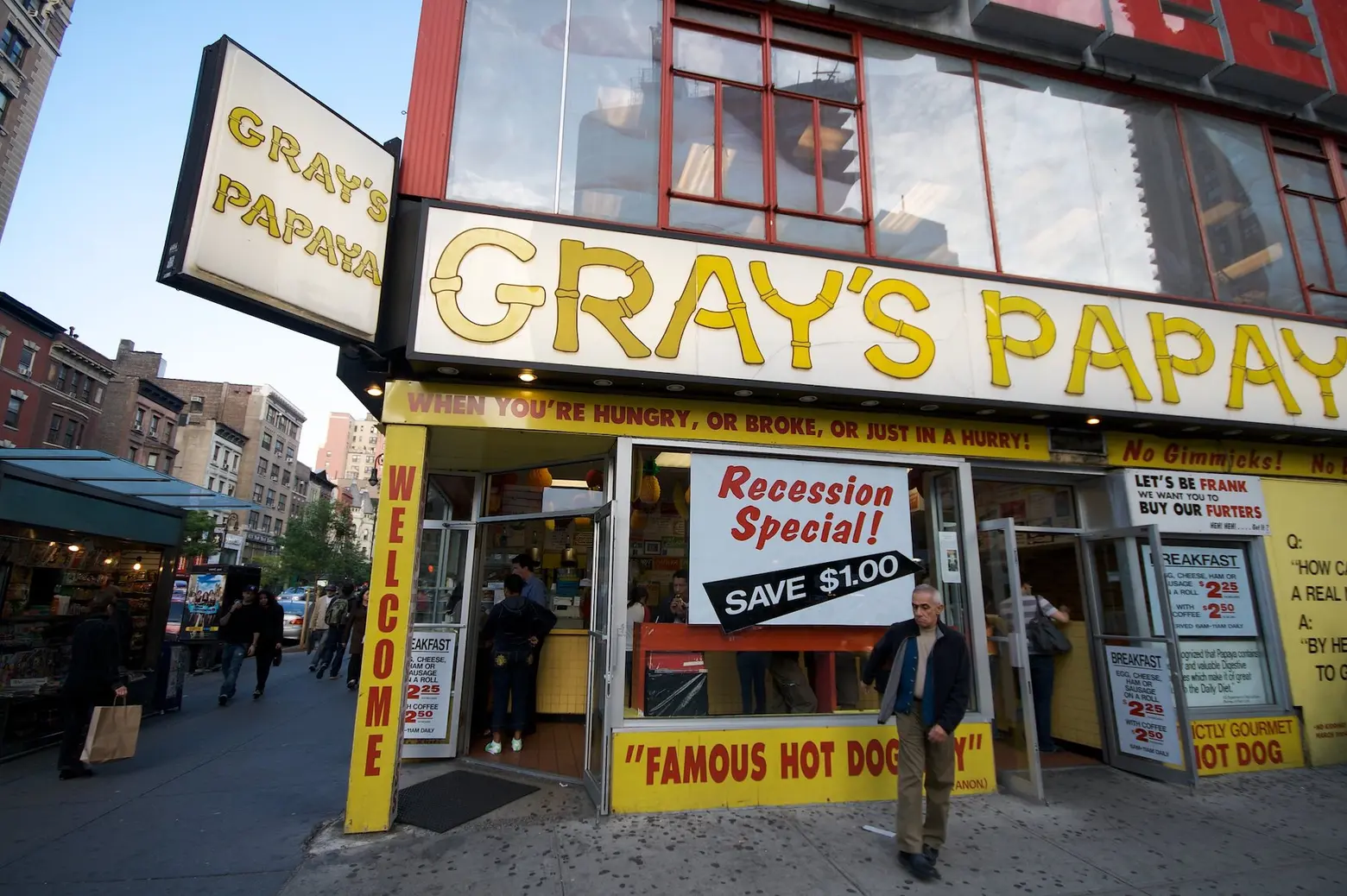 Image courtesy of David Joyce on Flickr
Gray's Papaya
2090 Broadway, Manhattan
Since 1973, Gray's Papaya has loyally served hungry New Yorkers from its location on the corner of Broadway and 72nd Street. The story goes that in the early 1970s, Papaya King started to franchise and opened a non-company store at 2090 Broadway. In 1973, owner Nicholas Gray closed his Papaya King branch and reopened it as Gray's Papaya and the rest is history. Gray's Papaya has made a name for itself with its own signature hot dogs and fruit drinks. Gray's also offer breakfast foods like bagels, donuts, and egg & cheese sandwiches. They offer nationwide shipping on their products through Goldbelly.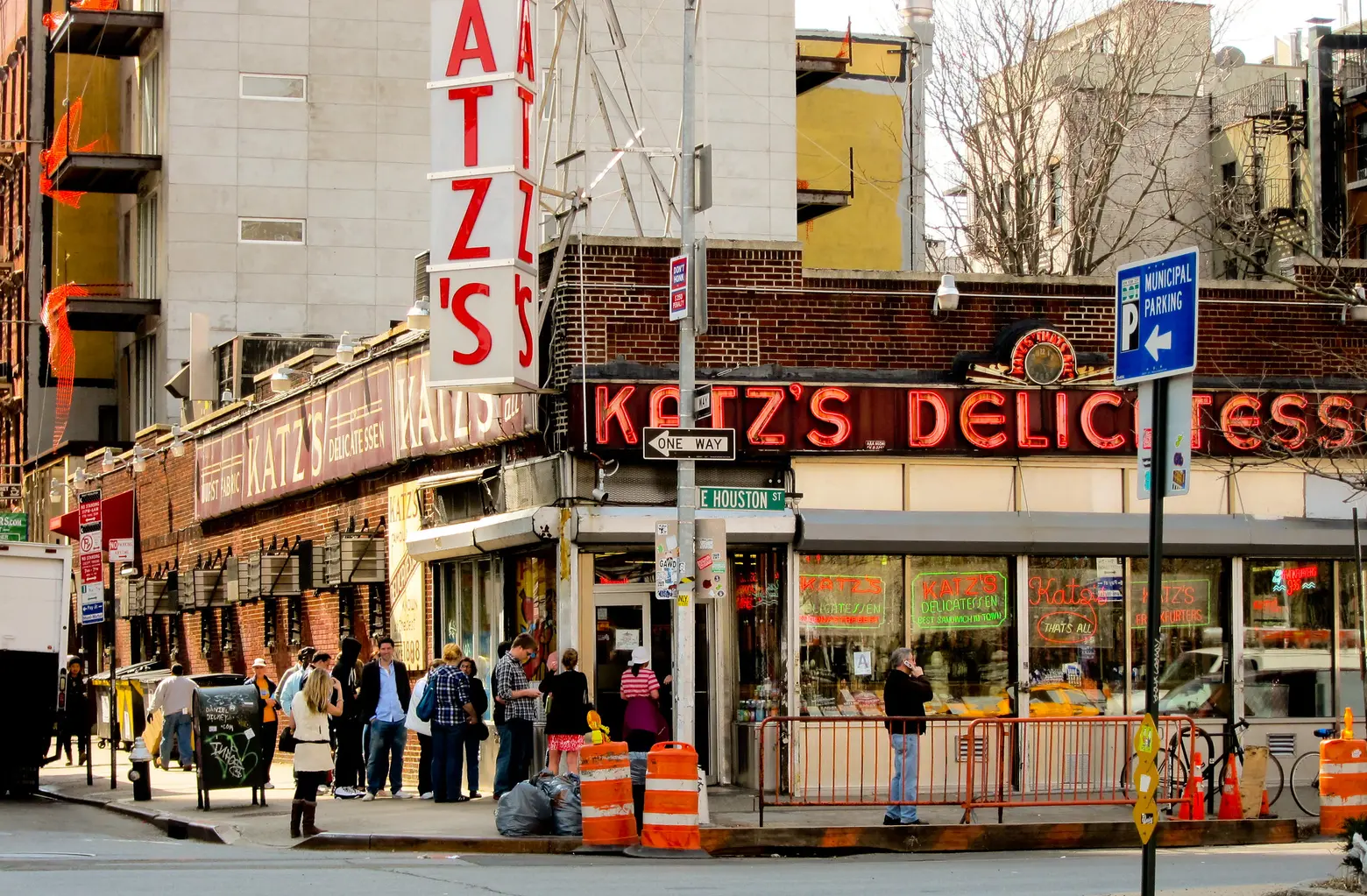 Image courtesy of ercwttmn on Flickr
Katz's Deli
205 East Houston Street, Manhattan
Perhaps best known for their towering deli sandwiches, Katz's also offers customers incredibly tasty frankfurters. In fact, their hot dog was voted the best in NYC by Grubstreet in 2018. You can visit the store and get one in person, or order for delivery on Katz's website.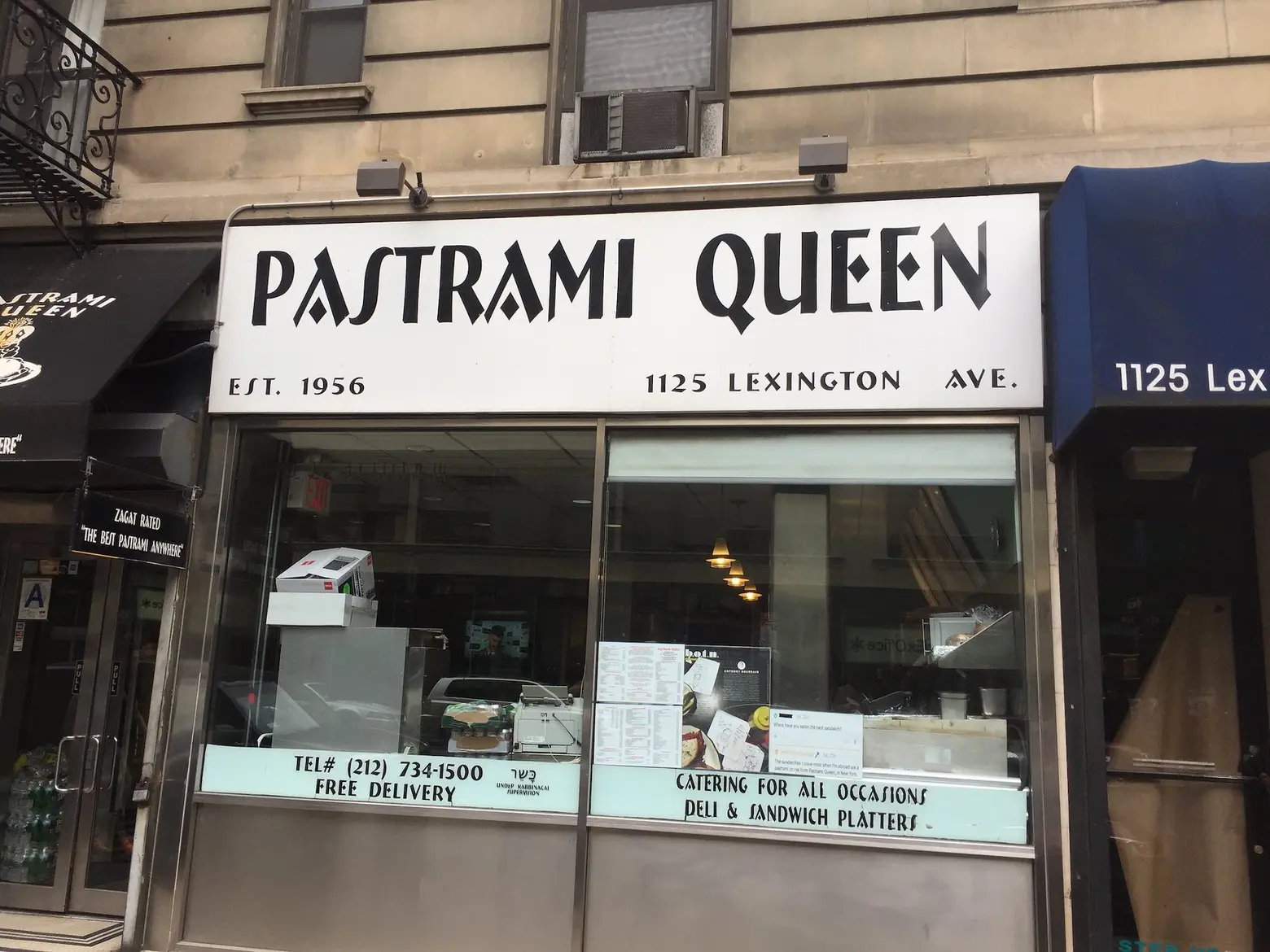 Image courtesy of Tjeerd Wiersma on Flickr
Pastrami Queen
138 West 72nd Street A, and 1125 Lexington Avenue #2, Manhattan
Pastrami Queen is highly regarded as one of the best delis in NYC, holding up against the likes of Katz's and other iconic institutions. In addition to being known for their namesake, Pastrami Queen's hot dogs have received great acclaim. In 2021, Pastrami Queen's frankfurters were featured on Eater NY's list of the city's best hot dogs.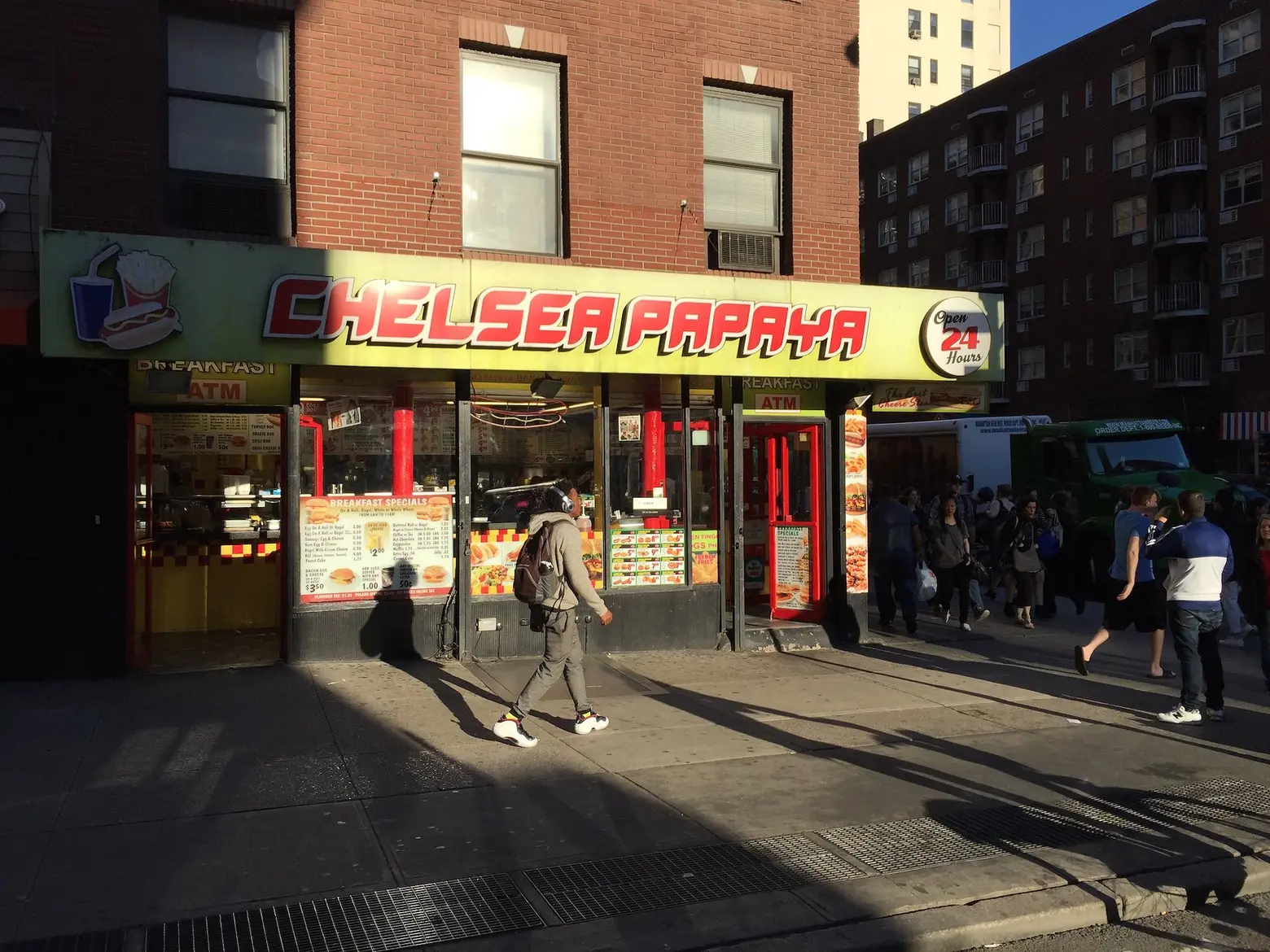 Image courtesy of Charles16e on Flickr
Chelsea's Papaya
171 West 23rd Street, Manhattan
Another establishment influenced by the aforementioned Papaya King, Chelsea Papaya has been serving the Chelsea area the indistinguishable combination of hot dogs and tropical fruit juice for decades. They also offer pizza, hamburgers, fries, and much more. Their loyal customers rave about the chili cheese dog.
Schaller's Stube
1652 Second Avenue, Manhattan
First opened as a butcher shop in 1937 by German immigrants, the Yorkville storefront is now run by third-generation owner Jeremy Schaller. Schaller's Stube is known for its creative selection of German classics and extensive variety of sausages. Make sure you're hungry because Schaller's sausages are regarded for their enormity. The New York Times in 2015 described Schaller's kielbasa as "obscene in scale, python-thick and making a mockery of the hot-dog bun suffocated beneath it." Besides hot dogs, Schaller's is also known for its fried chicken, mac & cheese, and soft pretzels.
Frankel's Delicatessen
631 Manhattan Avenue, Brooklyn
Frankel's Deli is a contemporary adaptation of a classic NY Jewish deli, serving up sandwiches, smoked fish, bagels, and more to loyal Greenpoint customers. Frankel's offers a meal combo for their hot dogs as well. Dubbed the "recession special," the deal includes two hot dogs with mustard and sauerkraut and a drink for $10. Customers can order Frankel's for pick up or delivery through DoorDash.
RELATED: