New R211 subway cars taken out of service due to faulty gears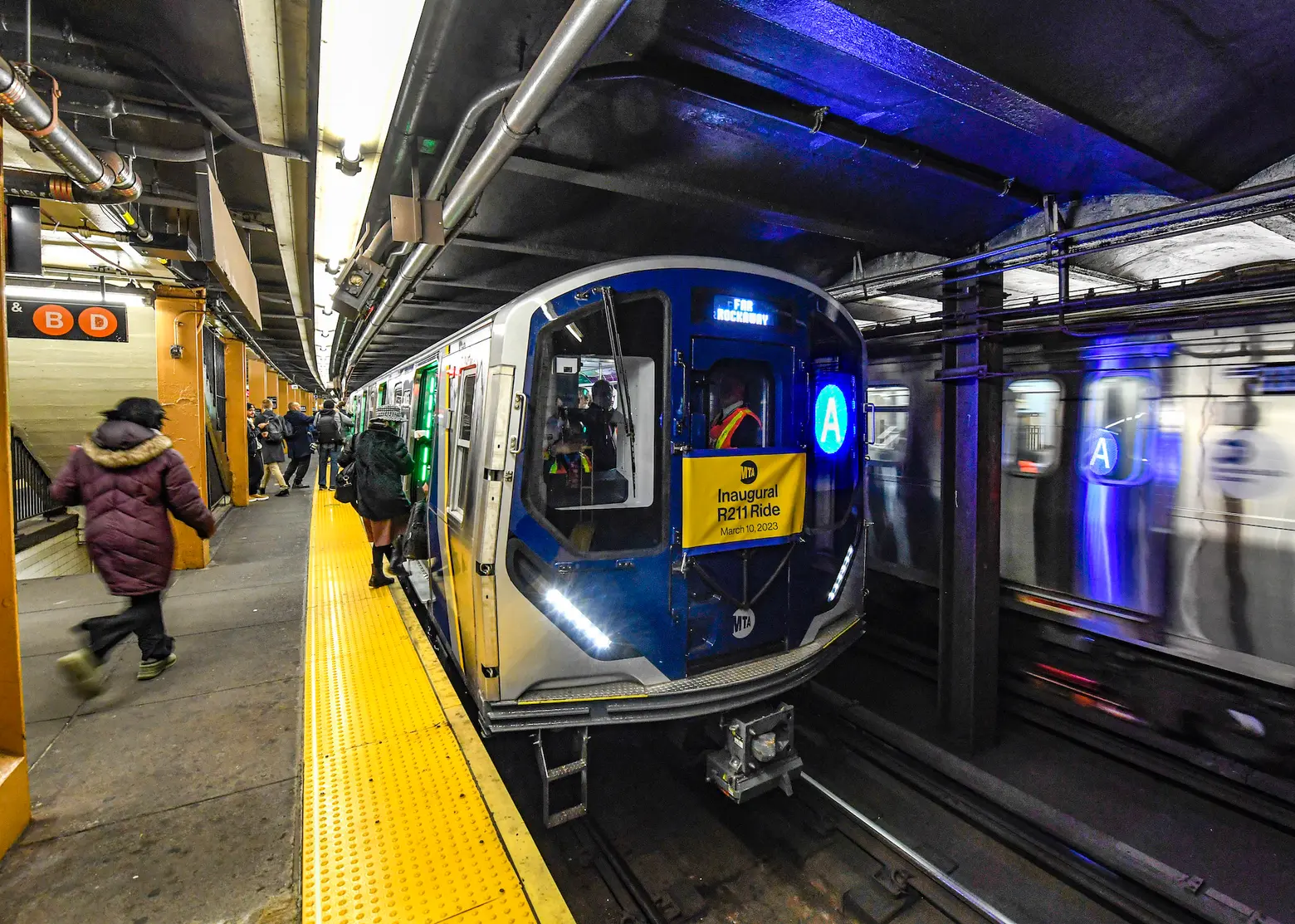 Due to technical issues, almost all of the subway system's new futuristic cars have been taken off the rails. The Metropolitan Transportation Authority last week confirmed that six out of the seven new R211 subway cars had been taken out of service due to malfunctioning gearboxes which caused the car's wheels to lock up, drag along the tracks, and flatten, as first reported by Gothamist. The cars are expected to be back in service in a few weeks after being repaired.
The R211 cars currently operate on the A subway line, and the MTA has assured commuters that no train service has been affected by their removal.
Gearboxes on subway trains are best compared to the gears that connect to the chain of a bike and keep its wheels turning. If a subway car's gearbox is damaged, the wheels will lock up and drag along the rails, gradually flattening them out and causing the train to bump up and down as it rolls down the tracks, subway operators explained to Gothamist.
"During routine operations of R211 subway cars in service, New York City Transit crews discovered a faulty gear box in some of the cars," Eugene Resnick, an MTA spokesperson, told the news site in an email. "As is the case whenever we identify an issue with a particular subway car model, we have temporarily removed the affected trains from service until further testing is complete."
This isn't the first of the new trains that have been pulled from service since they first hit the tracks. In April, one of the new cars was taken off the rails after it received a fresh coat of graffiti—a proper NYC welcome, according to Gothamist.
In November 2017, the MTA first revealed its newest class of subway cars and its "open-gangway" design. This design feature is meant to reduce delays and speed up boarding by increasing capacity and allowing for better movement between cars. The new cars also feature 58-inch door spans, eight inches wider than the doors on existing cars.
They also feature digital displays with real-time service updates, brighter lighting, and better signage, and are equipped with the MTA's new communications-based signal technology, which allows more trains to run closer together.
The R211 will eventually replace the MTA's R46 cars, which were built in the late 1970s and currently run on the A, F, R, and C lines, as well as the Staten Island Railway.
The MTA announced it would be spending $4 billion to buy more than 1,600 of the new subway cars in January 2018. The transit agency set up a three-phase contract with Kawasaki, the Japanese company that manufactures the train cars. The first of the new cars was supposed to be delivered by July 2020 but experienced a 13-month delay due to the Covid-19 pandemic.
RELATED: