MTA plans more elevators for 14th Street subway complex, making it fully accessible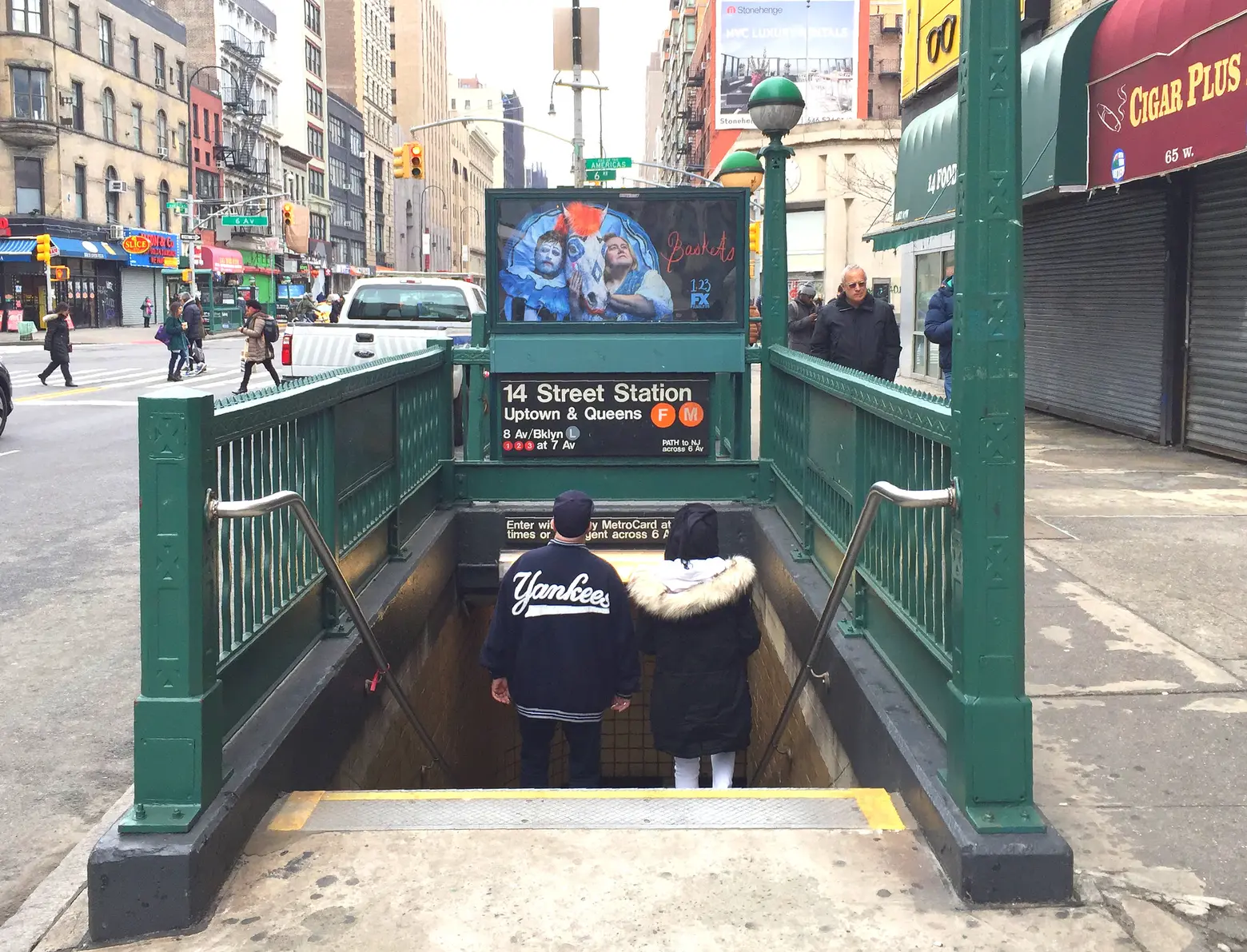 After committing to install four elevators at the 14th Street and Sixth Avenue F, M, and L stop as part of a lawsuit settlement, the MTA has now announced it will also be adding elevators to access the 1, 2, and 3 platforms at Seventh Avenue. As The City reported, the 14th Street subway complex between Sixth and Seventh Avenues is one of the busiest stops in the city, servicing more than 48,000 riders a day. The expanded project will make the entire complex fully accessible, though it won't happen overnight.
"The elevators in this complex will be completed as one project, maximizing efficiency, with the elevator to the L platform set to be operational first," said Maxwell Young, an MTA spokesperson. The MTA anticipates the L platform elevator to be fully operational by 2022.
"This complex is the 16th-busiest station in the entire subway system and a critical transfer point," said Colin Wright of advocacy group TransitCenter to The City. "The MTA needs to make it accessible as soon as possible."
The change of scope more than doubled the cost of preliminary design for the project, from $4.6 million to $10.6 million. The project will be funded by the MTA's forthcoming 2020-2024 Capital Program. After a delay, the plan should be released in September and is expected to run about $40 billion.
As 6sqft previously reported, a study led by Manhattan Borough President Gale Brewer's office showed that only about 25 percent of the city's 427 stations are ADA compliant. In 2018, the authority announced a goal of making 50 additional stations accessible over the next five years. MTA officials consulted advocates and factored in the location of senior centers and hospitals to decide which stations to target, with the goal of making sure all straphangers would be no more than two stops from an accessible station. As the Wall Street Journal reported earlier in the week, the MTA missed its self-imposed deadline—end of June—to release that list of stations.
[Via The City]
RELATED: