Mother Cabrini statue unveiled in Battery Park City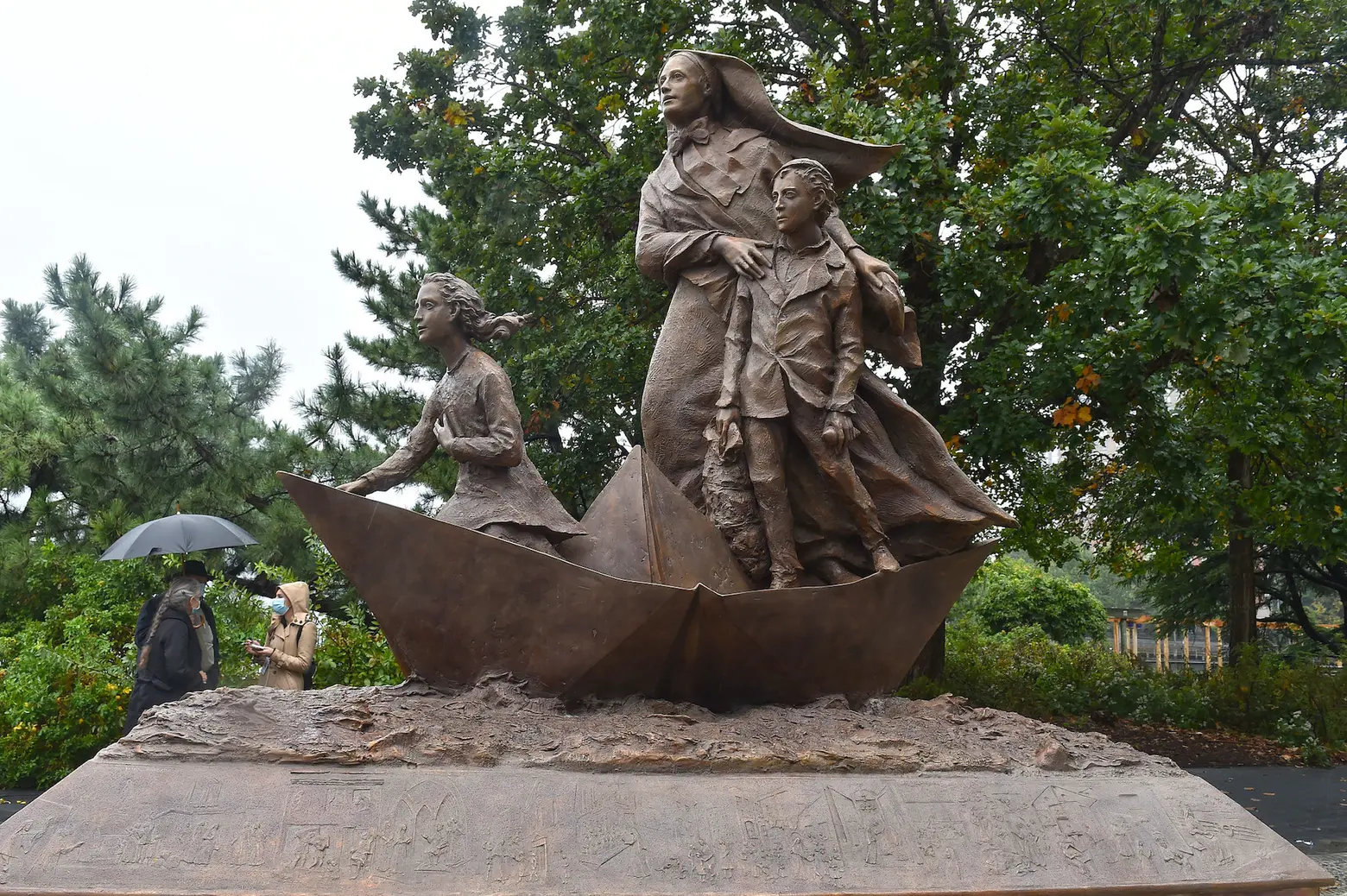 Photo credit: Kevin P. Coughlin / Office of Governor Andrew M. Cuomo on Flickr
Gov. Andrew Cuomo unveiled a statue honoring Mother Frances Xavier Cabrini, the first U.S. citizen to be canonized by the Catholic Church and patron saint of immigrants, in Battery Park City on Monday. Created by Jill and Giancarlo Biagi, the bronze memorial depicts Mother Cabrini on a boat with two children and faces Ellis Island and the Statue of Liberty, a symbol of hope for immigrants coming to New York. The governor formed a state commission last year to lead the creation of the memorial after the city's She Built NYC program passed over Mother Cabrini as their next monument, even though she received the most nominations in a public poll.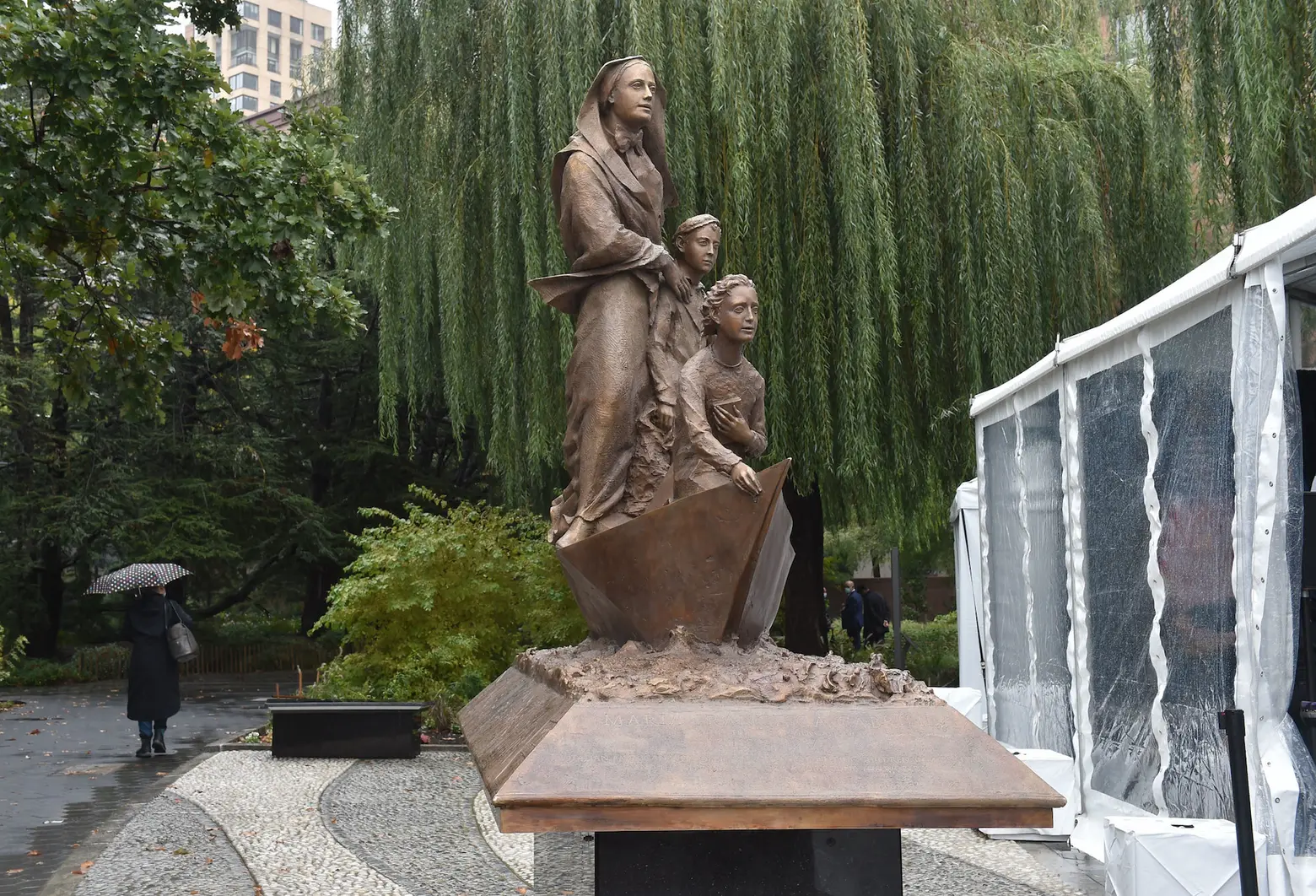 Photo credit: Kevin P. Coughlin / Office of Governor Andrew M. Cuomo on Flickr
Born in Lombardy Italy in 1850, Mother Cabrini came to the United States in 1889 to help Italian immigrants. She founded dozens of schools, orphanages, and hospitals aimed at helping those in need. Nearly 30 years after her death in 1946, Mother Cabrini became the first naturalized U.S. citizen to be canonized.
"We all know that these are challenging times, but we also know that in the book of life, it is not what one does when the sun is shining that tests our metal – it's what one does in the fury of the storm, and that's where we are today," Cuomo said in a statement. "In this complex world, may this statue serve to remind us of the principles that made us great as a country and as a people and the principles that keep us special on this globe – the values of Mother Cabrini: compassion, acceptance, community, freedom, faith, hope and love."
The memorial sits on a marble base with Mother Cabrini and two children on paper boats, which represent the boats she would fold as a child, fill with violets, and place them in the currents outside her home. According to the artists, the paper boats depicted in the statue serve as a symbol of hope and courage.
The young girl holding a book in the memorial represents a young Mother Cabrini and her desire to educate children. The young boy holds luggage and an ocarina, a musical instrument invented near her birthplace in Italy and brought to the U.S.
"Our goal was to create a statue that would represent the persevering spirit of an extraordinary woman realizing her childhood dream," Jill Biagi said on Monday. "The dream of helping people in need around the world."
Led by First Lady Chirlane McCray, the She Built NYC program first launched two years ago to address the lack of statues in the city that honor historical women. With plans to commission several public artworks, the organization asked for public input on who to memorialize with a statue.
Although Mother Cabrini received the most votes in the poll, McCray and She Built NYC instead chose to honor Rep. Shirley Chisholm, Elizabeth Jennings Graham, Billie Holiday, Katherine Walker, Marsha P. Johnson, and Sylvia Rivera.
Despite there already being a statue and a shrine in the city to Mother Cabrini, some Italian-Americans, including Cuomo, took offense to the decision. After calling the Cabrini snub an "affront" to the Italian-American community, Cuomo announced plans to build a separate statue through a state-led commission.
Learn more about the new artwork and Mother Cabrini's life here.
RELATED: