Meriem Bennani reveals first-ever public sculpture on the High Line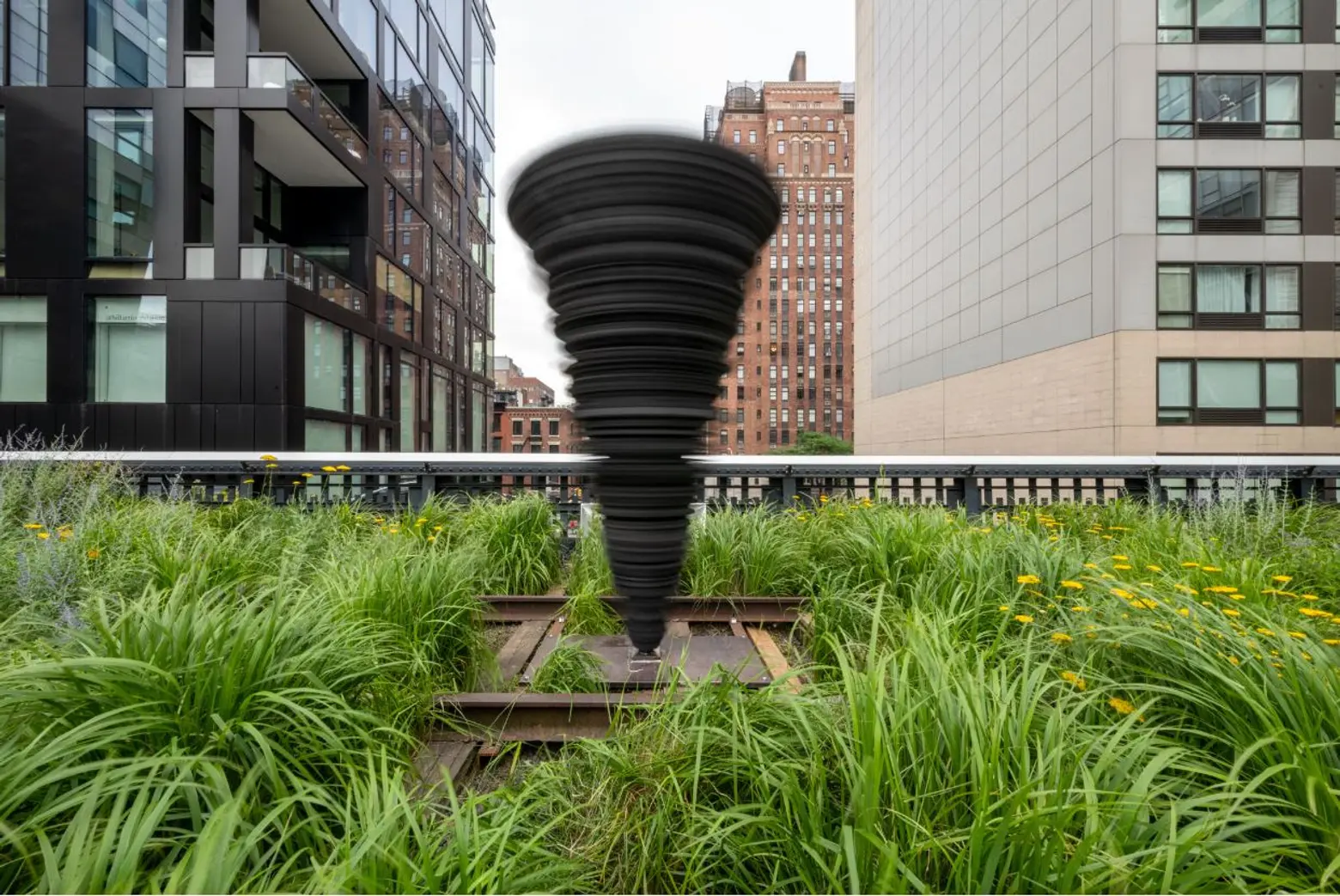 "Windy" by Meriem Bennani, co-commissioned by High Line Art and Audemars Piguet Contemporary. Image courtesy of the artist, High Line and Audemars Piguet
New York City-based artist Meriem Bennani last week debuted her first public sculpture, a captivating kinetic structure that kicked off the summer season of the High Lines Art's program. Windy, co-commissioned by High Line Art and Audemars Piguet Contemporary, is a 9-foot-tall spinning structure comprised of approximately 200 black foam discs that spin at different speeds and in unique sequences. Located on the High Line at 24th Street, Bennani's piece will stay on view to the public until May 2023.
Using electrical bike motors that make up the spine of the sculpture and connect to the layers of foam discs, Windy will stay in spin all year and is equipped to withstand all four seasons. The disks which make up the majority of the structure consist of lightweight UV-proof and waterproof foam and have been whittled down in the fabrication process to ensure a minimal amount of waste.
As her first public sculpture, Windy is more abstract than Bennani's typical art. Known for her video work that tells the story of human behavior both online and in the real world, her newest project aims to capture the essence of New York City's overflowing streets and constant, frantic movement. According to a press release, "Windy is a poignant visual of New York City's frenzied and intoxicating energy."
Despite the sculpture's abstract nature, the art piece retains elements commonly found in Bennani's video work, such as her use of time sequences and loops within a "multi-channel video installation."
Bennani said, "Developing Windy has expanded my understanding of sculpture and allowed me to take on new conceptual and technical challenges in my work. The project is at once inspired by moving images and in many ways reminds me of the process of animation, while at the same time presents something quite different and even opposite to my video practice."
Bennani continued: "Windy is much more abstract than my other works and open to many different interpretations. I hope that visitors will have a visceral, emotional reaction when they experience the piece and be swept away by its chaotic energy, echoing the energy of New York City and the High Line."
Using a blend of pop culture references infused with humor and absurdism, Benanni's art captured the public's attention in 2020 when she and filmmaker Orian Barki released "2 Lizards," a video series that encapsulated the pandemic's effect on everyday life.
Windy is the first time High Line Art and Audemars Piguet Contemporary have worked together to co-curate and commission a public sculpture. The collaboration represents the two programs' parallel mission of supporting artists in their vision and allowing them to experiment and further develop their craft.
Cecilia Alemani, Donald R. Mullen, Jr. Director & Chief Curator of High Line Art, stated: "It's an exciting moment to see Meriem expand her practice to new forms and master quite an engineering feat with this kinetic work. Our collaboration with Audemars Piguet Contemporary broadens the unique platform that the High Line provides artists to present new creative projects for a wide, public audience."
RELATED: