'Little Amal' arrives in New York City, bringing attention to world's refugees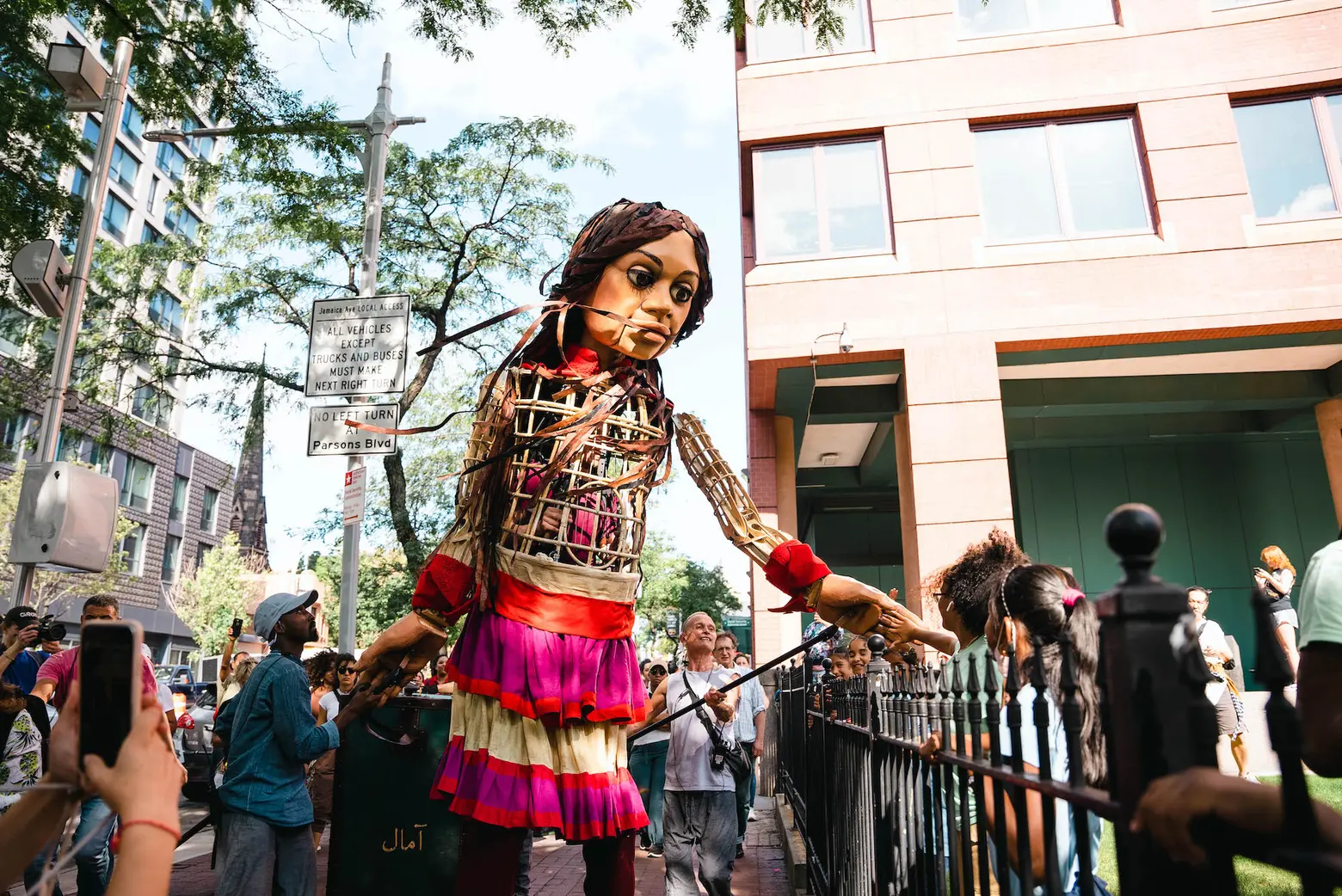 Little Amal in Jamaica with the Jamaica Centers for Arts and Learning. Photo courtesy of The Respective Collective / The Walk Productions / St. Ann's Warehouse
Little Amal, a 12-foot puppet of a 10-year-old Syrian refugee, has come to New York City to bring attention to the needs of migrants and refugees. After landing at JFK Airport with her big green suitcase on Wednesday, Amal began her 17-day tour across all five boroughs in which she will take part in 55 unique events, considered one of the largest public art festivals in the city's history.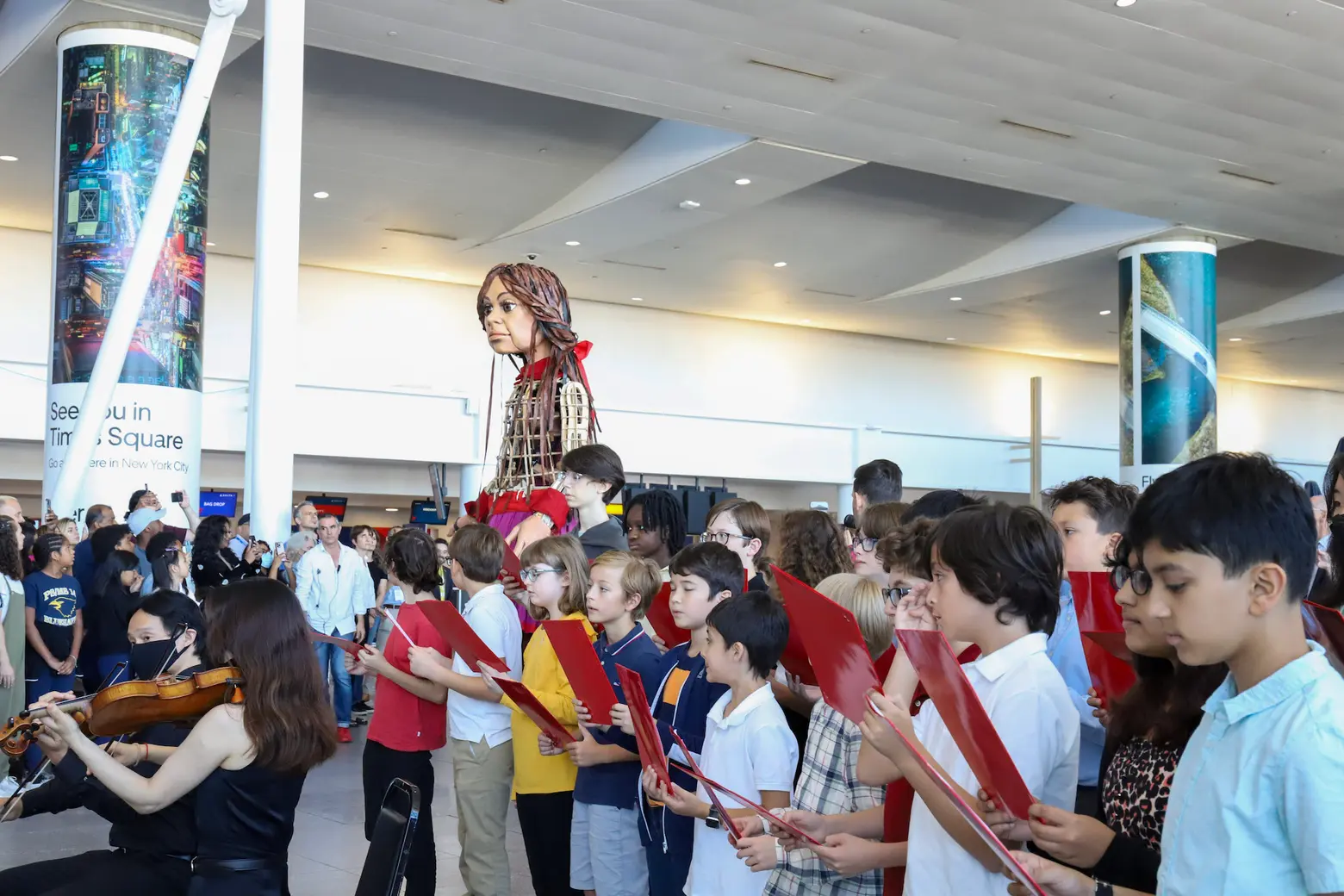 Photo courtesy of Abigail Montes / The Walk Productions / St. Ann's Warehouse
Created in collaboration by St. Ann's Warehouse and The Walk Productions, Little Amal is operated by up to four people, one of which is on stilts. Designed by the South African Handspring Puppet Company, she is made up of bamboo canes that occasionally require maintenance.
She was created in response to the world's growing refugee crisis and is meant to remind the public about the hundreds of thousands of children fleeing violence and persecution across the globe.
"For immigrants and refugees around the world, New York is a place of opportunity and promise—but there's a tension running through U.S. history that suggests not everyone is welcome here," Amir Nizar Zuabi, the artistic director of The Walk Productions, said in a statement.
"This is a crucial moment to explore these themes. We're moved and grateful that so many artists and organizations have wholeheartedly joined us to bring Amal's message of hope and shared humanity to the people of New York."
Amal has come to New York City after completing a 5,000-mile journey across Europe in which she searched for her mother. During her trip, which ended in Ukraine, Amal met Pope Francis. The walk she took across Europe strongly resembled the one many Syrian refugees took in 2015 and 2016.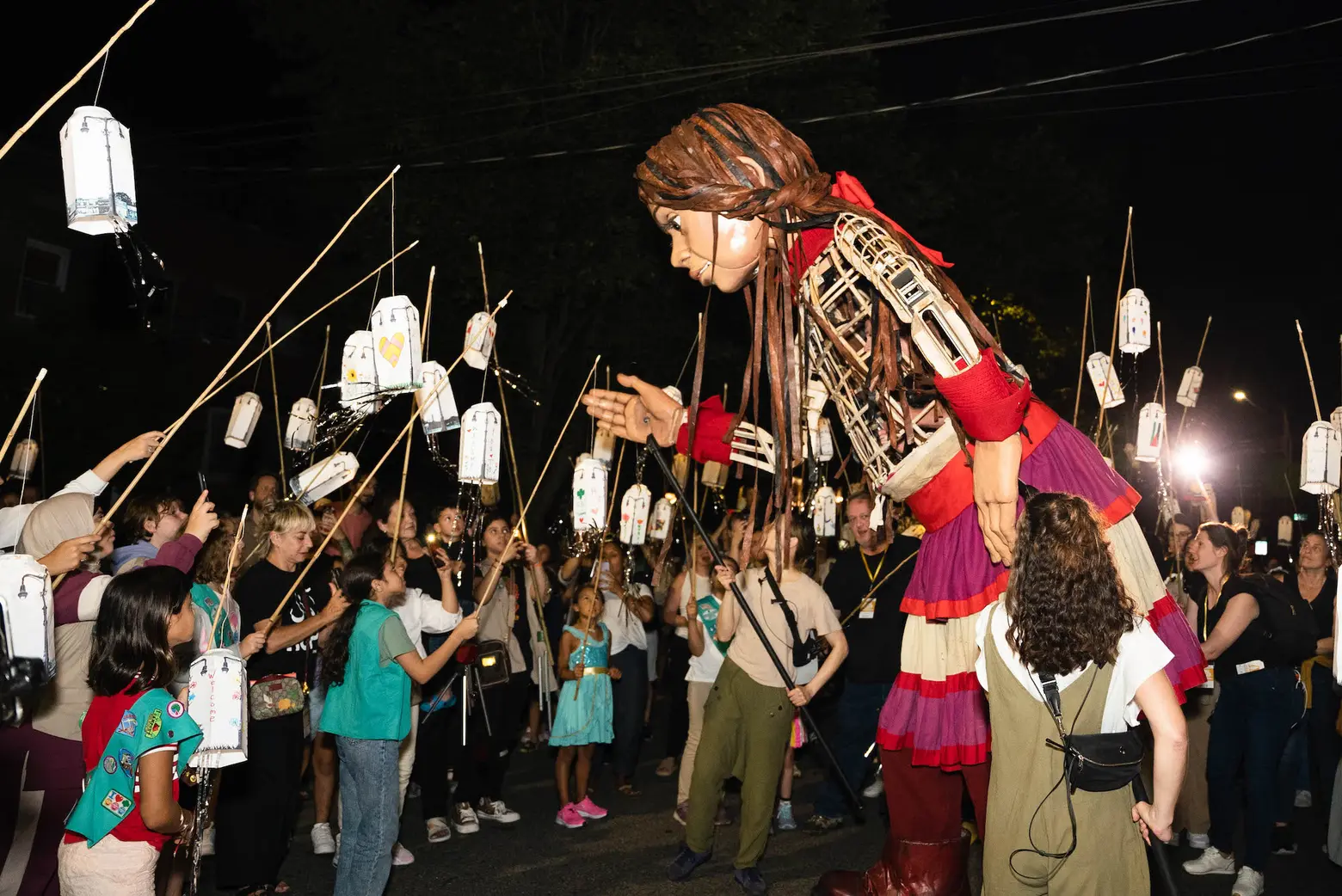 Little Amal in Astoria. Photo courtesy of The Respective Collective / The Walk Productions / St. Ann's Warehouse
Amal was welcomed at JFK's Terminal 4 by the Metropolitan Opera Orchestra and Children's Chorus, who performed a special musical composition conducted by music director Yannick Nézet-Séguin and directed by Barlett Sher. The composition consists of music by Philip Glass that has been specially arranged for Amal's arrival by Nico Muhly.
Following her arrival, Amal was guided through the streets of Jamaica, Queens by young students from the Jamaica Center for Arts & Learning, which was celebrating its 50th anniversary.
From Jamaica, Little Amal made her way to Astoria where she greeted onlookers at the Ditmars-Astoria Boulevard Subway Station. This event was held in partnership with the Girl Scouts of Greater New York. Amal will return to Queens on September 21 to visit Corona and Jackson Heights.
Over the next couple of weeks, Amal will pick flowers at a community garden in Queens, walk across the Bronx's High Bridge, ride the Staten Island Ferry, and visit a Syrian wedding in Bay Ridge, Brooklyn, according to the New York Times.
Since her first journey in 2021, Little Amal has visited over 85 cities and taken part in more than 190 events, connecting with approximately one million people throughout 12 countries.
All of Amal's events in NYC are free and suitable for children and families to attend. More information on Little Amal, her story, and a complete list of events she will be attending in NYC can be found here.