Jane's Walk Weekend offers nearly 300 free walking tours around NYC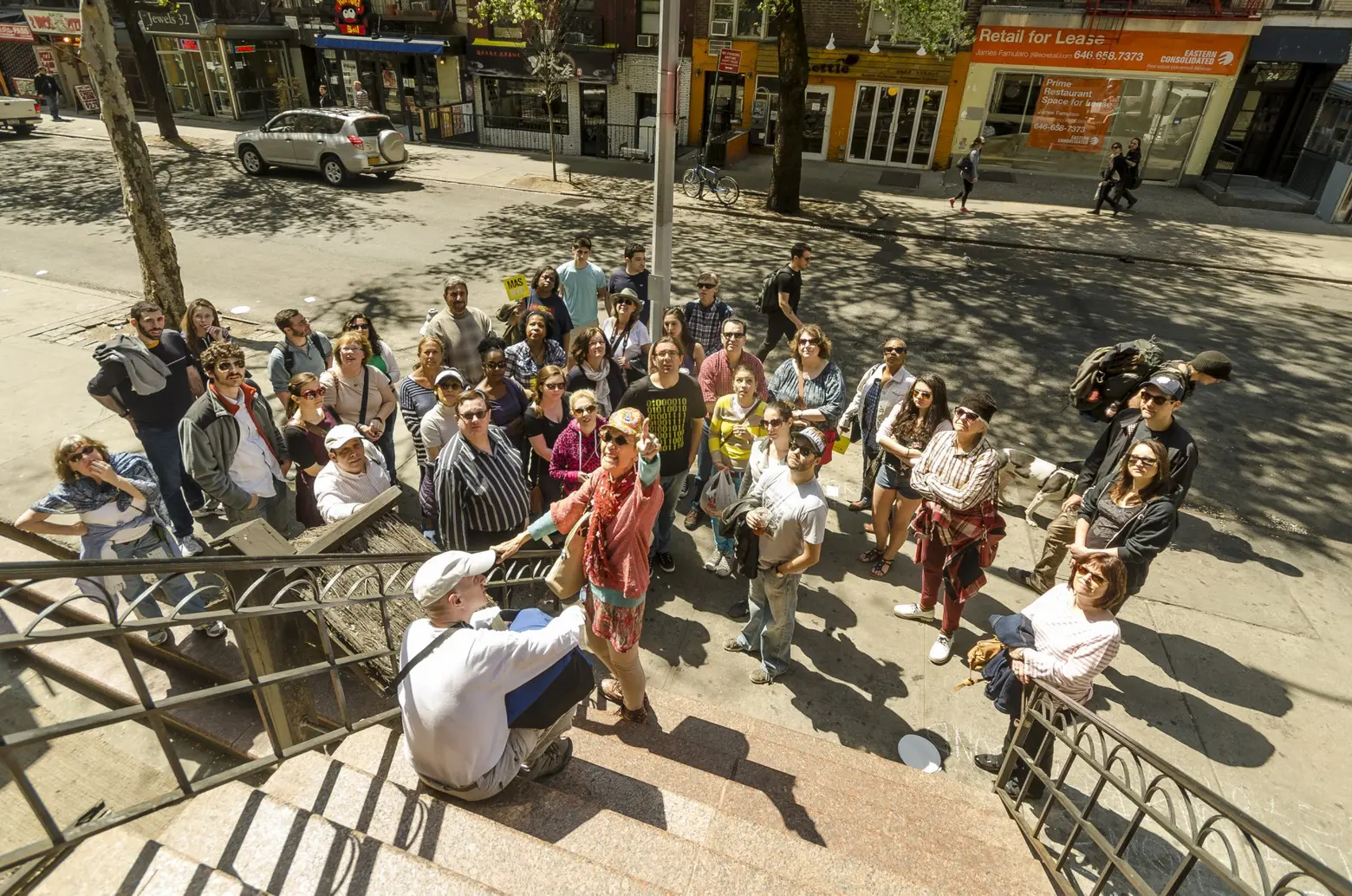 Jane's Walk photo courtesy of MAS
Jane's Walk photo courtesy of MAS
Get ready to walk! The great urbanist Jane Jacobs advocated for livable, walkable cities, and the Municipal Art Society invites you to do just that during the first weekend in May. MAS's 9th annual Jane's Walk weekend, a three-day festival of free, public, volunteer-led walking tours, kicks off Friday, May 3rd. The Jane's Walk festival is a global event honoring Jane Jacobs' legacy of urban exploration, local history, and civic engagement. This year, Jane's Walks will take place in 200 cities around the world, and New Yorkers will have nearly 300 walks to choose from!
Jane's walk is a special chance to see your city in a new way, and to hear from some of the city's most noted historians, preservationists and urbanists. For example, urban planner George Janes is teaming up with FRIENDS of the Upper East Side Historic Districts to offer Zoning in Action: Building Blocks of the Upper East Side; further south, the CUNY Graduate Center and Friends of the Lower West Side, will serve up Manhattan's Little Syria: The Heart of Arab America. Asha Futterman of the Barnard Center for Research on Women will lead Radical Black Women of Harlem Walking Tour, Geoff Cobb, of the New York Irish History Roundtable, will take you into the not-so-sweet history of Brooklyn's Sugar Trust with a Domino Refinery Walk, Untapped Cities will help you dive into The Maritime History of New York, Deborah Gardener of the Roosevelt House at Hunter College will present The Original New Deal: The Roosevelts in New York, and historians Michael Ryan and Kyle Supley will follow the footsteps of Gay Bars that Are Gone.
But, you don't have to be a historian or preservationist to lead a Jane's Walk. Inspired New Yorkers lead many of the festival's most consistently-popular tours, such as Hip-Hop Nightclubs in the 1980s: Fresh, Wild, Fly n Bold
And, if you prefer the natural environment to the built environment, you're in luck. The weekend promises tours of the cities oldest and newest parks. You can take An Early Look at The QueensWay: New York City's Next Great Park, take a Jane's Dog Walk in Prospect Park, explore the healing properties of trees during Greening Greenpoint's Medicinal Tree Walk in McCarren Park, learn about the park that defeated a parkway in The Return of Starlight Park
Finally, at the end of the day, you can join your fellow New Yorkers showing the city some love, with offerings like You've Got Mail at 20ish: An UWS Love Letter, and the Brooklyn Twilight Tour.
Find the full Jane's Walk schedule here!