Game On!: Five New York Buildings with off the Hook Health Clubs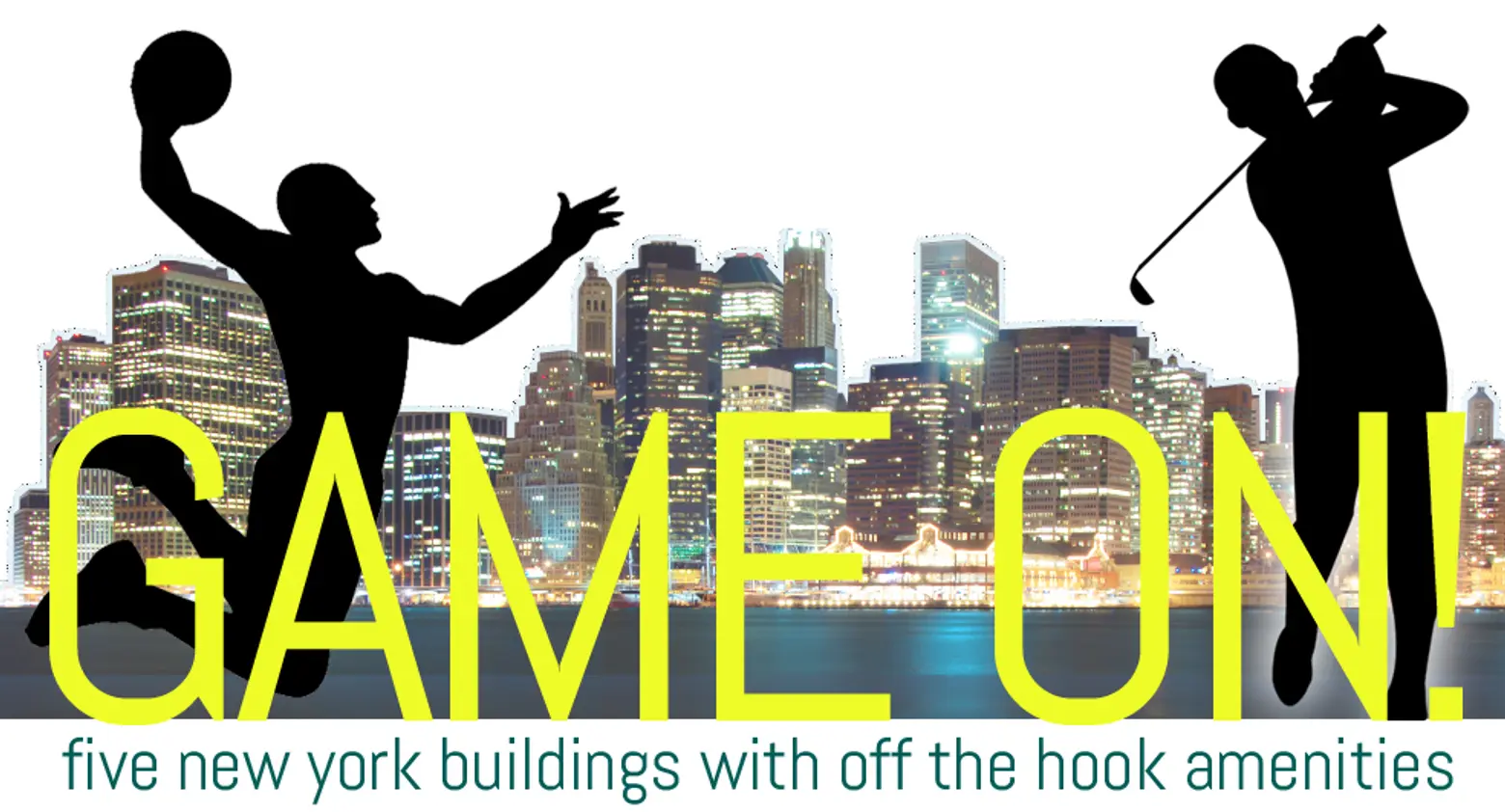 Roof decks, concierge services, screening rooms–these building amenities are so last year. The newest crop of luxury residential developments are offering more active perks. From basketball courts to rock-climbing walls, these calorie-burning features not only alleviate the need for a gym membership, but also offer the convenience of around-the-clock access and the ease of being just an elevator ride away from home.
The Aldyn, a 40-story Upper West Side tower located at 60 Riverside Boulevard, was built in 2010 and has stunning Hudson River views and resort-like amenities. Its 136 condo units have access to the 40,000-square-foot athletic club and spa managed by NYC health center gurus LA PALESTRA. This massive health retreat boasts a 75-foot indoor pool, hot tub, basketball and squash courts, bowling alley, golf simulator, and rock-climbing wall. And while mom and dad enjoy their time in the Romand and Williams-designed athletic center, the youngsters can hang out in the KIDVILLE-designed indoor playground.
Seven apartments are currently for sale in the Aldyn, including an 839-square-foot, 1BR/1BA apartment listed at $1.3 million, and a 2,207-square-foot, 3BR/4BA apartment with an asking price of $5.5 million.

Downtown by Starck at 15 Broad Street is named after Philippe Starck, the noted French starchitect who oversaw the building's conversion from offices to residential condominiums. The development includes the original, five-story headquarters of J.P. Morgan Bank and the 42-story tower that was once the Equitable Trust Building. Broad Street's first residential conversion, the residence is located across from Federal Hall and the New York Stock Exchange, making it the perfect home for Wall Streeters looking for a fitness-fueled escape from their grueling day jobs. For those who like a high-energy release, there's a bowling alley, full-service fitness center, basketball and squash courts, and a swimming pool. And the other half, who need a more subdued workout, can enjoy reflecting pools and yoga and ballet rooms.
Of the 380 apartments in Downtown by Starck, which are made up of 150 different floor plans, 14 units are on the market. Listings start at $1.3 million for a 1,076-square-foot, 1BR/1BA apartment and climb to $5.25 million for a 4,110-square foot, 5BR/5BA space.

Times Square residents likely thrive in a fast-paced environment, so 1600 Broadway On the Square is a great complement to their lifestyle. Pulse-racing amenities include virtual golf, a putting green, rooftop observatory, fitness center, and entertainment lounge complete with television, billiards, and a bar.
Another selling point at 1600 Broadway On the Square is its prices, which are lower than similar luxury buildings. Five apartments are currently available. A 592-square-foot studio is asking $865,000, and a 2BR/2BA apartment can be yours for $2.2 million.

Completed in 2007, the 46-story, 478-unit Atelier is the tallest building on the west side of 42nd Street, located in the up-and-coming Clinton neighborhood. The tower's nautical theme carries over to its amenities, as residents will feel like they just stepped aboard a luxury cruise ship thanks to the 12,000-square-foot fitness center, golf driving range, sky-lit indoor pool, sun deck, Sky Lounge with billiards, free bike usage, and bocce ball, basketball, and volleyball courts (hello staycation!).
Presently, 61 apartments are listed for sale at the Atelier, ranging from a 550-square-foot, 1BR apartment for $799,000, to a 6,000-square-foot, 6BR/6BA unit for $25 million

Brooklyn has become the go-to borough for creative types, and One Brooklyn Bridge Park did an amazing job of catering to this market. Located at 360 Furman Street, this is the only residential building within the 85-acre Brooklyn Bridge Park, providing hard-to-find waterfront living. The 449-unit condominium offers virtual golf and a driving range, game lounges, a screening room, children's art and play rooms, a music room, yoga studio, billiard room, 3,000-square-foot gym, and garden terraces.
There are 11 available apartments at One Brooklyn Bridge Park, including a 591-square-foot studio, priced at $655,000, and a 2,908-square-foot, 6BR/BA unit going for $32 million.
Know of any other athletic building amenities around the city? Tell us about them!
[Via CityRealty]
Images via CityRealty