Fred Eversley's first public artwork in NYC explores new dimensions in Central Park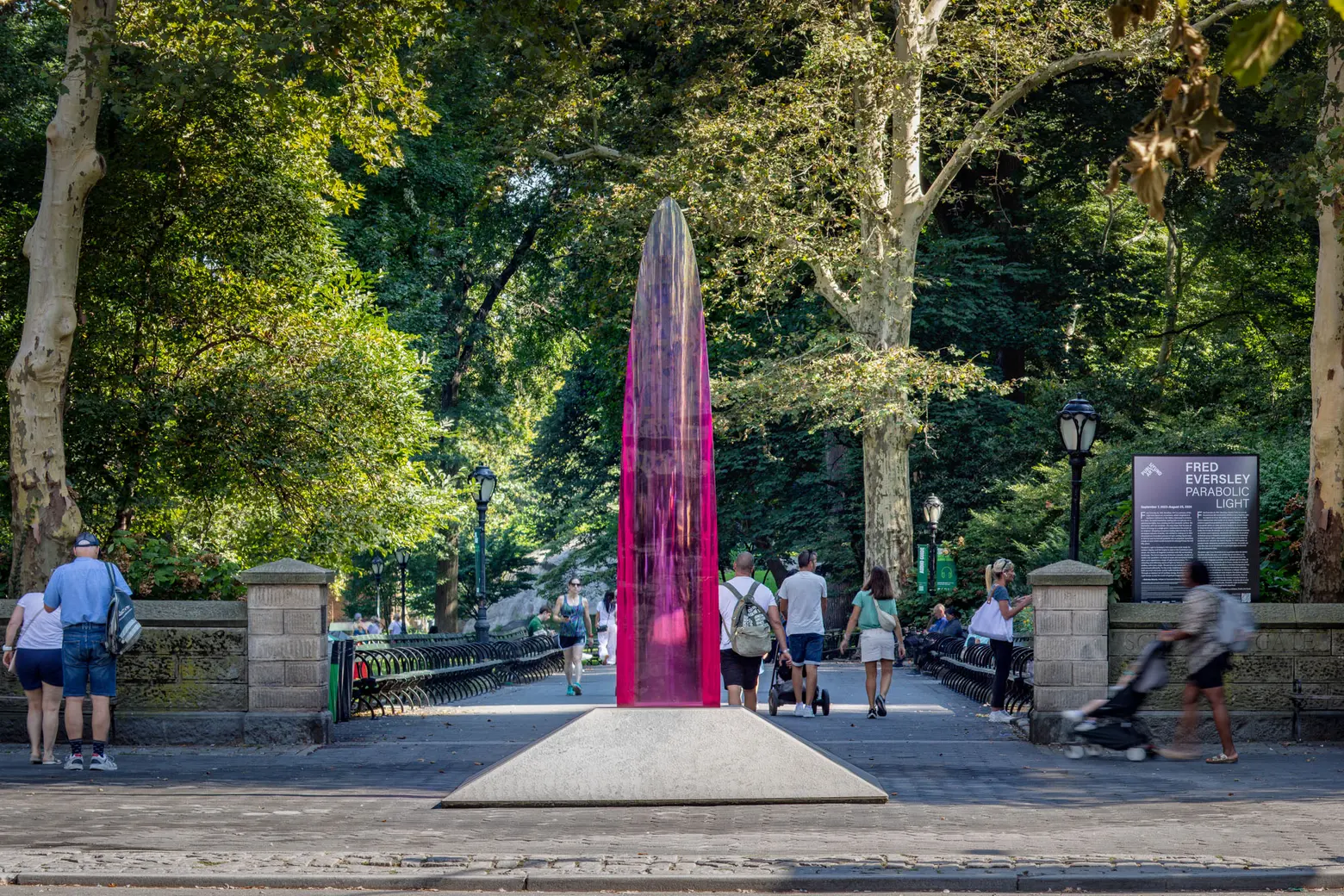 Fred Eversley, Parabolic Light, 2023. Photo credit: © Fred Eversley. David Kordansky Gallery, New York. Photo: Nicholas Knight, courtesy of Public Art Fund, NY Presented by Public Art Fund at Doris C. Freedman Plaza, New York City, Sep 7, 2023–Aug 25, 2024.
A new art installation in Central Park invites New Yorkers to perceive the environment, others, and themselves through the lens of artist Fred Eversley. Titled "Parabolic Light," Eversley's first-ever public artwork in New York City is a 12-foot-tall sculpture made of polyurethane that prompts viewers to question the way visual and physical perceptions influence connections to the world around us. The sculpture is on view in Central Park's Doris C. Freedman Plaza through August 25, 2024.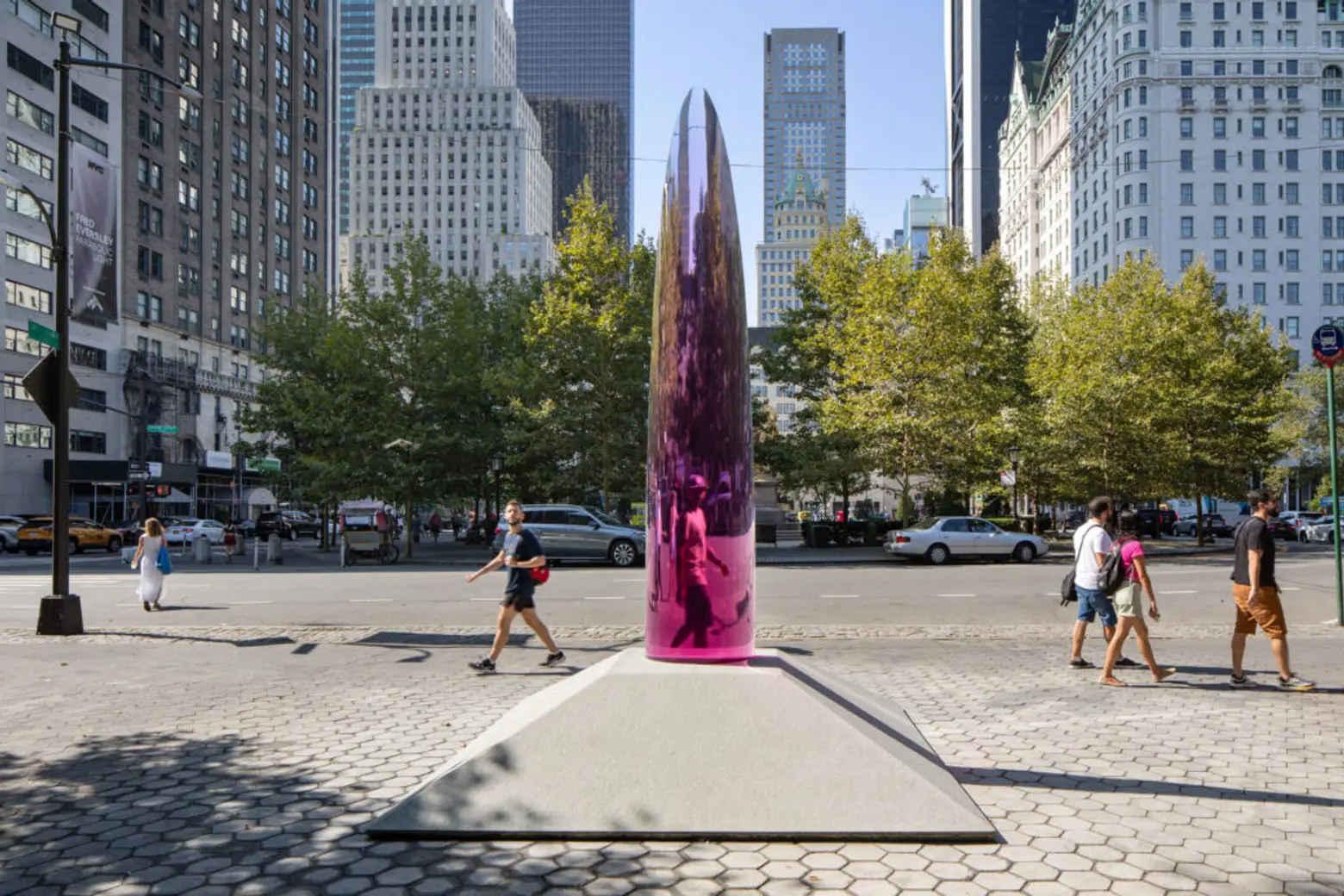 Unveiled by the Public Art Fund this week, the towering sculpture has a magenta tint with rich tones toward the base of the piece that becomes reflective and transparent towards its peak. The color of the sculpture shifts depending on the angle of the viewer and the direction of the sun. Appearing both transparent and reflective, the sculpture "serves as a focal point of serenity, transcendence, and exploration of new dimensions and perspectives," according to a press release.
Eversley, a pioneer of the West Coast Light and Space and Finish Fetish art movements, has used his background as an electrical and aerospace engineer to influence his artistic vision over his 50-year career. The artist is known for his cast resin works that encourage interaction with viewers through a variety of sensory details. Eversley's work frequently takes on a parabolic shape, the only shape that centers all forms of energy around a single focal point.
"Parabolic Light" is a continuation of Eversley's Cylindrical Lens series, a collection of large-scale, free-standing sculptures that are "conceptually linked" to a set of cylindrical sculptures that the artist first presented at the Whitney Museum of American Art in 1970. The largest of the collection by far, Parabolic Light is shaped as a "plano-convex lens that focuses light in a single line," in which both motion and stillness are present at the same time, according to a press release.
"My parabolic forms are all about energy. They are made to reflect all the infinite combinations of internal reflections, refractions, color changes, and other optical phenomena that one can experience within a single sculpture," Eversley said.
"'Parabolic Light' and its display in Doris C. Freedman Plaza resonates with my vision of an energetic outdoor focal point to attract public audiences to spontaneously pause, slow down, and engage in numerous ways with a cosmic, mystifying object."
"Parabolic Light" delivers on the Public Art Fund's commitment to showcasing the work of career artists and artists of color, specifically those who may not have received recognition early on in their careers. In addition to the work being Eversley's first public sculpture in NYC, the artwork is also his first outdoor installation of one of his polyurethane resin creations.
"Fred Eversley's art immerses us in perceptual experiences that bring us outside of ourselves. He explores how an artwork may inhabit the world around it while simultaneously inviting us into the realms of imagination and mystery," Public Art Fund Artistic & Executive Director Nicholas Baume said.
"'Parabolic Light', Eversley's first public work in his home city, takes his series of pristine cylindrical sculptures to a new scale and context, engaging with the ever-changing outdoor environment, the effects of natural light, and the countless visitors whose attention it captures."
RELATED: