Extell's Upper West Side tower going forward despite city's amendment on mechanical voids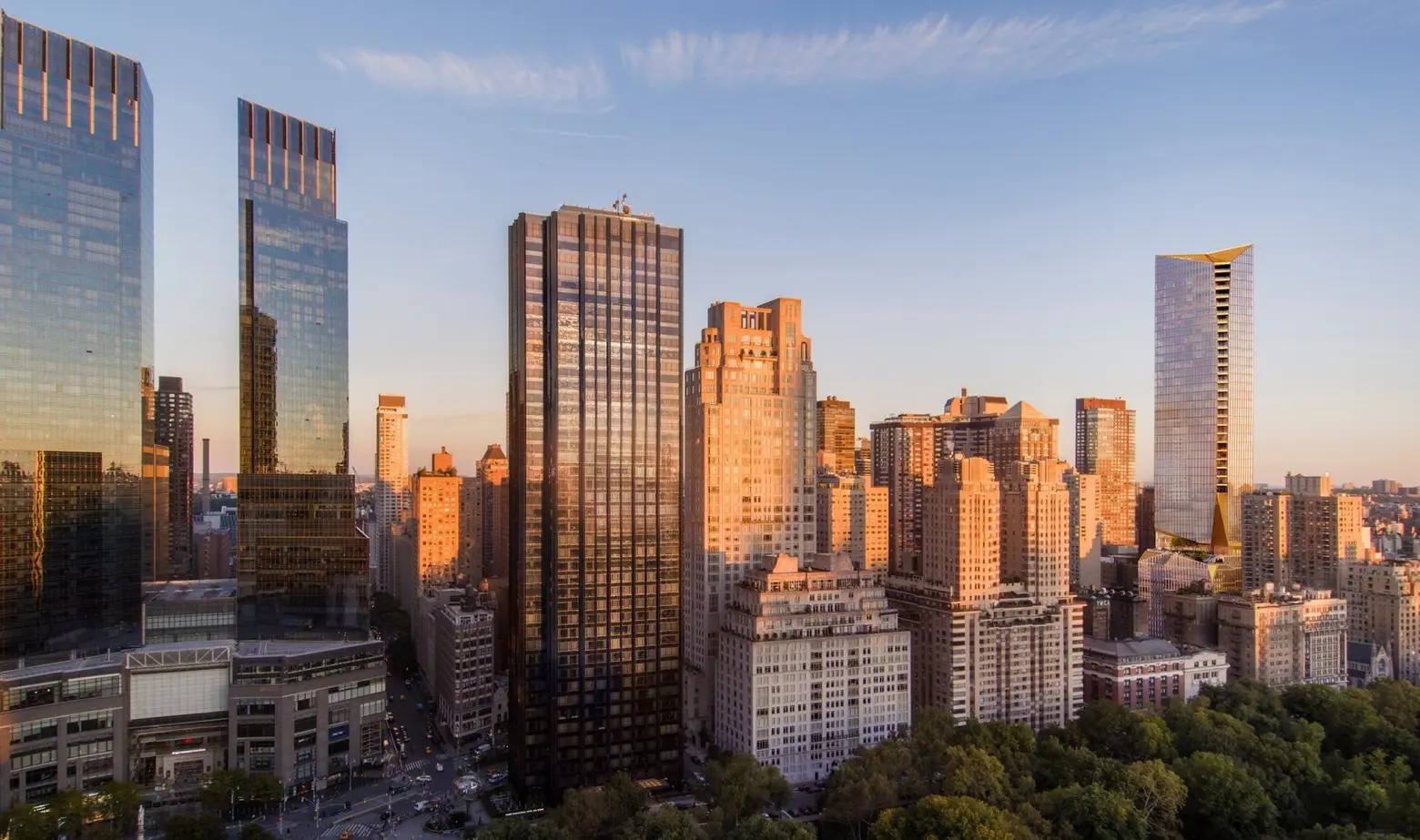 Rendering courtesy of Binyan Studios/ Snøhetta
Following a revised design and review by the FDNY, developer Extell has been granted permission to proceed with plans for the Snøhetta-designed tower at 50 West 66th Street, Gothamist reports. This comes a few months after the Department of Buildings threatened to pull the building's permits over concerns that the project was misusing mechanical voids in order to boost the overall height of units in the building. The DOB approved Extell's revised plans last Thursday, allowing the project to go forward despite a 12-to-1 City Planning Commission vote yesterday to crack down on the mechanical void loophole.
Voids are non-dwelling spaces used to house a building's mechanical equipment. Since the city's zoning law doesn't count voids toward a building's maximum floor area, developers have been increasing the height of the voids in order to boost the height of apartments and, in turn, their price tags.
The initial plans for the 775-foot tower at 50 West 66th Street featured a 160-foot void plus two additional 16-foot mechanical floors, for a total of 192 feet. The revised plan—which the DOB signed off on last Thursday—has two 64-foot mechanical spaces plus a 48-foot void, measuring 176 feet in height. To mitigate fire safety concerns, Extell also created new access points where residents will be able to go from one emergency stairwell to the other and added elevator stops to each floor to allow FDNY access.
"Safety is our highest priority, for residents and first responders alike," a DOB spokesman said in a statement. "DOB has approved amended plans for the building's mechanical floors that satisfy safety-related objections and bring the project into compliance with the city's Zoning Resolution."
Approval for Extell's tower may not have happened had it come a week later. In a 12-to-1 vote yesterday, the City Planning Commission approved an amendment to count mechanical floors in residential towers as zoning floor area when they are taller than 25 feet in height or when they are located within 75 vertical feet of each other. Since Extell has already been granted a building permit, the new rule is not expected to apply to 50 West 66th Street, according to Gothamist and George Janes, a New York City planning consultant who said that typically, if a project already has a foundation in place and a valid building permit it is allowed to continue building under old law.
While yesterday's vote is expected to help the mechanical void loophole, many believe it doesn't go far enough. "The newest amendment language is a prime example of what happens when City Hall shirks its responsibility and developers write the rules," Assemblywoman Linda Rosenthal and state Senator Robert Jackson said in a joint statement. "This is space that could be used for affordable housing, to maintain access to light and to open air, but will now be empty so that luxury developers can continue their assault on our skies to reap sky-high profits." The lawmakers have introduced legislation at the state level that would have developers limit void space to 20 feet for the first void, and 12 feet for additional ones.
"I am deeply disappointed by the Department of Buildings' decision regarding 50 W. 66th, but we always knew this was a possibility, said City Councilmember Helen Rosenthal in a statement. "More importantly, our community is completely resolved to fight on. For over two years, we've been pushing the developer, Extell, to be transparent about their plans. Despite initially filing plans for a 25-story building in 2016, they have now received approval for a 775-foot building which absolutely does not conform with the Special District where it is located."
[Via Gothamist]
RELATED: