Growth Spurt: Brooklyn's Tallest Tower at 333 Schermerhorn Will Soar Even Higher Than Expected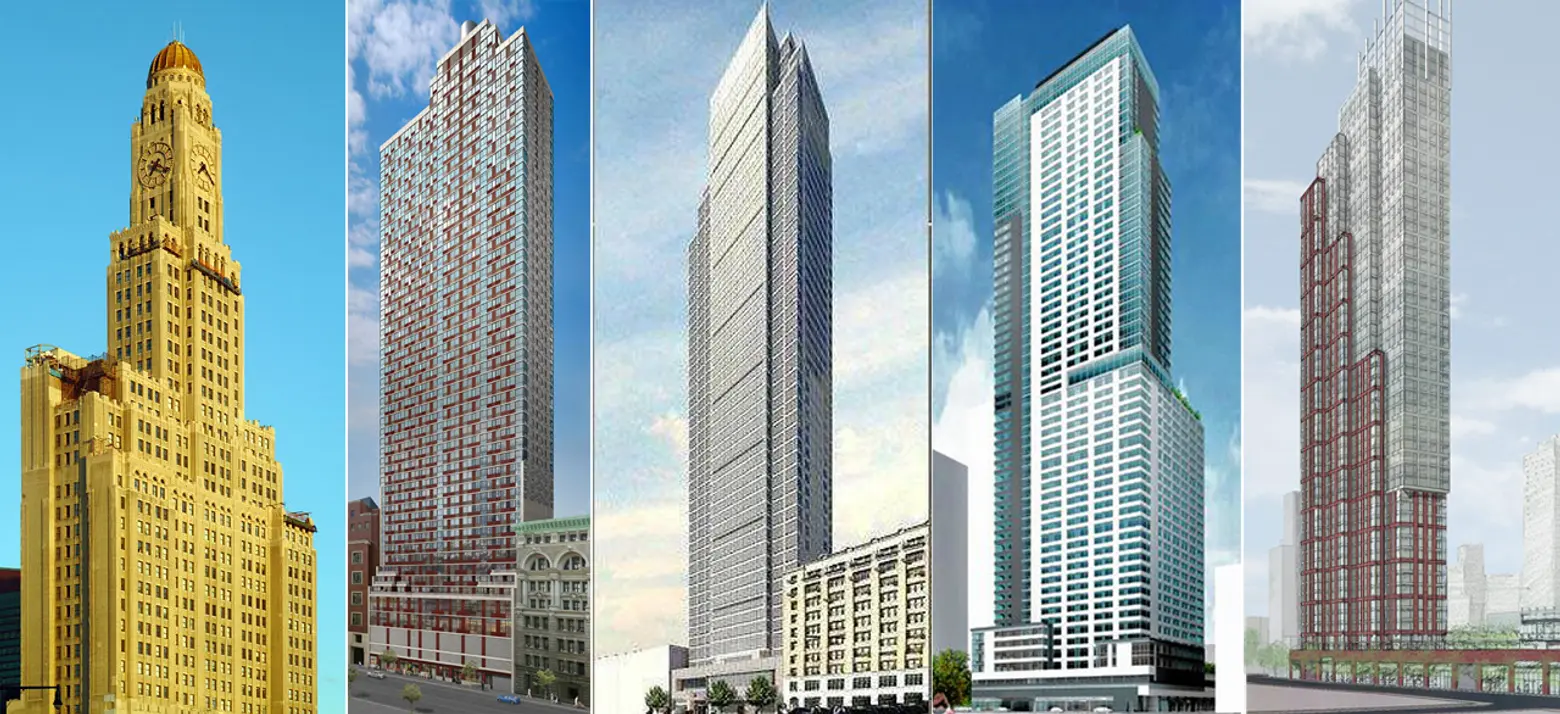 L to R: Williamsburg Savings Bank (One Hanson), The Brooklyner, 388 Bridge Street, Avalon Willoughby West, The Hub
Construction filings from the Department of Buildings have revealed that Douglas Steiner's mixed use tower at 333 Schermerhorn Street, dubbed the Hub, will soar 30 feet higher than previously reported; making it the top contender for Brooklyn's tallest building at 607-feet.
For more than 80 years, the title of Brooklyn's tallest belonged to the 512-foot Williamsburg Savings Bank tower at 1 Hanson Place. With its beloved 4-sided clock tower and its majestic banking hall, the tower has stood in relative isolation since its construction in 1929. Bruce Ratner's Atlantic Yards centerpiece building nicknamed "Miss Brooklyn," was the first to challenge the tower's dominance and was slated to soar more than 100-feet above the bank building's dome. The proposal incited uproar from Brooklynites, leading to its eventual downsizing in 2006 to 511-feet, just one foot shorter than the neighboring bank building.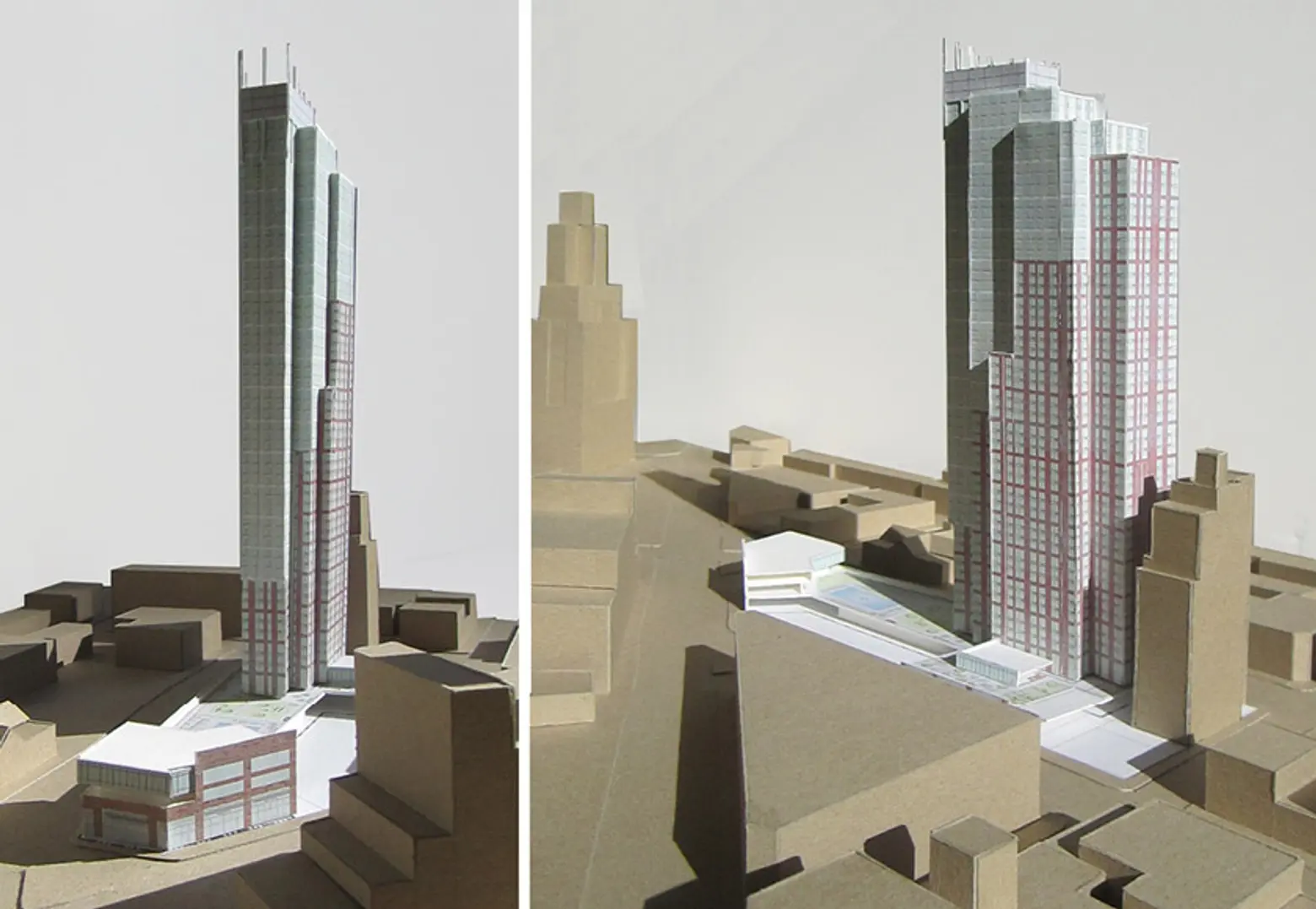 Model of The Hub building site (Courtesy Dattner Architects)
The bank tower lost its tallest title in 2010 to a 515-foot rental tower called the Brooklyner. The project received little outcry, aside from its appearance, and its size was a result of a 2004 comprehensive zoning of Downtown Brooklyn to inject new commercial and residential life into the district. With dozens of underutilized sites in the area, the race towards the sky ignited.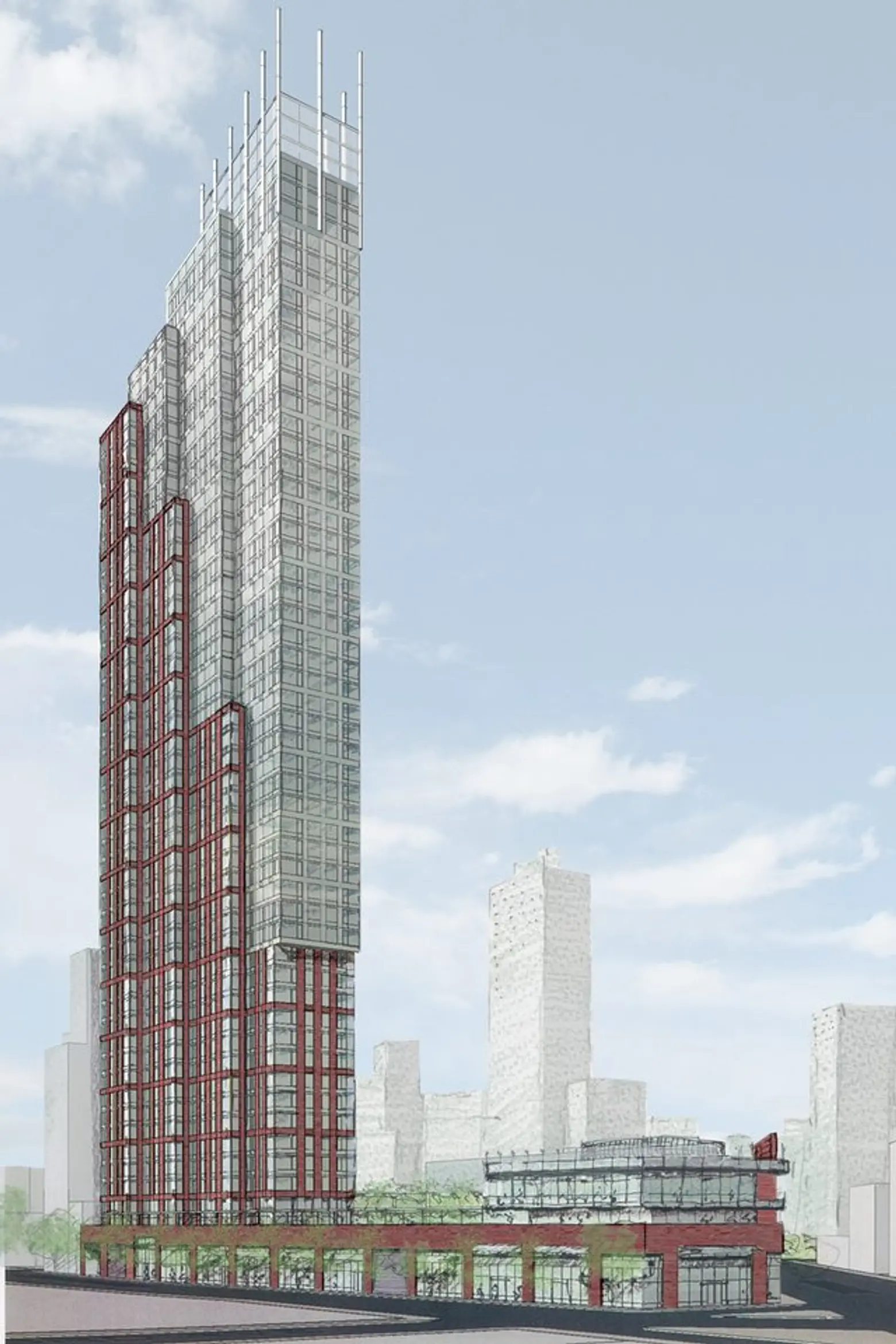 388 Bridge Street is Brooklyn's current title holder, topping off at 53 stories with rentals already up for grabs (50% of which are already leased). Next door, the Avalon Willoughby West is wrapping up its foundation work and is preparing to march 596 feet skyward rounding out at 57 stories.
Steiner's tower is one block away from the old bank tower and its revised height of 607-feet is set to clench the title of Brooklyn's loftiest tower. A crown of open-air screens and a set of spires, as seen in renderings, may bring that figure even higher.
When complete in 2016, The Hub will have 740 rental apartments, 20% of which will be affordable. Amenities will include a fitness center, a yoga studio, a dog run, and a landscaped outdoor terrace.