De Blasio announces 18-member committee, including Harry Belafonte, to review controversial monuments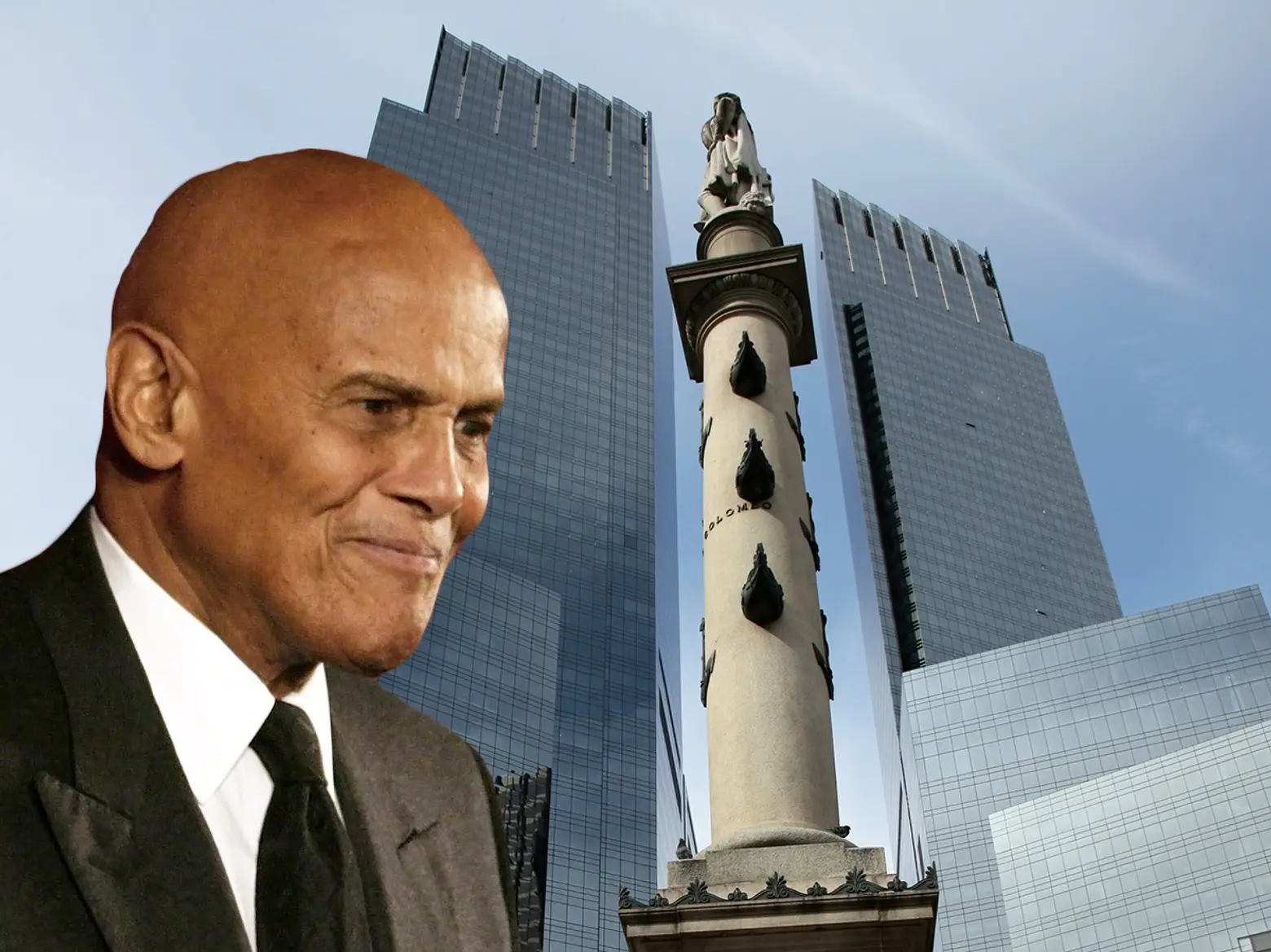 Three weeks after announcing the city would be conducting a 90-day review of "all symbols of hate on city property," de Blasio has announced the 18-member Mayoral Advisory Commission on City Art, Monuments and Markers, which will "advise the Mayor on issues surrounding public art and historic monuments and markers on City-owned property" and "develop guidelines on how the City should address monuments seen as oppressive and inconsistent with the values of New York City," according to a press release. Ford Foundation president Darren Walker and the Mayor's cultural affairs commissioner Thomas Finkelpearl will co-chair the committee, which includes singer, civil rights leader, and long-time de Blasio supporter Harry Belafonte.
De Blasio's pick of Belafonte is not surprising given the singer's impressive advocacy record, beginning as one of Martin Luther King, Jr.'s confidants and now serving as both a UNICEF Goodwill Ambassador and a celebrity ambassador for the ACLU. In addition to the co-chairs and Belafonte, the Commission includes:
Richard Alba, CUNY Graduate Center professor and former vice president of the American Sociological Association
Michael Arad, architect and designer of the World Trade Center Memorial
John Calvelli, executive vice president for public affairs at the Wildlife Conservation Society and vice chair of international affairs at the National Italian American Foundation
Mary Schmidt Campbell, Spelman College president and former vice-chair of President's Committee on the Arts and the Humanities
Gonzalo Casals, director of the Leslie-Lohman Museum of Gay and Lesbian Art
Teresita Fernandez, visual artist and MacArthur Fellow with experience in public art
Amy Freitag, executive director of the JM Kaplan Fund and former executive director at the New York Restoration Project
Catie Marron, editor of books on urban parks and public spaces, board chair of Friends of the High Line, New York Public Library trustee
Jon Meacham, Vanderbilt professor and Pulitzer prize-winning biographer of Jefferson and Jackson
Pepón Osorio, visual artist and MacArthur Fellow with experience in public art
Harriet Senie, public art scholar, author, and professor of art history and director of the art history program and art museum studies at City College of New York
Shahzia Sikander, visual artist and MacArthur Fellow with experience in public art
Audra Simpson, Mohawk anthropologist and professor of anthropology at Columbia University
John Kuo Wei Tchen, historian of Chinese Americans in New York City and associate professor at New York University
Mabel Wilson, architect and scholar of race, memory, and urbanism
Mayor de Blasio said in a statement:
This diverse group of experts will be creating a thoughtful set of guidelines that acknowledge the complexities of history and the values that matter to us as New Yorkers. The commission will also make specific recommendations for a select few monuments and markers that have prompted understandably passionate public discourse. I'm confident that this process will produce a conversation capable of examining our public art through the accurate, contextual historical lens that it deserves.
The "select few" that the Mayor is referring to are likely Columbus Circle's Christopher Columbus statue (City Council Speaker Melissa Mark-Viverito wants the statue removed based on accounts that Columbus enslaved and killed indigenous people), all monuments and naming related to Peter Stuyvesant (based on a request from Jewish rights group Shurat HaDin-Israel Law Center due to Stuyvesant anti-Semitic past and religious intolerance), and the East Harlem statue of Dr. James Marion Sims, who became the father of modern gynecology by performing experiments on slaves without consent or anesthesia.
RELATED: