Proposed project would bring 167 affordable housing units to East New York using modular construction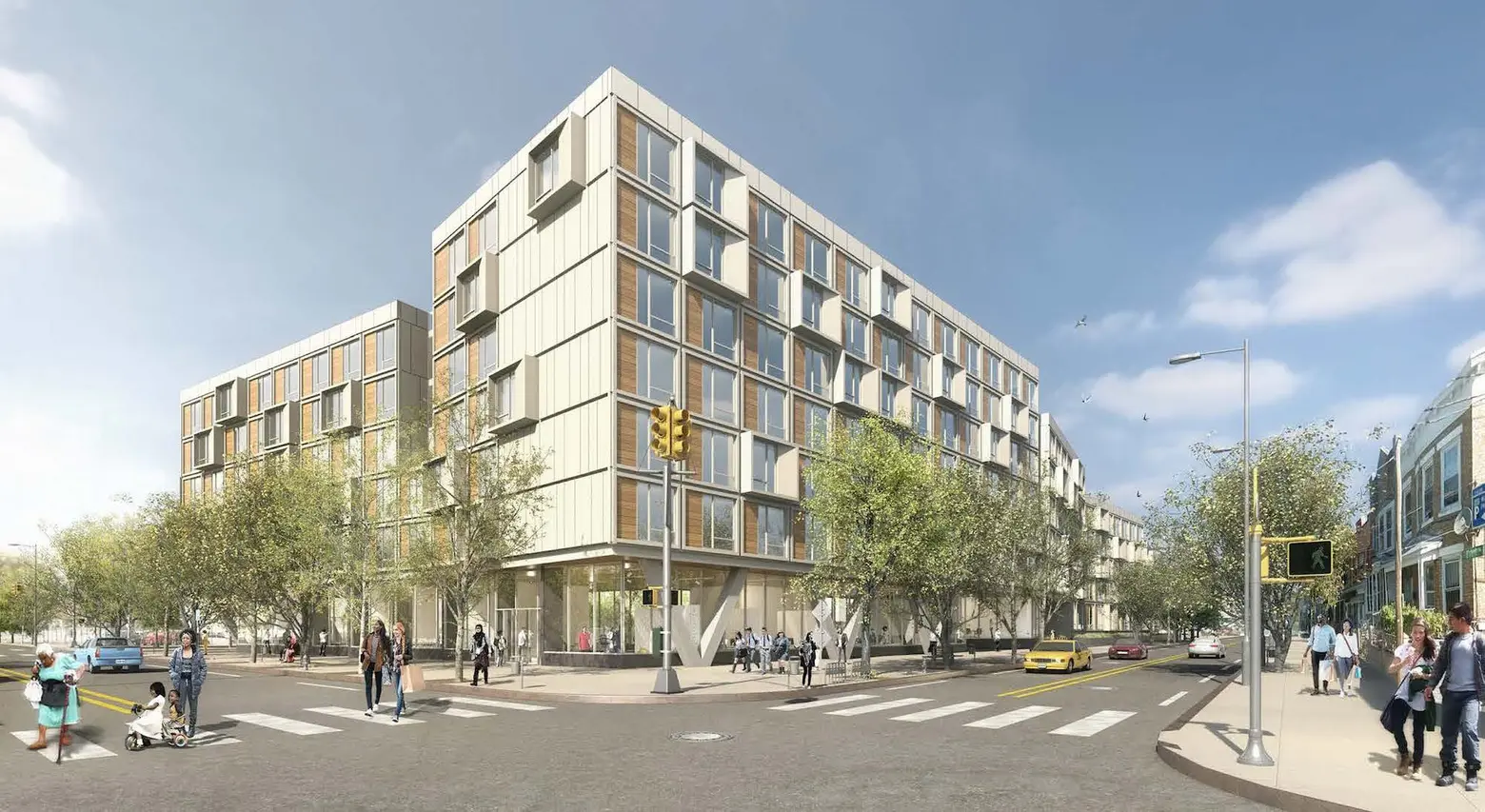 Rendering courtesy of Think! Architecture and Design
Hoping to create affordable housing more quickly and at a lower cost, New York City is turning to cutting-edge construction methods. The city's Department of Housing Preservation and Development announced on Monday plans to develop 167 affordable housing units in the Brooklyn neighborhood of East New York using modular construction. The $70 million project would become the first under Mayor Bill de Blasio's Housing New York 2.0 program to use this method of building on property owned by the city. As first reported by the Wall Street Journal, officials think modular construction could reduce the project's timeline by 25 to 30 percent.
"Modular construction is the next frontier in housing, and this project will help advance this new construction trend, while bringing 167 affordable homes to East New York, making good on a promise to the community," Maria Torres-Springer, the commissioner of HPD, said.
The city tapped a team led by Thorobird Companies and local nonprofit Bangladeshi American Community Development and Youth Services (BACDYS) to develop the project, following a request for proposals process. Brooklyn-based FullStack Modular will develop the apartment units, while Think! Architecture and Design will handle the project's design, which will feature an undulating exterior, according to the WSJ.
The development will rise at 581 Grant Avenue on an L-shaped parcel, bounded by Pitkin Avenue to the south, Grant Avenue to the west, and Glenmore Avenue to the north. It sits next to the A subway station.
A mix of studio, one-, two-, three-, and four-bedroom units will be available to low-income New Yorkers, including those formerly experiencing homelessness. Residents will also be able to enjoy a landscaped rooftop and ground level public plaza.
The development will include a community space, overseen by BACDYS, that focuses on serving immigrants, women, and low-income community members, and a medical clinic operated by BMS Health and Wellness.
"The modular design allows us to provide not only the tailored affordable homes and related community amenities that the City Line community demands, but also an optimal production process," Thomas Cambell, managing member of Thorobird, said. "The homes will arrive faster, in a better quality and at a lower cost."
The East New York project will go through a public approval process. If approved, construction will begin in 2021 with an estimated completion date in 2022.
RELATED: