City Council unanimously approves Midtown East rezoning plan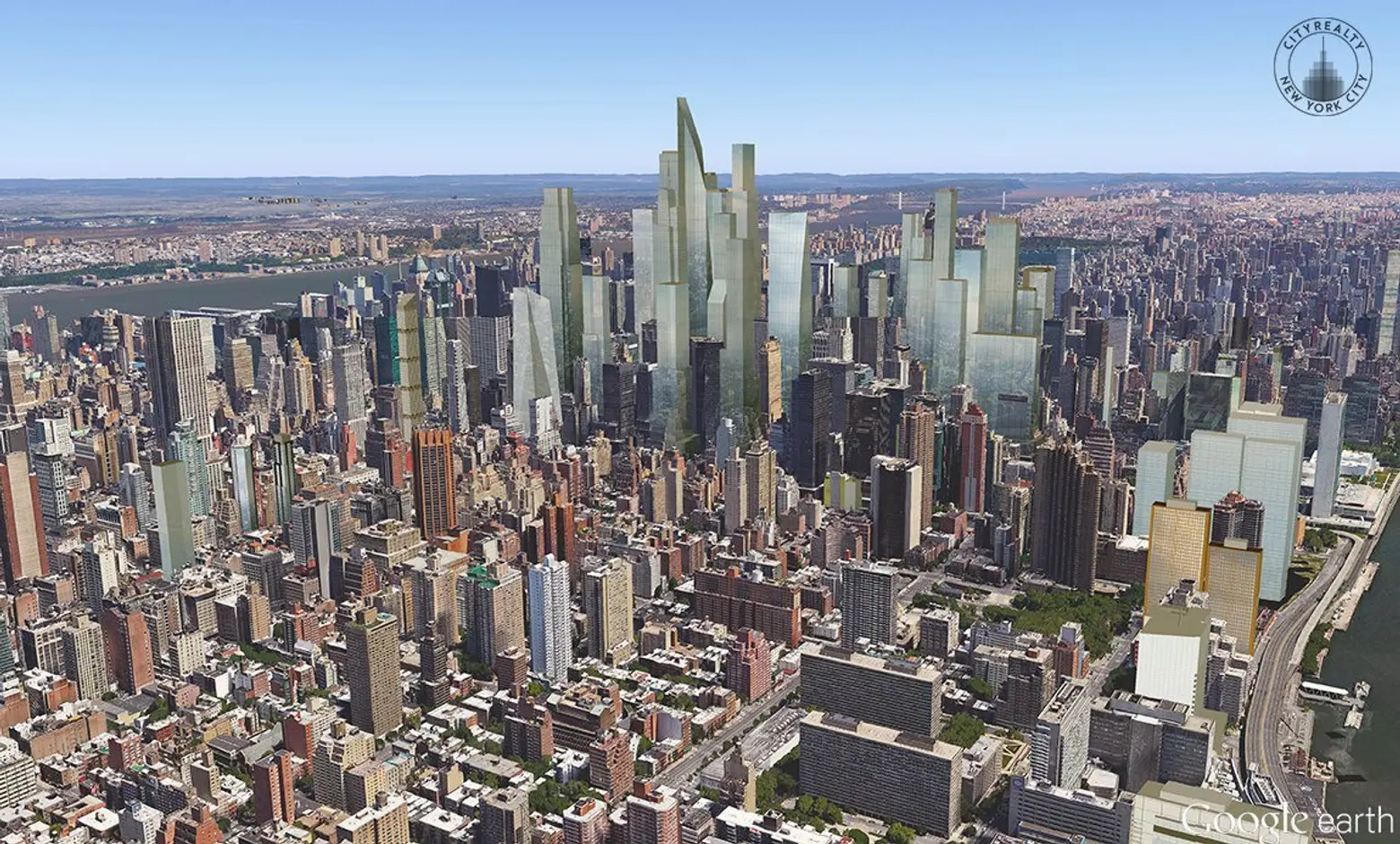 Conceptual image depicting all of the proposed sites of the East Midtown rezoning fully built out, via CityRealty
After five years, the City Council approved a rezoning for Manhattan's Midtown East on Wednesday, by a 42-0 vote. The proposal will rezone roughly 78 blocks, running from East 39th Street to East 57th Street and from Third Avenue to Madison Avenue, clearing the way for 6.5 million square feet of office space in the area. A new updated zoning code is expected to incentivize new, dense development, allowing Midtown to compete with other booming business districts in the borough like Hudson Yards and the Financial District. As the New York Times reported, this change which lets developers build to a higher floor area ratio could result in new supertall towers.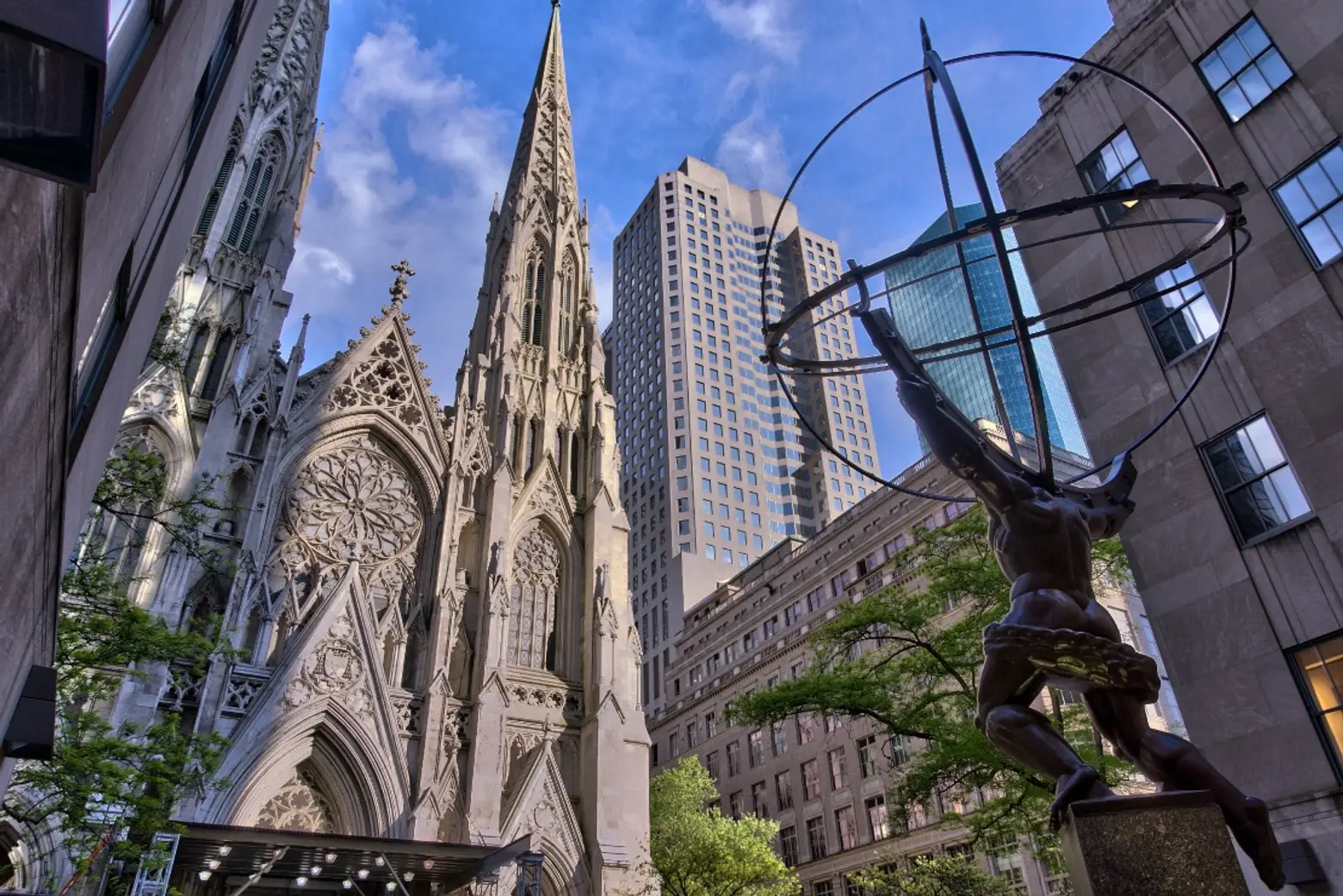 St. Patrick's Cathedral via Wikimedia
Mayor Bloomberg first sought a Midtown rezoning in November 2013 but had no support from the City Council. Now, nearly five years later, city officials hope the approved rezoning revitalizes and modernizes the district while making New York more competitive with other global financial capitals. The office buildings of East Midtown are on average 75 years old and have rapidly become out of date, as Councilman Daniel Garodnick wrote in the Daily News. Out of the 475 buildings in the district, more than 300 of them are older than 50 years old. The City Planning Commission unanimously approved the proposal last June, as 6sqft previously covered.
The rezoning allows landmarks, like St. Patrick's Cathedral, to sell and transfer their unused development rights anywhere in the 78-block rezoned block. Before any new buildings are built, developers must work with owners of these landmarked buildings. The market will decide how much the air-rights are worth, but the proposal calls on the city to collect a tax of at least $61.49 per square foot from a sale of these rights. Proceeds will be used to finance the city's commitment to spend $50 million on improving public space and streets in East Midtown.
Over the next two decades, the development is expected to create 28,000 new permanent jobs and 23,000 construction jobs. The rezoning will also aim to improve the area's public transit and public spaces, by investing in subway stations and improving public sidewalks and plazas to make them less congested. The proposal targets the following transit hubs for improvement:
Lexington Avenue/53rd Street and 51st Street (E,M,6)
Lexington Avenue/59th Street (N,Q,R,4,5,6)
Fifth Avenue/53rd Street (E,M)
Rockefeller Center/47th-50th Street (B,D,F,M)
Bryant Park/Fifth Avenue (B,D,F,M,7)
Grand Central (4,5,6,7,S)
Rob Byrnes, president of the East Midtown Partnership, commended the city council's decision."While East Midtown remains an important commercial hub, the aging building stock has increasingly made it less attractive for modern business needs," Byrnes said. "Rezoning to allow for upgraded structures will allow this vital part of the city to continue to thrive, and by tying new development to needed transportation and public realm improvements, everyone will benefit."
The city has identified 16 properties that most likely will take advantage of the rezoning. While real estate developers and public officials, including Mayor de Blasion, have shown their support for the rezoning, others have concerns about the effects of increased density in Midtown.
Simeon Bankoff, the executive director of the Historic Districts Council, told 6sqft: "This aggressive and unnecessary plan for growth gives away some of Manhattan's most valuable real estate while giving little back to New Yorkers. If actually built out, this plan will result in lightless, tightly-packed streets with unrelieved walls of glass more reminiscent of a nightmarish cartoon than the layered urban district which currently exists."
[Via NY Times]
RELATED: