Bike lanes to replace car lanes on the Brooklyn and Queensboro bridges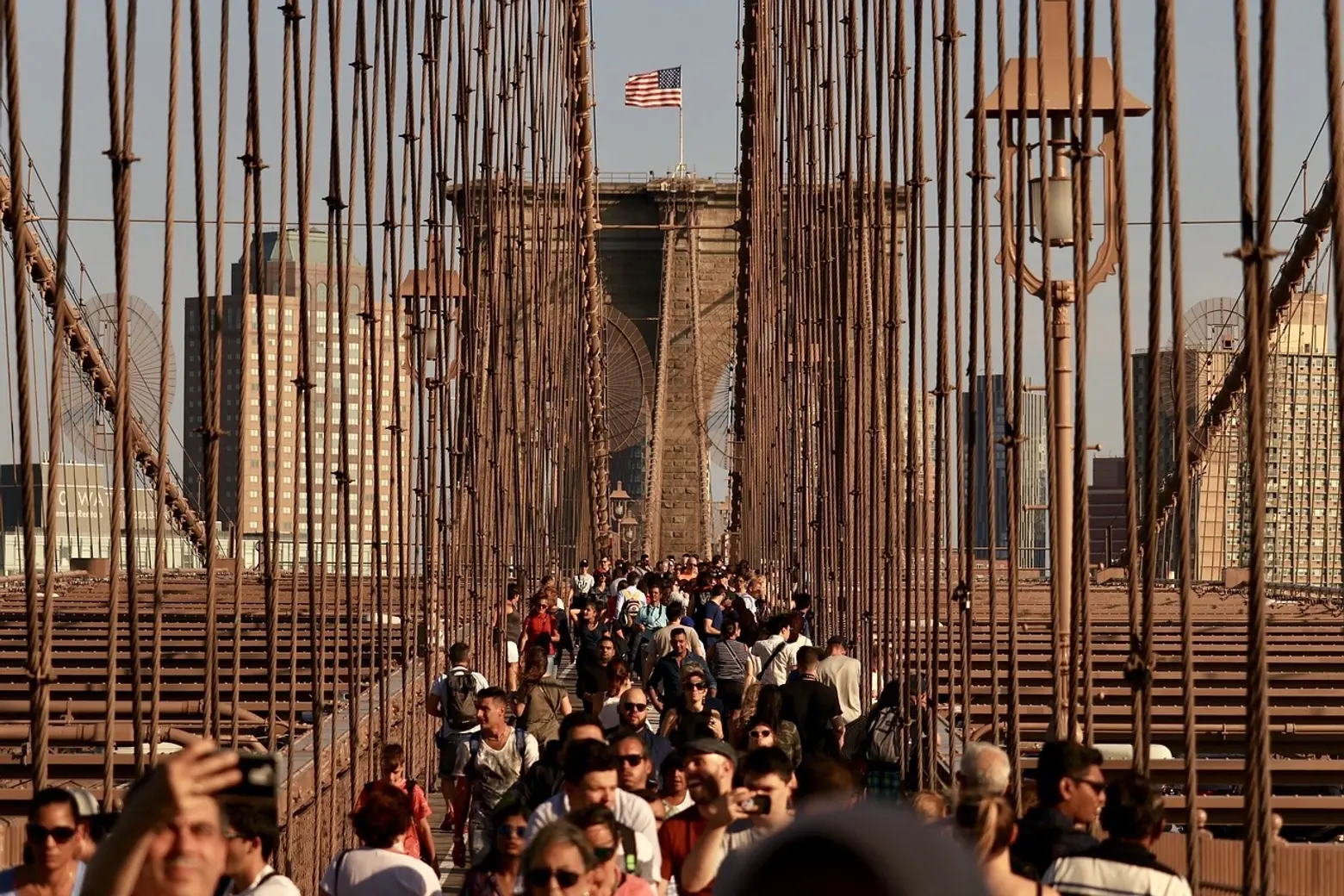 New York City plans to ban cars from part of two major East River bridges and reserve them for cyclists. Mayor Bill de Blasio on Thursday unveiled a proposal to transform the innermost lane of the Brooklyn Bridge into a two-way protected bike lane and convert the north outer roadway of the Queensboro Bridge into a two-way bike-only lane. The "Bridges for the People" plan was announced as part of the mayor's final State of the City address, "A Recovery for All of Us."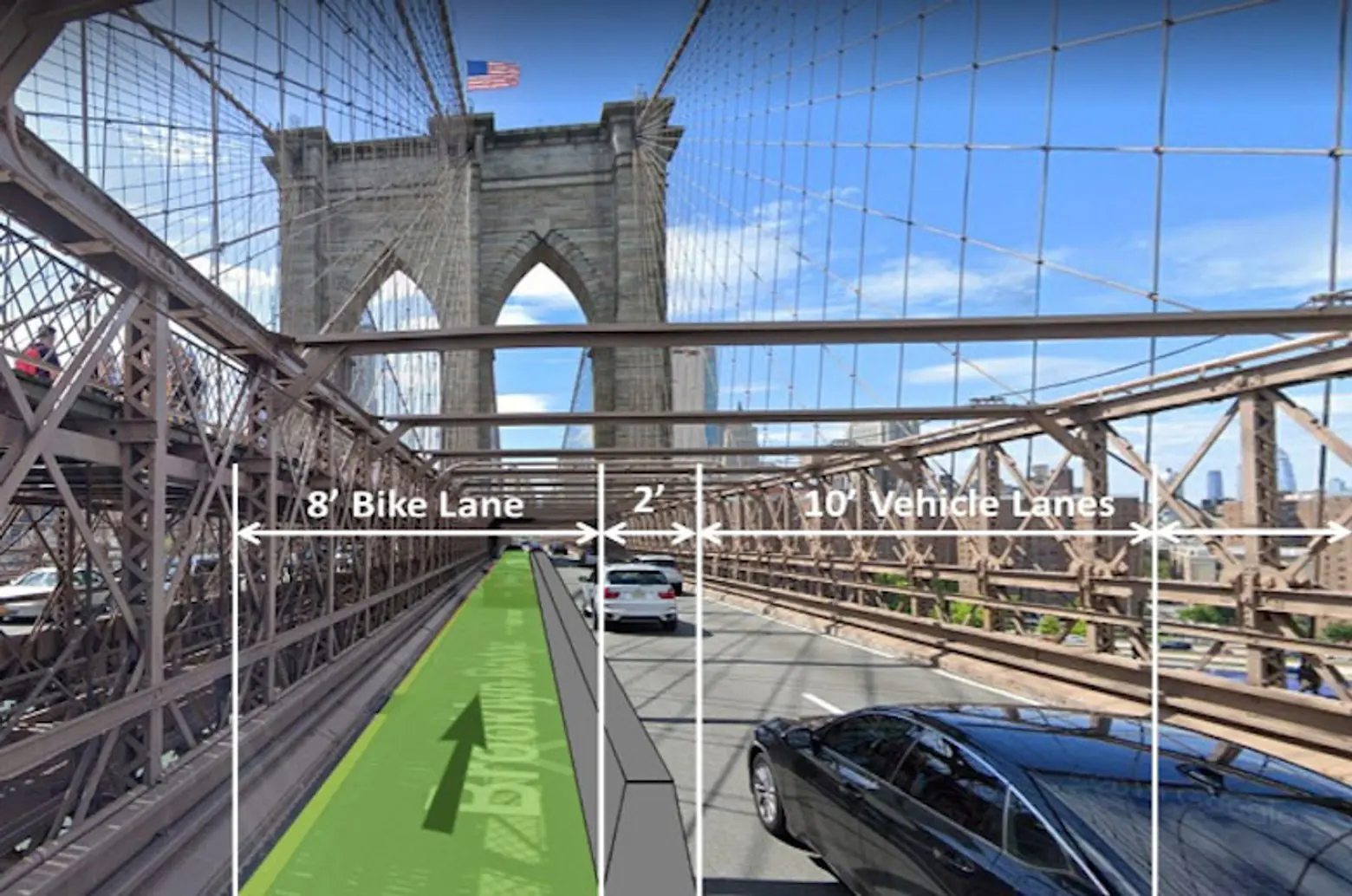 Bike lane illustration courtesy of Mayor Bill de Blasio's office
During the taped address, de Blasio said the city is "moving away from cars and leaving the era of the automobile behind." He added: "We'll take our bridges, our iconic bridges that we see in beautiful symbols of the city but unfortunately have been part of the problem, and we'll turn them into part of the solution."
According to the proposal, which was first reported by the New York Times, a two-way designated bike lane will replace the innermost car lane of the Manhattan-bound side of the Brooklyn Bridge and the existing shared elevated promenade will be dedicated to pedestrians. On the Queensboro Bridge, de Blasio said construction will begin this year to convert the north outer car lane into a two-way bike-only lane and turn the south outer roadway into a two-way pedestrian-only lane.
A rendering of the proposal shows an eight-foot-wide bike with a two-foot protective barrier separating cyclists from the 10-foot car lane.
Advocates and some officials have been pushing for the city to address the dangerous congestion issue of the Brooklyn Bridge, which saw foot traffic on its promenade increase on weekends by 275 percent and bike traffic grow by over 100 percent between 2008 and 2015. Plus, the coronavirus pandemic has caused a boom in bicycle ridership as New Yorkers choose bikes over mass transit, with 55 percent more bikers crossing East River bridges in November 2020 than in November 2019, according to Comptroller Scott Stringer's office.
A variety of proposals have been introduced over the years to fix the "Times Square in the Sky" and last year City Council Speaker Corey Johnson and the Van Alen Institute launched a design competition seeking creative improvements to the 138-year-old structure's walkway. In September, Transportation Alternatives launched the Bridges 4 People campaign that called on the city to reallocate two car lanes on Brooklyn, Manhattan, and Williamsburg Bridges into safe space for cyclists.
"Converting car lanes into bike lanes on two of our most important bridges is a giant leap forward for New York City," Danny Harris, executive director of Transportation Alternatives, said in a statement. "After decades of advocacy by Transportation Alternatives and thousands of our grassroots activists, we are thrilled that Mayor de Blasio has taken up our Bridges 4 People campaign with his Bridges for the People plan. We look forward to working with the de Blasio administration on this vital new project and other efforts to improve infrastructure for cyclists and pedestrians on bridges and streets across the five boroughs."
De Blasio also announced the city would install five new "Bike Boulevards," streets designed to give bikers priority and slow vehicles, and make his "Open Streets" initiative permanent and even expand the program to more streets citywide. The mayor also proposed building new public spaces, like pedestrian plazas, new Open Streets, and Greenmarkets, in 30 neighborhoods hit hardest by COVID-19.
De Blasio's ambitious agenda laid out in his address also included vaccinating five million New Yorkers by June, creating a permanent racial inclusion and equity task force, recovering the job losses that stemmed from the pandemic, urging for a billionaires' tax, revitalizing small businesses, ending homelessness, closing the COVID-19 achievement gap for students, reducing dependence on fossil fuels and cars, and a number of other proposals.
See the mayor's entire 2021 agenda that is part of his Recovery for All of Us plan here.
RELATED: