The best spots to see fall foliage in NYC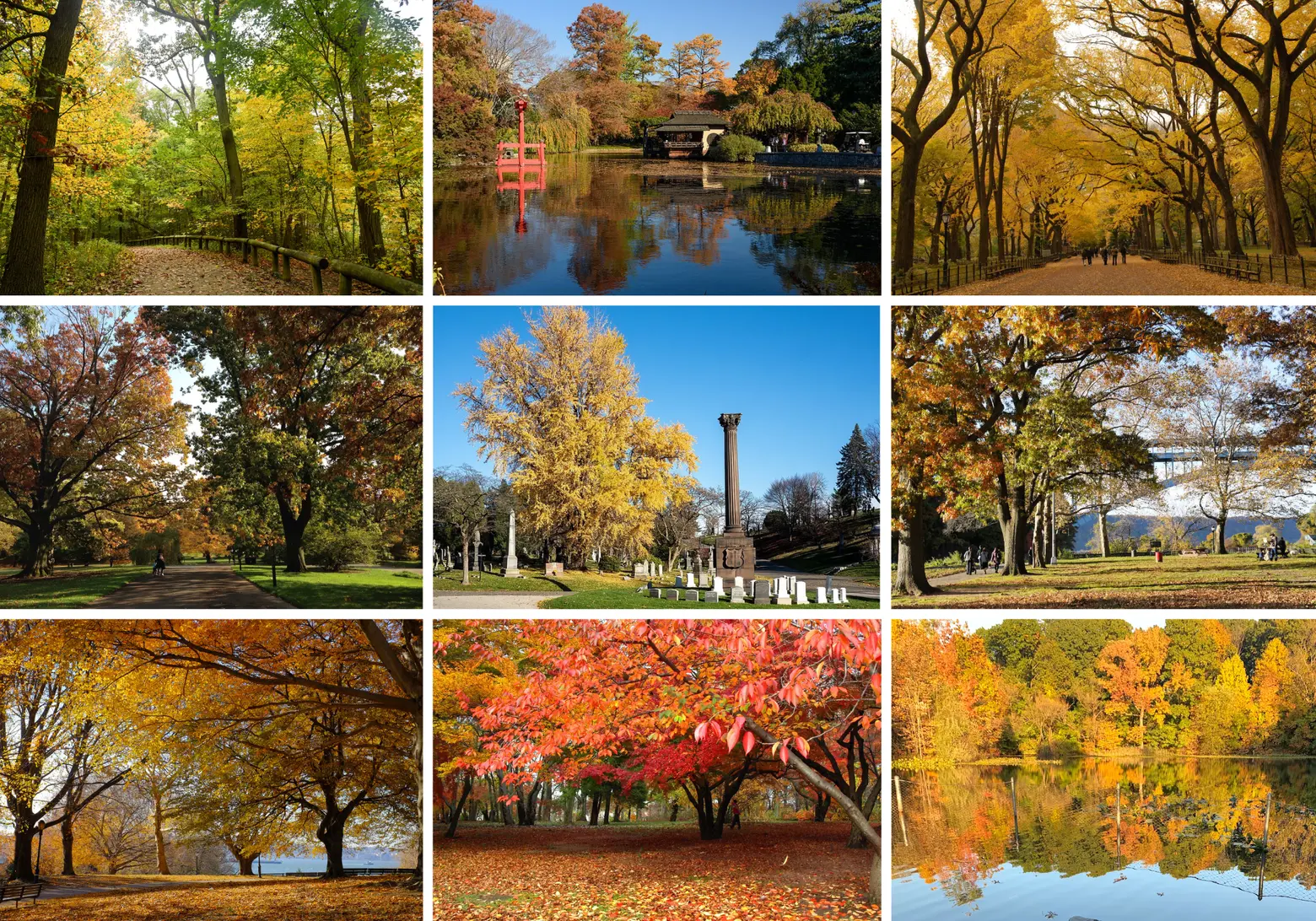 The beautiful yet fleeting season of fall has officially begun in New York City. While a trip to the Catskill or Adirondack mountains makes for a fun weekend, New Yorkers don't have to travel outside city limits to enjoy the colorful fall foliage. Typically, peak foliage in the city takes place at the end of October through early November and lasts only a few days. Ahead, find some of the best parks and gardens across the five boroughs to take in the beauty of the season.
Brooklyn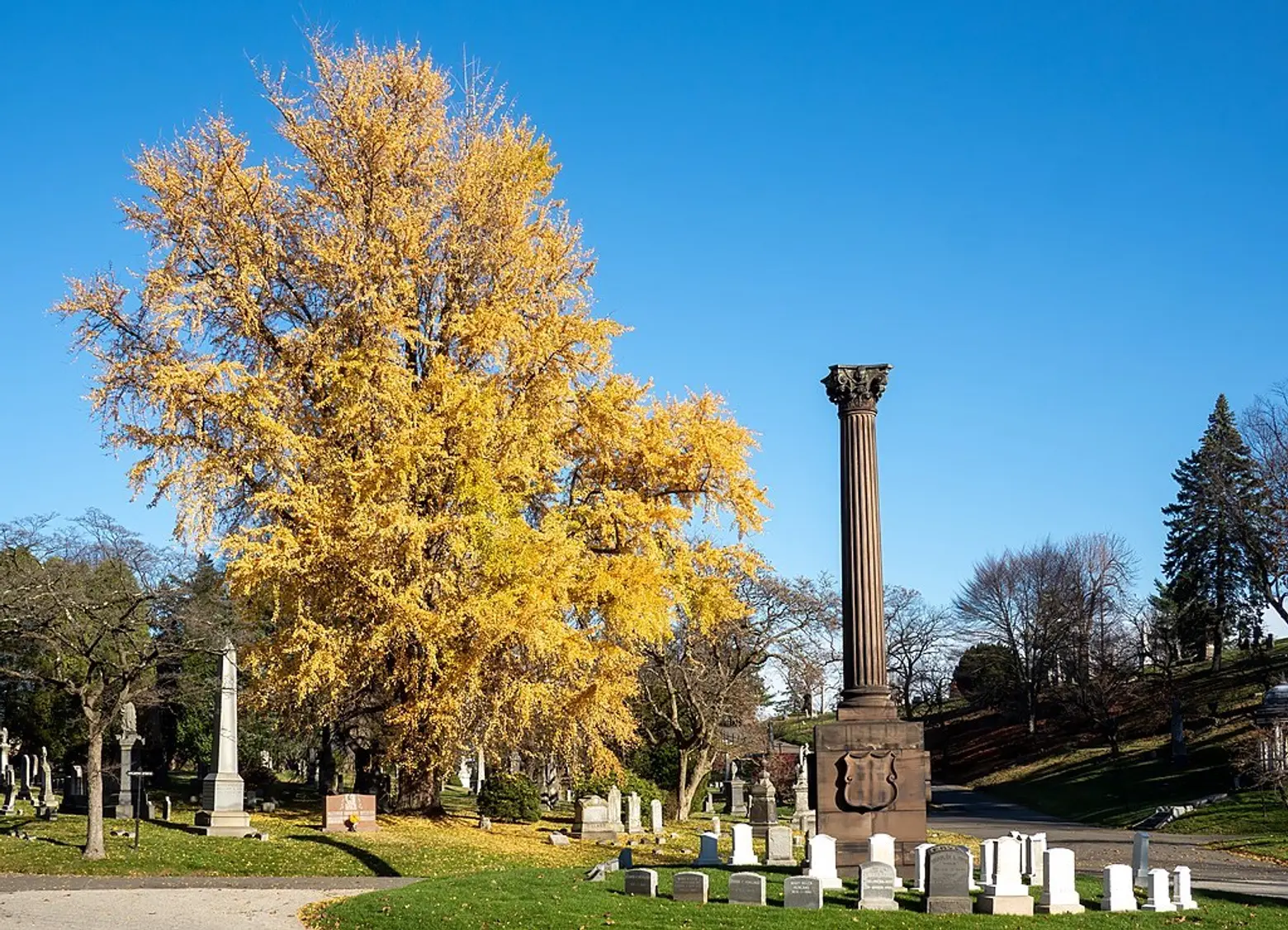 Photo by Rhododendrites on Wikimedia
The Green-Wood Cemetery
While the Green-Wood Cemetry is enchanting all year round, the 478-acre historic landmark really shines during the fall. Across its hills, valleys, and glacial ponds, Green-Wood offers a diverse collection of trees and living specimens, including the all-stars of autumn: sugar maple, Japanese maple, oak, and Gingko trees. Plus, the cemetery boasts one of the largest collections of 19th- and 20th-century statuary and mausoleums, making it the perfect place to visit around Halloween.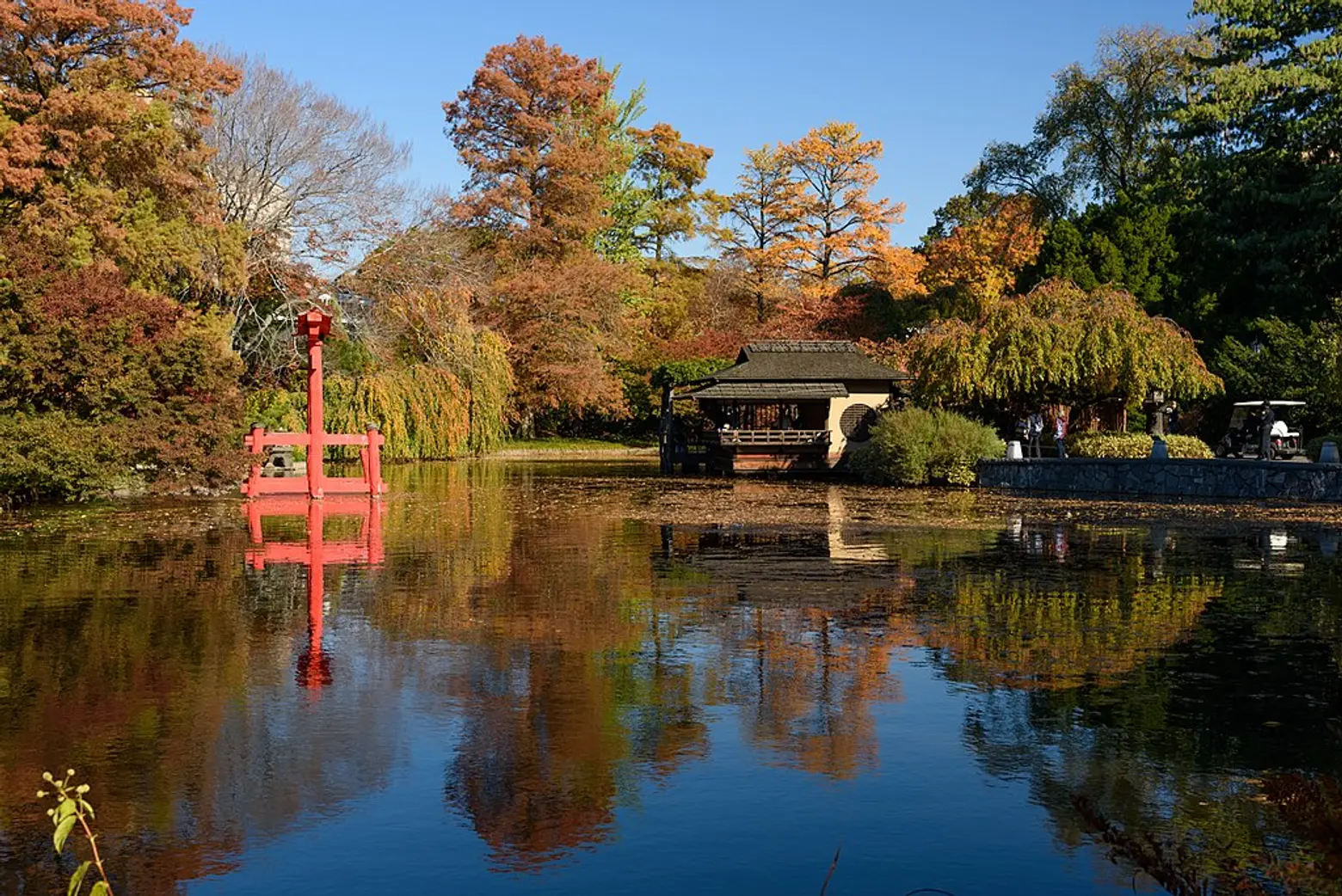 Photo by King of Hearts on Wikimedia
Brooklyn Botanic Garden
A vibrant array of reds, yellows, and oranges can be seen in the Brooklyn Botanic Garden starting in October through the end of November. Must-sees of the season include the katsura tree near Oak Circle, which is one of the garden's oldest trees, scarlet oaks along Cherry Esplanade, black tupelos in the Water Garden, and the 100-foot-tall sweet gum tree next to the upper gate. The garden recommends heading to the Japanese Hill-and-Pond Garden when fall foliage is at its peak to enjoy the lovely views of several different maple species, including Japanese and cut-leaf maples.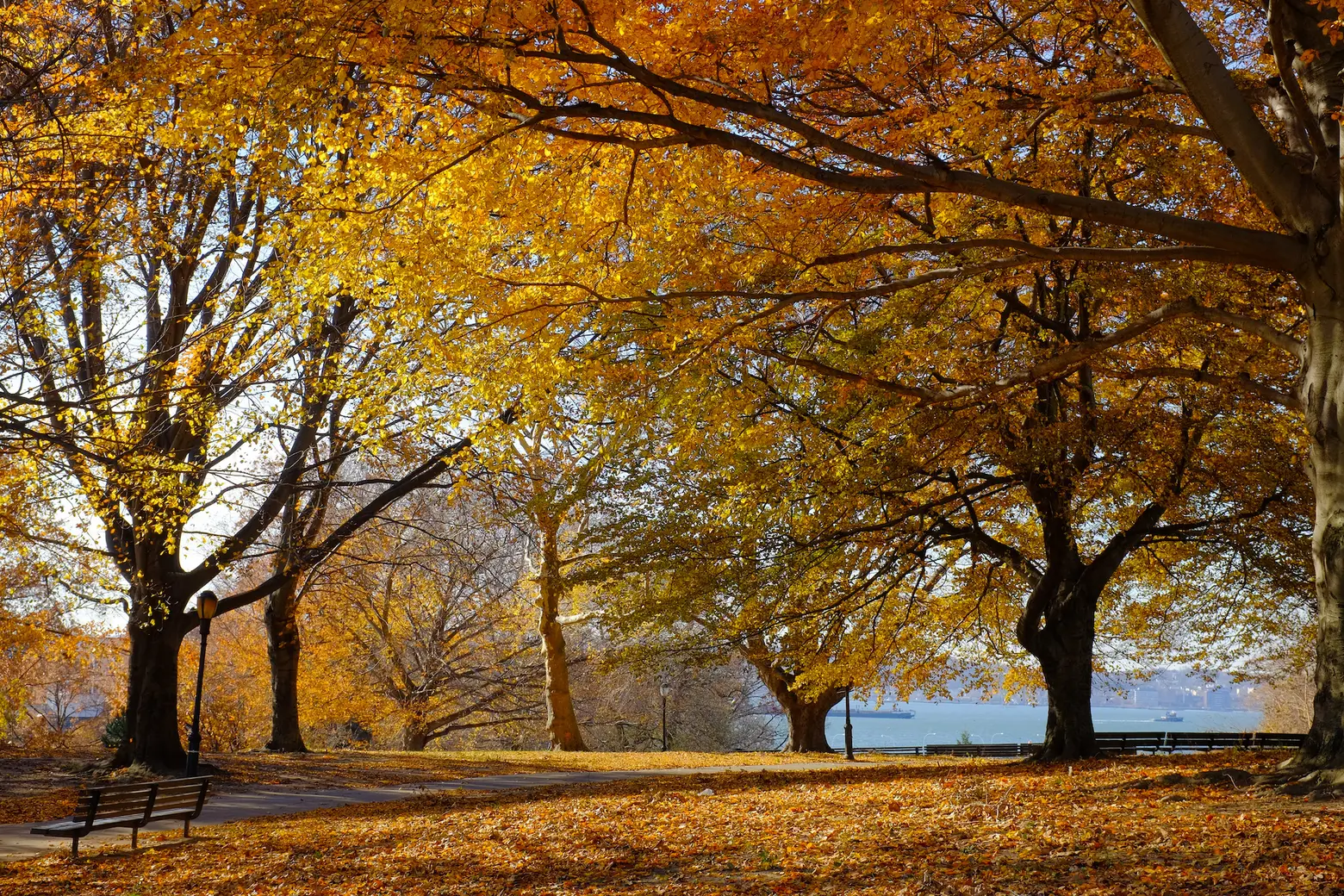 Photo credit: NYC Parks
Owl's Head Park
In Bay Ridge, Owl's Head Park is known for its sloping hills and New York Habor views. It's also a great spot to take in the changing colors of fall, with nearly 30 acres and a variety of trees. According to NYC Parks, the most colorful trees to see at the park during the fall include oaks, maples, beeches, and tulip poplars.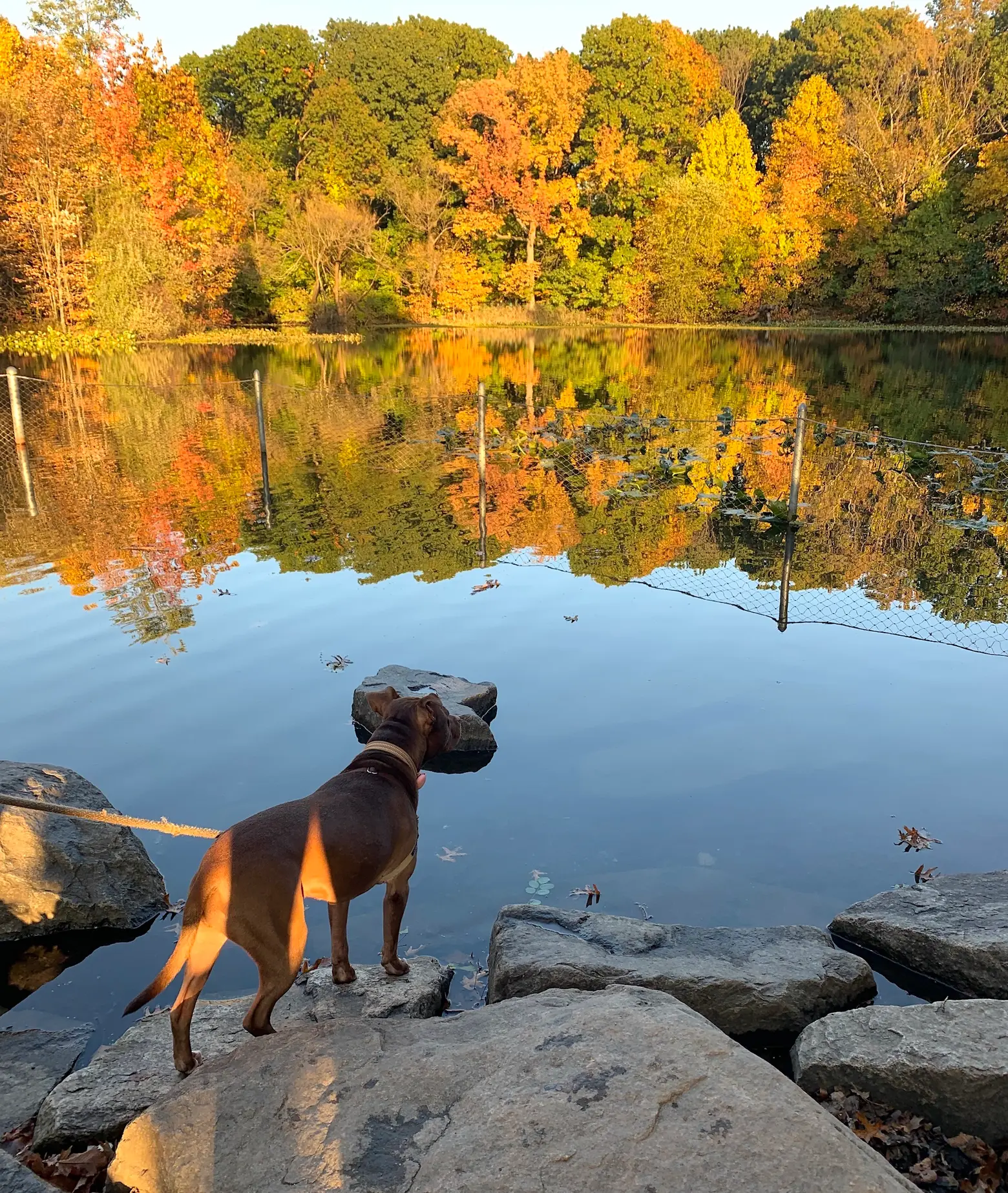 Photo © 6sqft
Prospect Park
Seasoned leaf-peepers know Prospect Park is one of the best spots in the city to enjoy the fall foliage as it transforms from a green oasis to an orange and gold one. While all of the park's 500 acres can be enjoyed in every season, autumn puts on a show at the Peninsula, the Ravine (Brooklyn's only forest), the Lullwater and its bridge, and Lookout Hill, one of the borough's highest points that provides sweeping treetop views.
Bronx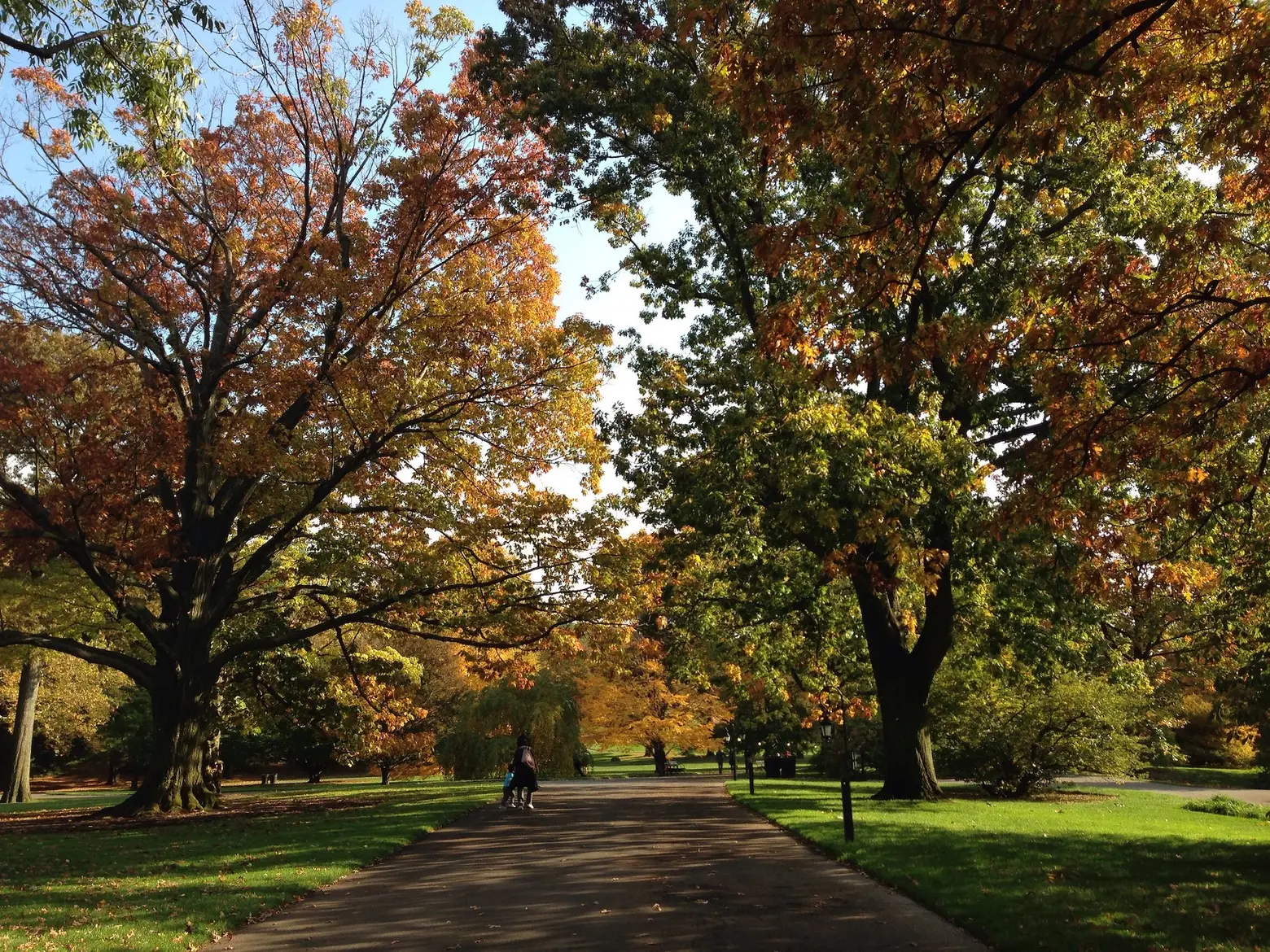 Photo by Jessica Sheridan on Flickr
New York Botanical Garden
The Bronx's New York Botanical Garden always goes all out for fall festivities, offering everything from pumpkin parades and pumpkin carving challenges to spooky after-dark adventures and strolls with skeletons, all with its gorgeous 250 acres as a backdrop. When fall foliage hits its peak in the city, head to NYBG's 50-acre Thain Family Forest, the biggest uncut expanse of New York's original wooded landscape. The old-growth forest is home to trees that are largely untouched and pre-date the American Revolution.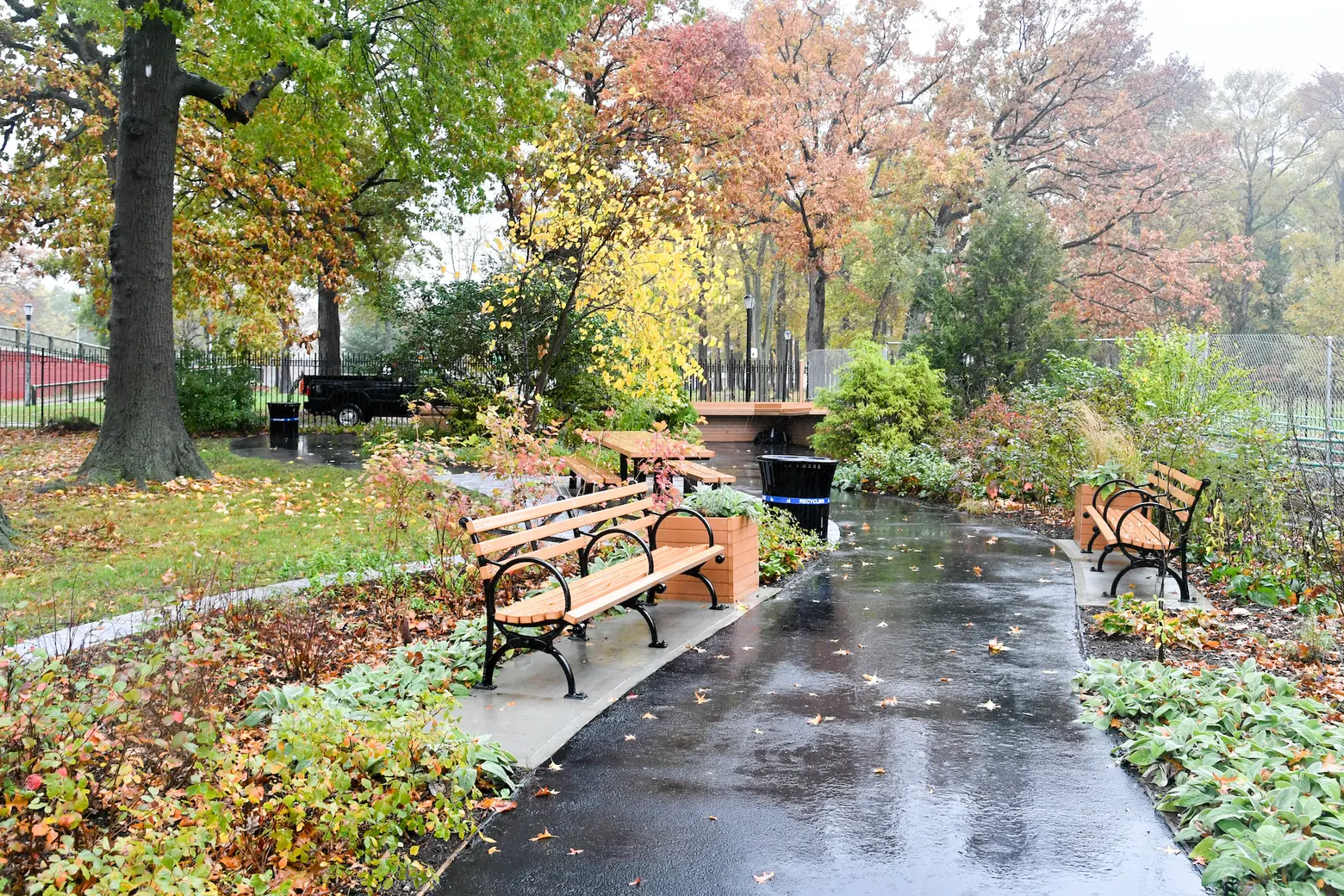 Photo credit: NYC Parks
Pelham Bay Park
Taking up more than 2,770 acres in the northeast section of the Bronx, Pelham Bay Park is New York City's largest park. While there are so many sights to see and places of interest to visit in the park, during the fall, NYC Parks suggests taking a hike along the Kazimiroff Trail, which runs through Hunter Island, a nature sanctuary with "tall oaks, Norway spruces, and white pines." Pelham Bay Park's Sensory Garden, which was recently renovated in 2020, features a playground surrounded by foliage and flowers, aimed at engaging all five senses.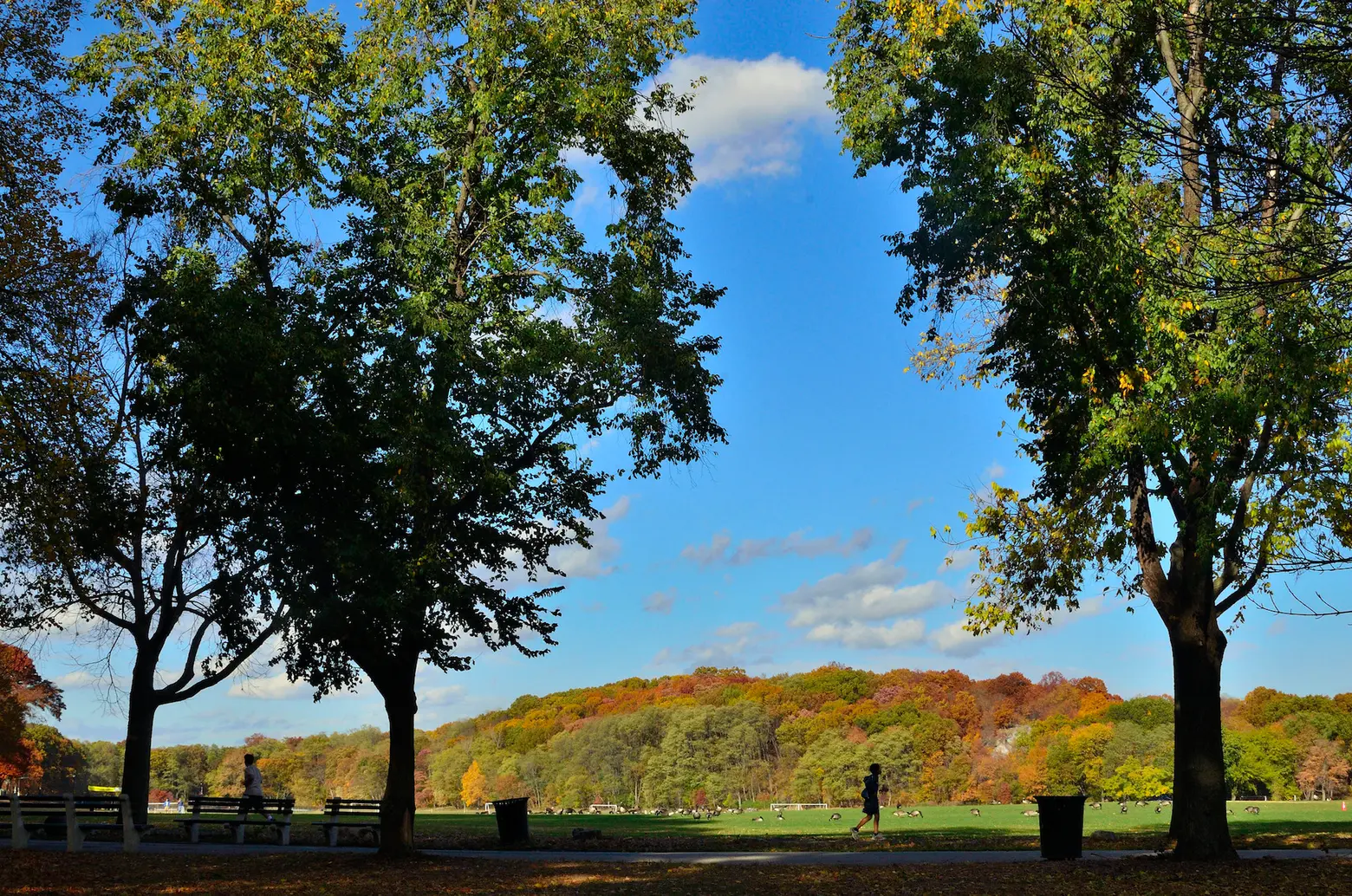 Photo by Steven Pisano on Flickr
Van Cortlandt Park
Stretching from the northwest Bronx up to Westchester County, Van Cortlandt Park is the city's third-largest park and one of its most natural. Across its 1,000-plus acres, the park's oak, hickory, sugar maple, and sweetgum trees will show off reddish brown and yellow leaves for a short time this fall. The best way to see all of the park's foliage offerings is by hiking along the John Muir trail, a two-mile trek through the Northeast Forest, the Croton Woods, and the Northwest Forest, as NYC Parks notes. This year, the Urban Park Rangers are offering a "fall foliage hike" to explore and learn about the park's fall foliage.
Manhattan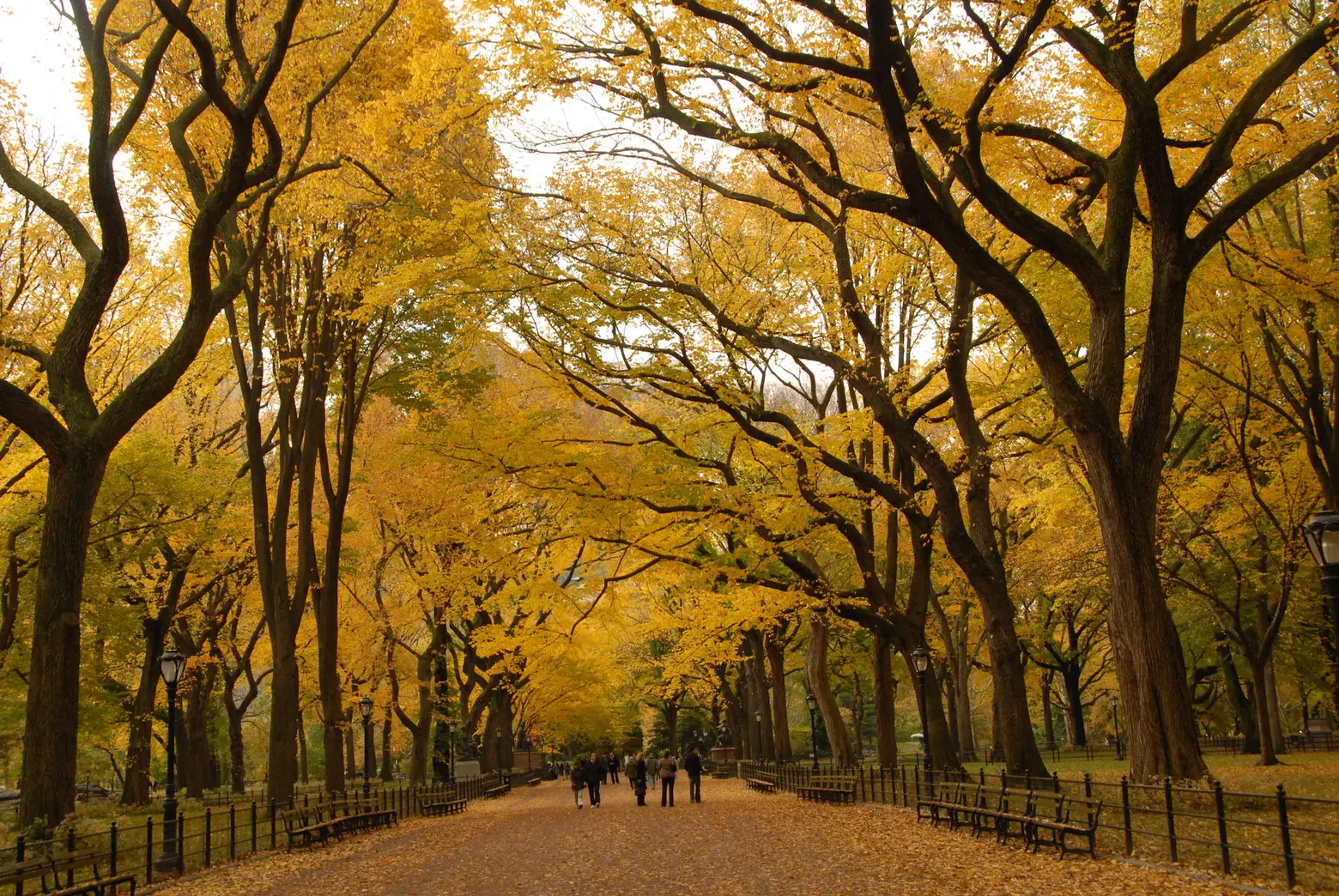 Photo: Central Park Conservancy
Central Park
A more obvious choice for this list, but a necessary one, Central Park is a magical place during the fall. The iconic park's 18,000 trees transform into a mosaic of yellow, orange, and red across its various landscapes. Some spots recommended by the Central Park Conservancy include the North Woods, the Conservatory Garden, The Pool, North Meadow, The Reservoir, The Ramble, The Mall, and The Pond and Hallett Nature Sanctuary. From black cherry and scarlet oak to American elm and hickory, Central Park's trees are must-sees during peak fall foliage. Check out the conservancy's complete fall foliage map here.

Photo by Allison Meier on Flickr
Franklin D. Roosevelt Four Freedoms Park
Spend a fall afternoon at Roosevelt Island's FDR Four Freedoms Park, a four-acre park that honors the four essential freedoms laid out in a 1941 speech by President Roosevelt. Located on the southern tip of Roosevelt Island, the memorial is made of 7,700 tons of granite and has 120 Little Leaf Linden trees, which change from green to a golden-orange color during the fall.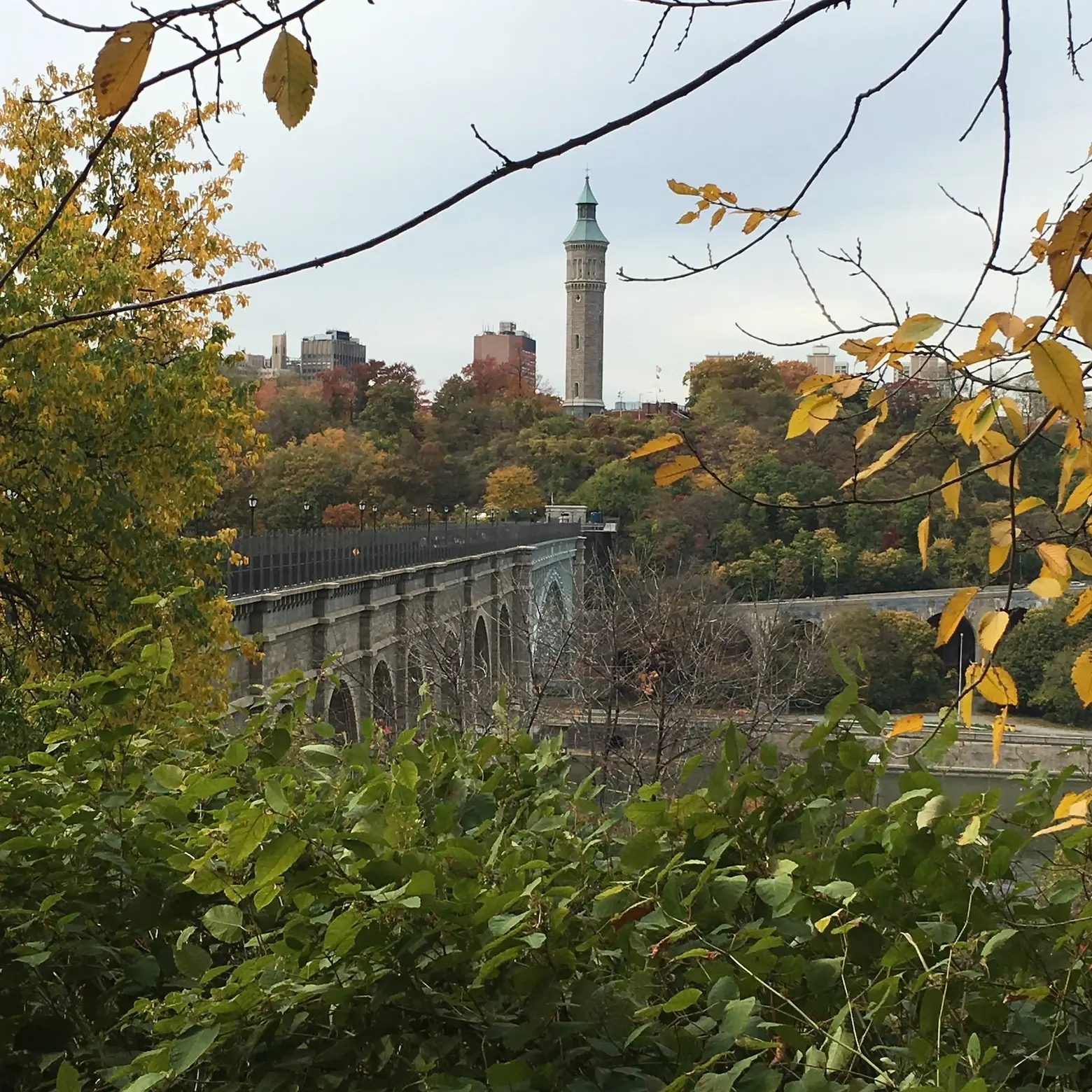 Photo by Shannon McGee on Flickr
Highbridge Park
Named for the city's oldest standing bridge, Highbridge Park is a 130-acre urban oasis in Washington Heights with both natural and introduced forests, which are home to a variety of trees like northern red oaks, hickory, sweetgum, tulip trees, indigenous black cherry, sassafras and hackberry trees, among others. For the best views of fall foliage, hit the trail that runs above Harlem River Drive and passes by the historic bridge and water tower.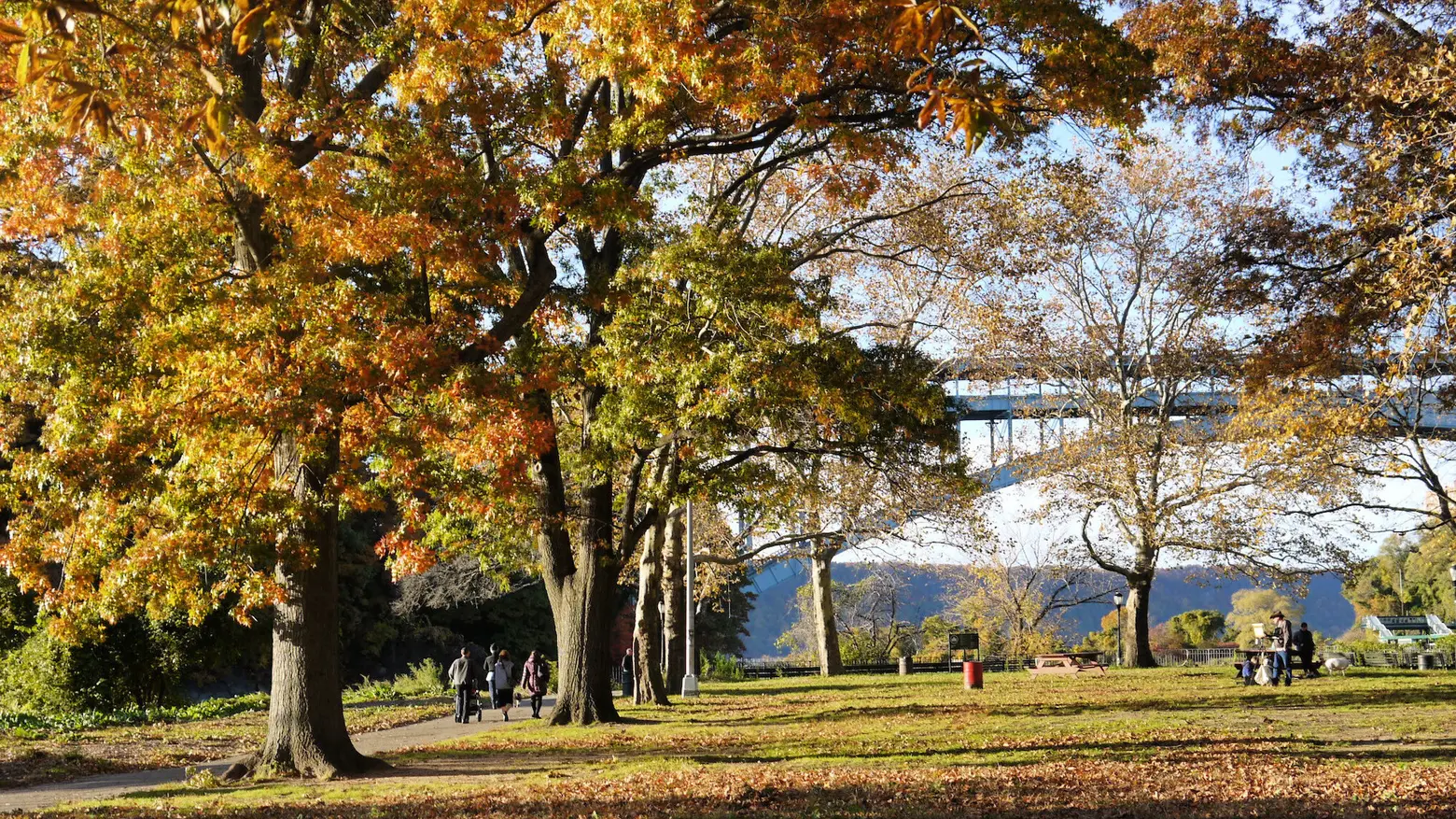 Photo by Eden, Janine and Jim on Flickr
Inwood Hill Park
Home to Manhattan's last remaining natural forest, Inwood Park is a great spot to enjoy the fall scenery. With several steep hills, caves, and rock formations, along with Manhattan's last natural salt marsh, the park's prehistoric roots are on full display. During the fall, NYC Parks recommends taking a walk along the park's blue trail, which brings hikers through the forest full of colorful oak and hickory trees and to the Overlook Meadow, which offers pretty panoramic views of the Hudson River and New Jersey Palisades.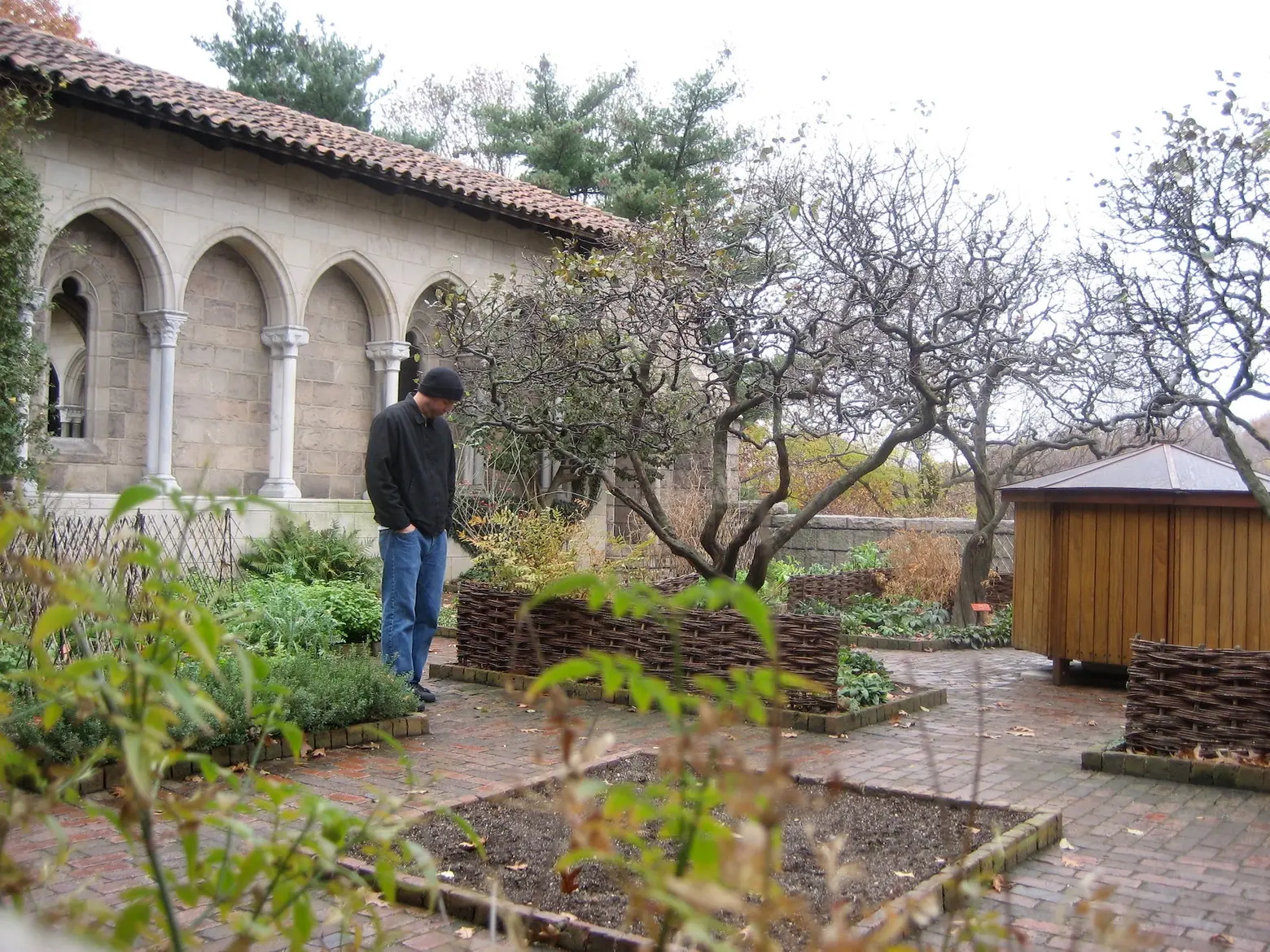 Photo by missvancamp on Flickr
The Met Cloisters
Here's a unique way to enjoy fall foliage in New York. Found in Washington Heights' scenic Fort Tryon Park, the Met Cloisters is the only museum in the U.S. dedicated exclusively to the art and architecture of the Middle Ages. The museum is surrounded by gardens, which feature medieval species and plants grown in Romanesque and Gothic cloisters.
Queens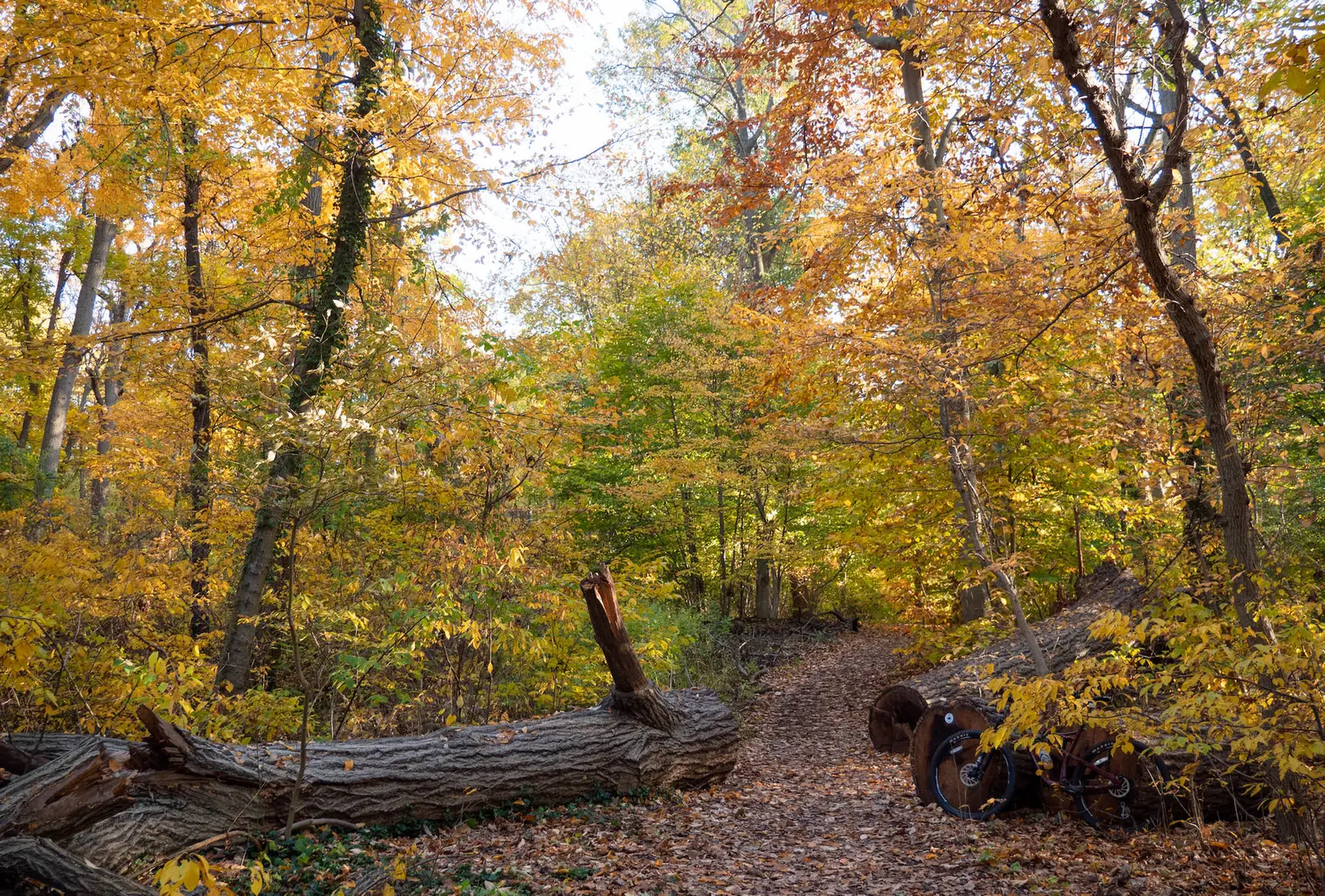 Photo by Dan DeLuca on Flickr
Alley Pond Park
Located east of Flushing and below Little Neck Bay, Alley Pond Park is a huge park with 635 acres of meadows, ponds, forests, and marshes. The Queens park has several hiking trails worth walking for an up-close look at its many pin oaks, white pine, black cherries, American beech, and sweetgum trees. For the most promising leaf-peeping opportunities, head to Oakland Lake, a 15,000-year-old spring-fed glacial kettle pond surrounded by oak trees. And if you take the Tulip Tree Trail, you'll see the park's famous Alley Pond Giant, a 133-foot tall tulip tree estimated to be between 350 and 450 years old.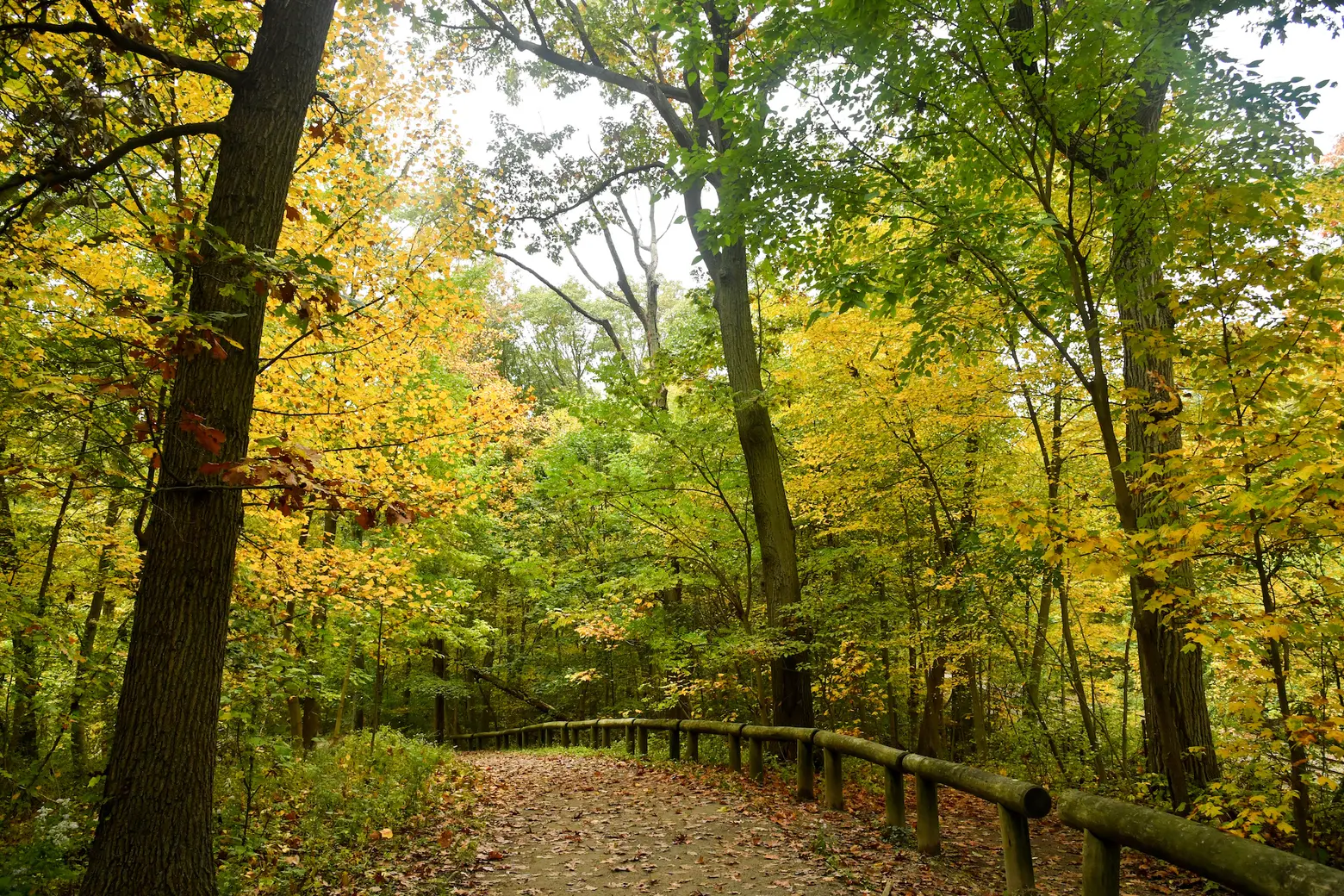 Photo credit: NYC Parks
Forest Park
Located in Central Queens, Forest Park is home to the borough's largest continuous oak forest, making it a great option for a fall foliage stroll. Notable trees to see during the fall include the Northern red oak, scarlet red oak, tulip poplar, shagbark hickory, white oak, and wild black cherry, according to NYC Parks.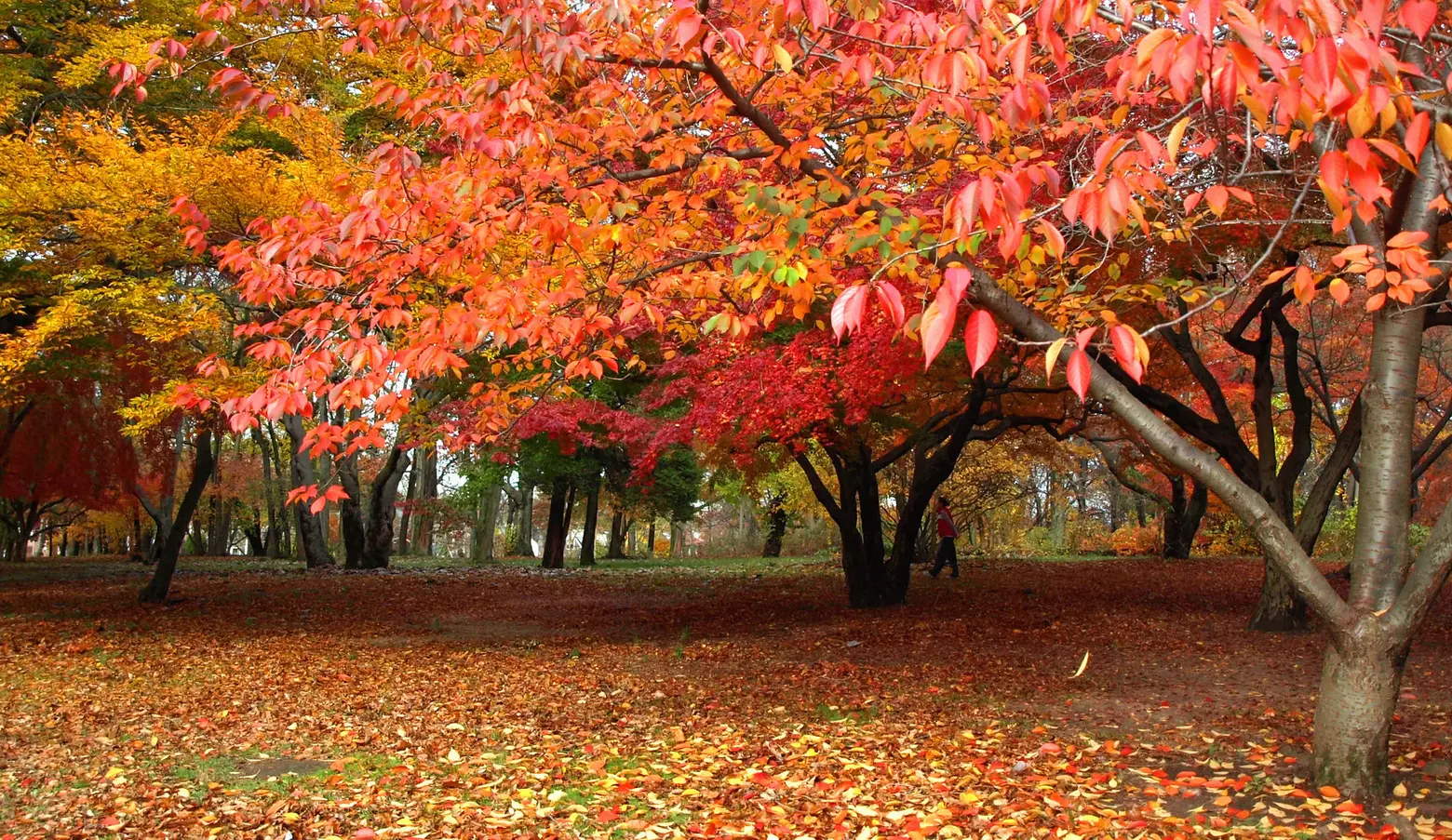 Photo by Terry Ballard on Flickr
Kissena Park
Taking up 235 acres in Flushing, Kissena Park has a historic grove founded in 1839 and boasts over 100 trees from around the world. Found on the northern end of the park near the scenic Kissena Lake, Kissena Grove is a must-visit during the fall, when the leaves of katsura, oak, Japanese maple, weeping beech, willow, and Manchurian linden trees change. During the fall, leaf-peepers will also get to see the bald cypress, an evergreen that changes color during the season, transform from green to fiery orange.
Staten Island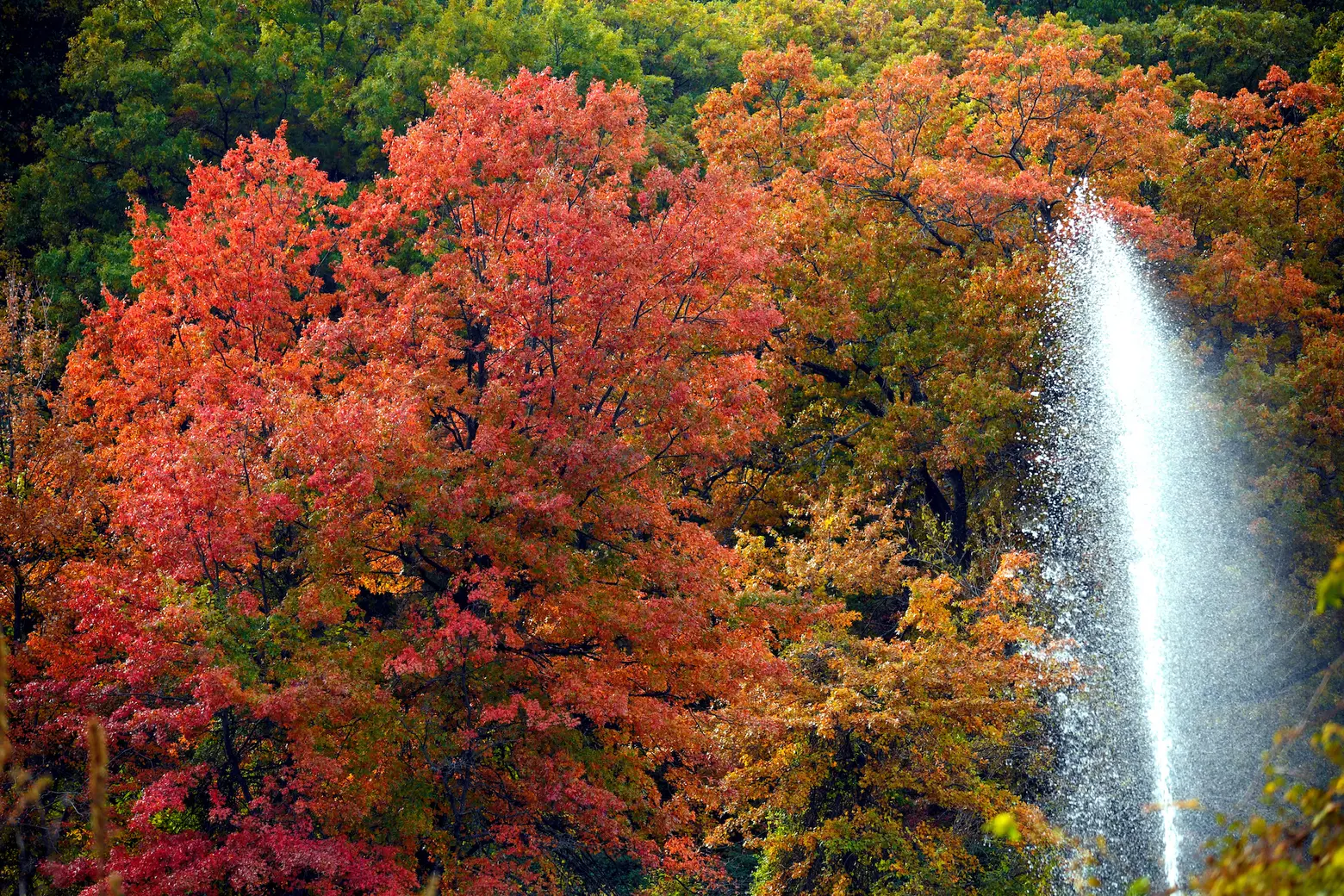 Photo credit: NYC Parks
Clove Lakes Park
This 193-acre park in Staten Island's West Brighton neighborhood is known for its natural landscape, made up of hills, lakes, ponds, and the borough's largest living thing: a 300-year-old tulip tree. There is no shortage of paths and trails to take in the vibrancy of fall at Clove Lakes Park, including all three of the park's lakes. Here you'll see tulip trees, red oaks, sweetgum trees, and black cherries.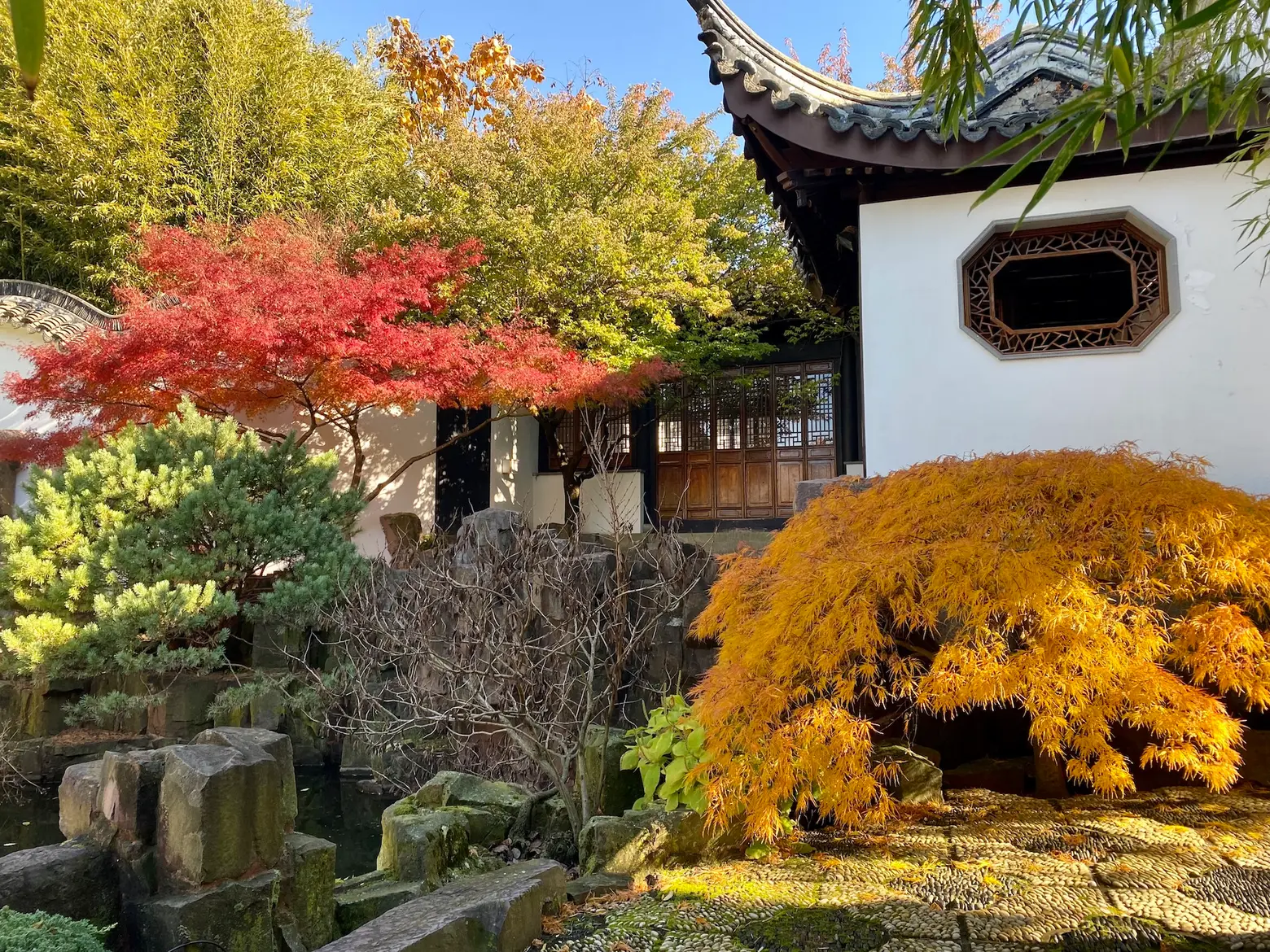 Courtesy of Snug Harbor Cultural Center & Botanical Garden
Snug Harbor Cultural Center & Botanical Garden
Another must-visit on Staten Island during the fall, or any season, is the Snug Harbor Cultural Center & Botanical Garden, an expansive 83-acre campus home to a public park, botanical gardens, and an arts center.
Editor's note: The original version of this article was published on October 4, 2022, and has since been updated.
RELATED: