30+ ways to celebrate Pride Month in NYC
The New York City Pride March is back at full tilt for 2023, and the month of June promises to be a wall-to-wall celebration around what has grown to be the world's largest Pride march since it was first held in 1970, bringing in an average of two million visitors annually. Here in the birthplace of the modern LGBTQ+ rights movement at the Stonewall uprising of 1969, the list of Pride events is seemingly endless. Heritage of Pride, the nonprofit organization behind New York City's official LGBTQIA+ Pride celebration, offers a calendar to help navigate the month of June. Below, you'll find dozens of ways to participate.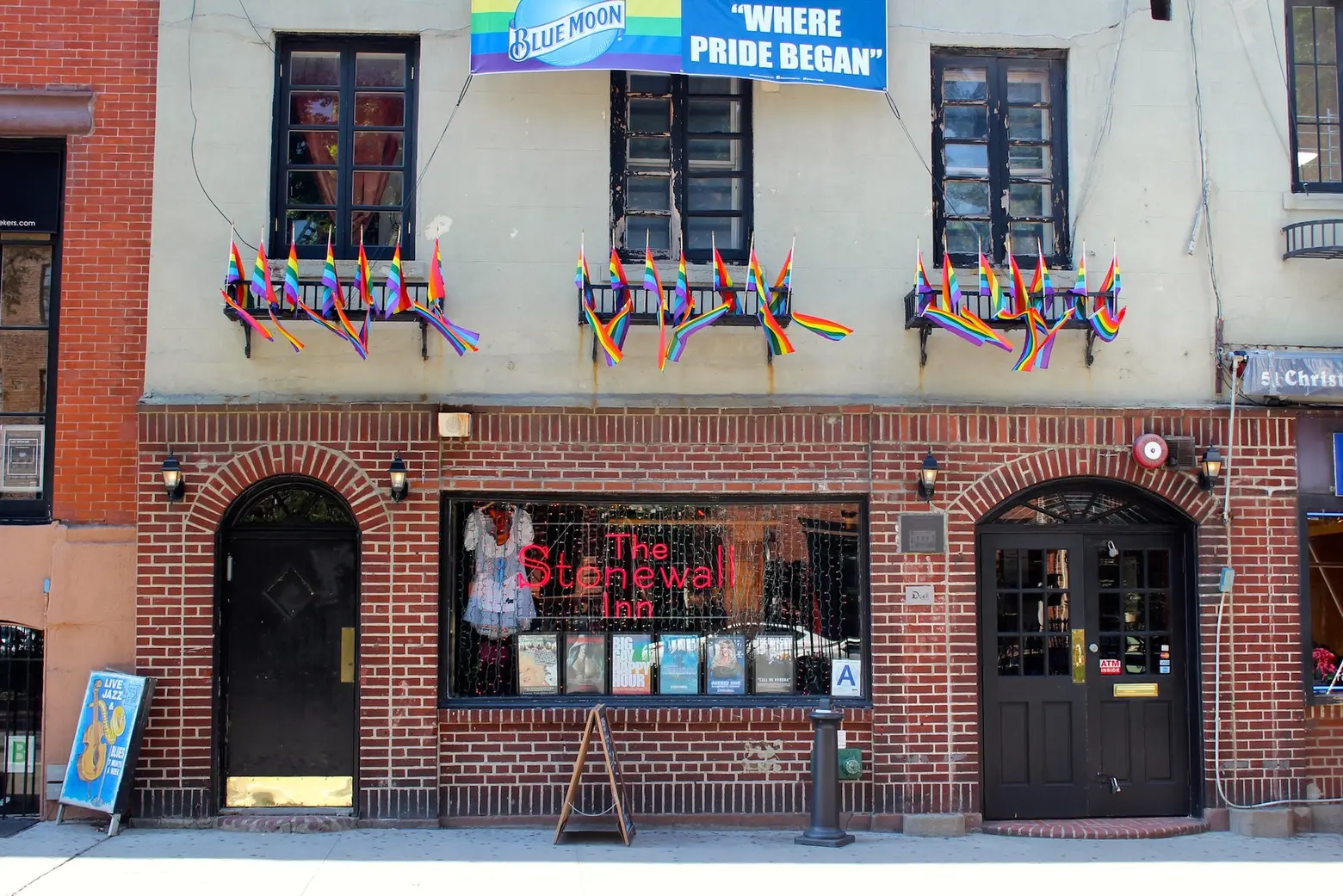 Image courtesy of the National Parks Conservation Association on Flickr

Featured events from NYC Pride
2023 Pride March
Sunday, June 25th, 12 p.m.
The NYC Pride March will begin at noon on June 25th from 25th Street and 5th Avenue. The grand marshals of this year's celebration are Billy Porter, Yasmin Benoit, AC Dumlao, Hope Giselle, and Randolfe "Randy" Wicker. After crossing over 6th Avenue, the Pride March will continue on Christopher Street passing the Stonewall National Monument, then turn north on 7th Avenue, passing the New York City AIDS Memorial, before dispersing in Chelsea at 16th Street and 7th Avenue. The march is free to attend, but you can get VIP grandstand seating tickets here.
The official theme of this year's Pride celebration is "Strength in Solidarity," as NYC Pride highlights the power and resiliency of the LGBTQIA+ community and its allies against a backdrop of increased challenges in the form of legislation and physical violence directed at trans and BIPOC individuals. Over 75 percent of groups participating in the massive march are non-profit organizations.
The NYC Pride March broadcast special, co-hosted by Angelica Ross, will return for its seventh consecutive year, featuring live performances and on-air interviews on ABC-7 from 12:00 p.m. to 3:00 p.m. on Sunday, June 25 as well as on ABC7NY.com, ABC News Live, and ABC7 New York's Connected TV Apps on streaming platforms Amazon Fire TV, Android TV, Apple TV, and Roku.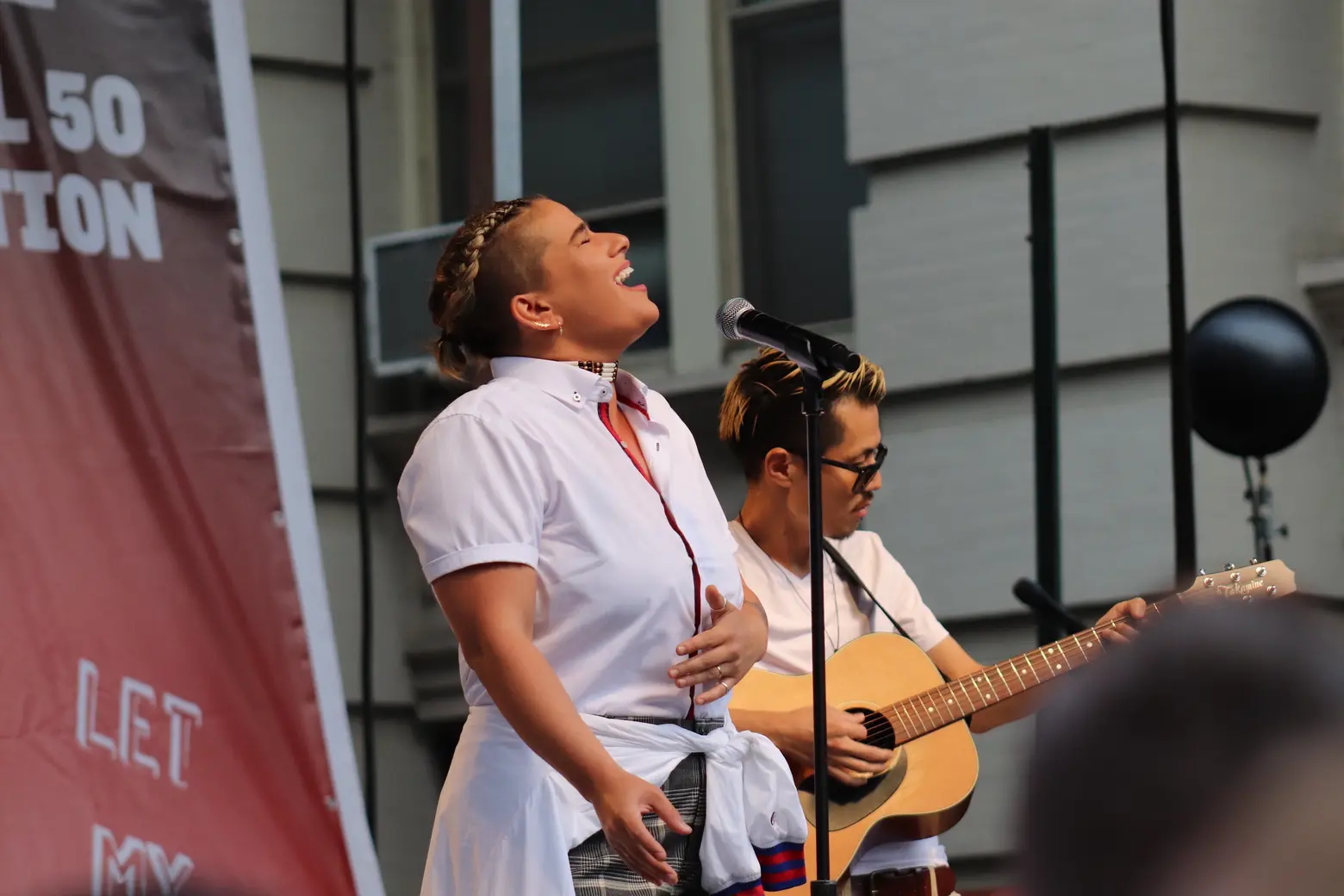 49th NYC LGBTQ Pride Rally in celebration of the 50th Anniversary of the Stonewall Riots World Pride at Christopher Street and Waverly Place in New York City, NY on Friday evening, 28 June 2019. Photo by Elvert Barnes Photography via Flickr CC
The Rally
Saturday, June 17 at 4:30 p.m., 154 Christopher Street
Since it was first held in 1969 after the Stonewall Riots, the Rally has served as an opportunity for activists, artists, and others to come together and stand against violence toward the LGBTQIA+ community. The Rally aims to serve as a unifying event at a time when over 650 anti-LGBTQIA+ bills are in play in state legislatures, campaigns for the 2024 election cycle are ramping up, and calls for the expansion of the Supreme Court are being issued. This year's protest and activism event will be held outside the NYC Pride offices, hosted by Jordyn Jay and Milan Garçon, and include speakers Braxton Fleming, Cecilia Gentili, Mila Jam, and Kathy Najimy.
NYC Pride: The Brunch
Sunday, June 18 at 11:30 a.m. at the Altman Building
This indulgent annual culinary experience celebrates both Pride and Juneteenth as well as local business leaders and the impact they have made on their Queer communities. Festivities include a sponsored open bar for VIP ticket holders and curation of Juneteenth food stories and bites from amazing Black LGBTQIA+ chefs. This year's immersive experience will feature opportunities to connect with community members, an awards ceremony, entertainment, food stations, and more. Tickets start at $49.50.
Youth Pride
Saturday, June 24 at 12 p.m., location TBA
NYC Pride is proud to host this celebration of and for LGBTQIA+ and ally teens. Dance the day away with DJs, musical performances, and special guests. The free event will also feature games, beverages, snacks, and more.
Bliss Days
Sunday, June 25, 2 p.m. at The DL Rooftop & Lounge
Formerly known as Femme Fatale, NYC Pride's Annual celebration of LGBTQIA+ Womxn features a full slate of DJs, dancers, performances, and special guests. Tickets start at $31 with proceeds benefiting NYC Pride and its annual free events.
PrideFest
Sunday, June 25, 11 a.m. to 6 p.m., Greenwich Village
What's a celebration without a street fair? In its 29th year, PrideFest brings exhibitors, entertainers, eats, activities, community leaders, and local business owners, to the streets and sidewalks of Greenwich Village, with talent from around the world performing at StageFest as a highlight.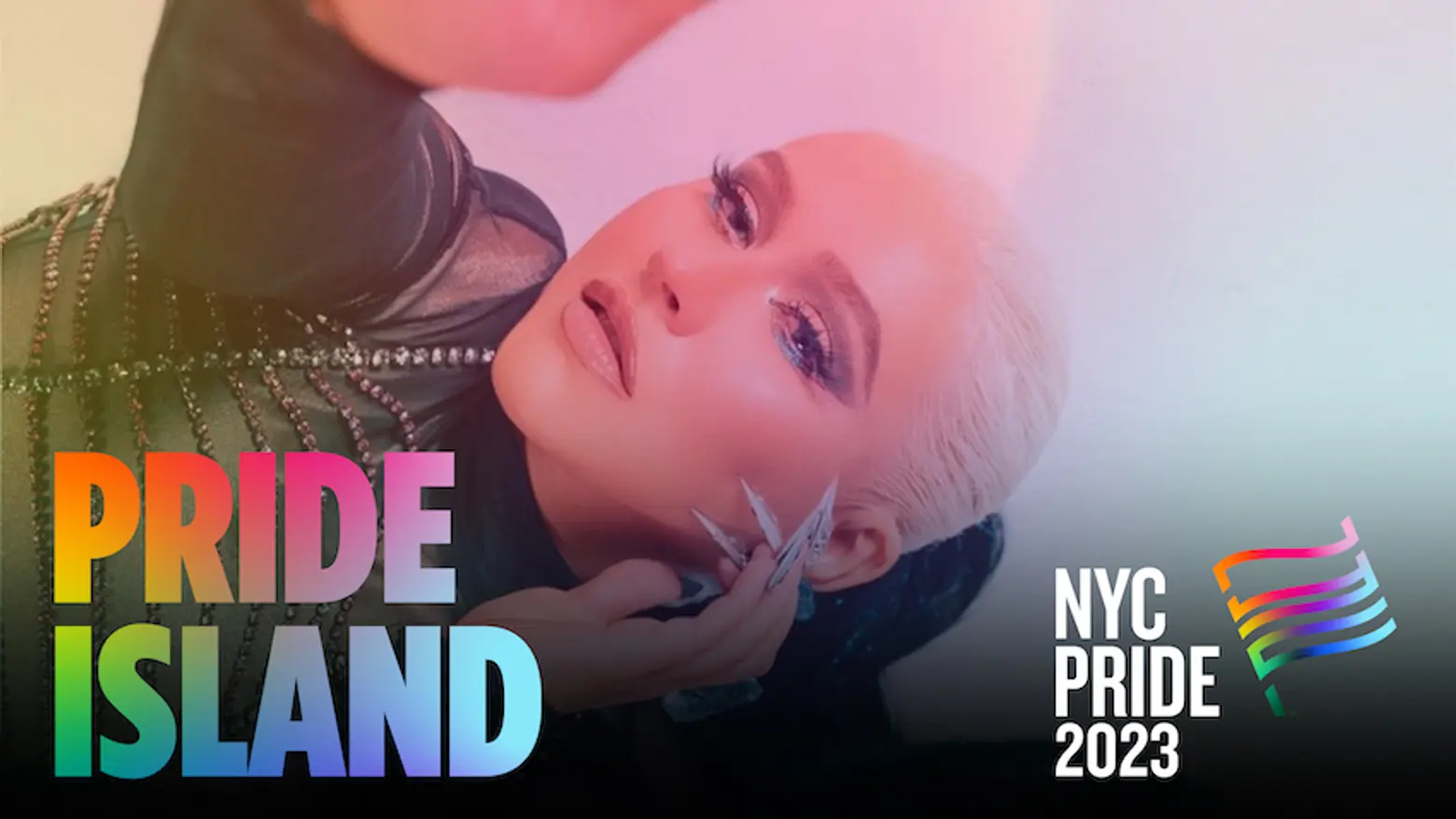 Pride Island
Sunday, June 25, 2 p.m., Brooklyn Army Terminal
This year's headliner is Christina Aguilera; in addition to a performance by the seven-time Grammy winner, this Pride Week wrap-up event promises dancing, lights, and music from DJs long into the night along with food and more at Brooklyn Army Terminal. Tickets start at $139.
More gatherings, activities and events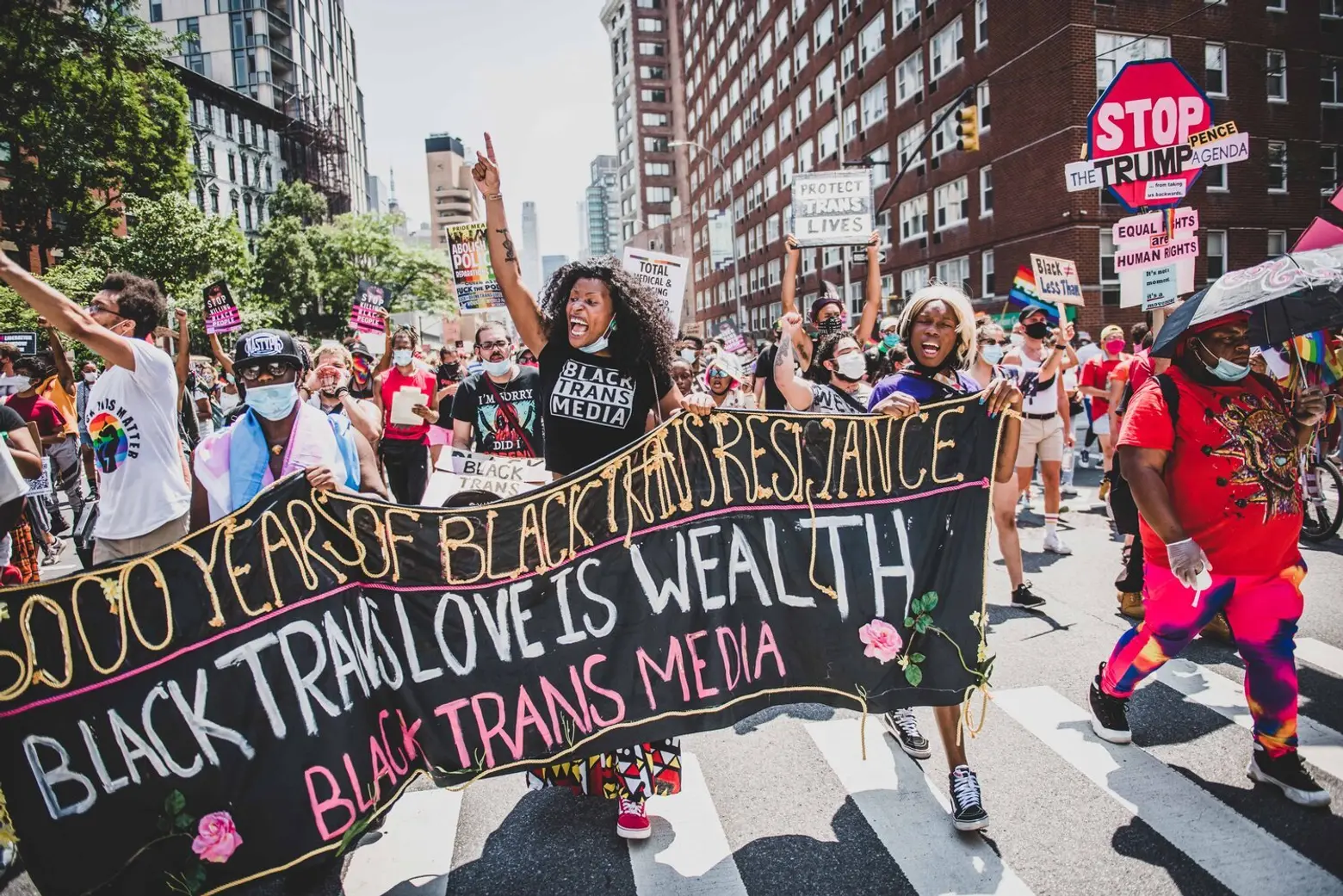 Queer Liberation March for Black Lives and Against Police Brutality, 2020. Photo by Leandro Justen

Queer Liberation March
Sunday, June 25th, 2 p.m., Foley Square 
Reclaim Pride was formed to honor the spirit of the Stonewall rebellion "after years of seeing the annual NYC Pride March transformed into a 7, then 9, then 12-hour circus," complete with police and barricades. The fifth annual Queer Liberation March will gather for a rally and march at Foley Square on Pride Sunday, June 25 at 2 p.m. This year's theme is "Trans & Queer; Forever Here!"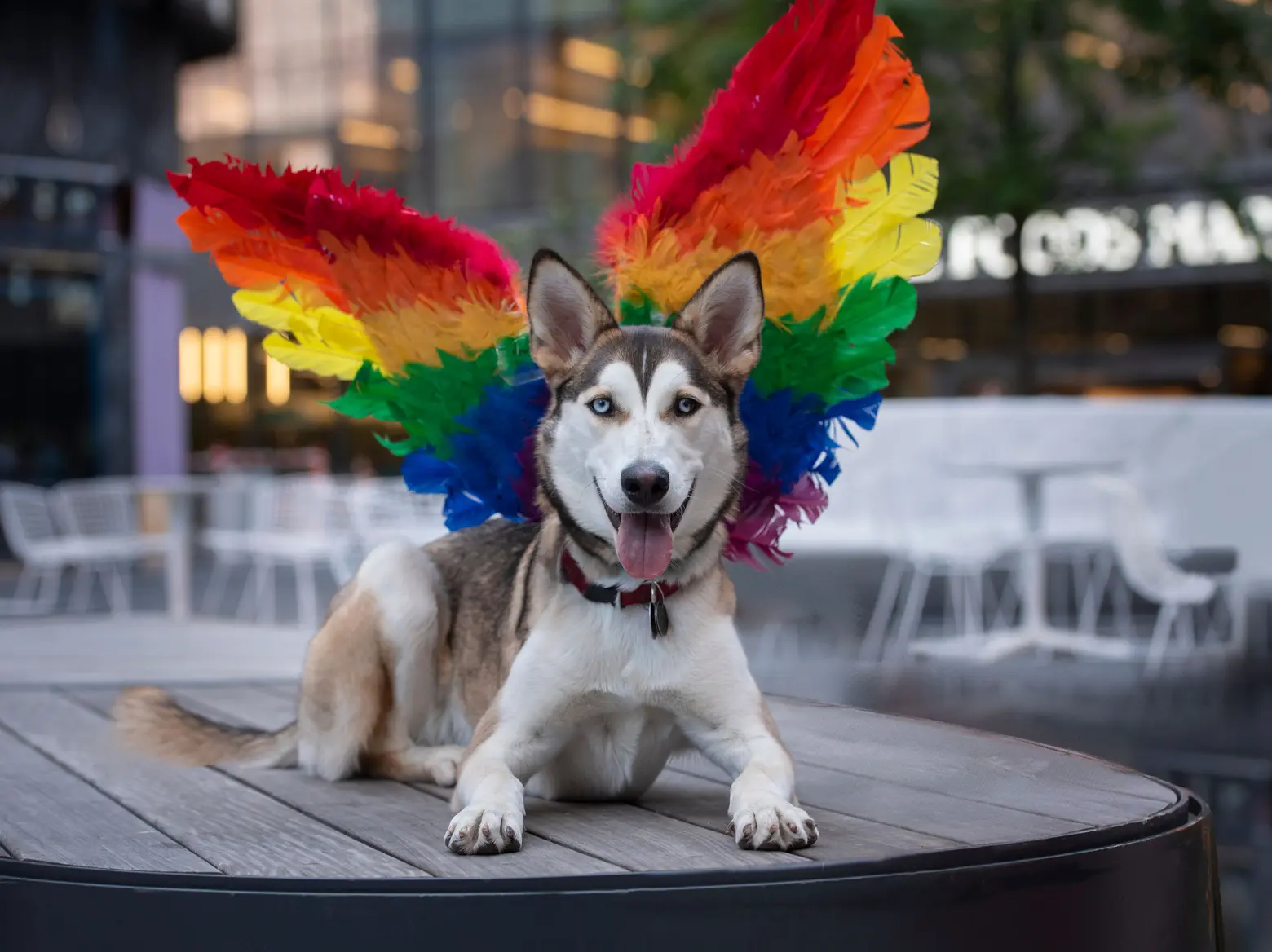 Image courtesy of Manhattan West Woof Fest
Paws for Pride
Saturday, June 10, 12 p.m. – 4 p.m., Manhattan West Plaza
Celebrate Pride with your pooch! This colorful afternoon event promises to be a treat for people and pups alike with performances by Circus Amok and activities from pet tarot readings to rainbow paw-dicures, a treat table, and a mini dog run. Registration is free; advance registration is encouraged.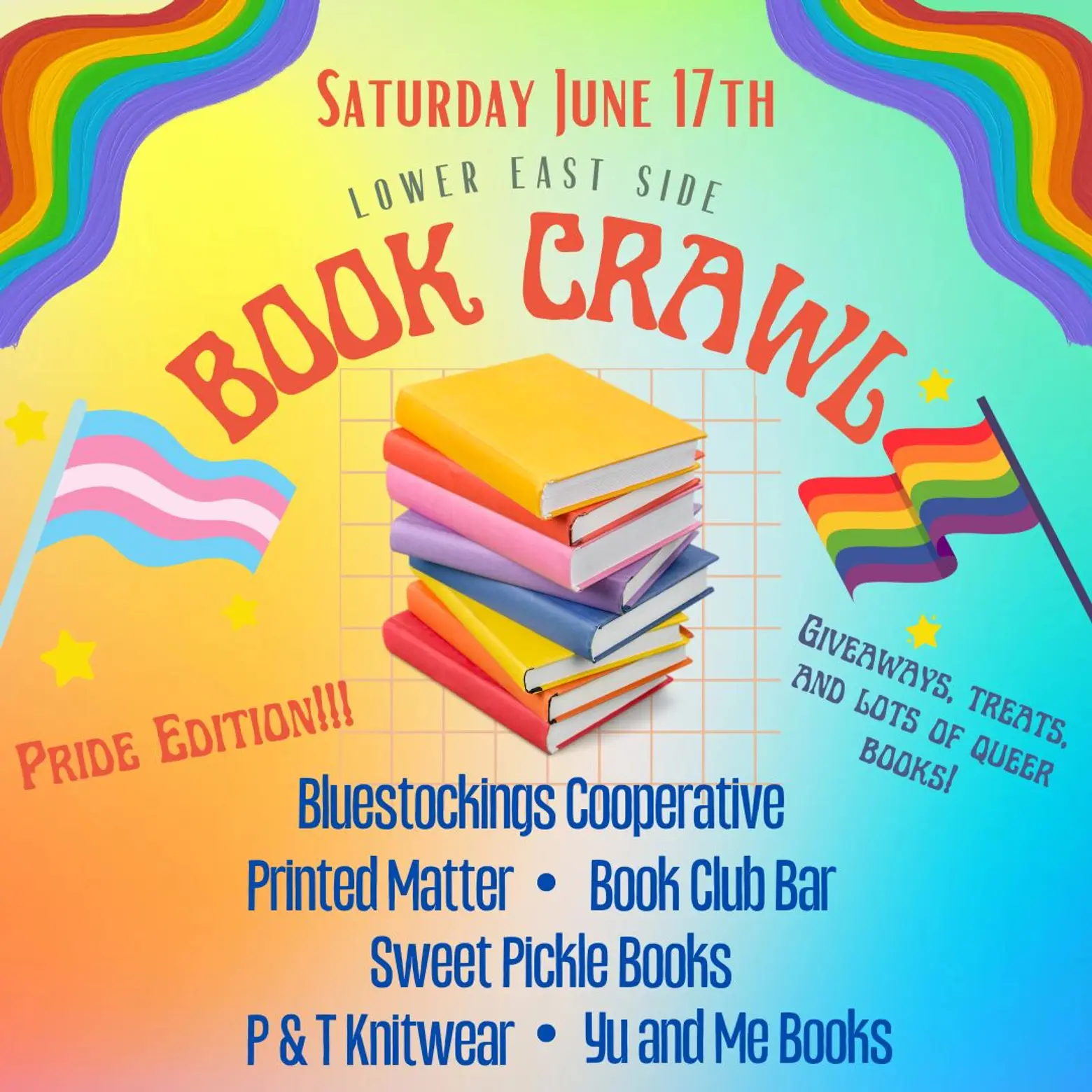 Lower East Side Pride Book Crawl
Saturday, June 17th, 12 p.m. – 7 p.m., Lower East Side
Head to a beloved collection of downtown bookstores including Bluestockings, Printed Matter, Book Club Bar, Sweet Pickle Books, P&T Knitwear, and Yu & Me Books on a Saturday afternoon for discounts, free merch, and snacks, and, of course, queer books.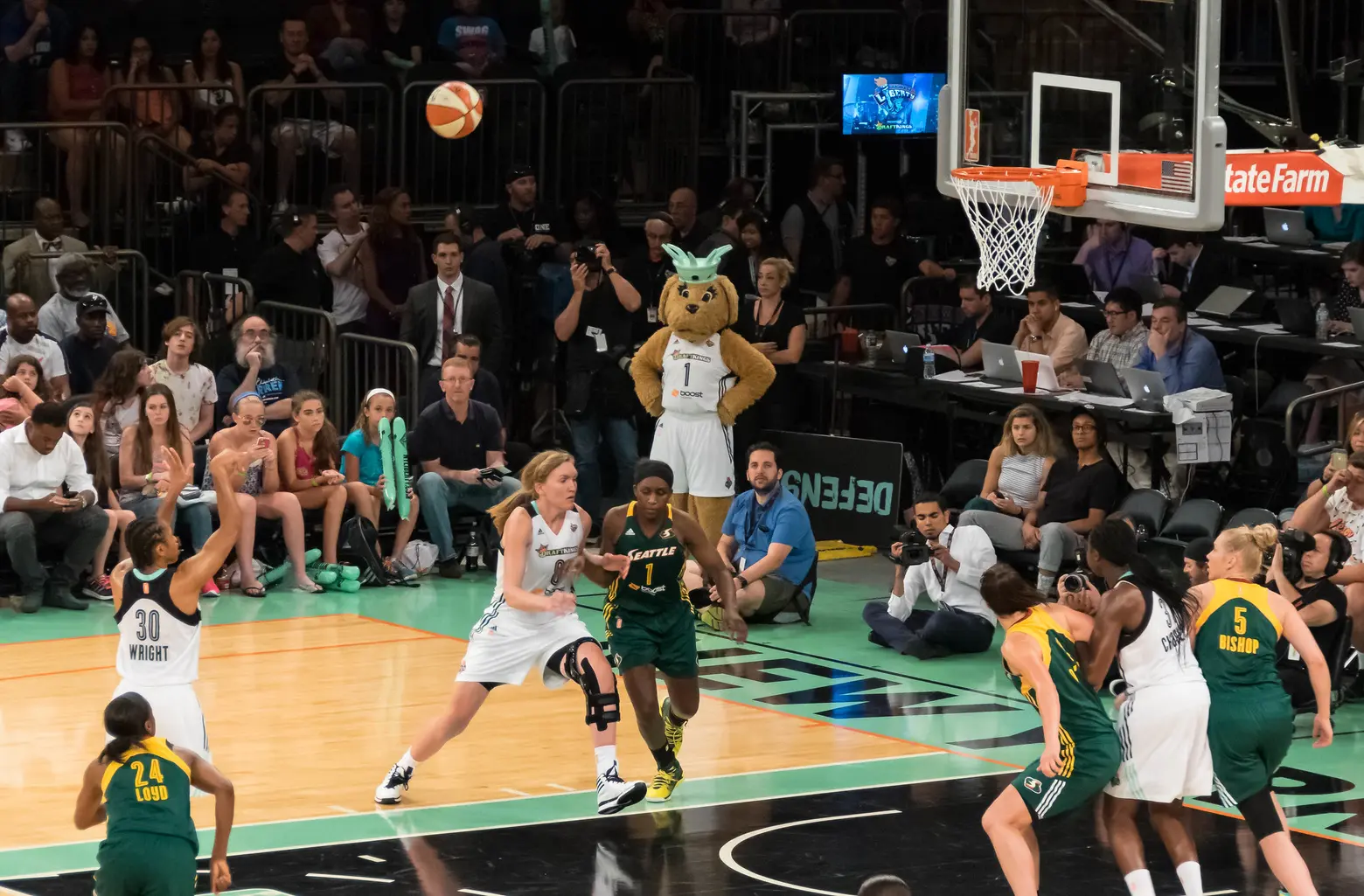 Photo by Doug Davey via Flickr
New York Liberty Pride Night
Sunday, June 11 at 4 p.m., Barclay's Center
Catch the New York Liberty's 9th Annual PRIDE Game at Barclays Center vs. the Dallas Wings.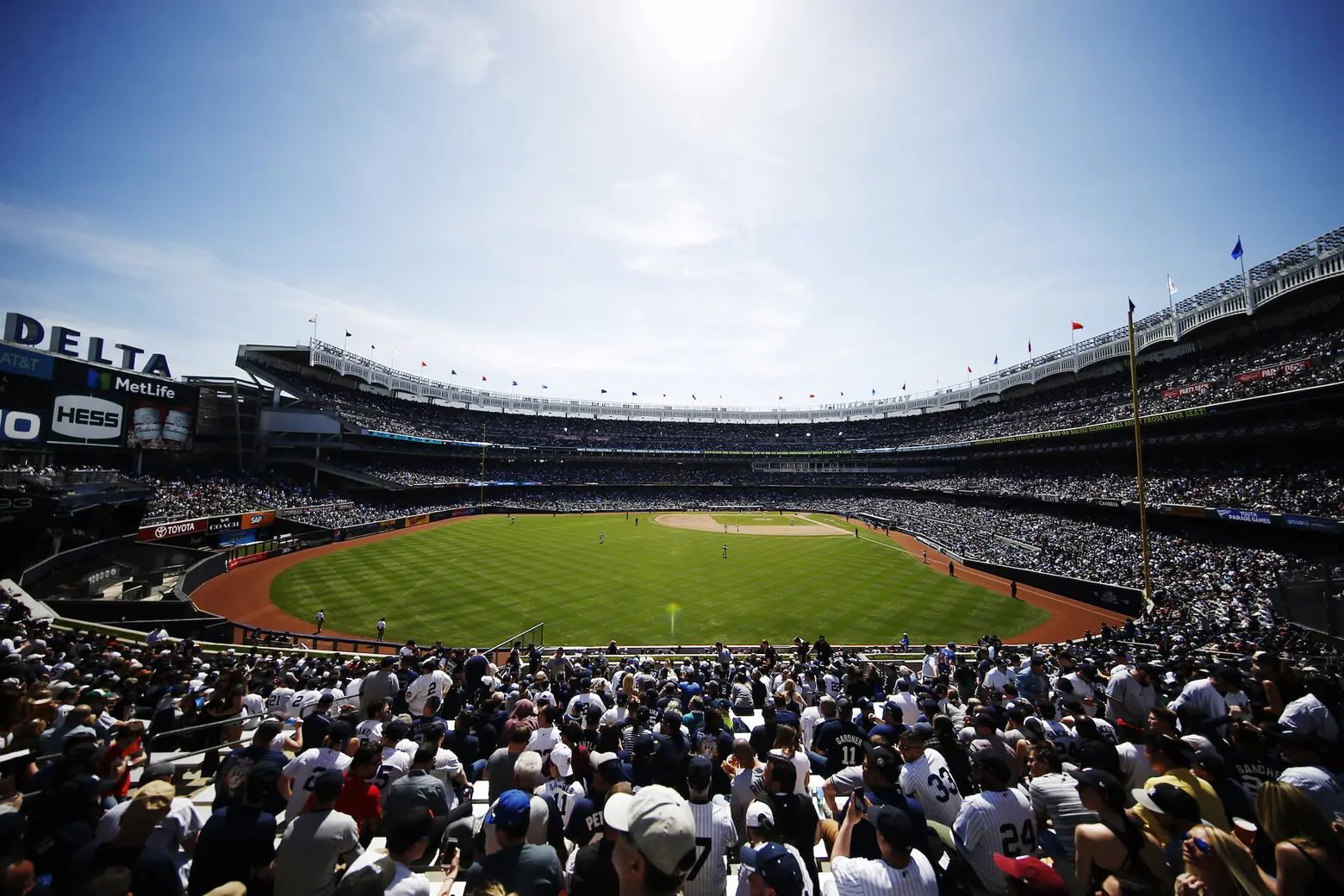 Image courtesy of the New York Yankees
New York Yankees celebrate Pride
Wednesday, June 21, 7:05 p.m.
During select games in June, the Yankees will celebrate New York's "Legacy of Pride," with a portion of ticket sales benefiting The Stonewall Inn Gives Back Initiative. Each ticket includes a New York Yankees hat with the Progress Pride Flag colors, a regular-sized hot dog, and your first drink. The Yankees welcome the LGBTQIA+ community, their allies, friends, and families in support of Pride Month at the team's Pride Night on June 21. A portion of tickets will benefit Heritage of Pride. An on-field ceremony prior to the Yankees-Mariners game will highlight the Yankees-Stonewall Scholarship Initiative.
Gowanus Dredgers Pride Paddle,
Saturday, June 29th, 7:30 p.m. to 9:00 p.m., 19th Street Bunker launch site
The famous Dredgers are planning a special voyage through Gowanus Bay and lower Canal for their fifth annual Pride Paddle. Bring your rainbow flags and colorful apparel to the 19th Street Bunker launch site (end of 19th Street off 3rd Avenue) at Gowanus Bay. Register for a reserved seat. Solo paddlers are welcome; they'll be paired with other group members based on experience and comfort in a canoe.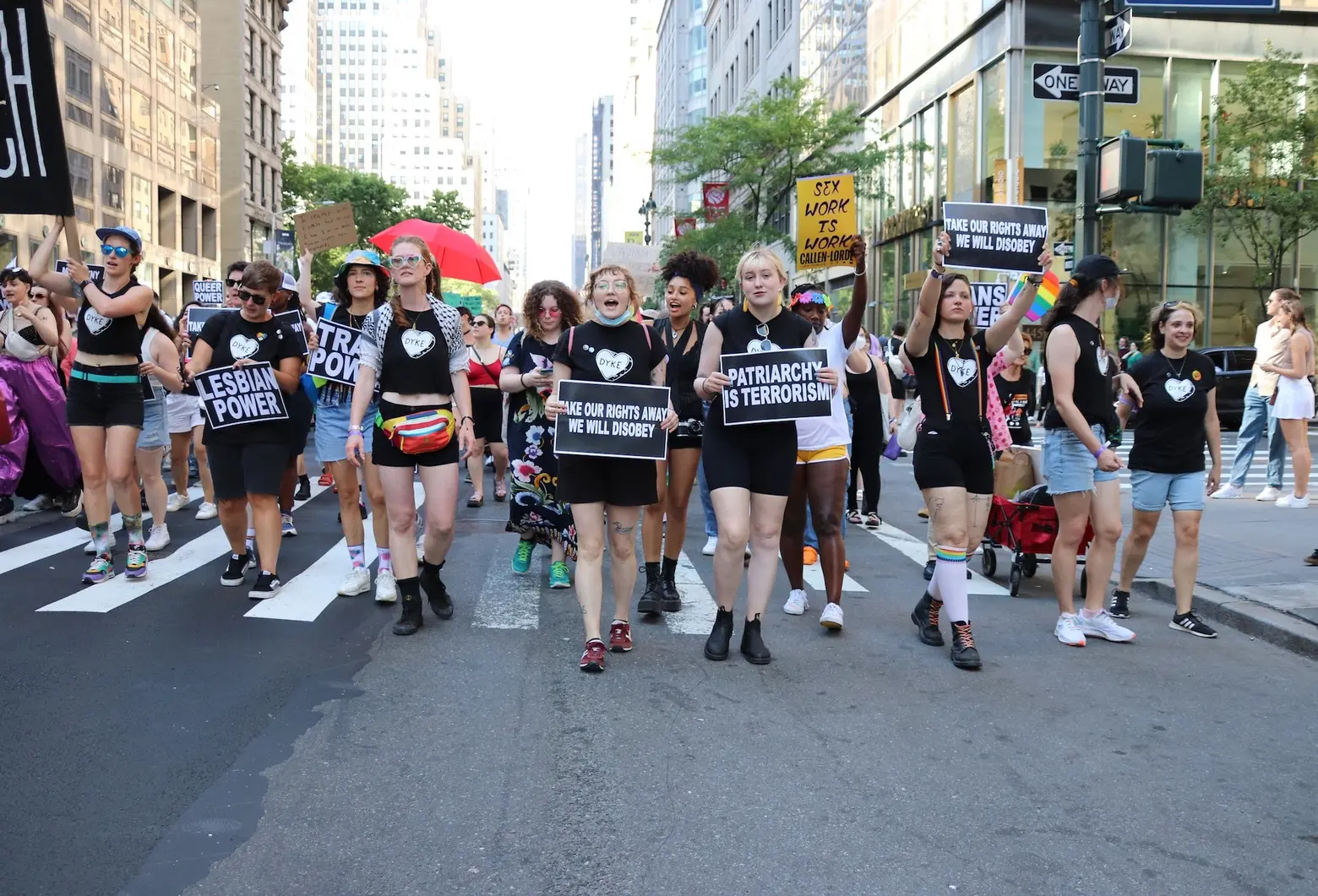 30th Annual NYC Dyke March down 5th Avenue at 39th Street in NYC on Saturday evening, 25 June 2022. Photo by Elvert Barnes Photography on Flickr CC
NYC Dyke March
Saturday, June 24 at 5 p.m., starting at Bryant Park
Rather than a parade, this annual march considers itself a protest, free of permits or sponsors. In protest of discrimination, harassment, and violence, anyone who identifies as a dyke is welcome to march regardless of gender expression or identity, sex assigned at birth, sexual orientation, race, age, political affiliation, religious identity, ability, class, or immigration status. After the march, there will be a protest in Washington Square Park.
Whitman in Love – Live Oak, with Moss and Other Poems
June 21-24, 7-8 p.m., Merchant's House Museum
Celebrate Pride Month with the timeless poetry of Walt Whitman, presented by John Kevin Jones. Four performances only, in the Merchant's House Museum's 19th century "secret" garden. In Whitman in Love, Jones brings these poems to life as a tribute to Whitman's courage, honoring his place in the history of the LGBTQIA+ community.
Parties and concerts
TEAZE
June 24, 2-10 p.m. at Club Lambda BK
This NYC Pride official 21+ queer party experience invites you to dance the day away with music from DJs and performers at one of the most inclusive party venues in Brooklyn, offering not one, but four, party experiences in a spot that provides BIPOC individuals in the LGBTQIA+ community a safe space all year 'round. Tickets start at $27; proceeds benefit NYC Pride and its annual free events.
Fever After Hours
Monday, June 26th, 4 a.m. at Polygon BK
Keep the party going with an LGBTQ+ after-hours event with an undersea theme, if you're down to swim and dance with sexy sirens and mysterious deep sea creatures and DJs Las Bibas From Vizcaya, Alexis Tucci, Kurtis Jose, Danny Kim & Figge. The party happens Monday morning after events at the Brooklyn Mirage and Knockdown Center at New York's only after-hours complex, Polygon.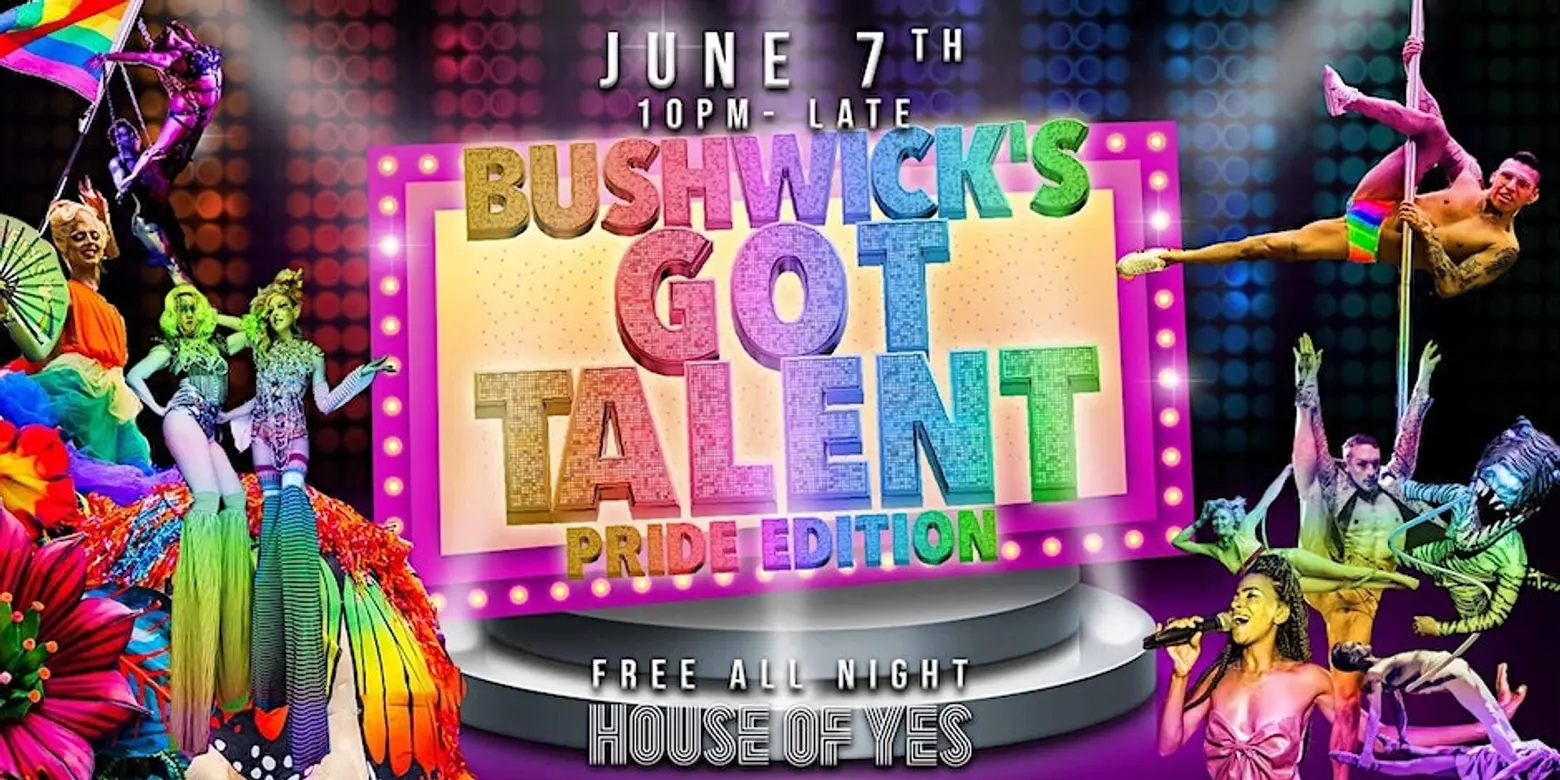 Bushwick's Got Talent: Pride Edition Variety Show
Wednesday, June 7, 7-10 p.m., House of Yes
As part of a month-long slate of fabulous events at the colorful Bushwick venue, this free monthly showcase of fresh talent invites you to cheer on these brave souls as they step into the spotlight. Expect anything and everything from live music, sideshow, comedy, drag, circus, burlesque, dance, acrobatics, experimental nonsense, puppets–and more, of course, including celebrity judges, fake buzzers, real cash prizes, and out-of-this-world talent.
Garden Party
Tuesday, June 20th, 6-9 p.m. at Pier 76
This year's swank and sparkly Garden Party celebrates The Center's 40th anniversary year of service, with an evening of extraordinary performances, music, special guests, and more. VIP and general admission tickets are available here.
Dreamland Pride in Central Park
Sunday, June 25, 3 p.m., Summerstage, Central Park at Fifth Avenue
This huge Pride outdoor music festival held at the iconic SummerStage is sure to be a hit, with special guests Paris Hilton, and Dan Slater.
Pitchfork and Them Night Out at Knockdown Center
Saturday, June 17th, 6 p.m.-1 a.m. at Knockdown Center, Maspeth, Queens
Co-presented by Pitchfork and Them, Night Out happens on two stages for a multi-genre lineup of alternative queer pop artists. In addition to a headline performance from Tinashe, the event will feature Lido Pimienta, Pom Pom Squad, and Zebra Katz.
Pride Weekend at Nowadays
Friday, June 23, 3 p.m. – 6 a.m., Nowadays, Bushwick
Bushwick venue Nowadays presents a veritable pride-a-thon to kick off the weekend: Queer|Art and Body Hack helm an extravaganza of indoor and outdoor festivities including a daytime queer vendor fair from 3 to 8 p.m. and an evening happy hour and dance party until 6 in the morning. The event will raise funding for three BIPOC trans-led organizations fighting to protect trans people in the states most impacted by anti-trans violence and new legislation.
Hot Rabbit Presents TRIPLE CROWN Daytime Rooftop PRIDE Party
Sunday, June 25, 3 p.m., Elsewhere
If you're looking for a rooftop rager, look no further than Bushwick's Elsewhere. The ticketed 21+ rooftop event is one of a month's worth of Pride events at the cavernous Brooklyn club.
Kids pride party at Brooklyn Bowl
Sunday, June 25 at 12:30 p.m., Brooklyn Bowl
You don't have to leave the kids at home for this family-friendly Pride celebration. The Rock and Roll Playhouse plays the music of Queen for this all-ages party at the popular BK venue.
LadyLand Festival
June 23, 8 p.m. – 3 a.m. under the Kosciuszko Bridge (The Arm at Van Dam Street and Meeker Avenue) in Greenpoint, Brooklyn
This outdoor queer music festival-slash-Pride party happens in a unique public space beneath the Kosciuszko Bridge, with a lineup that includes famous performers like Peaches, Honey Dijon and Big Freedia, plus many, many more lesser-known luminaries.
Alegria Pride 2023 
Sunday, June 25, 5 p.m. at Brooklyn Mirage, 40 Stewart Avenue
This day and night Avant Gardner event from Cirque du Soleil touring production Alegria happens at The Brooklyn Mirage, a massive indoor 15,000-square-foot space with a 5,000-square-foot dance floor. The theme is Alegria in Wonderland: expect to be amazed.
Borough and neighborhood pride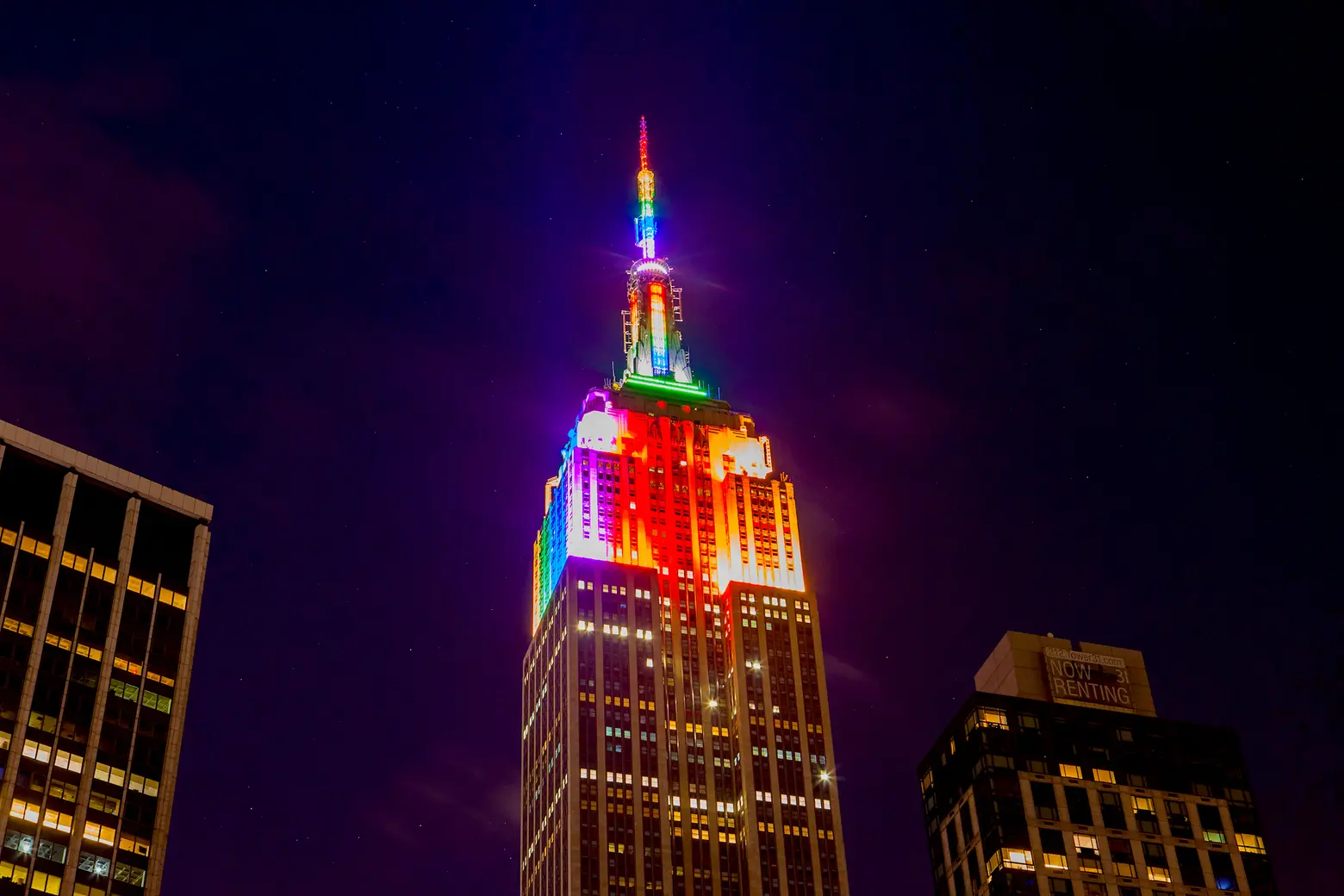 Photo by Anthony Quintano on Flickr CC
Pride in Times Square
Friday, June 23 – Saturday, June 24, 7th Ave, 45th-48th Sts.
Times Square is celebrating Pride weekend with a full dance card, featuring celebrities of stage and screen, Broadway and Off-Broadway productions, Pride Piano sessions, live DJ sets, the return of last year's Big Broadway Disco, and more.
Pride at the Seaport
From a Dream Drag Queen Brunch every Sunday in June to a Solid Pink Disco on the rooftop and Seaport Kids X Pride, the Seaport is coming up rainbows. Additional highlights include the Rainbows on the Hudson Pride Parade to cap off the Pride Month festivities by getting out on the water with the Seaport Museum, and the Hester Street Fair's fourth annual Pride Market with over 50 LGBTQIA+ businesses, artists, cooks, DJs, and performers participating.
Brooklyn Pride Day
Saturday, June 10th
The Brooklyn brand has always symbolized diversity, and this month the borough chooses June 10th to celebrate Pride officially. Events include an evening parade that's been happening for 23 years, a 5K fun run/walk, and a street festival on Park Slope's Fifth Avenue.
Harlem Pride 2023
June 9, 10 & 24
This year's uptown celebrations include a health and wellness summit, and Fearlessly Forward Celebration Day.
RELATED: