The 11 best Irish bars in New York City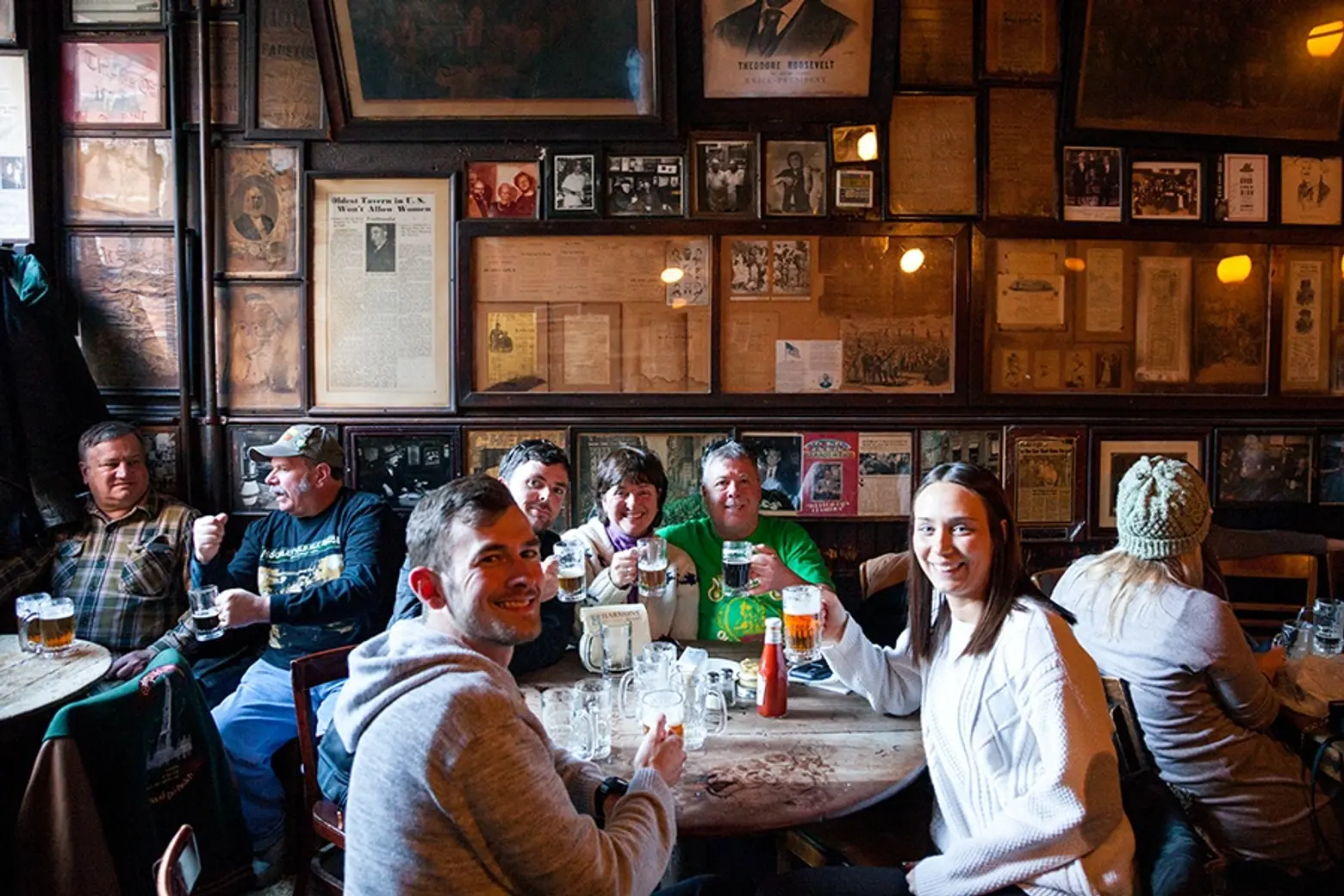 Irish Americans have been a part of the New York ecosystem since the colonial era, but they cemented their stamp on this city during a period of mass migration in the 19th century. We owe a lot to the Irish—some of the city's most beautiful buildings and cathedrals were designed and built by Irish immigrants, for instance. One of the tastier hand-me-downs was the Irish bar, replete with cheap pints, hearty grub, dark lighting, and a slate of bartenders who'll inspire you to earn their respect. Ahead we've rounded up 11 of the best pubs, from old standbys like McSorley's and Peter McManus Cafe to some lesser-known gems like Sunset Park's Irish Haven (the bar in The Departed) and Hartley's in Clinton Hill.
1. Dead Rabbit
30 Water Street between Broad Street and Coenties Slip, Financial District
The Dead Rabbit's inclusion on this list might surprise some folks since it's an upscale (and mightily celebrated) cocktail bar instead of a classic Irish pub. Still, it's Irish to the core; it takes its name from an infamous 19th-century Irish American street gang (think Gangs of New York) and is decorated with Irish whiskey ads and tweed flap caps. The bar also has the largest collection of Irish whiskey in North America and serves up a mean Irish coffee, along with a number of other whiskey-based bespoke cocktails, which you can pair with classic fare like lamb chops with mint jelly and shepherd's pie.
2. Swift Hibernian Lounge
34 East 4th Street between Cooper Square and Bowery, Noho, Manhattan
Swift's ornate front door, wood-paneled walls, and dangling chandeliers give this 25-year-old spot a decidedly upscale feel, though its food and drinks are priced much like any other Manhattan pub. They've got a healthy selection of drafts and bottled beers, with Smithwicks on tap as well as Guinness; cocktails include shandies, an Irish Old Fashioned, and $12 Irish coffees, which you can get iced or hot. Sandwiches, cheese boards, sliders, and spicy potato wedges are on the menu here, in addition to a corned beef and cabbage taco, which is as Irish-American as it gets.
3. McSorley's Old Ale House
15 East 7th Street between Taras Shevchenko Place and Cooper Square, East Village
We'd be remiss not to include McSorley's on this list, as it's a piece of New York history as well as one of the city's finest Irish bars. McSorley's says it's the oldest Irish tavern in New York, and the bar mostly looks now like it did back when it opened in 1854. The dark wood bar itself is the original; sawdust floors and vintage newspaper clippings round out the old-school decor. House ales here come in "light" or "dark," and that's all they serve. There's also not much food to speak of. But you don't go to McSorley's for the brews or the bites so much as the history—and also the East Village frat brothers, who seem to descend on this place by the dozen.
4. Peter McManus Cafe
152 7th Avenue between 19th and 20th Streets, Chelsea
This octogenarian Chelsea bar first started serving up brews back in 1936, not long after the end of Prohibition. And though there were rumors a few years ago that Peter McManus might be getting priced out, it's still going strong, earning its place as one of the city's oldest family-run bars. This spot is pretty no-frills: decor includes dark lighting, wood-paneled walls, Tiffany stained glass windows, framed photos, and tablecloth-covered booths, in addition to old-timey cash registers and phone booths. Peter McManus's look is so iconic, the bar has been used as a backdrop in a number of films and TV shows, including the 1986 movie Highlander. Drinks here include standard brews and a house ale, along with a long list of Irish whiskeys. They also offer classic American fare, like burgers, deli sandwiches, and mozzarella sticks.
5. Molly's Pub & Shebeen
287 3rd Avenue between 22nd and 23rd Streets, Gramercy
Molly's isn't just one of the best Irish pubs in the city. It's one of the city's best spots, overall, particularly in the winter. There's a lot to love here, like the sawdust-covered floors, the wood-burning fireplace, and the cozy booths, not to mention the ample Irish breakfast and lamb stew. Exposed brick walls, chandeliers, and a wood-paneled ceiling only add to the ambiance, which you can enjoy with a pub burger and pint in hand.
6. Paddy Reilly's
519 2nd Avenue between 28th and 29th Streets, Kips Bay
This Kips Bay "music bar" boasts live music every night of the week, with offerings running the gamut from Celtic tunes to bluegrass to open mics. Paddy Reilly's has plenty of other classic accouterments, like Guinness on tap and a handful of Irish (and Scottish, and American) whiskeys. Generally, it's a low-key spot to grab a post-work or pre-movie pint (the Kips Bay AMC is just a couple blocks away), which in this town is all you can really ask for from an Irish pub.
7. Ryan's Daughter
350 East 85th Street between 1st and 2nd Avenues in Yorkville
Someone said recently that Ryan's Daughter was the "only good bar on the Upper East Side," and while the neighborhood isn't quite the watering hole desert he made it out to be, this longstanding spot is certainly one of the best ones. The bar draws a sports fan crowd, thanks to its flat-screen TVs, pool table, darts board, and supershot basketball game, and they sometimes offer free chicken wings on game days. Pints here aren't particularly cheap—it's still the Upper East Side—but what Ryan's Daughter lacks in cost-effectiveness it makes up for in old-school, lowkey charm, which is getting harder and harder to find uptown. Also noteworthy: you can hold private events in the bar's upstairs room.
8. Hartley's
14 Putnam Avenue between Cambridge Place and Downing Street, Clinton Hill, Brooklyn
This Clinton Hill gem is more of a cocktail bar than a pub; it's tucked away on a side street off Fulton, but what it lacks in visibility, it makes up for in charm several times over. Outfitted with a dark wood bar and exposed brick walls, the space itself is rather tiny, but you can sit at the bar or nearby high-top (there are a handful of tables as well) to indulge in a brew or one of their house cocktails. They've also got a food menu, with small bites like soda bread and butter, in addition to grilled cheeses and a Guinness stew, plus there's live music on Monday evenings.
9. Irish Haven
5721 Fourth Avenue, Sunset Park, Brooklyn
Irish Haven is perhaps best known to non-regulars as the bar in The Departed in which Leonardo DiCaprio orders a cranberry juice and punches a patron who asks him if he's "on [his] period." That bar is not in Boston but in Sunset Park; it's a no-frills spot with a pool table, friendly bartenders, and cheap drinks, which makes it both a great neighborhood spot and a great classic pub. Irish Haven also happens to be open from 8 a.m. to 4 a.m., which means you can grab a Guinness at all hours, even ungodly ones.
10. Denny's Steak Pub
106 Beverley Road, Kensington, Brooklyn
Denny's is a classic "old man" bar, which is both to say it's a dive full of older gentlemen (it is) in addition to folks across the age spectrum who want a cheap beer in a frosted mug. That's basically what you get here: Denny's offers $2 mugs of Budweiser and $5 glasses of Jameson during happy hour, plus there's a pool table and occasional tray of hot food. Bartenders might need a minute to warm up to you if you're not a local, but once you're in, you're really in.
11. Donovan's Pub
57-24 Roosevelt Avenue, Woodside, Queens
This Woodside pub is perhaps best known for its burger, particularly its eponymous "Donovan" burger, which comes with peppers, onions, mushrooms, and a hefty portion of steak fries. They've also got authentic Irish eats like fish and chips, chopped steak, and shepherd's pie, in addition to fairly-priced pints, a selection of frozen drinks, and a welcome old-world tavern feel.
Editor's note: The original version of this story was published on March 2, 2020, and has since been updated.
RELATED: