16 ways to mark Hispanic Heritage Month in NYC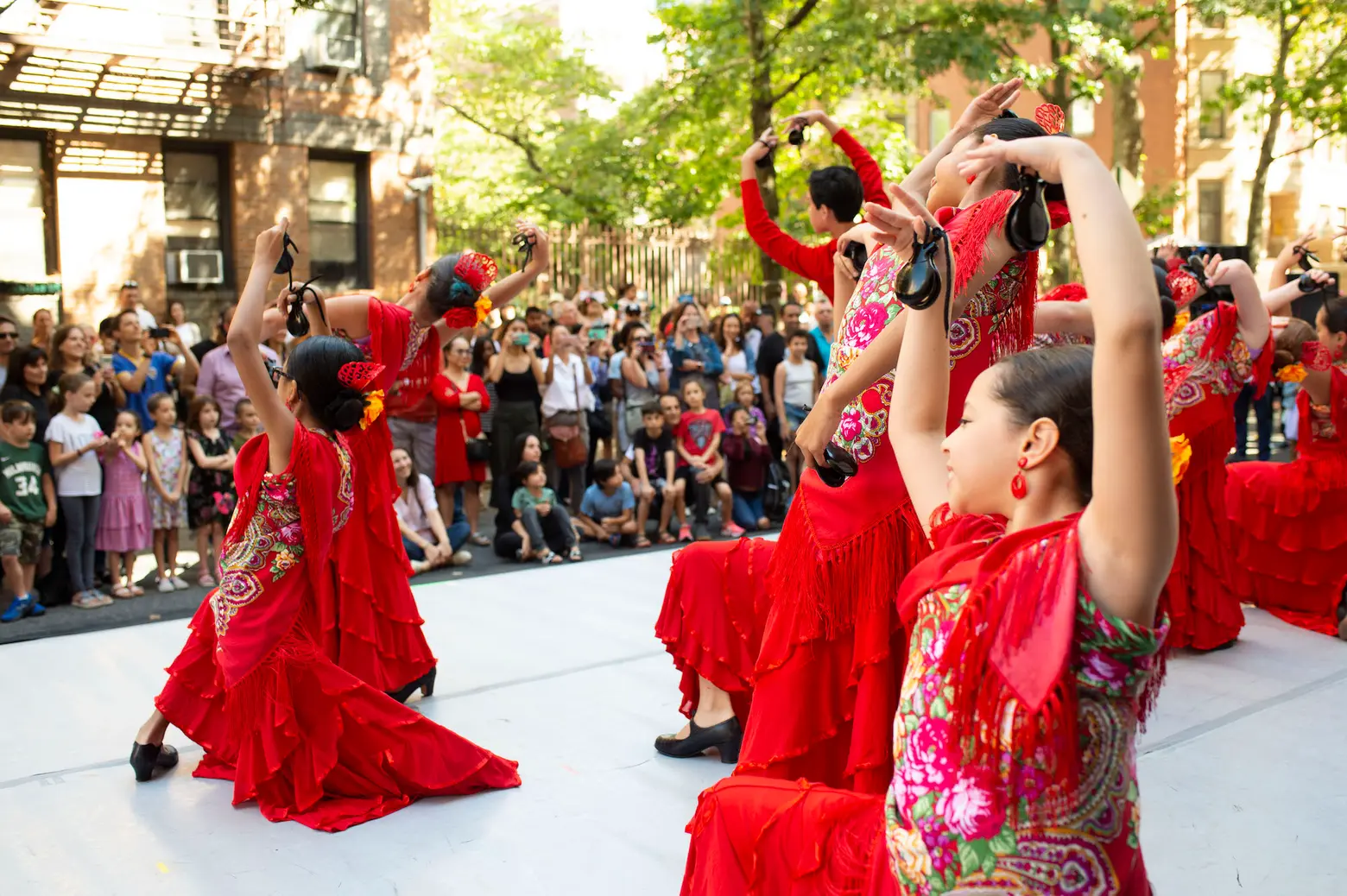 School of Dance students at A La Calle Block Party 2019. Photo courtesy of Billy Pennant
Observed from September 15 through October 15, Hispanic Heritage Month is a celebration of the rich, diverse culture and contributions of Hispanic Americans in the United States. New York City has one of the world's most thriving Hispanic communities, making up more than a quarter of its population. Ahead, learn about 16 events across the five boroughs that celebrate Hispanic heritage, from the Hispanic Day Parade to the Latinx Culture Carnival.
A La Calle Block Party
October 2 from 12 p.m. to 4 p.m.
Hosted by Ballet Hispánico, the A La Calle Block Party is a celebration of Latinx dance, art, music, food, and culture. The block party will take place on West 89th Street between Amsterdam and Columbus Avenues, outside of Ballet Hispánico's headquarters on the Upper West Side. The event will feature live music, live dance, and food from a variety of local vendors. Guest artists include Flamenco Vivo, the Bombazo Dance Company, and the Calpulli Mexican Dance Company.
Hispanic Day Parade
Fifth Avenue
October 9
After being canceled for the last two years due to the pandemic, the Hispanic Day Parade is returning to the streets of NYC for its 56th year. 21 countries participate in the parade, sharing their music, folklore, and traditions with spectators. This year's event will take place along Fifth Avenue from 44th to 77th street.
New York Latino Film Festival
September 12 through 18
Founded in 1999, the New York Latino Film Festival is the United States' premier Latino film event. The festival brings attention to Latinx cinema, supports the film community, and builds an audience through culturally relevant and entertaining screenings. This year's festival will take place at the Regal Union Square Theater at 850 Broadway and at the Julia De Burgos Performance and Arts Center at 1680 Lexington Avenue. Single admission tickets cost $16, while tickets for the first show of the day cost $12. Those looking for the VIP experience can purchase a $25 all-inclusive ticket with complimentary beverages, appetizers, an exclusive screening, lounge access, and photo opportunities. More information and ticket options can be found here.
Latinx Culture Carnival
September 18
For over 15 years, the Carnaval De La Cultura Latina has been held during the first week of Hispanic Heritage Month on Junction Boulevard in Corona, Queens. The carnival offers a wide variety of vendors offering arts and crafts, music, food, and other items. There are tons of activities for kids, including inflatable rides, games, face painting, and giveaways. The event will be family focused and committed to the health of wellness of the Latinx community.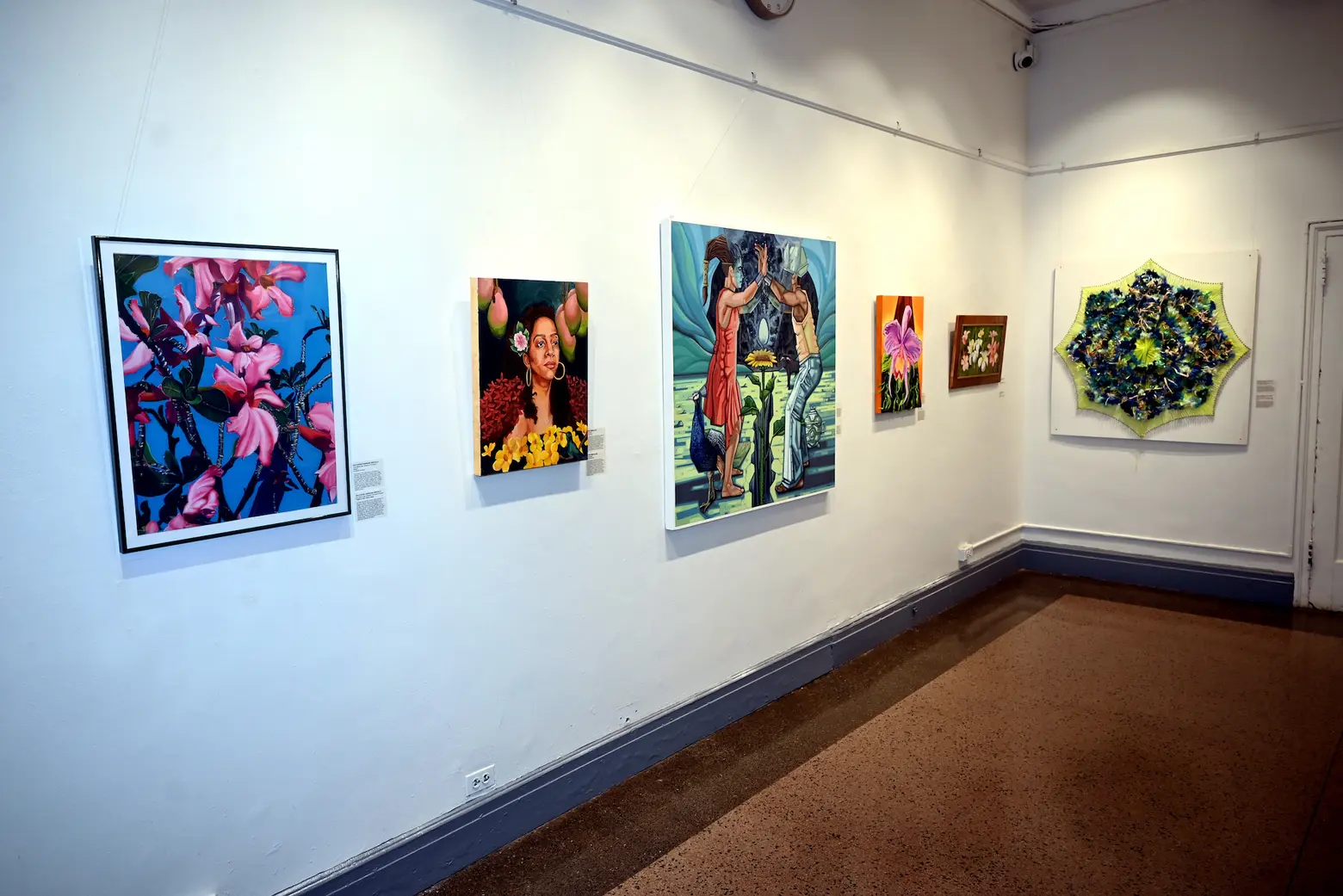 Image courtesy of NYC Parks / Malcolm Pinckney
Arsenal Gallery: Las Flores de mi País
September 15 to November 10
Presented by NYC Park's Latino Society, Las Flores de mi País is an art exhibition featuring work that interprets Latinx culture with imagery of native flora. The exhibit includes the work of more than 20 artists who use nature as inspiration, symbols, and a medium to create their designs. A virtual exhibition and discussion will be hosted on September 27 at 6 p.m. You can RSVP here.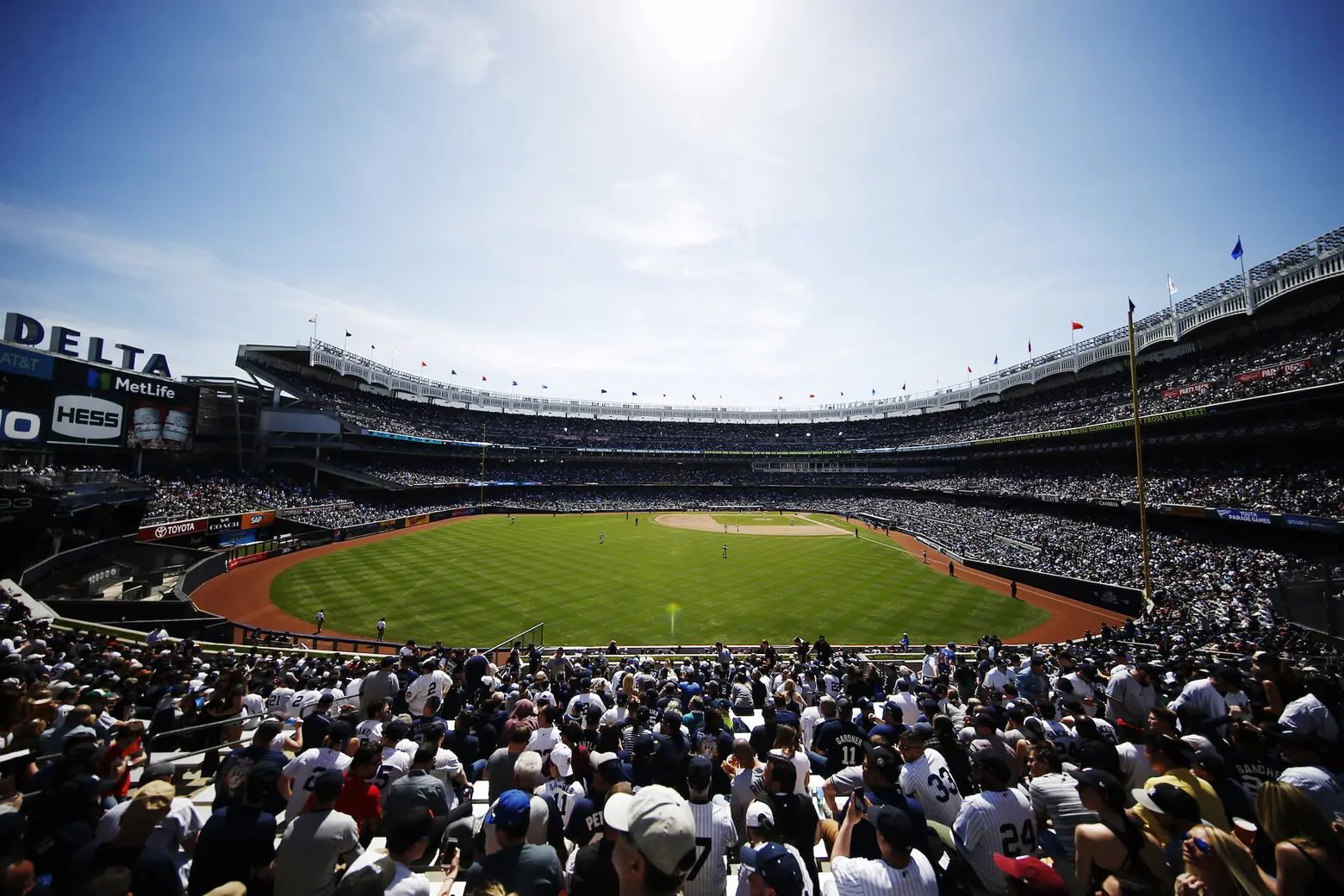 Image courtesy of the New York Yankees
Celebrate Hispanic Heritage at Yankee Stadium
Join the New York Yankees at Yankee Stadium in their celebration of Hispanic Heritage Month. For select games in their 2022 season, the Yankees are offering fans who purchase tickets through this offer an exclusive NY Yankees hat adorned with the flag of a Hispanic country. Flag options include Argentina, Bolivia, Brazil, Chile, Columbia, Costa Rica, Cuba, Dominican Republic, Ecuador, El Salvador, Guatemala, Honduras, Mexico, Nicaragua, Panama, Paraguay, Peru, Puerto Rico, Spain, Uruguay, and Venezuela. Each ticket also includes a regular-sized hot dog and a drink.
Afro-Latinidad: Celebration of National Hispanic Heritage Month
928 Simpson Street, The Bronx
October 1 from 1 p.m. to 6:30 p.m.
Presented by Casita Maria, the Afro-Latinidad is a musical celebration in honor of Hispanic Heritage Month. Hosted at the Casita Maria Center for Arts & Education in the Bronx, the event will include live performances by Cuban artist Melvis Santa, Honduran artist Aurelio Martinez, Columbian artist Grupo Rebulo, and Venezualan and New York artists Jeickov Vital and Kavita Shah. The event is free, and tickets can be acquired here.
La Cocina de Loisaida
88 Essex Street, Manhattan
September 15 from 12 p.m. to 1:30 p.m.
Kick off Hispanic Heritage Month by learning to make the national dish of Puerto Rico, Arroz con Gandules. Other dishes include Pernil and Yuca con mojo de Ajo y Cebollas. Presented by the Loisaida Center and Essex Market, the classes take approximately an hour and a half and include time in the end to enjoy the delicious meals you made. The classes will take place in the Essex Kitchen which is located on the mezzanine level of the Essex Market at 88 Essex Street. Tickets can be purchased here.
New York Public Library
September 15 to October 15
The NYPL is hosting a number of events over the course of Hispanic Heritage Month. On September 20, NYPL is hosting Latinx Voices in Poetry, featuring an "all-star" panel of Latinx poets. Co-hosted with Latinx in Publishing, the panel includes Rio Cortez, Darrel Alejandro Holnes, Gabriel Ojeda-Sagué, and Melissa Lozada-Oliva.
NYPL will also be presenting archive materials and artifacts that highlight Hispanic, Latinx, and Afro-Latinx history and culture from across the world. The library system has also released a new list of reading recommendations for all ages by Latin American authors.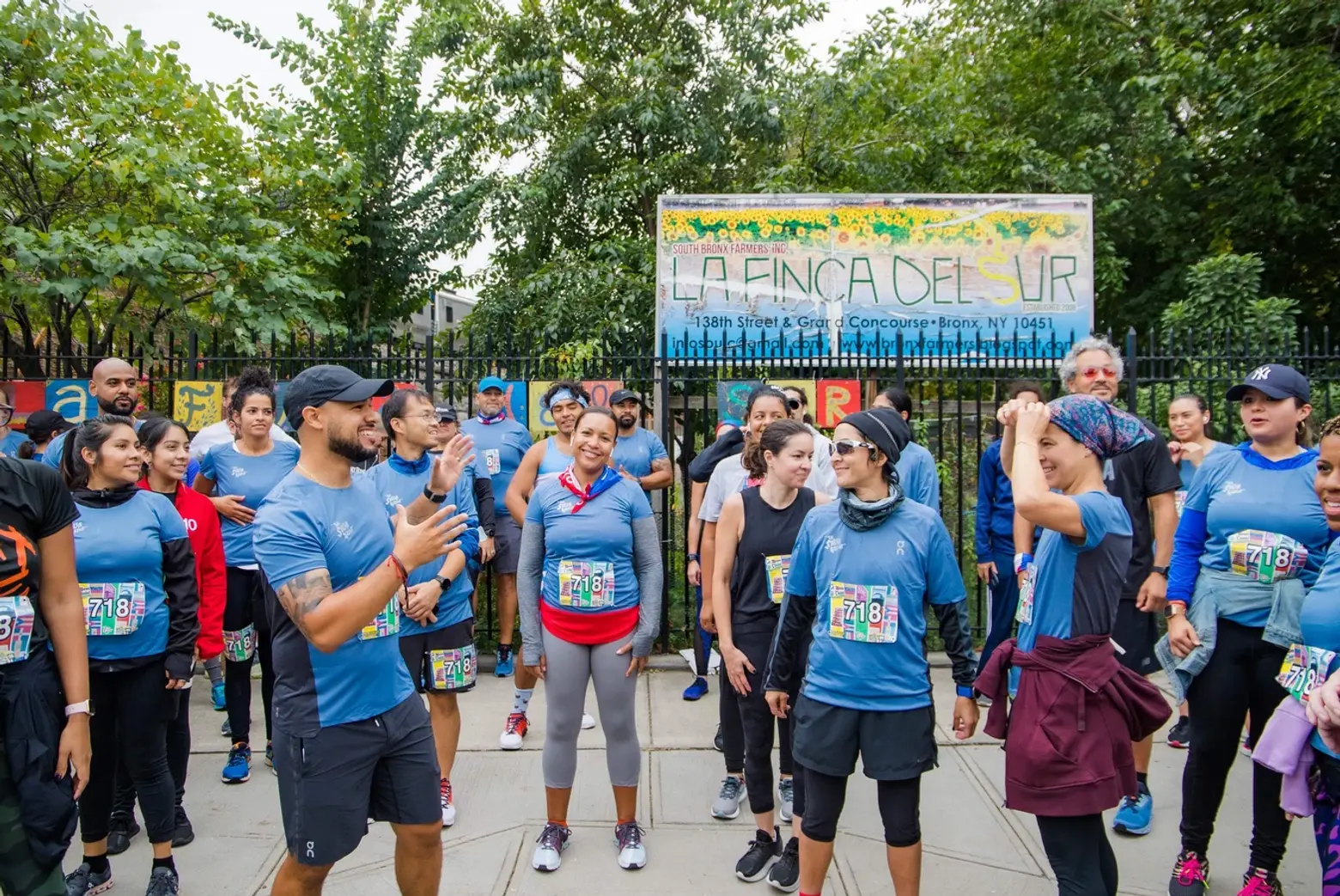 Image courtesy of Latinos Run
Latinos Run Hispanic Heritage Virtual 5K Run
September 15 to October 17
Latinos Run is hosting a special virtual 5K run event in celebration of Hispanic Heritage Month. After registering for the event, participants can complete the run on their own time between September 15 and October 17. The run can be completed on a treadmill, on the road, on a trail, or on a track. Those who complete the run will earn a collective medal which will be delivered to them.
Dominican Republic Film Festival 2022
September 21 to 26
The Dominican Republic Film Festival is returning for its 11th year, showcasing a selection of films made in the Dominican Republic and by the Dominican diaspora. The festival will be held in Washington Heights. More information can be found here.
The Hispanic Society Museum & Library
Broadway between 155th and 156th Streets, Manhattan
Thursday to Sunday from 12 p.m. to 6 p.m. until October 16
The Hispanic Society Museum & Library has a new exhibition that displays watercolor paintings made by American artists in Spain, Portugal, and Latin America. The exhibit features work from Timothy J. Clark, an influential artist who captured the beauty of Latin America through his watercolor paintings. Admission is free, but RSVP'ing is required.
Eddie Palmieri at the Lehman Center
250 Bedford Park Boulevard West, The Bronx
September 17 at 8 p.m.
Eddie Palmieri, world-renowned Puerto Rican salsa and Latin jazz musician, is performing at the Lehman Center in the Bronx. The 85-year-old musician is the winner of 10 grammy awards and is still going strong, captivating audiences with his musicianship.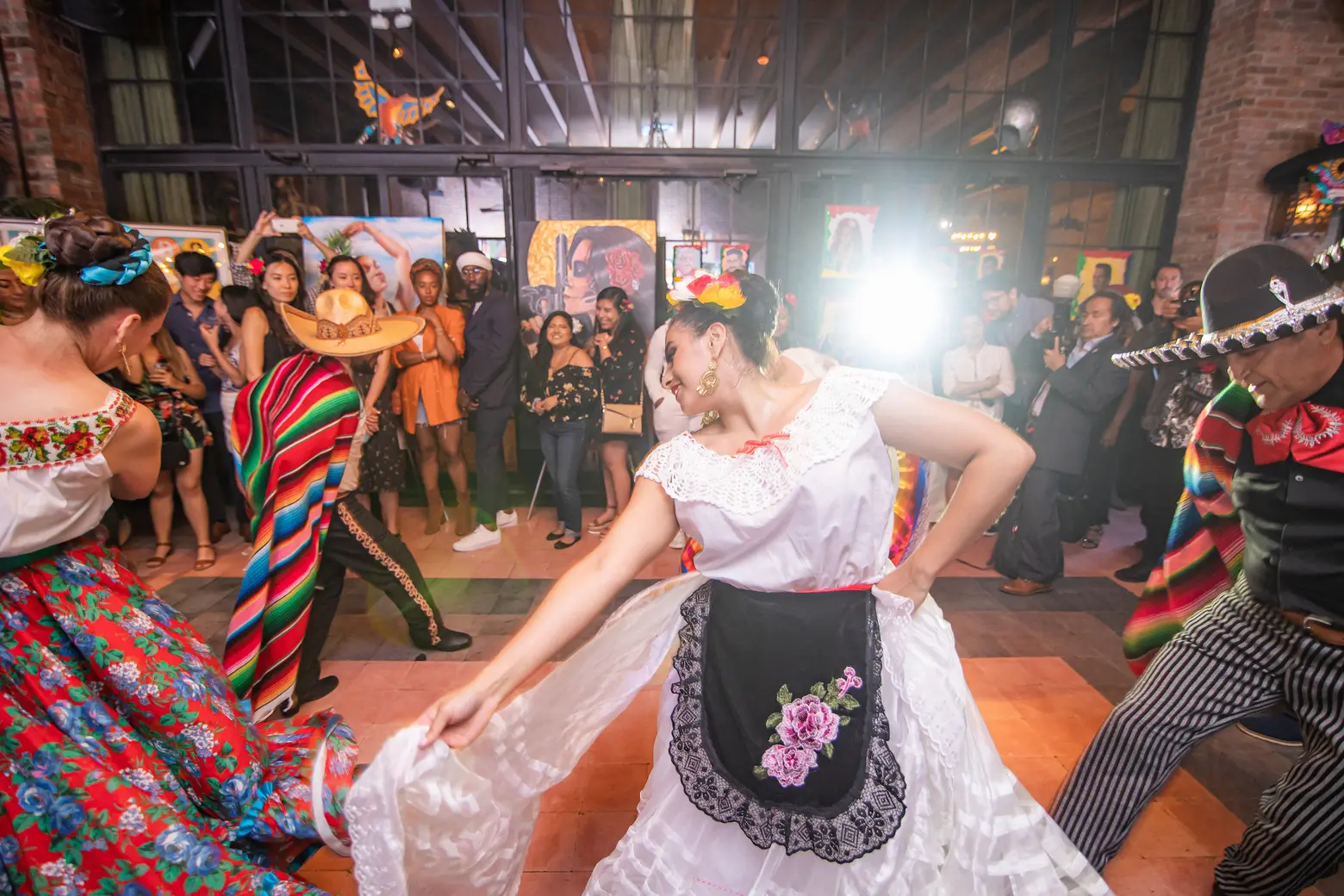 Dancers from the Mazarte Dance Company, image courtesy of Ray Hamlin Photography
NY Arte Agave Festival
355 Bowery, Manhattan
September 16 from 6 p.m. to 10 p.m.
Hosted at the Bowery Hotel, the NY Arte Agave Festival is a celebration of fine agave spirits, the arts, and entertainment. There will be over 100 varieties of agave spirits to sample, and an opportunity to learn the art of making agave cocktails. There will also be an opportunity to win a bottle of tequila. Local culinary vendors will be selling traditional food, including street-style tacos, corn, rice and beans, and much more. Ticket prices start at $92.23.
Daddy Yankee at Madison Square Garden
4 Penn Plaza, Manhattan
September 20 at 8 p.m.
Daddy Yankee, known for elevating the reggaeton genre to international prominence with his hits "Gasolina" and "Despacito," is performing at NYC's Madison Square Garden on September 20. The Puerto Rican musician, also known as "El Cangri," is stopping at the legendary arena on his La Ultima Vuelta World Tour. Tickets can be purchased here.
Panamanian Day Parade
President Street and Classon Avenue, Brooklyn
October 8 at 12 p.m.
The Panamanian Day Parade is returning for its 27th year, celebrating the many leaders, educators, artists, and celebrities from Panama. The Panamanian Parade will also be participating in the Hispanic Day Parade on the 9th. The parade is the largest held outside of Panama.
First Gala Concert of The Royal Theater of Madrid in New York City
57th Street and Seventh Avenue, Manhattan
September 15 at 8:30 p.m.
The Royal Theater of Madrid is making its debut at Carnegie Hall during Hispanic Heritage Month. The group was just named the Best Opera Company of 2021 by the International Opera Awards. Their performance will celebrate the influence of Spanish music and the 40th anniversary of the sister city agreement between NYC and Madrid. Tickets can be purchased here.
RELATED: