Archtober 2023: Your guide to this year's architecture and design events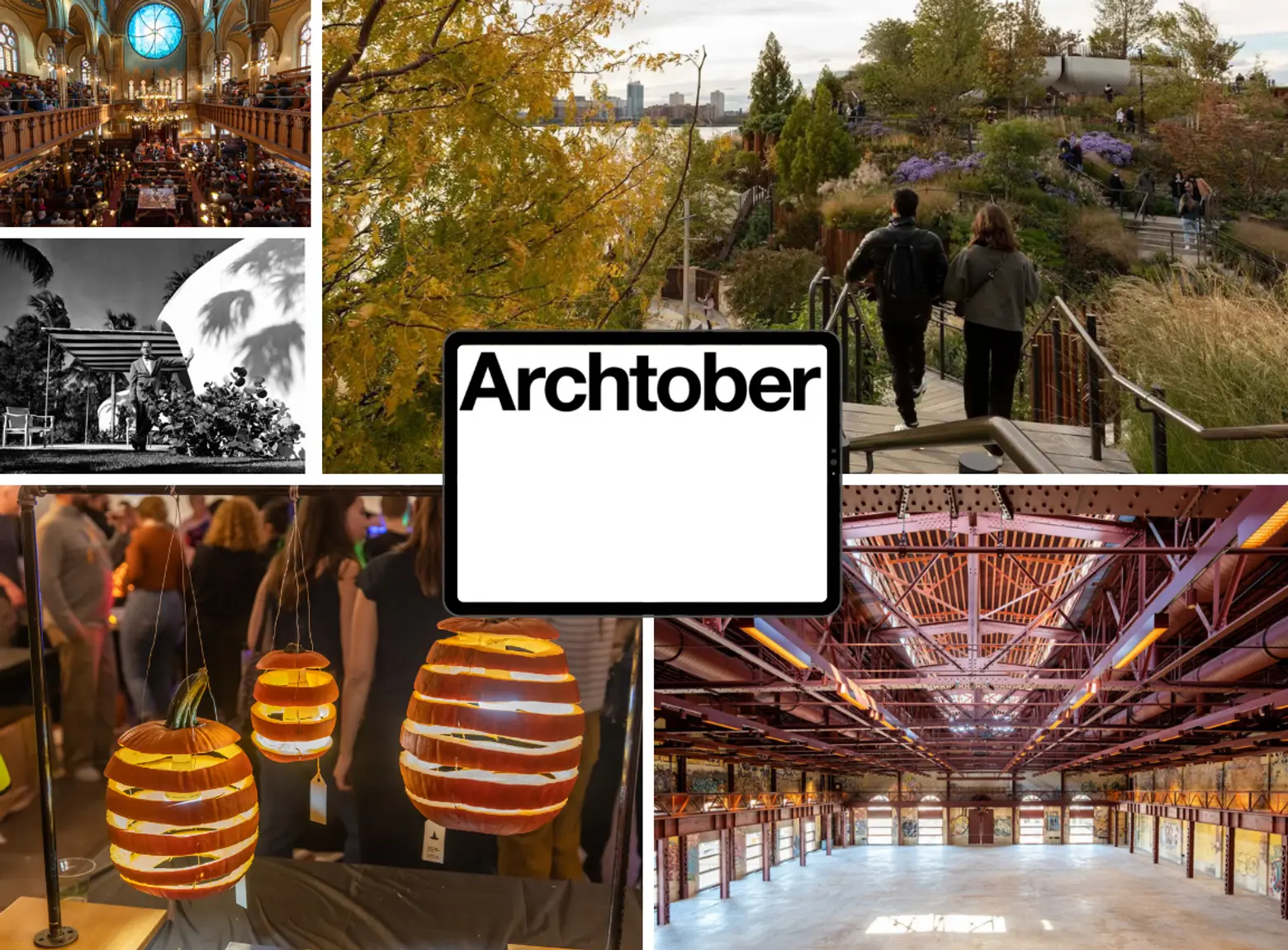 Pumpkitecture photo courtesy of Matthew Carasella Photography
New York City's annual Archtober festival returns October 1 through October 31 for its 13th year. The monthlong celebration of architecture and design unfolds thanks to the collaboration of over 100 partners and sponsors across the city. This year's festival offers events, exhibitions, talks, and neighborhood tours across the five boroughs to raise awareness of the importance of the city's infinite tableau of architecture and design. The 2023 theme, "Bridging Divides," serves to better organize select programming with shared goals and conceptual connections.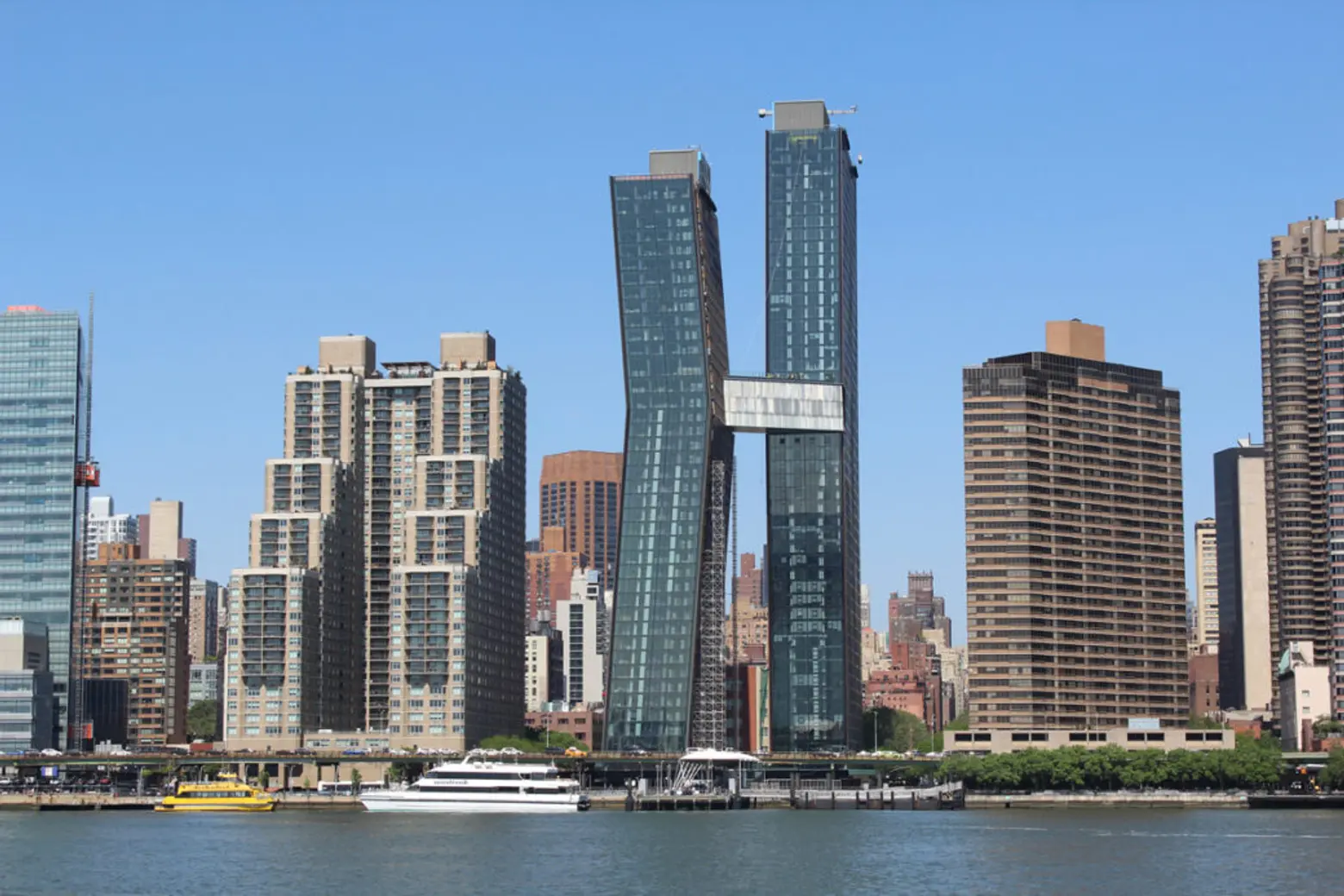 The festival theme is meant to reflect a commitment to inclusivity, innovation, and a better understanding of the way individuals, communities, and the spaces they inhabit are all connected.
"As the post-pandemic world continues to shapeshift, the Archtober platform has also introduced its first-ever theme for 2023," Katie Mullen, Archtober director, said in a statement.
"Bridging Divides points towards breaking down barriers within the field of architecture and design, as well as within the built environment that surrounds us."
Tours
Boat Tour: AIANY Around Manhattan Architecture Cruise
Sunday, October 1, 10:45 p.m. to 4:30 p.m.
$112 Adults; $82 Student (12 yrs and older)
Enjoy NYC's architectural landmarks–best seen from the water–aboard the teak decks of an elegant 1920s style yacht. Tour narration, provided by members of the American Institute of Architects (AIA) NYC chapter, is general enough for visitors yet detailed enough for the locals. Experience a comfortable and unique tour through the Hudson, East, and Harlem Rivers from the climate-controlled observatory or wander to the outer decks for fresh air and sunlight with a complimentary beverage in hand.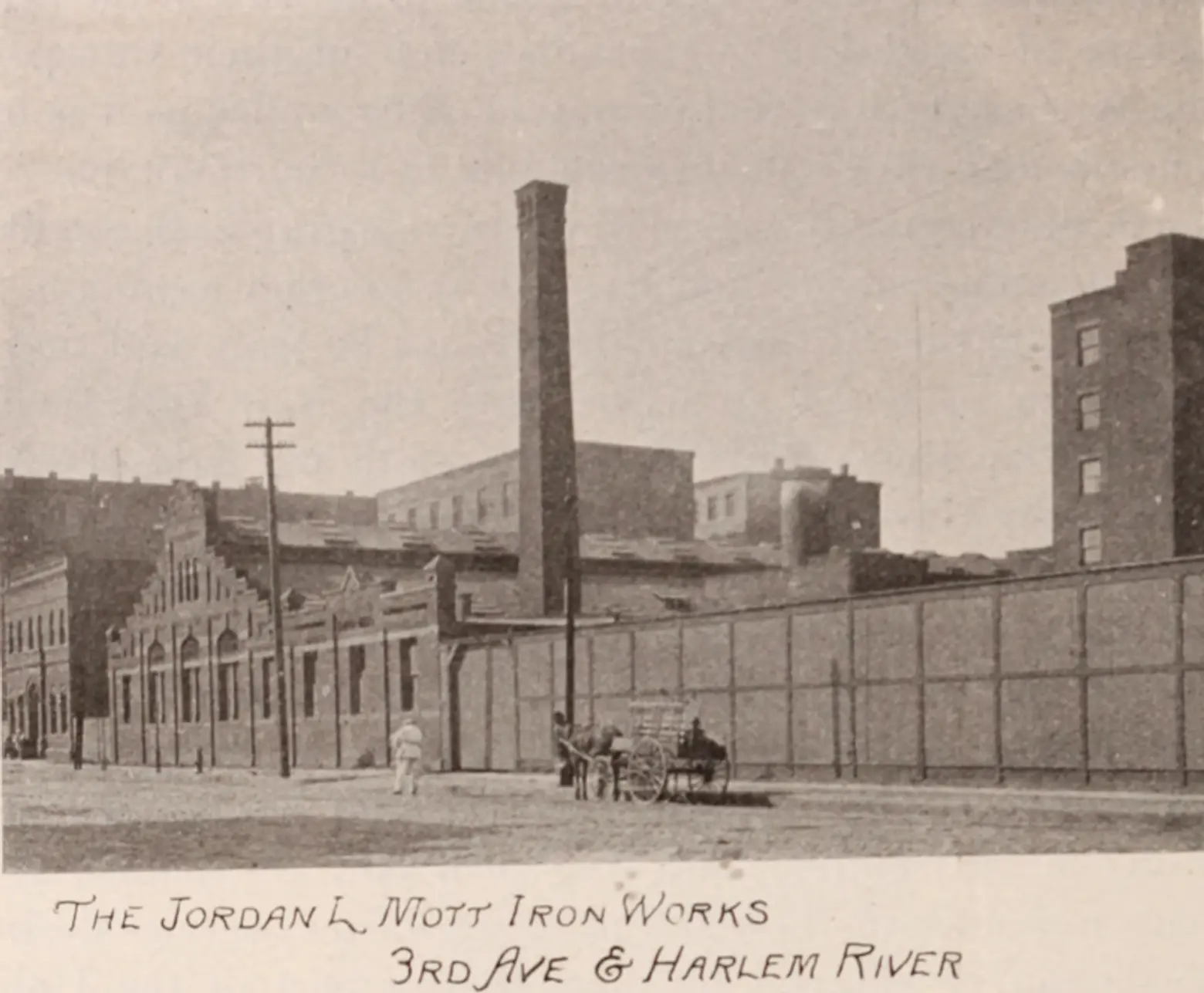 South Bronx
Sunday, October 1, 11 a.m. to 1 p.m.
$30
Bronx native and experienced neighborhood tour guide Alexandra Maruri will introduce you to the much-changed–and changing–neighborhoods of Port Morris and Mott Haven. Both are rich in history and, in particular, architecture history. Visit sites of the early iron works, piano factories, and ice houses, and see how historic architecture can be creatively re-used to enhance this vibrant urban landscape rather than being demolished.
AIANY Cruise/ Boat Tour: Climate change tour: resiliency sustainable architecture and the future of NYC
Friday, October 6, 12 p.m. to 2:45 p.m.
$112 Adults; $82 Student (12 yrs and older)
Learn about how climate change is affecting our city and people, and the actions NYC is taking to mitigate climate-based threats and reduce its carbon footprint while cruising the city's waterways aboard the yacht Manhattan or Manhattan II.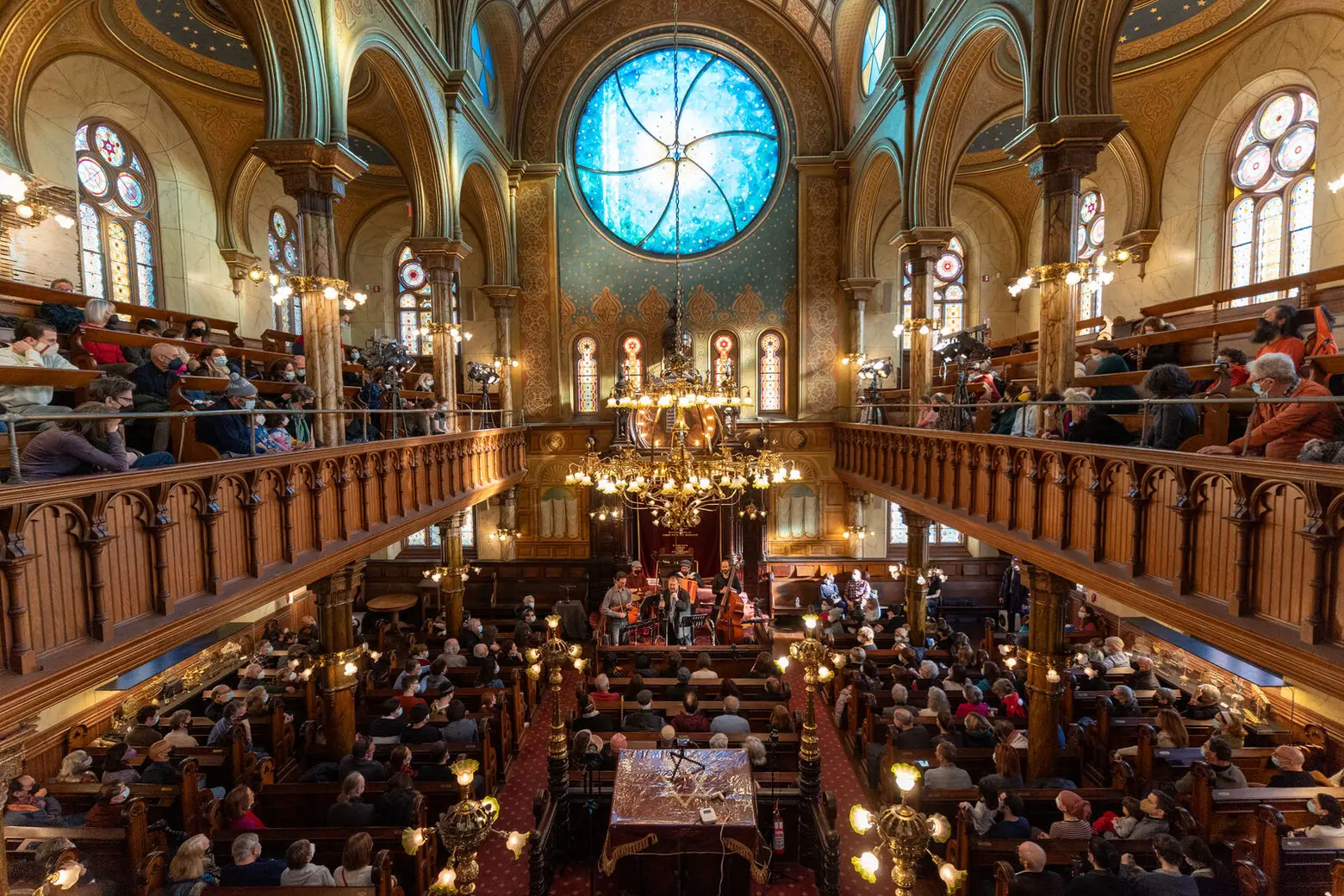 Walking Tour: Jewish Lower East Side
Friday, October 6, 11 a.m. to 12 p.m.
$30
A century ago, the Lower East Side saw unparalleled growth as waves of immigrants settled and lived in this lower Manhattan neighborhood. Today, there are signs of the past hidden within the modern streets. Join one of the Museum at Eldridge Street's senior educators for a walk in the footsteps of these immigrants.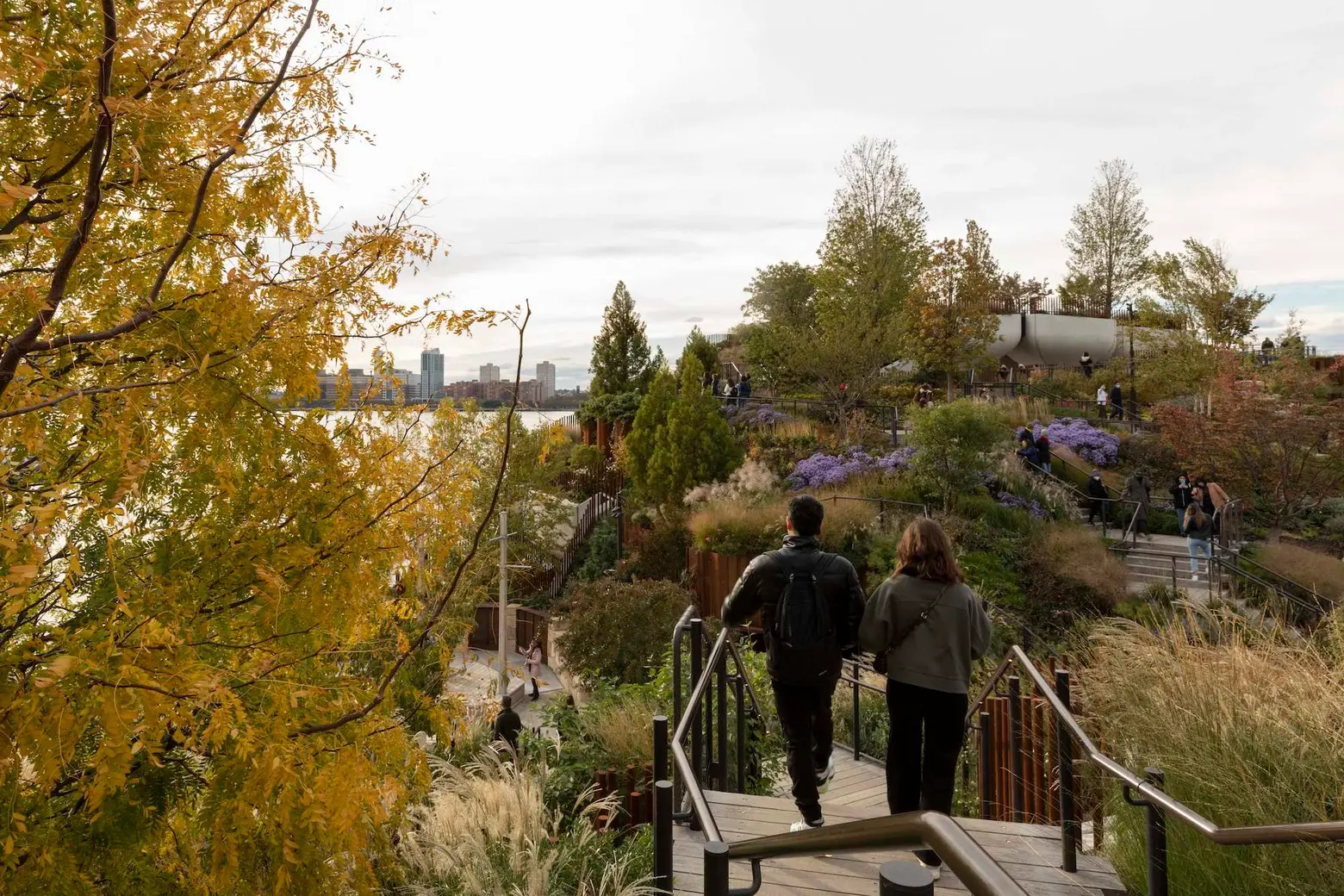 Photo © Elizabeth Felicella
Guided Tour of Little Island
Friday, October 6, 11 a.m. to 12:00 p.m.
Free
Take a tour of one of New York City's newest–and most unique– parks. Landscape architect Signe Nielsen of MNLA and architect of record Fabian Jabro of Standard Architects will lead a 45-minute tour of Little Island, the offshore park at Pier 55. RSVPs are not required; participants should meet under the covered area of the south bridge.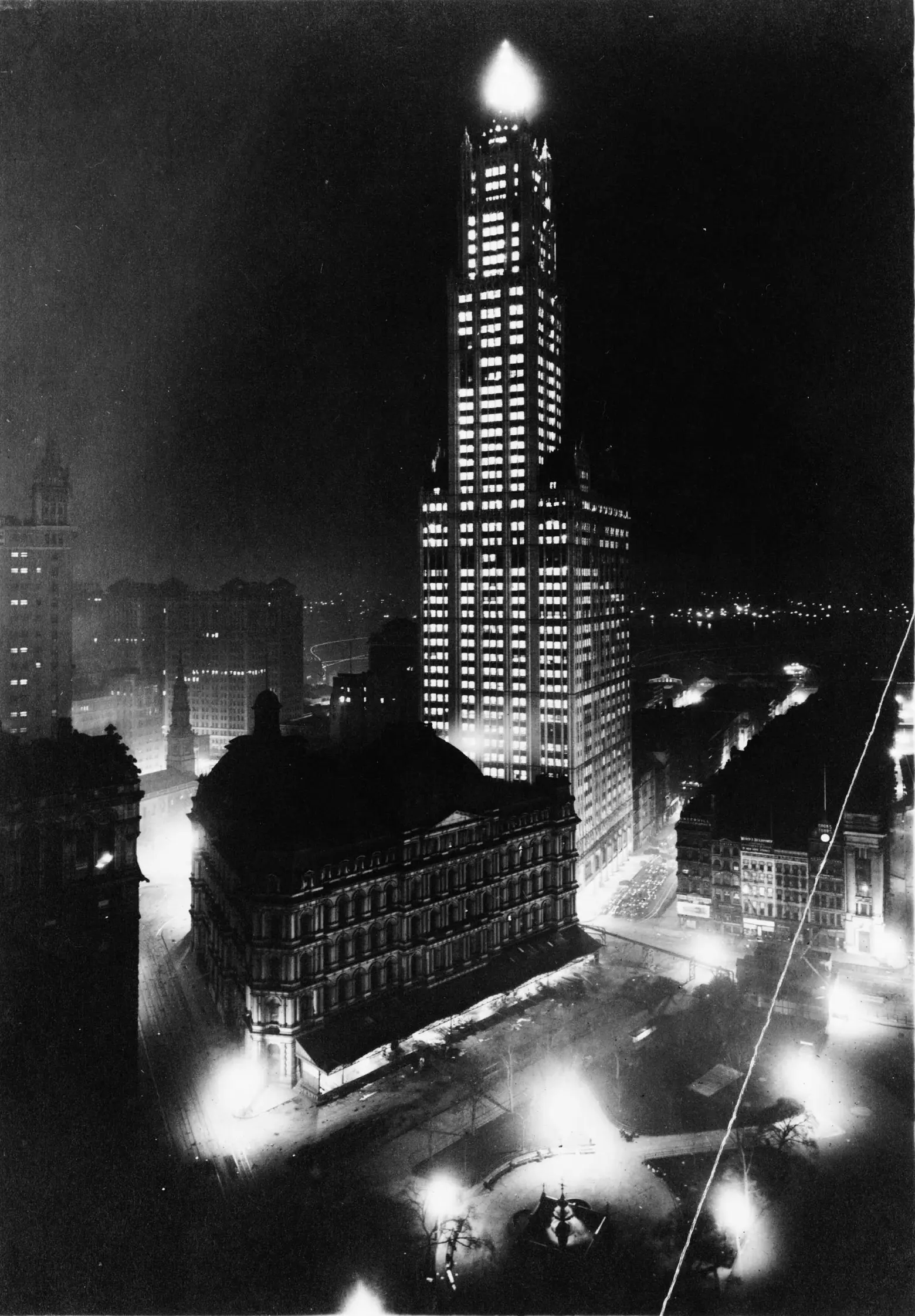 Skyscraper National Park: Origins in Lower Manhattan
Saturday, October 21, 11 a.m. to 1 p.m.
$30
Chicago and New York both lay claim to the invention of the skyscraper. This walk focuses on local evidence, like the site of the original Equitable Building, as well as early examples executed between 1869 and the First World War, including the Potter Building, the Wallace Building, and the Woolworth Building.
Subway Art Tour
Sunday, October 22, 1 p.m. to 3 p.m.
$30
From the edge of Greenwich Village, uptown to Lincoln Center and downtown to Chelsea, this part-one tour will take you on an unusual journey to discover a part of New York City that few visitors and fewer New Yorkers have experienced. Ever since the first subway car left City Hall station in 1904, public art has been a part of New York's subway system, from the early directional and identifying signs to 21st-century examples, many still made using tile mosaics. NOTE: You will need a MetroCard or OMNY.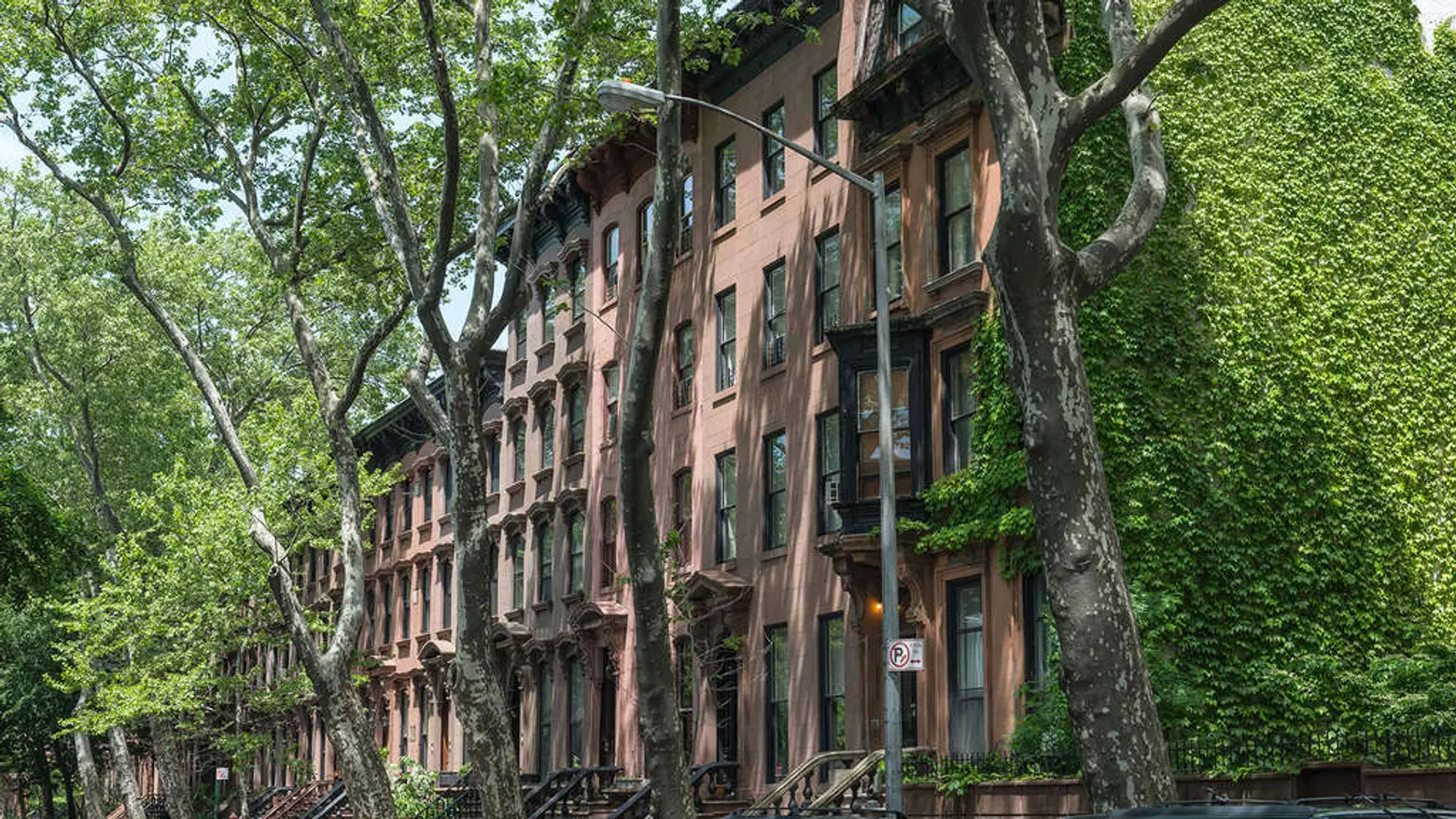 Fort Greene Revisited
Saturday, October 14, 2 p.m. to 4 p.m.
On the edge of rapidly developing downtown Brooklyn, Fort Greene has seen more major construction in the last twenty years than most neighborhoods have experienced in the last 60. This updated Fort Greene tour mixes the protected old, historic districts with some of the avant-garde new, spanning two centuries. Residential, civic, cultural and commercial buildings, houses of worship and green spaces are all included.
Ghosts of the Five Points Tour
Saturday, October 28, 11 a.m. to 1 p.m.
$30
In the 1800s, Five Points was a notorious slum in lower Manhattan, infamous for decades as New York City's center of violent crime, unemployment, prostitution, gambling, infectious diseases, and filth. Today, though little remains of the neighborhood, stories and tales associated with various locations live on, most notably in the 2002 Martin Scorsese film "Gangs of New York." Join guide Lloyd Trufelman for a tour of the sites of the Old Brewery/Mission House, Bandit's Roost, Collect Pond, and other places where the voices of Five Points echo through our modern streets.
Urban Renewal at Lincoln Center
Saturday, October 28, 1 p.m. to 3 p.m.
$30
Lincoln Center for the Performing Arts was the nation's first performing arts complex, part of the larger 45-acre Lincoln Square Urban Renewal Project. Led by Robert Moses, the project erased the San Juan Hill neighborhood, displacing more than 7,000 families, largely African American, and 800 businesses. Despite problematic origins, many of the new structures built in the 1960s are nationally significant works of modern architecture. The tour will consider whether contemporary interventions, some of which have been opposed by preservationists, enhance or detract from the original 16-acre campus.
The Bowery: 400 Years on New York City's Oldest Street 
Sunday, October 29, 11 a.m. to 1 p.m.
From flophouses to penthouses, the Bowery has seen it all. Native American footpath, Dutch farm road and site of NYC's first free black settlement, the Bowery was an early social hub for the working class, gangs, gays, and immigrant Irish, Italians, Chinese, Jews and Germans. Stephen Crane called it "the most interesting place in New York." NYC's oldest, most architecturally diverse street is also one of the city's most endangered historic treasures. Join David Mulkins of Bowery Alliance of Neighbors for this tour.
Hidden History of the South Street Seaport's Architecture
Saturday, October 14, 2 p.m. to 4 p.m.
The original architectural gems of the South Street Seaport Historic District are considered to be among the oldest standing structures in Manhattan. Discover the origins of New York's greatness on a tour will be led by the Seaport Museum's Director of Collections and Exhibitions and Director of Engagement and Public Programs. Advanced registration is required for this free 60-minute tour. Rain or shine.
Broadway Theaters (virtual)
Wednesday, October 25, 6 p.m. to 8 p.m.
Virtually walk the streets of "the Great White Way," tracing the history of New York's Times Square theater district to see the great Broadway theaters built between the turn of the century and the onset of the Depression. One advantage of a virtual tour is that you can also visit the interiors of these extraordinary theaters. The tour will be led by author of the award-winning book "New York Art Deco: A Guide to Gotham's Jazz Age Architecture."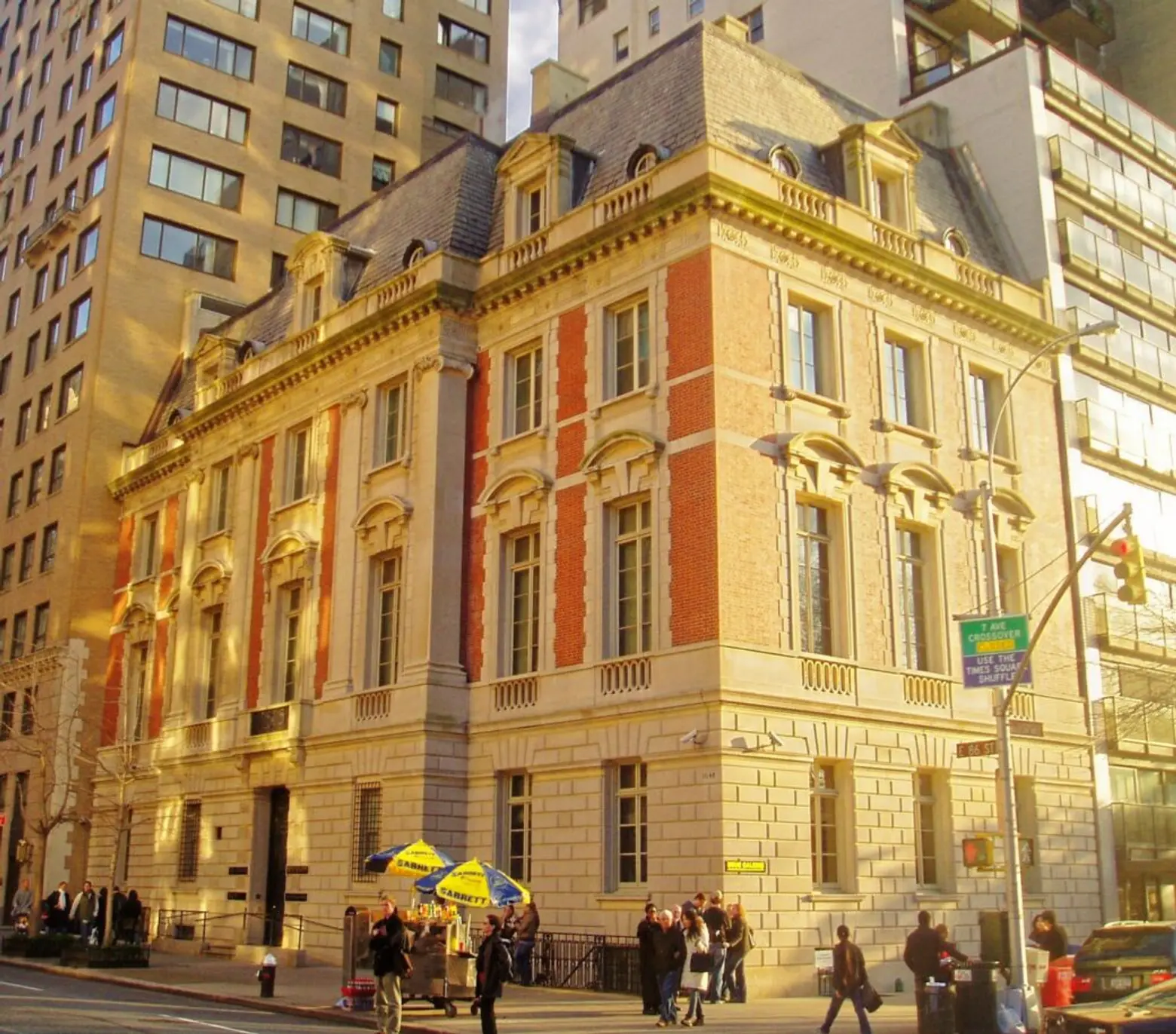 Talks
Lecture Series: Alignments in the Indigenous Design Process
Various dates
The lecture series Alignments in the Indigenous Design Process, developed in collaboration with the Indigenous Society of Architecture, Planning and Design (ISAPD), which presents processes and projects featuring both natural and artificial elements that are woven into Indigenous spatial design methodologies. As part of this series, performance artist, visual artist, and composer Suzanne Kite will discuss spatial relationships between human and non-human entities in her installation and design work in Nonhuman Futures on October 3 via Zoom.
Preservation School – Old Buildings, New Ideas
Tuesday, October 10, 6 p.m. to 7:30 p.m.
More information coming soon.
1048 Fifth Avenue: From Mansion to Museum
Monday, October 16, 6:30 p.m. to 7:30 p.m.
"Whose home was this?" Guests at the Neue Galerie frequently ask this question as they enter the elegant space that houses one of the world's finest collections of Austrian and German art of the early 20th century. Join Prof. Andrew Dolkart for a colorful history of the museum's home at 1048 Fifth Avenue, from the building's construction in 1914 to present day.
Author Spotlight: An American Renaissance: Beaux-Arts Architecture in New York City by Phillip Dodd
Tuesday, October 18, 6:30 p.m. to 7:30 p.m.
The Gilded Age, also referred to as the American Renaissance, marks the first time that the titans of American finance and industry had more wealth than their European counterparts. To flaunt their newly acquired wealth, they needed an architecture laden with embellishment and historical reference. Enter the Beaux-Arts. At event for Bartow-Pell Mansion Museum, author Phillip James Dodd will present several Beaux-Arts landmarks as well as the patrons and architects that designed them, and their influences on Julian Fellowes' television series "The Gilded Age."
Architectural Innovations in Commercial Real Estate: Repositioning for Success Amid Uncertainty
Tuesday, October 24, 11:30 a.m. to 1 p.m.
Join IA Interior Architects at their New York Studio and NYU Schack Institute of Real Estate Professor Daniel Fishbein for insights on how architects support developers and asset managers to navigate today's commercial real estate uncertainties and create magnetic environments to generate successful occupancy and long-term leasing strategies..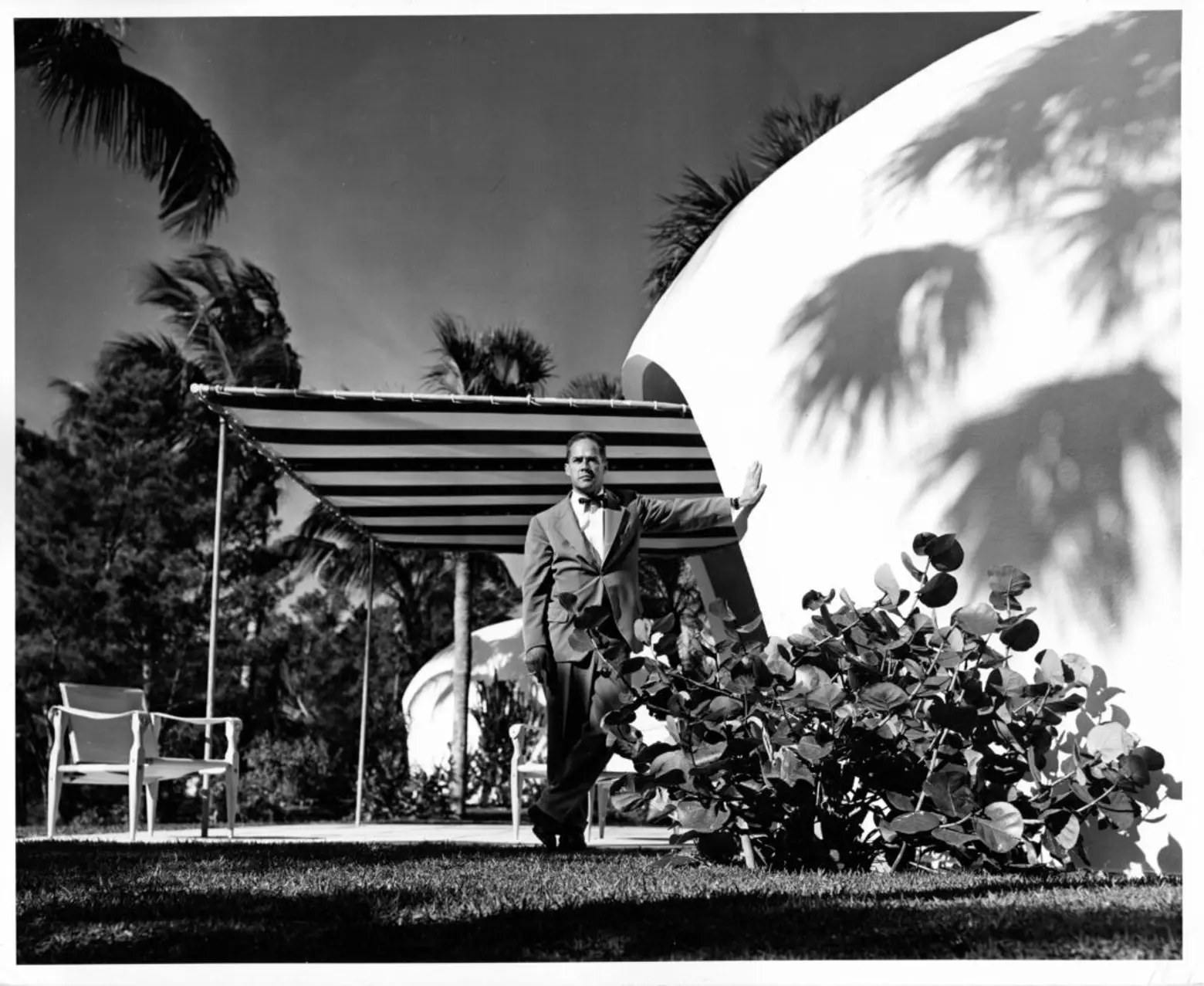 Exhibitions, workshops, & other events
Architecture & Design Film Festival
October 12-24
The annual Architecture & Design Film Festival celebrates the unique creative spirit that drives architecture and design. With a curated selection of films, events and panel discussions, ADFF creates an opportunity to entertain, engage and educate all types of people who are excited about architecture and design.
Keys to the City Scavenger Hunt: On Location in New York
Saturday, October 14, 10 a.m. to 2 p.m.
Calling all New York City film buffs! Explore one of the world's most cinematic cities and discover legendary landmarks as your team solves clues in this day-long scavenger hunt. Manhattan has served as a backdrop for countless movies from "West Side Story" to "The Wolf of Wall Street." Experience New York City stories as told by directors, screenwriters, and cinematographers. In honor of the 100th birthday of the Museum of the City of New York, teams will solve clues in connection with the Museum's centennial exhibition, "This Is New York: 100 Years of the City in Art and Pop Culture."
Researching the History of Your New York City Home (virtual workshop)
Wednesday, October 4, 1 p.m. to 2 p.m.
Have you ever wondered about the history of your home? Who used to live there or what their lives were like? This class will show you how to research the history of your building and the people who owned and lived in it. Looking at censuses, city directories, land conveyances, and photographs, newspapers and local histories you will learn how to construct a narrative history of your home. Registration is required.
Emerging Ecologies: Architecture and the Rise of Environmentalism
September 17, 2023 through January 20, 2024.
"Emerging Ecologies: Architecture and the Rise of Environmentalism" is an exhibition at the Museum of Modern Art dedicated to both realized and unrealized projects that address ecological and environmental concerns by architects who practiced in the United States from the 1930s through the 1990s.
Teen Workshop: Architectural Photography (Grades 9-12)
Saturday, October 7, 10 a.m. to 4 p.m.
Each workshop focuses on a different core lesson that will help high school students explore their interest in architecture and hone skills that will be helpful for portfolio development. These workshops are open to all levels of architecture and art experience. Attend all three sessions, or just select the workshops that appeal most to you. The fall 2023 teen workshops will focus on developing fundamental architectural design skills and exploring the architecture of New York City.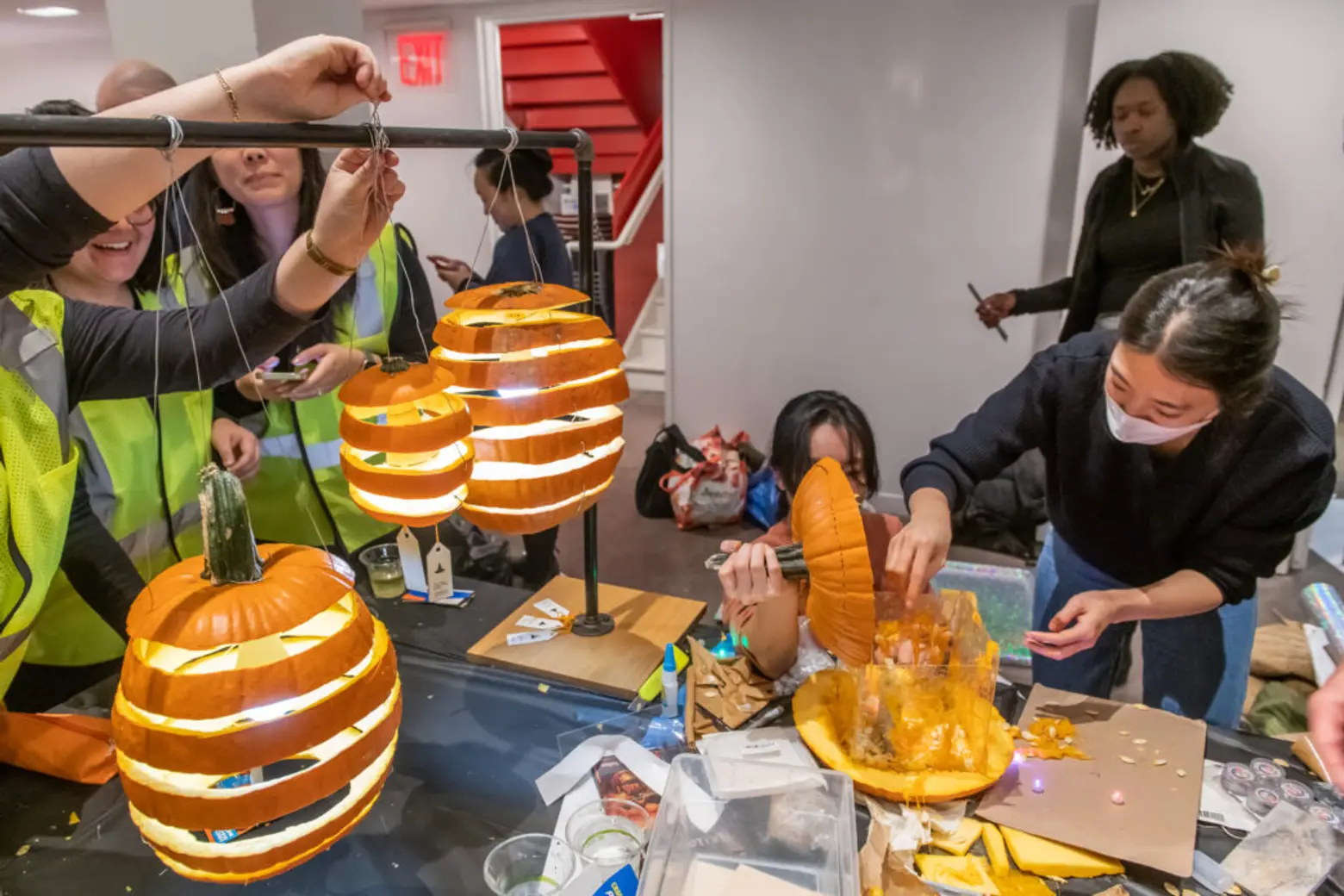 Pumpkitecture! Architectural Pumpkin Carving Competition
Friday, October 27, 6:30 p.m. to 8:30 p.m
On October 27, Pumpkitecture will return to the Center for Architecture, as teams of architects go gourd-to-gourd to compete for the Pritzkerpumpkin.
For more seasonal fun, the Museum of the City of New York will be hosting Cocktails & Culture: New York Movies Halloween Bash, an invitation to dress up as your favorite scary movie character and dance the night away to music by MCNY favorite DJ Misbehaviour.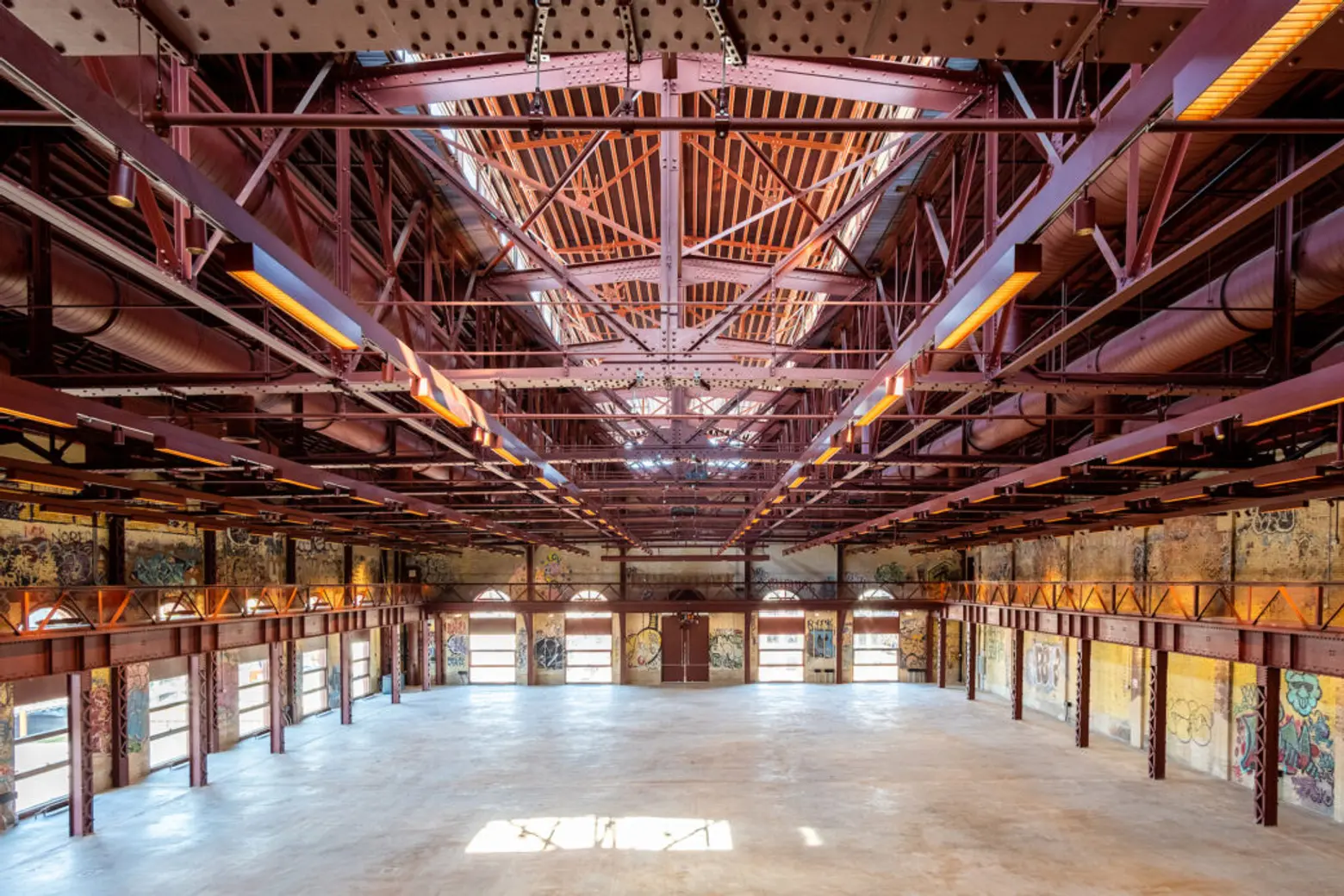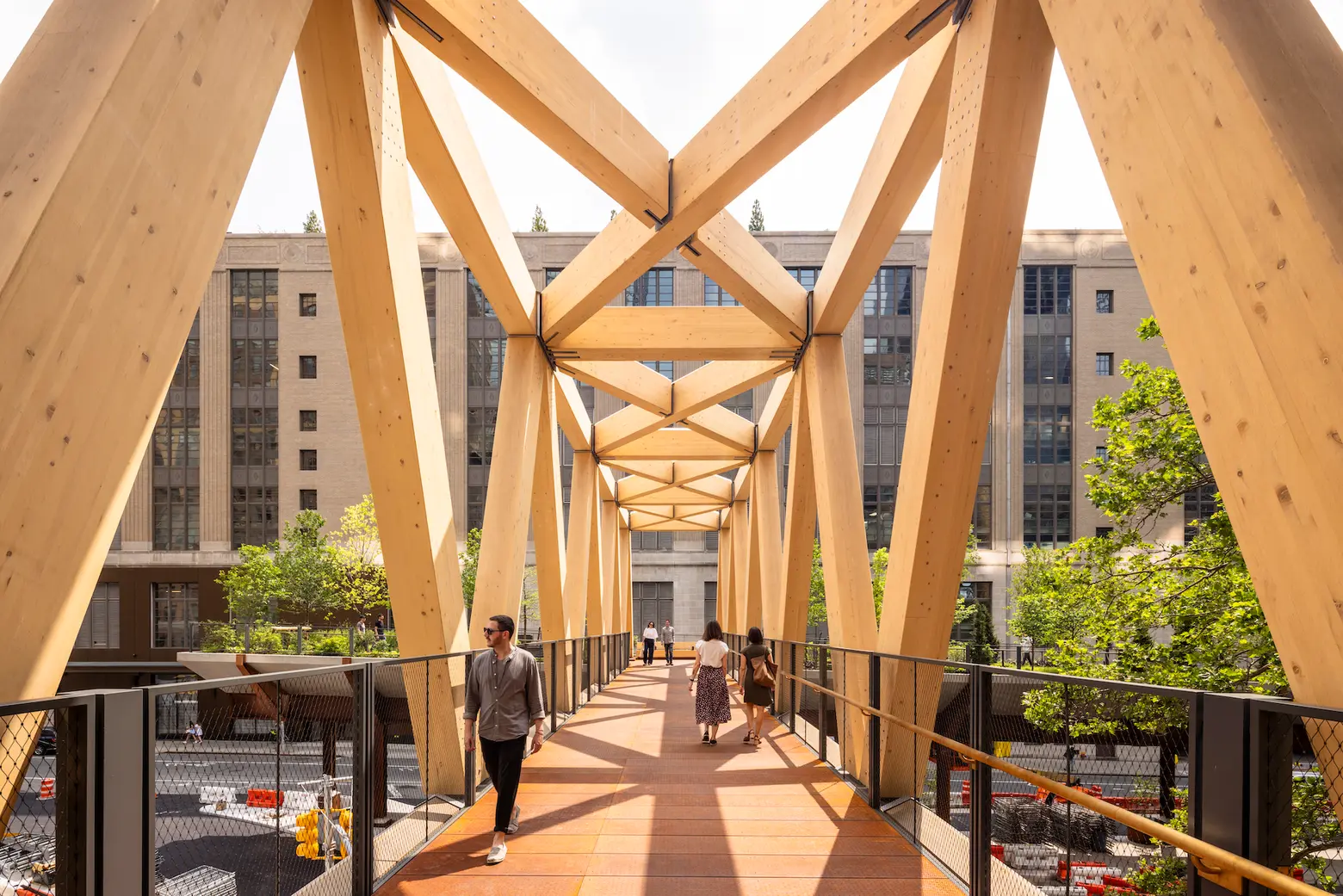 Building of the Day
This year's popular Building of the Day series includes 31 architect-led tours inside the city's latest and greatest architecture projects. Some of the buildings and projects that will offer tours include the following:
Archtober Map
A mobile Archtober Map of New York highlights museums, historic homes, iconic architecture, parks, restaurants, and much more. You can also visit the Archtober Shop for hats, tees, tote bags, and socks, with new designs inspired by the 2023 festival.
Go behind the scenes with Bloomberg Connects
Archtober's guide on the free Bloomberg Connects app is for anyone interested in connecting with architecture and design. The guide is designed to help you explore notable contemporary and historical sites across New York City's five boroughs as well as exclusive content, with commentary from the architects behind a selection of past Buildings of the Day.
Find the full lineup of Archtober 2023 events, programming, tours, talks, activities, and more, here.