Artists chosen for Shirley Chisholm statue in Prospect Park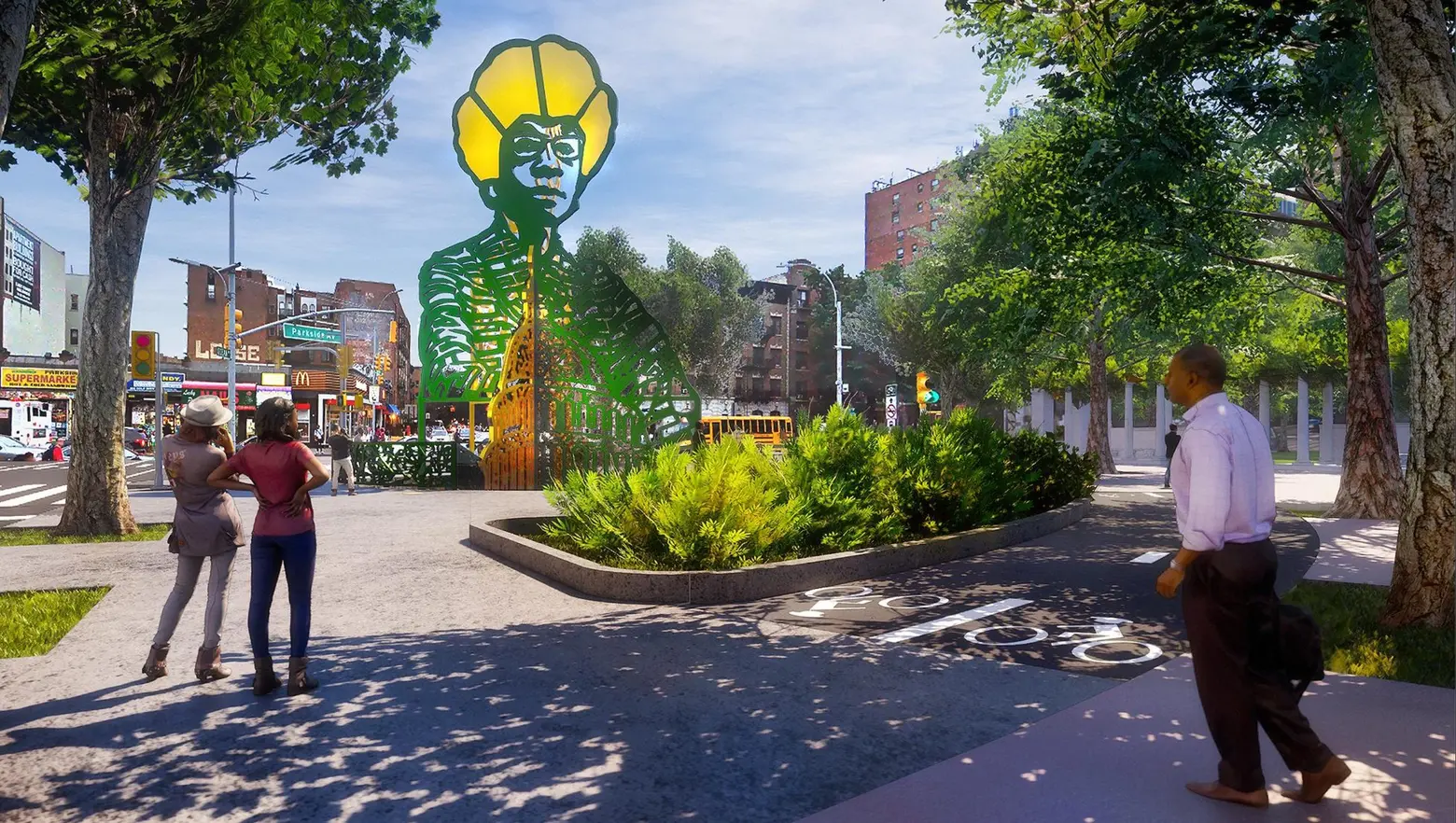 Rendering by Amanda Williams and Olalekan Jeyifous.
In New York City's five boroughs, only five out of 150 monuments of historic figures depict women. Launched last year, a program from Women.nyc called She Built NYC is attempting to narrow that gap by commissioning monuments throughout the city honoring visionary women who have helped define the city and made an impact on the world. To that end, acclaimed artists Amanda Williams and Olalekan Jeyifous have been selected to design the first of these monuments, which will honor celebrated New York congresswoman Shirley Chisholm.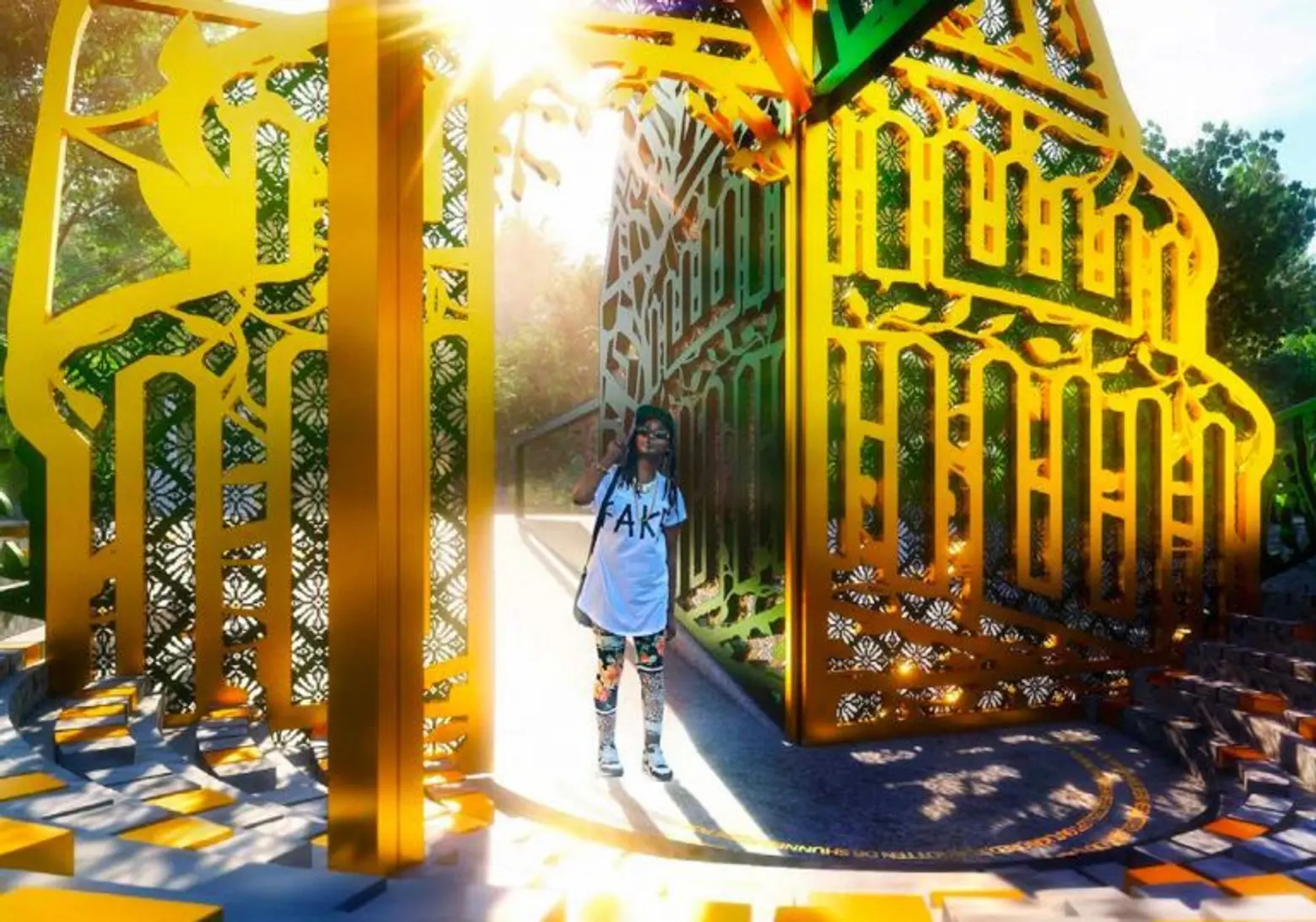 The design by Williams and Jeyifous, called Our Destiny, Our Democracy, will be refined and proceed through additional community input and public review. The new statue will then take its place at the park-side entrance to Prospect Park by the end of 2020. Up to $1 million will be available for the commissioning of the monument. In addition to the Shirley Chisholm monument, four more She Built NYC statues were recently announced, bringing the total number of monuments commissioned by the project to five–one per borough.
Williams and Jeyifous are trained architects and visual artists. Williams, who has exhibited at the Museum of Contemporary Art in Chicago, the 2018 Venice Architecture Biennale, the Art Institute of Chicago, and the Arts Club of Chicago, is a member of the multidisciplinary team at the Obama Presidential Center; Jeyifous, a Nigerian-American visual artist and trained architect who creates narratives using different modes of representation, has designed large-scale installations at Brooklyn's Barclays Center at Twitter's Manhattan headquarters.
As 6sqft previously reported, the design selection process began with dozens of design proposals from celebrated artists, from which the Department of Cultural Affairs Percent for Art program selected five final ideas. Women.nyc then invited the public's opinion.
Rendering by Amanda Williams and Olalekan Jeyifous.
Williams and Jeyifous' proposal is comprised of a 40-foot lace-like steel installation that blends Chisholm's image with the U.S. Capitol dome. Ornate patterns of vegetation, reminiscent of traditional park gates, highlight the monument's Prospect Park location. The monument is designed to draw people into its space, reflecting Chisholm's legacy of seeking out and advocating for marginalized groups in her fight for equality, justice, and inclusion.
Some seats will be adorned with markers engraved with the names of other pioneering women; others will be blank so that, in the future, they can be inscribed with the names of women and girls who have yet to make history.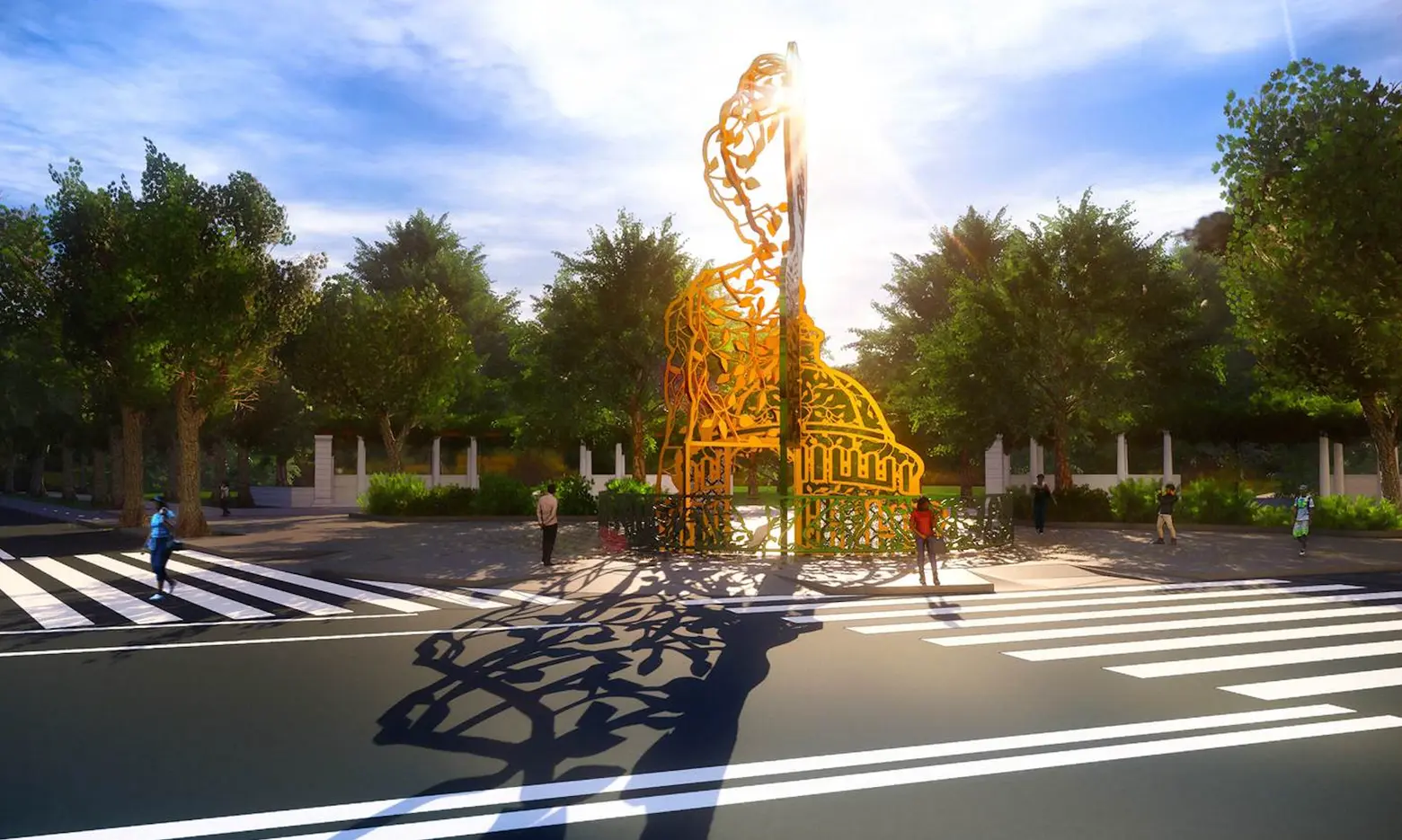 Summarizing their design concept, Williams and Jeyifous stated: "Shirley Chisholm wanted to be remembered as a catalyst for change in America and her name and image have become synonymous with possibility. Our project celebrates her legacy as a civil servant who 'left the door open' to make room for others to follow in her path toward equity and a place in our country's political landscape. We have designed a monument in which her iconic visage can be immediately recognizable while also equally portraying the power, beauty, and dimensionality of her contributions to our democracy."
First Lady Chirlane McCray, who launched the She Built NYC campaign last spring with former Deputy Mayor Alicia Glen, said in a statement, "She built NYC is transforming public art in our City by honoring the contributions of women who helped build and shape it. Congresswoman Shirley Chisholm's dynamic leadership and activism continues to inspire all who learn her story and her service deserves public recognition. This artwork will be bright, bold, and makes a statement – just like Chisholm herself."
RELATED: