After $5M restoration, NYC's historic Highbridge Water Tower reopens for public tours
Described in 1967 by the Landmarks Preservation Commission as "one of Manhattan's most picturesque architectural monuments," the Highbridge Water Tower reopened on Wednesday following a restoration project. Located in Washington Heights, the octagonal tower opened in 1872 and served as part of the Croton Aqueduct system, helping increase water pressure throughout the borough. While it no longer is part of the city's water system, the 200-foot landmark is the only one of its kind that remains today. The Parks Department also announced free public tours of the inside of the tower led by the department's Urban Park Rangers will resume next month.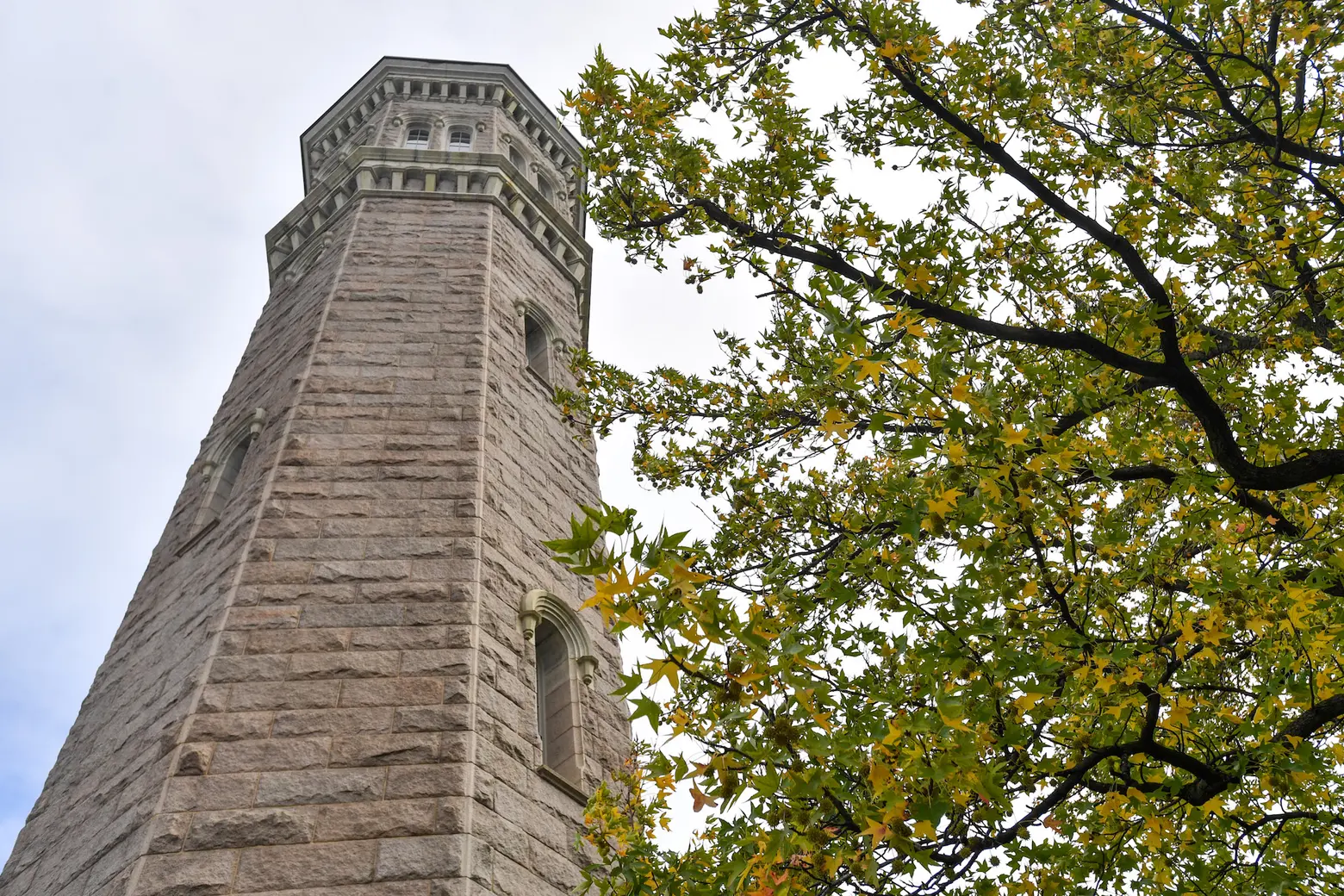 Credit: NYC Parks/ Daniel Avila
Opened as part of the Croton Aqueduct system in 1848, the High Bridge is New York City's oldest surviving bridge. Originally constructed solely to carry the aqueduct across the Harlem River, a walkway was completed at the bridge in 1864 and the bridge soon became a popular attraction. After closing to the public in 1970, the High Bridge reopened in 2015 after a nearly $62 million restoration, reconnecting the Bronx and Manhattan.
To boost the amount of water supplied to the growing city, the skinny granite tower was constructed from 1866 to 1872. Designed by John B. Jervis, the tower resembles a "medieval campanile," and a "rugged manifestation of the early Romanesque Revival style of architecture," as the Landmarks Preservation Commission noted in its designation report.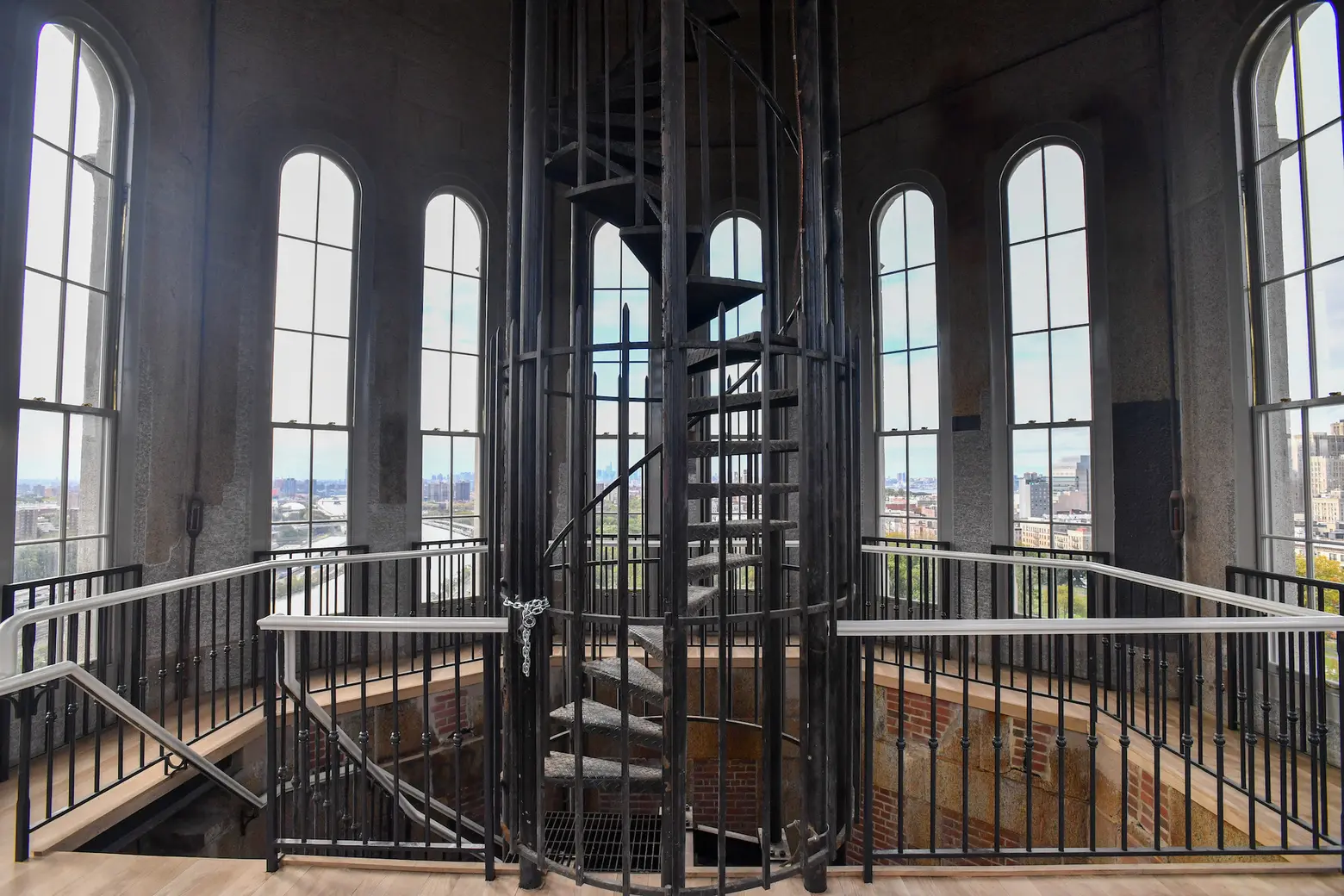 Credit: NYC Parks/ Daniel Avila
Landmarked not only for its architecture but also for serving as the only "reminder of New York's first major water supply system, outstanding for its day." Inside, the tower features a spiral staircase made of iron with several landings with windows that overlook the surrounding skyscape.
For the last decade, the tower has remained closed as it undergoes a major renovation, which included repairing the tower's roof, masonry, wooden handrails, flooring, and cast-iron staircase, according to Parks. New windows, window guards, and interior lighting were also installed.
Now officially completed, the $5 million project included $3.6 million in funds from Mayor Bill de Blasio's administration and $1.4 million from Council Member Ydanis Rodriguez.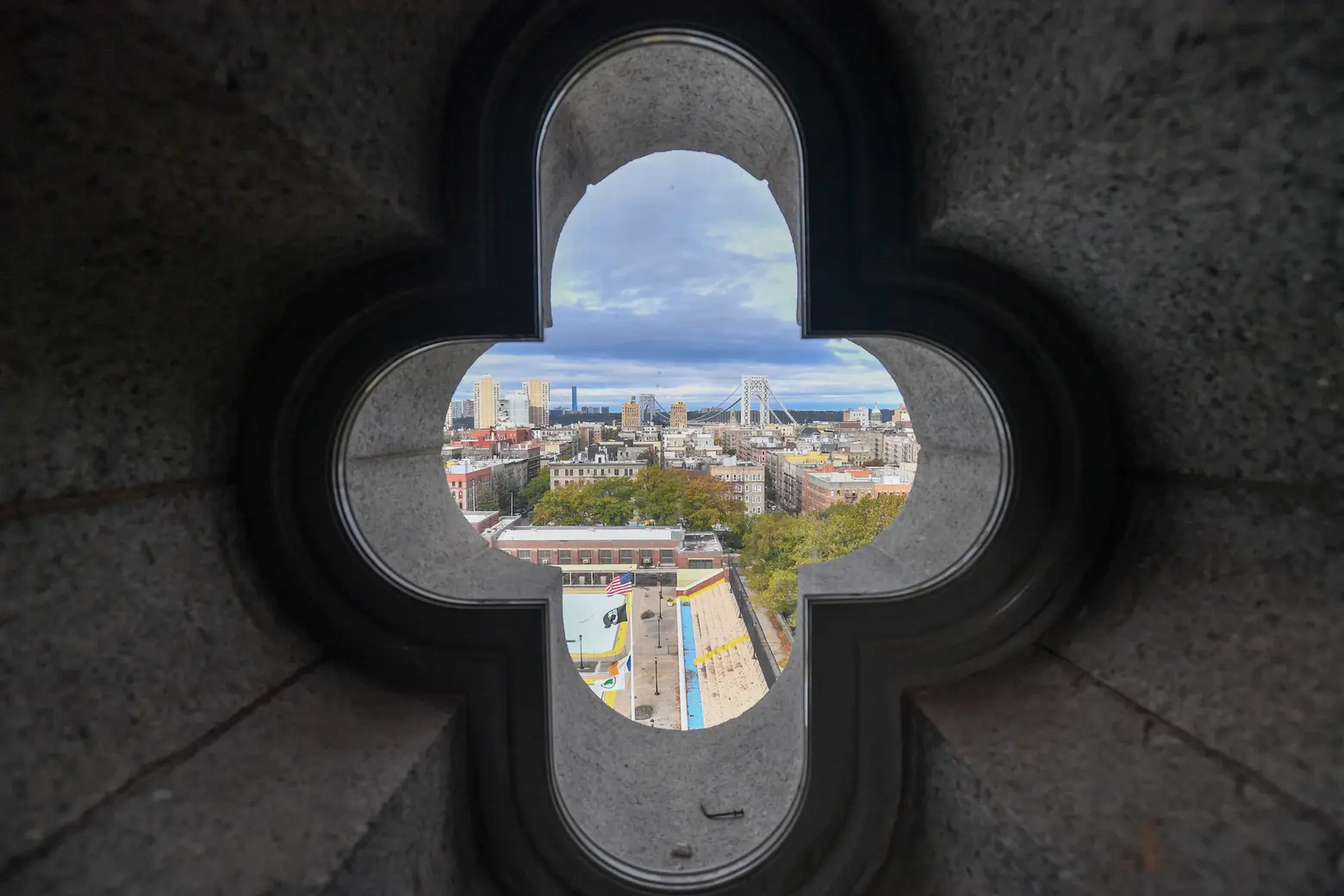 Credit: NYC Parks/ Daniel Avila
Starting next month, the Urban Park Rangers will lead free tours inside the Highbridge Water Tower, which will remain closed to the public at all other times. An event on November 21 takes participants inside the iconic tower while learning about the history of the city's water supply from 200 feet above the Harlem River. Registration is required and begins on November 10.
"The Highbridge Water Tower connects us to our city's history and serves as a beacon for the Washington Heights community–and thanks to this project, the historic structure will be preserved for generations to come," NYC Parks Commissioner Gabrielle Fialkoff said.
"Through educational tours with our Urban Park Rangers, New Yorkers will now be able to climb the tower's winding stairway once again and experience the panoramic views from the top. We are thrilled to unveil the renovated tower as part of our ongoing revitalization of Highbridge Park."