Adams announces overhaul of NYC's housing voucher program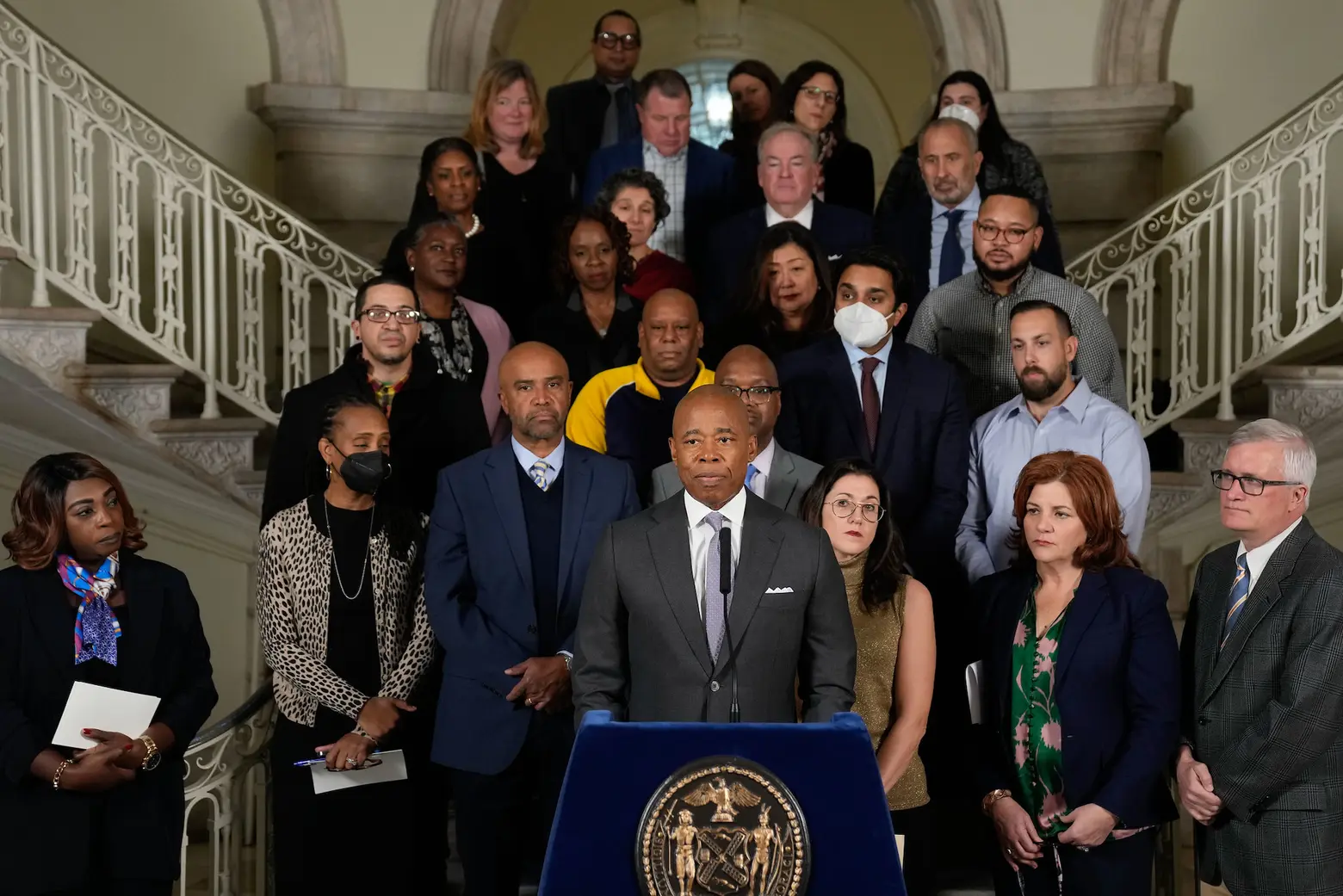 New York City officials are fighting the city's looming housing crisis with a few major policy changes. Mayor Eric Adams on Monday announced new housing reforms that will help homeless New Yorkers easily transition from the shelter system into affordable and supportive housing and give them access to housing in higher-income neighborhoods that have previously been out of reach for lower-income families.
The reforms include changes to the City Family Homelessness and Eviction Prevention Supplement (CityFHEPS) housing voucher program that will make the vouchers easier to access and use.
To make CityFHEPS more accessible to more New Yorkers, the number of hours families are required to work to become eligible for the program will be reduced from 30 to 14 hours per week. Rent for tenants who move into single-room occupancy units will be capped at $50.
Eligibility will also be expanded to include single adults working full-time on minimum wage, even if their income is higher than 200 percent of the federal poverty level.
"New York City should be a place where working parents can afford to raise their families, but for too many parents, that goal is out of reach," Christine C. Quinn, president and CEO of Win.
"The fact is a significant percentage of parents experiencing homelessness in Win shelters are working parents – but they simply cannot afford New York City anymore. That's why the reforms announced today are so important, because they are real, tangible steps that will give New Yorkers experiencing housing instability a better shot at the affordable housing they need and deserve."
To see the reform's effect in real-time, the city is launching a pilot program called "Street to Housing" that will place up to 80 homeless adults into permanent housing.
The program began in early September, granting four homeless New Yorkers experiencing mental illness keys to single-occupancy rooms in Brooklyn and Manhattan run by the non-profit Volunteers of America-Greater New York (VOA-GNY), according to City Limits.
The new residents of these units didn't have to endure the bureaucratic, time-consuming process that has been standard for obtaining housing. This approach utilizes the "Housing First" model, where those in urgent need of housing are granted access before anything else.
These reforms build upon commitments Adams made in his "Housing Our Neighbors: A Blueprint for Housing and Homelessness" plan that the city released in June.
"Our administration is tackling this crisis head-on by focusing on moving New Yorkers into stable, high-quality, affordable housing. That's what will define success for this administration, and that's what these reforms are about," Adams said.
"Like our housing blueprint, these changes were informed by those with lived experience of homelessness and on the front lines of this crisis. And today, we're starting a major effort to fast-track New Yorkers in need to permanent housing and getting stuff done for those who need help the most."
Those participating in the pilot program will also be aided by VOA-GNY case managers who will help connect them to rental assistance and health services.
Other changes to the CityFHEPS include expanding the program's eligibility to single adults working full-time on minimum wage, reducing the number of hours families are required to work to become eligible for the program, covering the cost of application fees, and lowering the monthly contribution that voucher holders must pay after moving into a single-occupancy home.
RELATED: