9 ways to celebrate Martin Luther King, Jr. Day in NYC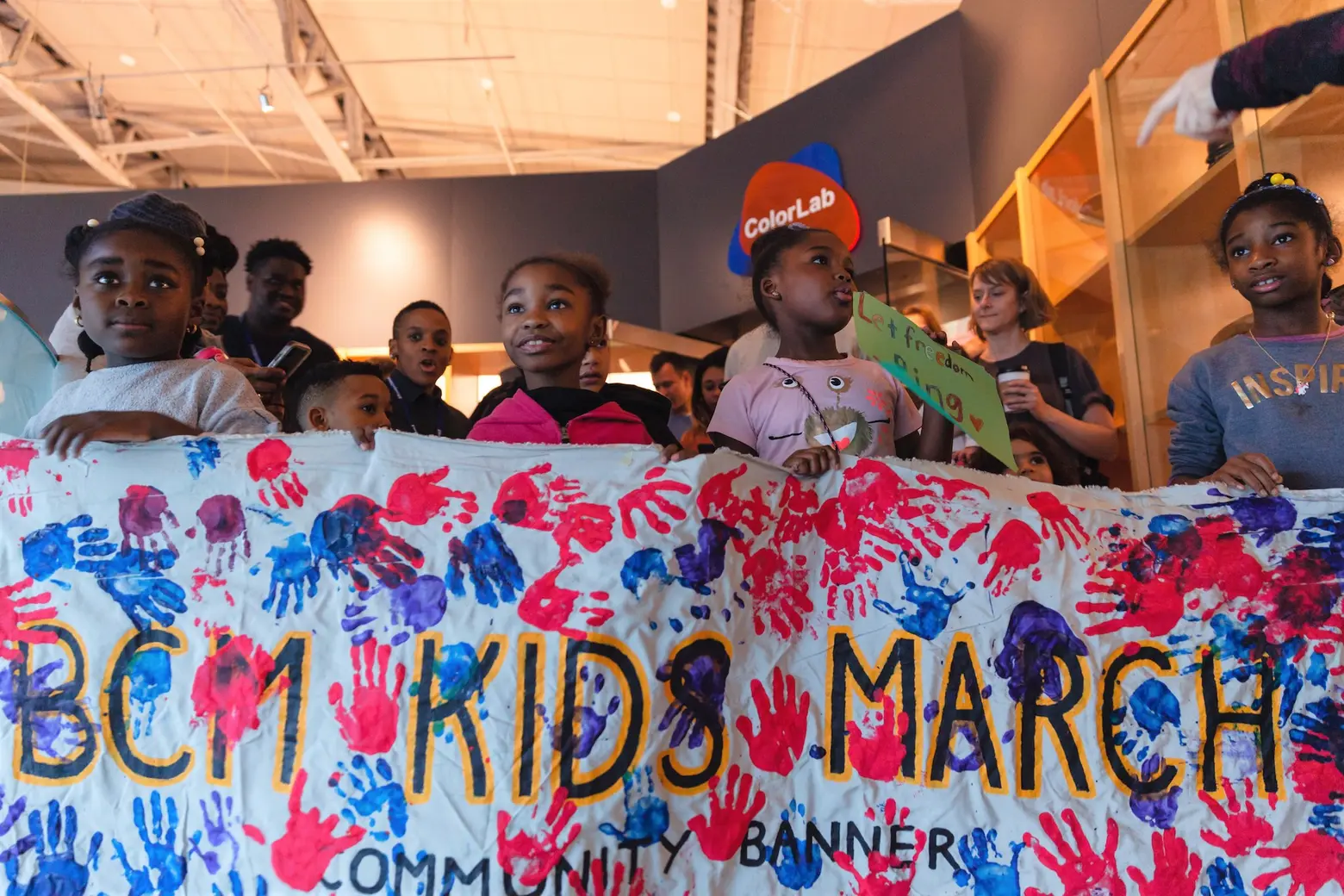 The 2019 MLK celebration at the Brooklyn Children's Museum; Photo courtesy of Brooklyn Children's Museum/ Winston Williams
Every third Monday of January, we celebrate the Reverend Dr. Martin Luther King, Jr. and his legacy of activism and unity. Recognized as a federal holiday since 1983, MLK Day gives New Yorkers who get the day off from work a chance to honor King's life through live performances, panel discussions, and storytelling. As one of two federal holidays designated as a national day of service, the January 20 holiday, seen as a "day on, not a day off," also provides an opportunity to volunteer in communities across the city. We've found MLK Day activities, events, and service opportunities for New Yorkers of all ages, from a walking tour of historic Harlem to community-building workshops in South Brooklyn.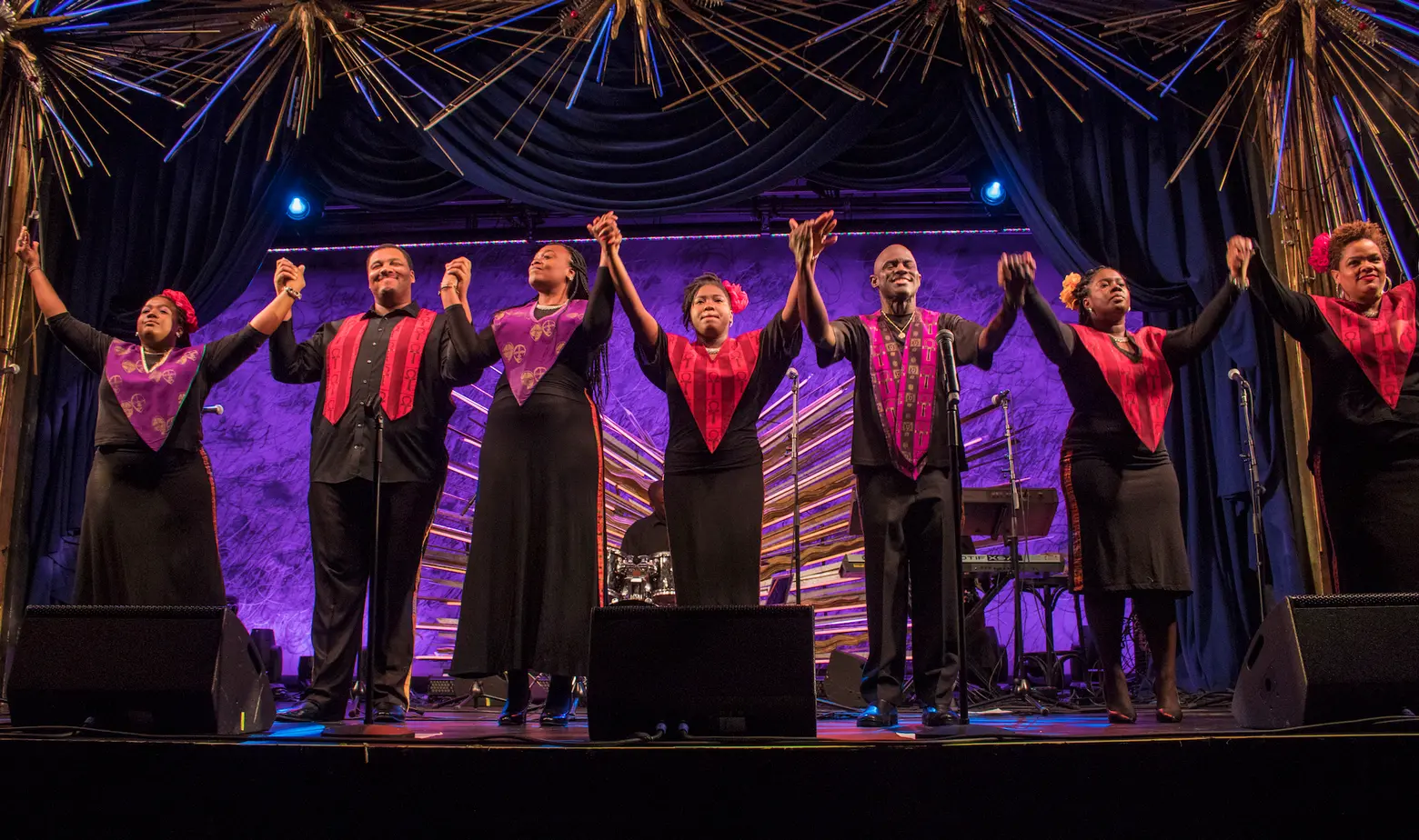 The Harlem Gospel Choir perform at Sony Hall
1. Harlem Gospel Choir MLK Matinee
For nearly 30 years, the Harlem Gospel Choir has been considered the best choir in the United States. The group was founded in 1986 by Allen Bailey after attending an event honoring Martin Luther King, Jr. at the Cotton Club. Now, every MLK Day the world-famous singers put on a matinee performance as a way to "share messages of love and inspiration." On Monday, Jan. 20, the choir performs at Sony Hall on West 46th Street starting at noon. Tickets start at $22.
2. The 34th Annual Brooklyn Tribute to Dr. Martin Luther King, Jr.
One of the biggest celebrations of Dr. Martin Luther King, Jr. takes place in Brooklyn. On Jan. 20, the Brooklyn Academy of Music (BAM) is hosting an all-day event with free film, art, music, and speakers from prominent leaders and artists. Nikole Hannah-Jones, the creator of the New York Times Magazine's 1619 Project, will kick off the event as the keynote speaker. Enjoy musical performances by Son Little and The Brooklyn Interdenominational Choir and the film Amazing Grace, which features Aretha Franklin recording her 1972 album of the same name. The art exhibition "Picture the Dream," created by children living in Brooklyn public housing, will also be on display.
Tickets to the event, located at 30 Lafayette Avenue, are free and will be distributed on a first-come, first-seating basis beginning at 8 a.m. Additional events take place ahead of Monday's tribute, see the full line-up here.
In Crown Heights, the Brooklyn Children's Museum is dedicating three days this month to honor MLK and learn about the Civil Rights Movement. Programs, which are free with museum admission, start on Saturday, Jan. 18 and run until Monday, Jan. 20. Bring your child to volunteer with Repair the World to make winter gear kits for the Campaign Against Hunger, create a peace box, make puppets, and listen to storytelling in the sensory room.
4. A walking tour of Historic Harlem
This MLK Day, tour the historic neighborhood of Harlem, the center of African American history, culture, and activism. The Big Onion tour group examines the area's past, from a 17th century Dutch Village to mecca for black Americans. Stops include the Abyssinian Baptist Church, the Apollo Theater, the Schomburg Center for Research in Black Culture, the landmarked Hotel Theresa, and more. Plus, tour guides will bring you to sites associated with Martin Luther King, Jr., W.E.B. DuBois, and Malcolm X. Tickets cost $25 (or $20 for seniors and students) and can be purchased here.
Hosted by advocacy group Bay Ridge for Social Justice, the MLK Day in South Brooklyn will include a day of educational events and workshops on Jan. 20. The group's annual "Visibility Against Hate" march has been pushed to the spring, but the day-long forum "Who Keeps Us Safe?" is sure to bring communities together. According to the organization, the day will be "devoted to envisioning community safety alternatives that address conflict resolution and mitigate harm" by building trust and accountability. Registration is free, but donations are encouraged.
6. Families Celebrate Africa: A Martin Luther King Jr Day Event, The Brooklyn Society for Ethical Culture 
Perfect for families, the Brooklyn Society for Ethical Culture is hosting an event centered around African culture. Located in Park Slope, the group is offering a fun and educational day with traditional performances and storytelling. DuPree and Barry Kornhauser will perform songs about Martin Luther King, Jr., Simba Yangala and dancers from JungleDom will teach children African dance, and Moses Onguleye will share the secrets of African drawing and talk about his own work.
7. A Call for Peace & Unity: Tribute to the Life and Legacy of MLK, NYC Commission on Human Rights 
Leaders of diverse faiths will come together this week during an event celebrating the life of MLK. Hosted by the NYC Commission on Human Rights, the interfaith event "A Call for Peace & Unity: Tribute to the Life and Legacy of Rev. Dr. Martin Luther King Jr." includes a facilitated conversation among faith leaders on how their communities can come together to reject hate. The conversation is Thursday, Jan. 9 at Brooklyn Borough Hall. Register for free here.
8. 32nd Annual Dr. Martin Luther King, Jr. Commemorative March
Eighth graders at the Manhattan Country School are leading a commemorative march on Monday, Jan. 20 in honor of Dr. Martin Luther King, Jr. Starting at 10 a.m., the "Equity Now: Today's Youth Speak Out For Change" march begins at Harlem's Harriet Tubman Memorial Triangle on 122nd Street and ends at the school on West 85th Street. MCS families and friends, as well as the general public, are invited to participate in the event, planned by the school's eighth-grade class. Stops along the march include Frederick Douglass Circle, the Joan of Arc Statue, and the West Side Campaign Against Hunger.
Channeling the Reverend, think of Jan. 20 as a "day on, not a day off," which serves as the motto of the annual MLK Day of Service. As one of the only federal holidays designated as a day of service nationally, Jan. 20 provides New Yorkers a chance to give back to their community. Volunteers can help clean up and remove invasive plants from Queens' Forest Park, Inwood Hill Park in Manhattan, and Conference House Park on Staten Island as part of a program run by the city's Parks Department. Space at the clean-ups is limited so register here. Find other New York volunteer opportunities, which range from working at a soup kitchen to tutoring children, on the Corporation for National and Community Service website.
RELATED: