600-unit final tower of Journal Squared complex breaks ground in Jersey City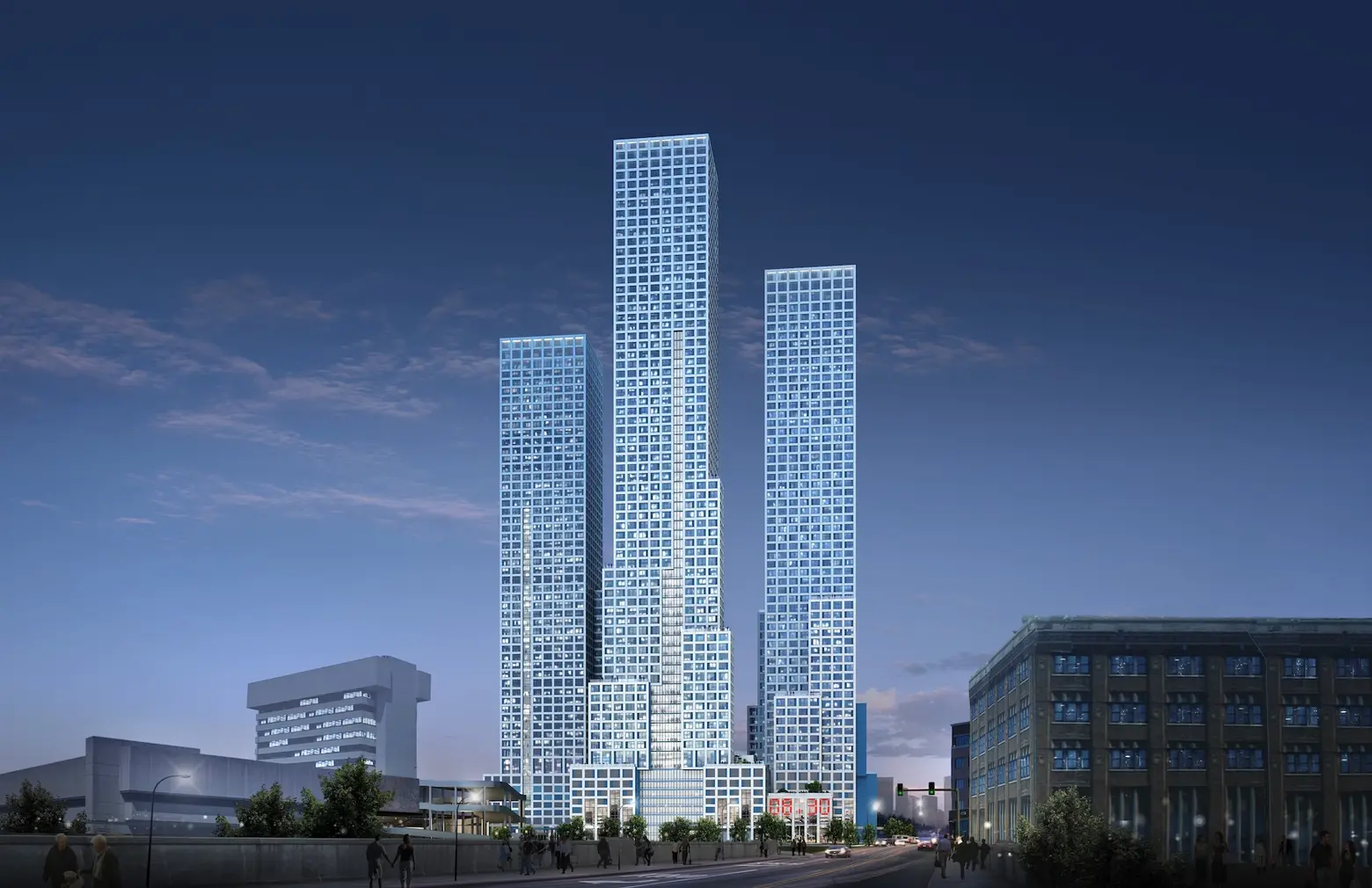 The final tower of a massive three-building luxury complex in Journal Square broke ground this week, which will eventually add hundreds of apartments to Jersey City's burgeoning residential neighborhood. Dubbed Journal Squared, the development at the intersection of Pavonia and Summit Avenues includes three high-rise rentals, two of which have already opened. This week local officials joined Kushner Real Estate (KRE) Group and National Real Estate Advisors to celebrate the completed leasing of the 704-unit second phase tower and break ground on the third and last tower, a 60-story structure with 600 residences.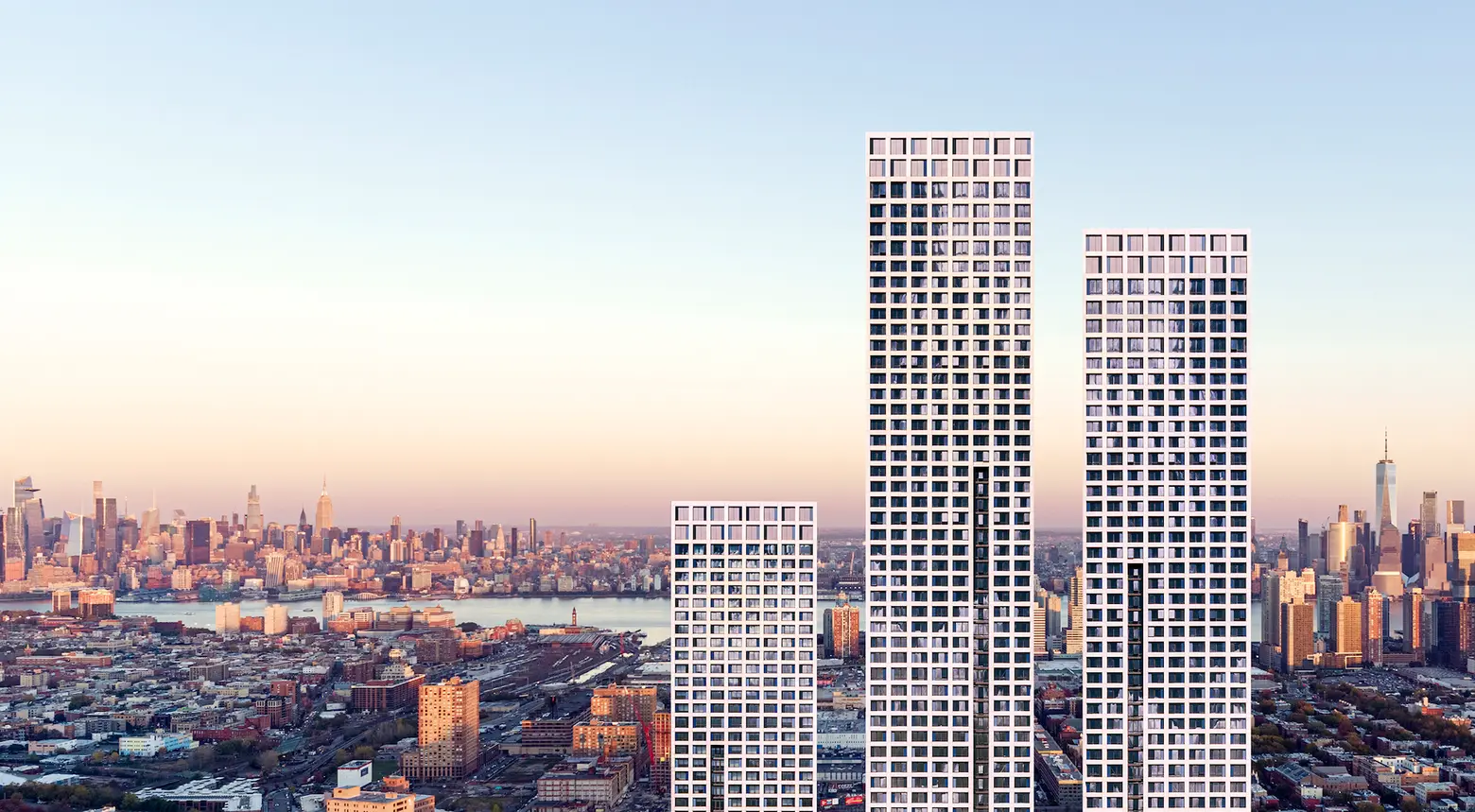 Rendering: Qualls Benson
"Our intent all along was to complement the existing mass-transportation infrastructure with new residential, retail and open space to create a well-balanced lifestyle for residents that would also have a lasting impact on the city as a whole," Jonathan Kushner, President of KRE Group, said.
"The robust leasing activity we experienced in Tower 2 over the past five months demonstrates the enormous demand that exists here. That speaks volumes about the product we've delivered, and the growing appeal of the neighborhood itself. We're delighted to now begin work on the third tower which will bring our full vision to fruition."
Designed by Hollwich Kushner Architects (HWKN) and Handel Architects, Journal Squared has opened in phases, with the first being the 53-story tower in 2017 and the second and tallest, a 68-story building completed earlier this year.
Conveniently located above the Journal Square PATH station, the trio of high-rises will bring a total of 1,840 rentals and 36,000 square feet of retail and restaurant space.
The under-construction tower will rise 60 stories and offer residents 18,000 square feet of indoor and outdoor amenities, adding to the 100,000 square feet of perks at the two existing buildings and accessible to all residents. New social spaces set to open include a performance lounge, karaoke room, recording spaces, co-working area, lobby cafe, and a sky lounge. Construction is scheduled to wrap up in the spring of 2024.
Offering 538 apartments ranging from studios to three bedrooms, the 53-story tower sits atop a parking podium and retail and features a covered pedestrian passage to the PATH train and a new public plaza on Magnolia Avenue. Eighth-floor amenities at the building measure over 10,000 and include a gym, yoga studio, playroom, library, screening room, and an outdoor pool and sundeck. A top floor "sky lounge" provides residents with a dining area, projector, and panoramic views.
The biggest tower in the complex is the 68-story, 700-unit second building, which has completed leasing. The team at the Marketing Directors served as the exclusive marketing and leasing agent at tower two.
"KRE has been a phenomenal partner for decades in Jersey City and willing to enter areas where few large developers would be willing to go," Mayor Steven Fulop said in a press release. "This has happened here in Journal Square, and you can now see the transformation occurring. This is just the early stages for what is on deck in Journal Square which has a future that's very, very bright."
Journal Squared was one of the first major residential projects planned for the neighborhood, which has since seen a flurry of development activity. Upcoming projects include Kushner Companies' One Journal Square, HAP Investments' 900-unit tower at 500 Summit Avenue, and six high-rise towers from developer Namdar Group.
RELATED: