2023 Macy's Thanksgiving Day Parade: What you need to know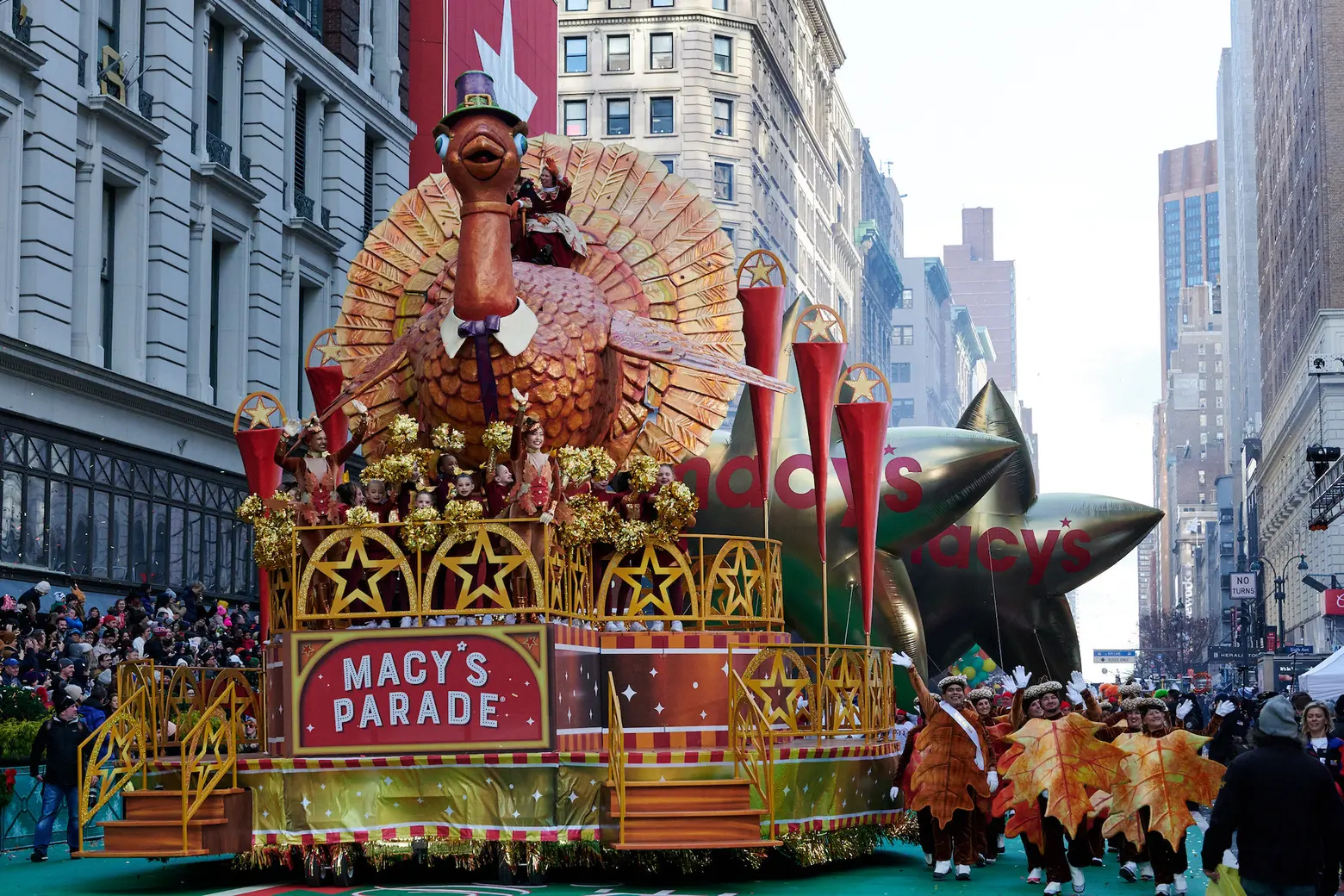 The Tom Turkey float is one of the most famous in the Macy's Thanksgiving Day Parade. Photo courtesy of Macy's.
The 97th annual Macy's Thanksgiving Day Parade is ready to kick off the holiday season. Taking place on Thursday, November 23, the parade this year will run an extra 30 minutes (with a start time of 8:30 a.m. instead of 9 a.m.) and include a performance by Cher (who will open for the real star of the show, Santa Claus). This year's parade features 32 novelty and heritage inflatables, 16 giant character balloons, 26 floats, 12 marching bands, 700 clowns, and eight performance groups, all made by possible thanks to roughly 5,000 volunteers.
"For nearly 100 years, the Macy's Thanksgiving Day Parade has been synonymous with the beginning of the holiday season, celebration and togetherness," Will Coss, executive producer of Macy's Thanksgiving Day Parade, said.
"Our talented team of Macy's Studios artisans and production specialists work year-round to deliver the nation's most beloved holiday event, live on Thanksgiving morning. We are proud to hold this responsibility and look forward to sharing our unbelievable designs, larger-than-life character balloons and first-class entertainment, all sure to create lifelong memories for Parade fans nationwide."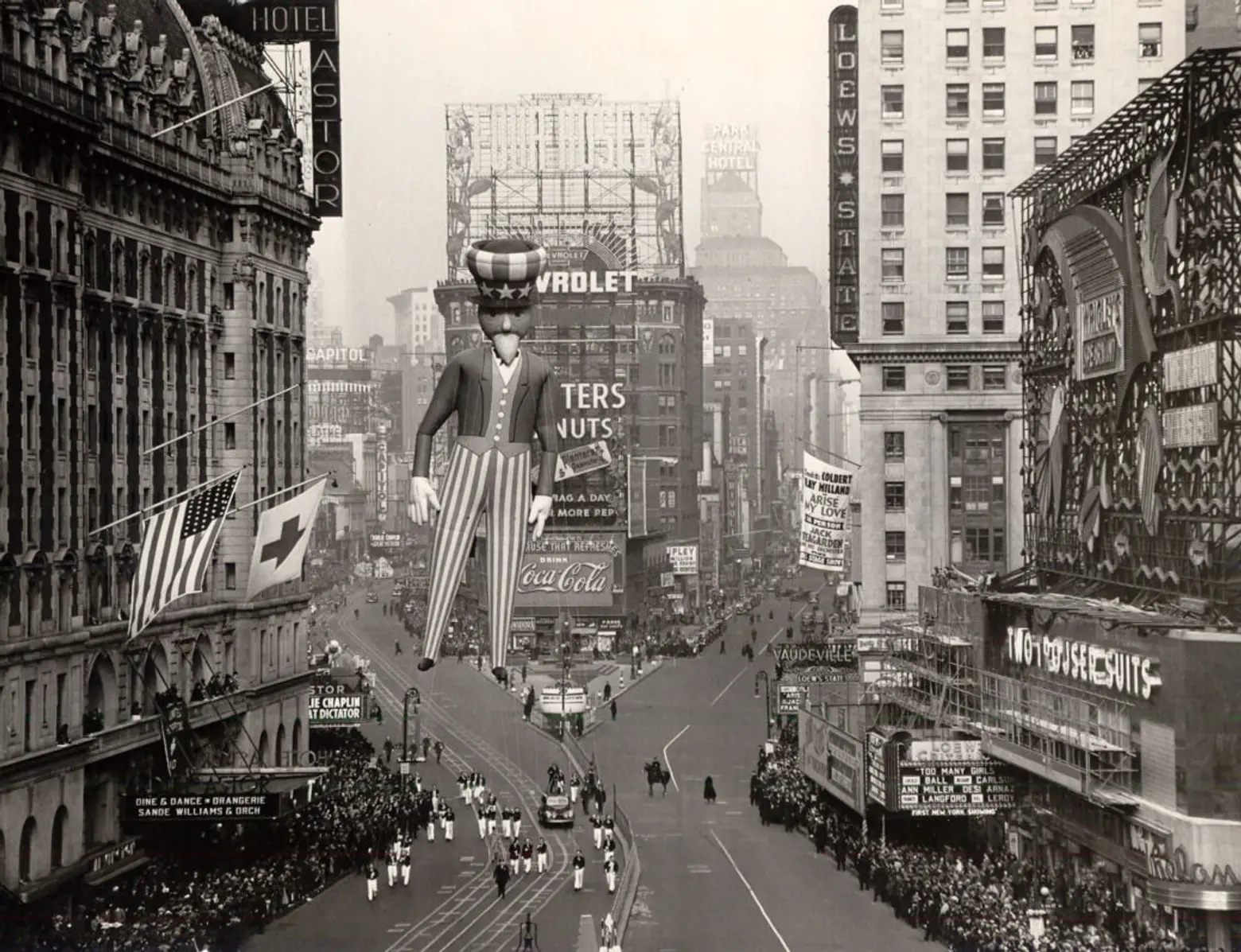 History of the parade
The very first Macy's Thanksgiving Day Parade was actually a Christmas Parade. Macy's President Herbert Strauss announced a pre-Christmas celebration to draw customers to the store for holiday shopping. On November 27, 1924, the parade included a "retinue of clowns, freaks, animals and floats," along with Macy's employees, professional entertainers, and live animals from Central Park Zoo. The original march stretched six miles long, much longer than today's route, starting in Harlem at 145th Street and ending in Hearald Square, where Macy's unveiled its new holiday windows. In 1927, the live animals were replaced with balloons, with Felix the Cat as the first balloon animal featured in the parade. The parade was canceled in 1942, 1943, and 1944 because of the need for rubber and helium during World War I. During the coronavirus pandemic, the 2020 parade was downsized and closed to the public. Today, the parade sees roughly 3.5 million in-person spectators and millions more watching from home.
The route
This year, the parade kicks off at 8:30 a.m., 30 minutes earlier than previous years. The route starts at 77th Street and Central Park West, moving down the 2.5-mile route to Columbus Circle, turning onto Central Park South, and then parading down 6th Avenue. Upon hitting 34th Street, the parade makes its final turn onto 7th Avenue and ends in front of Macy's Herald Square.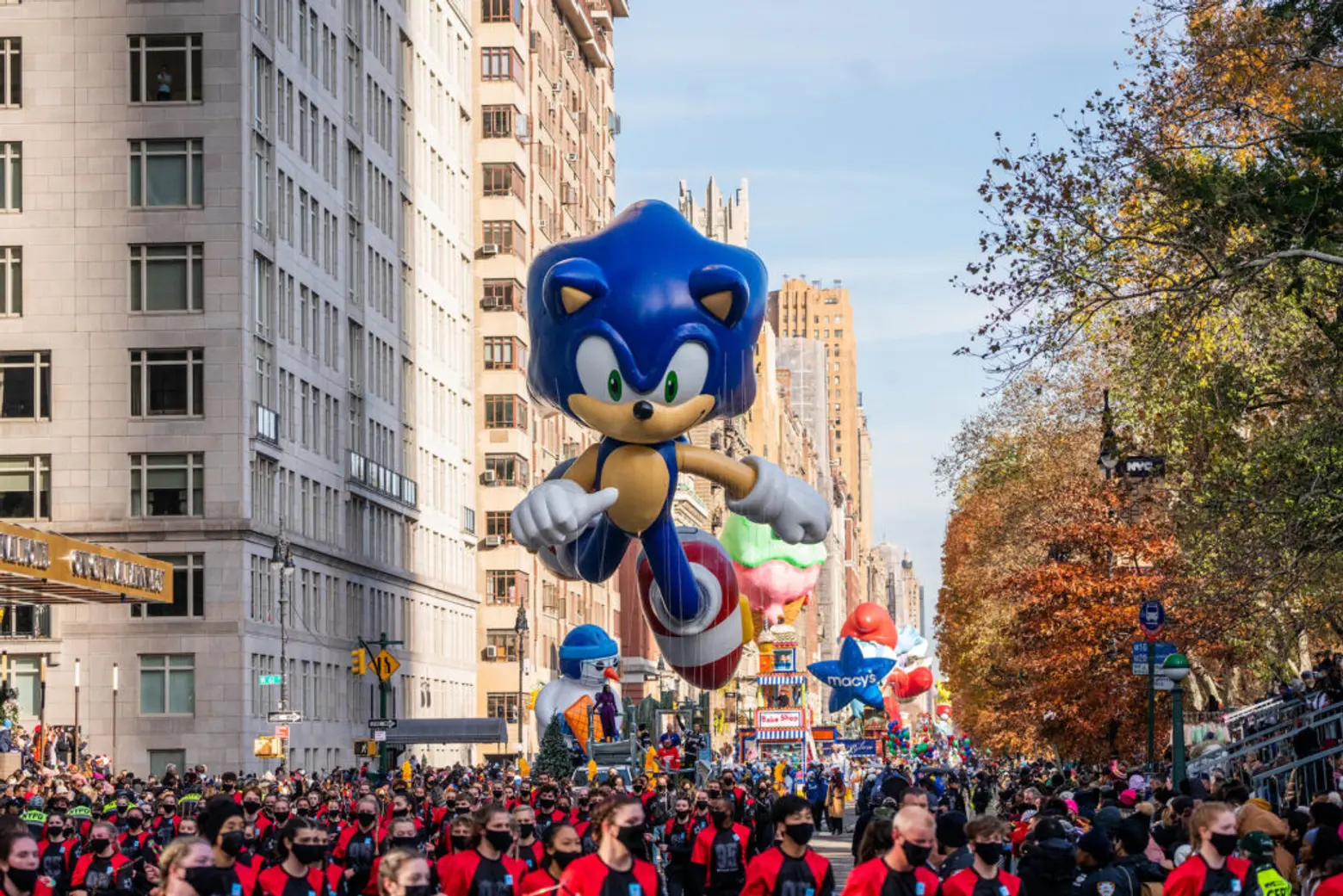 Best spots for spectators
Central Park West between West 75th and West 61st Streets and on Sixth Avenue from West 59th to West 39th Streets are open for public parade viewing. Please note you won't be able to watch the parade at 77th Street, Central Park West between West 59th and 60th Streets, and Columbus Circle, or Herald Square.
How to watch the inflation of giant balloons on Thanksgiving Eve
Watch the parade's giant character balloons come to life on Thanksgiving Eve. The inflation event takes place on Wednesday, November 22 from 12 p.m. to 6 p.m. Visitors can enter at West 72nd Street and Columbus Avenue and view the balloons up to 81st Street around the Museum of Natural History with a behind-the-scenes look at the floats up through 86th Street.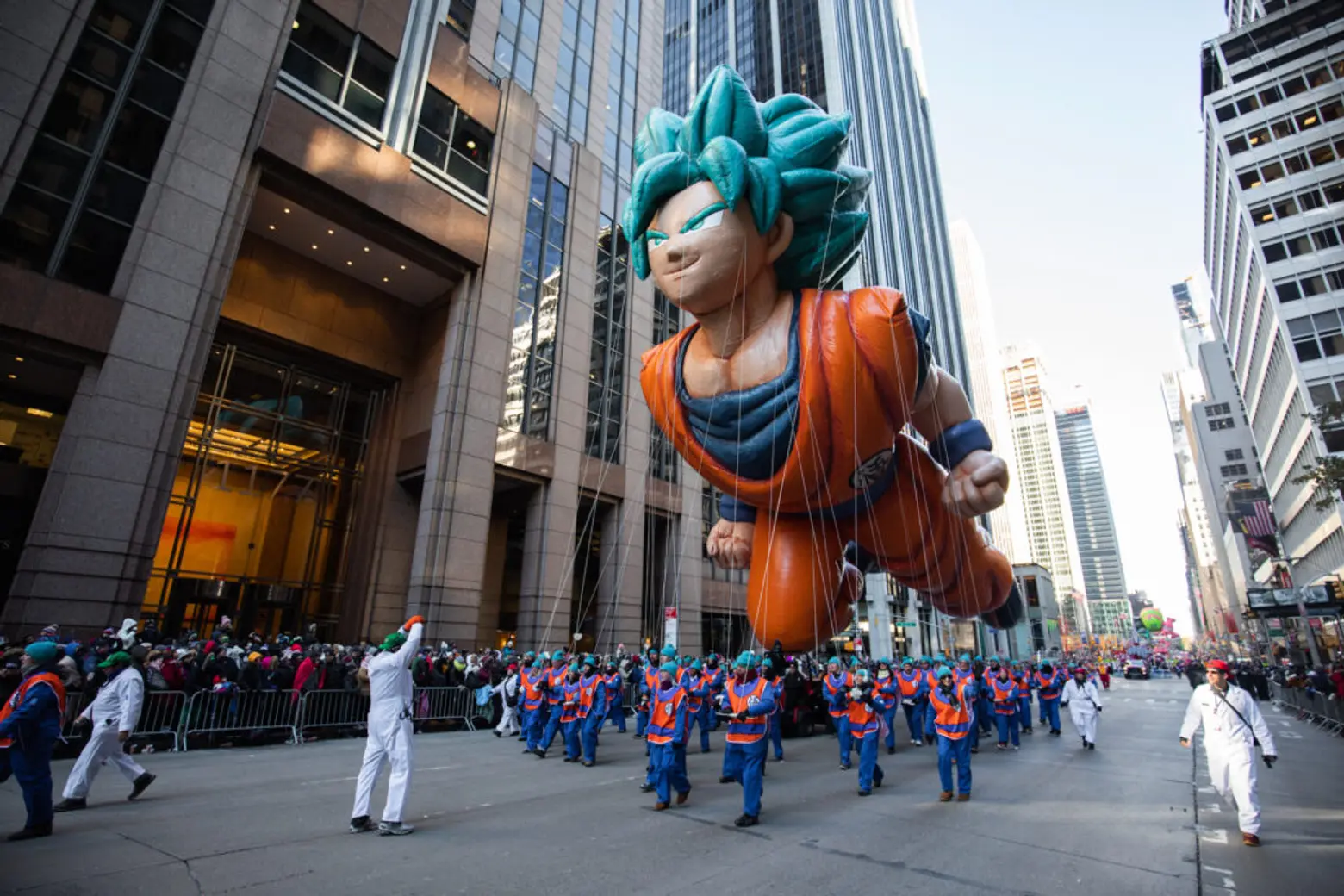 Balloons
The parade will feature 32 heritage and novelty balloons and 16 signature character balloons, including seven making their debut: "Beagle Scout Snoopy" by Peanuts Worldwide, "Blue Cat & Chugs" by Cool Cats, "Kung Fu Panda's Po" by Universal Pictures' Dreamworks Animation, "Leo" by Netflix, "Monkey D. Luffy" by Toei Animation Inc., "Pillsbury Doughboy," by Pillsbury, and "Uncle Dan" by Illumination.
Returning characters include "Bluey" by BBC Studios, "Diary of a Wimpy Kid," by Abrams Books, "DINO and Baby DINO" by HF Sinclair, "Goku" by Toei Animation, "Chase from Paw Patrol" by Spin Master and Nickelodeon, "Pikachu and Eevee" by The Pokémon Company International, "Red Titan from 'Ryan's World' by Sunlight Entertainment and pocket.watch, "Ronald McDonald" by McDonald's, "SpongeBob SquarePants and Gary" by Nickelodeon, and "Stuart the Minion" by Illumination.
Expect to see "Smokey Bear" by the USDA Forest Service, "A Merry Moment" with candy cane and poinsettia balloons and dancing Christmas Trees from Universal Orlando Resort, and Macy's own reindeer, "Tiptoe."
Floats
The 97th parade will include 31 floats, conceived by an amazing team of carpenters, engineers, painters, sculptors, balloon technicians, designers, and metal fabricators. Four new floats will join this year's lineup: "Teenage Mutant Ninja Turtles: Mutant Mayhem," "Palace of Sweets by Brach's," "Igniting Memories" by Solo Stove, and "The Deliciously Delectable World of Wonka."
The one and only Santa Claus and his reindeer will be making their famed finale appearance on the parade's largest float (it's 60 feet long and 3.5 stories tall).
Entertainment and performers
Big performers to watch during the parade include Cher, who will kick off the season with a new holiday song, Jon Batiste, Bell Biv DeVoe, Brandy, Chicago, En Vogue, David Foster and Katharine McPhee, Drew Holcomb and The Neighbors, Jessie James Decker, Ashley Park, Pentatonix, Paul Russell, Amanda Shaw and Alex Smith, and Manuel Turizo.
Enjoy music from 12 marching bands from around the country and performances from groups like the Big Apple Circus, Cornell Bhangra, Tiptoe's Winter Guard, the Harlem Globetrotters, Maria Verdeja School of Arts dancers, St. John's Dance, and the Tap Dancing Christmas Trees. A group of more than 1,200 dancers and performers from Spirit of America Dance and Spirit of America Cheer will also participate. Plus, the Radio City Rockettes will be there, a tradition since 1959.
How to watch at home
The parade will be shown on NBC and Telemundo from 8:30 a.m. to 12 p.m., with streaming available on Peacock. Typically, 50 million people tune in.
RELATED: