This Unbelievable $11.5 Million Penthouse Offers 3,000 Square Feet… of Rooftop Terrace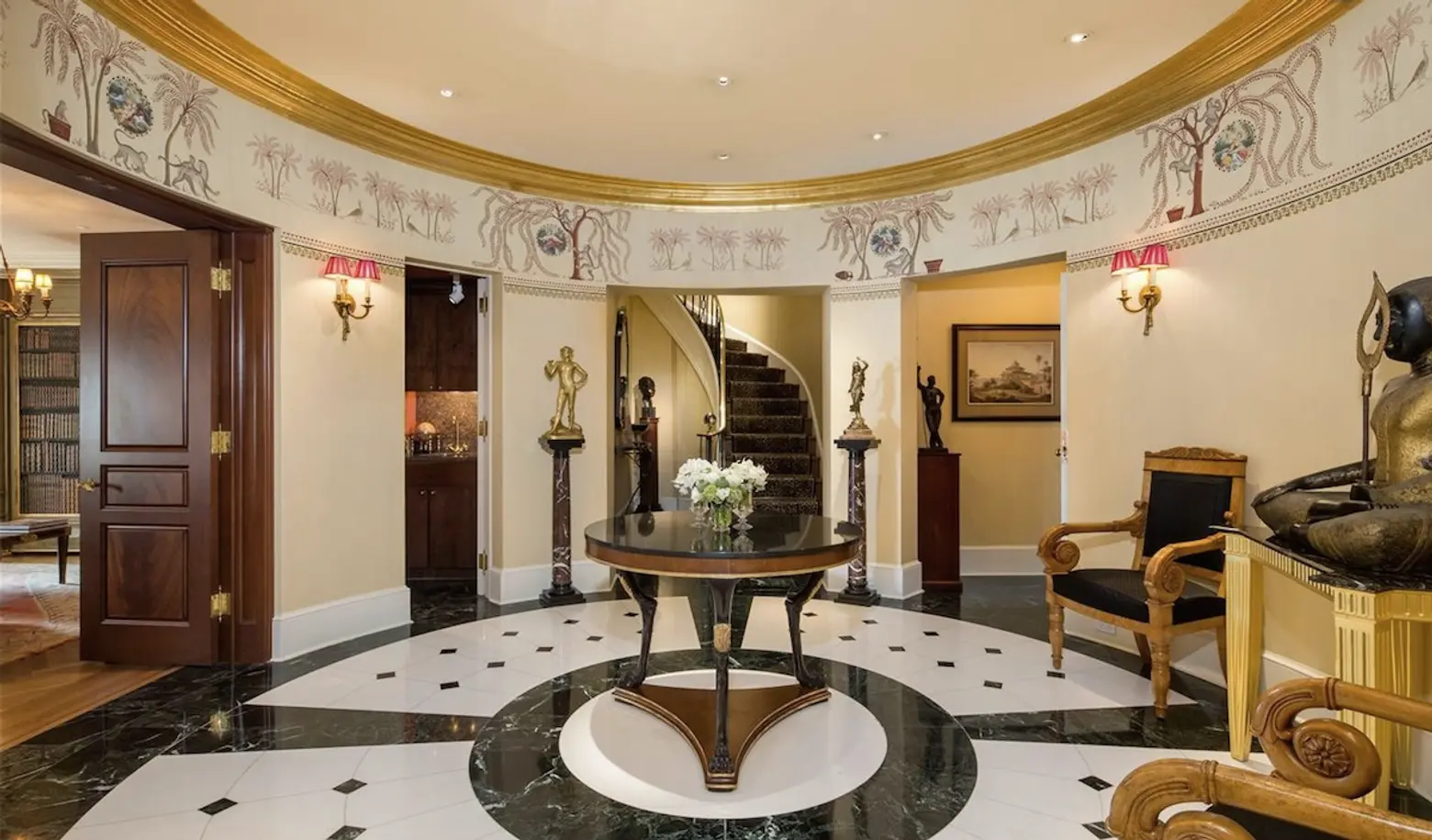 No, that wasn't a typo in the title. This penthouse apartment at 655 Park Avenue is more than just 3,300 square feet of interior space. It also has a 3,000-square-foot rooftop garden so amazing, even the statues are luxuriating on it. But if you've been reading this blog you know it's not our style to go straight to the mind-blowing terrace. Let's take a tour through the rest of this premier pad first. Trust us. You won't be disappointed.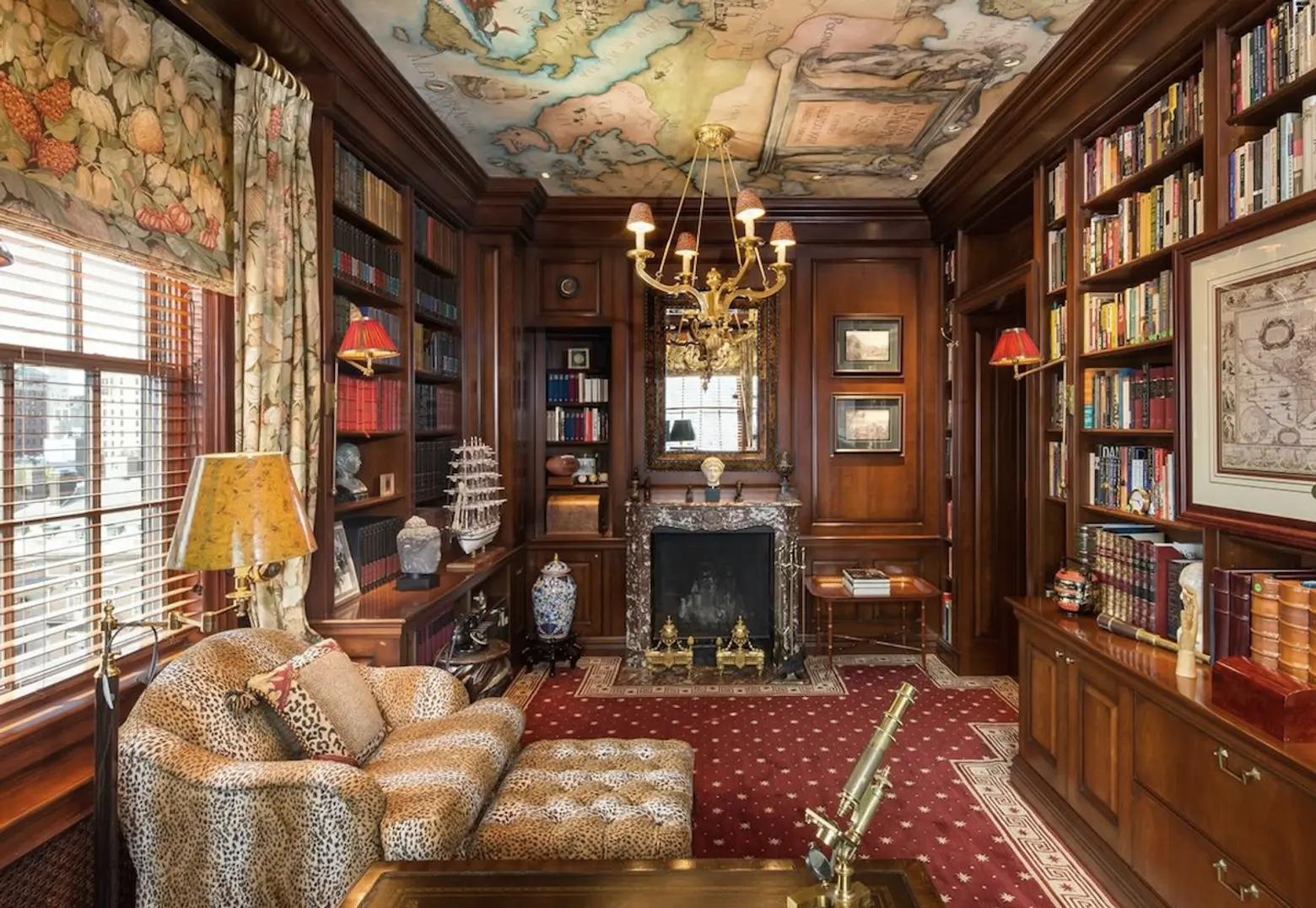 When you enter unit PH9E, you're greeted by a trompe l'oeil-style foyer that leads you to a grand reception gallery—and when we say grand, we're not joking. This opulent rotunda has gold leaf crown molding, marble floors, and recessed lighting, with an adjacent wet bar and powder room. Once you've admired the specially commissioned, hand-painted designs on the wall of the gallery, you have a few choices. You can head into the living/dining room, or you can go to the large eat-in kitchen, which leads to the library. The massive living room has large windows and a wood-burning fireplace with French limestone mantel, while the corner dining room features another mural on the ceiling. The murals don't stop there, either. Current owners Michael and Marilyn Fedak had the murals painted to complement the wealth of art in the residence. Another one—this time of a map of 17th century Europe–enhances the ceiling of the library, adding to the room's scholarly ambience.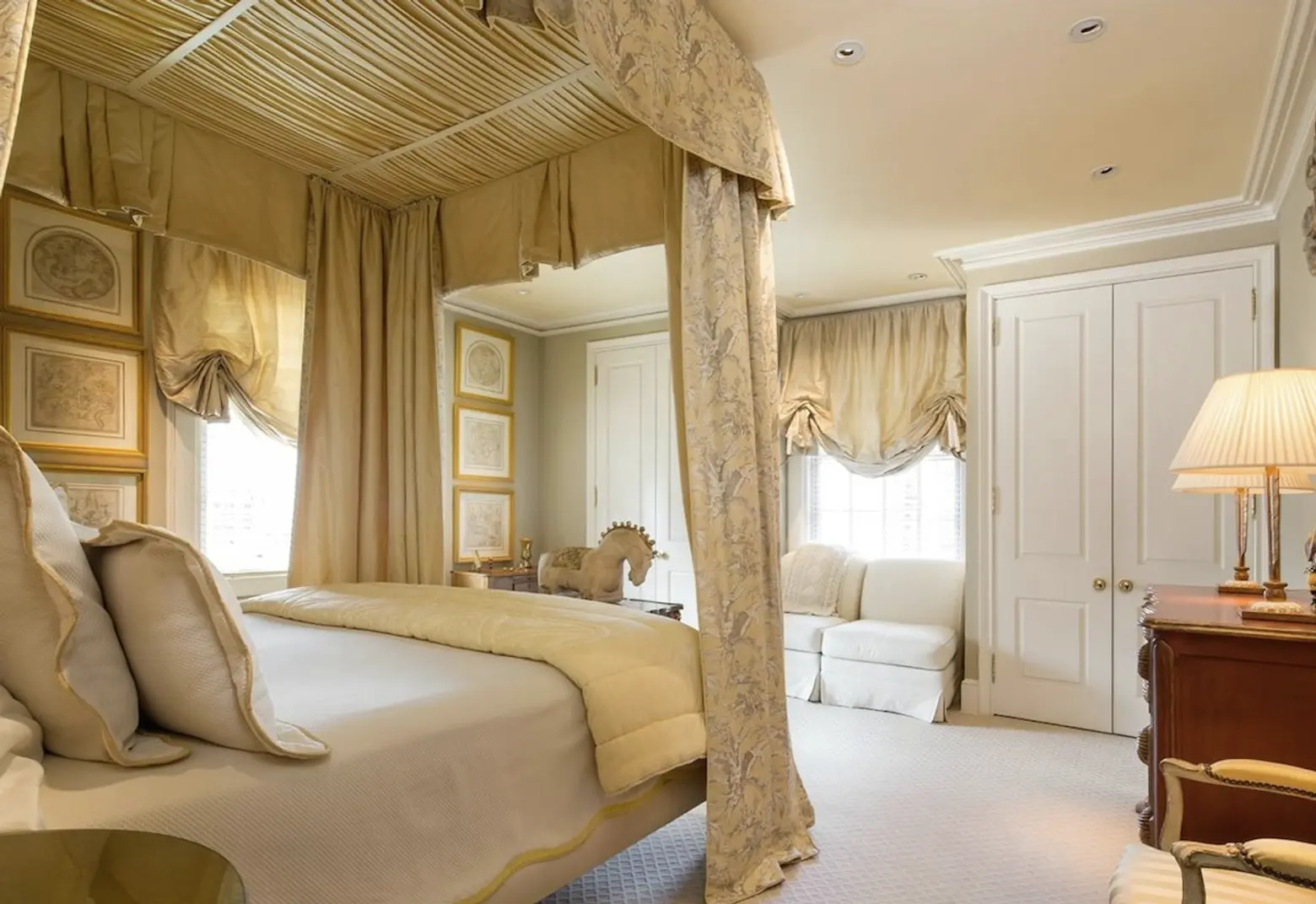 On the second level are three bedrooms: the master and two other rooms that can double as a library or a study. The two additional bedrooms share a marble-clad bathroom, while the spacious master has a spa bath with a double vanity, steam shower and deep soaking tub along with a west-facing window. That means plenty of nights enjoying the sunset while soaking in a tub of bliss.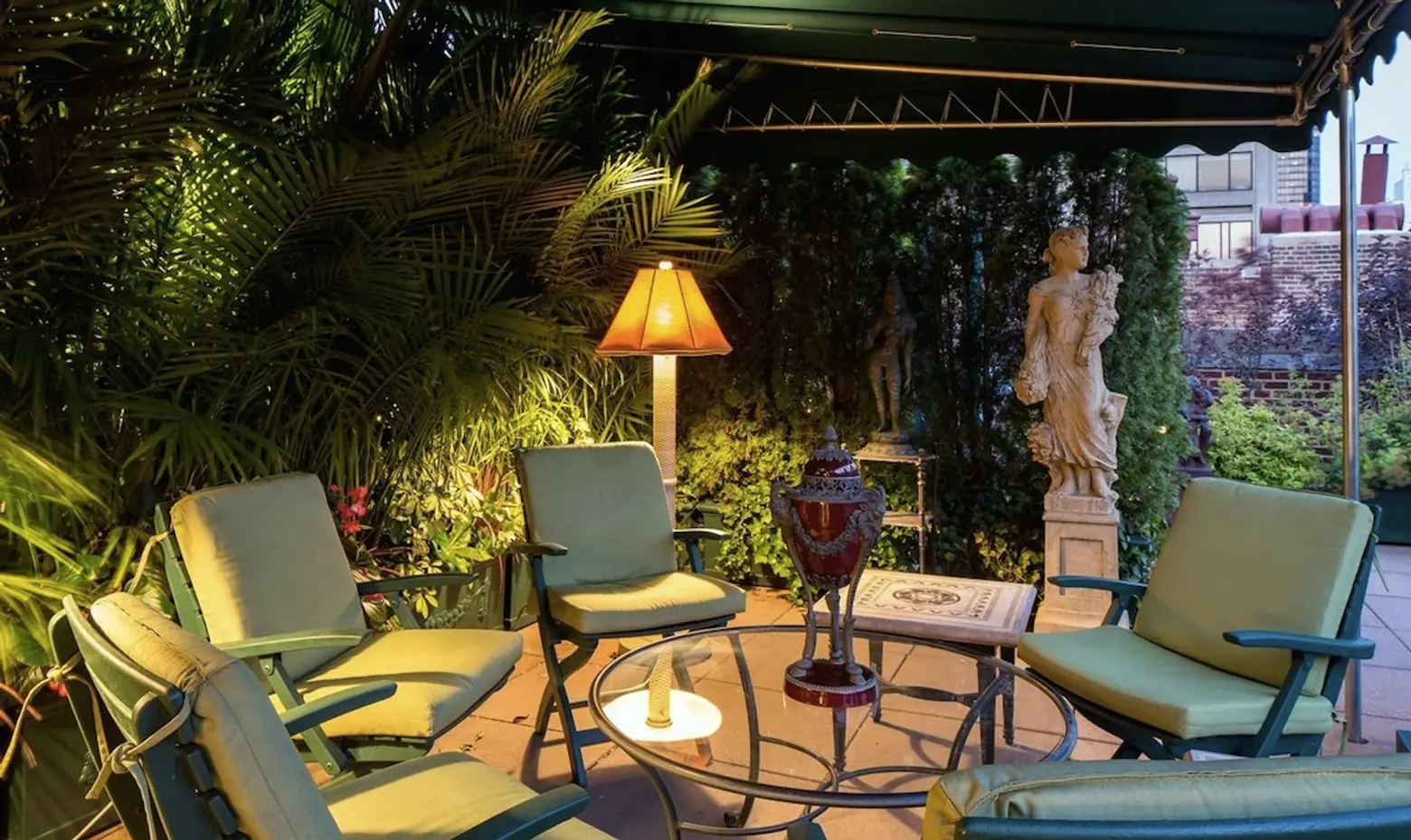 And there's no better segue to that rooftop escape than the mention of a beautiful sunset. Enjoying the sunset from your bathtub is great. Enjoying the sunset from your 3,000-square-foot, landscaped, irrigated and lit rooftop garden is nothing short of epic. This terrace provides city views so breathtaking you can expect your friends to arrive at 5:30 Friday evening for happy hour, whether you invited them or not. After all, with a rooftop like this, every hour is happy hour. In fact, we're pretty sure the only reason the cherubs are sulking is because the parapet is obstructing their city views.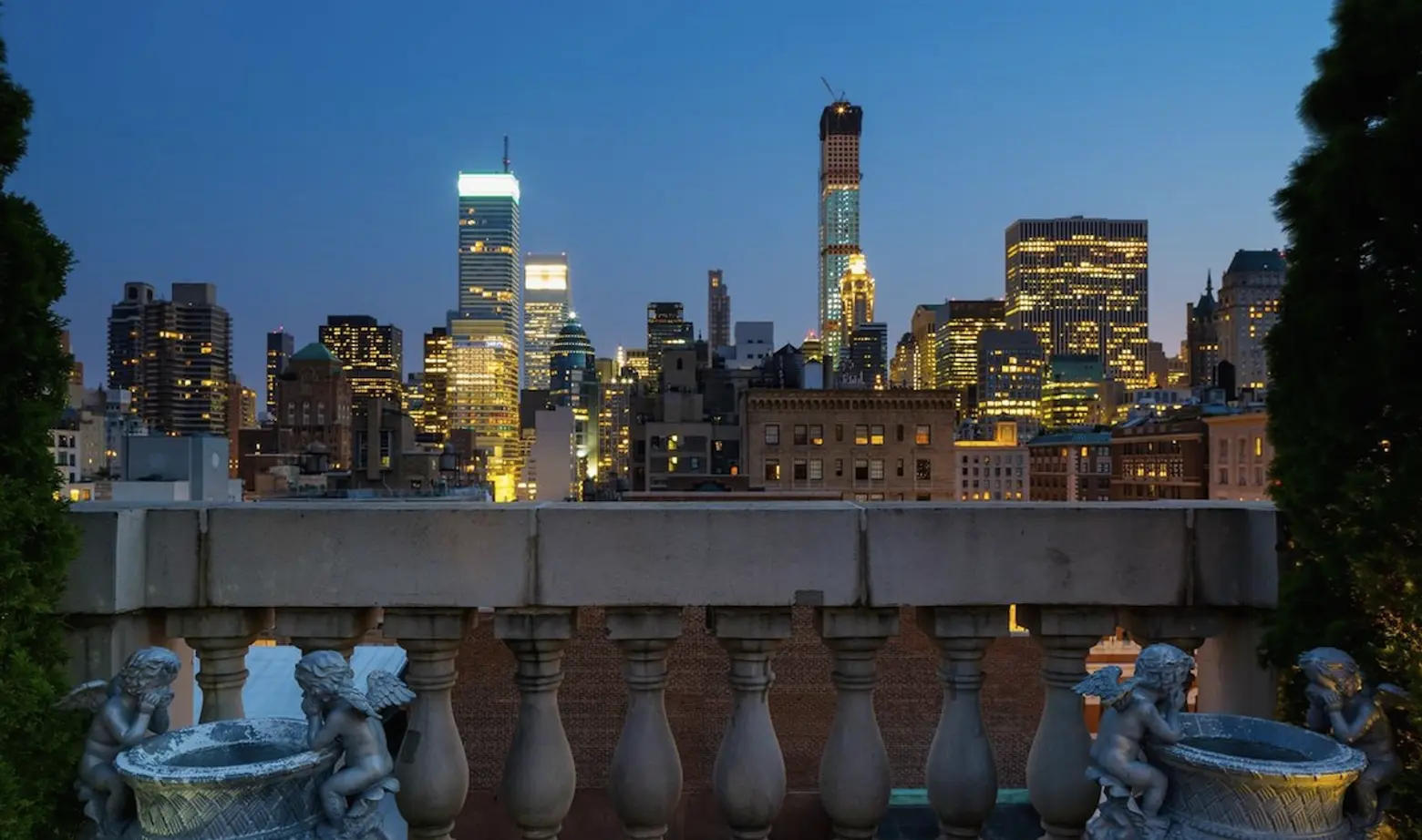 As for the building, 655 Park Avenue is one of Park Avenue's most distinguished white-glove co-ops. The product of a 1924 partnership between architects James E. R. Carpenter and Mott B. Schmidt, this Georgian-style building contains 50 apartments on 11 floors. This penthouse clears the neighboring building, allowing plenty of light in the unit from all sides. The home's additional features include multi-zoned air conditioning, two wood-burning fireplaces, and a windowed laundry room that can be converted to another bedroom and bathroom.
[Listing: 655 Park Avenue PH9E by Howard Margolis of Douglas Elliman]
[via CityRealty]
Photos courtesy of Douglas Elliman