'Notorious RBG' exhibit to open at New-York Historical Society next year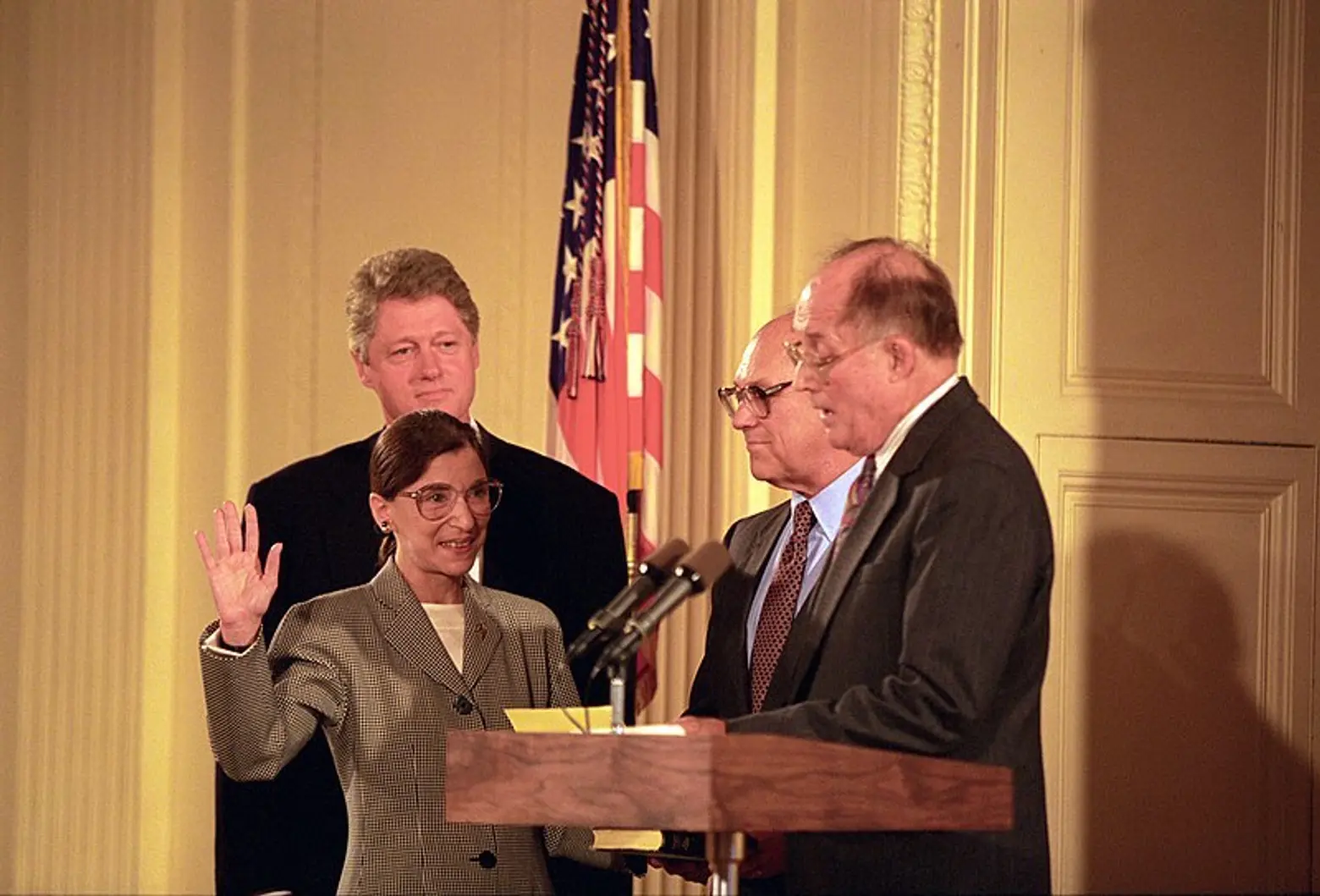 Chief Justice William Rehnquist Administers the Oath of Office to Judge Ruth Bader Ginsburg as Associate Supreme Court Justice at the White House (1993); Courtesy of the National Archives
A special exhibit dedicated to Ruth Bader Ginsburg will open at the New-York Historical Society next fall. Notorious RBG: The Life and Times of Ruth Bader Ginsburg, on view from October 1, 2021, to January 23, 2022, will include archival photos and documents, a robe from Ginsburg's Supreme Court dress, and three-dimensional "reimaginations" of significant places of her life, including her childhood home in Midwood, Brooklyn. Ginsburg passed away at her home in D.C. on September 18.
Notorious BIG features photos and artifacts spanning Ginsburg's life as a student, wife, judge, and cultural icon. The exhibition includes official portraits of Ginsburg and Sandra Day O'Connor, on loan from the National Portrait Gallery in Washington, D.C, and personal materials like home videos of Ginsburg and her husband Marty on their honeymoon, a yearbook from her time at James Madison High School in Brooklyn, and a research paper she wrote as an eighth-grader.
There will also be "listening stations" where museum-goers can hear Ginsburg's oral arguments, majority opinions, and dissents in major Supreme Court cases.
"We were deeply saddened by the recent passing of Ruth Bader Ginsburg, a native New Yorker whose impact on the lives of contemporary Americans has been extraordinary," Dr. Louise Mirrer, president and CEO of the New-York Historical Society, said in a press release.
"Justice Ginsburg fought hard to achieve justice and equality for all, inspiring us with her courage and tenacity in upholding our fundamental American ideals. A special friend to New-York Historical, in 2018 she presided over a naturalization ceremony in our auditorium, one of many that we are honored to host annually. The exhibition we had planned as a celebration of Justice Ginsburg's life will now be our memorial tribute to her achievements and legacy."
The name of the exhibit is based on a Tumblr account created in 2013, which is credited with giving Ginsburg the nickname the Notorious RBG, a play on another Brooklyn native, rapper Notorious BIG. The Tumblr, which later became the basis for a book, inspired an exhibition organized by the Skirball Cultural Center in Los Angeles.
The exhibition debuted in L.A. in 2018 and has traveled around the country, currently on view at the Illinois Holocaust Museum & Education Center. After its NYC debut, the exhibition will move on to the Holocaust Museum Houston, followed by the Capital Jewish Museum in D.C.
Following the news of Ginsburg's death earlier this month, Mayor Bill de Blasio renamed the Brooklyn Municipal Building after the late justice. And Gov. Andrew Cuomo said the state will honor Ginsburg with a statue in Brooklyn. The state is considering erecting the statue in Brooklyn Bridge Park on a site "that would overlook the Statue of Liberty," according to the governor.
The New-York Historical Society recently reopened at limited capacity, with face mask requirements and timed ticket entry. Find more information about the museum's admissions protocols here.
RELATED: