The 2021 Rockefeller Center Christmas Tree has arrived in NYC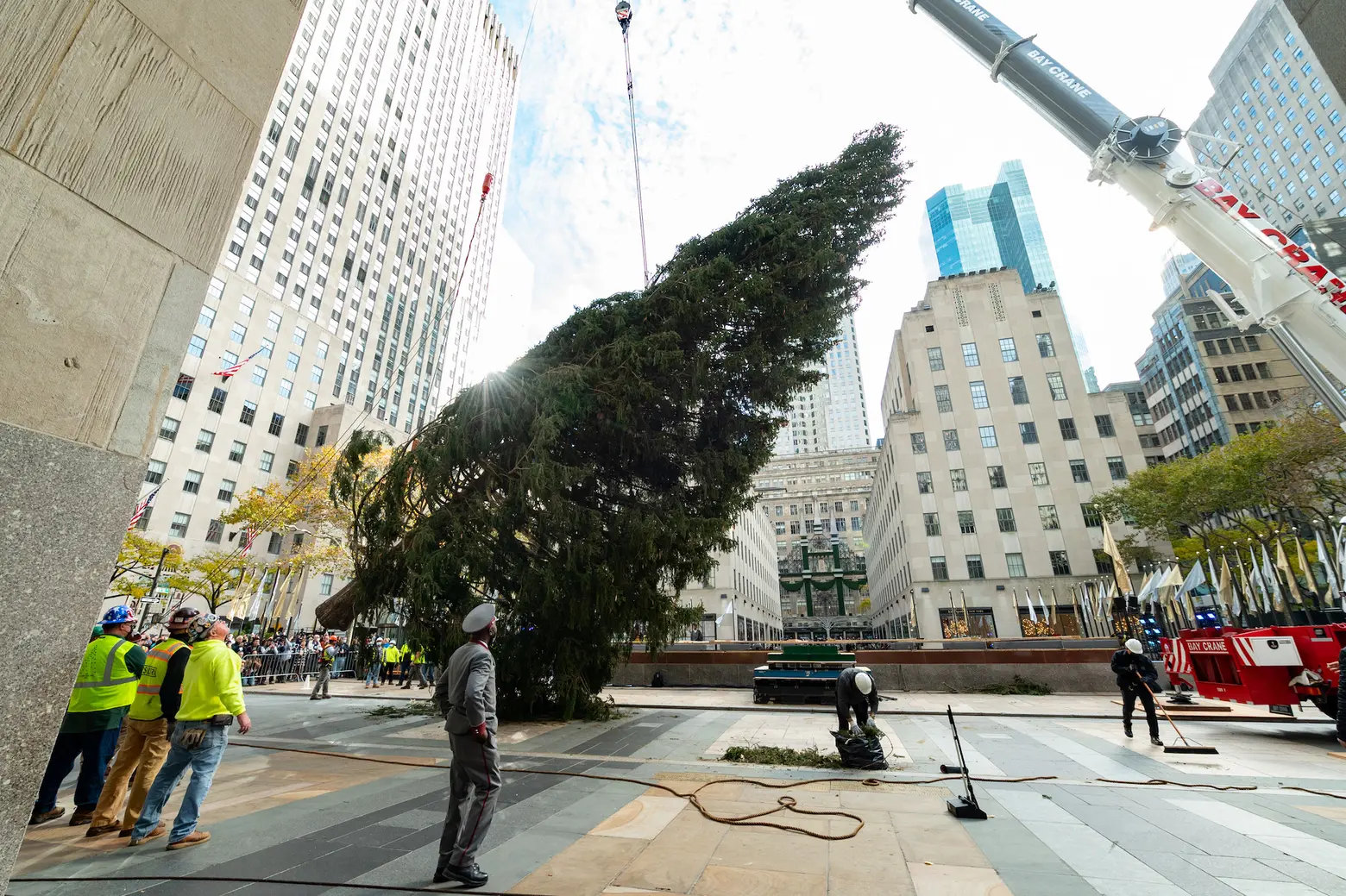 All photos by Diane Bondareff/AP Images for Tishman Speyer
With the arrival of this year's Rockefeller Christmas Tree in Midtown, the holiday season in New York City has officially begun. Donated by a family in Elkton, Maryland, the 79-foot-tall Norway spruce was cut down last week, hoisted by a crane, and arrived in Manhattan this weekend following a roughly 140-mile journey via flatbed truck. Considered one of the world's most famous holiday trees, the Rockefeller Center Christmas Tree will be decorated with thousands of multi-colored lights and a sparkling star topper. The official lighting ceremony is planned for Wednesday, December 1.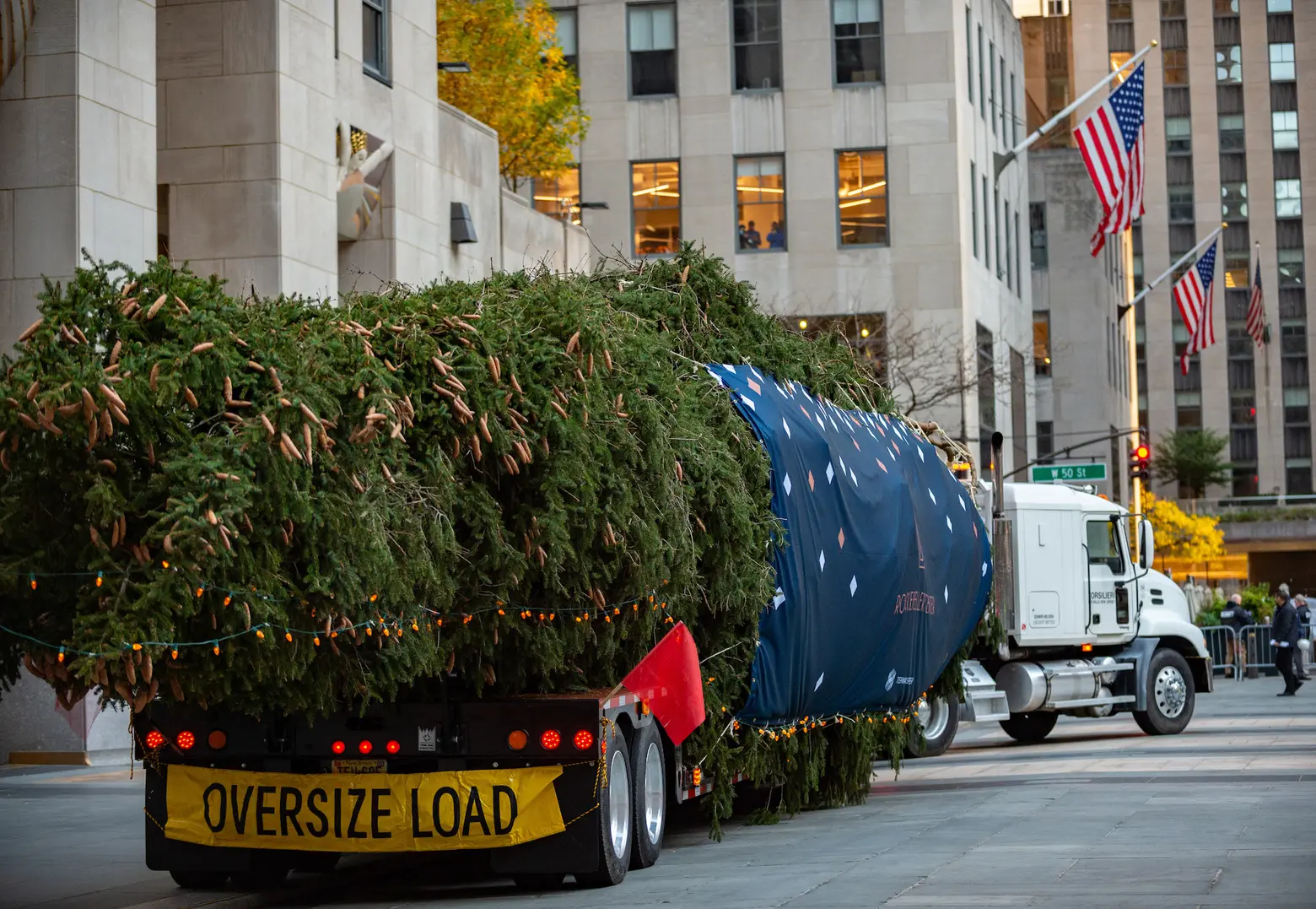 The 2021 Rockefeller Center Christmas Tree pulls into Rockefeller Plaza on an oversize flatbed truck.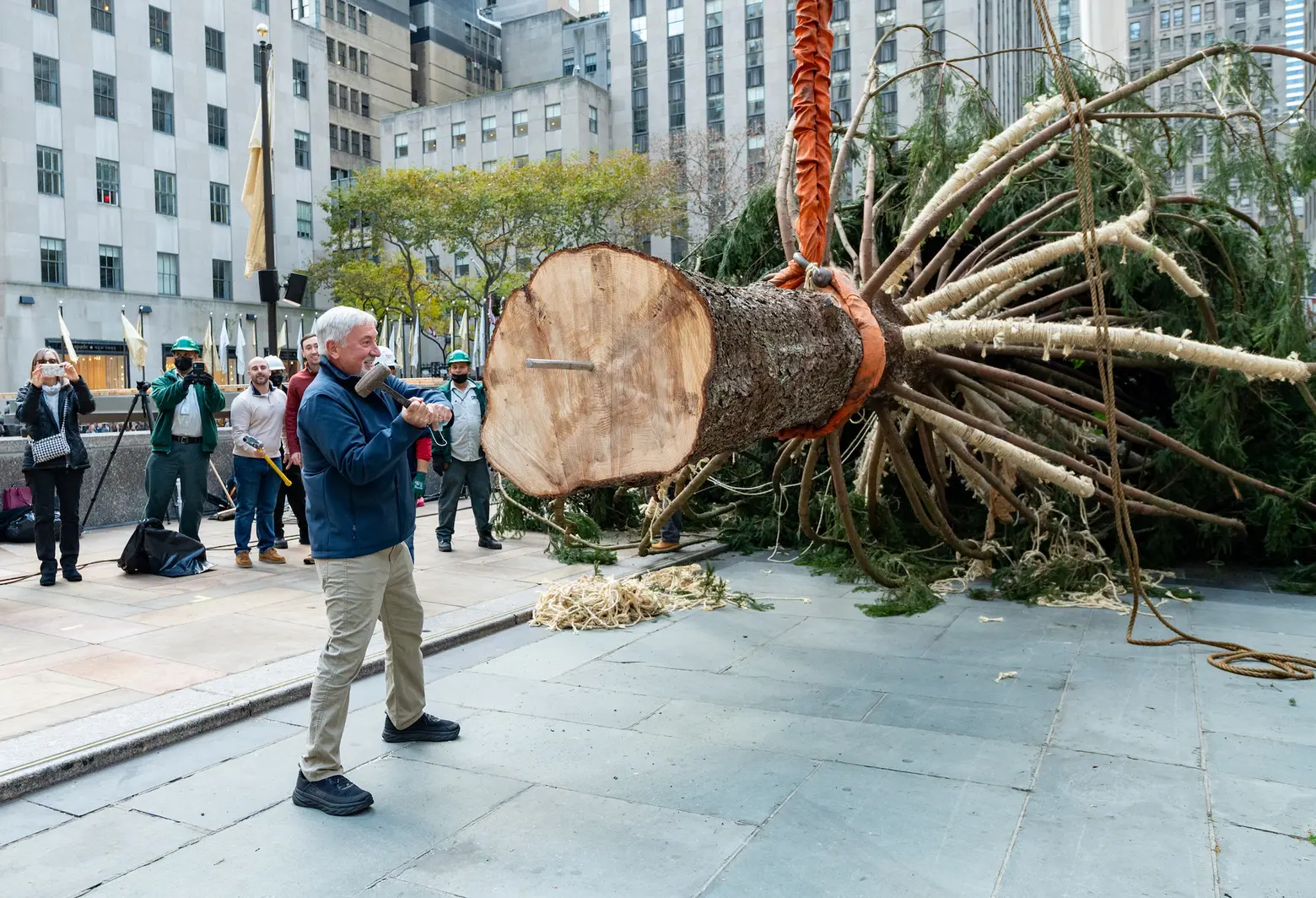 Tree donor Devon Price drives a spike into the trunk of the tree.
The Price Family from Elkton, Maryland donated the tree for this year's event, marking the first time the tree came from that state. Rockefeller Center officials look for a Norway spruce in the later years of its life that measures at least 75 feet tall and is 46 inches in diameter.
This year's tree, first scouted in March by Erik Pauze, the head gardener for Rockefeller Center, is about 85 years old and weighs 12 tons.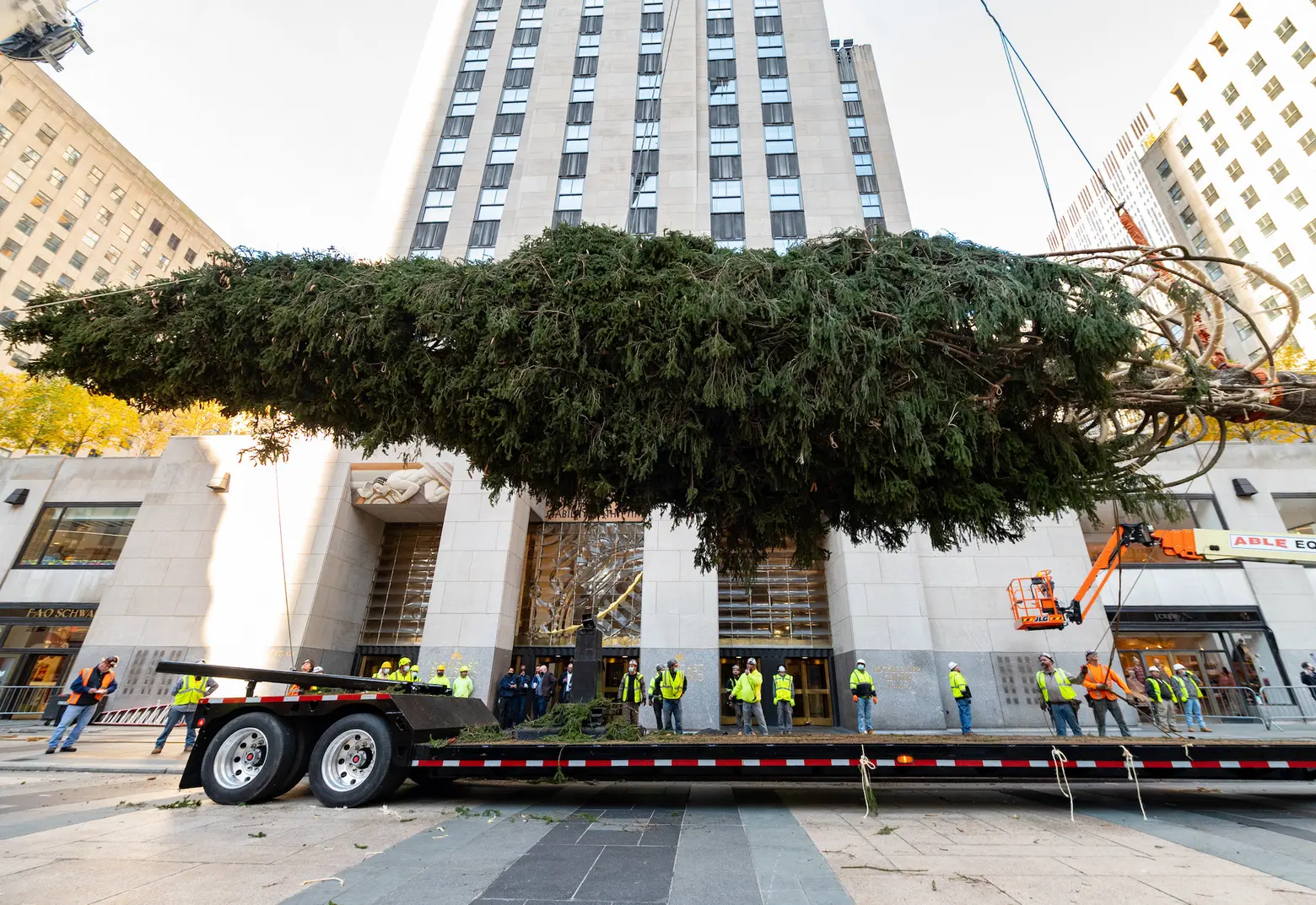 The wrapped 2021 Rockefeller Center Christmas tree is suspended in air in front of 30 Rockefeller Plaza, Saturday, Nov. 13, 2021, in New York, as the truck that carried it into the city is being driven away.
"What I look for is a tree you would want in your living room, but on a grander scale," Pauze said in an interview for The Center Magazine. "It's got that nice, perfect shape all around. And most of all, it's gotta look good for those kids who turn the corner at 30 Rock; it needs to instantly put a huge smile on their faces. It needs to evoke that feeling of happiness."
Last year, the public was not permitted to attend the tree lighting ceremony because of the pandemic, and timed tickets to view the tree throughout the season were also required. Details for this year's event have not been released yet, but the lighting ceremony will be broadcast nationally as part of NBC's "Christmas at Rockefeller Center" show on December 1.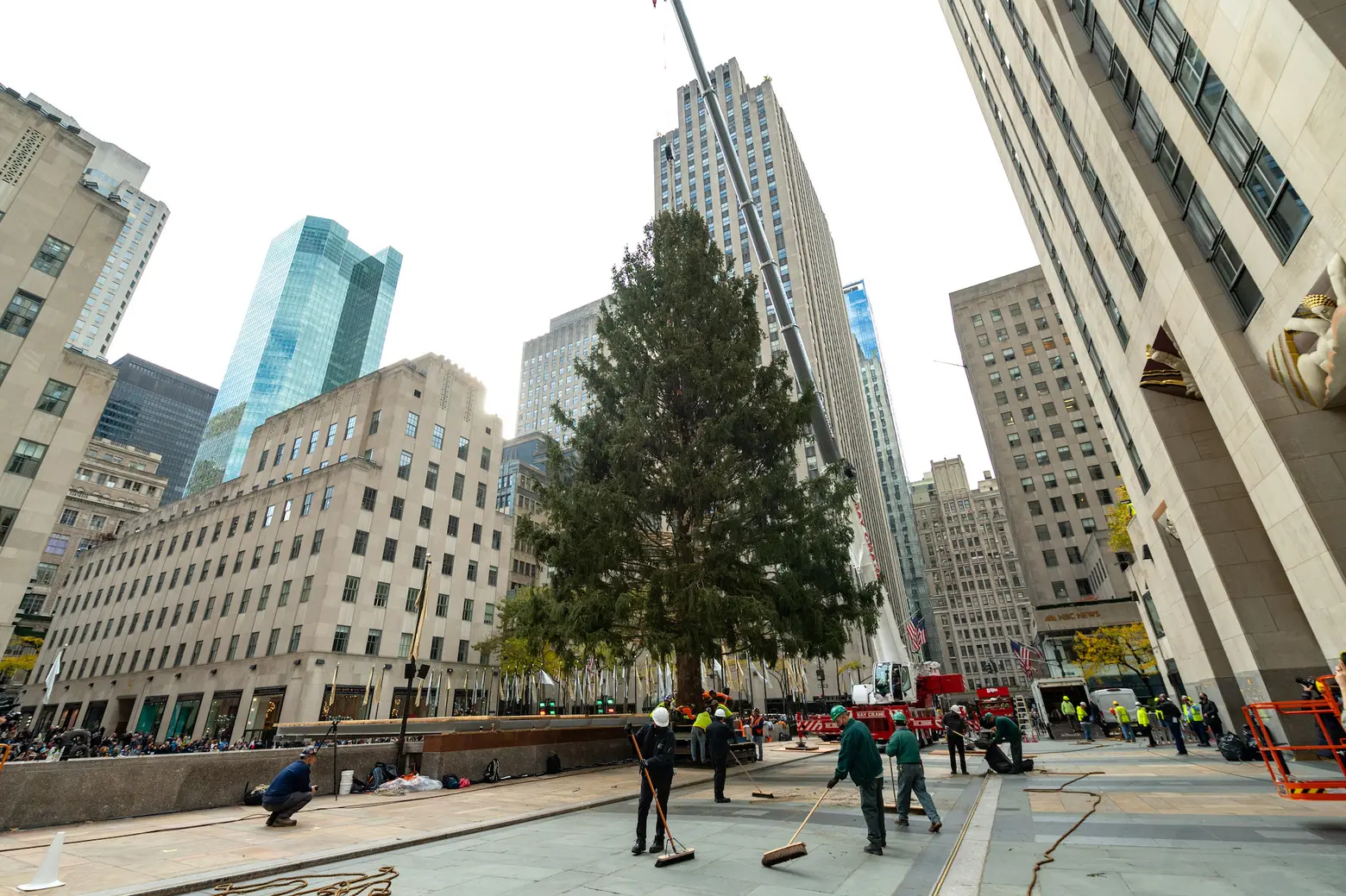 This year's tree will feature more than 50,000 multi-colored LED lights across nearly five miles of wire. A 900-pound star that is covered in three million Swarovski crystals, designed in 2018 by architect Daniel Libeskind, will sit atop the spruce.
The tree lighting at Rockefeller Center has been a holiday tradition since 1933, with the ceremony broadcast live on television every year since 1951.
The ice skating rink opened for the season on November 6. Tickets, which start at $20, can be purchased in advance here. The rink remains open through March 2022.
RELATED: 
All photos by Diane Bondareff/AP Images for Tishman Speyer
Editor's note: A version of this post was originally published on November 5, 2021, and has since been updated.