Proposed $2B mixed-use district with 2,800 new apartments in Astoria moves forward
Renderings by VERO Digital
A plan to build a large-scale development with 2,800 apartments in Astoria is moving forward. The City Planning Commission on Wednesday voted in favor of Innovation QNS, a $2 billion mixed-use district proposed for five blocks in the Queens neighborhood, spanning 37th Street to Northern Boulevard, between 35th and 36th Avenues. The project will then head to the City Council for a final vote where it may face resistance from the local representative, Council Member Julie Won, who said she wants at least 50 percent of the apartments to be affordable.
Designed by ODA Architecture, Innovation QNS is being developed in a joint private venture led by Silverstein Properties, Kaufman Astoria Studios, and BedRock Real Estate Partners. As 6sqft previously reported, most of the Astoria site, made up of industrial and commercial buildings, are owned or operated by the development team.
The 2.7 million-square-foot development would include 12 buildings, 2,800 new apartments, with 700 of them permanently affordable, office space, a new school, retail, community health and wellness facilities, a multiplex cinema, a grocery store, and two acres of public open space.
"The public realm is where we can shape culture and level the playing field in cities. We have the opportunity to have a major impact and create lasting change in the quality of life by embracing increased density in urban environments," Eran Chen, founder of ODA, said. "Our design dedicates a quarter of the ground floor to public outdoor use, and an additional 100,000 sf of street-level programming that will enhance the community experience."
The proposal has been altered since it was first unveiled in July 2020; the developers reduced the heights of three buildings and pledged to build a sports and recreation center.
Both the local community board and Queens Borough President Donovan Richards rejected the project citing the need for deeper affordability, but the CPC approved the project in a 10-3 vote. Chair Dan Garodnick said the project marks the "largest privately financed affordable housing project in Queens in generations."
"At a time when our housing crisis is more pronounced than never, that is a big deal. And a big opportunity to take the pressure off rents in this and surrounding communities," Garodnick said during the meeting Wednesday.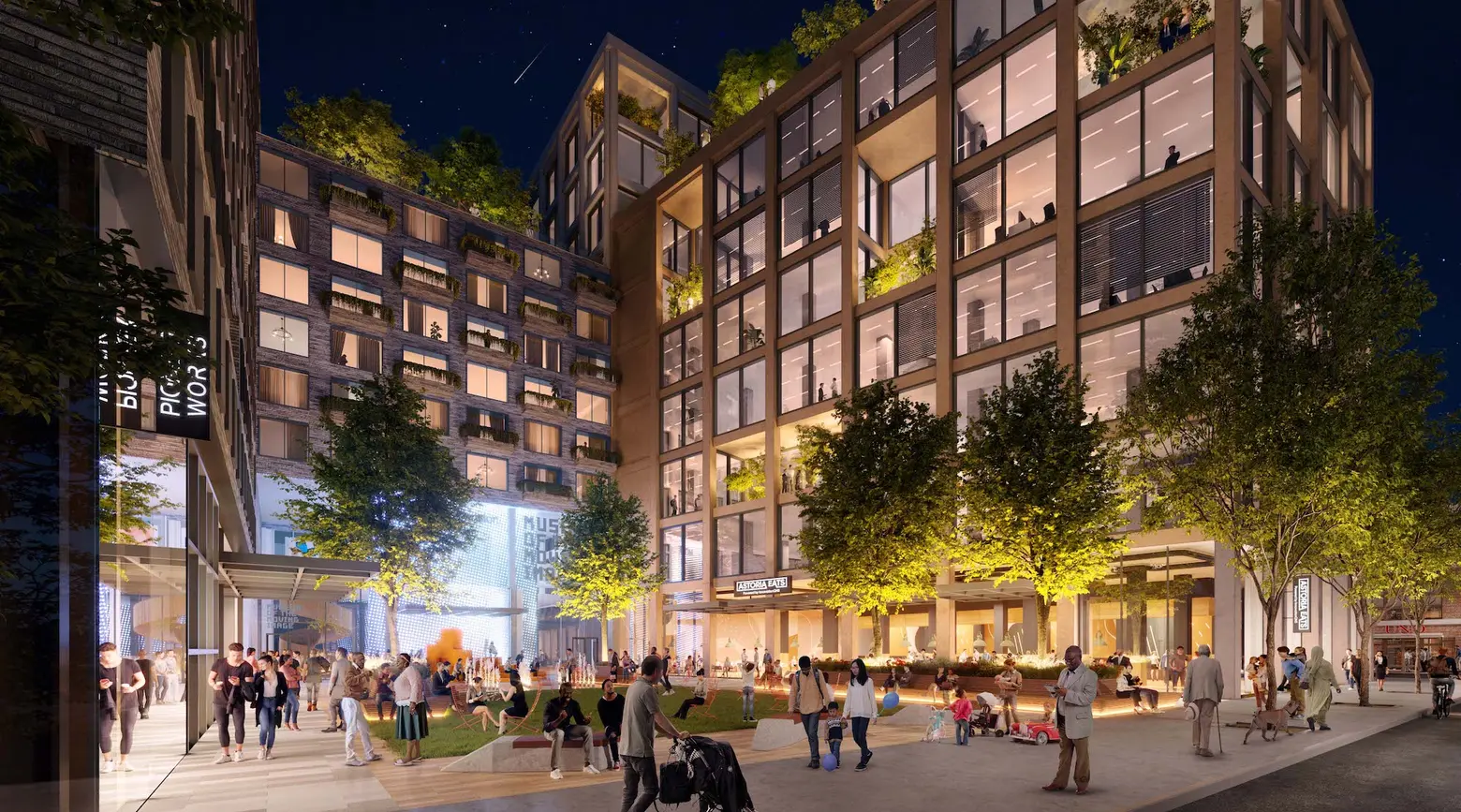 Innovation QNS will now head to the City Council for a final vote, where Won will likely decide the fate of the project. In a statement released following the CPC vote, Won said the agency chose to "rubber stamp" the project without "significant commitment for deep affordability."
"The developers continue to disregard the community's voice, choosing to move forward with a project that received major backlash at town halls this spring and the overwhelming disapproval by Queens Community Board 1," Won said in a statement. "I have requested for the development team to return to the community again with modifications and we will not settle for a plan that is below 50 percent affordable."
Under the current plan, 25 percent of the apartments are affordable and market-rate units would start at $2,400 for a studio.
"My apprehension for this project remains and I have serious concerns that this project will displace many immigrant and working-class residents that call this part of Astoria home, as landowners worry about their profit margins," Won added.
RELATED: