NYC to install outdoor e-bike charging stations at dozens of NYCHA buildings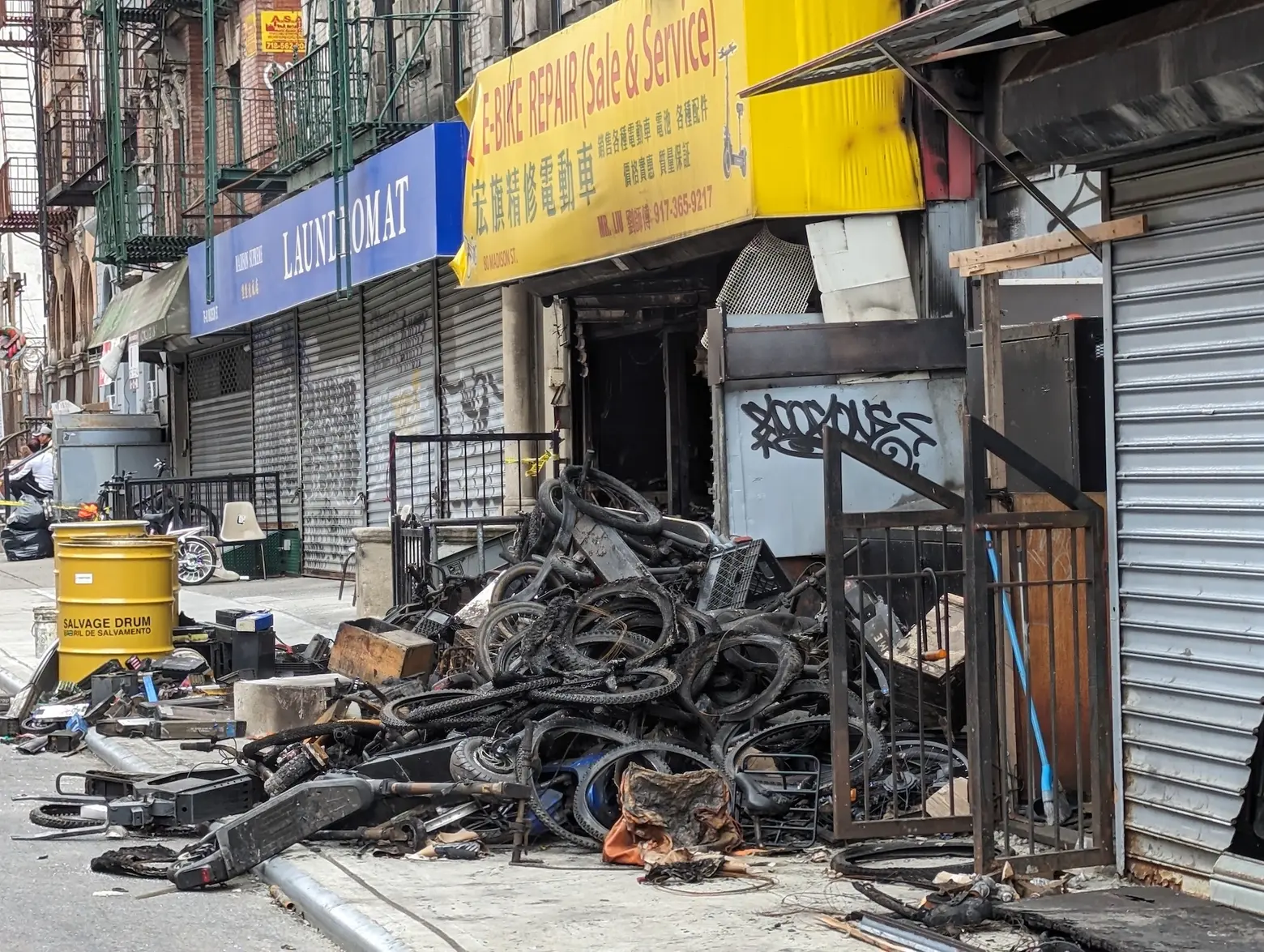 Hundreds of safe e-bike and scooter charging and storage stations will soon be installed across New York City's public housing buildings as a way to prevent battery fires. Mayor Eric Adams, Sen. Chuck Schumer, and Sen. Kirsten Gillibrand on Sunday announced plans to install 173 outdoor stations at 53 NYCHA developments starting next year, with a total of 327 stations planned. The announcement comes just days after a fire at an e-bike repair shop in Chinatown killed four people and injured several others. The initiative is funded through a $25 million emergency grant from the U.S. Department of Transportation.
The city plans to install a total of 327 stations across the city's public housing complexes, with roughly 67 residents served at each station, according to Adams. The stations will be able to charge bike batteries significantly faster than the six or seven hours it takes to fully charge them at stores like the one in Chinatown.
Plus, with the new stations, residents will no longer have to charge e-bikes inside their apartments, which is extremely dangerous.
"The $25 million for DOT is a godsend, a lifesaver, and it's going to provide safe storage and accessible charging infrastructure to help alleviate the safety concerns," Schumer said during a press conference on Sunday. "We deliver this safety to our NYCHA residents, our deliveristas, and e-bike and scooter users."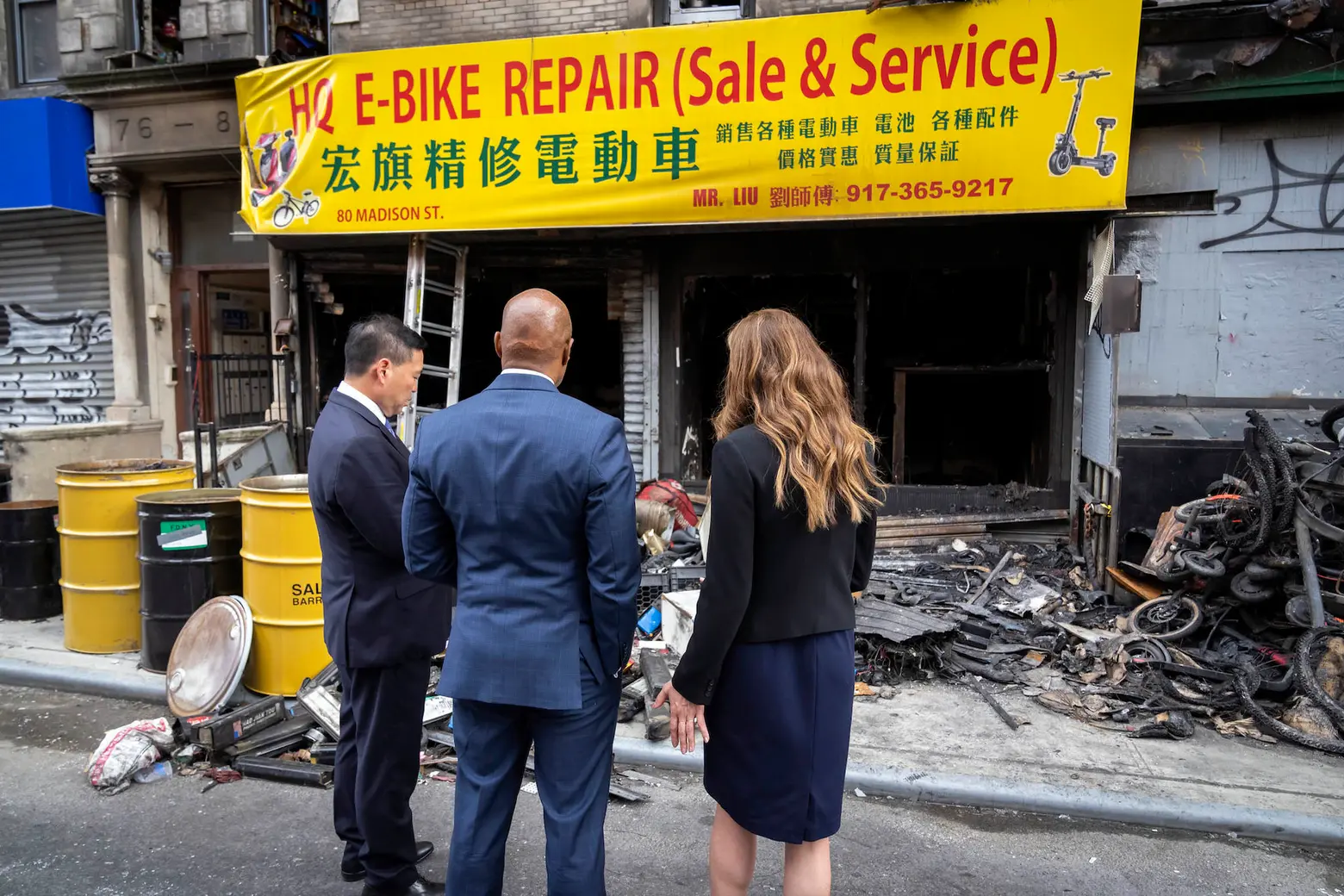 Mayor Eric Adams, FDNY Commissioner Laura Kavanagh, and SBS Commissioner Kevin D. Kim in Chinatown. Photo credit: Ed Reed/Mayoral Photography Office.
Last Tuesday, four people died after an e-bike repair shop in Chinatown was set ablaze due to malfunctioning lithium-ion batteries. The shop, which had already received multiple violations from the fire department, had been known by its patrons to unsafely charge large quantities of batteries with improper electrical wiring all at the same time, according to Gothamist.
When charged and maintained incorrectly, lithium-ion batteries can create devastating fires that grow quickly and are hard to control. E-bike battery fires have already caused 13 deaths and 71 injuries so far this year, First Deputy Fire Commissioner Joseph Pfiefer told reporters last week. The city has seen an increase in the number of battery fires over the past few years, increasing from 44 in 2020 to 216 in 2022, according to Sen. Chuck Schumer.
"Most lithium-ion batteries and chargers are safe, and we need to encourage the use of more sustainable transportation alternatives moving forward," Gillibrand said Sunday. "But we also need to make sure that these micromobility vehicles are stored and charged safely so that faulty or improperly manufactured batteries don't put people in harm's way."
Last week, the city lifted the ban on e-bikes and scooters in public parks as part of a pilot program. The program was unveiled as part of Adams' "Charge Safe, Ride Safe: New York City's Electric Micromobility Action Plan," which included the installation of safe, outdoor, e-vehicle storage and charging stations at NYCHA complexes.
The plan also requires the FDNY to submit reports and develop an informational campaign on educating the public on the fire risks of lithium-ion batteries. Additionally, the sale of e-vehicles that fail to meet safety standards and the reuse of lithium batteries have been prohibited.
Last week, Adams announced a plan to expedite investigations into complaints made via 311 about potentially hazardous conditions related to lithium-ion batteries at bike shops, following the tragedy in Chinatown.
According to the mayor, the FDNY will respond to complaints within 12 hours.
RELATED: