NYC launches first-ever subway performer contest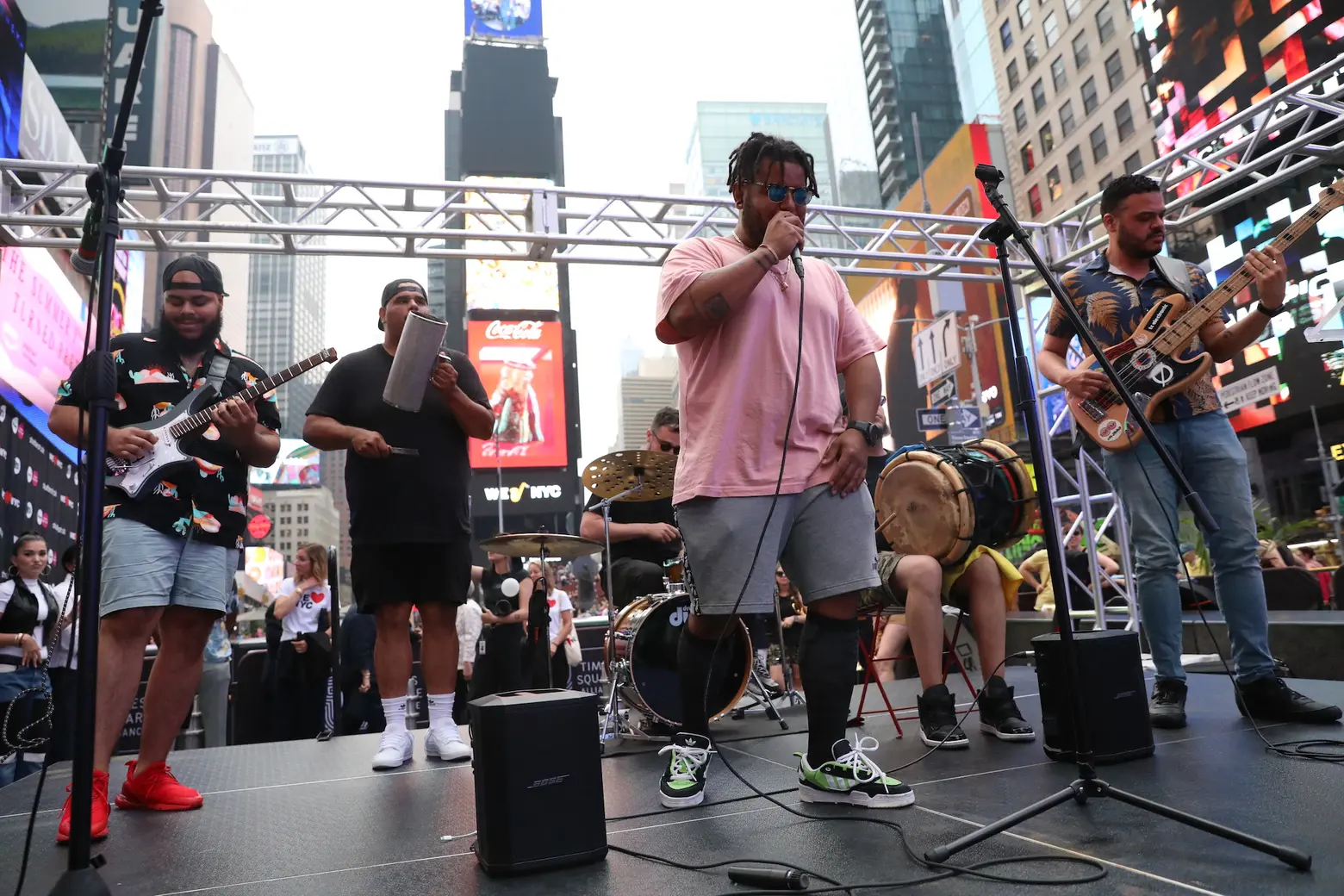 Afro Dominicano. Credit: Michael Ferguson
New Yorkers now have the opportunity to vote for their favorite New York City subway performer. Mayor Eric Adams on Wednesday helped launch the first-ever "Riders' Choice Award," a competition among artists who are in the MTA's Music Under New York program to win a free recording session with Atlantic Records. New Yorkers can cast their votes for their favorite performer here through July 26 with a winner announced on July 27.
Sponsored by the WE❤️NYC campaign, the Riders' Choice Award highlights the artists who have secured a spot in the Music Under New York program that has filled the city's subway system with live music since 1985.
On June 28, more than 40 performers auditioned at Grand Central Madison, with 128 having applied to be considered for the opportunity. Following the audition, 24 performers were accepted into the program and three finalists were selected to compete for the free recording session.
The three Riders' Choice finalists are:
Afro Dominicano: A Latin fusion band that blends traditional Dominican folkloric roots music with Afro-Caribbean soul. The group is known for high-energy riffs and romantic balladry. Afro Dominicano's profile video can be found here.
Augie Bello: An instrumentalist, vocalist, producer, and songwriter known for his energetic live saxophone performances on the streets of the city. Augie Bello's profile video can be found here.
Brass Queens: An all-female brass band with a signature sound that sits at the intersection of the Big Apple and the Big Easy. They are known for their high-energy performances and their mission to empower women through music. Brass Queens' profile video can be found here.
"Our subways keep New Yorkers moving, but they also keep our toes tapping thanks to great musicians who spread joy on the platform," Adams said. "'Music Under New York' supports more than 350 talented musicians on subway and train platforms across New York City, spreading joy from station to station. I want to thank the Partnership for New York City for constantly reminding us why 'WE❤️NYC,' and I look forward to seeing who our city picks for the first-ever Riders' Choice Award."
Live music returned to the city's subway system for the first time after the pandemic in June 2021. Led by MTA Arts & Design, the Music Under New York program began in 1985 as a pilot program. After support from the public, the program was made permanent.
RELATED: