New York vs. London: A Real Estate Challenge on Both Sides of the Pond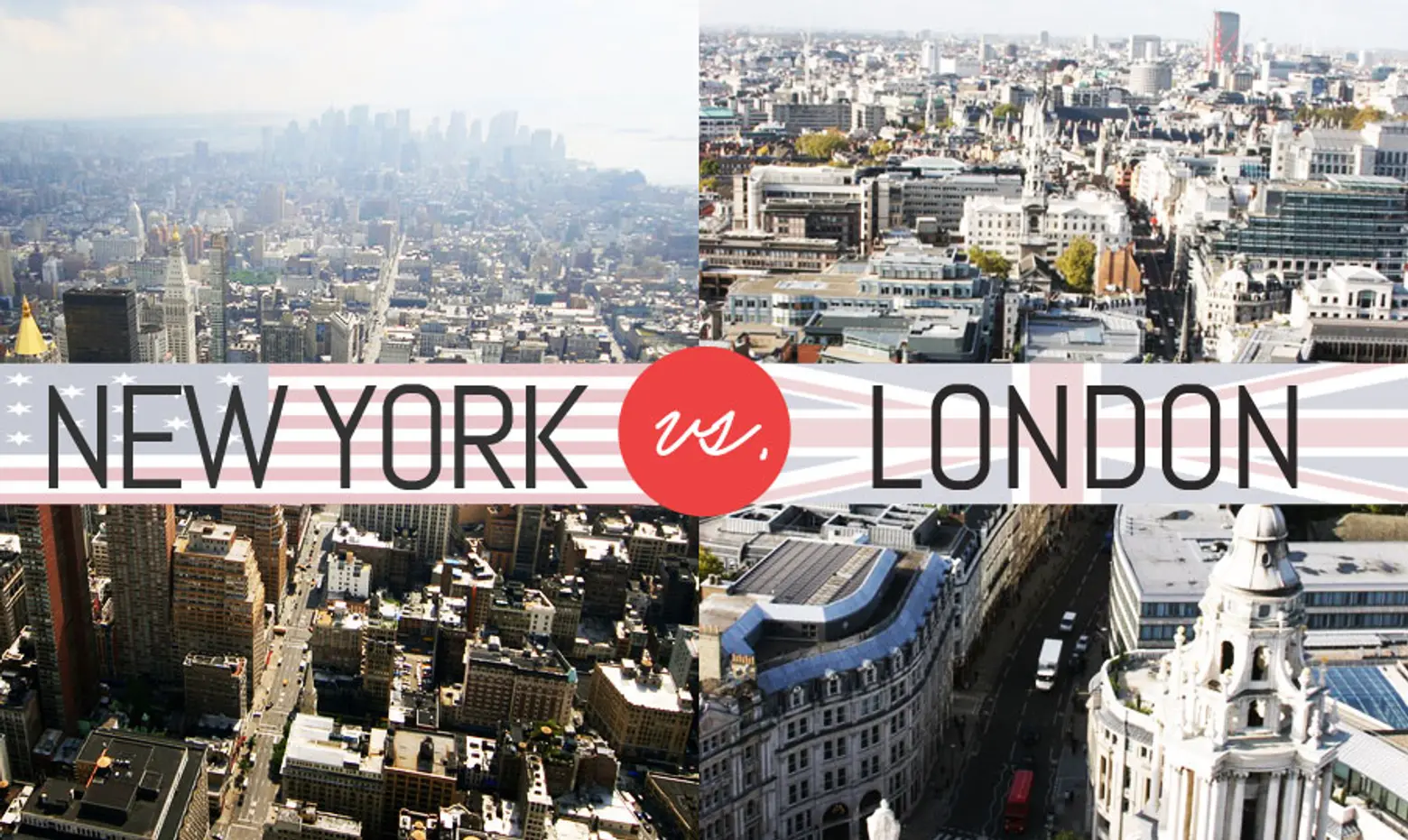 While we're all still in the patriotic mood after the July 4th festivities, we thought it appropriate to put together a friendly little challenge between New York City and her cross-pond ally and sometimes rival, (what are the kids calling it these days, a frenemy?). In the left corner is NYC, global hub of finance and media, weighing in with a population of 8,405,837. And in the right corner we have London, the world's most-visited city, population 8,416,535.
According to British real estate website Zoopla, the average price of a Central London home over the past year is £1.1 million or $2 million in U.S. dollars, topping the $1.6 million average selling price of residences in the core of Manhattan.

Round 1: Upper East Side vs. Holland Park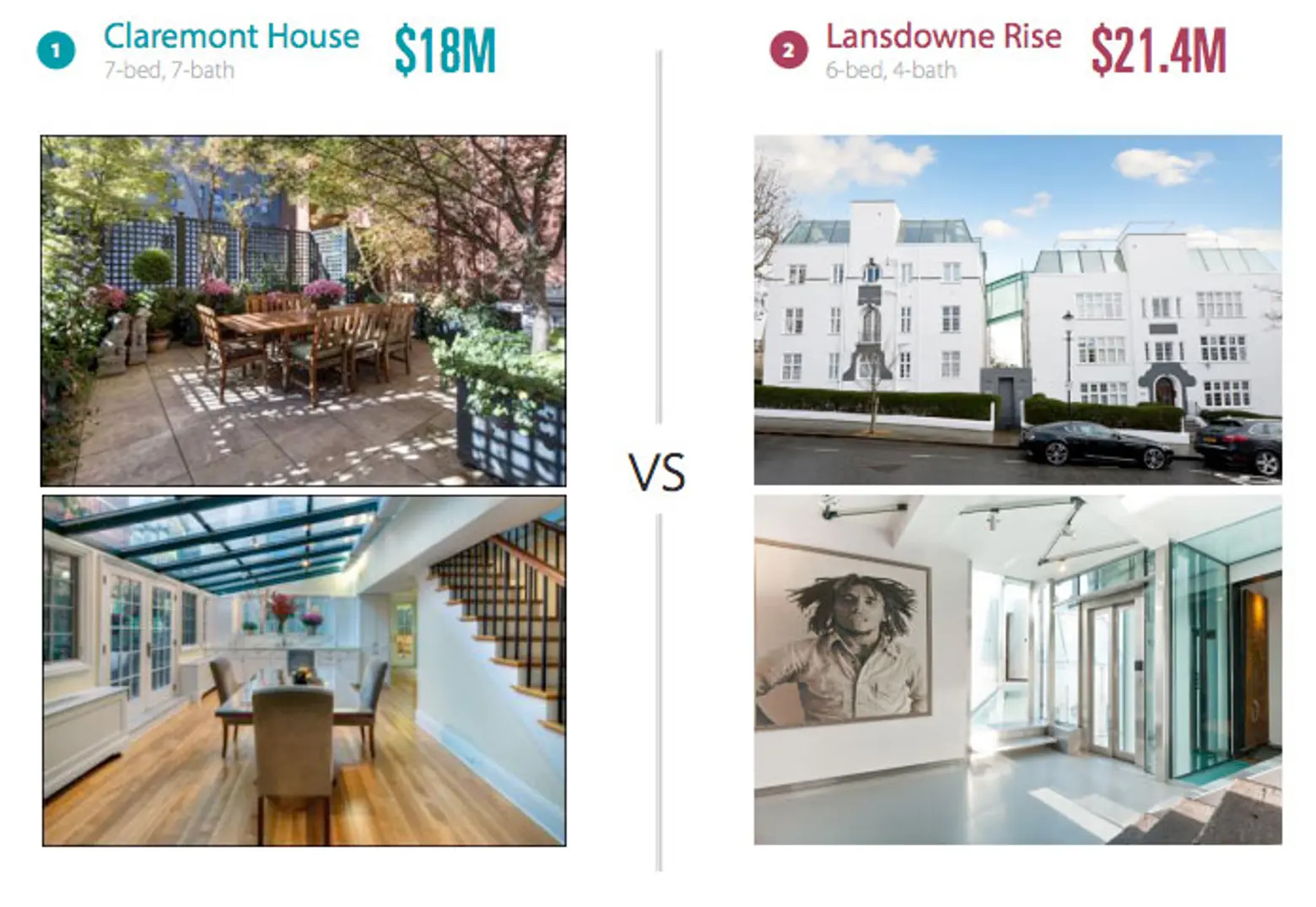 Here in NYC, the Upper East Side area around Park and Fifth Avenues and 79th Street boast some of the city's most opulent mansions and pre-war apartments, which actress Drew Barrymore, director Woody Allen, and former Mayor Michael Bloomberg call home. Central Park is the focal point of the neighborhood, as are the ritzy stores along Madison Avenue.
Holland Park is one of the most affluent areas in London. Known for its collection of Victorian townhouses and upscale shopping, the neighborhood is home to several embassies, as well as new celebrity residents like singer Robbie Williams; TV and music mogul Simon Cowell; and David and Victoria Beckham, the ultimate pond-crossing power couple. Holland Park features a 54-acre public park, which is considered one of the most romantic and peaceful outdoor spaces in West London.
At the Claremont House, at 72nd Street between Park and Madison Avenues, a 6,300-square-foot, 7-bedroom penthouse is listed for $18 million. The four-floor condo boasts a sun-filled conservatory, 1,200 square feet of landscaped terraces, and a 1,600-square-foot master suite, complete with dual bathrooms, dressing rooms, and sitting areas.
Situated atop the highest point in Holland Park is this 4,056-square-foot, 6BR/4BA penthouse, designed by Richard Hywel Evans. Priced at $21.4 million, it features striking, futuristic glass walls that provide panoramic views of London, as well as many impressive amenities including a private lift (an elevator for all you non-Anglophiles), heated floors, Lutron lighting, concealed plasma screens, remote control blinds, two reception rooms, and a 600-square-foot terrace.
Our verdict: What the New York apartment lacks in space-age amenities and sleek design, it makes up for in space – lots of it!
Round 2: Battery Park City vs. Chelsea Harbour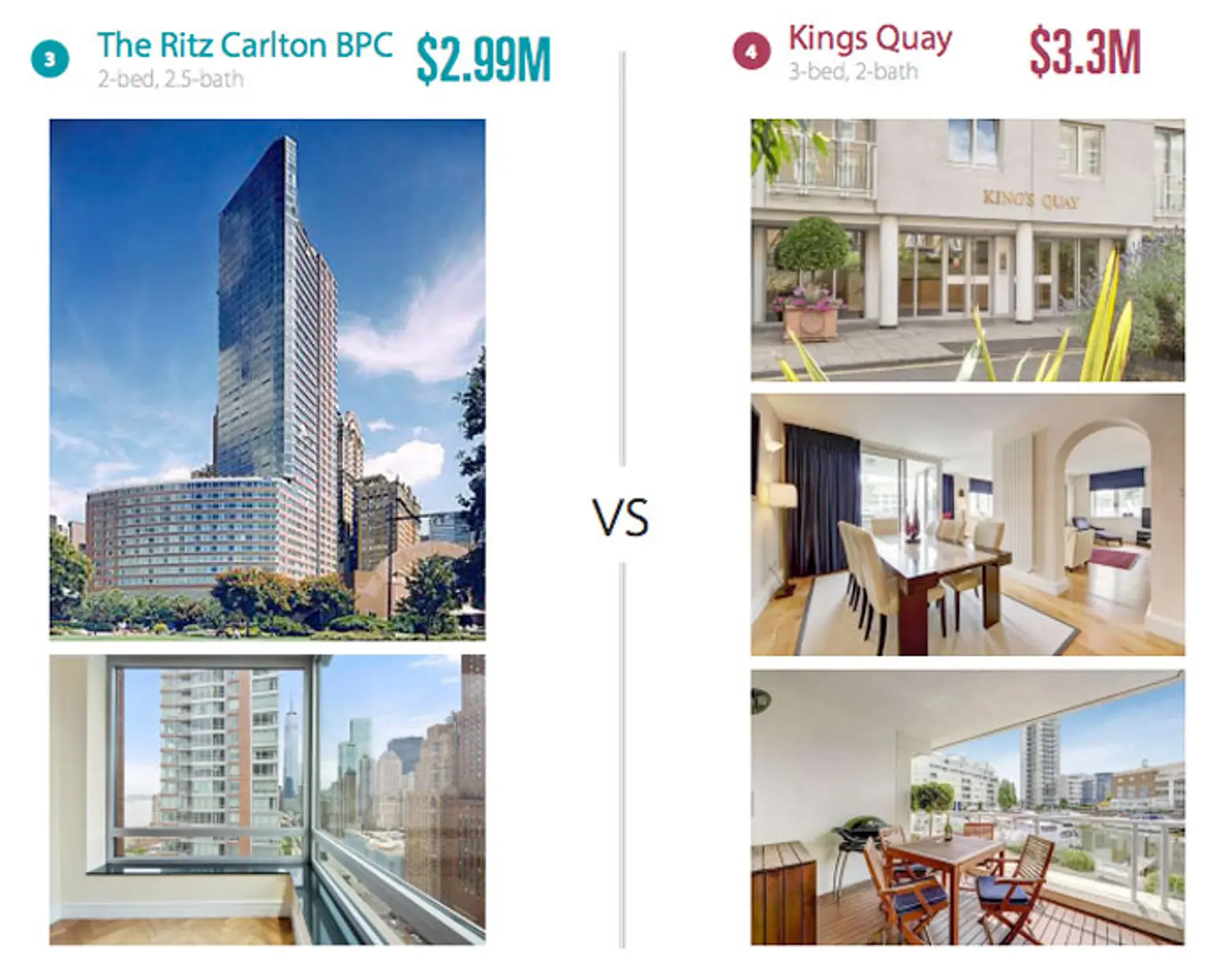 Battery Park City, a 92-acre planned development, is the largest "green" community in the world. It was built over the last 40 years on top of a landfill from the World Trade Center site and contains a mix of affordable and luxury housing, restaurants, and plenty of parks and outdoor space.
Chelsea Harbour is a mixed-use, 20-acre development in Central London that's made up of luxury apartments, a hotel, offices, and showrooms surrounding a small marina. It was constructed on an abandoned ex-British Rail Coal Yard and Victorian-era railway in the mid-1980s.
At the Ritz-Carlton Residences at 10 West Street, this 1,500-square-foot, 2BR/2.5BA apartment offers swanky hotel amenities like a gym, spa, concierge, and butler/housekeeper. For sale for $2,995,000, the high-floor unit has three exposures, mahogany flooring, and a chef's kitchen.
A 3BR/2BA apartment listed for $3.3 million is part of the prestigious Kings Quay at Chelsea Harbour, which features the only five-star, all-suite hotel in London. It also houses the Blue Harbour Health Club, complete with swimming pool, fitness center, spa, and sauna. The raised ground-floor flat has views of the yacht marina, three balconies, and 12-hour weekday porterage.
Our verdict: Buyers at The Ritz-Carlton Residences get a lot more perks for the money, as well as prime views!
Round 3: SoHo vs. Knightsbridge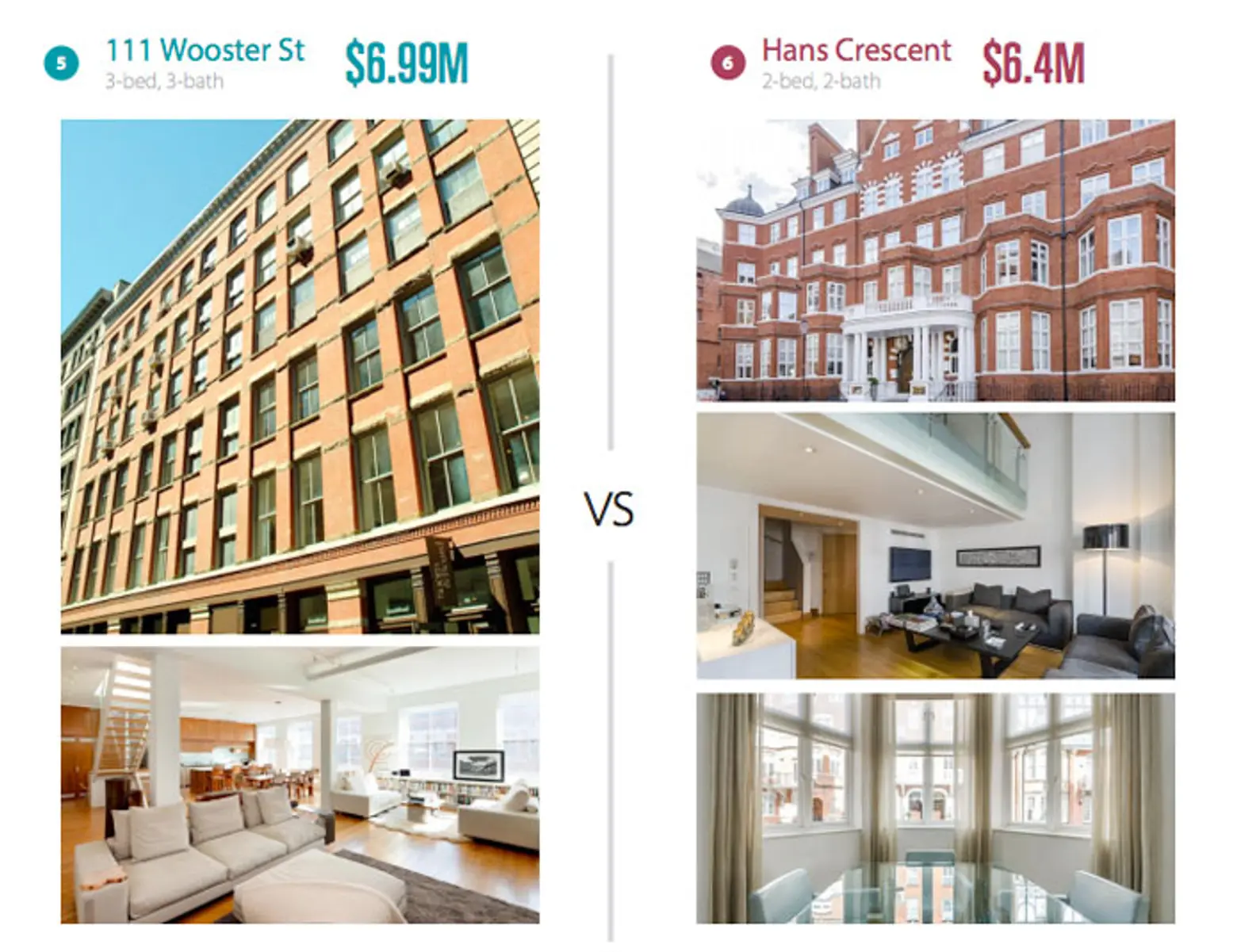 New York's SoHo was once an artists' community, but is now the go-to spot for high-end fashion and boutiques, located in large loft conversions. Celebrity actors like Daniel Craig and Juliana Margulies call the trendy neighborhood home.
For exclusive London shopping, those with cash to burn head to Knightsbridge for the famed Harrods Department Store and flagship locations of London designers such as Jimmy Choo and Manolo Blahnik. Featuring a mix of refurbished flats and houses, Knightsbridge is home to many of the richest people in the world.
In SoHo, this 111 Wooster Street 3-bedroom triplex penthouse was designed by famed architecture firm Ogawa Depardon and boasts 2,230 square feet of interior space, as well as an additional 1,762 square feet of outdoor space. Listed at $6,995,000, the apartment has a custom-built pergola and BBQ, bathrooms with heated stone floors, and a master bedroom with glass walls overlooking the landscaped roof garden.
This modern, 2BR duplex in Knightsbridge is in a landmark residential building and features a double-height reception space with large bay windows, double bedroom, and family room. Listed at $6.4 million, it also comes with an underground parking space and use of the valet service.
Our verdict: No contest, the SoHo apartment wins for space, perks, and distinctive design appointments.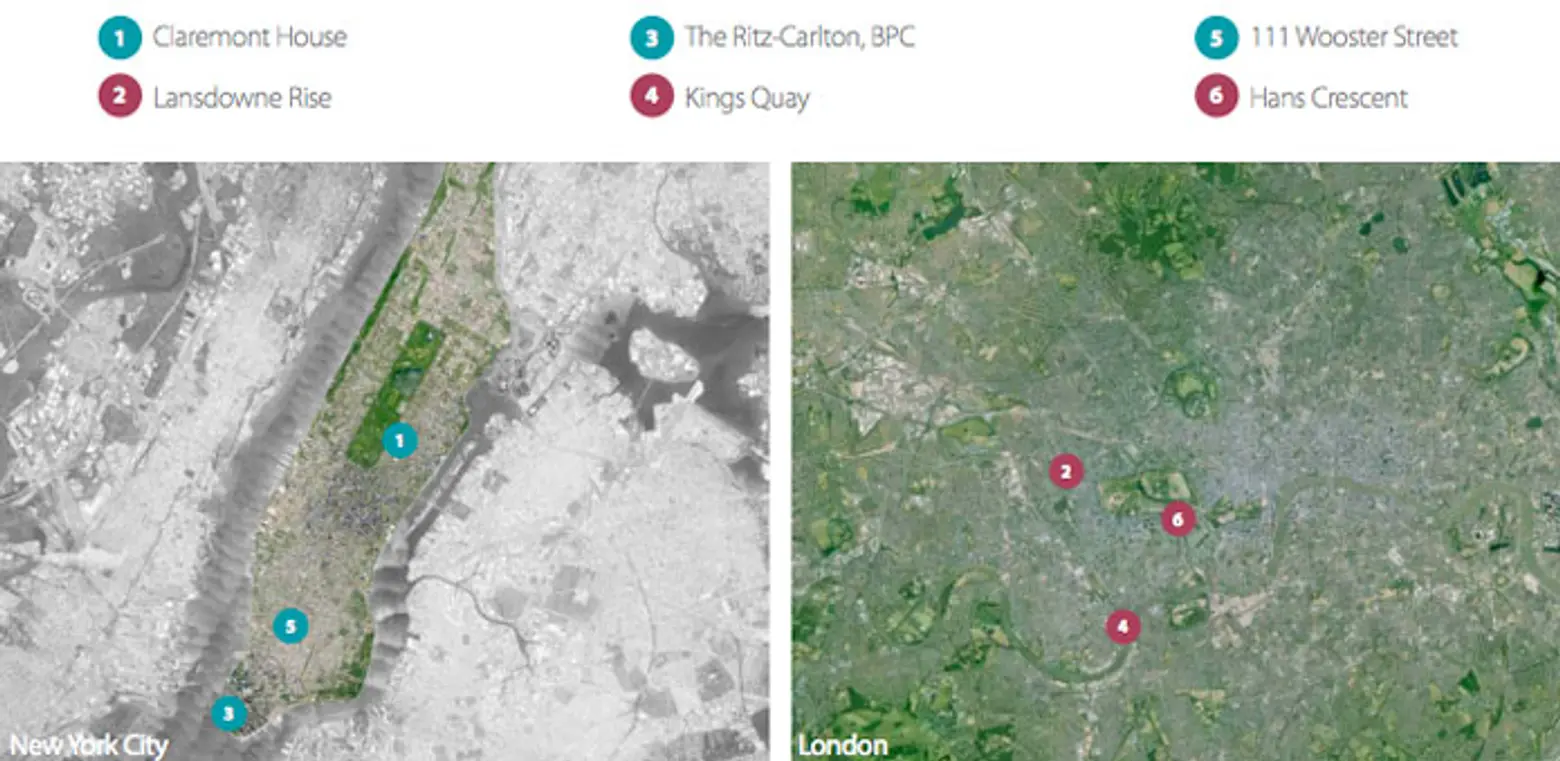 Looks like overall you get more bang for your buck here in the Big Apple! How do you feel about our rulings? We're always open to a rematch!
[Via CityRealty]
Images courtesy of CityRealty