New Views and Video of David H. Koch Center for Cancer on Manhattan's Upper East Side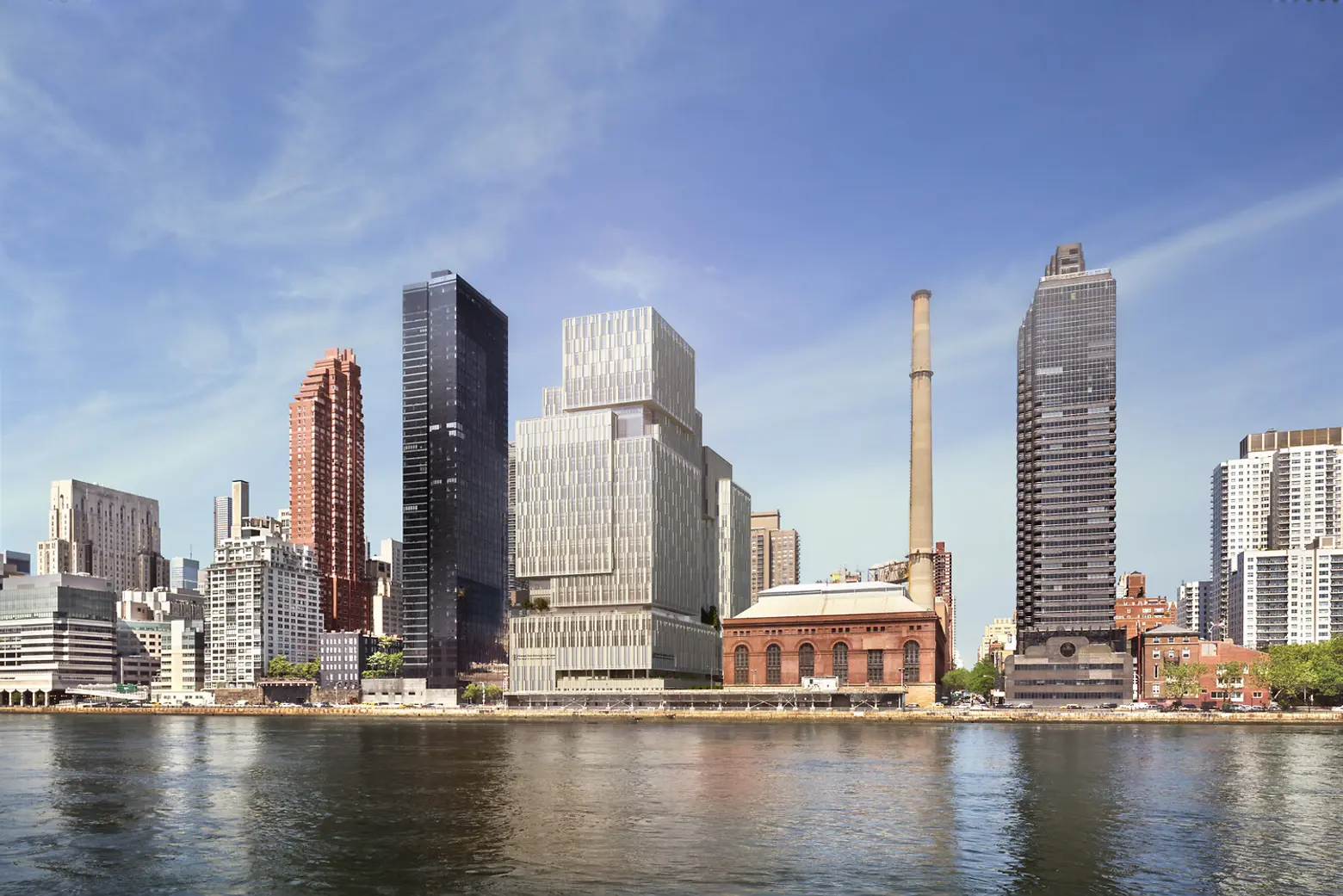 On a far-eastern block of the Upper East Side's Lenox Hill neighborhood, a unique venture is underway to build new facilities for Hunter College and Memorial Sloan-Kettering Cancer Center. Now wrapping up its cavernous foundations, the 1.15 million-square-foot development will accommodate two separate towers: an East River-facing building that will house a 730,000-square-foot, 23-story outpatient treatment center for Memorial Sloan-Kettering; and a slightly smaller, 400,000-square-foot mid-block building for CUNY-Hunter College's schools of nursing and physical therapy. Hunter will trade its current nursing school facility at First Avenue and East 25th Street to the city where they will build a new sanitation facility.
In 2012, then-mayor Michael Bloomberg awarded the institutions the right to to build upon the half-block parcel fronting the FDR Drive between East 73rd and 74th Streets. The site was previously home to a sanitation facility that was demolished in 2008 and was sold to the college-hospital for $226 million. The mammoth, 455-foot-tall structure is being designed by Perkins Eastman in collaboration with Ennead Architects and required special approvals to rise more than the as-of-right floor area and height limit. Aside from the project's size, neighbors took issue with the project's shortfall of parking spaces and the resulting congestion of a community loaded with medical facilities.

© Perkins Eastman | Ennead Architects
MSK's building will be officially named the David H. Koch Center for Cancer after David H. Koch bequeathed a $150 Million gift to the hospital, its largest ever. The building will house outpatient treatment for patients with hematologic cancers, such as leukemia and lymphoma, and head, neck, and lung cancers, as well as provide radiation therapy and early-stage clinical trials. According to MSK, recent medical advances have reduced the need for hospitalization of cancer patients as part of their care, ultimately resulting in a greater need for outpatient cancer services. MSK currently delivers outpatient treatment to an average of 4,700 patients each day, more than any other hospital in the northeast.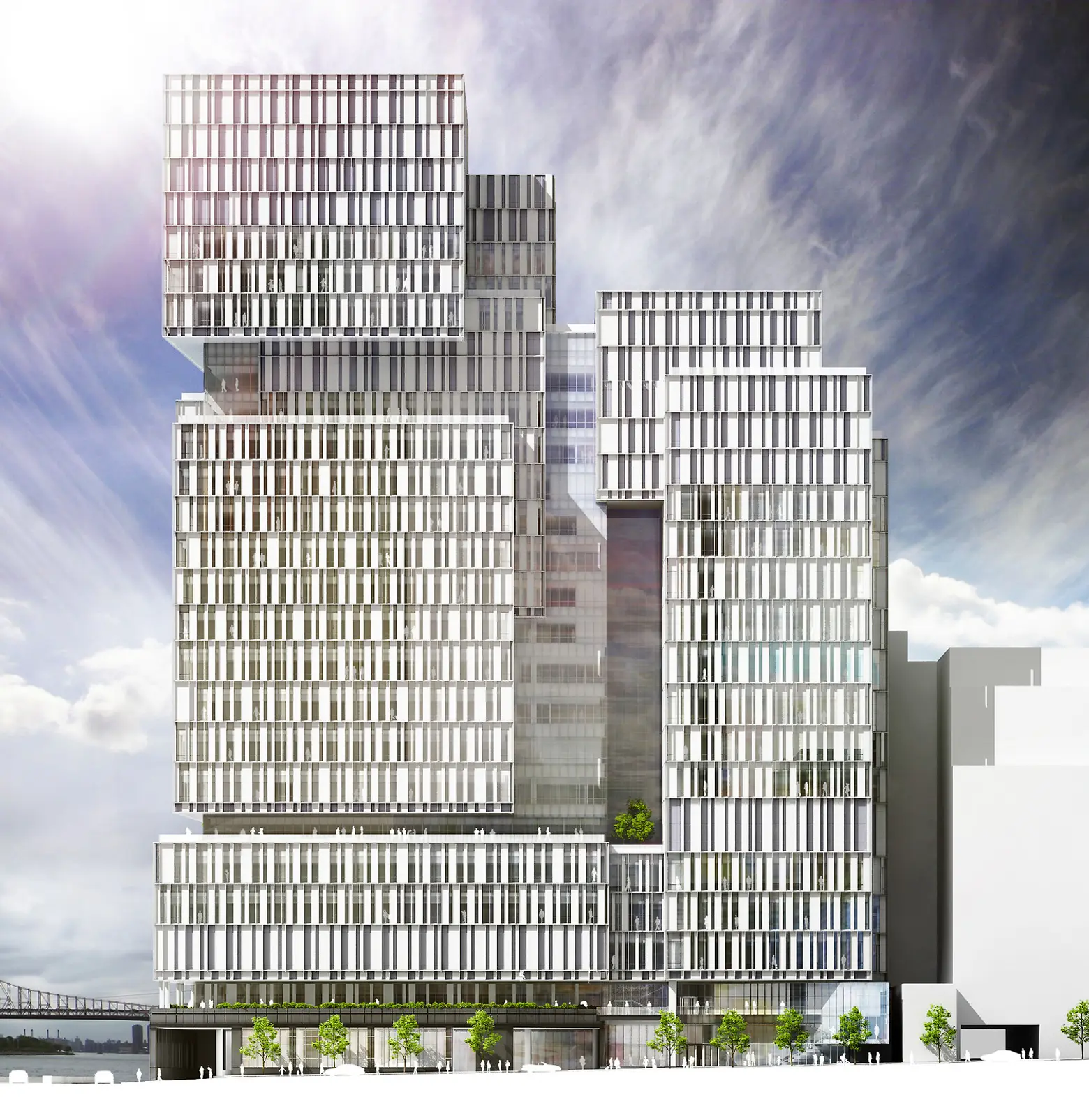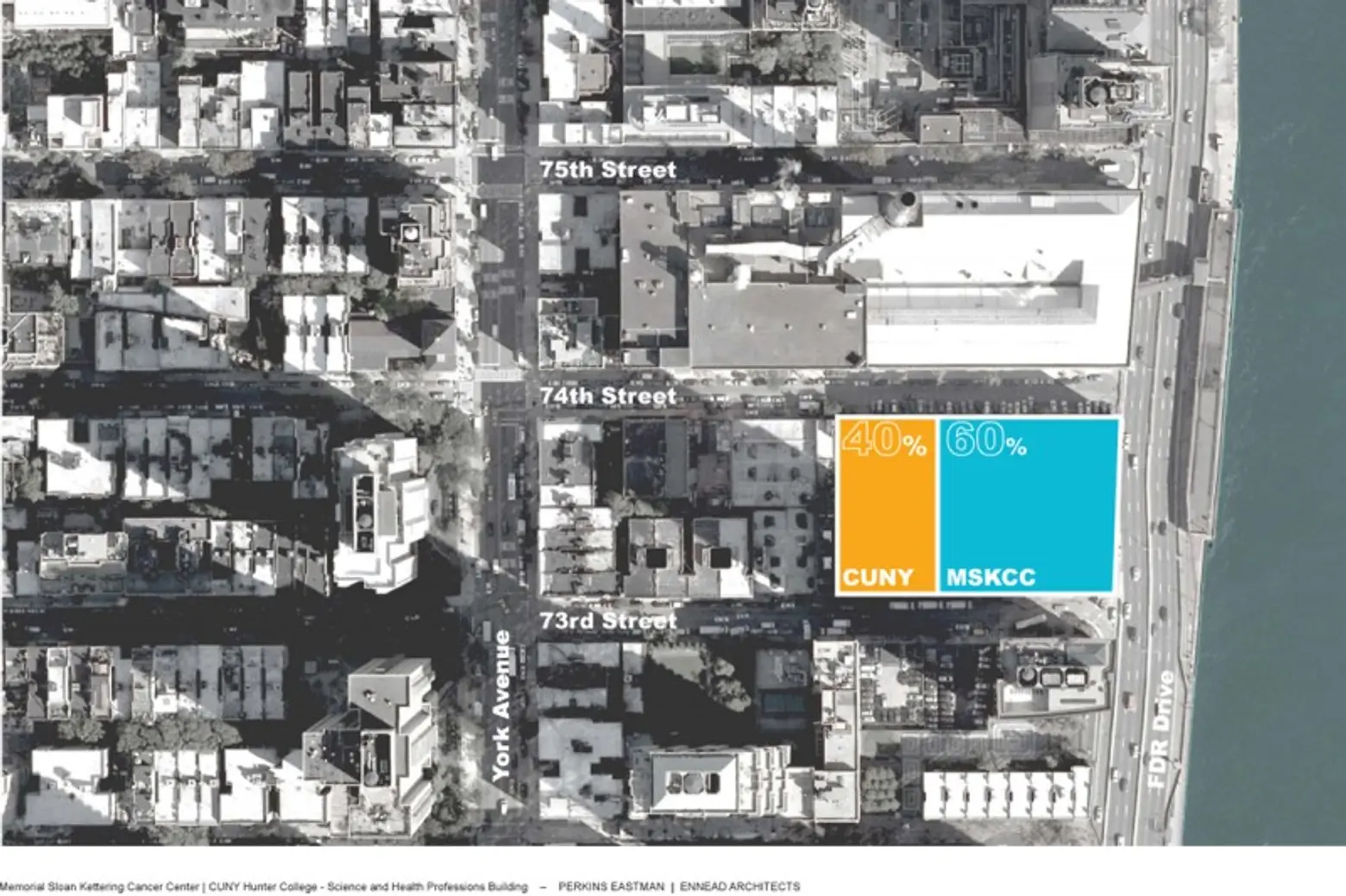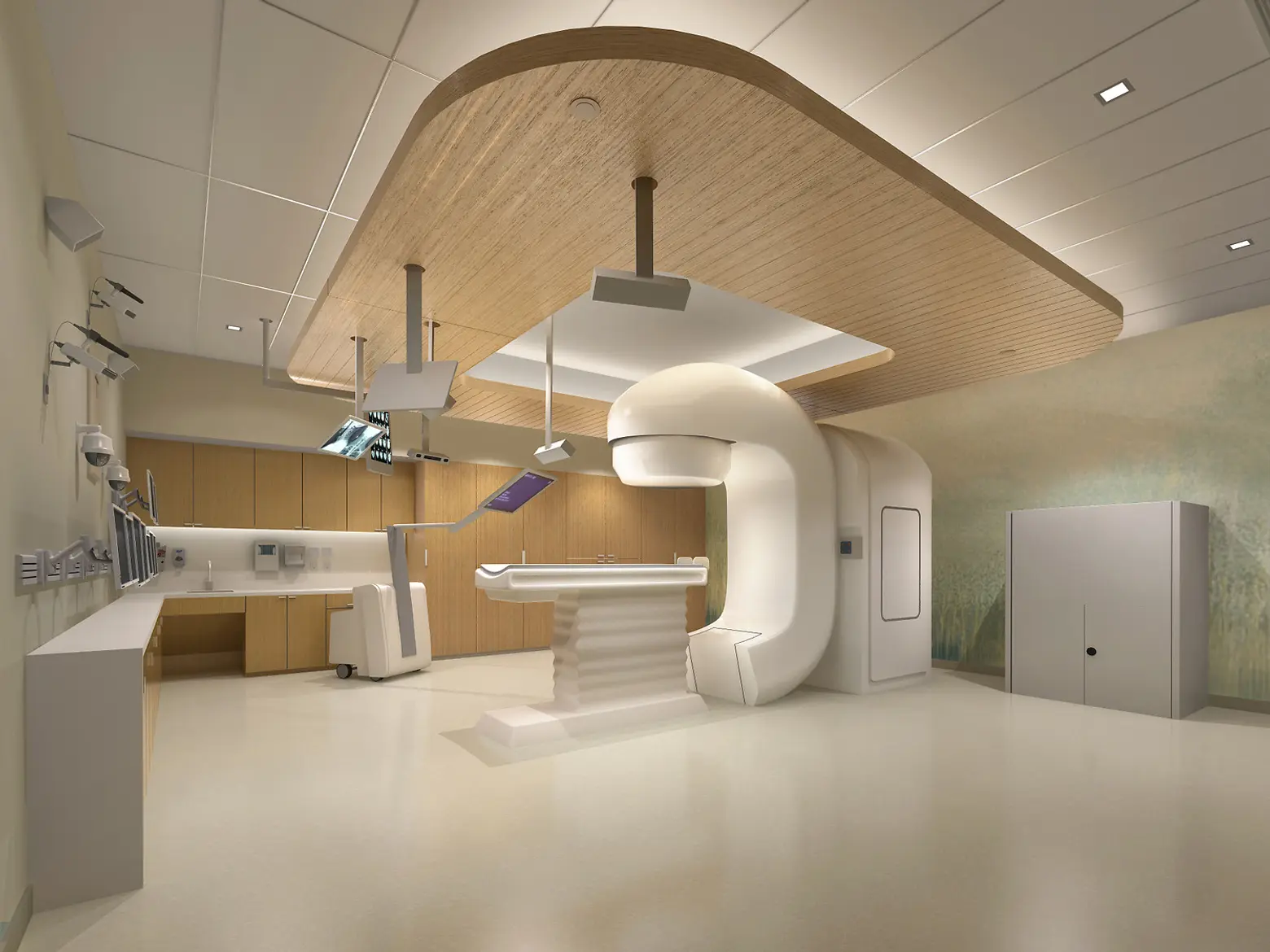 A crane was erected at the site recently and the superstructure should being rising later this season. More recent renderings show that the complex will be articulated by an alternating pattern of window walls and projecting fins. Cantilevering volumes and outdoor terraces lighten the bulky building's mass and provide some visual interest to East River passersby. The tower rises directly north of Solow's sleek rental One East River Place, whose northern views will be greatly minimized by the development. The overall project is being designed to achieve LEED Gold certification and is slated for completion in 2019.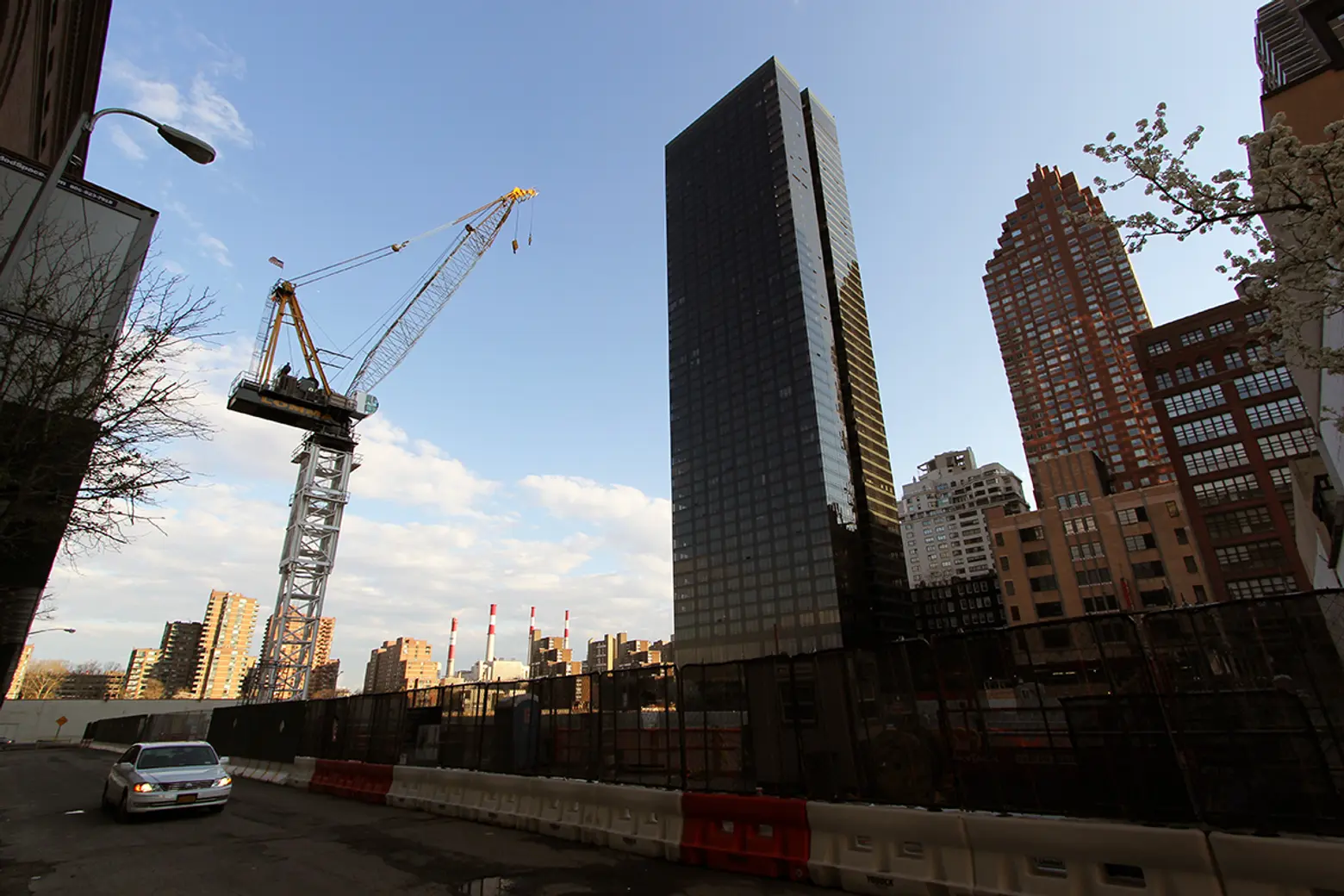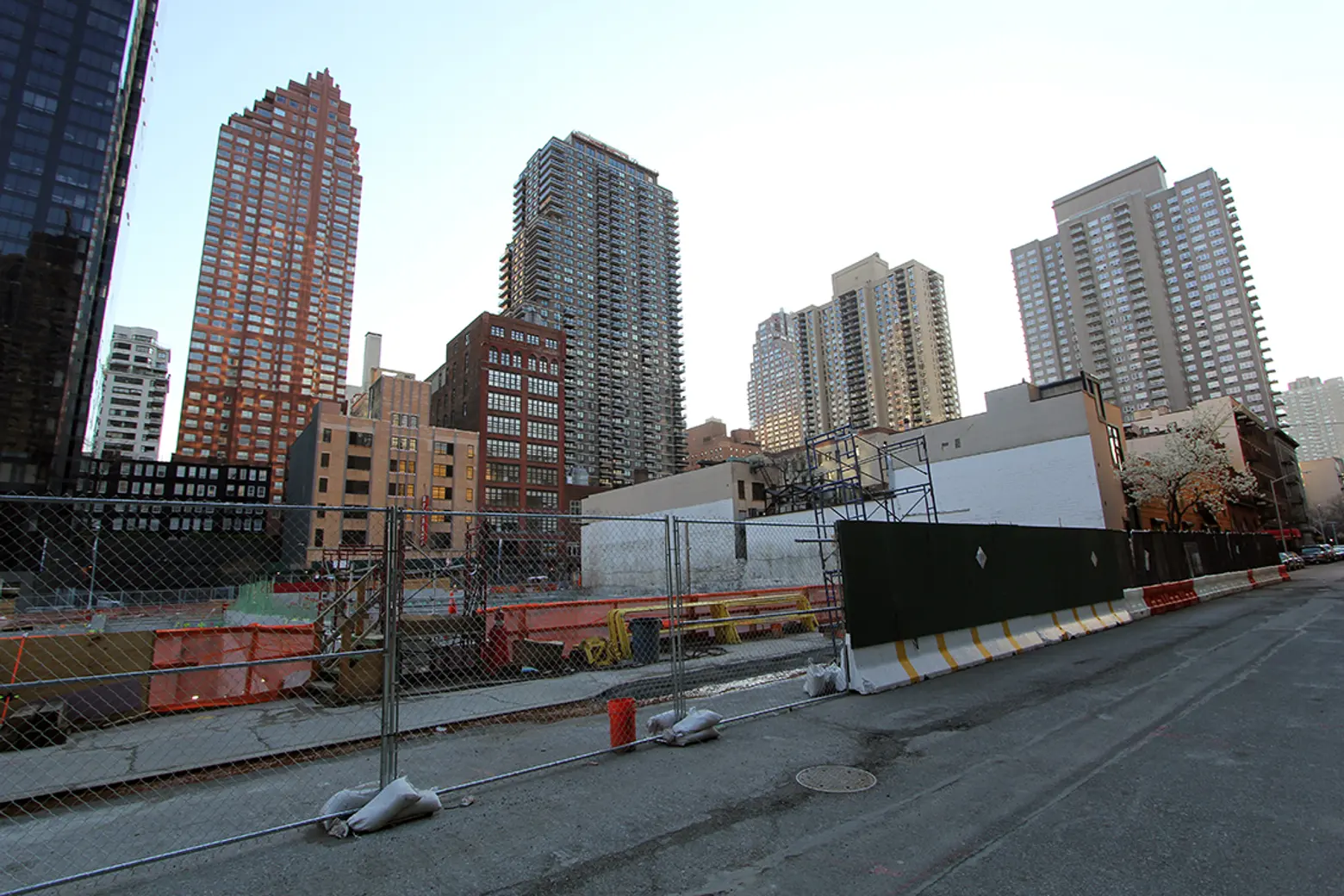 RELATED:
Renderings © Perkins Eastman | Ennead Architects; Construction shots via 6sqft