MTA announces 5 fare-free bus routes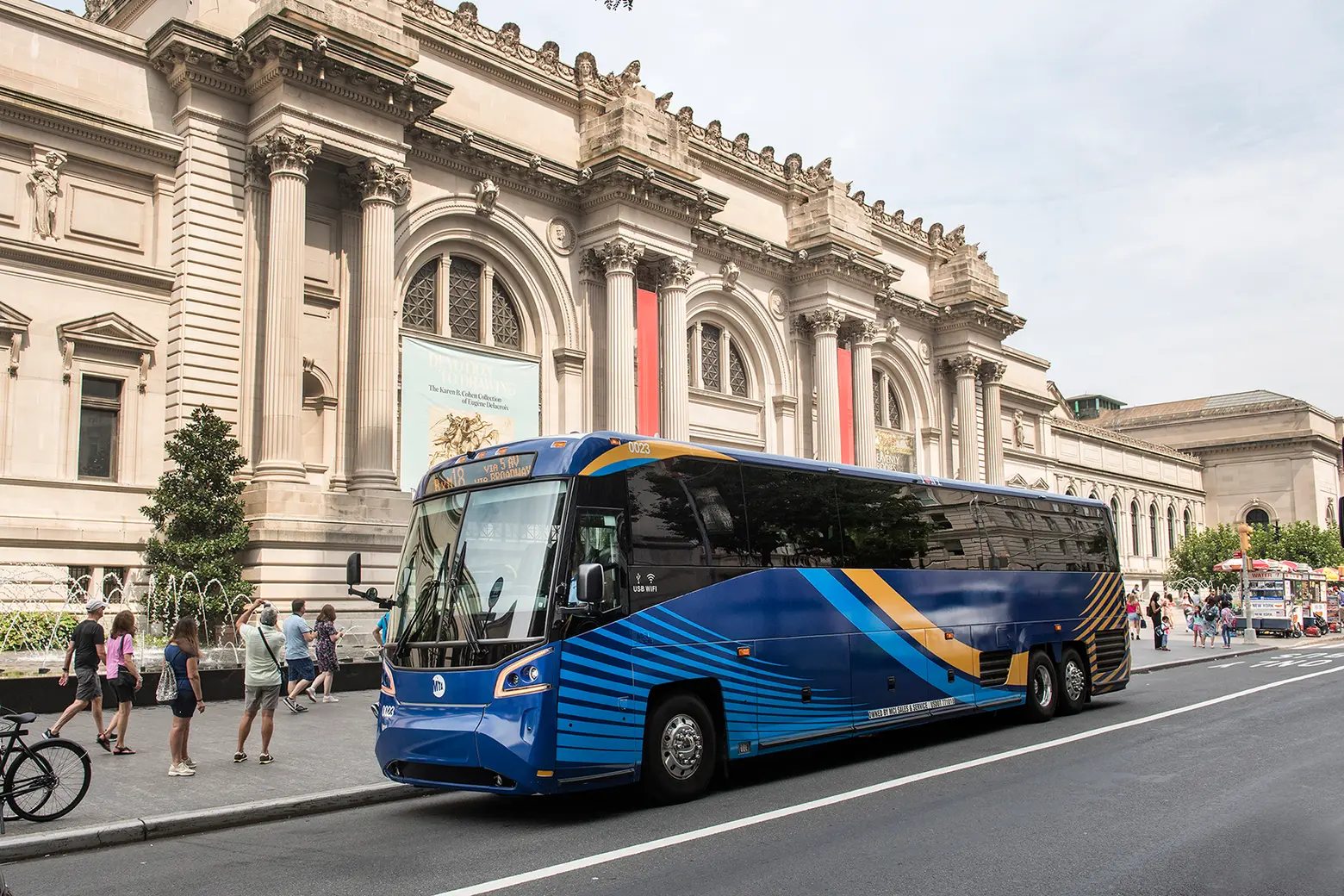 New York City is testing out free fares on bus routes in every borough this fall. As part of a pilot program launching in late September, five bus lines will be free to riders for between six and 12 months, Gov. Kathy Hochul and the MTA announced Monday. The routes, which serve roughly 43,900 daily riders on an average weekday, were selected based on ridership, fare evasion, service quality, equity for low-income communities, and access to employment and commercial areas, according to the MTA.
The free routes include the Bx18 A/B in the Bronx, B60 in Brooklyn, M116 in Manhattan, Q4 LCL/LTD in Queens, and the S46/96 on Staten Island.
The free bus routes will be identifiable by easy-to-see "Fare-Free" decals with green and black destination signage, digital signage onboard the buses, decals on fareboxes, and OMNY readers. The pilot program will not include free transfers to other bus routes or subway lines.
"The MTA is the lifeblood of New York City, and I'm proud of the tremendous progress we've made in returning ridership to pre-pandemic levels," Hochul said. "By establishing these fare free bus pilot routes, we are expanding access to public transportation across the city and improving transit equity to better serve all New Yorkers."
More information about the participating bus routes can be found here:
Bx18 A/B: Operating daily during daytime hours between Undercliff Avenue or Sedgwick Avenue and Grand Concourse/E 170 Street, the Bx18 A/B bus route travels along Macombs Road, Tremont Avenue, Undercliff Avenue/Sedgwick Avenue, 168 Street, and 170 Street. It serves Morris Heights, Highbridge, and Mount Eden neighborhoods and connects to the 4, B, and D trains and several other bus routes.
B60: Operates between Williams Avenue/Flatlands Avenue in Canarsie and Williamsburg Bridge Plaza. The route runs along Rockaway Avenue and Wilson Avenue and serves the Canarsie, Brownsville, Ocean Hill, Bushwick, and Williamsburg neighborhoods. It makes connections to the 3, C, L, G, J, M, and Z trains and several other bus routes.
M116: Operates daily during daytime hours between W 106 Street /Broadway and E 120 Street/Pleasant Avenue. The route runs along 116 Street, Manhattan Avenue, and W 106 Street and serves the Harlem, East Harlem, and Morningside Heights neighborhoods. The route makes connections to the 1, 2, 3, 6, B, and C trains and several bus routes.
Q4 LCL/LTD: Operates between the Jamaica Ctr-Parsons/Archer E, J, and Z subway station and Linden Boulevard/235 Street. Some buses operate as Limited-Stop during morning and afternoon rush hours on weekdays. The route runs on Linden Boulevard, Merrick Boulevard, and Archer Avenue and serves the Jamaica Center, South Jamaica, St. Albans, and Cambria Heights neighborhoods. It makes connections to the E, J, and Z trains, the St. Albans Long Island Rail Road station, and several bus routes.
S46/96: Operates between South Avenue, West Shore Plaza Shopping Center, and the St. George Ferry Terminal, the S46 local route operates at all times and the S96 Limited route operates on weekdays only in the peak period, peak direction. The route runs along Castleton Avenue, Victory Boulevard, Walker Street/Brabant Street, and South Avenue. It serves St. George, Tompkinsville, West New Brighton, Port Richmond, Elm Park, Arlington, Bloomfield, and Chelsea neighborhoods and makes connections to the Staten Island Railway and Staten Island Ferry.
After the pilot program, the MTA will evaluate the program's impact on metrics like ridership, route speeds, costs, security, and service levels, reverting the participating routes back to paid service, according to amNY.
The state budget, which was approved last May, included $50 million for the program.
RELATED: