Flood zone maps & inflatable dams: NYC's plan to prepare New Yorkers for extreme rainfall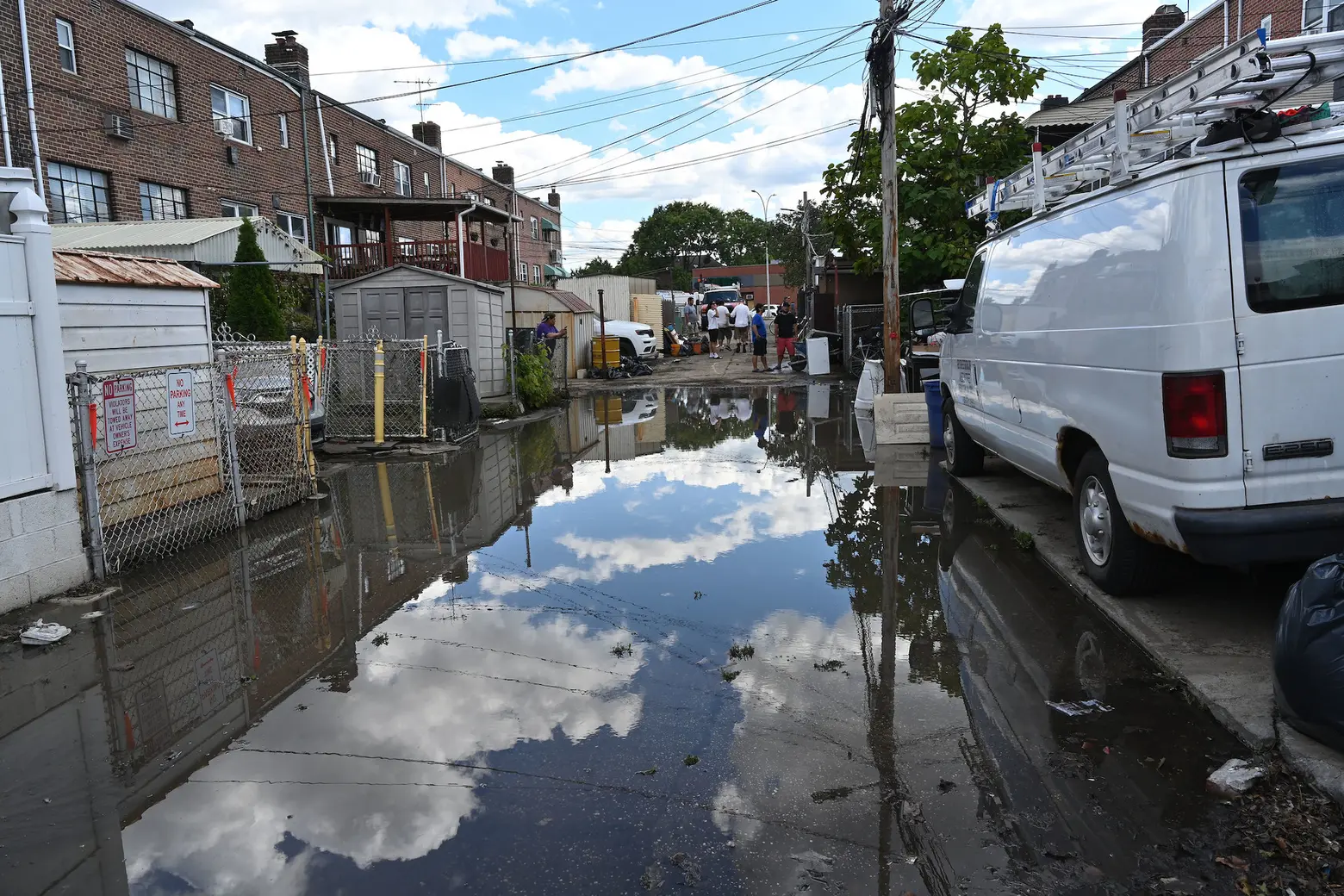 Almost a year after severe flooding caused by Hurricane Ida left more than a dozen New Yorkers dead, the city has released a plan to prepare for extreme rainfall. With hurricane season well underway, Mayor Eric Adams last week unveiled the new action plan "Rainfall Ready NYC," which outlines steps New Yorkers should take during extreme rainfall. The city also updated its flood zone maps that help residents identify if they live in an area at risk of flooding.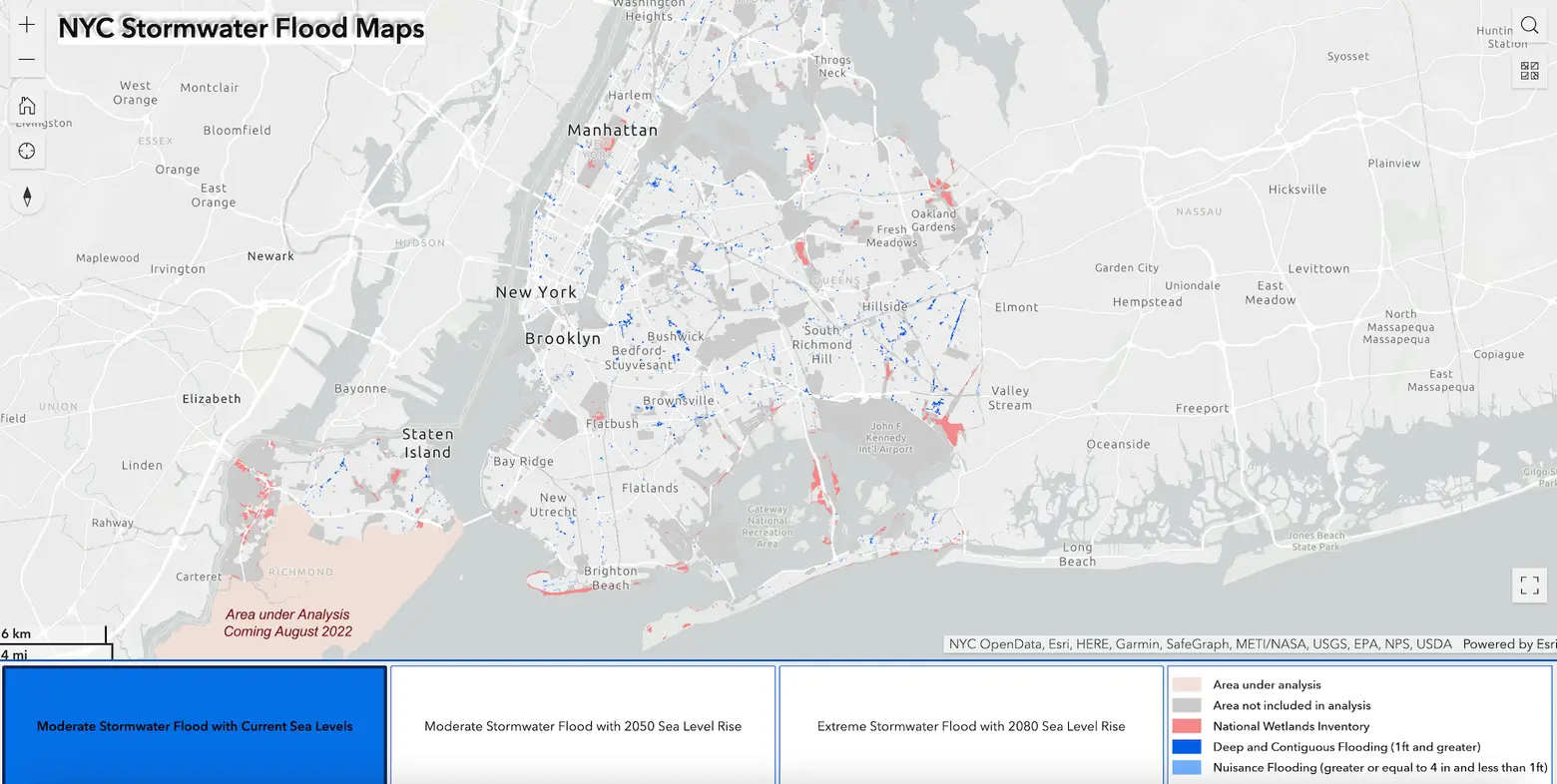 Image courtesy of NYC OpenData
Last summer, the city experienced record-breaking rainfall shattered records twice in a 10-day period. On August 21, 2021, the record for most rainfall in one hour was broken when Central Park documented 1.94 inches of rain. Less than two weeks later, the record was once again broken when Central Park recorded a staggering 3.15 inches of rainfall caused by remnants of Hurricane Ida.
Thirteen New Yorkers lost their lives because of the storm, a majority of whom lived in basement apartments in Queens. Hundreds were evacuated from the subways and trains and many were rescued from their vehicles trapped in floodwaters, as 6sqft reported at the time.
"Climate change is the city's biggest environmental threat, and while we continue to invest in resiliency and infrastructure projects to protect us for generations to come, the 'Rainfall Ready NYC' action plan will help every New Yorker to protect themselves, their families, and their homes," Adams said in a statement.
"The city is acting now to keep New Yorkers safe as we move into hurricane season, and I encourage every New Yorker to make emergency plans for the next extreme weather event."
The city has released a helpful map that can help you find out if your home is at risk of flooding due to rain. The map shows the risk of stormwater flooding during a moderate event or a storm with two inches of rain per hour. The city plans to update the map in August to include extreme events and future sea-level rise, according to The City.
The city's plan outlines a few important steps New Yorkers can take to withstand extreme weather, including:
Encouraging the use of the new interactive storm maps to identify if your home is at immediate risk of flooding and make a plan to get to safe ground.
Clearing debris from catch basins in at-risk locations before storms.
Expanding the FloodNet system, which is a network of flood sensors that are designed to develop a better understanding of flooding's impact on NYC. Sensors will be installed in the most at-risk areas to gather real-time data.
Using the city's new storm maps, the city's Department of Environmental Protection (DEP) will identify homes in at-risk areas and distribute sandbags and other types of flood barriers. DEP is introducing a new type of barrier, inflatable dams filled with water, to combat flooding. The interlocking barriers are to be placed at the entrance of residential driveways where they are meant to repel surging stormwater, according to NY1.
According to Rohit Aggarwala, DEP Commissioner, the agency will send letters to approximately 8,000 homes with between one and four dam units. The city plans to send the dams to distribution points in August, after which residents will have to pick them up and install them. All in all, the distribution effort will cost the city $2.5 million, the DEP's spokesperson told NY1.
New Yorkers who are not eligible to receive the dams for free through the city are encouraged to purchase them online, where they can be found on Amazon for $43.95.
DEP has begun coordinating with the city's delivery services, Los Deliveristas, Uber Eats, GrubHub, and DoorDash, to ensure that extreme weather warnings reach delivery workers. Through collaboration with the delivery services, DEP will ensure the safety of drivers through new protocols like restricting deliveries during extreme weather.
There are other ways you should prepare for a storm as well. In the case of a major storm that poses an immediate risk to your life, you may be forced to evacuate your home and get to safe ground. The city's Office of Emergency Management's "Know Your Zone" tool can help you find out if you currently live in an evacuation zone.
RELATED: