Drivers Wanted (Again) for This $4.5M Soho 'Ferrari' Bachelor Pad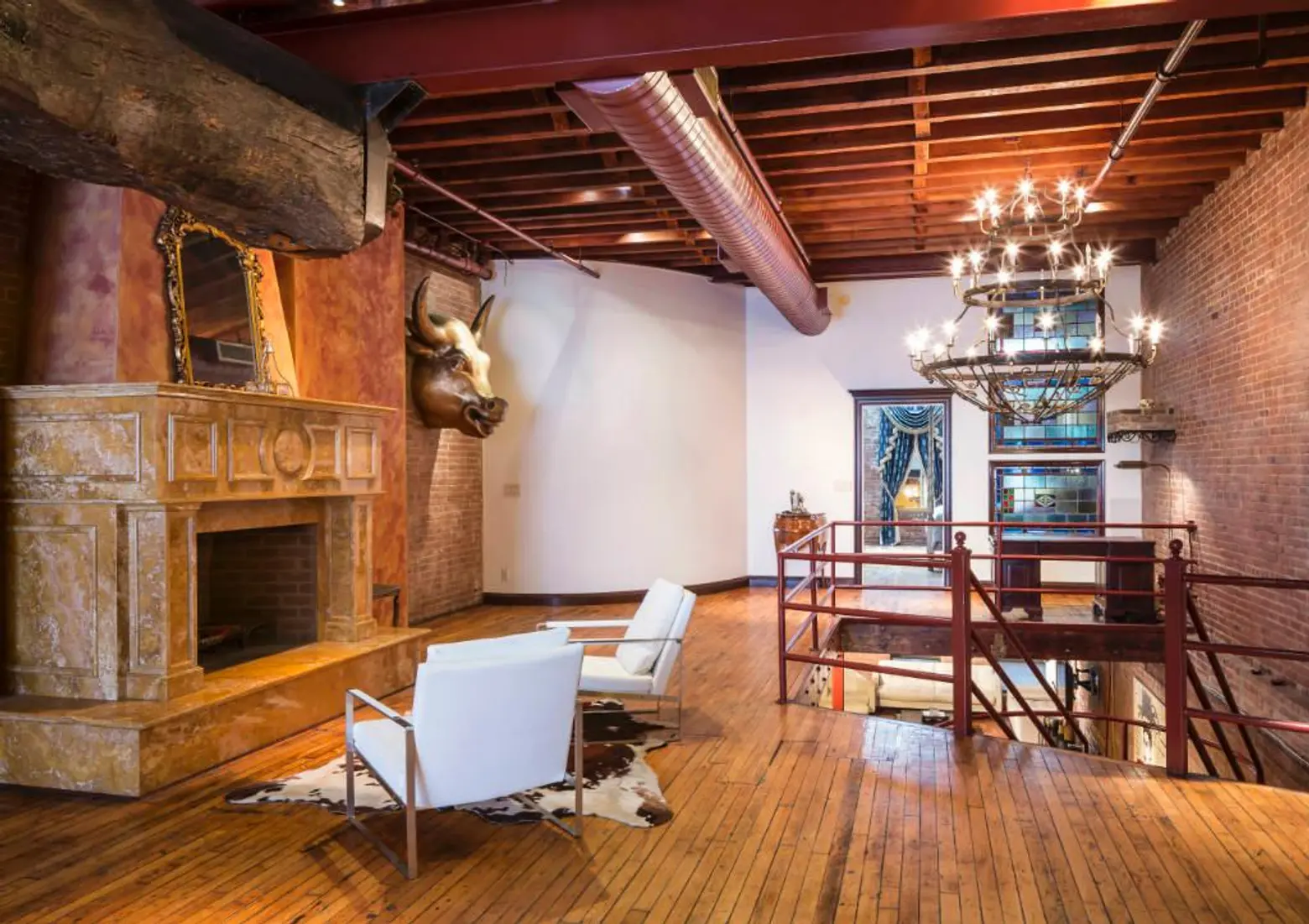 Anchoring a Soho building that began life as a horse stable for the fire department, this two-story live/work space at 554 Broome Street, just listed for $4.5 million, has quite a few stories to tell–though by now they may be familiar ones, as this instantly-recognizable property is no stranger to the market. First, there's the story of the late Italian count, prince and duke who was also the relative of two popes, a Ferrari dealer, avid car collector, and playboy.
Roffredo Gaetani (full name: Roffredo Gaetani di Laurenzana dell'Aquila d'Aragona Lovatelli) was also frequent gossip column fodder in the 1990s because he and Ivana Trump (Donald's first wife) were a high-profile item for a time. Gaetani died in a car crash in 2005, and his estate sold the racy pad to then-bachelor brothers Arash and Daniel Gohari, who are known for the far less gossip-worthy founding of the Xerxes Group real estate investment company.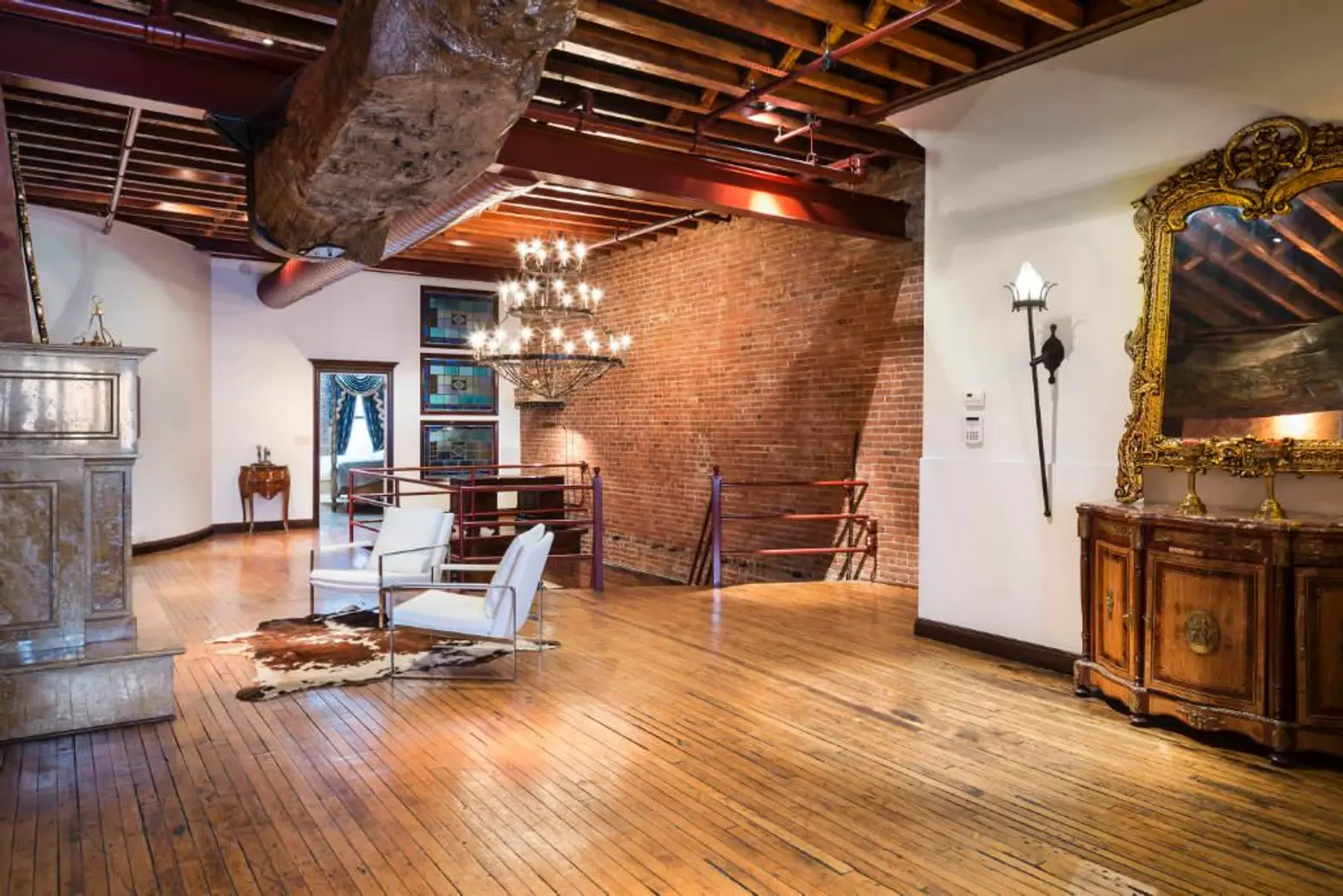 Another story that remains intact: The brass bull's head on the living room wall was created by artist Arturo Di Modica, who–that's right–also created the infamous Wall Street "charging bull" statue.
The finance-industry pair still own the 3,200-square-foot condo as far as we know, though it has been offered as a pricey rental–first for $20,000 a month, then $13,500, and most recently in 2014 for $1,700–on several occasions. They've also attempted to sell the unit several times, apparently without success–or perhaps without much resolve, as that "Seinfeld"/"Mad About You" episode about giving up your bachelor pad reminds us.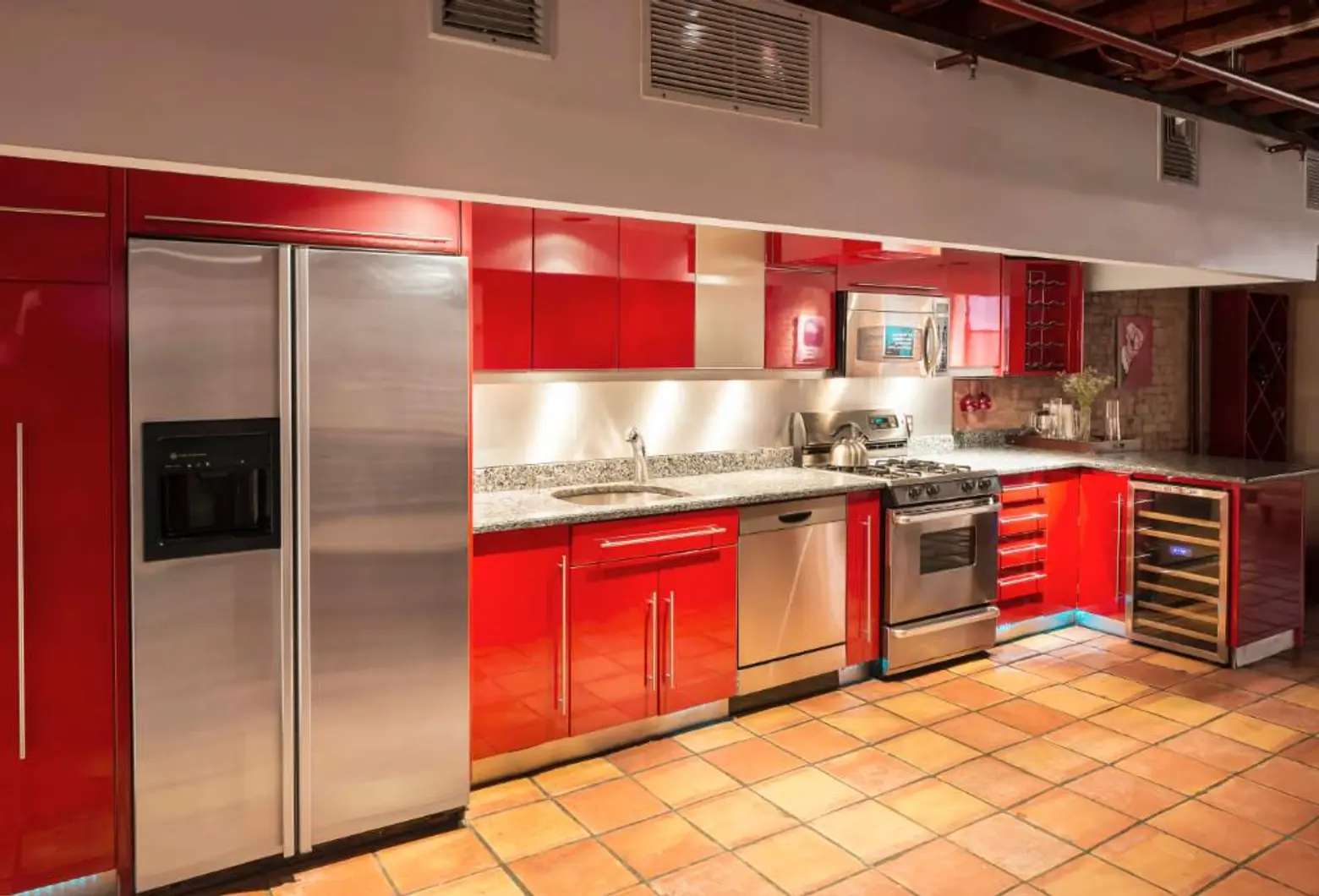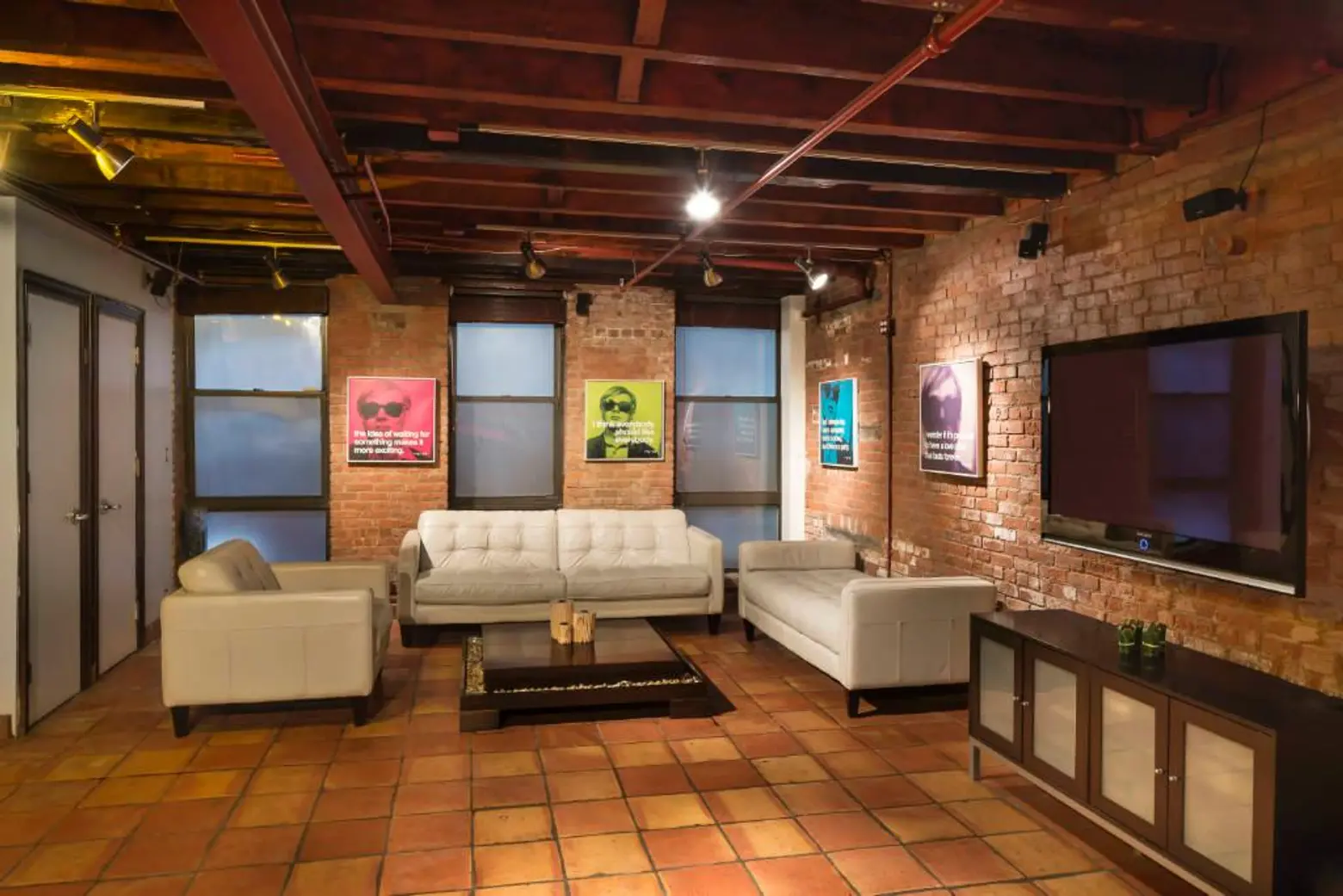 Little appears to have changed since the Italian playboy held the deed, and how you feel about that depends on how you look at the deeply opulent interiors in this bi-level space with few windows and many layers.
Classic beamed ceilings, exposed brick, multiple skylights, hardwood floors, and an ornate Italian marble wood-burning fire-place offer Soho loft ambiance that will endure even though the decor could easily be changed to suit a buyer's taste. On the lower floor, a "Ferrari red" (per the listing) lacquer-fronted kitchen brightens the space. On this level also are a bedroom that's sizable but lacks windows, a laundry room and a gym/screening room.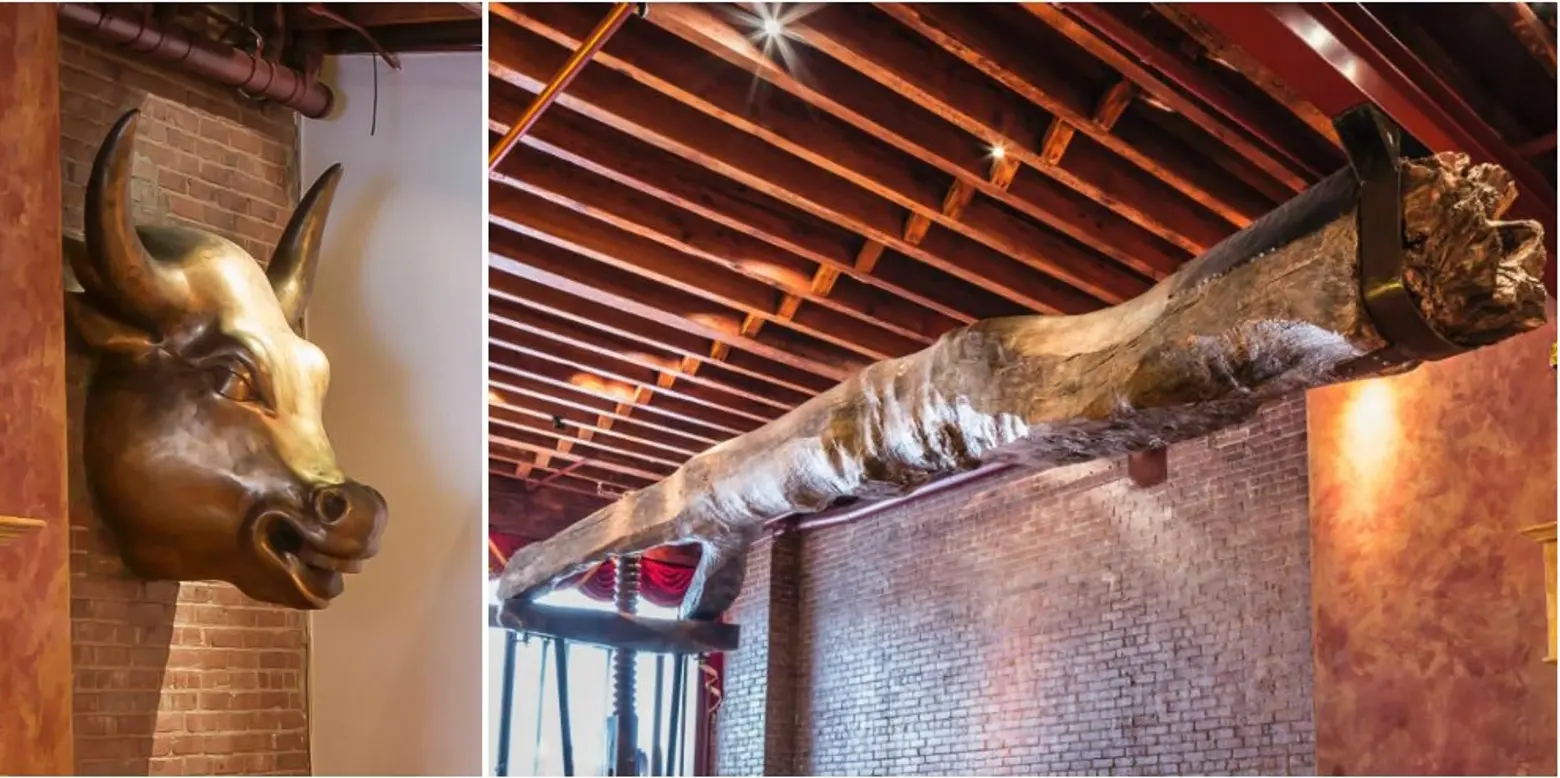 An enormous olive press suspended from the home's 16-foot ceilings was also created by Di Modica. The space would definitely, as the listing vows, provide a unique living experience and be "perfect for those looking to entertain."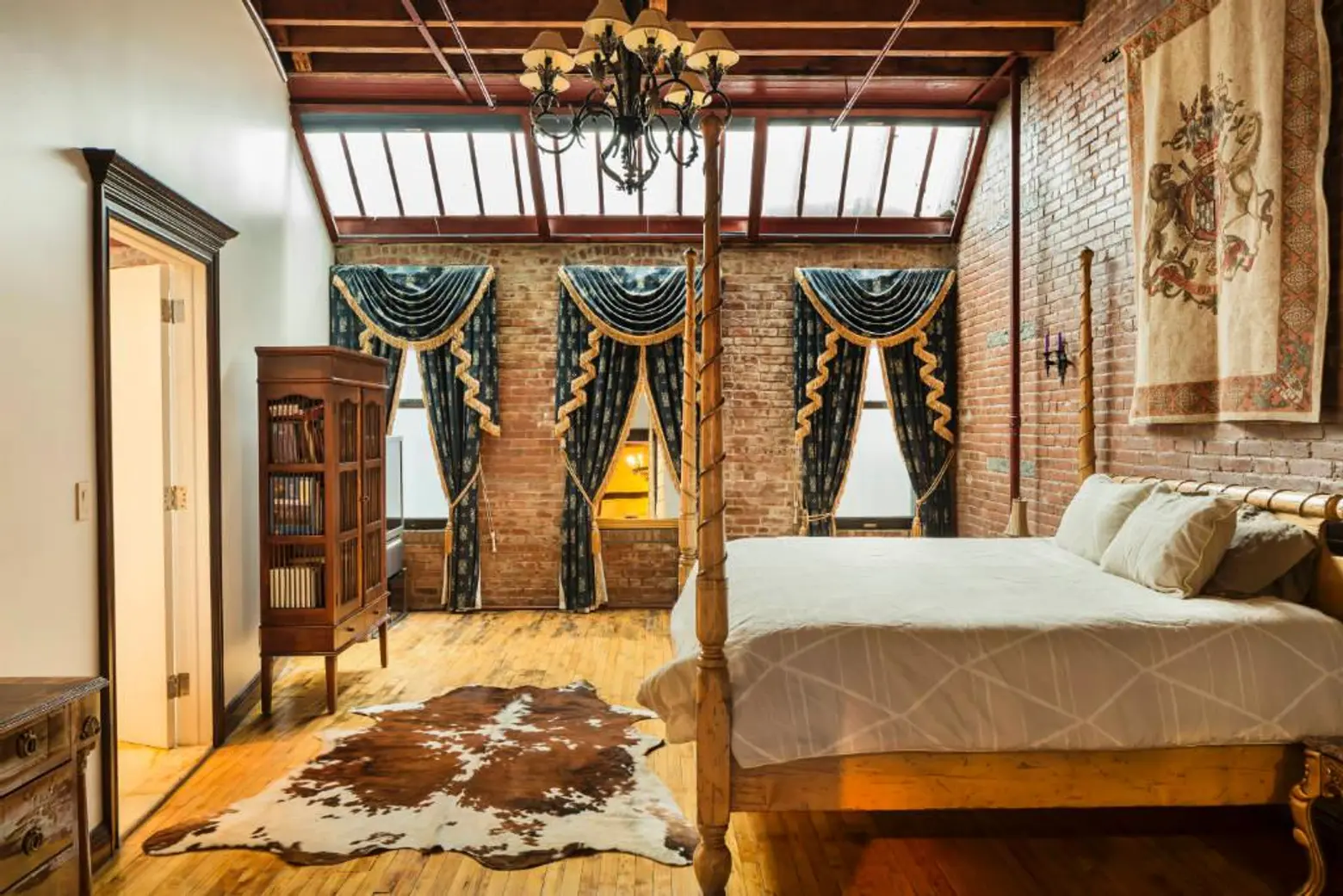 The duplex is currently configured as a two-bedroom, but there's room to carve out a few more. On the upper floor you'll find that open living and dining area complete with fireplace and brass sculpture; the master bedroom boasts an enormous walk-in closet and a suitably opulent marble bath.
The unit has low carrying costs and is live/work friendly, so it could fly as a gallery space should you want to expand on the current collection, which may or may not be part of the sale. The six-unit building allows rentals, which makes it a great investment given the location; though it's near a busy traffic confluence (steps from the Holland Tunnel entrance) some of the city's priciest properties are here, too; residents don't seem to mind, it's just not especially bucolic.
[Listing: 554 Broome Street #1R by David Benmen for RLTYNYC]
[At Cityrealty.com]
RELATED:
Images courtesy of RLTNYC