Design unveiled for New York Philharmonic's $550M revamped concert hall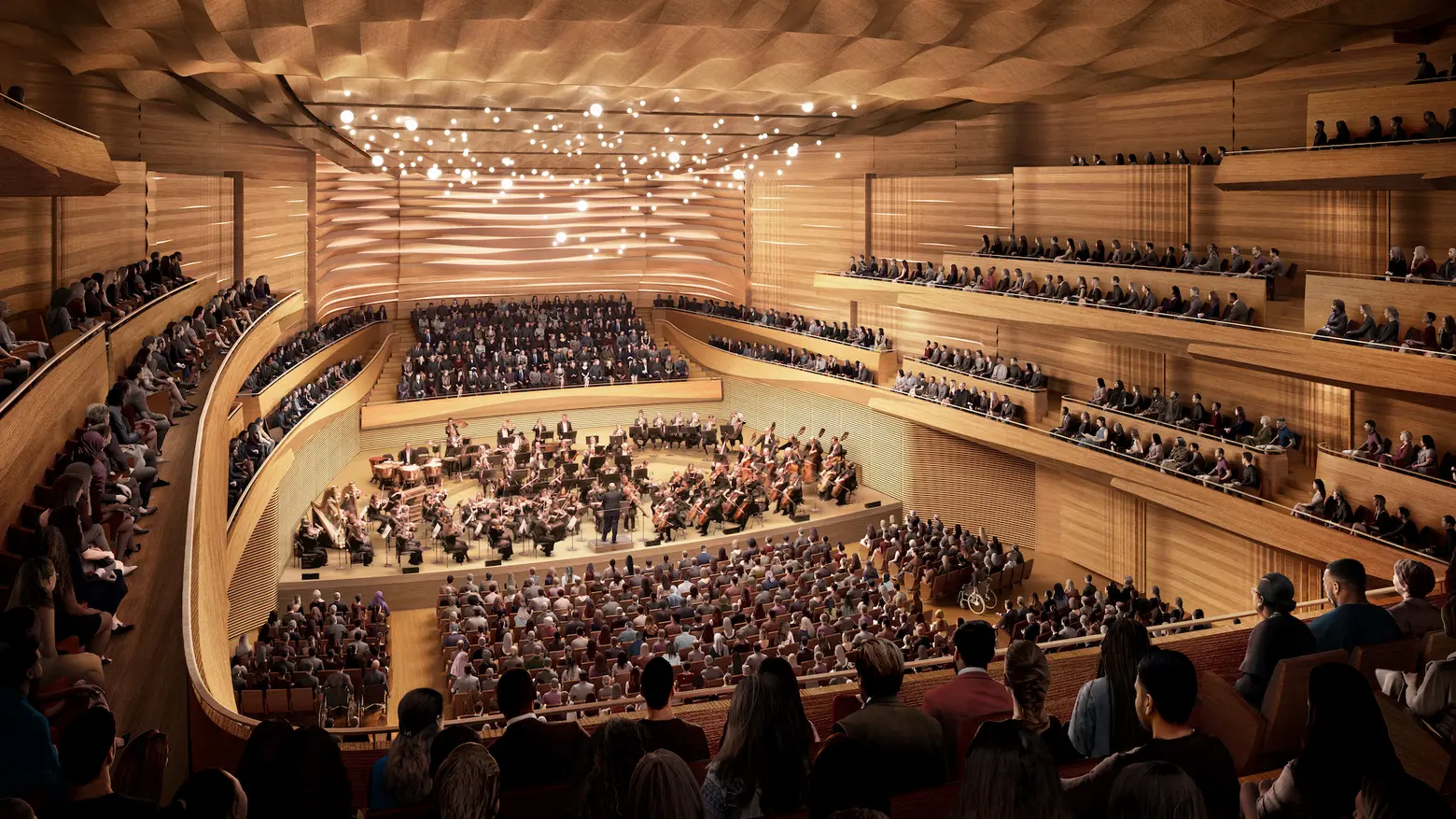 Renderings courtesy of the New York Philharmonic and Lincoln Center
A plan to redesign the New York Philharmonic's concert hall was unveiled on Monday, nearly two decades after the project was first proposed. The $550 million plan aims to create a more intimate experience, acoustically and visually, at David Geffen Hall by moving the stage closer to the audience, improving sightlines, and reducing the seating capacity. Officials estimate the new hall will open in March of 2024.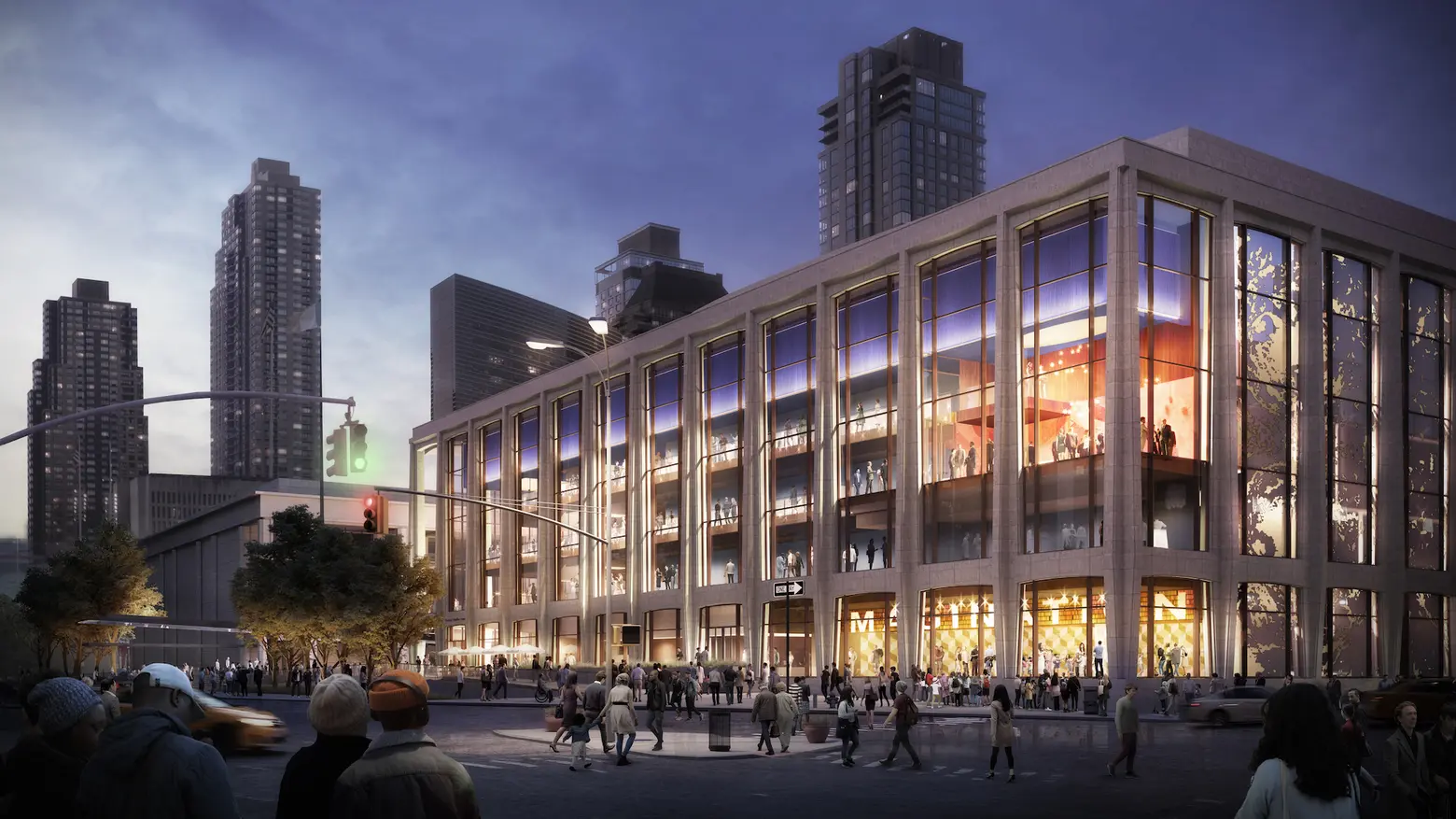 Diamond Schmitt Architects will lead the project's design, which involves moving the stage by 25 feet with seating surrounding it. About 500 seats will be removed and a greater incline will be added to the orchestra to improve sightlines. The room will boast "natural wood and curvilinear forms" as well as the opportunity for multiple configurations.
The project also involves an upgrade of public spaces designed by Tod Williams Billie Tsien Architects. The hall's main lobby will double in size, open on three sides, and include a live-streaming system featuring performances in real-time.
A new welcome center will be built on Broadway for ticket help, the "Sidewalk Studio" will transform office space into a spot for classes and art installations, and the north side of the building will feature work from established and emerging artists. Plus, a new eatery curated by Danny Meyer's Union Square Hospitality Group will open in the southwest corner of the lobby.
Katherine Farley, the chair of Lincoln Center, described the new hall as a "dynamic 'go-to' destination" in New York City. "Beyond the superb concert hall, the new David Geffen Hall's public spaces will open up to the neighborhood and welcome everyone, offering artistic and cultural experience of all kinds, throughout the day and into the evening," Farley said in a press release.
The concert hall's poor acoustics have been a problem for the orchestra since the 1970s. In 2004, the Philharmonic announced plans to rebuild the hall starting in 2009. But construction delays and a swap of architects halted the project until 2015. That year, billionaire entertainment mogul David Geffen donated $100 million to the project, which was projected to start in 2019.
On Monday, Henry Timms of Lincoln Center and Deborah Borda of the New York Philharmonic revealed the latest iteration of the project, calling it "Working in Concert." Construction is planned to begin on David Geffen Hall in May 2022, with two separate closures of the space during the work: between May 2022 and October 2022 and between May 2023 and February 2024.
The orchestra will perform at other venues in the city during this time, including Carnegie Hall and the New York City Center.
"The project is all about greater connections," Timms said in a press release. "The new concert hall will unite performers and audiences; the dynamic public spaces will allow for our communities–from visiting schools to concertgoers wanting to stay for a drink–to connect with each other. And the whole project re-sets how we engage with the outside world."
RELATED: 
Renderings courtesy of the New York Philharmonic and Lincoln Center