Cuomo to meet with Trump over funding for Gateway Tunnel project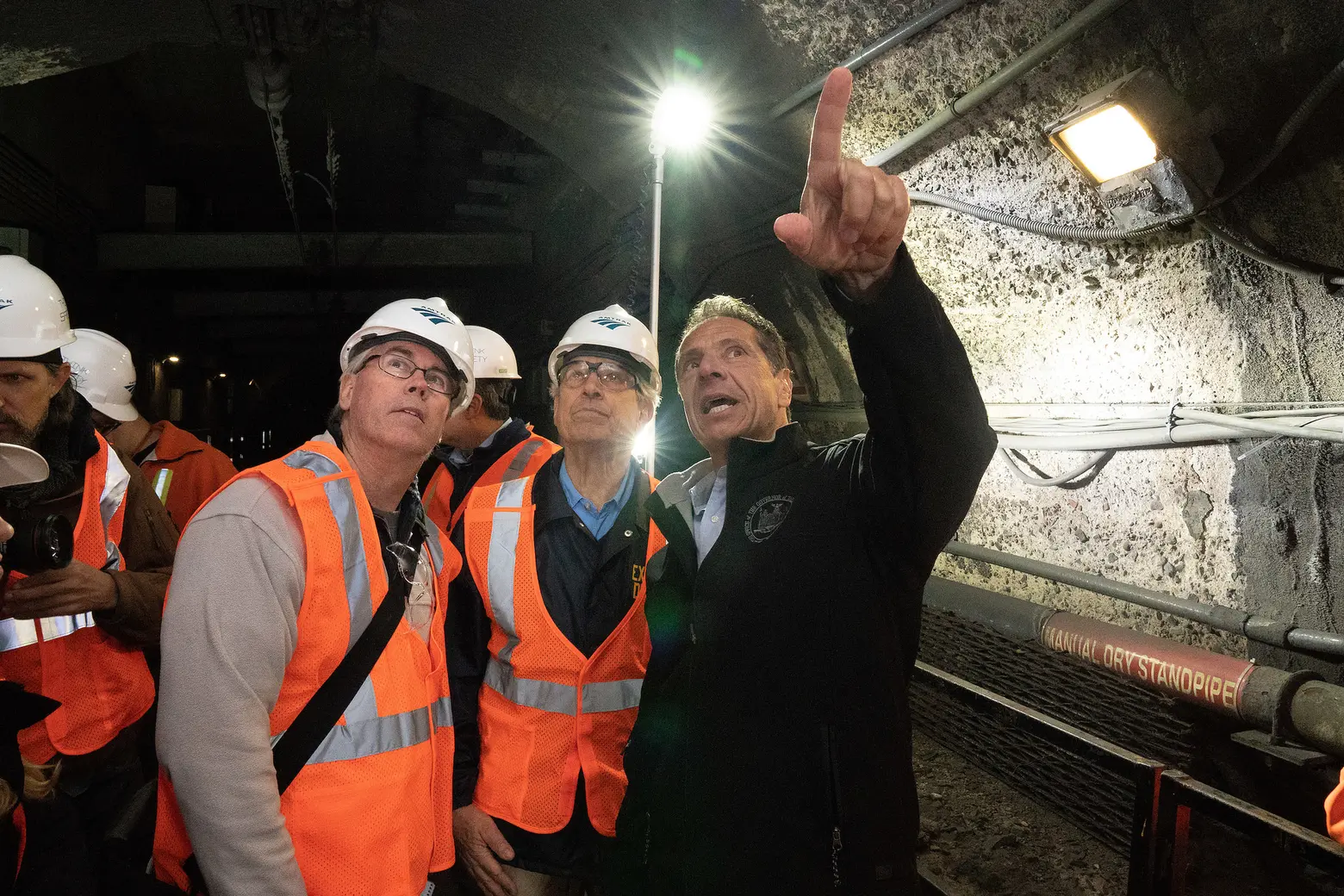 Cuomo touring the tunnel in October; photo via governor's office on Flickr
Gov. Andrew Cuomo will meet with President Donald Trump at the White House on Wednesday to discuss funding for the Gateway Tunnel Project, a plan which would fix an existing rail tunnel and build a new one under the Hudson River between New Jersey and New York City. In October, Cuomo sent the president a video of the severely damaged, century-old tunnel and called on the Trump administration to fund their share of the project, which is estimated to cost $30 billion. "The Federal Government poses many challenges for the State of New York but one of the top priorities is to replace the Gateway tunnels," Cuomo said in a statement. "These tunnels are Federally owned by the Amtrak Corporation and must be replaced."
Via Gov. Cuomo's office
President Barack Obama in 2015 had agreed to split the cost of the project with the states of NJ and NY and the Port Authority. But the Trump administration has so far refused to contribute federal funds to the project citing the need to remove "preferential treatment" for the two states.
Former Gov. Chris Christie had reached a deal with Cuomo last year to fund the two states' share of repairing the tunnels, or $5.5 billion of the $12.7 billion needed for the tunnel project alone. The full scale of the Gateway project includes building two new bridges and an expansion of Penn Station.
But many call this project one of the most important infrastructure projects in the country. The tunnel is the only intercity passenger rail that links New York and New Jersey, serving more than 200,000 daily commuters. And all Amtrak trains that operate between Washington and Boston pass through the area through the single-track tunnels.
Overall, the Northeast Corridor is said to create more than $50 billion in economic activity each year. If the damaged tunnel goes unfixed and becomes unusable, 20 percent of the nation's GDP could be at risk.
"This is not a partisan issue but a practical government necessity," Cuomo said, referring to his Wednesday meeting with the president. U.S. Transportation Secretary Elaine Chao will also attend the meeting.
RELATED: