12 best spots for beers and brats in NYC this Oktoberfest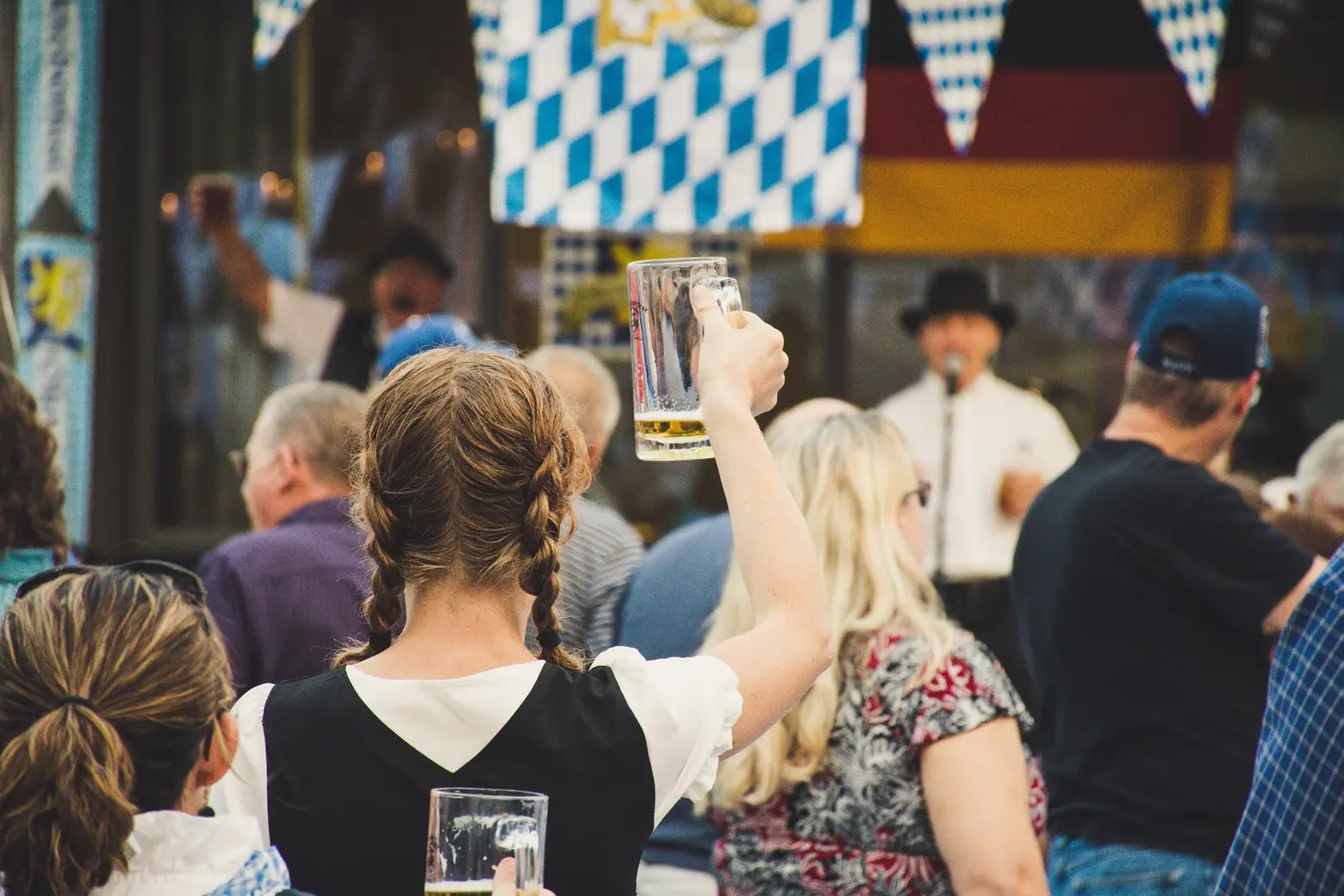 While the world's largest folk festival in Germany has been canceled for the second year in a row because of the coronavirus, New Yorkers can still commemorate Oktoberfest. Starting this weekend, breweries, beer gardens, and bars across New York City are celebrating Bavarian culture with big brews, German-inspired grub, live music, and fun contests. Ahead, find 11 spots that recreate the magic of Munich during Oktoberfest. And remember, if you're dining and drinking inside, you'll have to show proof of vaccination.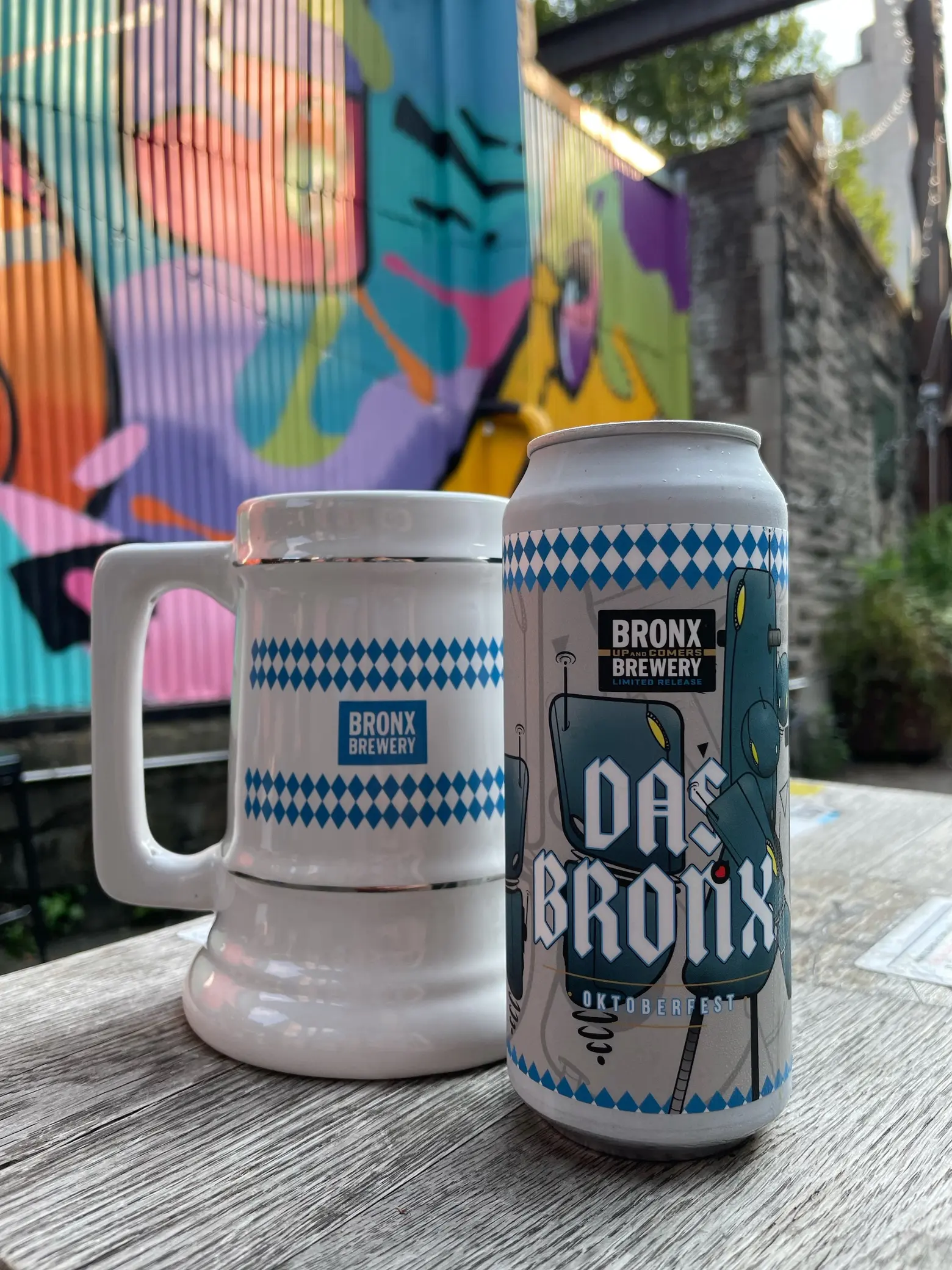 Photo courtesy of the Bronx Brewery
Oktoberfest at the Bronx Brewery
September 18
Oktoberfest returns to the South Bronx with a full day of beer, German-inspired bites, and DJ performances at the Bronx Brewery. Serving up their Oktoberfest-style lager Das Bronx, the brewery is offering two ticketed sessions on September 18. Tickets cost $15 for general entry and $30 for entry plus a custom Bronx Brewery Oktoberfest stein. Every ticket comes with one draft pour of Das Bronx, with session one (12 p.m.-5 p.m.) enjoying DJ performances from DJ Nique and DJ Jayboogie and the second session (5:30 p.m.-11:30 p.m.) hearing from DJ Jayboogie and DJ Loko.
BronXtoberfest at the Bronx Night Market
Saturdays, September 18-October 8
In partnership with Sam Adams, the Bronx Night Market is hosting BronXtoberFest at Fordham Plaza. In addition to a tasting of Sam Adams' limited-edition Oktoberfest beer, the event includes a stein-hoisting contest, live performances, and vendors serving an array of cuisines. An art installation dedicated to Hispanic Heritage Month and featuring Latino creators will also be on view.
Brooklyn Oktoberfest: Beer, Brats & Brass
October 5
For one-night-only, Munich comes to the Brooklyn Brewery in Williamsburg. The event, which runs from 5 p.m. to 9 p.m., includes a festive spread from Seemore Meats & Veggies, pretzels from Martin's Pretzels, $5 Brooklyn Oktoberfest beers, and live polka music from The Polka Brothers from 5 p.m. to 9 p.m. While entry is free, a $5 ticket gets you those $5 beers all night.
Blocktoberfest 2021 at the Brooklyn Navy Yard
October 2
For those who really love beer, head to the Brooklyn Navy Yard on October 2 for Blocktoberfest, a block party dedicated to brews. After a virtual-only event last year, the beer bash is back in person behind the Navy Yard's Building 77, with 60 different locally brewed beers and hard seltzers available to taste from over 35 breweries. Tickets start at $50 and include entry and beer sampling.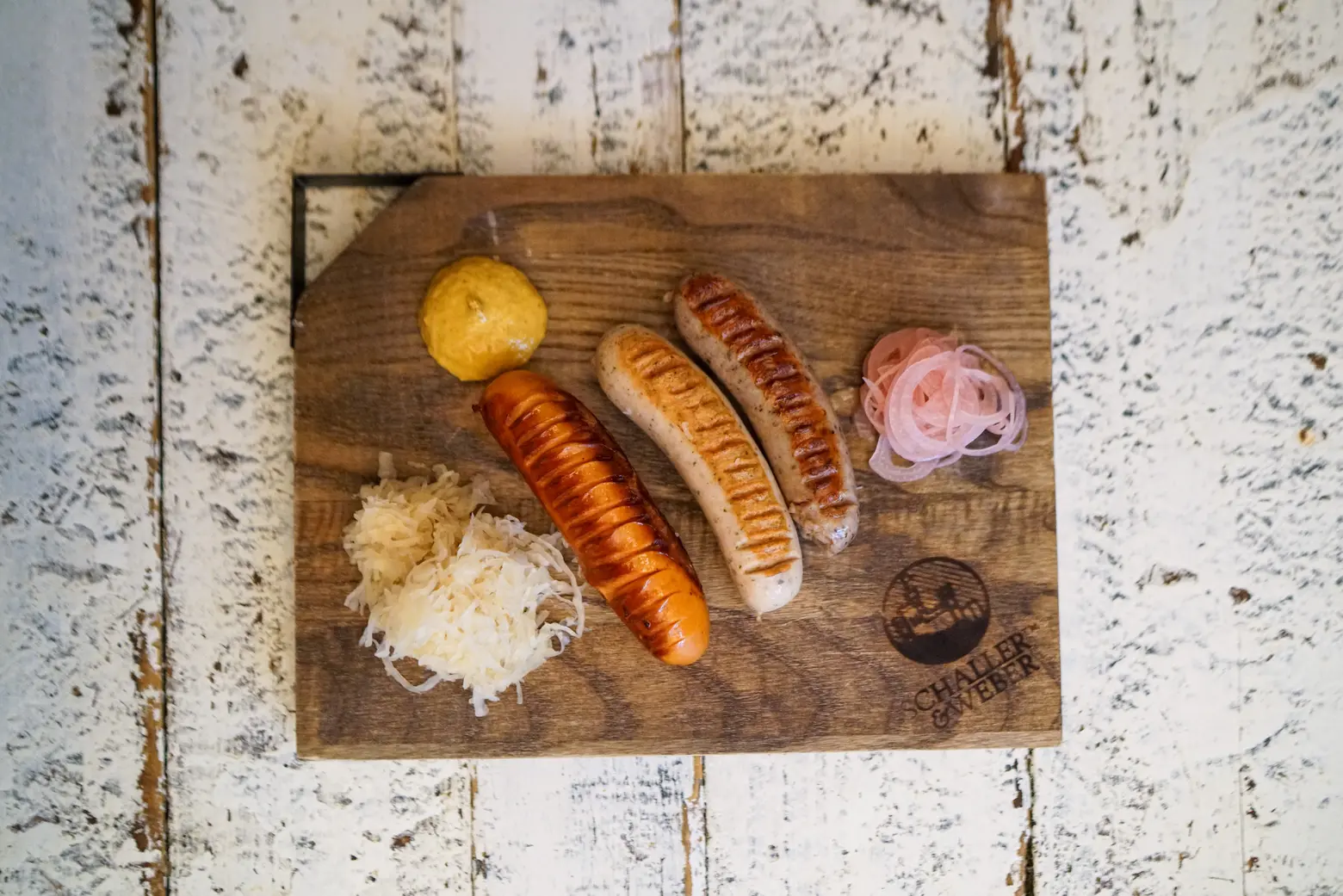 Photo by Steven Rojas
Schaller & Weber's Oktoberfest pop-up
September 17- October 31
What better New York City neighborhood to celebrate German culture than Yorkville, an Upper East Side enclave once home to German and German-speaking immigrants. Since opening in 1937, Schaller & Weber's has served authentic German-style sausages and charcuterie. This year, Schaller & Weber's is hosting an Oktoberfest celebration in their open-air backyard that will transform into an authentic beer garden, with Bavarian flags and big beer benches. The pop-up event offers guests an Austrian and German-inspired food menu, including jumbo pretzels with a spicy cheese spread, goulash, pumpkin soup, and more, as well as beer from the world's oldest brewery, Weinhenstephan. Walk-ins are welcome and reservations can be made on OpenTable or by calling 646-981-0764.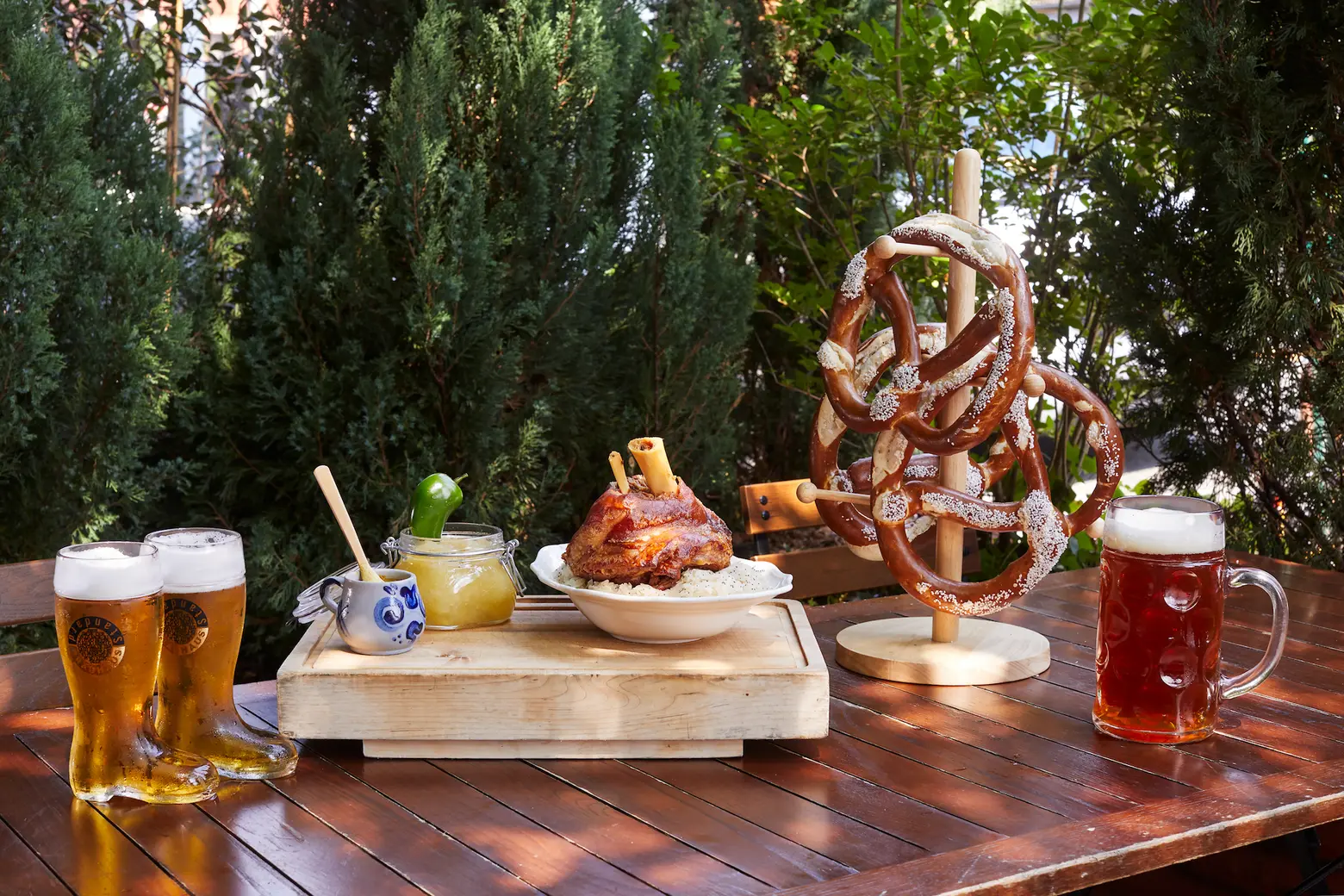 Courtesy of The Standard, High Line
The Standard Biergarten
September 18- October 31
The Standard is transforming its open-air spot into a Munich-inspired beer garden. Decked out in Oktoberfest decor with serves outfitted in traditional lederhosen, the Standard Biergarten is offering an exciting new menu item, perfect for a group. Launching September 29, the $250 "Oktoberfeist" is a pork shank platter and all of the fixings (think sauerkraut, pretzels, bier cheese), with enough food for six people. There are also plenty of a la carte items, like bratwurst and giant pretzels, which pair perfectly with bier or wein. For an extra $100, add a 5-liter mini-keg for the table.
Oktoberfest Fridays at Hofbräu Bierhaus NYC
September 17- October 22
Just about a block from Grand Central Terminal is Hofbräu Bierhaus NYC, the self-described "official headquarters" of Oktoberfest. The Bavarian-style restaurant has served authentic cuisine and brews to New Yorkers since 2011, so it knows a thing or two about German cuisine and beer. This year, the bar is hosting "Oktoberfest Fridays," which includes a keg tapping, pig roast, and a round of Hofbräu beer on the house every Friday from 7 p.m. to 8 p.m. Make a reservation here. And every Sunday through October 17, kids can partake in "Kidtoberfest," which offers coloring, temporary tattoos, and live accordion music. Kids under 10 eat free and there are brunch specials for adults.
Black Forest Brooklyn
September 18-October 10
Black Forest Brooklyn is bringing back their huge Oktoberfest parties to both their Fort Greene and Boerum Hill locations this year. For four weekends starting September 18, take in all things Bavarian including a live German oompah band, drink and food specials, mug holding competitions, and a costume contest. Tickets start at $15 to reserve a spot, with the option to add a three-hour unlimited beer package for $45 or a family-style Oktober-feast for $35 per person. Indoor seating and covered outdoor seating are available at both locations. Get more details and purchase your tickets here.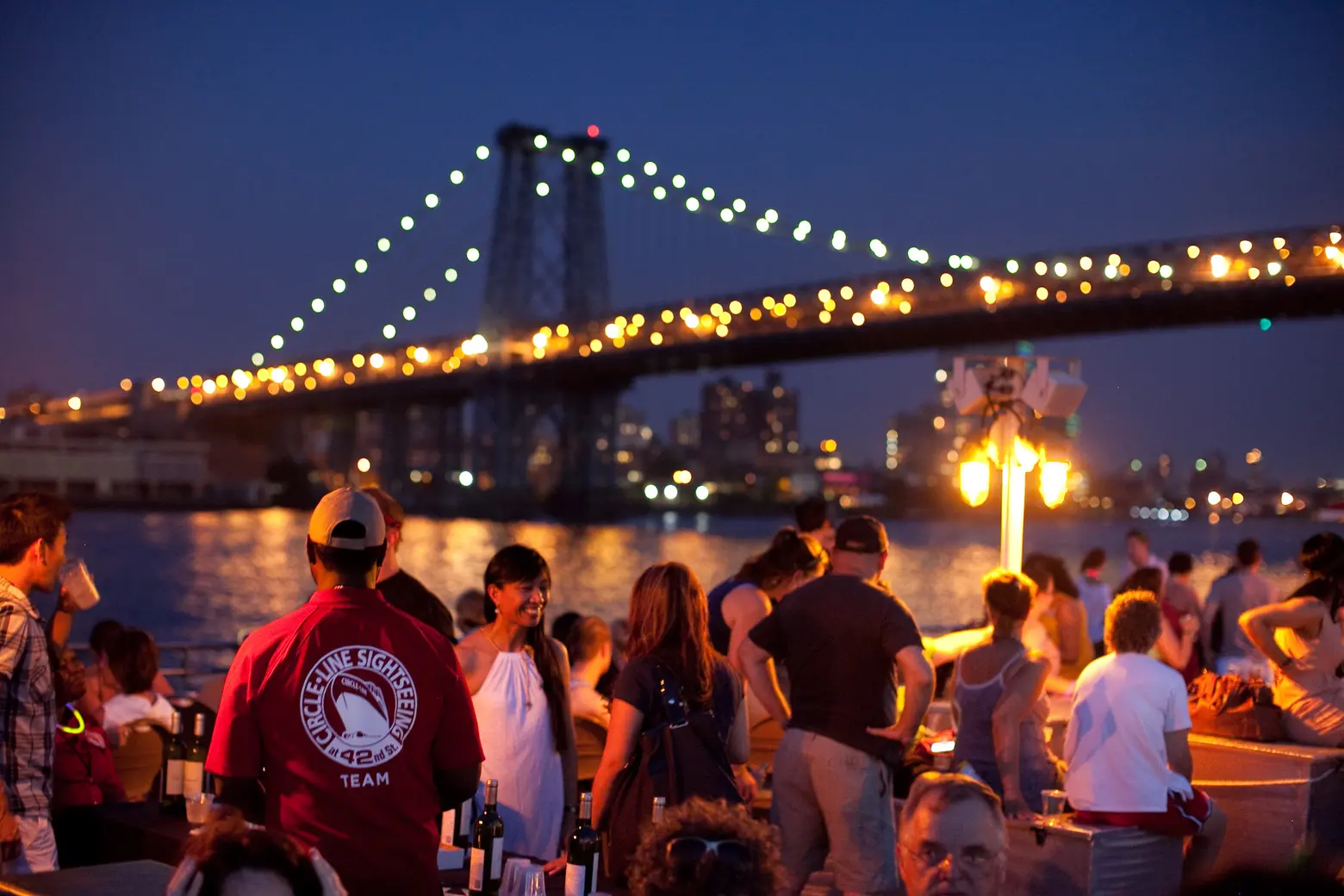 Photo courtesy of Circle Line
Circle Line's Oktoberfest Cruises
September 18 to October 31
New York City sightseeing cruise line Circle Line is bringing back its trip to Bear Mountain. The annual 50-mile cruise travels up the Hudson River to Bear Mountain State Park and offers passengers Oktoberfest celebrations while onboard and leaf-peeping opportunities. Take in the colorful sights of autumn while enjoying German food, beer, and live music from a Polka band. Tickets cost $69 for adults. All passengers must be vaccinated to board.
The Watermark at Pier 15
September 10- October 24
Few places do Oktoberfest in NYC better than the Watermark Bar at Pier 15. Every day for six weeks, you can experience all the things that make Oktoberfest special, including the authentic beer and brats, all while taking in the lovely water and Brooklyn views from the 3,500-square-foot outdoor bar. Menu highlights include Gaffel's beer mac and cheese, a roasted turkey leg, a wurst sampler platter, and lots of German beer. The event is free to enter and seating is first-come, first-serve for walk-ins and general admission guests. Ticketed packages, ranging in price from $35 to $500, come with souvenir stein and credit for food and drinks.
Radegast Hall & Biergarten
Starting September 18
Always a great spot for big groups of friends to drink big glasses of beer, Radegast Hall and Biergarten is also a wonderful place to celebrate Oktoberfest. Past parties have included mug holding contests, ceremonial keg tapping, live music, and more. Don't miss out on their Munich-inspired menu items, like giant pretzels with mustard, veal schnitzel, and sausages.
Chelsea Market
September 30-October 3
This Oktoberfest, Chelsea Market is offering festive food and beverage options from several of its vendors, along with live music from The Swedish Meatballs. Kicking off September 30, enjoy German street food and beer from Berlin Currywurst, a Jagerwurst Ruben sandwich from Dickson's Farmstand Meats, a beer caramel doughnut sauce from Doughnuttery, and Oktoberfest pretzel brownies from Fat Witch Bakery. At Creamline, a fast-casual restaurant found inside the iconic market, you'll be able to enjoy a limited-edition Oktoberfest beer from Catskill Brewery and cheddar bratwurst bites. With the purchase of a Barkaboom beer, guests will get a free order of pretzels with beer cheese.