Where to find free outdoor fitness classes in NYC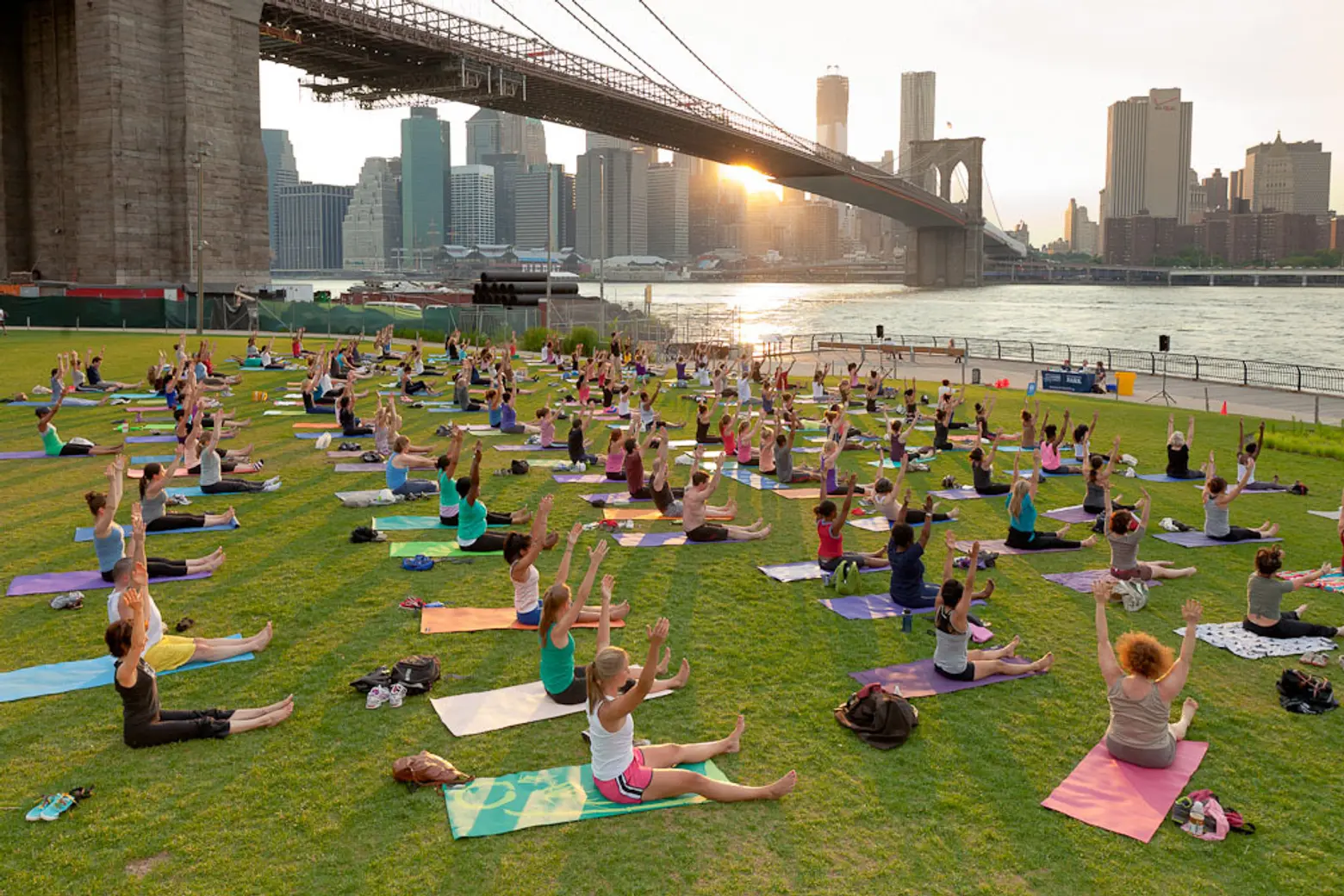 Brooklyn Bridge Park Yoga. Photo credit: Etienne Frossard
"New York City has different changes and energies throughout the seasons," says Robert Atterbury, executive vice president of relationships and programs for the Hudson River Park Trust. And the summer season is the time when parks and outdoor public spaces come alive. New Yorkers come out from apartments, offices, and coffee shops to run, stroll, picnic, hang out — and work out for free — in the city's beautiful outdoor spaces. "It's part of what makes New York New York — the outdoor gathering. It is important, and I think it shows off the diversity that NYC offers," Atterbury said.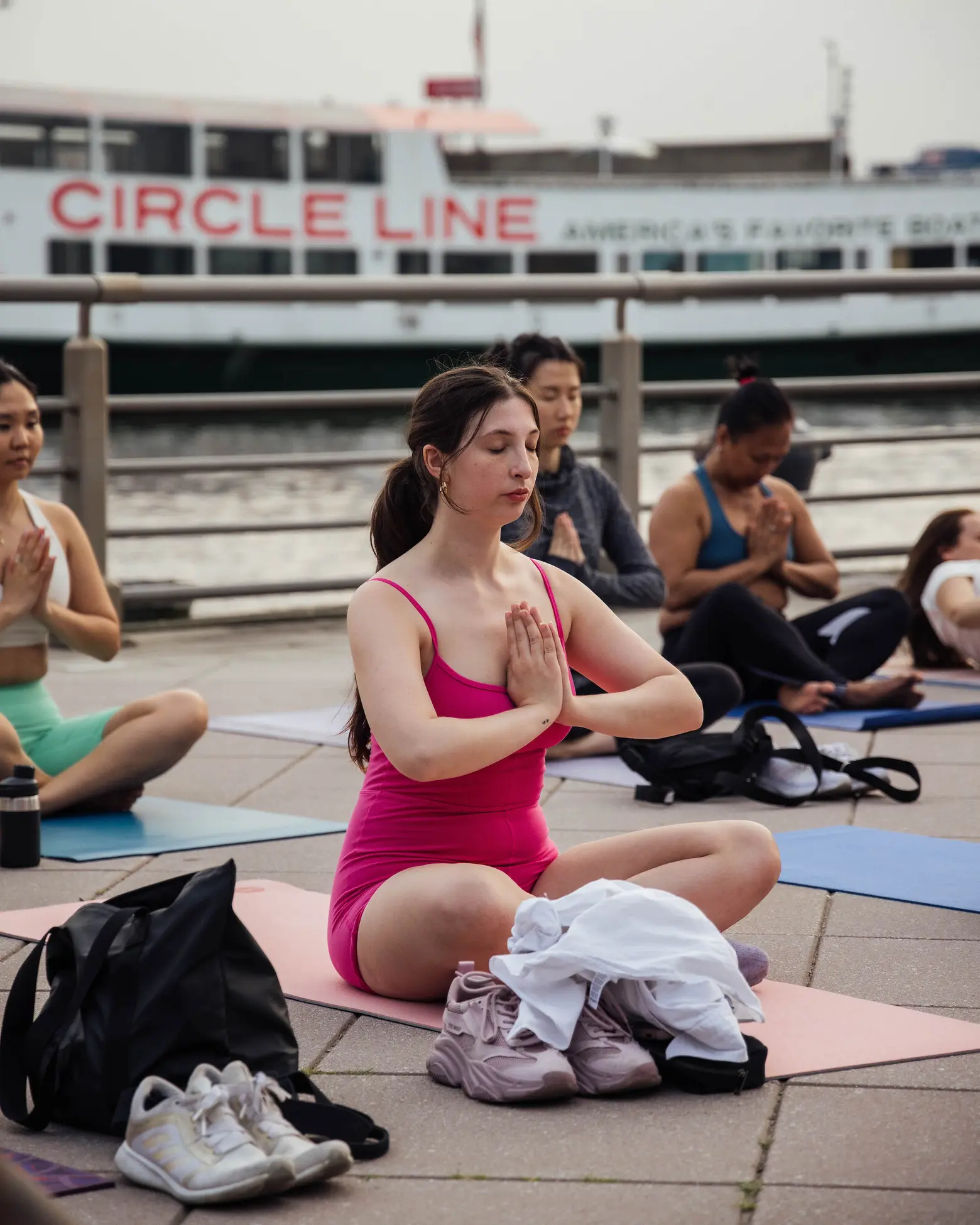 Healthy on the Hudson Pride Week 2023. Photo credit: Hailey Landin and Imani Austin
At Hudson River Park on Manhattan's west side, the free fitness program, Healthy on the Hudson classes, in partnership with Lululemon, is one of the highlights of summer, offering yoga and HIIT classes on the park's piers all week long.
"Exercise is at the core of what we are as a public space in NYC," Atterbury said. "It's one of the ways our communities engage with the park and enjoy the park…it's a great way to get people moving, but there's also a community aspect; a lot of people bring friends and family members."
That community aspect along with believing in access for all and a connection to nature is why Shambhala Yoga & Dance Center in Prospect Heights has been participating in Prospect Park's free outdoor yoga program since 2019 and on Underhill Plaza in partnership with Open Streets since 2021.
"Following COVID this was a great way to be in community and in a safe way. Our students always look forward to these outdoor offerings once summer rolls around," said Shambhala's owner. "Being outside in nature is such a great way to regulate the nervous system. Coupled with the breathing and community aspect, it's a win-win."
Here are some of the big free outdoor fitness programs happening in NYC this summer:
Shape Up NYC
Year-round
New York City Parks runs a program called Shape Up NYC offering hundreds of free fitness classes in all boroughs of the city — many of them outdoors. Classes range from yoga to Zumba, boot camp-style workouts, weight training and even walking groups. Locations include parks and beach boardwalks as well as indoor public spaces like libraries for rainy or cold days.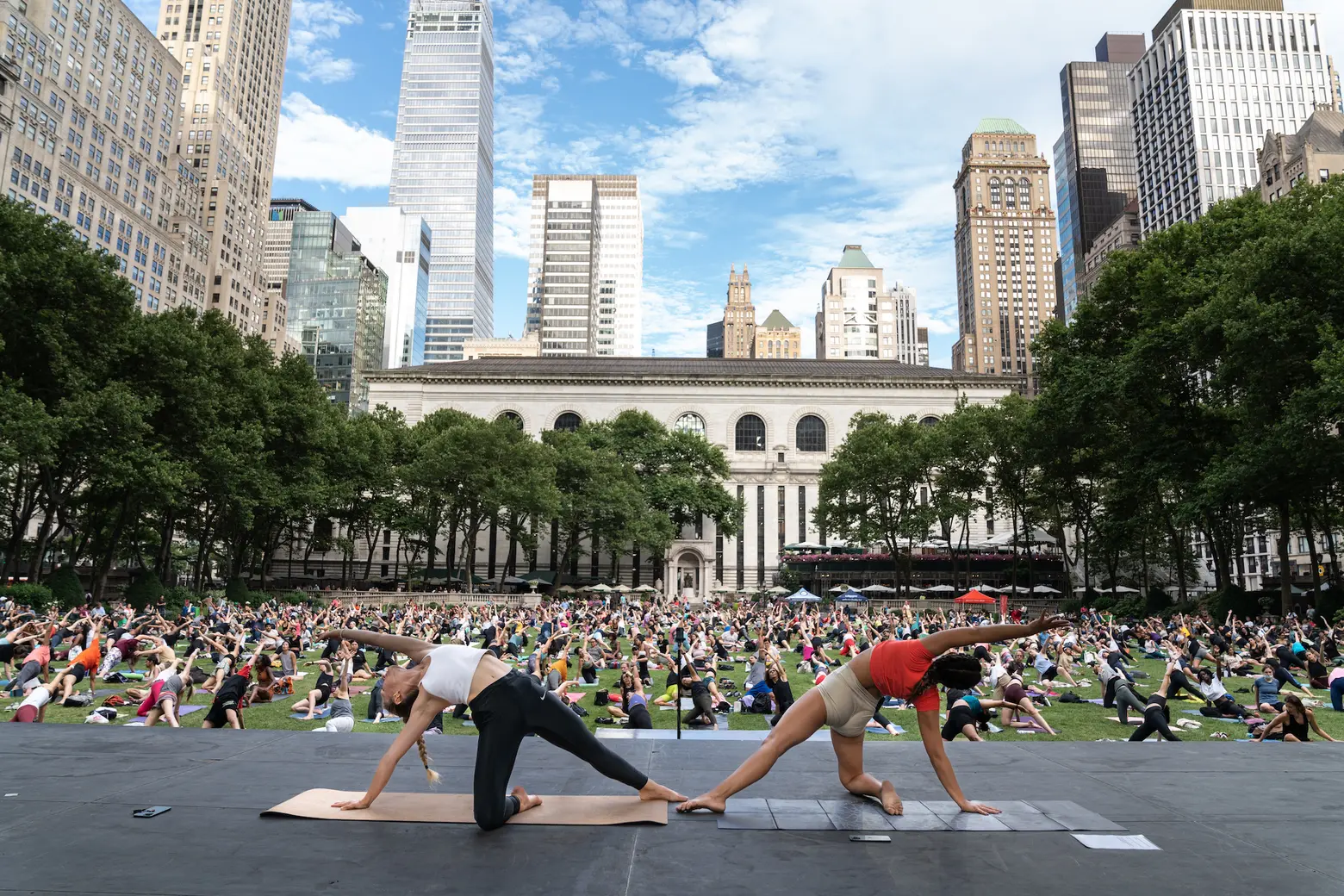 Bryant Park Yoga. Photo by Angelito Jusay
Yoga at Bryant Park 
Tuesdays and Wednesdays through September 27
Join the hordes of yogis who flock to midtown's Bryant Park on summer mornings and evenings to do sun salutations under the sun. The classes are for all levels and are presented in sponsorship with Essential Costa Rica — a yoga destination. The Tuesday classes are held from 10 a.m. to 11 a.m. on the terrace and Wednesday classes are from 6 p.m. to 7 p.m. on the lawn. Bring your own mat.
Yoga at Prospect Park 
Thursdays through August 24
Brooklyn's Prospect Park invites yogis to unwind Thursday evenings from 7 p.m. to 8 p.m. with all-level classes on the Long Meadow. The classes are a partnership between Brooklyn Flow and Prospect Park Alliance. Classes are taught by instructors from Brooklyn Flow, Shambhala Yoga, Urban Asanas, and Kula Yoga Project. Bring your own mat.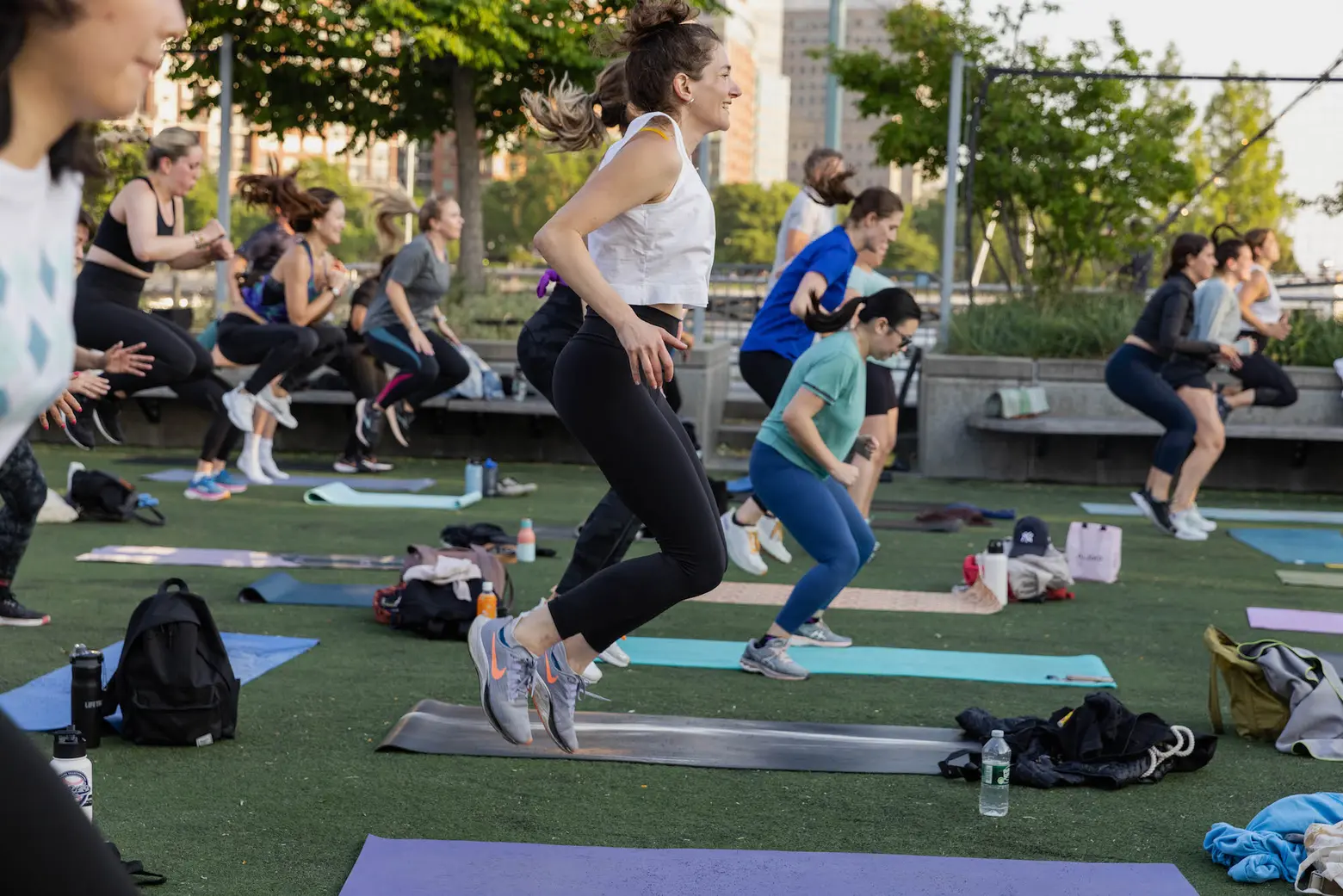 Healthy on the Hudson. Photo courtesy of Hudson River Park
Yoga and HITT at Hudson River Park
Monday-Friday through September 1
On the west side of Manhattan along the mighty Hudson River is the 4-mile-long Hudson River Park, which boasts amazing public space and enviable water views. Aside from strolling and jogging, the park's piers host free organized Healthy on the Hudson classes, in partnership with Lululemon, throughout the summer. Remember to bring your own mat or towel and some water.
Mondays: Meditation & Restorative Yoga at Pier 84
Tuesdays: HIIT at Pier 25
Wednesdays: Yoga/HIIT at Pier 57 (8 a.m.)
Wednesdays: Yoga at Pier 64
Thursdays: HIIT at Pier 46
Fridays: Yoga at Pier 26
Yoga and Zumba at Hunter's Point South Park
Mondays and Wednesdays through September 27
Hunter's Point Parks Conservancy has partnered with yoga and Zumba instructors to offer free waterfront classes in Long Island City from 7 p.m. to 8 p.m. Yoga is held on Mondays and Zumba is on Wednesdays. According to its site, "The Hunters Point Parks Conservancy's mission is to enhance and advocate for the green spaces and waterfront of Long Island City, Queens, and to ensure the parks remain an indispensable asset to the community."
Fitness classes at Domino Park
Saturdays through September 30
Williamsburg's waterfront park is hosting a variety of workout classes this summer, from yoga and pilates to boxing. The classes are held every Saturday at 10 a.m. and are led by local fitness studios. Some unique offerings include dance cardio classes by 305 Fitness and The Good Move and Qigong, a Chinese fitness, breathing, and meditation practice.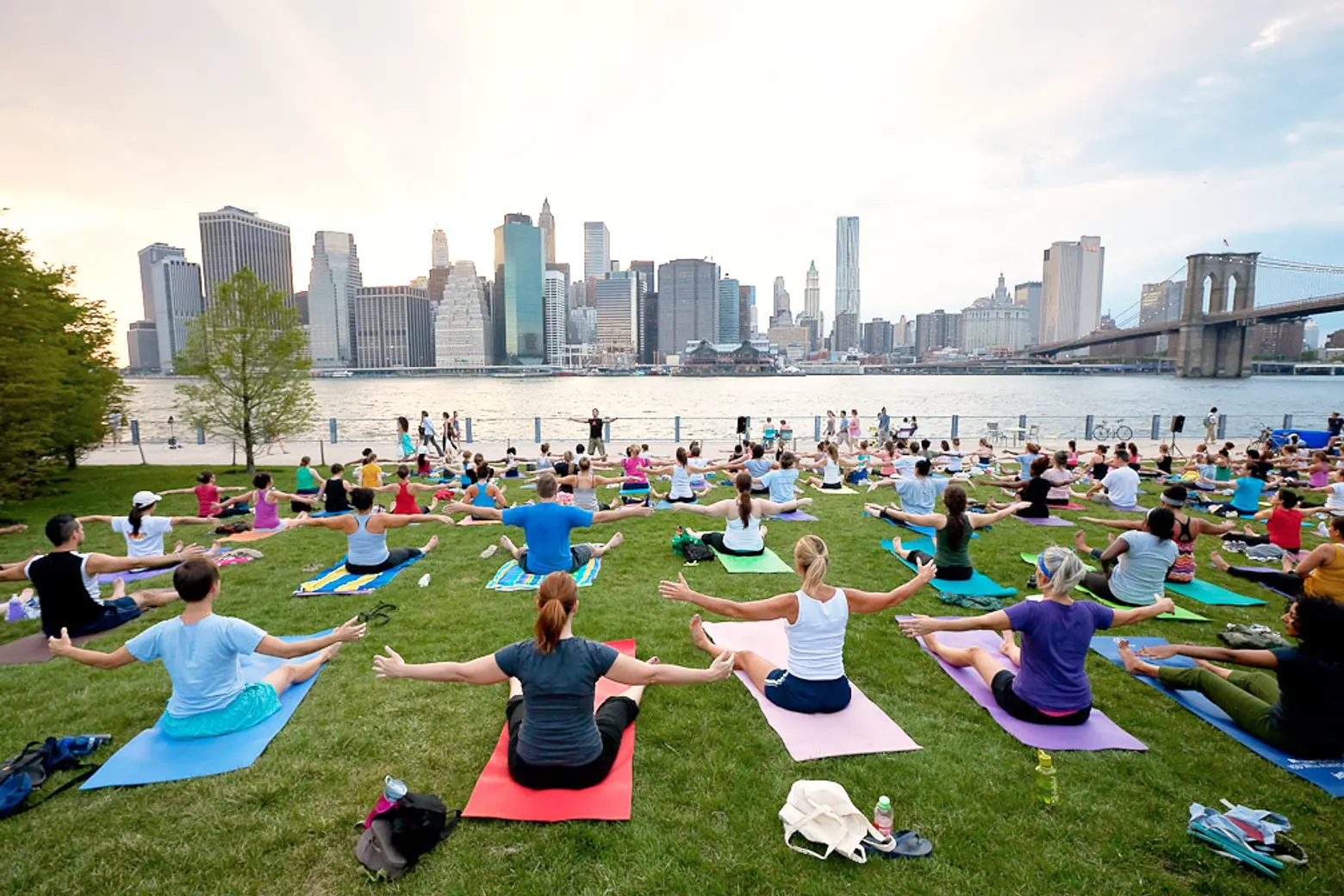 Brooklyn Bridge Park Yoga. Photo credit: Etienne Frossard
Fitness classes at Brooklyn Bridge Park
Through September 27
Brooklyn Bridge Park offers a variety of fitness activities on most days of the week, with its Waterfront Workouts providing exercise classes with a view. The park offers sunset yoga on Tuesday on Tuesdays, Amp'd Bootcamp on Wednesdays, Zumba on Mondays, and core and flexibility training on Sundays. There's even free kayaking off Pier 4 Beach. Free registration is required for all classes and it opens on a month-to-month basis.
Core Body Boot Camp at Bryant Park
Wednesday mornings
The Rise NYC hosts boot camp-style workouts at Bryant Park Wednesdays at 7 a.m. Since starting in 2012, The Rise NYC has popped up in locations all over the city hosting "flash mob style" core workouts at public parks. They have since committed to a fixed location at Bryant Park.
Fitness classes in Flatiron
Wednesdays through August 9
Flatiron Nomad Partnership's annual Flatiron Summer Series is hosting "Wellness Wednesdays" every week through August 9 with free outdoor HIIT, pilates, and boxing classes on the Flatiron South Public Plaza; the classes are led by local fitness studios. Additionally, on Thursdays, Flatiron North Public Plaza hosts salsa nights with live music by the Benny Lopez Latin Jazz Ensemble and public art from the School of Visual Arts. The remaining salsa nights are July 13 and July 20.