The High and Low: Waterfront Living on Beekman Place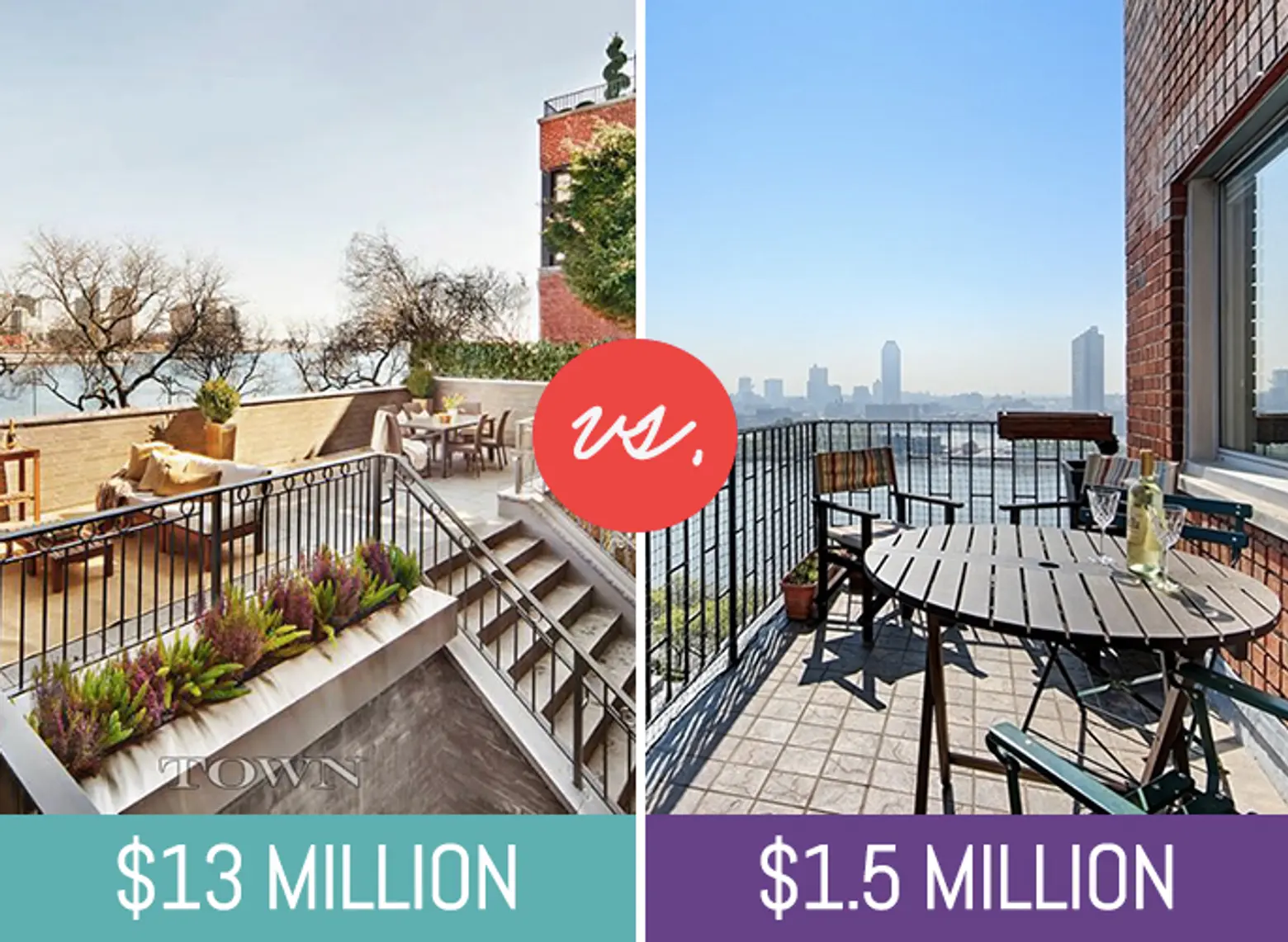 25 Beekman Place (L); 12 Beekman Place (r)
While neighborhoods may seem to become hot-or-not at the drop of a hat, waterfront property retains its mystique through the ages. Open river and bridge views are a rare and covetable amenity that can't be brought in with high-end consultants or approximated by joining a gym on the next block.
These two homes on Beekman Place, an East Side enclave of pre-war apartment buildings and stately townhouses that has long been considered the essence of understated Manhattan elegance, form part of an enviable row of buildings along the East River possessed of waterfront living on one side and Manhattan excitement on the other. The tree-shaded block-long street near the United Nations and Peter Detmold Park, minutes from bustling Midtown, is often overlooked, yet no less magical should you find yourself on it–the New York Times recently called it, "about as far off the beaten path as one can get in Manhattan."
On the market now are a $13 million duplex, complete with a raised deck that elevates the view to peerless, and a 12th-floor gem on the same short street asking a more palatable $1.5 million, also with panoramic river views and a smaller, but no less lovable deck from which to watch the ships pass in the night–or day.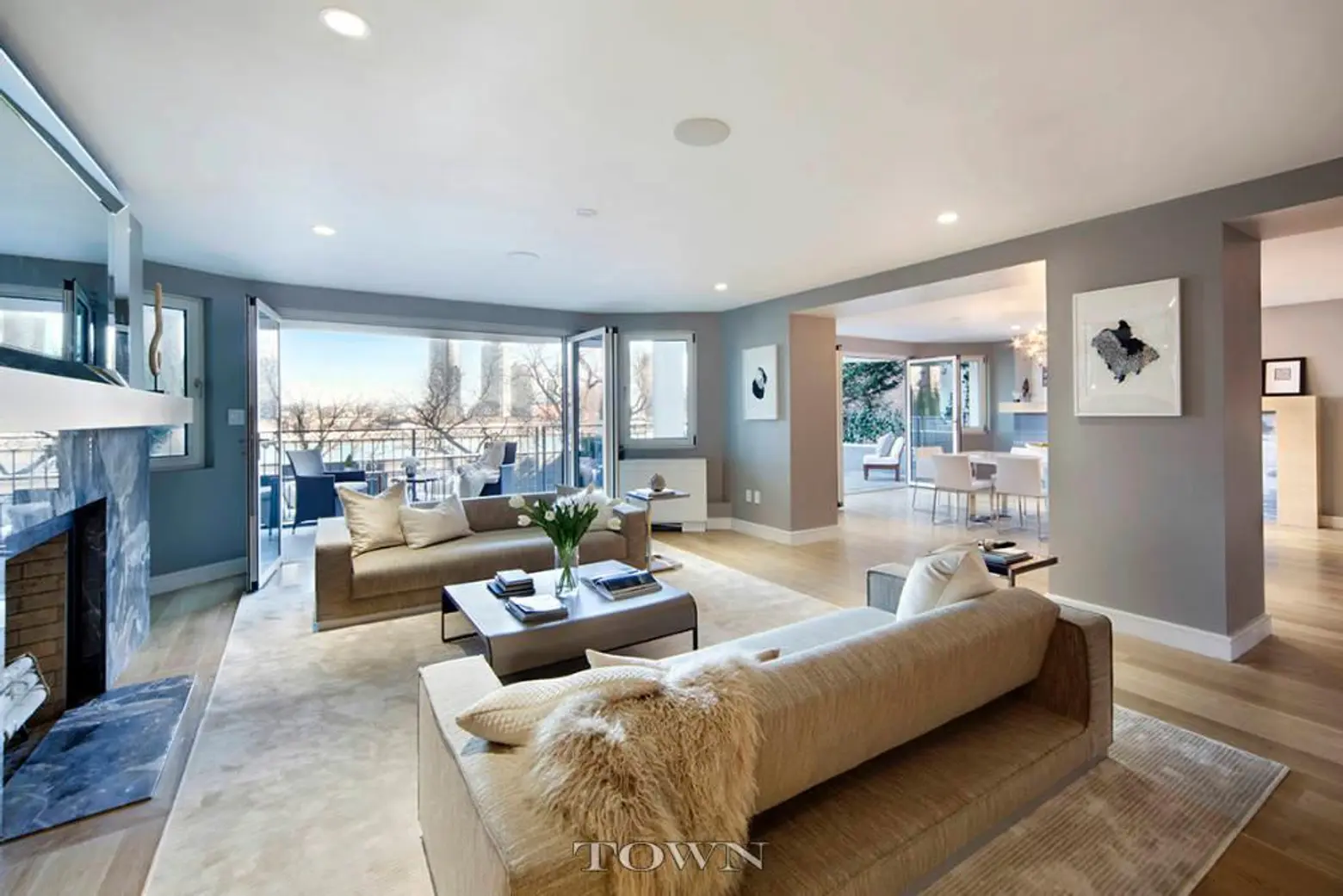 THE HIGH: 25 Beekman Place #1 comes with a steep price tag–$13 million– befitting a townhouse; for that price, though, you get a rare combination of prewar charm, through-the-roof interior updates, and plenty of space, not to mention the spectacular waterfront perch.
At a townhouse-like size of 3,742 square feet, this duplex condo stuns from the starting gate with its amazing multi-terraced outdoor platform overlooking the river and with views of the Queens shoreline, the iconic Pepsi Cola sign, Roosevelt Island, and the 59th Street Bridge.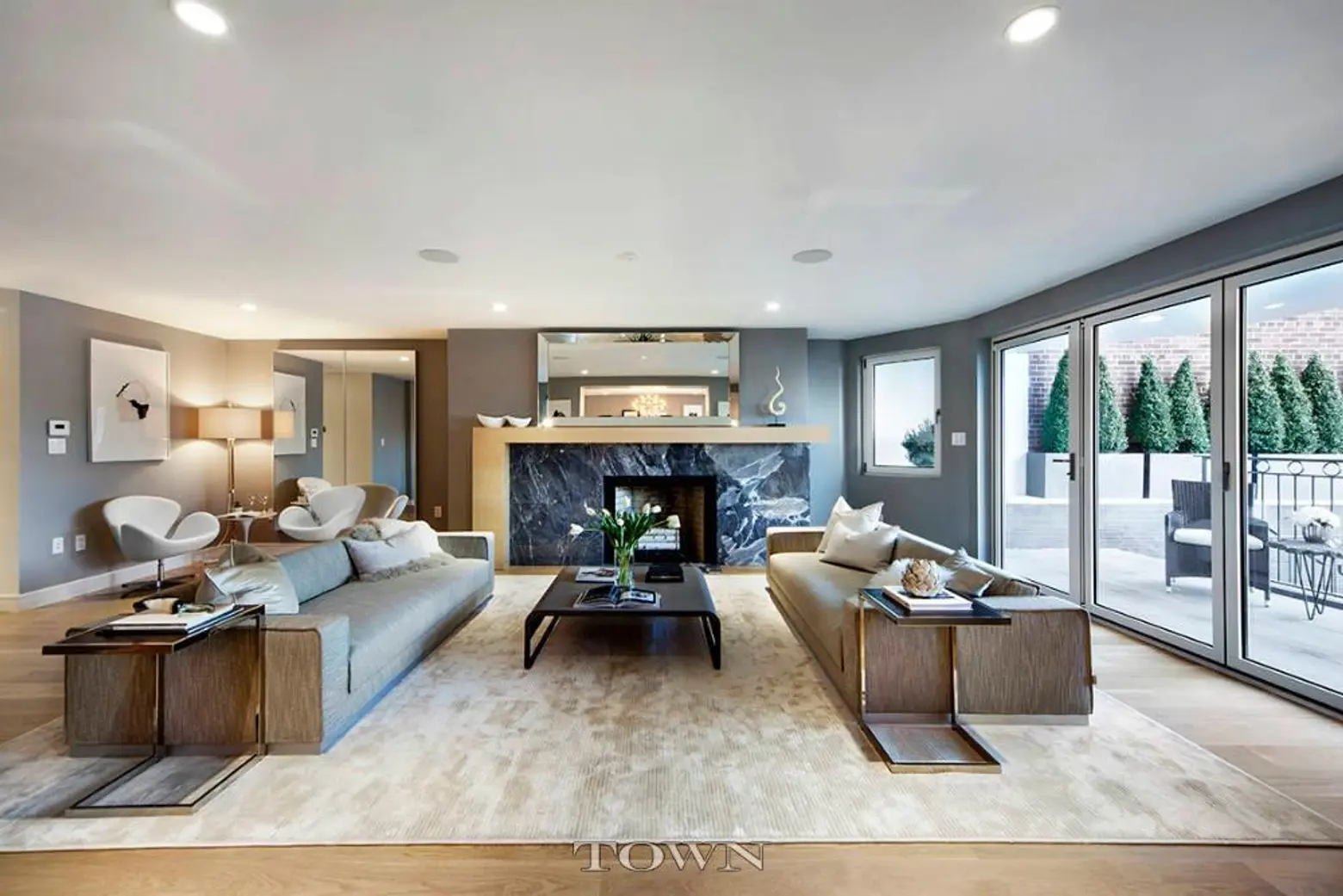 At the lower level, floor-to-ceiling soundproof windows open accordian-like to blur the lines between indoors and out in warm weather.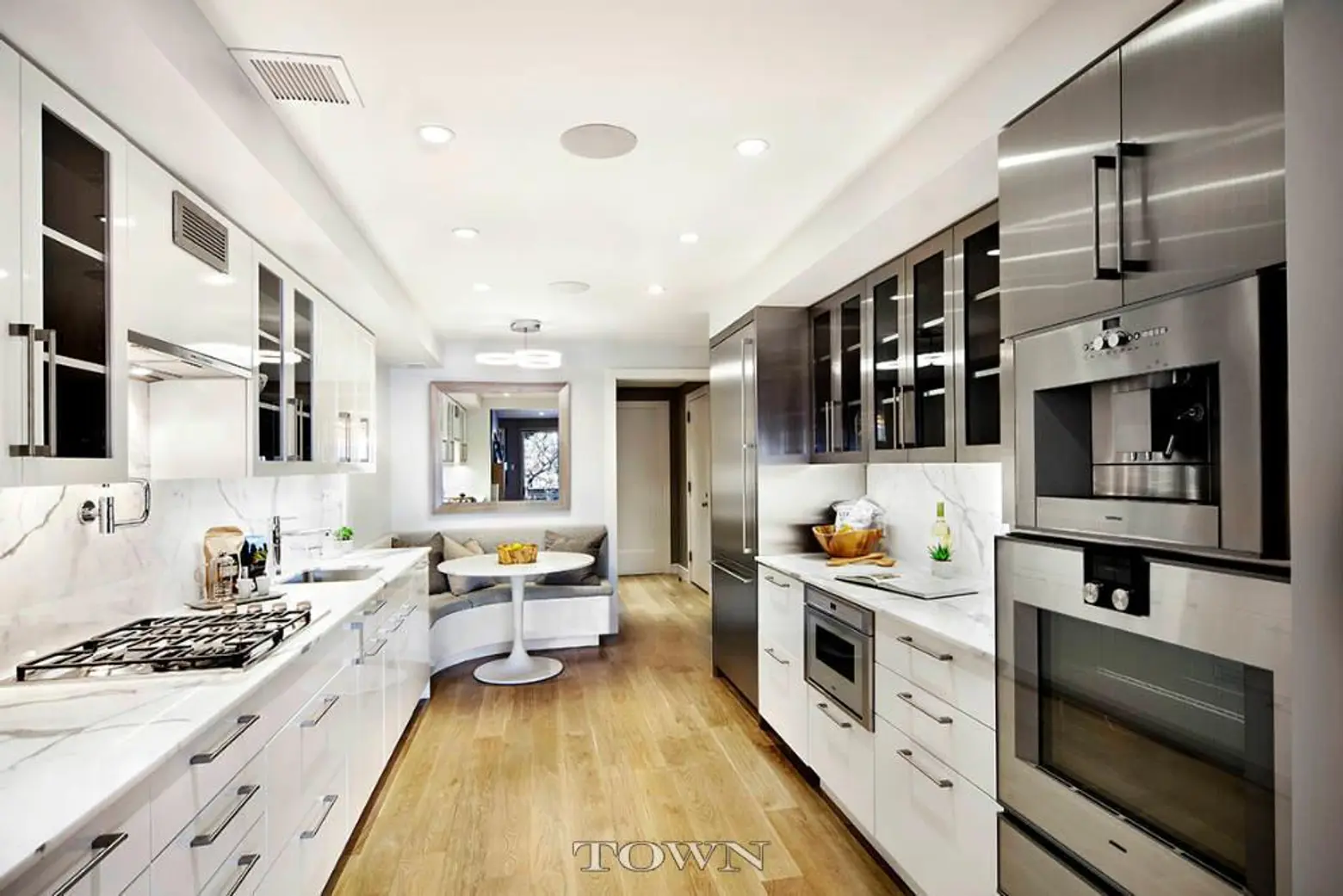 On the upper level, surrounded by river views, of course, there are two wood-burning fireplaces, and a sleek, up-to-the-nanosecond chef's kitchen. Two bedrooms and three baths are opposite the kitchen/living/dining area for privacy. The home also has a brain: A Crestron system controls lights, music and central A/C from an iPad.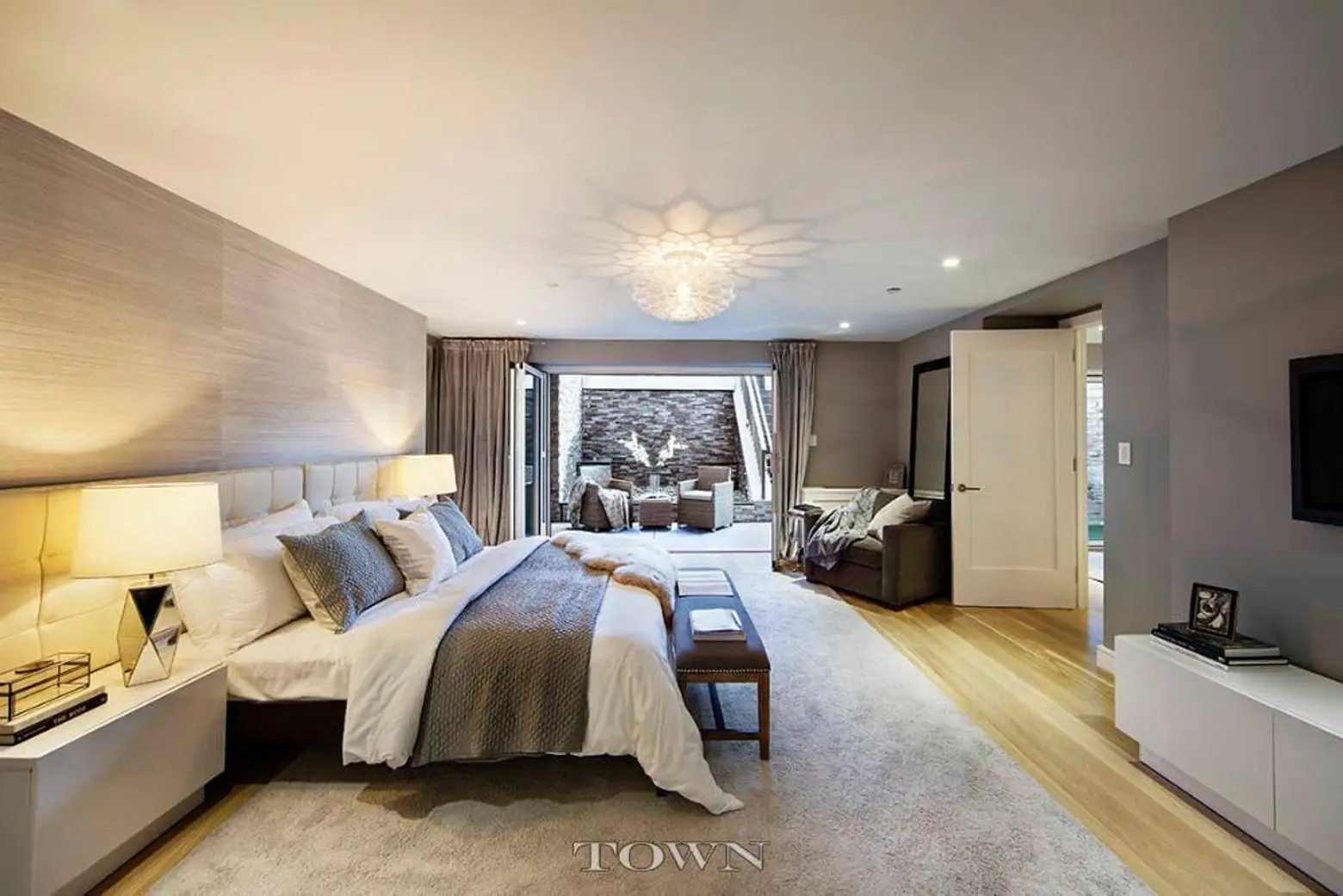 The apartment's lower level offers–in addition to the aforementioned party-ready patio–two more bedrooms, including a generous master; two more marble-lined baths; and a media room with a full wet bar and a wine fridge.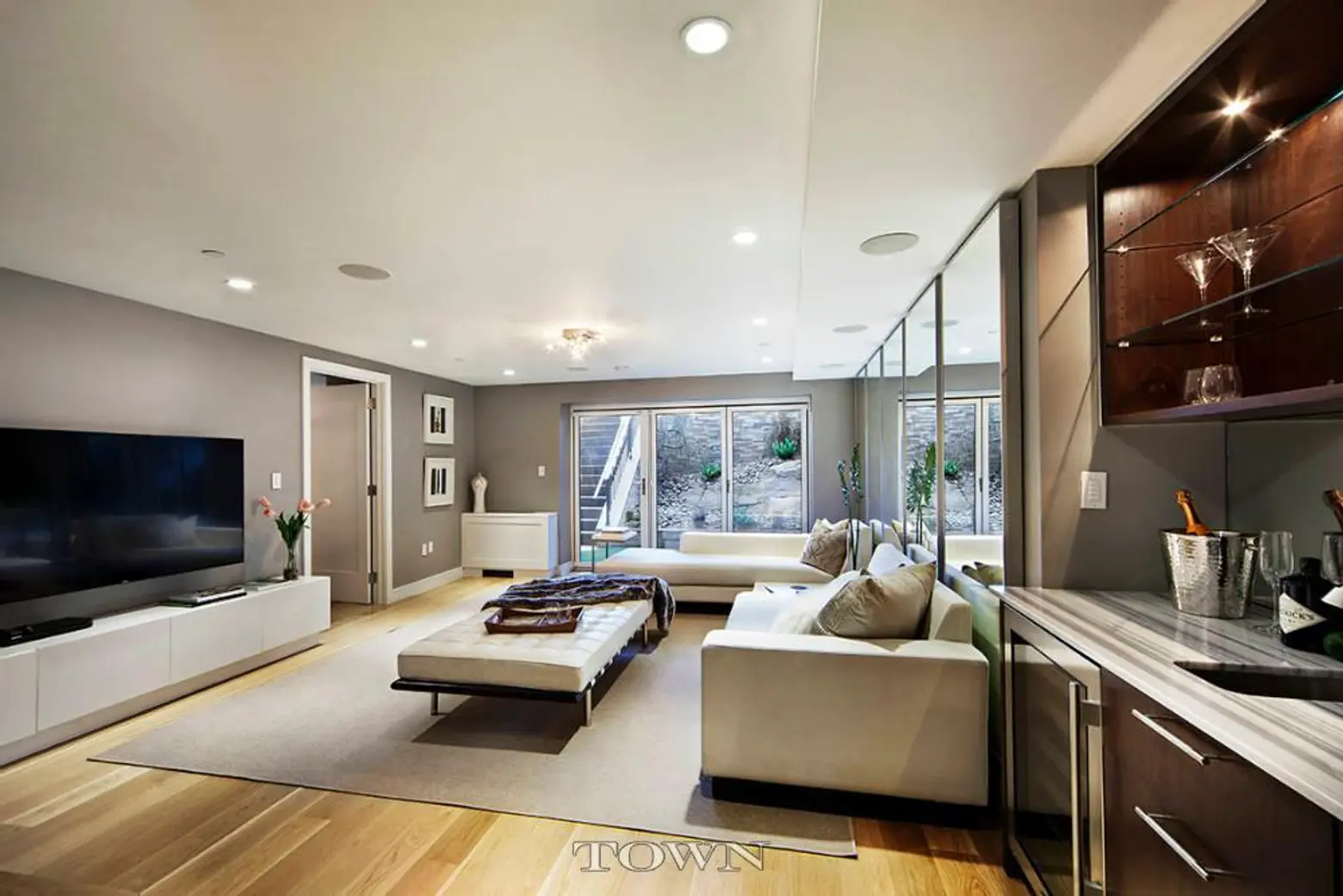 The neighborhood, in addition to its reputation for quiet elegance, is near Peter Detmold Park with its popular dog walk along the East River, plus dining and nightlife, top-rated schools, and the 6 train.
***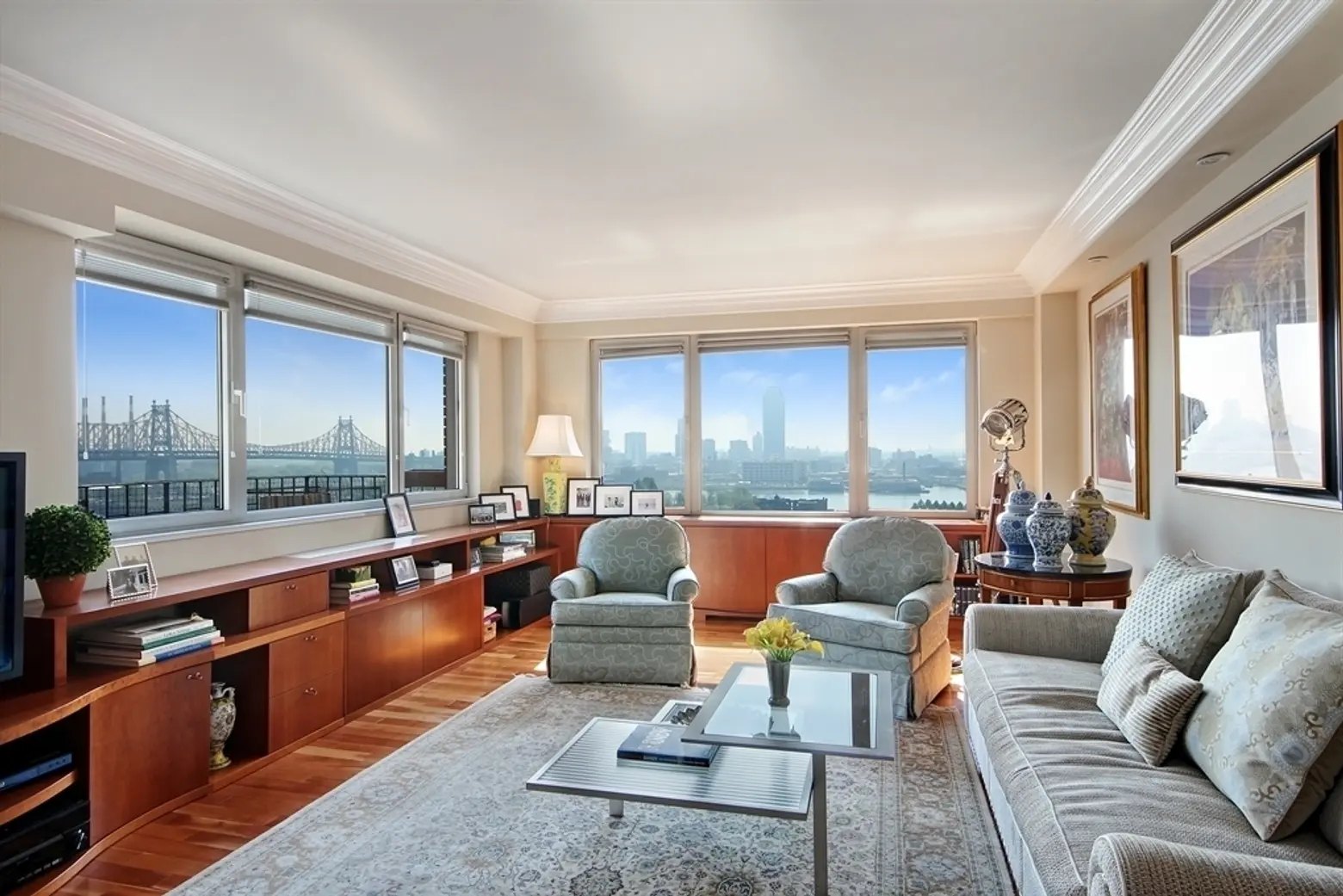 THE LOW: If you're sold on the block, but don't have $12 million in your back pocket, this higher-floor co-op offers many of the same perks at the far-lower price of $1.5 million. 12 Beekman Place is a classic pre-war residence, fully-staffed with a full-time doorman and elevator operator, a live-in super and on-site parking. Apartment 12A may have fewer bedrooms, but you'll get the same breathtaking waterside views, in this case from every angle of your elegant window-wrapped living room.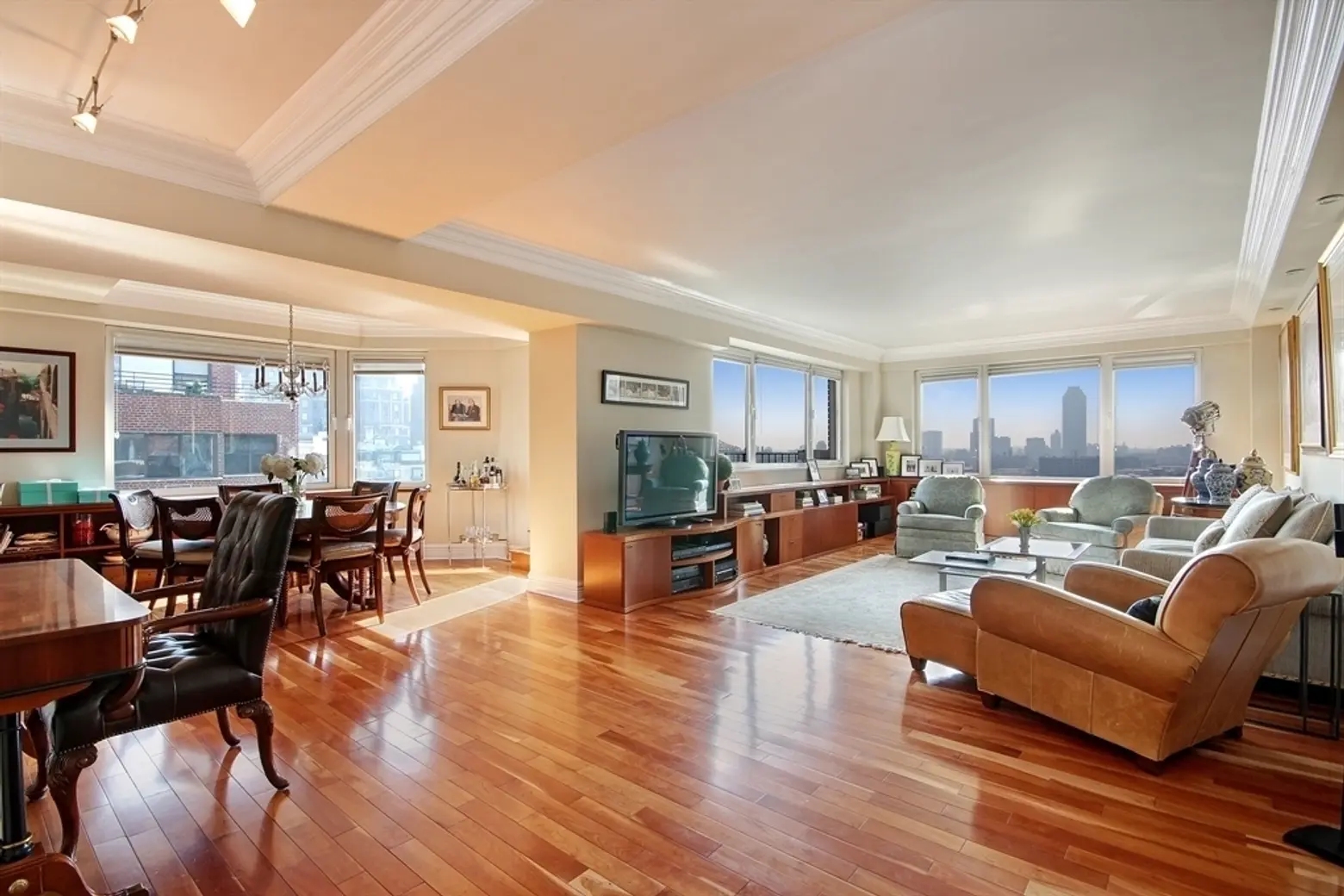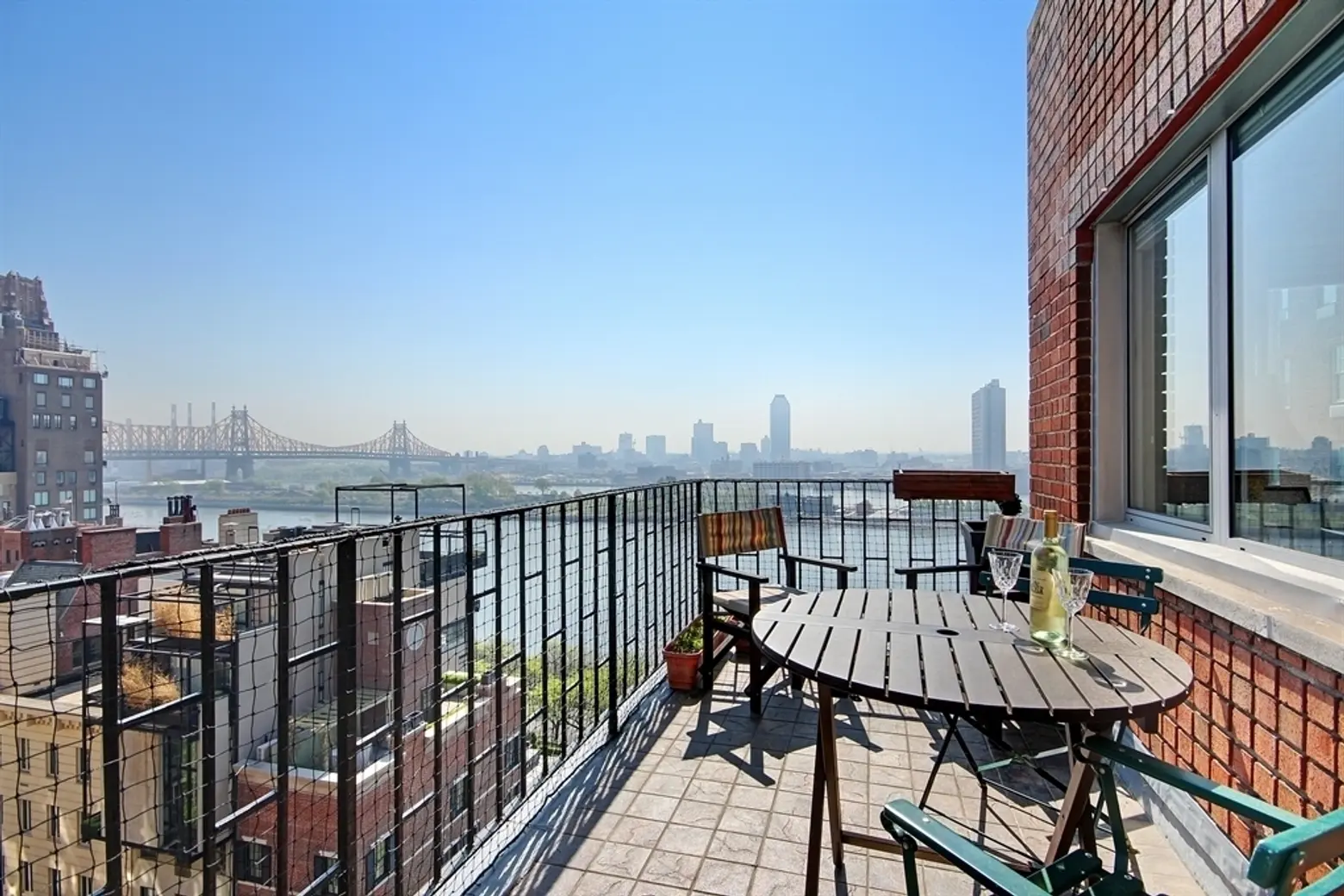 You can step from the adjoining dining area/library to your corner terrace for 360-degree views of the river, bridge, and all points north and east.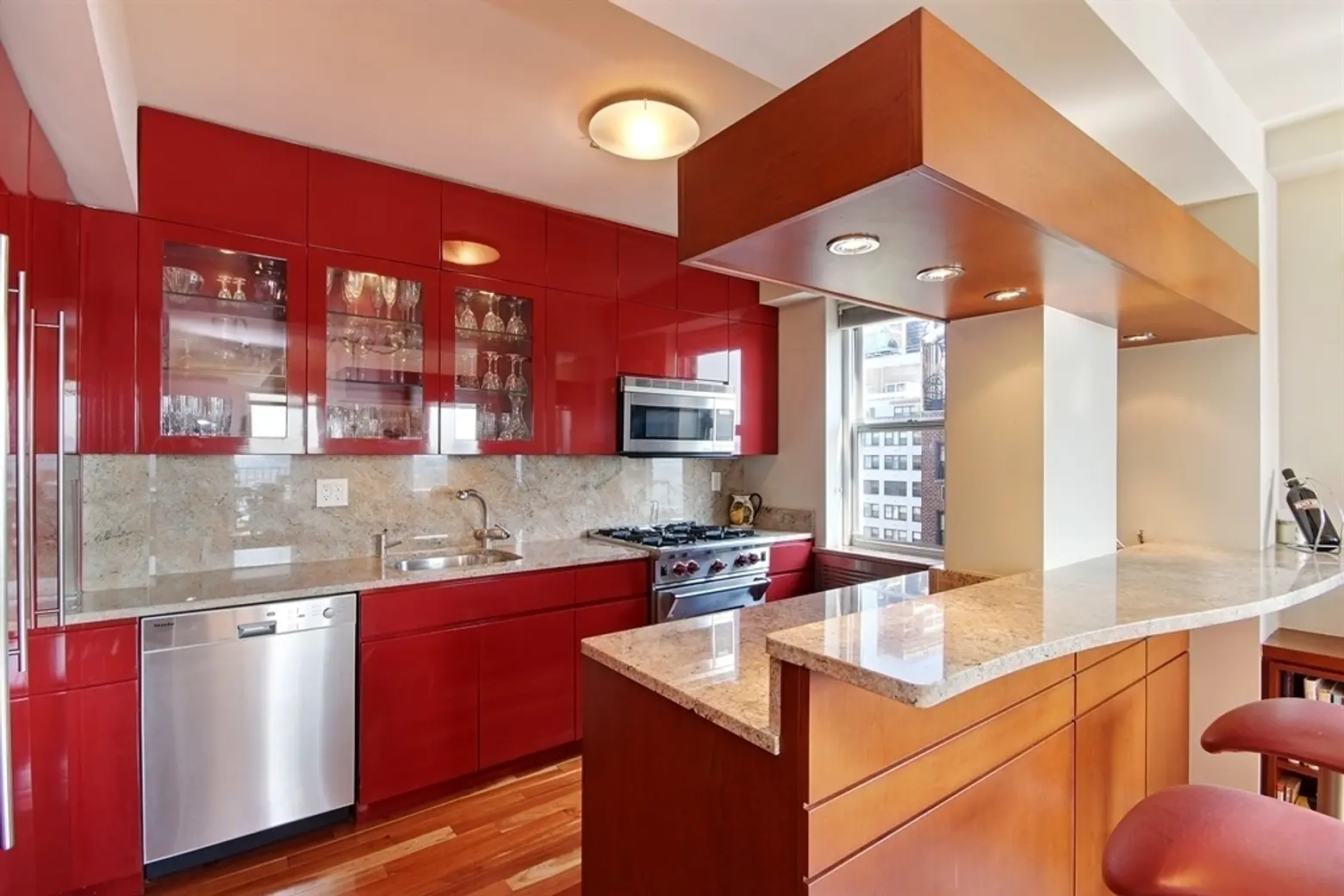 There's also a modern kitchen done in cherry-red lacquer with top-of-the-line appliances and a breakfast bar.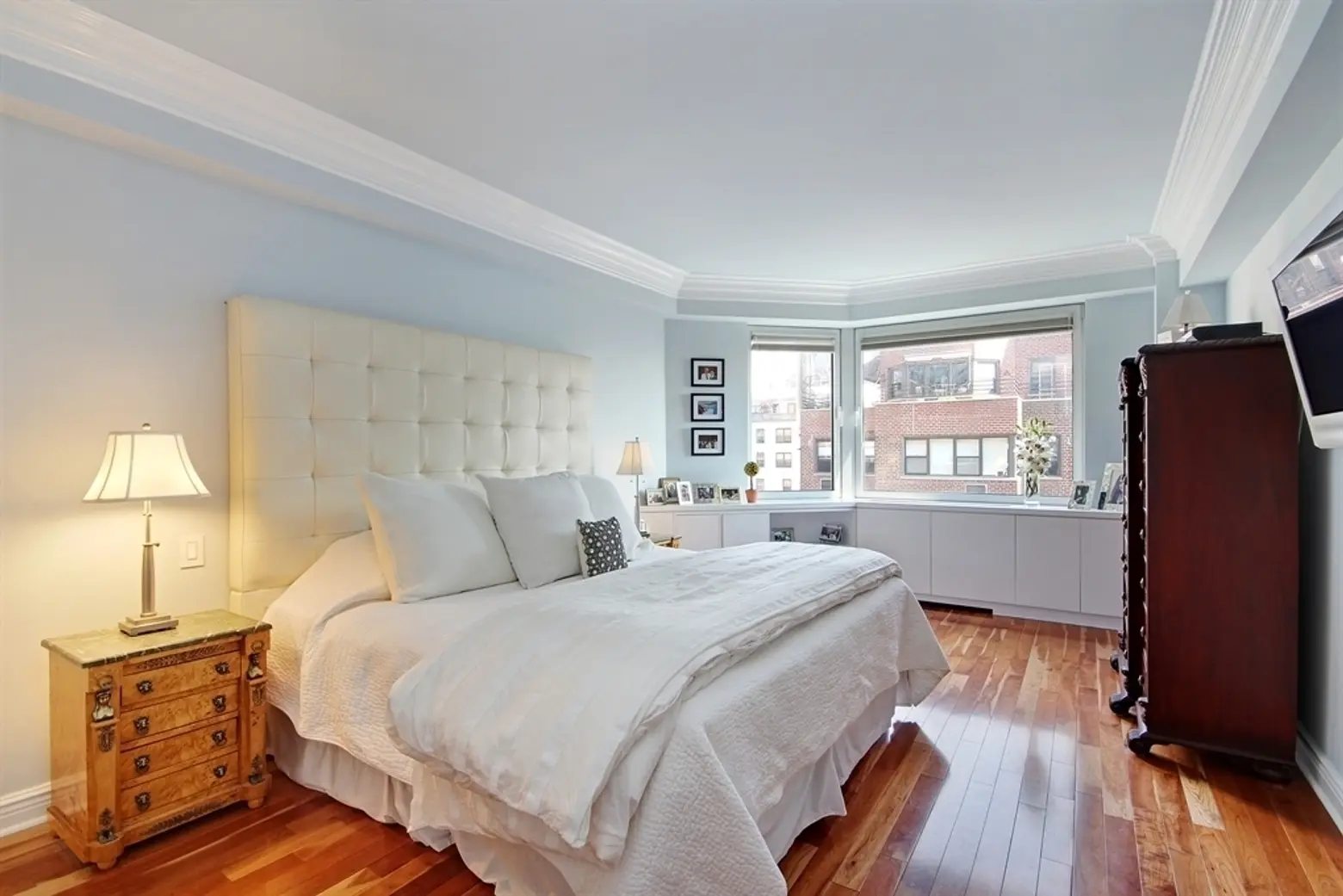 The spacious master (and only) bedroom has a walk-in closet and skyline views. The apartment is pied-a-terre- and pet-friendly (as is the nearby dog park).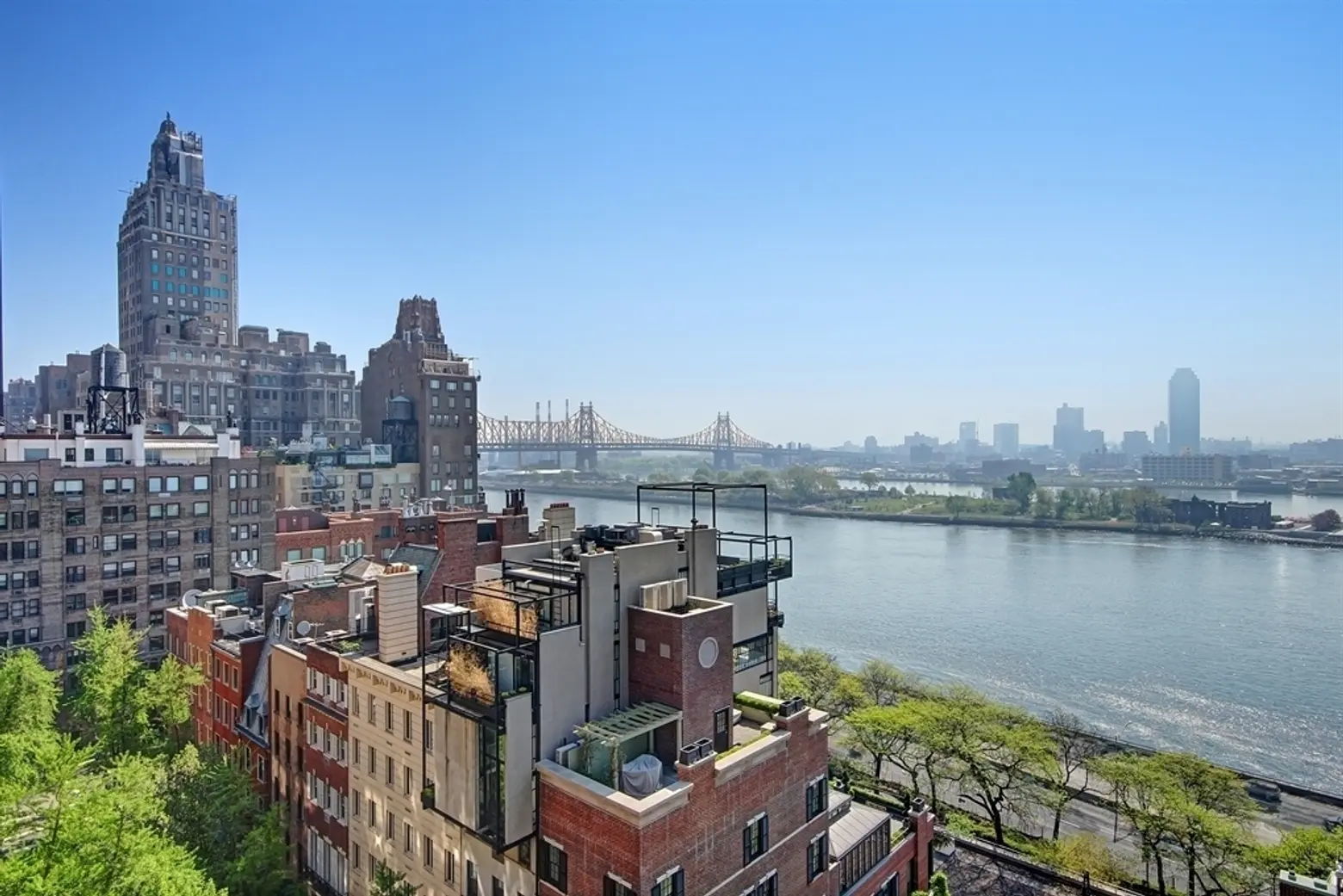 [Listing: 25 Beekman Place #1 by Zach Boren of Town Residential ] – [via CityRealty]
[Listing: 12 Beekman Place #12A by Stephen Geller of The Corcoran Group] – [via CityRealty]
Images: 12 Beekman Place courtesy of The Corcoran Group; 25 Beekman Place courtesy of Town Residential.
RELATED: