Enjoy Hudson River views from a cantilevered terrace above the tree line in this $6.3M upstate home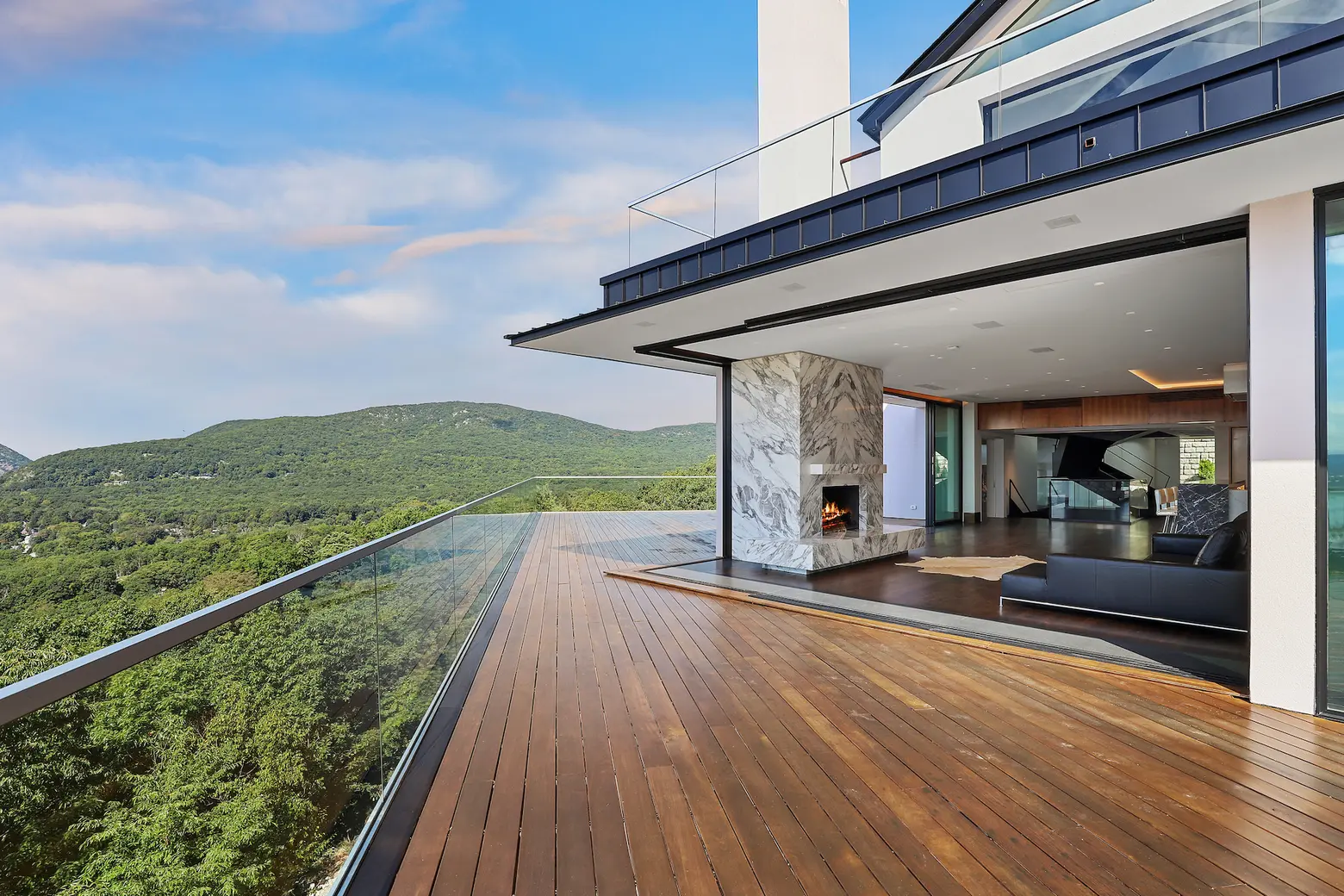 Photo courtesy of Houlihan Lawrence.
Perched a thousand feet above sea level with seemingly endless views of the Hudson River and the surrounding Hudson Highlands, the extraordinary contemporary home at 20 Windy Ridge was designed to complement the area's natural beauty. Asking $6.25 million, this 6,607-square-foot four-bedroom home is wrapped by retractable walls of glass that open onto terraces on three levels and a deep-water gunite pool set into a bluestone patio.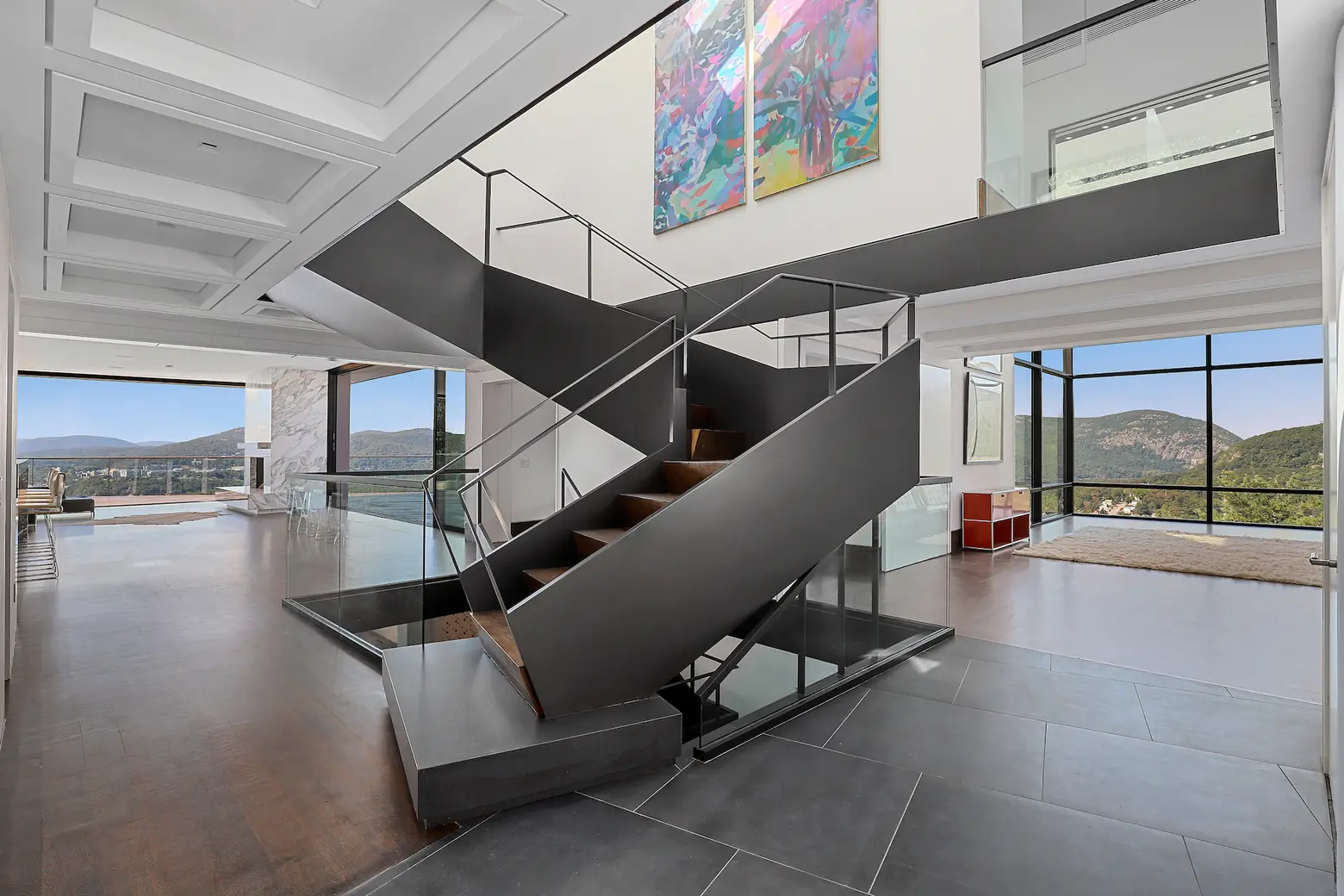 The Cold Spring residence was designed by architect Gregory Sharp in collaboration with developer Mark Mancinelli. Mancinelli, a Hudson Valley native, is known for creating homes that integrate the area's dramatic surroundings using massive glass panels, walls that fold away, and terraces that stretch seamlessly from interior living spaces.
Mancinelli's signature interiors feature room-height marble fireplaces and opulent finishes in marble, stone, steel, glass, and richly-hued wood. Here, retractable glass walls on the home's main floor disappear into a 1,880-square-foot cantilevered terrace that stretches out above the tree line.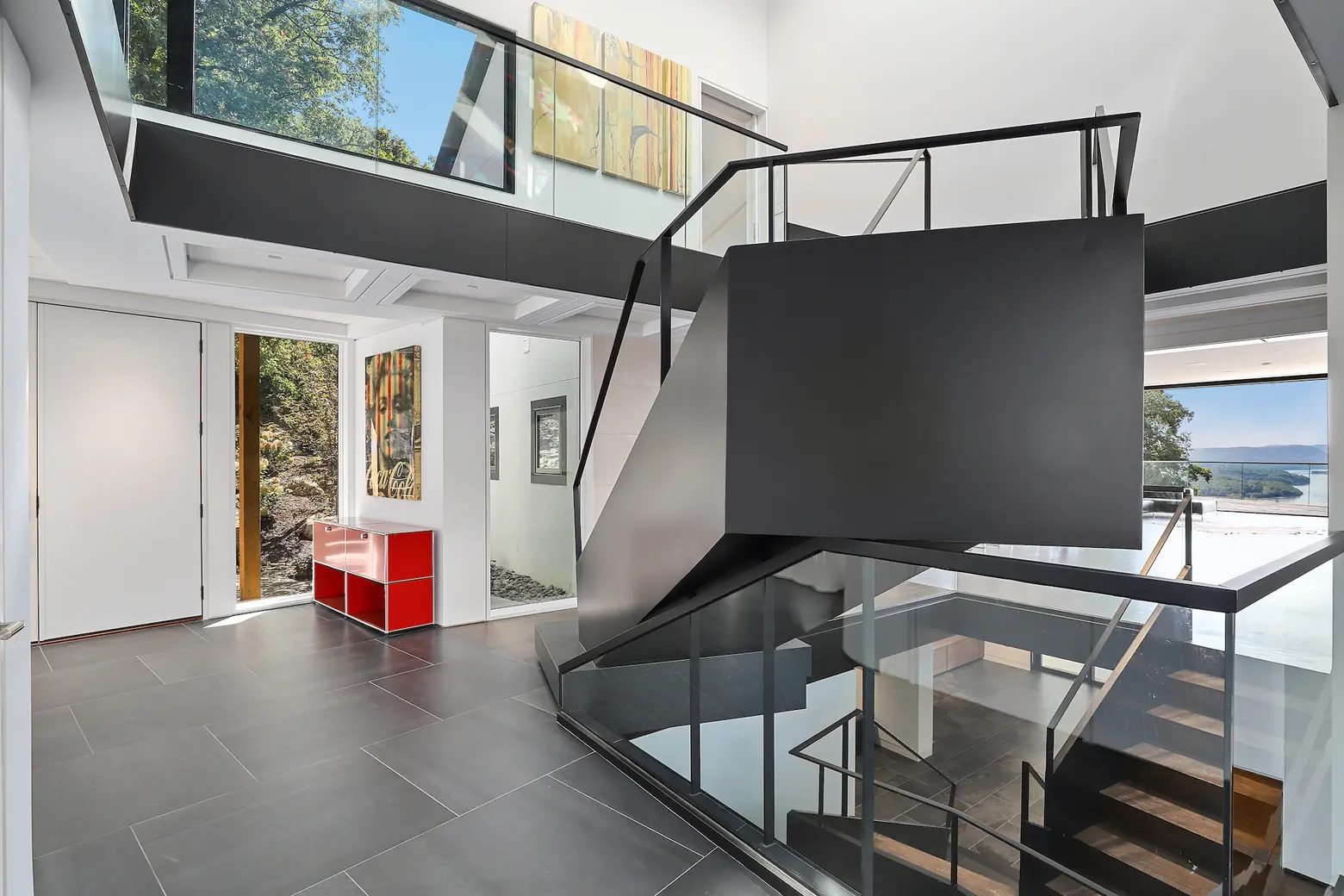 All three floors are accessed by a staircase of bent steel and wood that winds like a sculpture at the home's center. All levels reveal land and sky through panes of glass.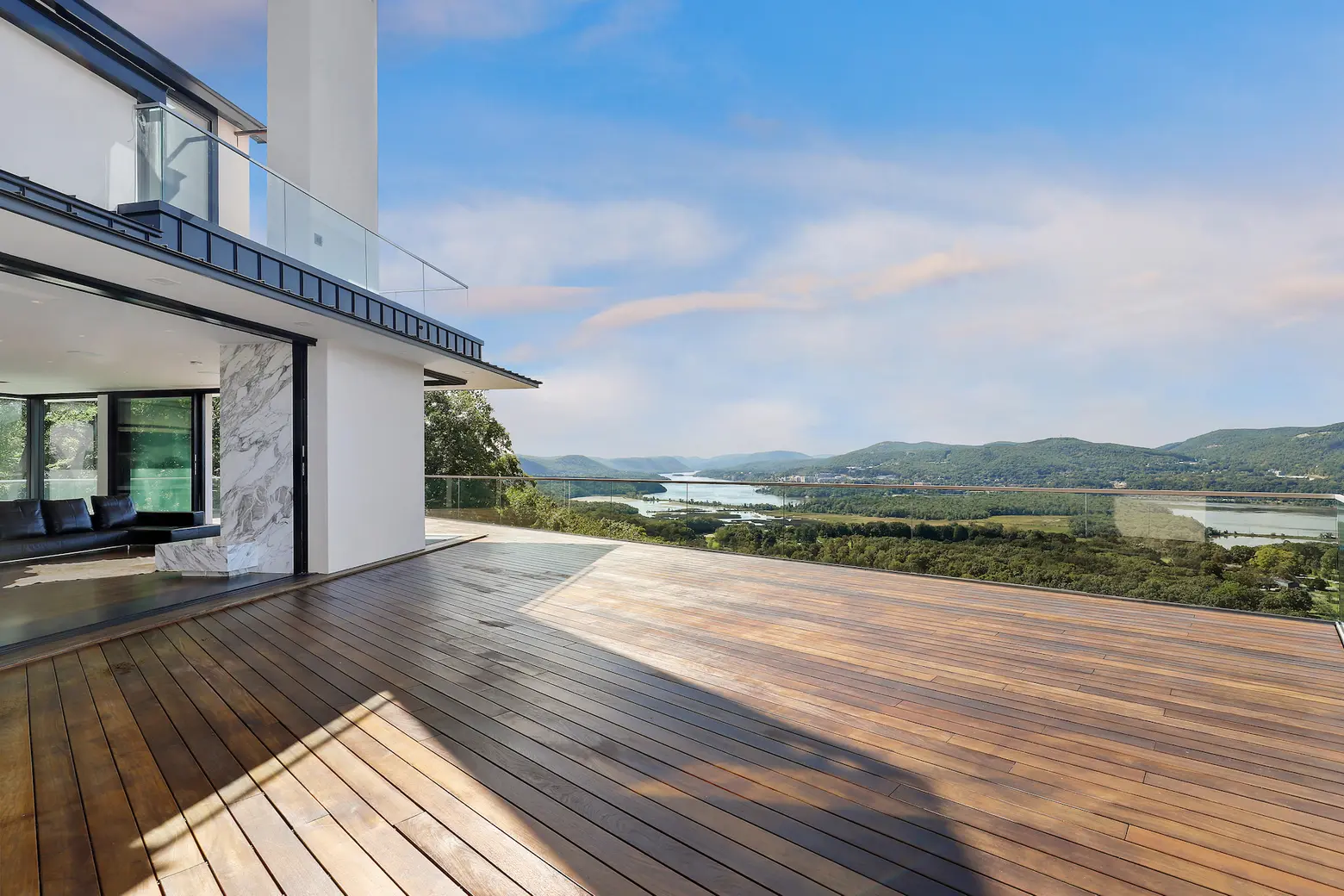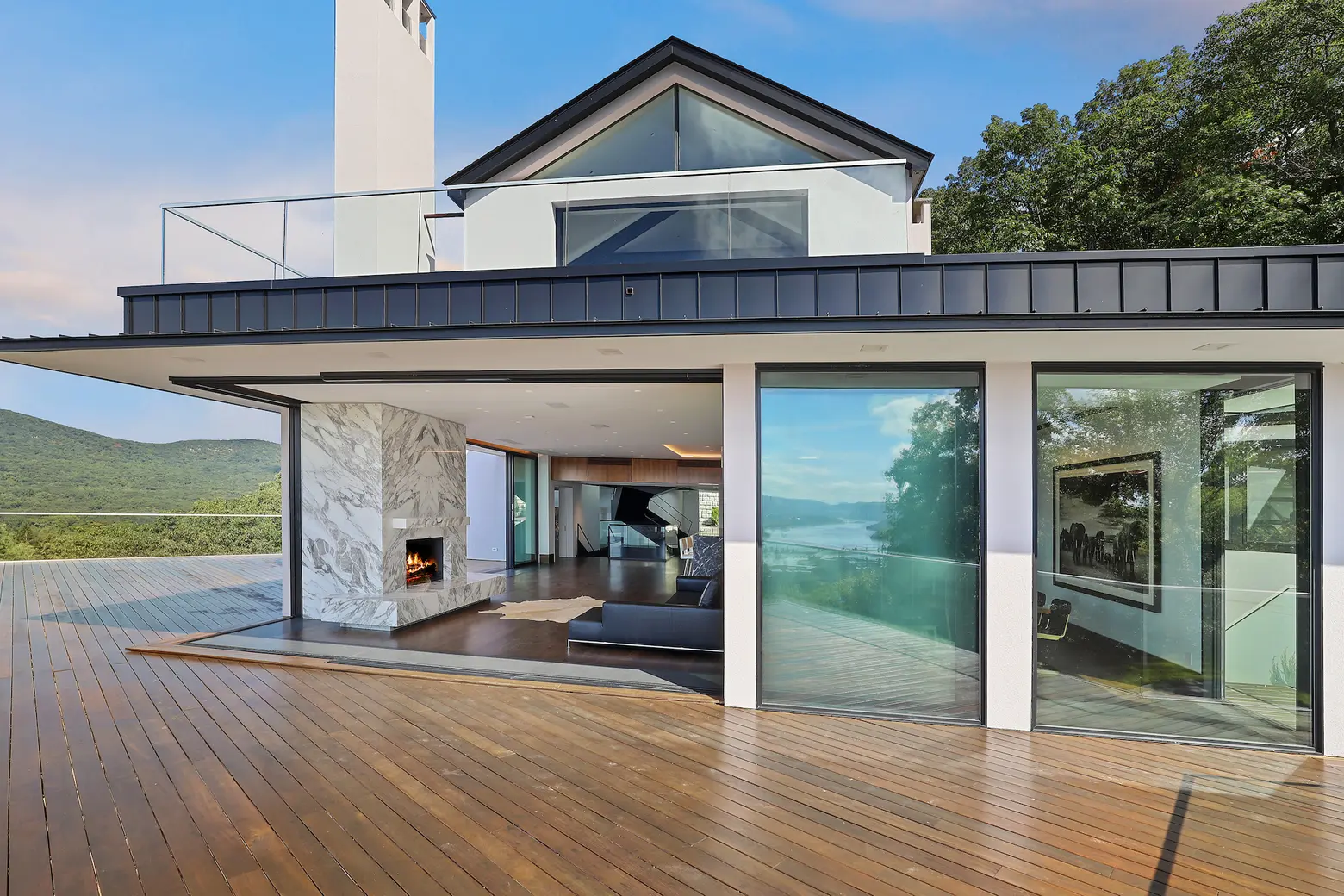 Walls disappear and decks become part of the living space, anchored by sleek, contemporary stone fireplaces. In addition to the river, peerless southern and western views include West Point and the Hudson Highlands.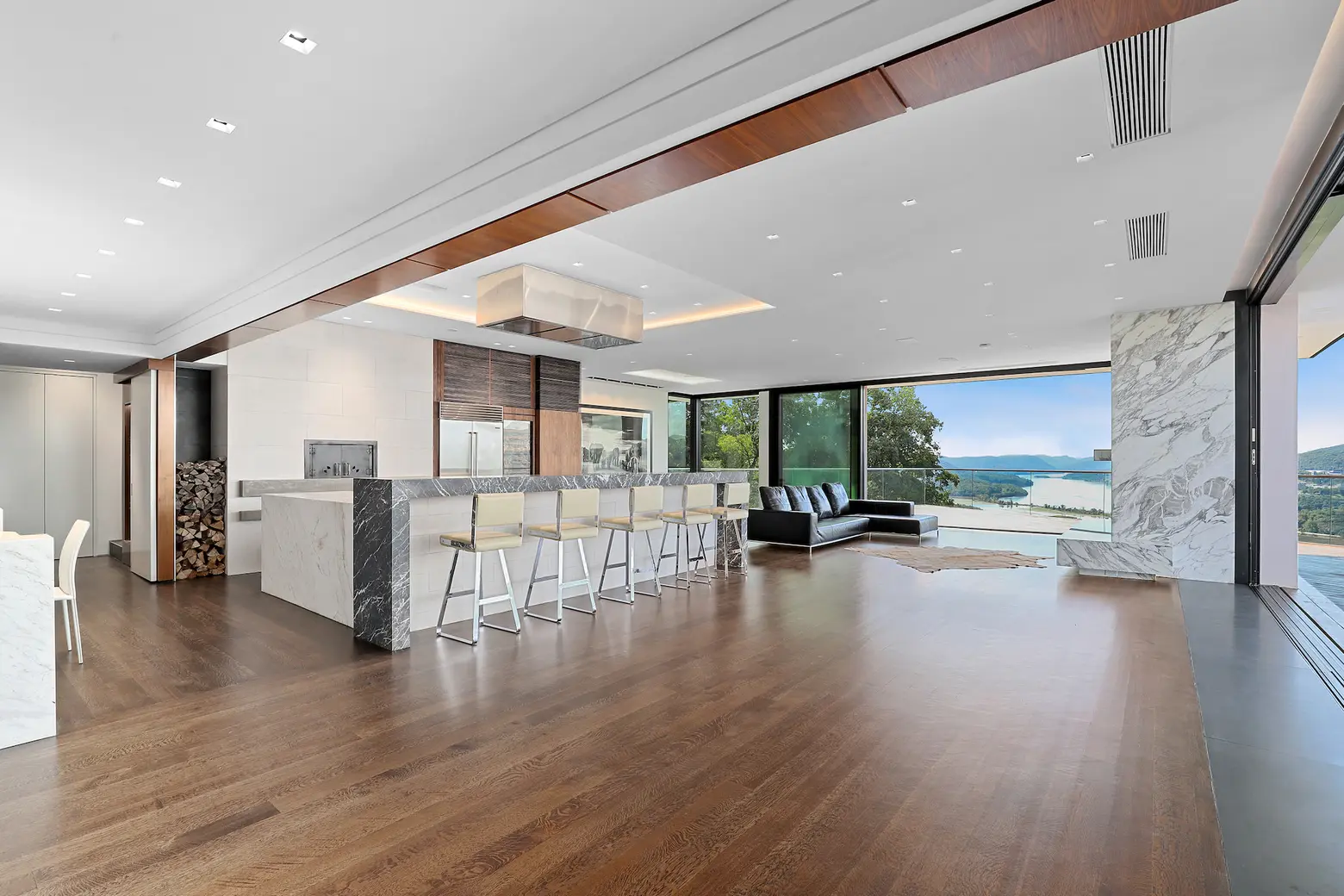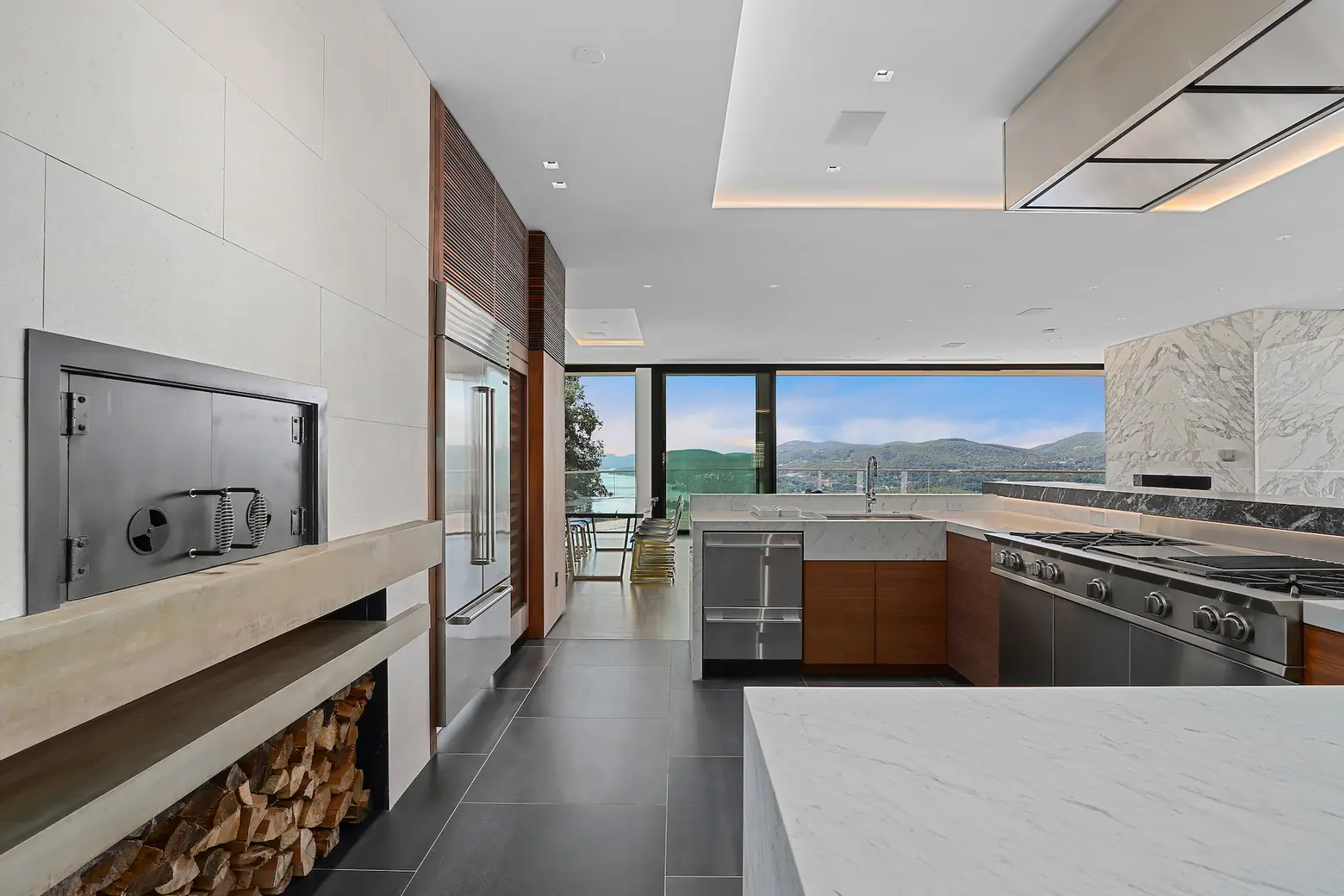 A streamlined kitchen is lined with professional-quality appliances, marble worktops, and modern wood cabinetry. A wood-burning pizza oven is integrated into the kitchen wall.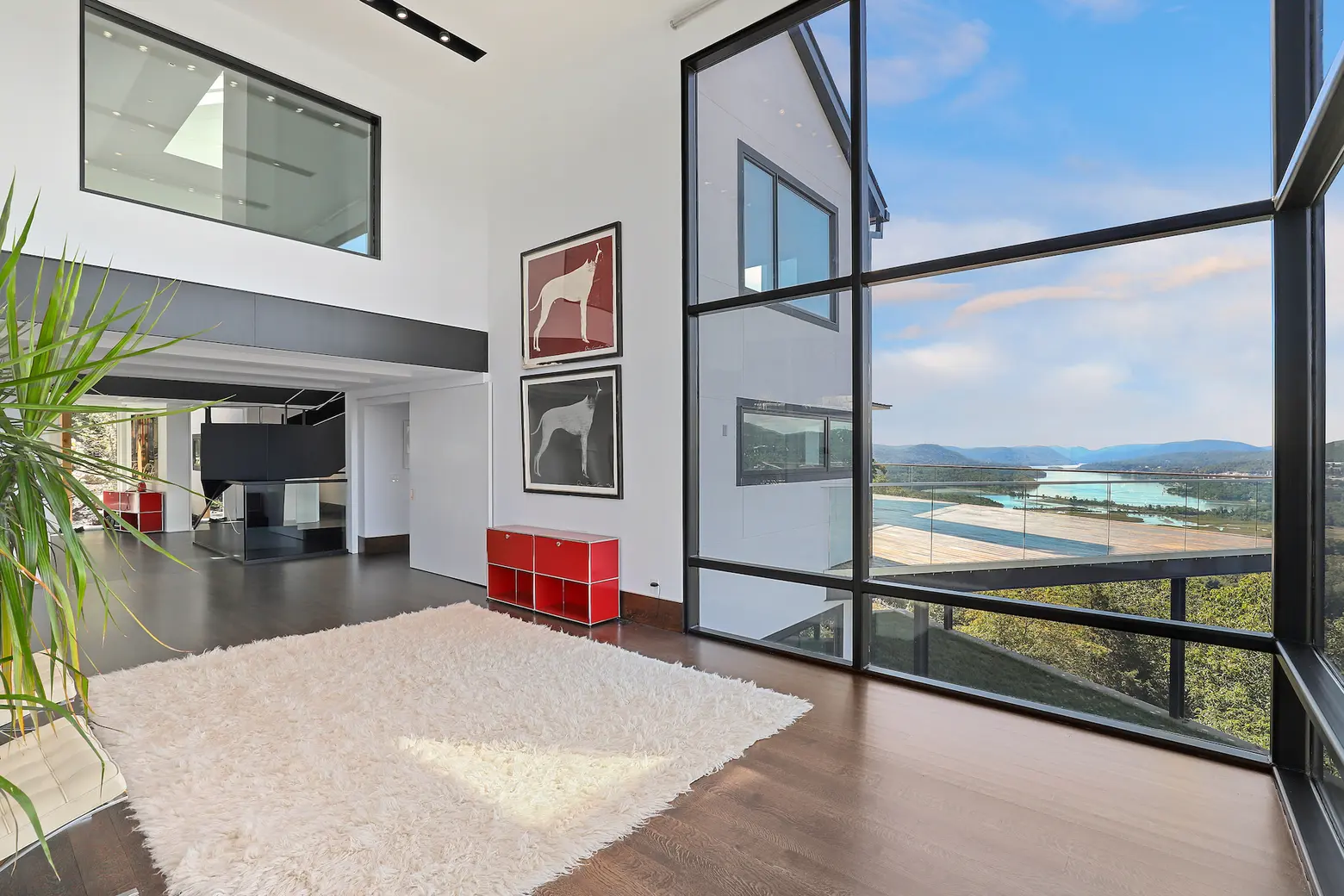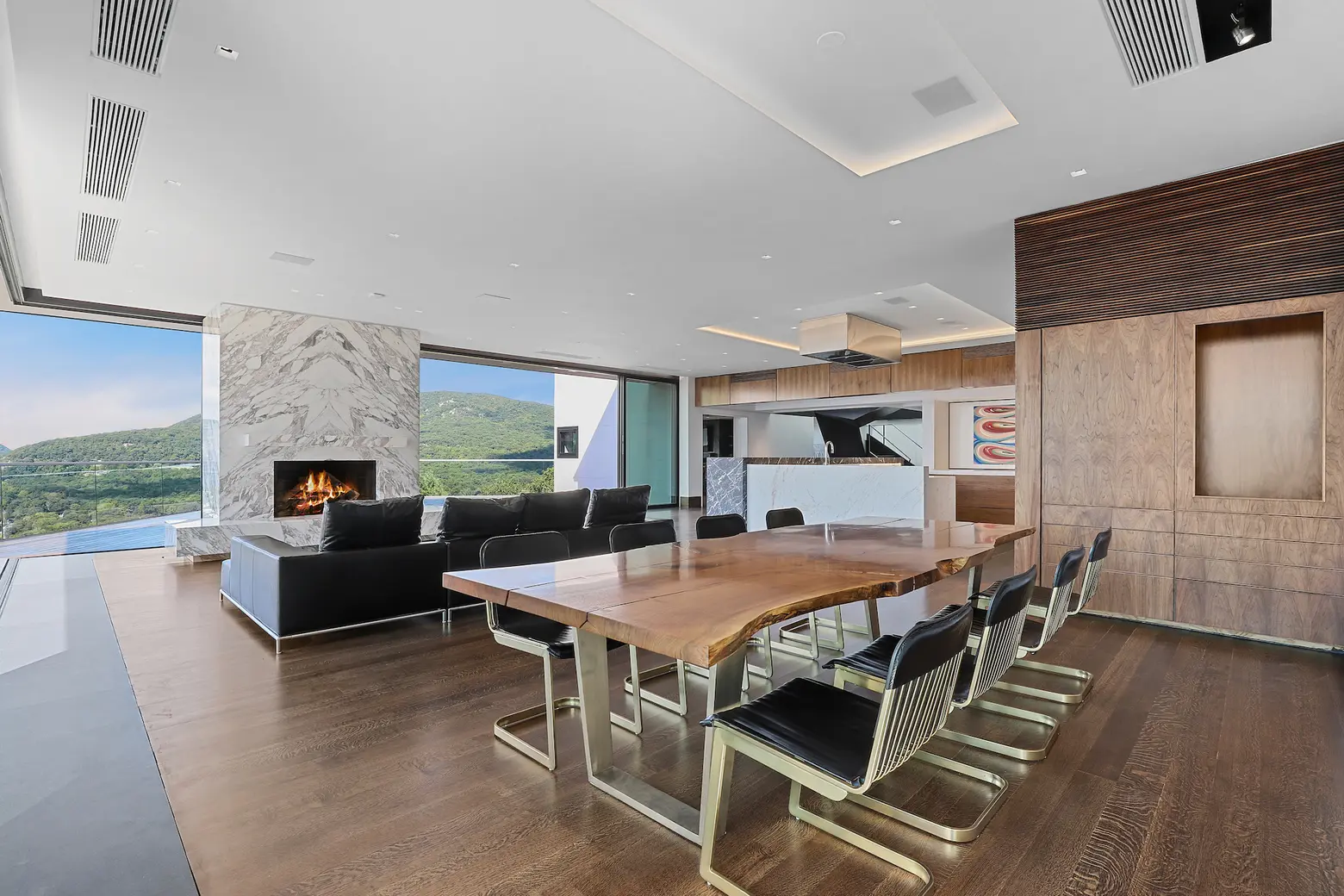 Living and dining spaces are anchored by the home's bold marble fireplace. Beyond, are views near (the pool and patio) and far (mountains, clouds, and sky.).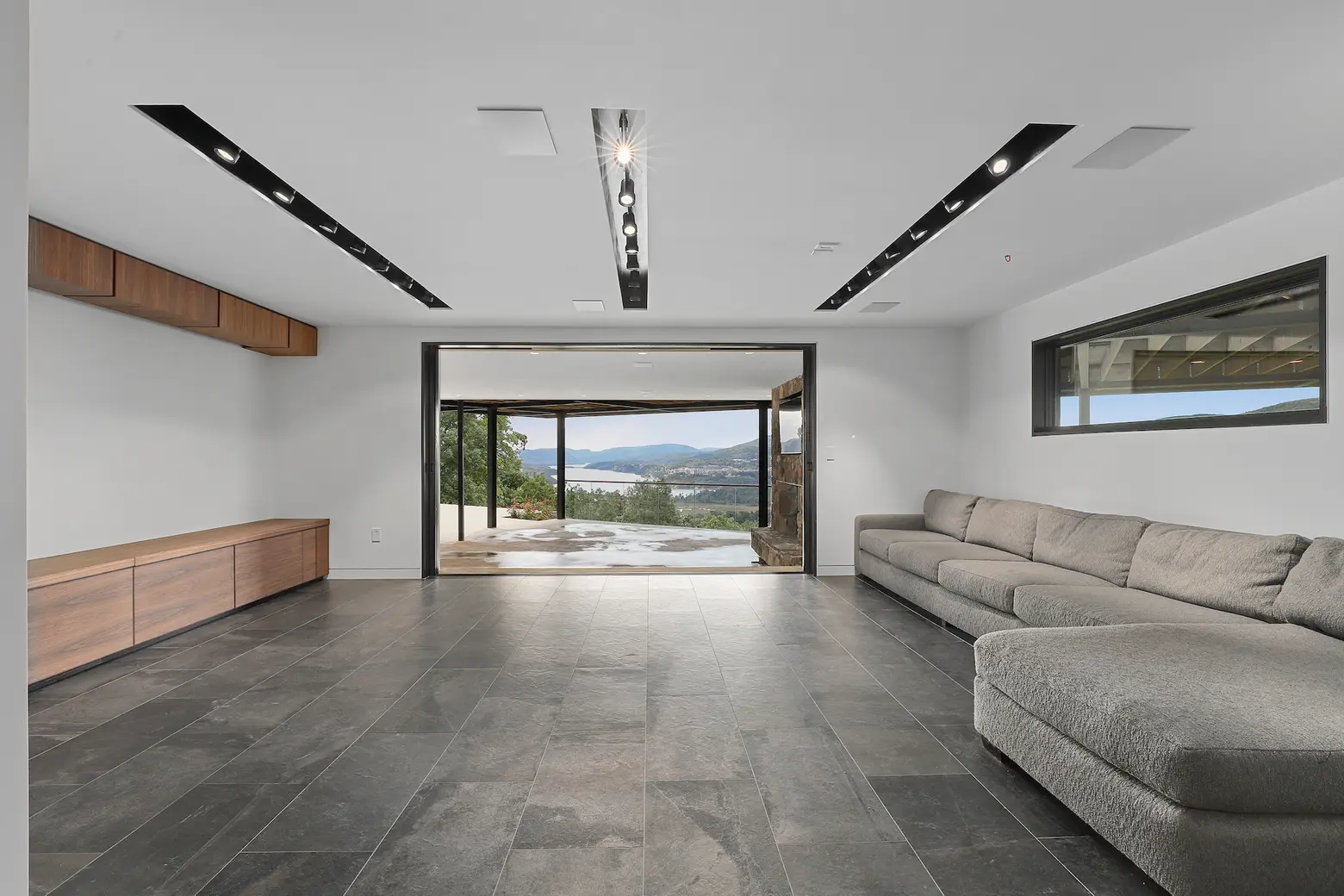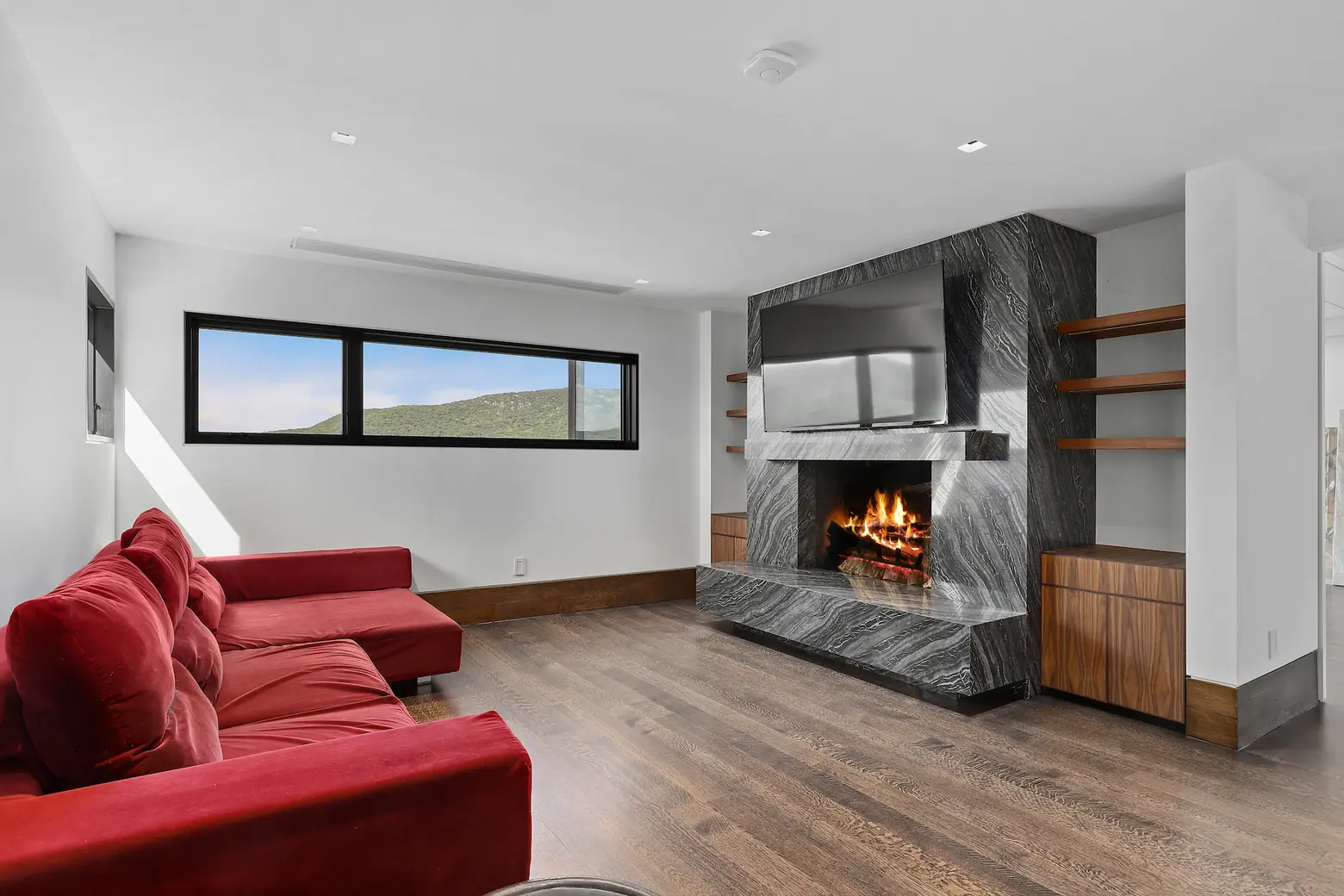 A den with 16-foot glass walls offers views from Storm King Mountain to West Point. An entertaining room has its own marble fireplace.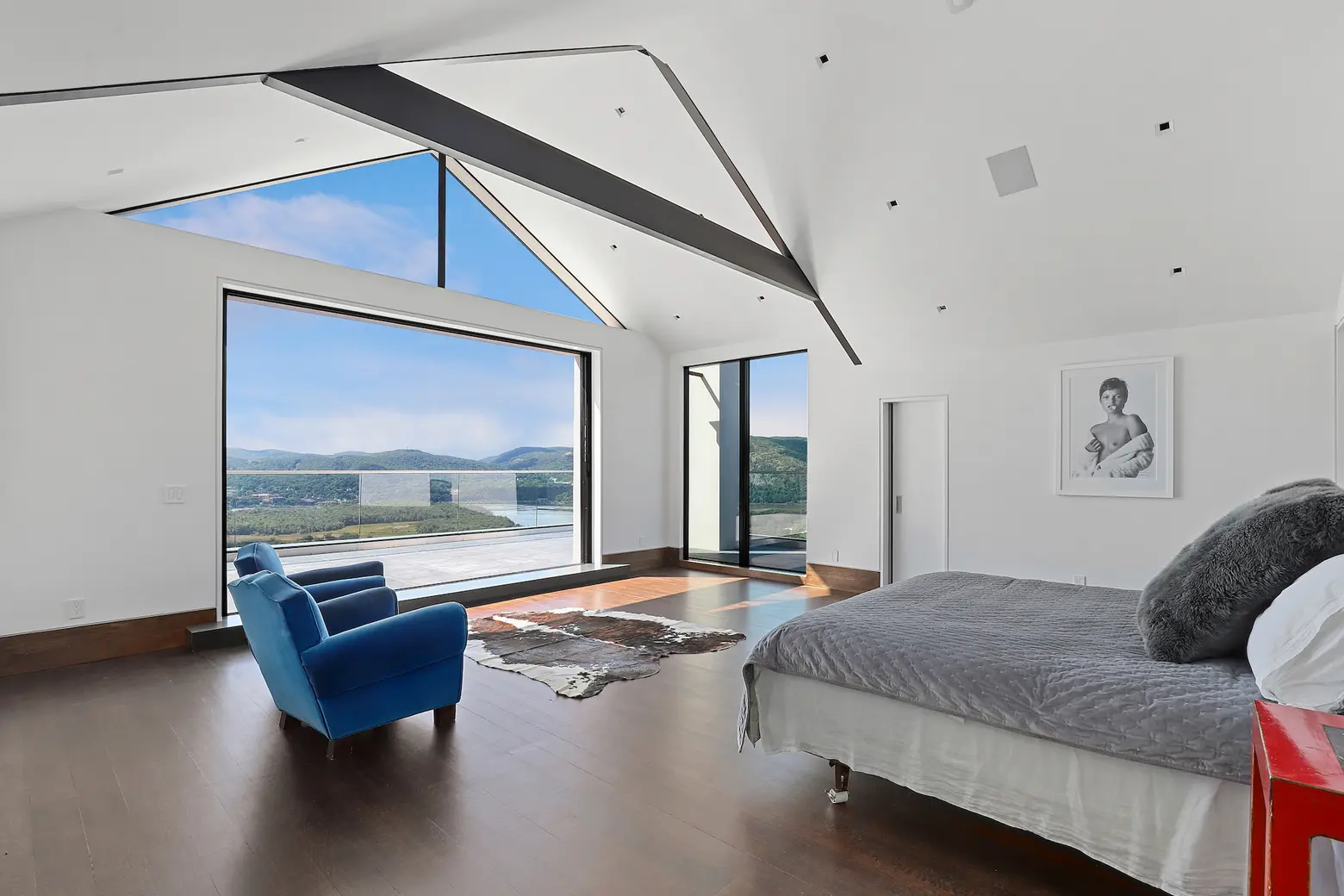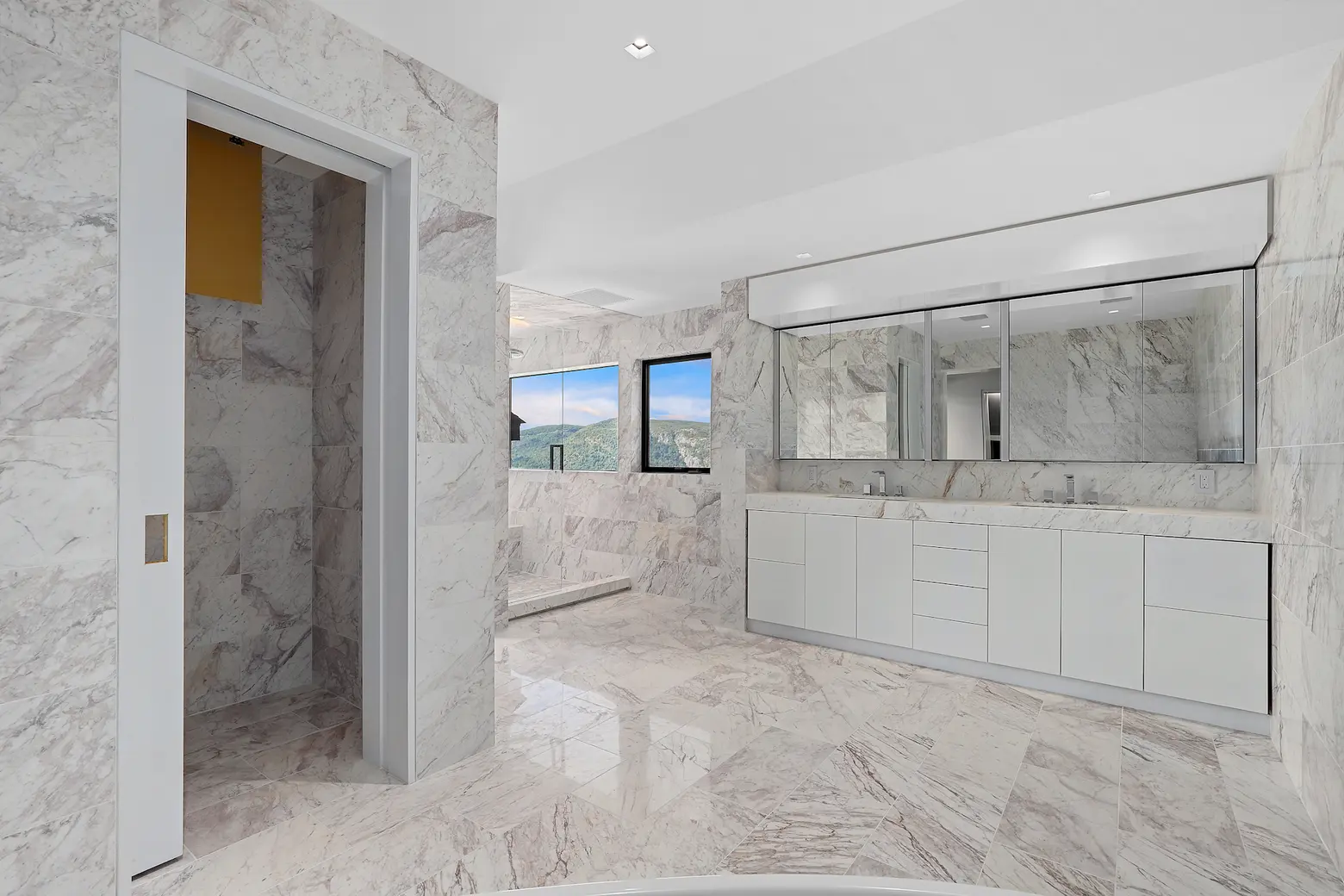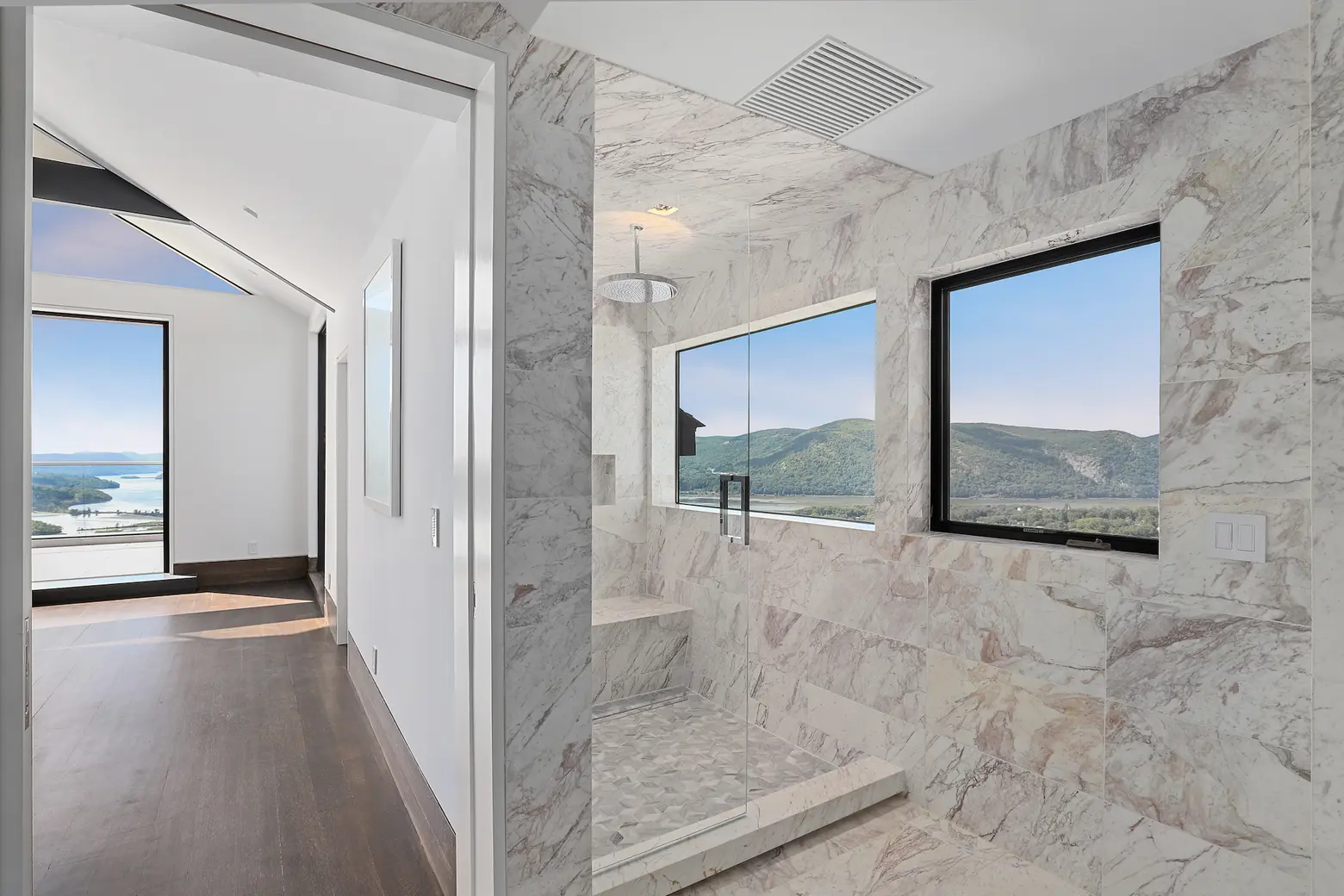 On the home's multi-skylit top floor, the main bedroom suite features a retractable glass wall that reveals cloud-level views and a 560-foot terrace. A marble-wrapped bath offers river views framed by picture windows, a soaking tub, and a massive walk-in shower with mountainside views.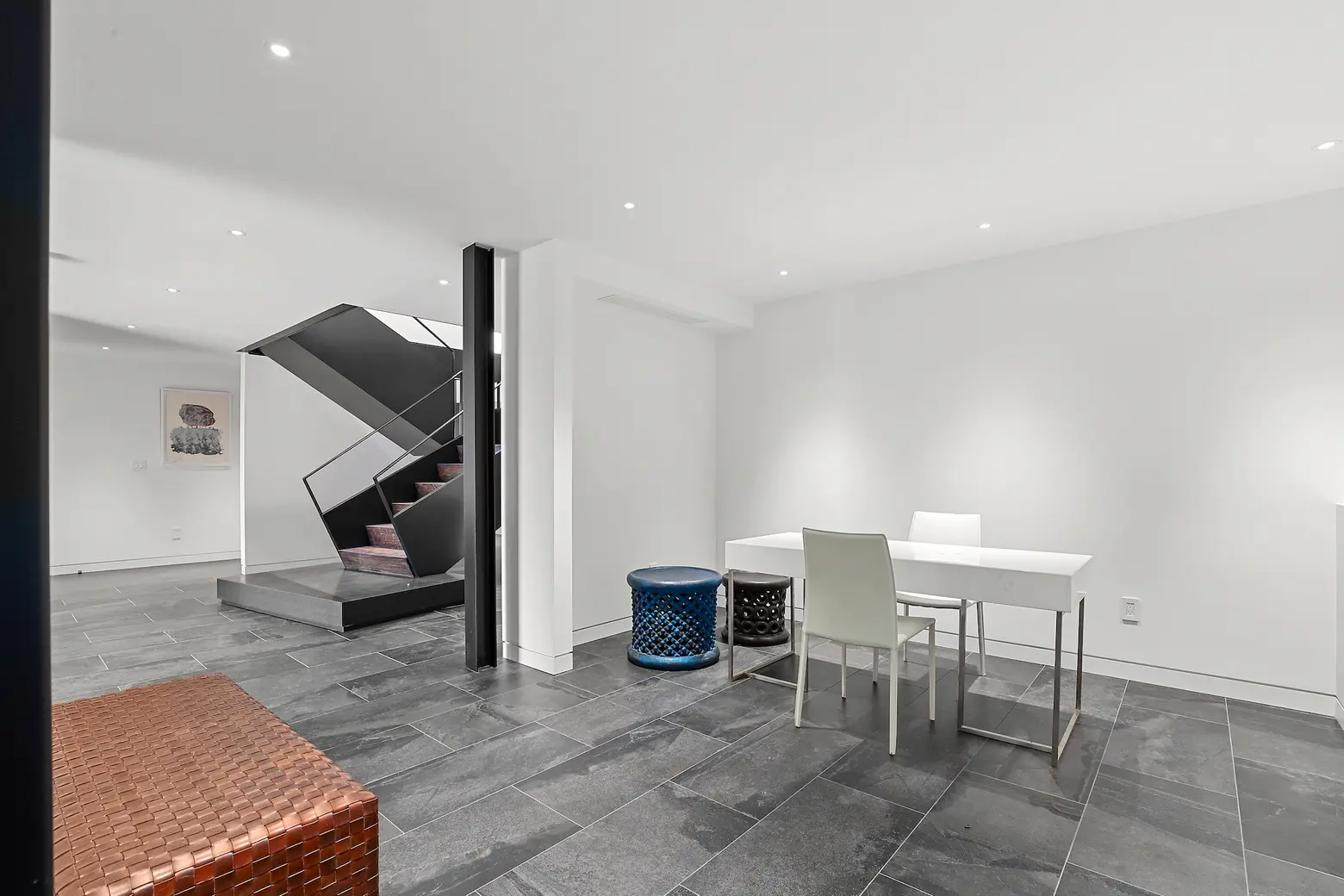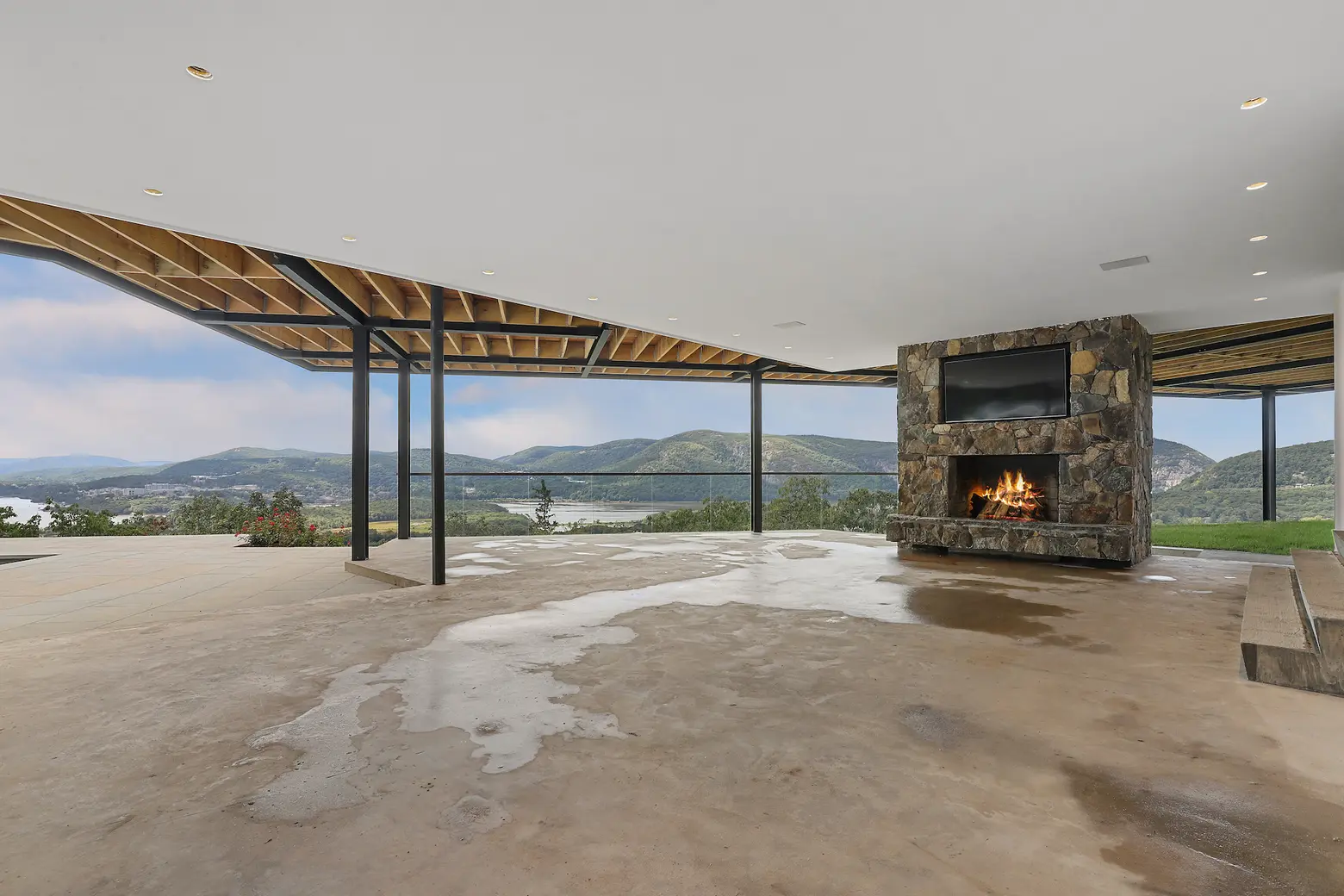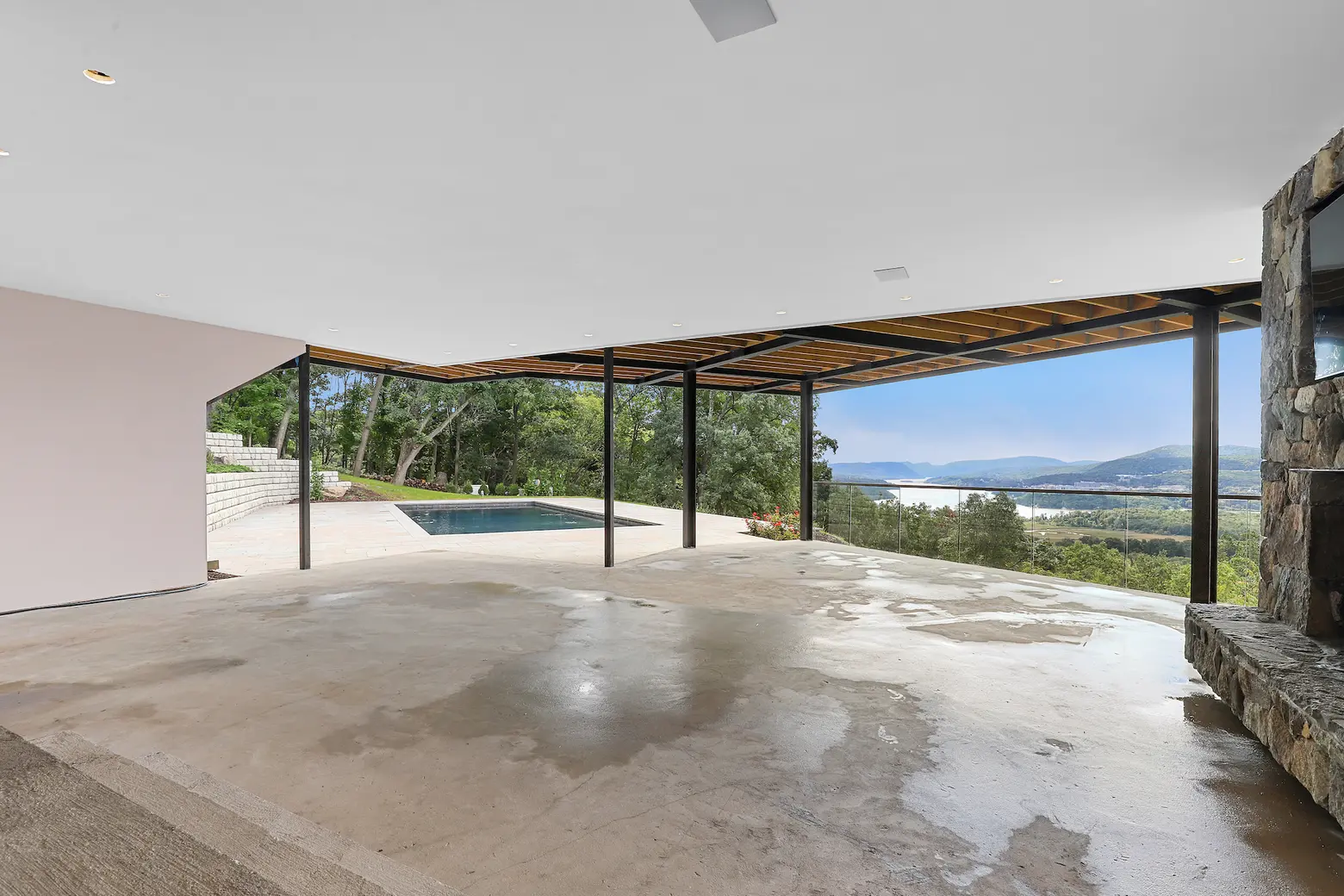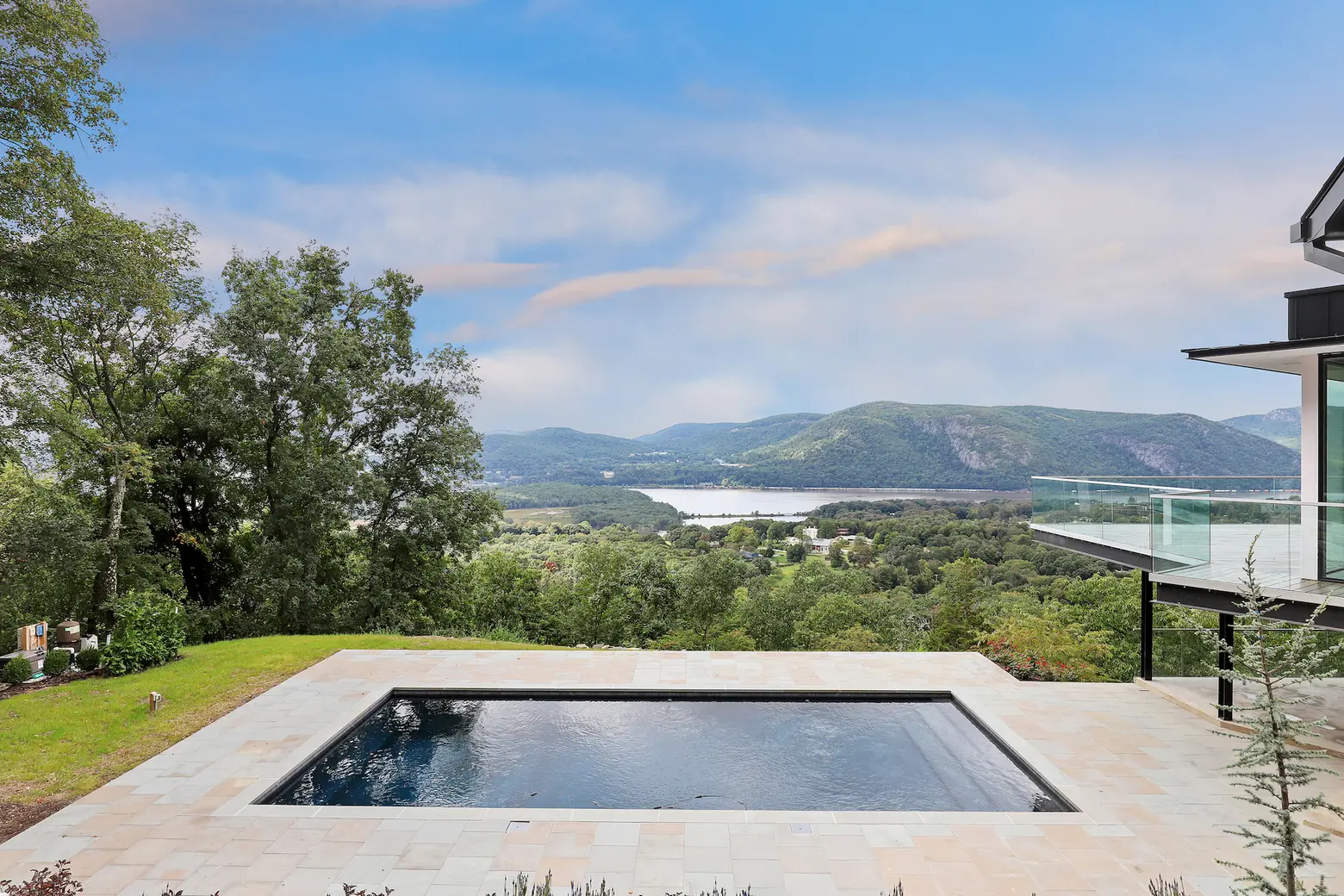 A home office, a two-bedroom suite, and a media-fitted recreation room are on the garden level. These spaces open onto a bluestone terrace with its own stone fireplace. At the center is a deep-water pool.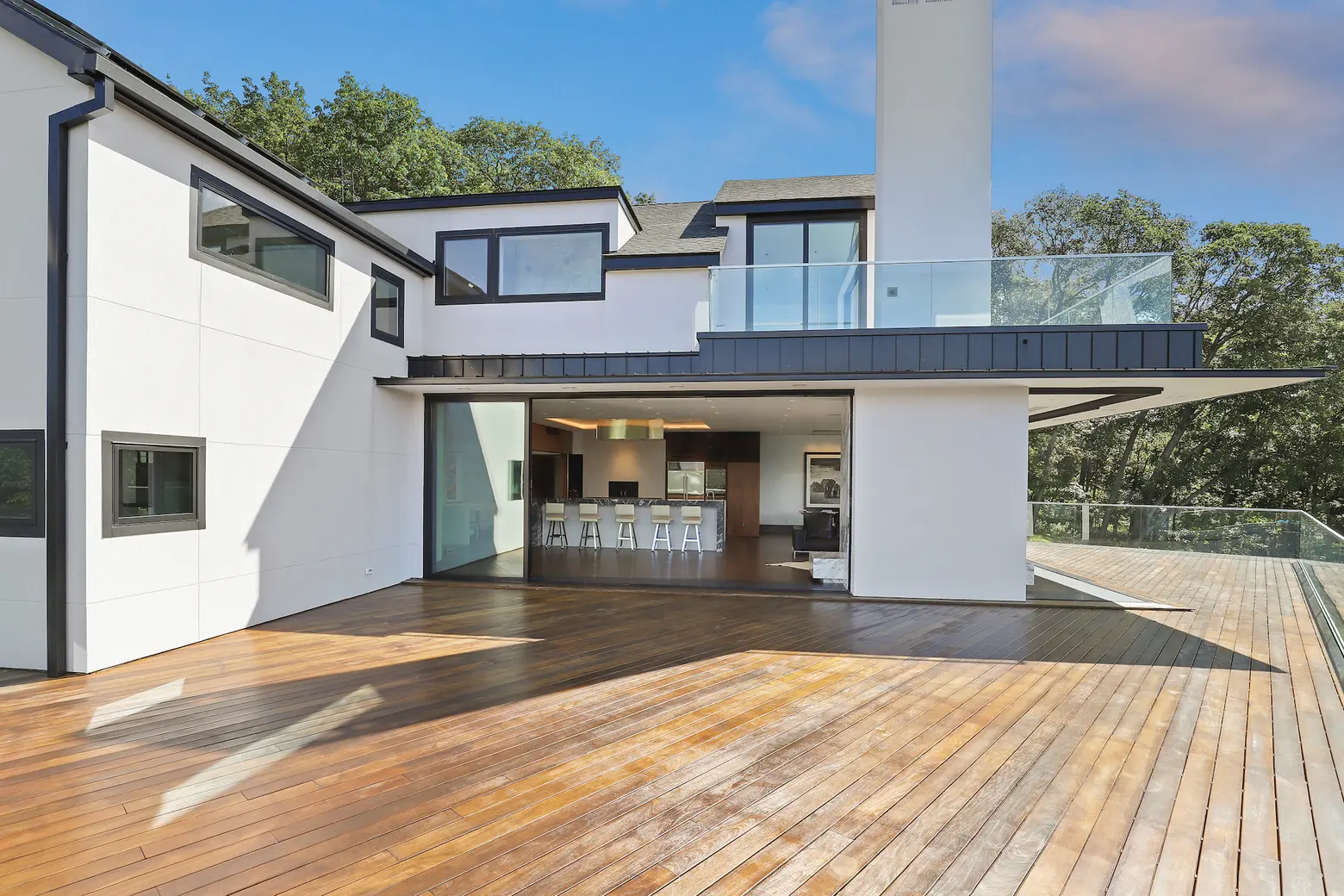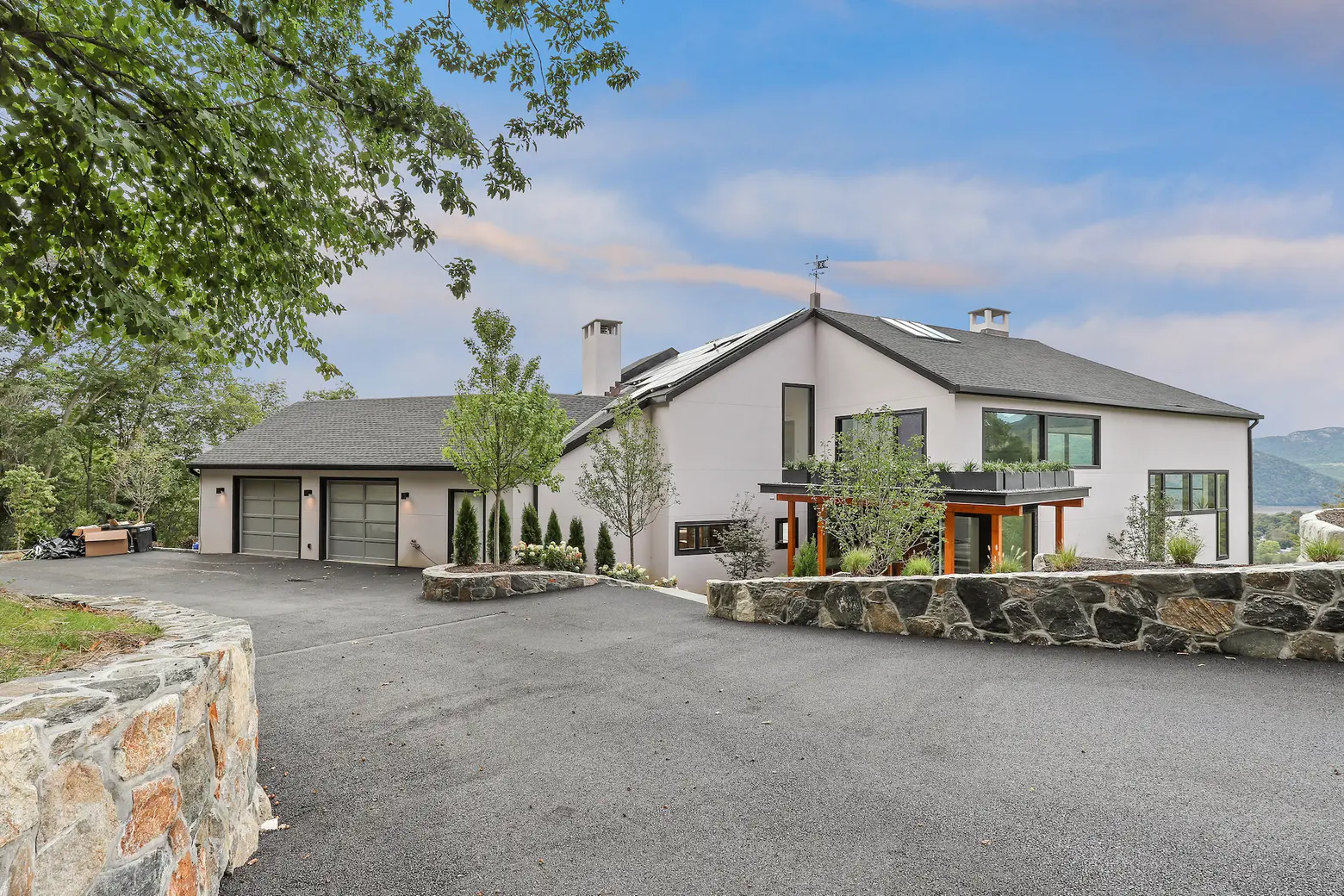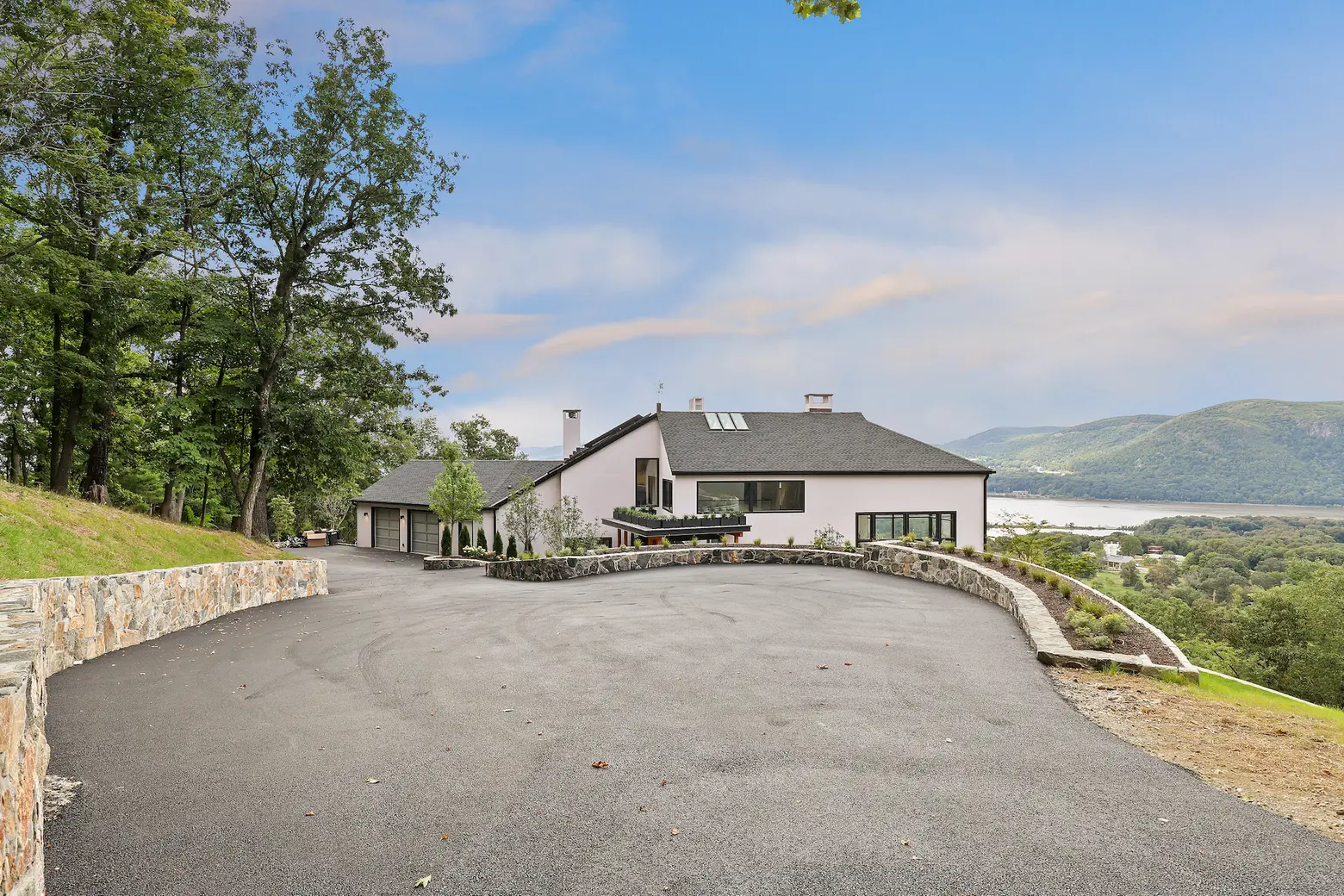 The contemporary upstate estate sits on four acres of wooded land, offering a level of privacy that's rare for a spot fewer than 50 miles from NYC; the surrounding parcels are deeded and unbuildable. This unique home is within minutes of the many amenities offered in the Hudson Valley.
[20 Windy Ridge by Melissa Carlton for Houlihan Lawrence]
RELATED:
Photos courtesy of Houlihan Lawrence.