Where I Work: How Kerry Brodie helps empower refugees through food at Emma's Torch in Brooklyn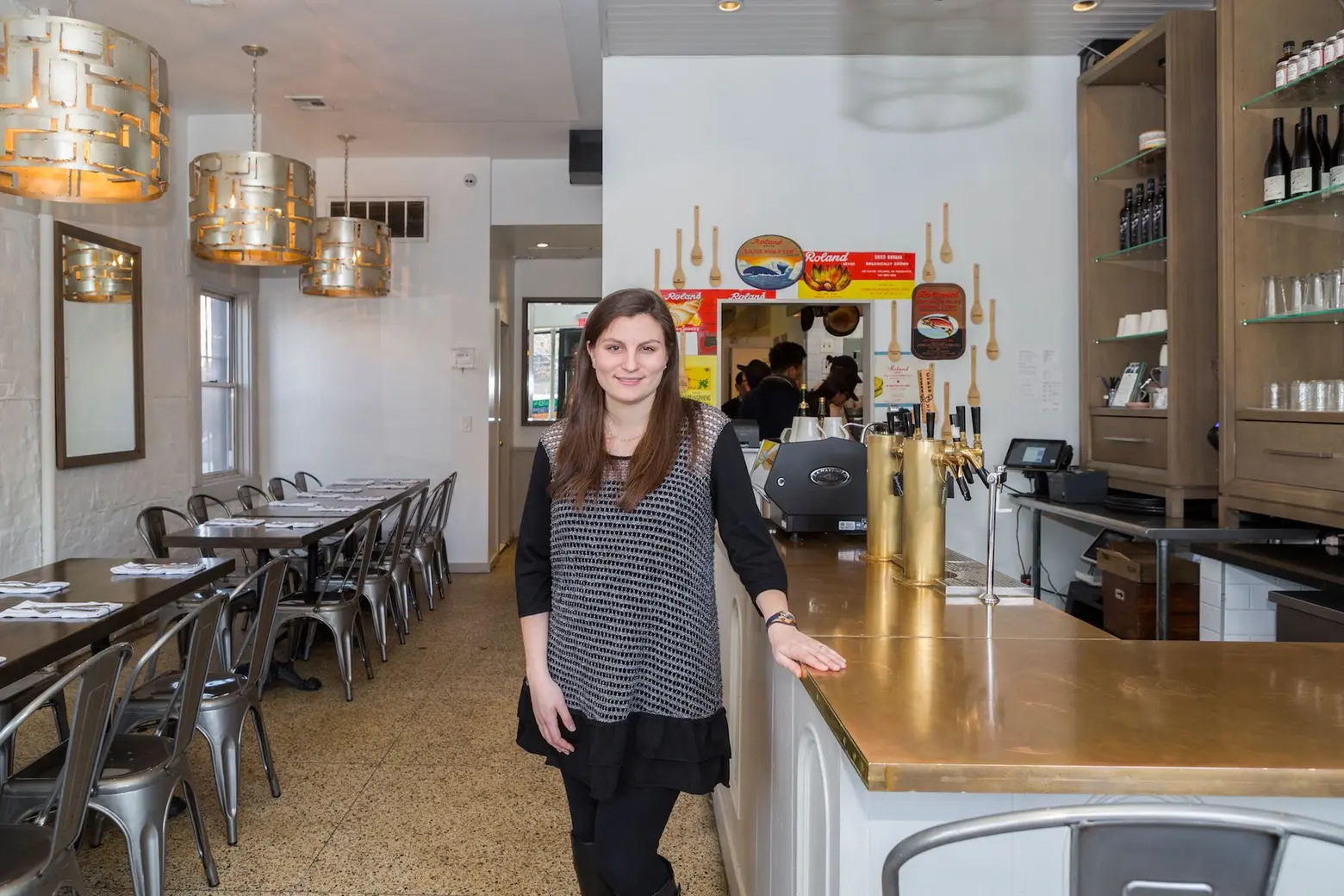 6sqft's series "Where I Work" takes us into the studios, offices, and off-beat workspaces of New Yorkers across the city. In this installment, we're touring Carroll Gardens nonprofit-restaurant Emma's Torch. Want to see your business featured here? Get in touch!
While volunteering at a Washington, D.C. homeless shelter a few years ago, Kerry Brodie witnessed how food can facilitate conversations among diverse groups of people. "If I have one background, someone else a different one, but we have this shared experience of cooking with our mothers and grandmothers, there's got to be something else we can do to propel change," Kerry said. With the idea to help those from disenfranchised communities find jobs and feel empowered doing so, she quit her job in public policy, moved to New York, and enrolled in culinary school.
A month after graduating, Kerry founded Emma's Torch, first as a pop-up in Red Hook to now a brick-and-mortar restaurant in Carroll Gardens, where it's been for about a year. The nonprofit, named after Emma Lazarus whose poem is inscribed on the Statue of Liberty, serves as a culinary school for refugees, asylum seekers, and survivors of trafficking. Applicants who are accepted to the 12-week paid program not only learn how to cook in a high-pressure setting but also work on English language skills and career planning. 6sqft recently sat down with Kerry at Emma's Torch ahead of a graduation dinner, a night where the students take over the menu and "cook from the heart." Ahead, learn more about the mission of Emma's Torch, the challenges of operating as a nonprofit, and Kerry's plan to expand beyond New York City.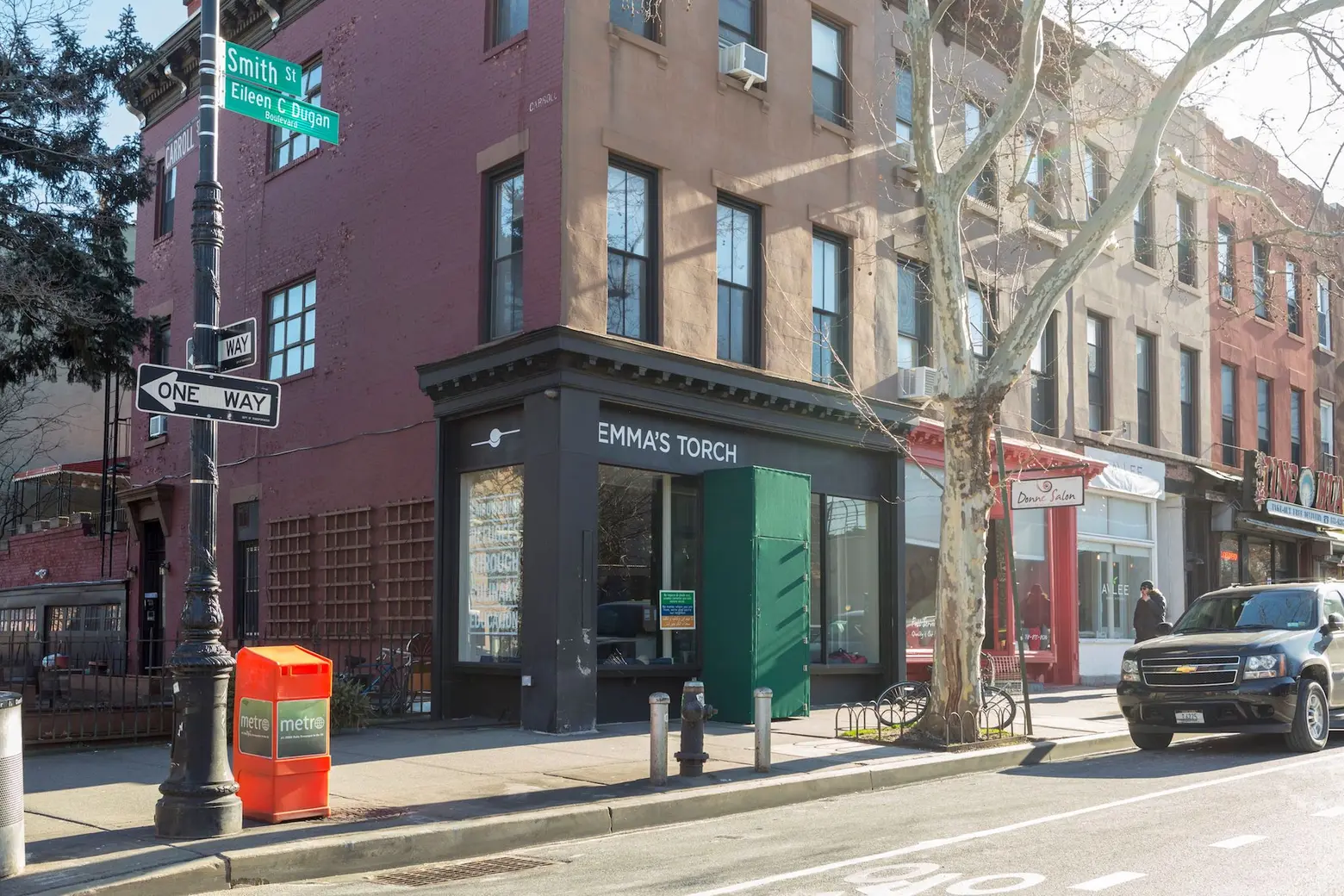 Find Emma's Torch at 345 Smith Street in Carroll Gardens
Can you tell us about yourself and your background?
I used to work in public policy, I was a speechwriter and communications specialist. I was always very passionate about social justice, but I thought that I'd work in public policy for my whole life and it turns out, public policy is great, but I don't have a lot of patience. When I was working at the Human Rights Campaign (in Washington, D.C.), I used to volunteer at a homeless shelter on my way to work. I was really struck by how food can facilitate conversations.
And I spent a lot of time thinking like, so can we do more with this? If I have one background, someone else has a different one, but we have this shared experience of cooking with our mothers and grandmothers, there's got to be something else we can do to propel change. I came up with this crazy idea and eventually my husband, I think, got sick of me talking about how someone else should do it and he eventually asked me: 'Why not you?'
I did a ton of research, I'm pretty risk-averse. So I did a lot of research and eventually quit my job, we moved to New York, and I went to culinary school. And the rest is history.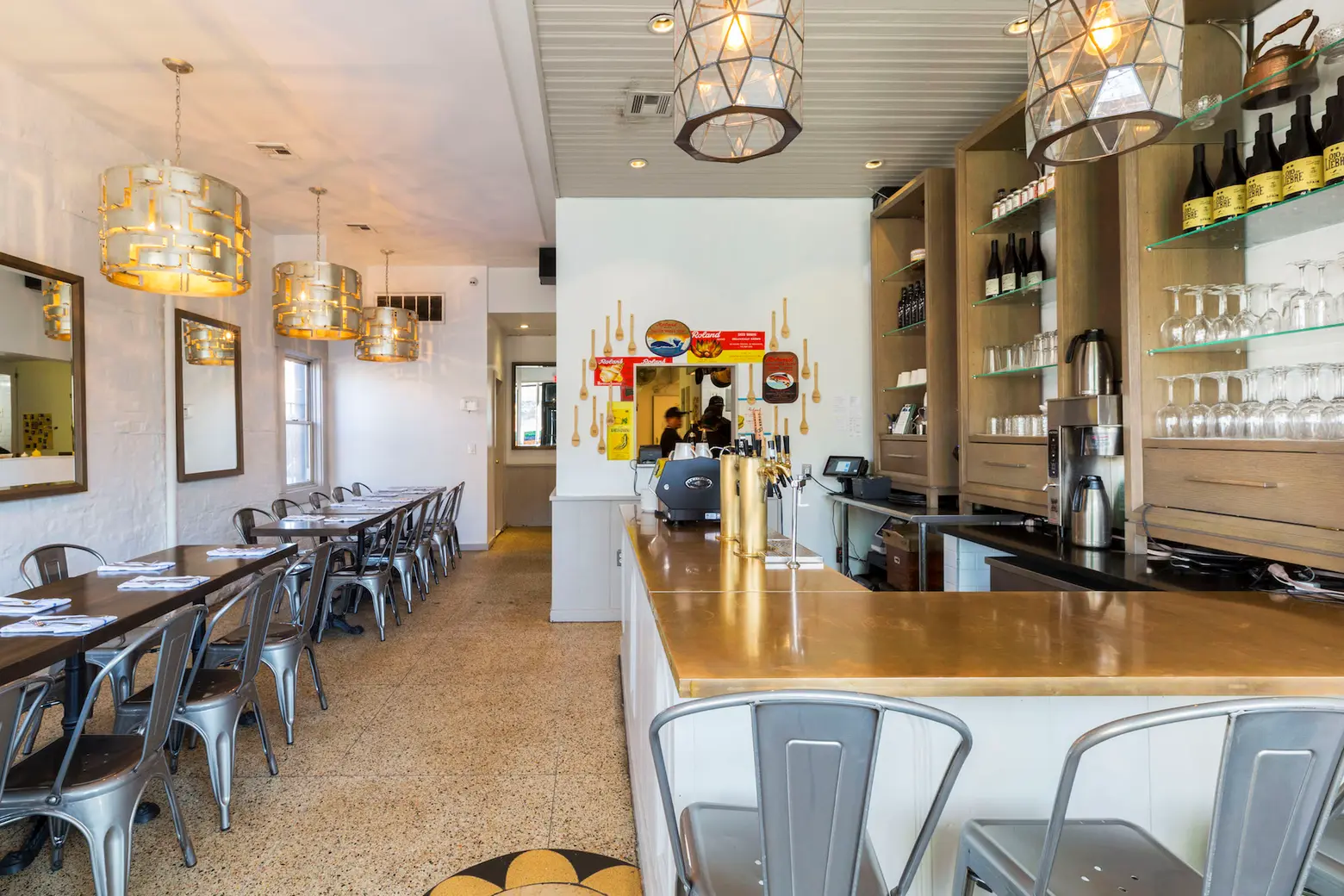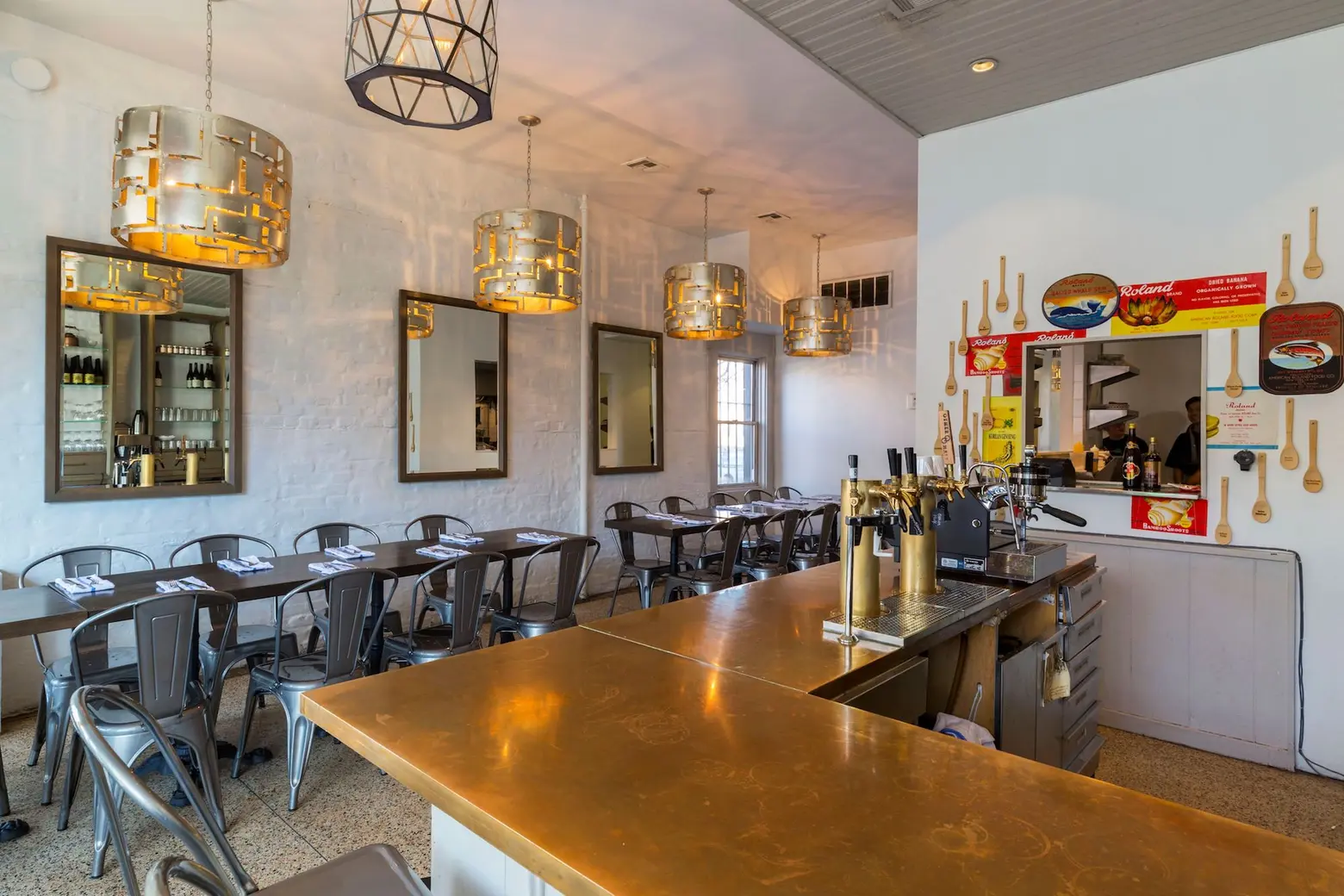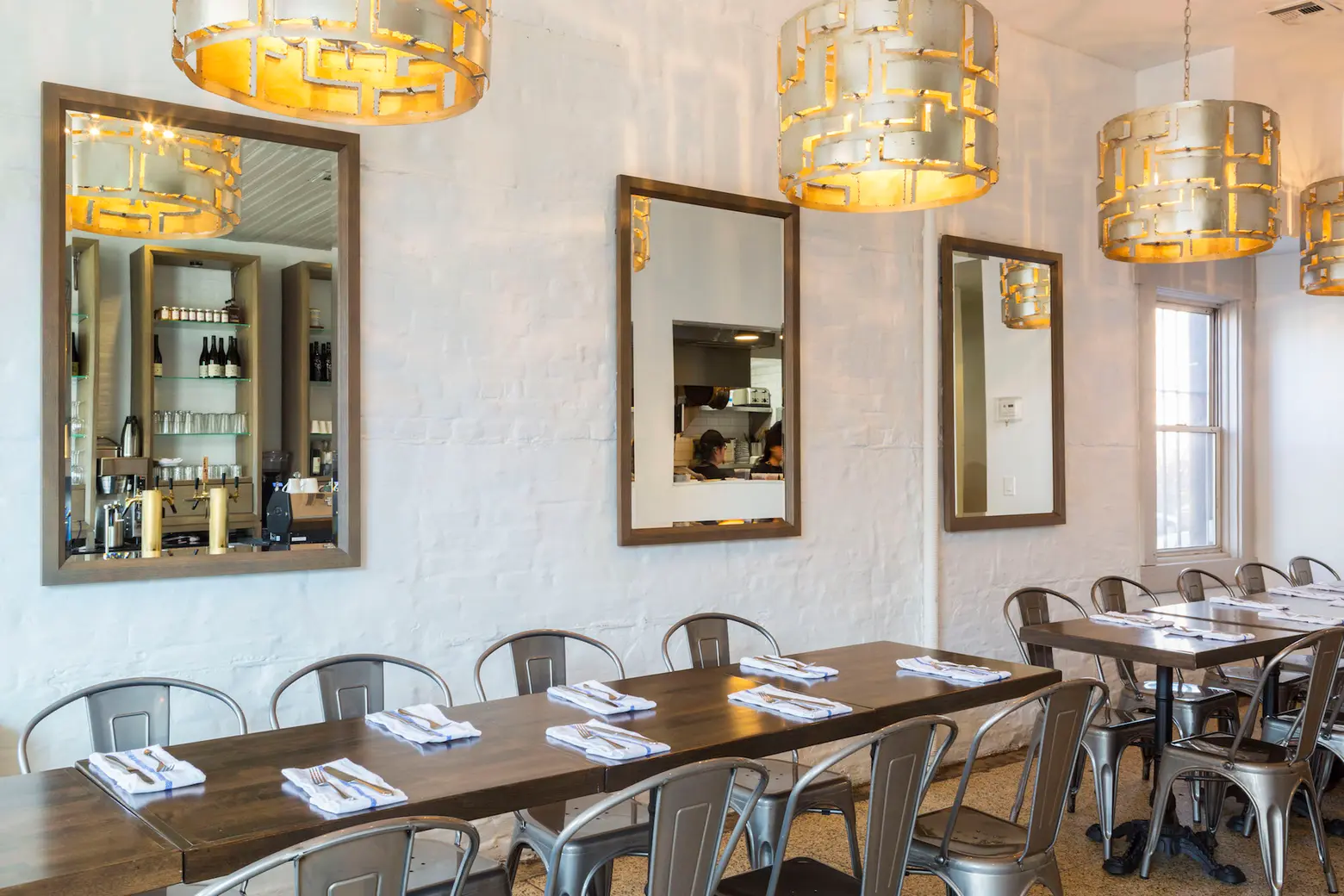 Rachael Ray, who is a funder of Emma's Torch, had her team help design the space
Did you have a food background?
Nothing formal. I grew up cooking with my mother and grandmother. Cooking was always my favorite activity but I didn't have any formal background in it.
How did you come to this realization that food could be this avenue for the greater good?
I think at the same time that I was thinking about this, there were quite a few articles that came out about the issue of the labor gap in the culinary industry. That restaurants are really struggling to fill their employment needs and at the same time, we have people being disenfranchised and not able to access those opportunities. So it feels like killing two birds with one stone.
That was kind of where my head was. But it also came from this idea of how food has always been very important as a way of how new people have found their footing in this country. With that as a backdrop, I felt this could really work.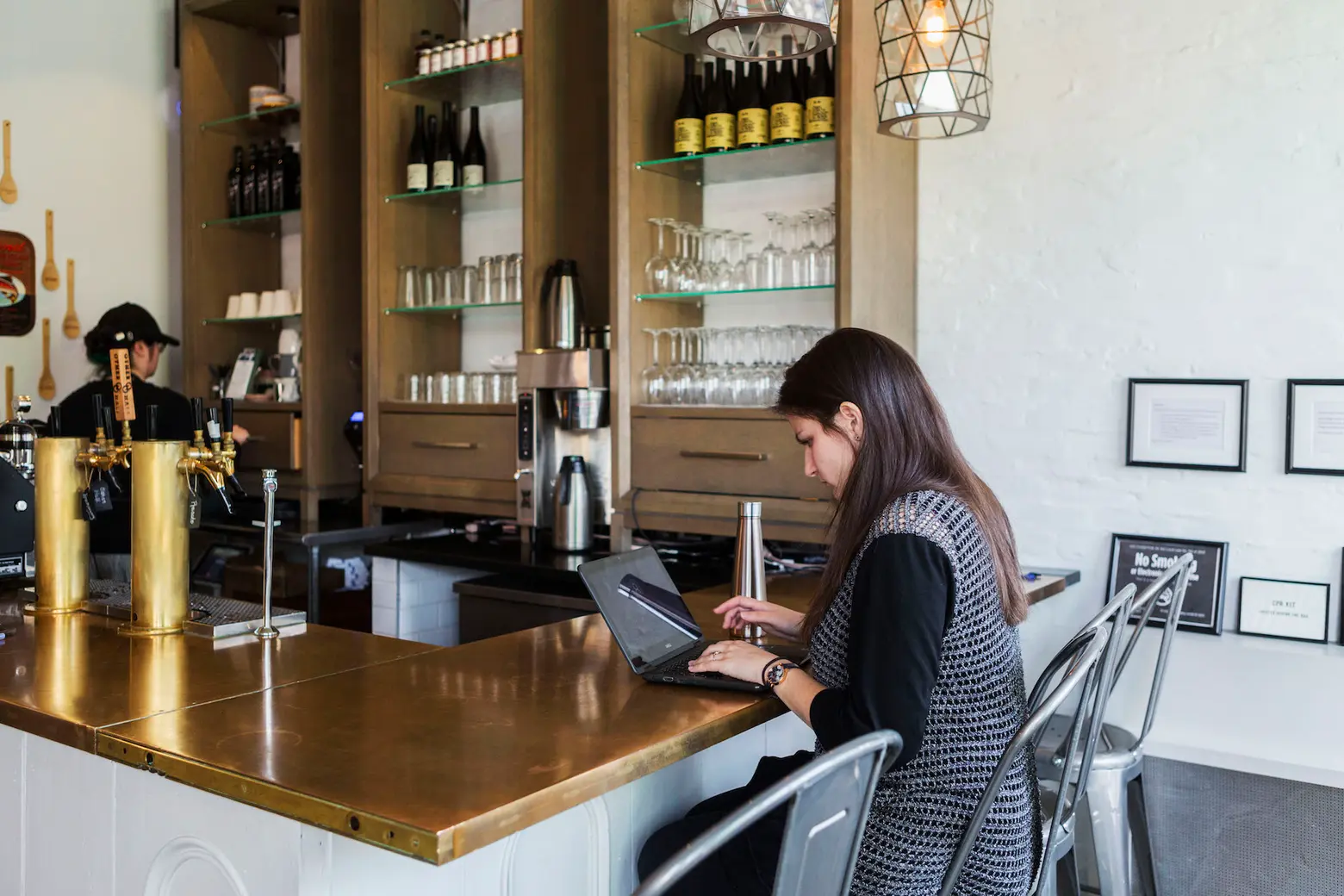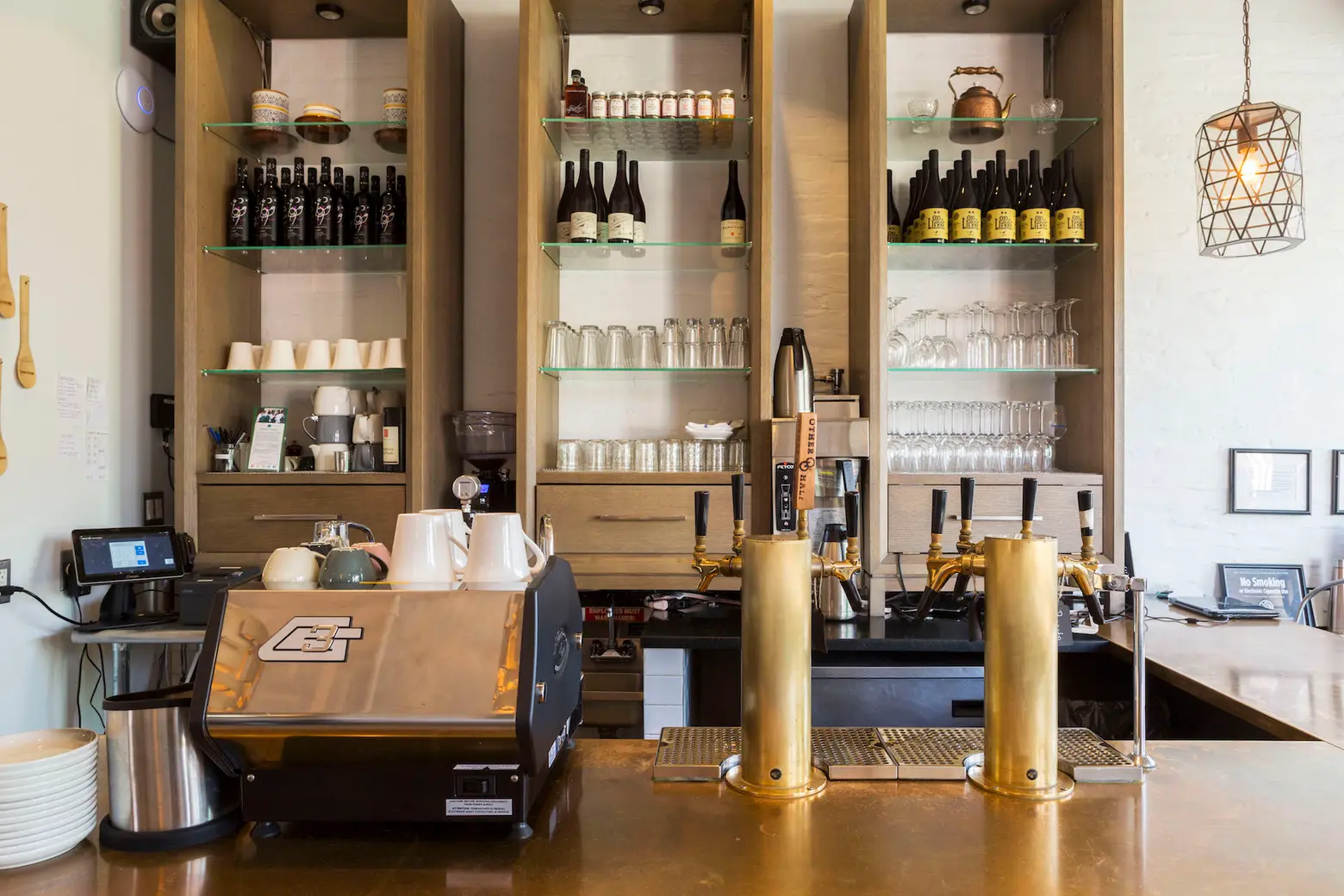 At the bar, local brewery Other Half is offered on draft, as well as Shacksbury cider
Can you tell us about the Red Hook pop up?
I was coming to the end of my time at culinary school and I was an extern, and I saw this post on Facebook of all places–I don't spend a lot of time on Facebook– about this couple in Red Hook who were looking to sublease out their space as a pop-up. This tiny, little cafe, really cute, which at the time was called Homemade. It's now Eat Rita. I had always wanted to do that, but I thought that would be in five years.
I, on a whim, sent them an email and we ended up going to look at the space. It was kind of the ideal space for us to test things out. The kitchen was manageable and we were just going to be doing brunch. Rent was manageable. It was kind of a good way of testing the grounds. We got the keys at the beginning of June and opened 10 days later.
The space was already beautiful and had a lot of character. I think that we knew we were going to be there temporarily so we didn't do a ton of design changes. It's funny that a place called Homemade really felt like home. It was Emma's first home.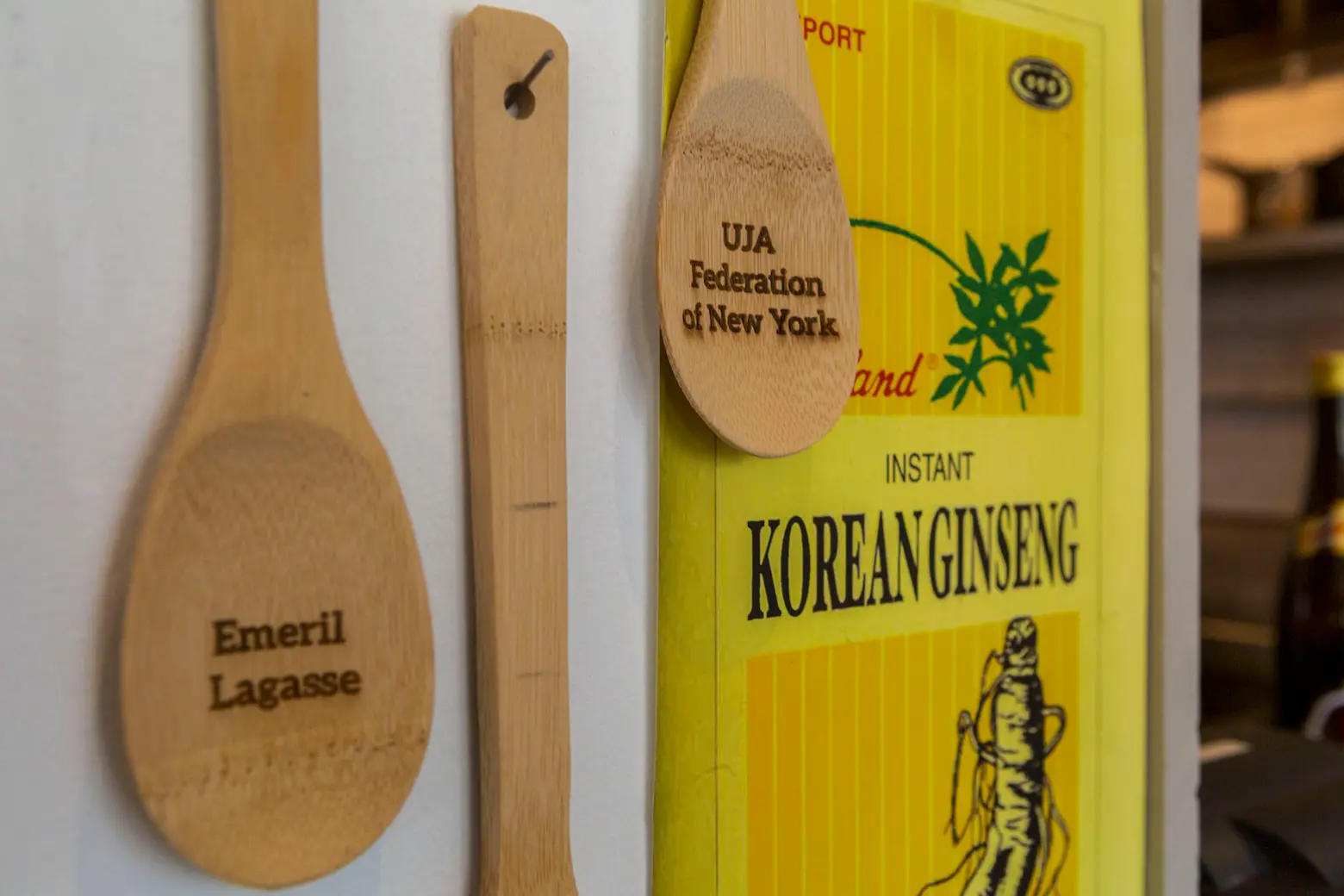 The spoons hung near the kitchen feature the names of donors
And what happened after that?
I think the pop up proved a couple of things. It proved first and foremost that we could, in fact, take people who had never worked in a kitchen before, train them, and have them execute beautiful meals and also begin new careers. It proved there was a market for it, that people would come and pay money for this. It showed us how we could really build our program from there.
We spent six months in the pop-up and decided that was great and that we needed a bigger, more permanent space where we could do more, bring on more students, and really grow. We spent a while looking for that perfect space and then in April we signed the lease in here.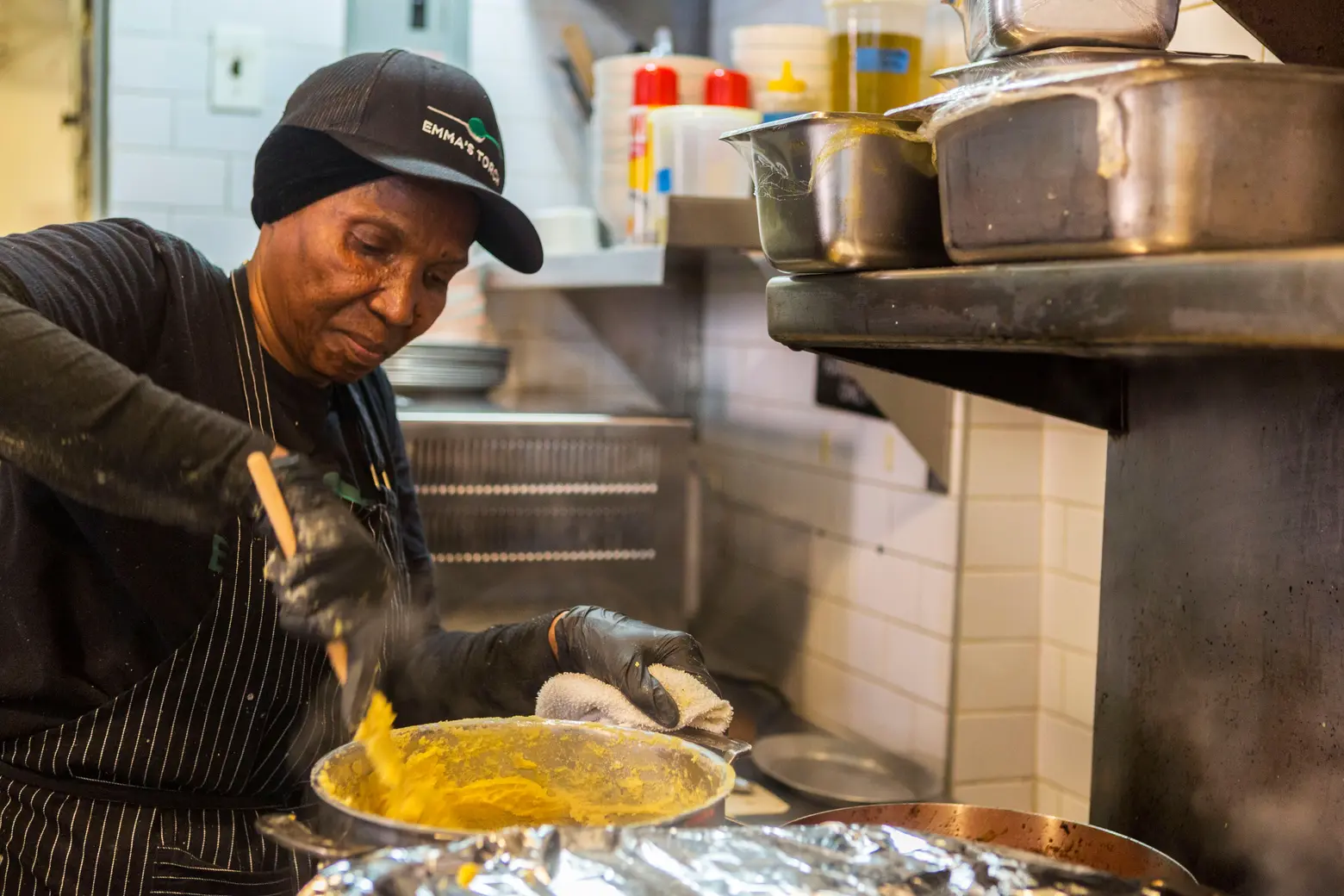 The only requirement for the program? A passion for food
What was it like to move Emma's Torch from a pop-up to a brick and mortar?
It was a really big transition. It was the first time we were going to be offering all meals and doing dinners throughout the week. We loved the space as it was and we were very fortunate Rachael Ray's team came in and helped us design the space.
How did Rachael Ray get involved? 
Rachael Ray is a funder of ours. Her foundation is very supportive of our work and she has a home furnishing line so they integrated a lot of that into the space, as well as her aesthetic and donated those services, which was just incredible for us. It was just this crazy 10-day period where it went from a fried chicken restaurant to this restaurant. I don't know what we would have done without them, so I'm very grateful.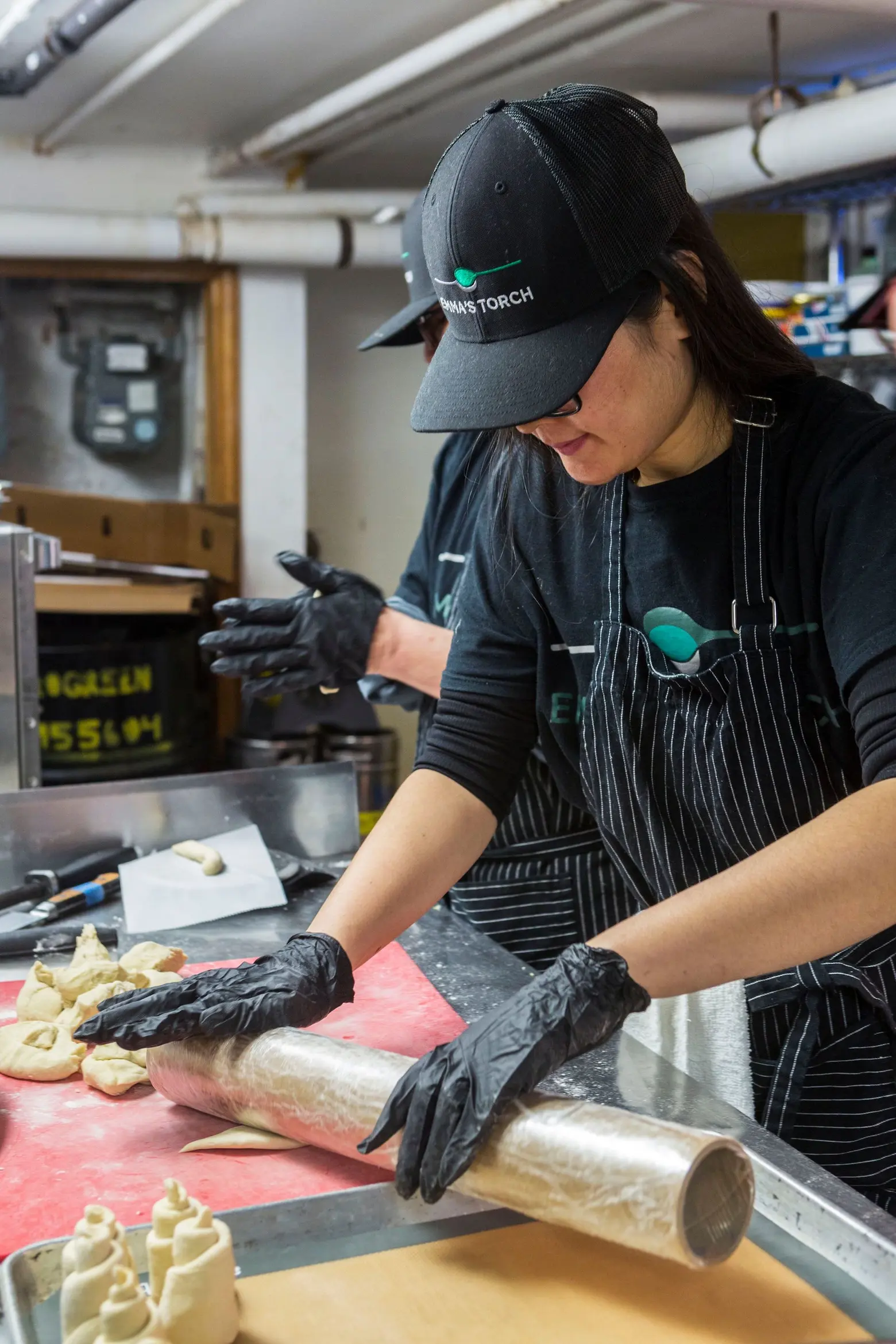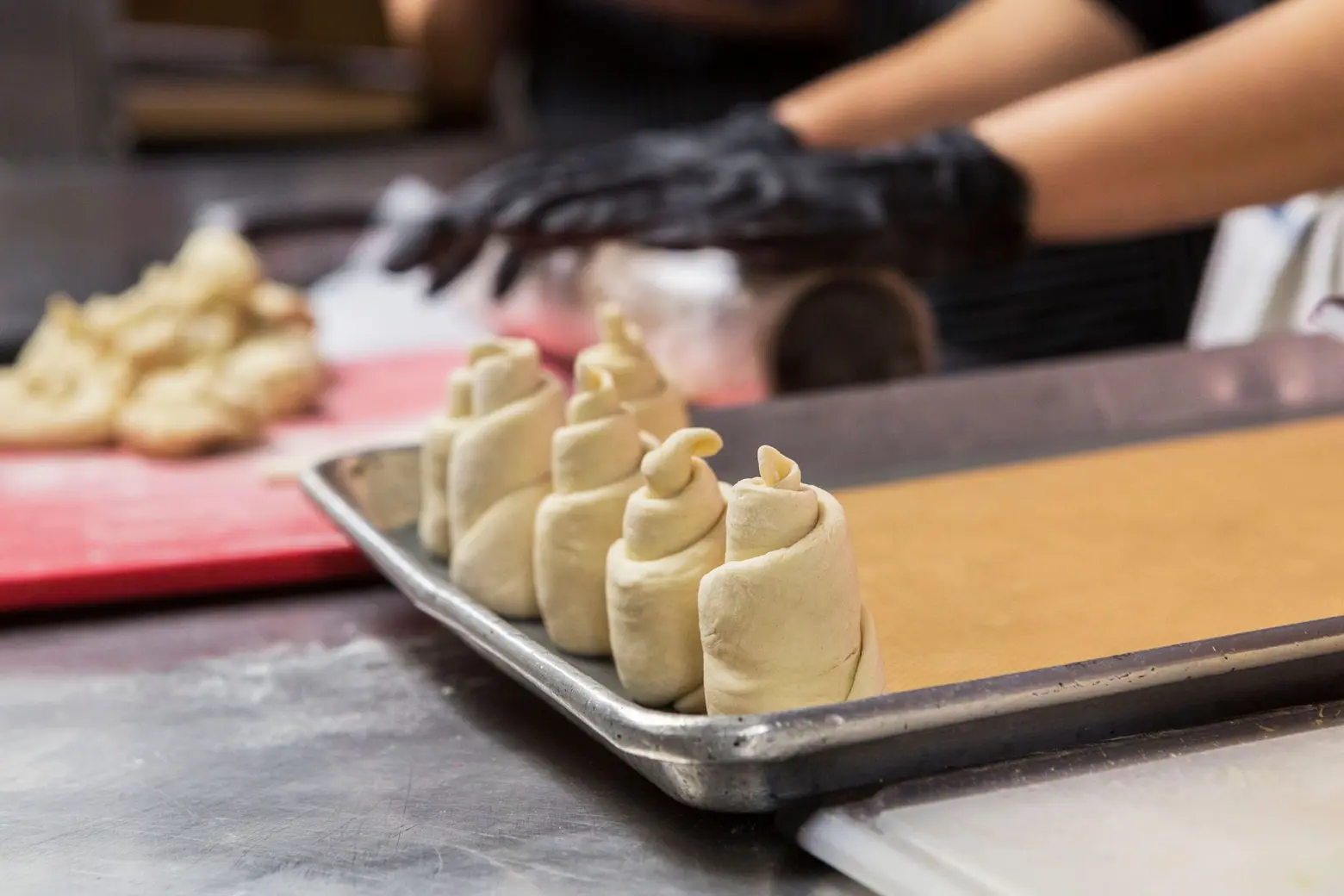 In the basement, students prep food for Emma's Torch Brooklyn Public Library location
Did you look at any other neighborhoods?
We started looking in August 2017 and didn't sign a lease until April of 2018. We were really particular. I think that we knew we really wanted to be in a neighborhood, we knew we wanted a manageable size that we could grow into but also would never feel onerous. And to be honest, we happened upon this opportunity for this space by chance. It kind of all fell together, and it's almost too perfect, which is great.
We got very lucky because this community is so welcoming and so wonderful. From the day that we moved in people kept knocking on the door to find out, first of all, who were we but then as soon as they knew who we were, so how can we help?
How do you attract students and how you get the word out about the program?
We work with between 33 and 34 refugee resettlement agencies, homeless shelters, and social service providers who refer clients to the program. They'll send people to us, they'll go through the interview process, and then they get started in the program.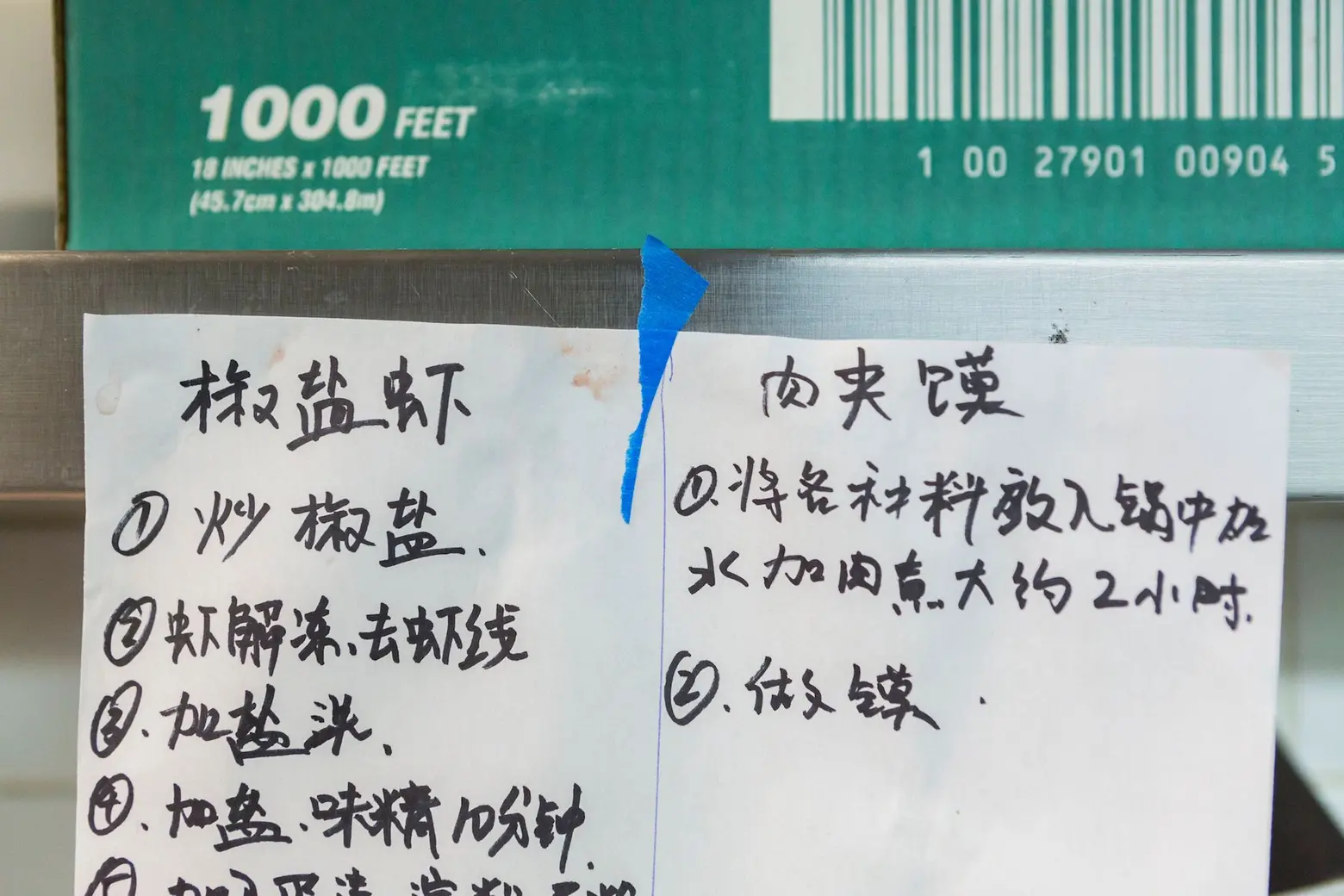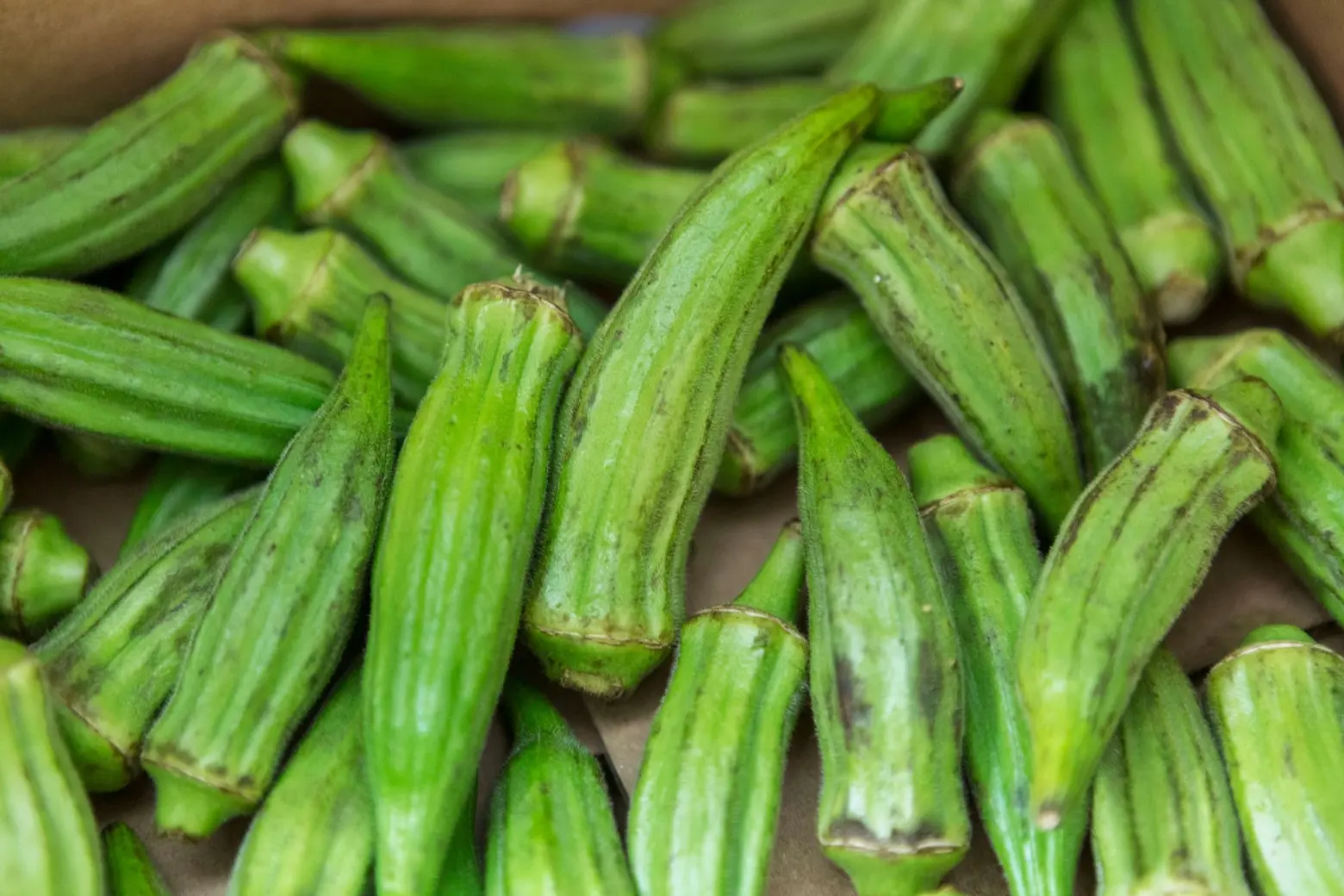 What is the process of applying?
There's an online application, an in-person meeting, and then an in-person trail, which is a term used in the culinary industry that is like a mock shift. We'll have someone who expressed interest come in and do this interview, and then we say ok you say this is for you- why don't you come and hang out with us in the kitchen for a couple of hours and just see what it's like?
Because it's not always easy, it's almost never easy in fact. We're not looking for someone who knows to jump in with a knife, we're looking for someone who is excited to be there.
So no prior training is required?
No, just a passion for food.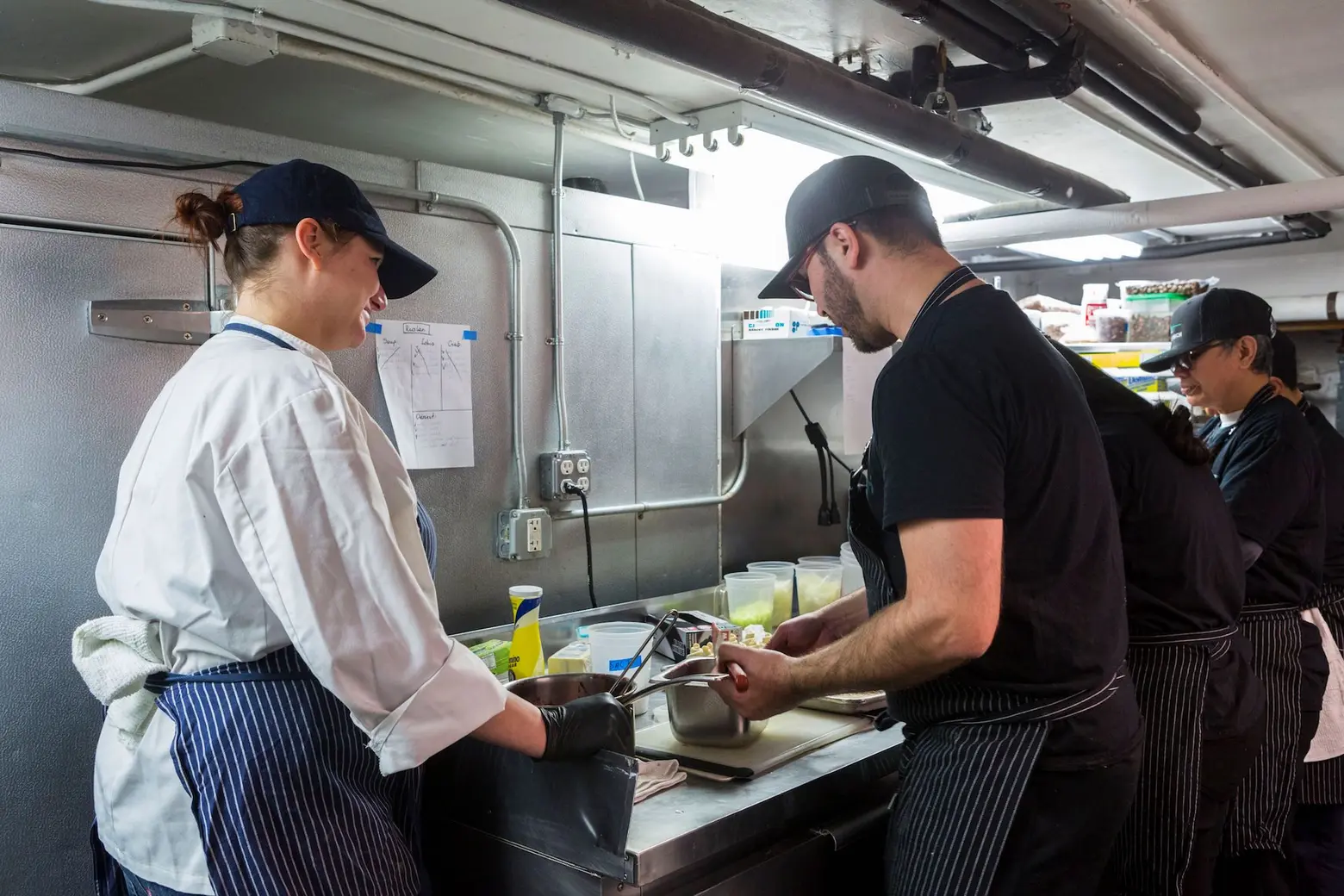 A guest chef comes during the graduation dinner to help the students prep their meals; In January, Chef Emily of North End Grill joined Emma's Torch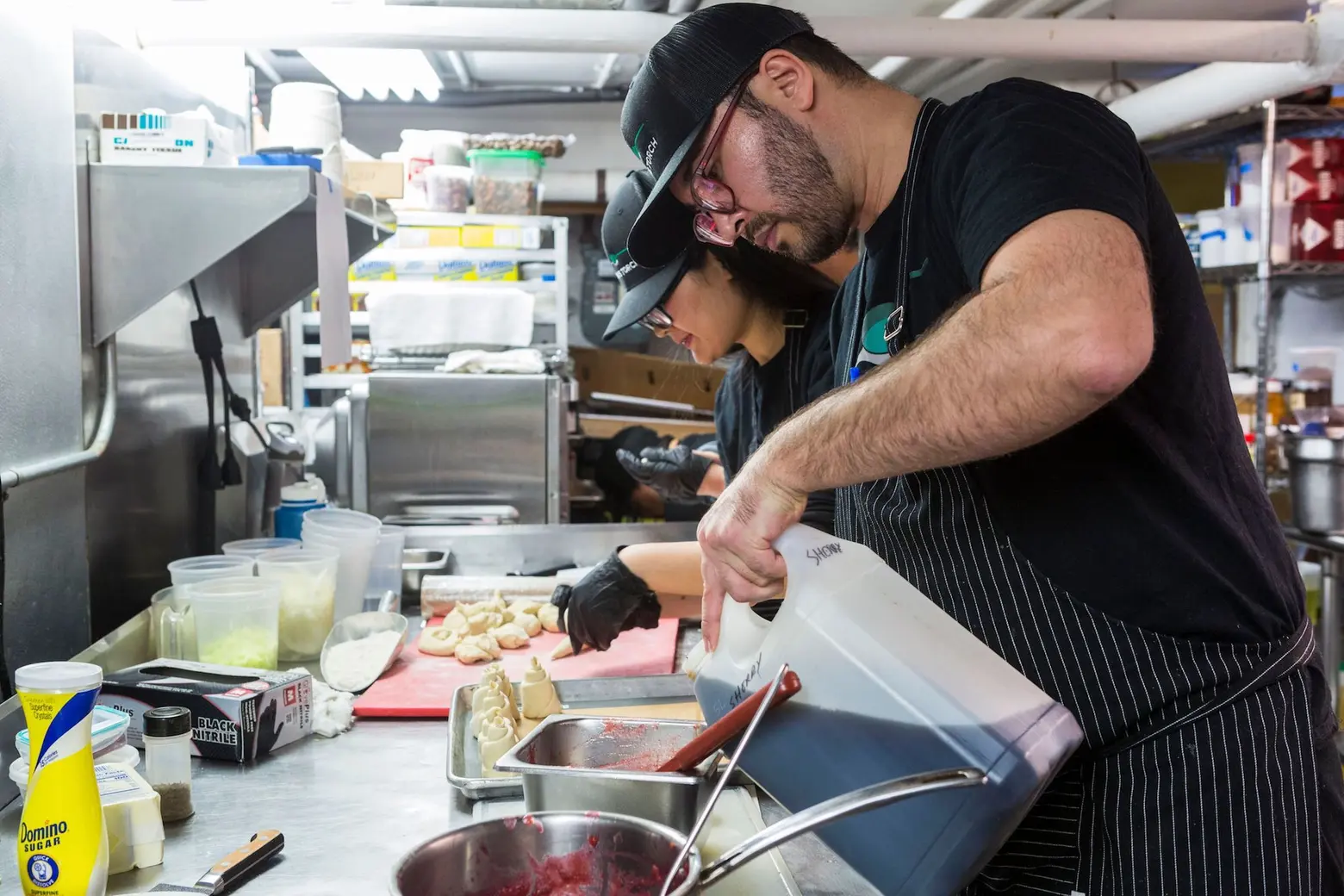 How does career placement work?
We have partnerships with a pretty long list of restaurants. We're constantly growing that list because it really is, as Alex always says, one size fits one. Every job placement is a different path, every job is different and everyone's needs are different.
There are restaurants around here who knock on our door and make sure we know, like, 'hey so we know you're having a graduation dinner, can we have first dibs on your graduates?' Which is great. In particular, Buttermilk Channel which is around the corner. We love them and they have hired a bunch of our students and has been amazingly supportive. We work with the Union Square Hospitality Group and their restaurants. And the list keeps growing because our students' interests are also growing.
What have been the challenges for you guys overall?
There have been quite a few challenges. As a nonprofit, funding is always an enormous challenge. There's a lot of goodwill around the project, but also making sure that we can keep the lights on. It's an expensive project to run because we pay our students.
The other challenge is just recognizing that each of our students is an individual. They are individual grown-ups making big choices. And so it's not the type of thing where we have five graduates, and these five graduates are all going to a cookie-cutter job and this is just going to be it.
We're asking people to change their lives in a very short period of time. And so the challenge–but also the opportunity– is to really build relationships to make sure know that, oh, you started this job and you're struggling with this? Well, our doors are open. So come to talk to us and let us know how we can be supportive. And that's a challenge, working with a population who I can be sympathetic but I can't understand what it means to be trafficked, what it means to be a refugee. So always kind of having that in the back of my mind as being very important. It's a challenge but it's also really rewarding for sure.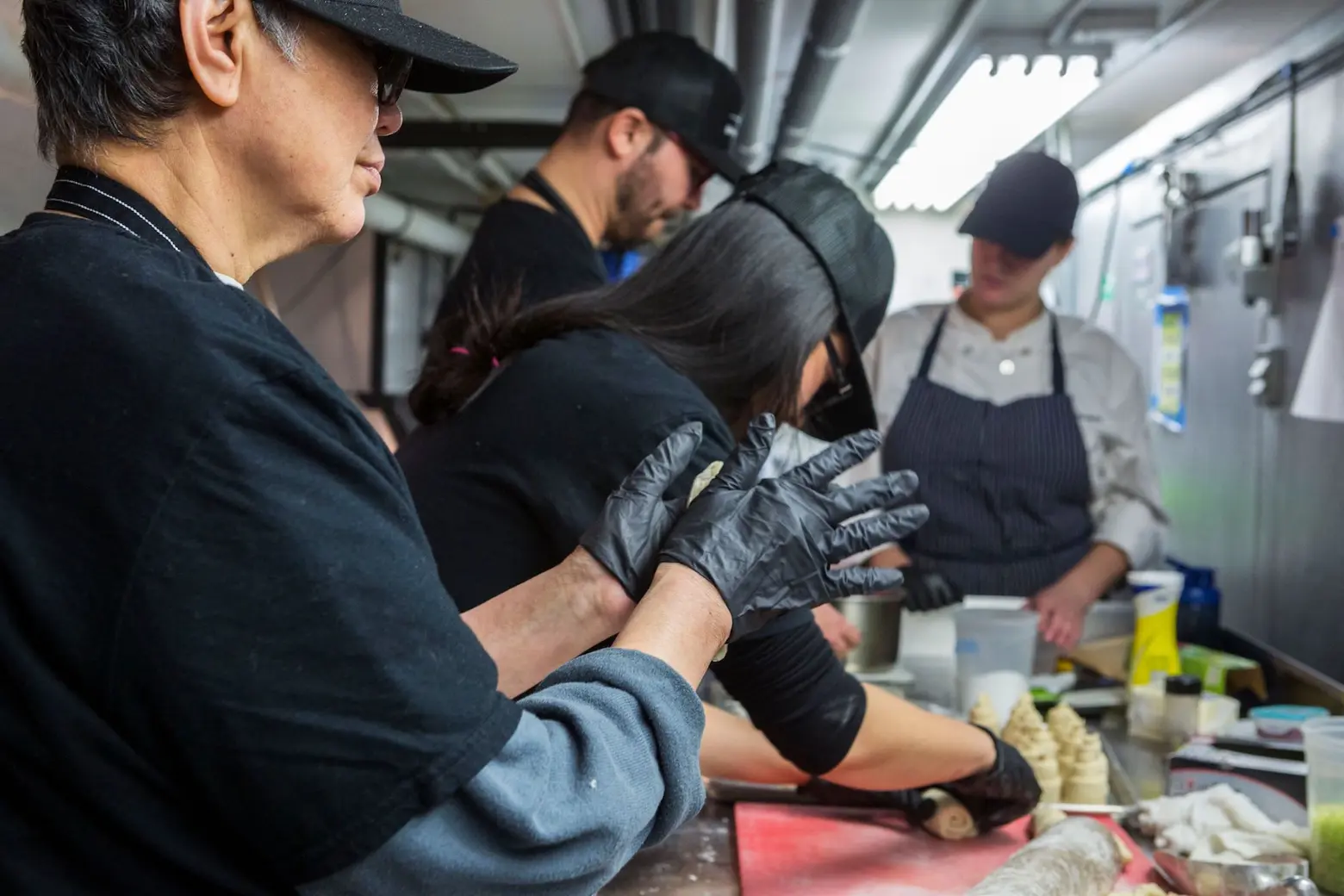 Do customers know about the mission before they come in?
Some do, some don't. Some come in because they've read about us. We have a surprisingly high number of people who have no idea. And they're just coming in because they heard the food is good.
Now, we've added to the back of our menu a bit of information about us and have our servers explain. But we want people to judge our food on its own merits, we want them to feel good about the food as well as feeling good about the mission.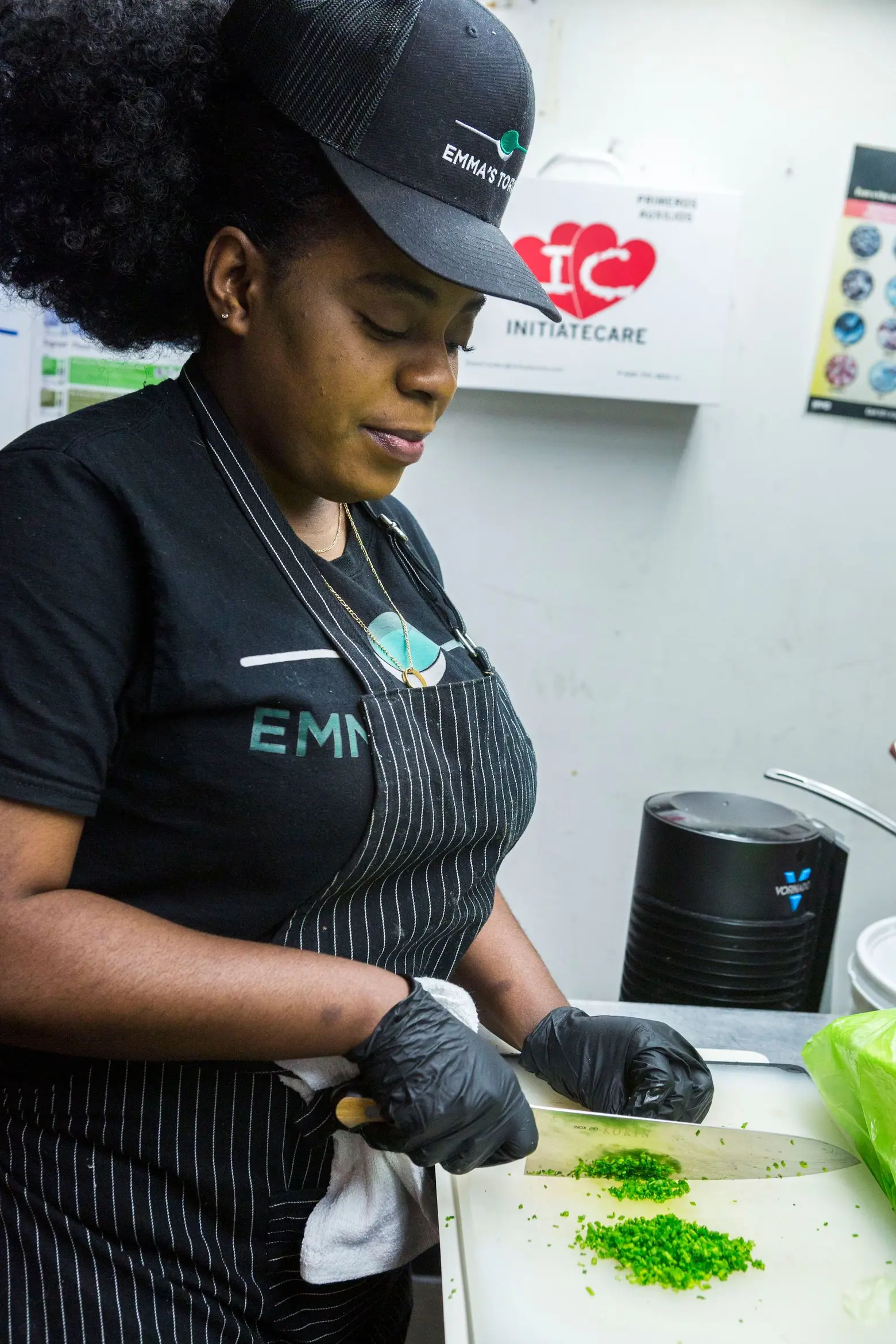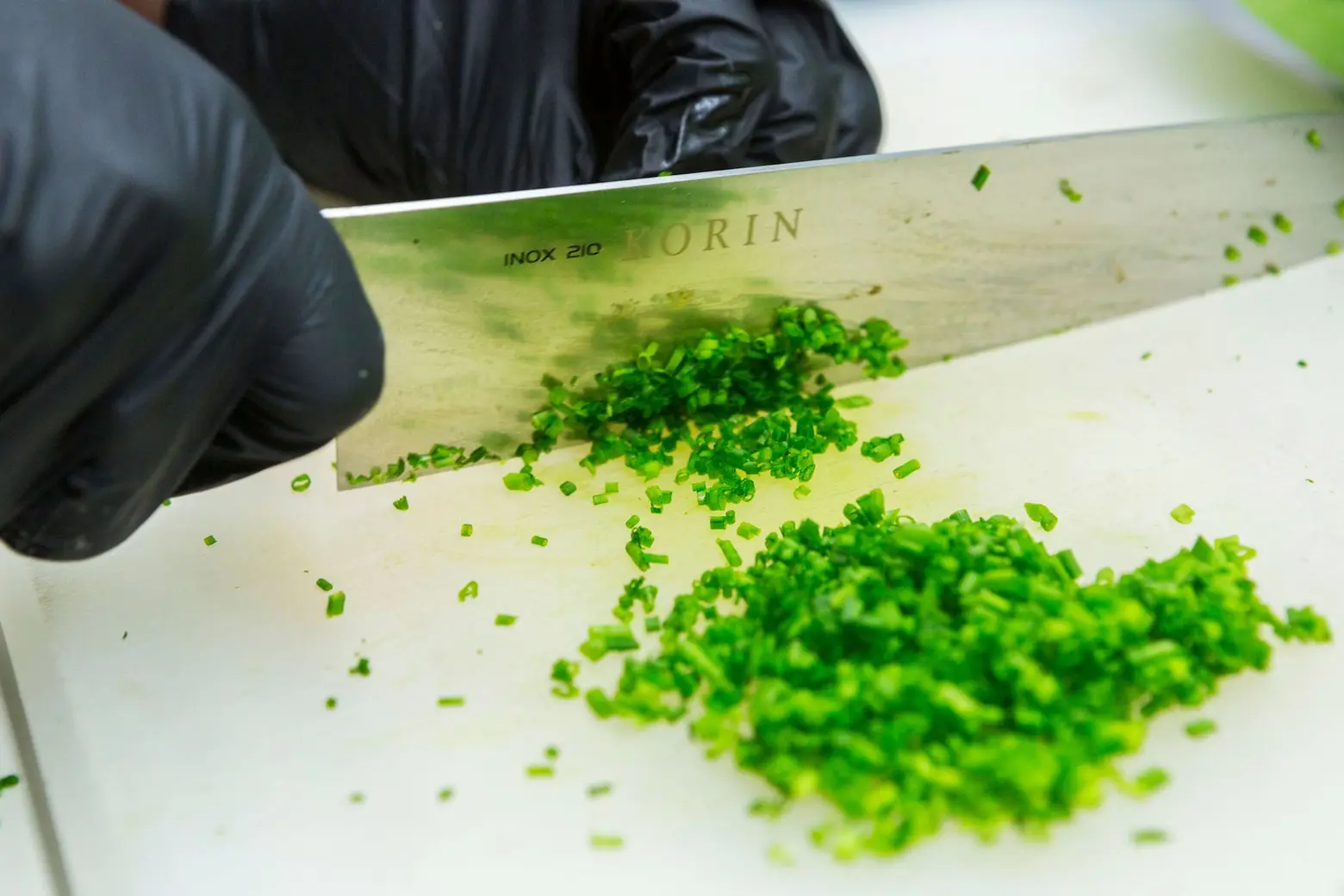 Can you talk about the graduation dinner planned for tonight?
Graduation dinner is potentially the favorite thing, I think for everybody, that we do. Our students take over the menu and we have a guest chef come in and cook a meal with our students. Our directive for our students is to cook from the heart. Your heart on a plate, whatever you want that to be. It doesn't have to be from your home country, though often it is.
We sell tickets to this and generally sell out pretty quickly, which is great. And our students each present their dishes and it's almost like a cross between a final exam and a graduation party. It's celebratory, everyone is really happy, but it's also a chance for the first time to figure out what to do. Alex isn't telling them what to do.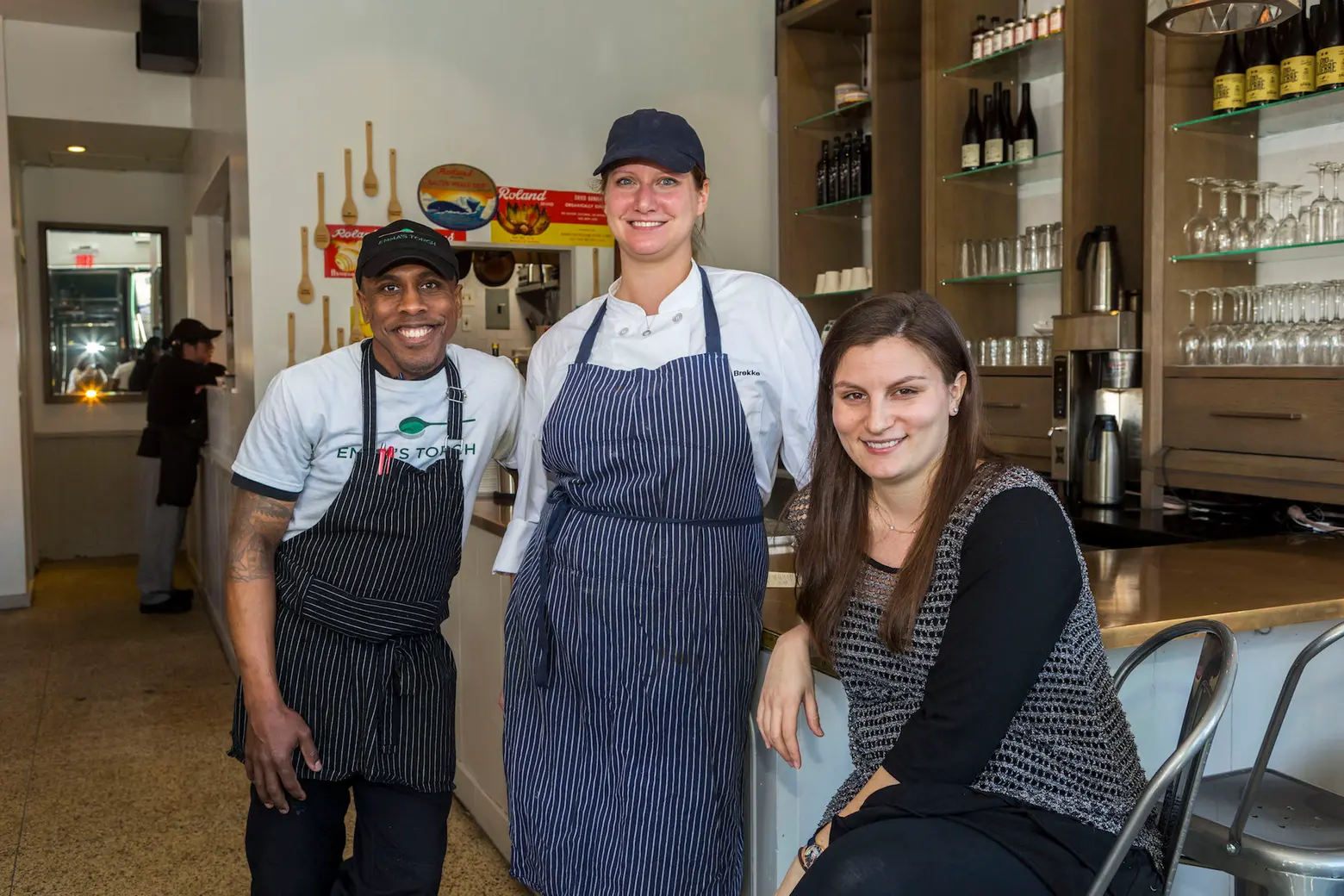 Culinary director Alex Harris (far left), guest chef Emily Brekke, and Kerry
Do you have plans to expand even further, beyond the cafe at the Brooklyn Public Library?
I think the library is a good test for us to see what does that model look like, to partner with a big public institution. And I think if it goes well, we're really looking to expand well beyond New York and to make Emma's Torch a presence in a lot of communities.
RELATED: 
All photos by Kate Glicksberg exclusively for 6sqft. Photos are not to be reproduced without written permission from 6sqft.