Shoot Hoops in This Novogratz Townhouse for $70K a Month
It's probably fitting that this striking townhouse has a basketball court because it appears that the owners, husband-and-wife design team Bob and Cortney Novogratz, are going to have to jump through hoops just to get it off their hands. The celebrity duo has been trying to unload this West Village townhouse since 2009, but for some reason they just can't seem to get out from under it. It's a bit surprising when you consider the specs: 7,180 square feet of interior space, 1,900 square feet of exterior space, high ceilings and views from every level in downtown Manhattan. And we haven't even gotten to the good part. Well, now they're bringing the home back to the market, this time as a rental, asking $70,000 per month.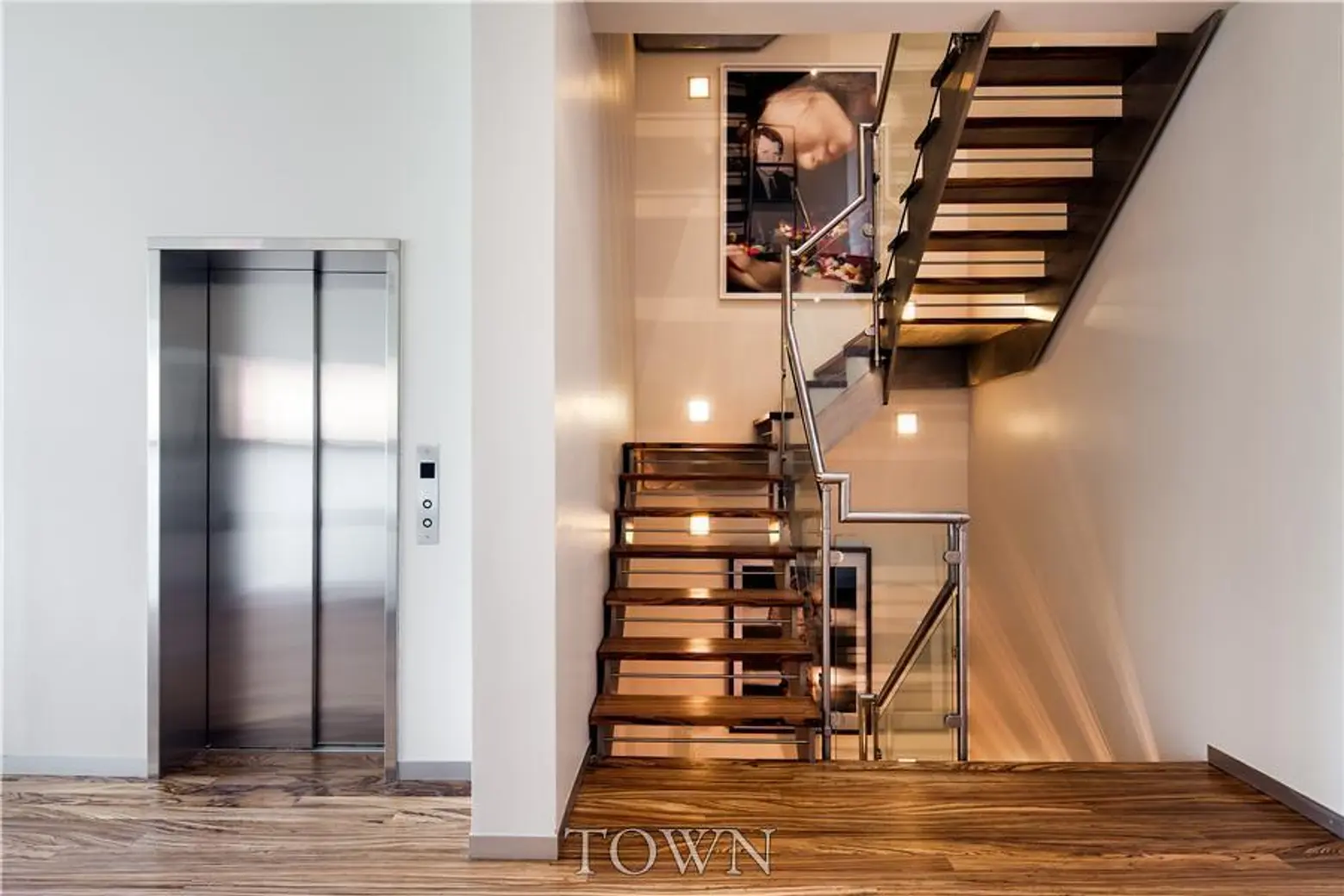 The couple put their interior designing skills on full display in this home, installing an eight-person elevator and an insane rooftop terrace. Even the private garage has a Richard Woods mural. And it doesn't stop there. The ground floor has a mosaic entry hall and mudroom, a gym, and the aforementioned basketball court, which converts to a screening room.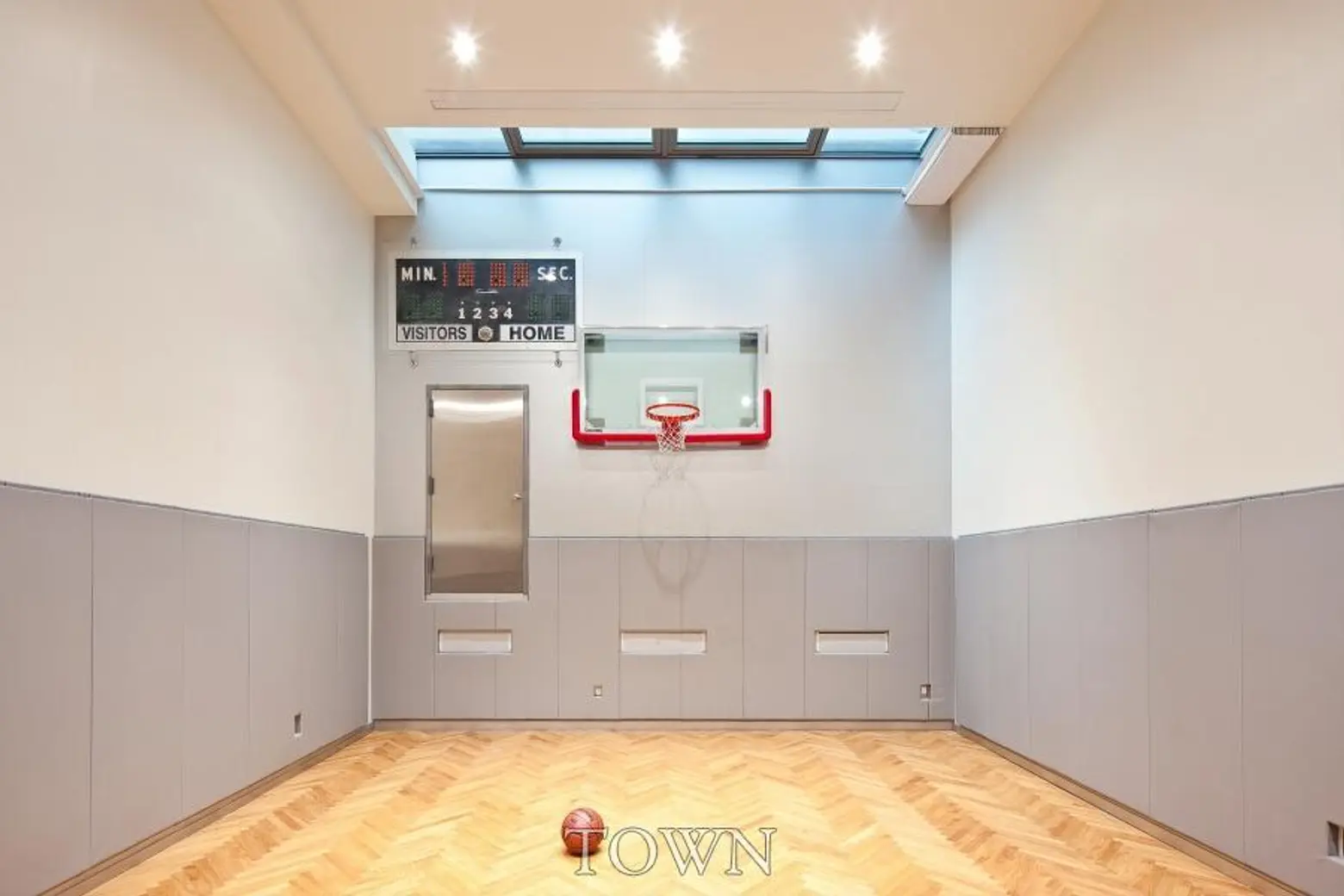 Upstairs, the first level has an open west-facing kitchen and dining room, and an east-facing living room with nothing but a glass door separating it from a splendid outdoor terrace. This creates an enviably seamless indoor/outdoor flow for entertaining.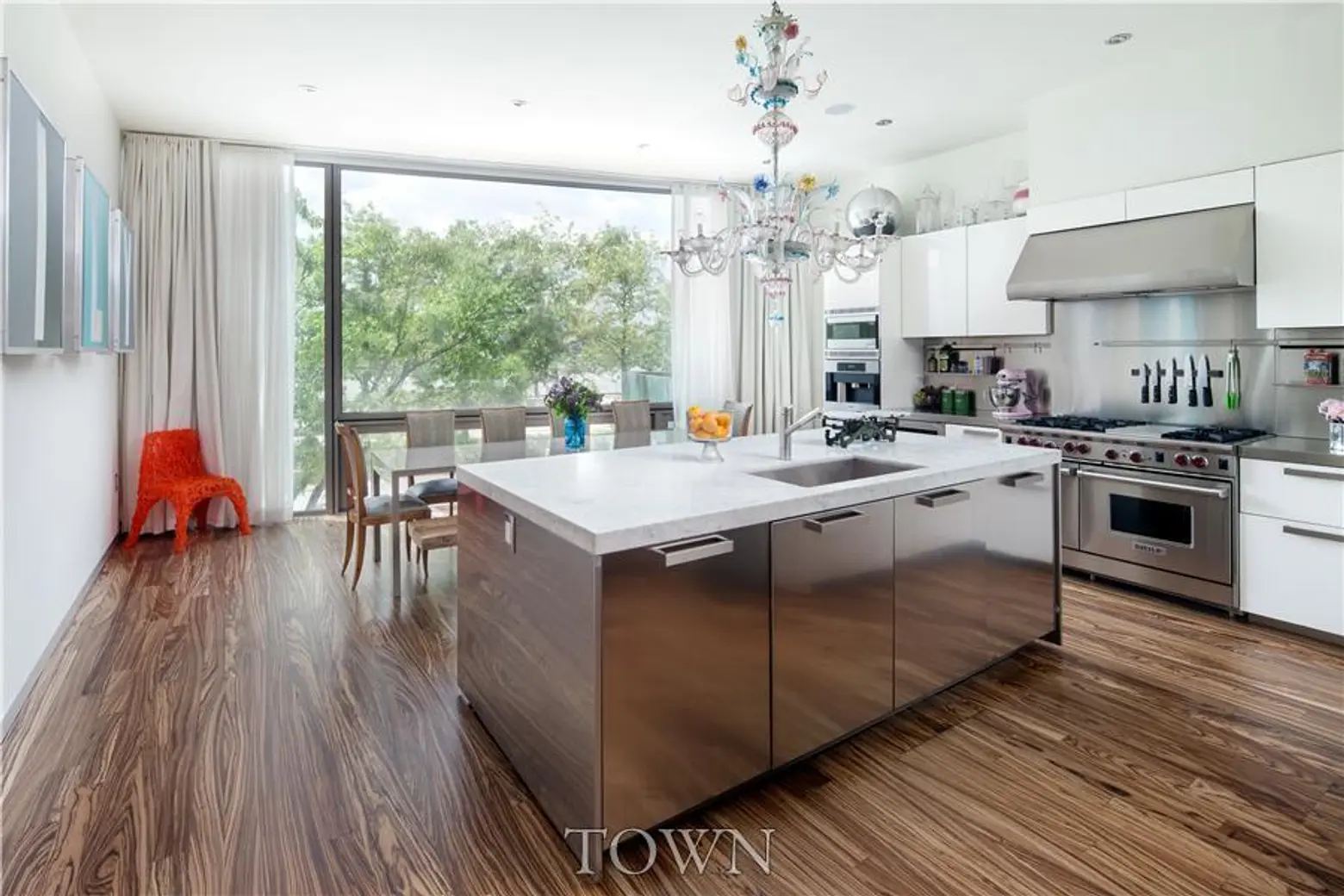 The third floor master suite is enormous, with a massive en suite bathroom and mega closet. And while we're going through a million different ways to say huge, let's throw in the four bedrooms occupying the fourth and fifth floors. Each of these rooms spans the entire 22.75-foot width of the townhouse, which means they also benefit from tons of light streaming in from the home's triple-plated, virtually soundproof, angled floor-to-ceiling windows.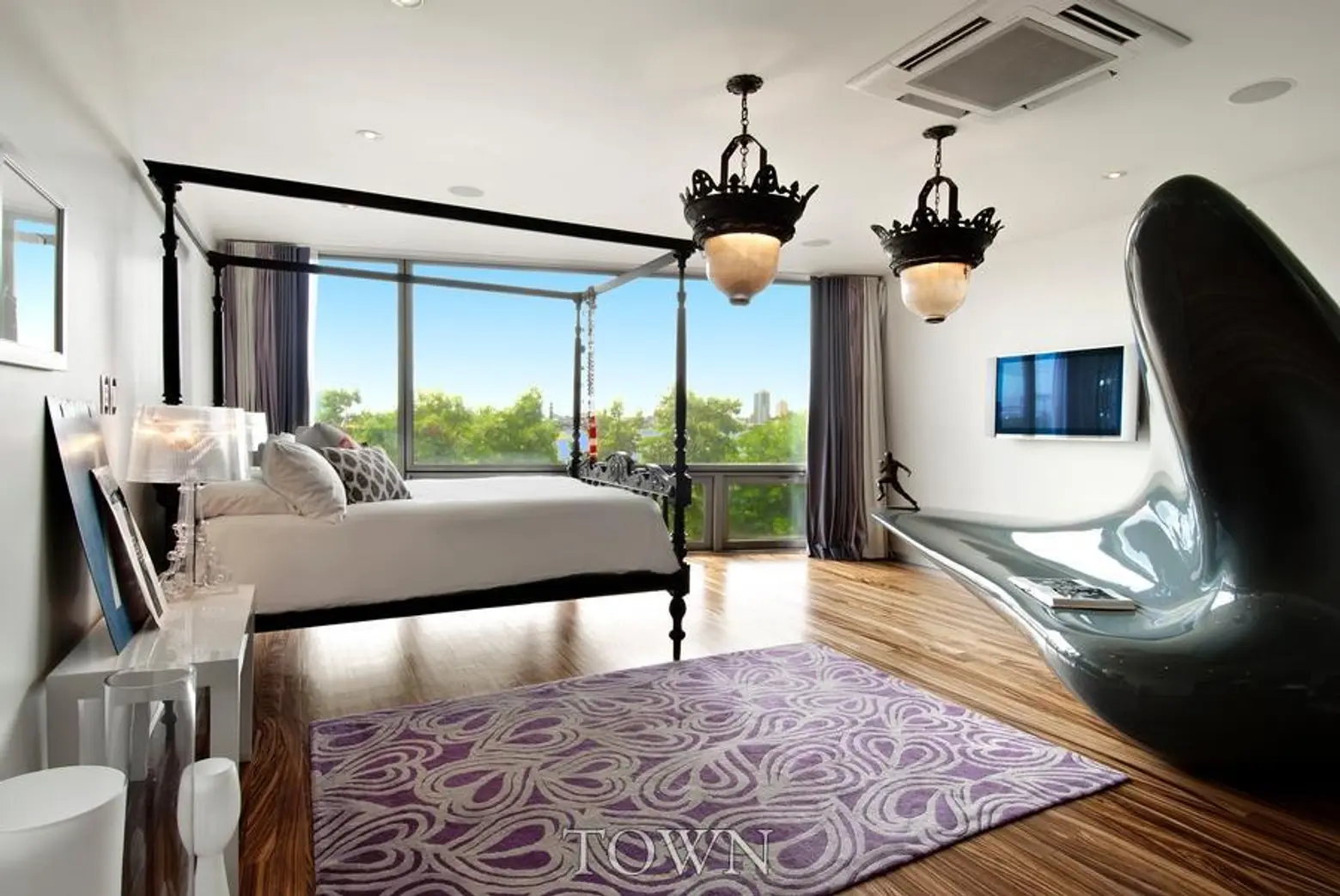 The spectacular roof deck sports a teak hot tub, TV, wood-burning fireplace, and fully-equipped kitchen with a wood-burning pizza oven, gas barbecue, wine cooler, refrigerator, ice maker and beer tap, all while overlooking the Hudson. Bottom line, you won't be able to get your friends to leave.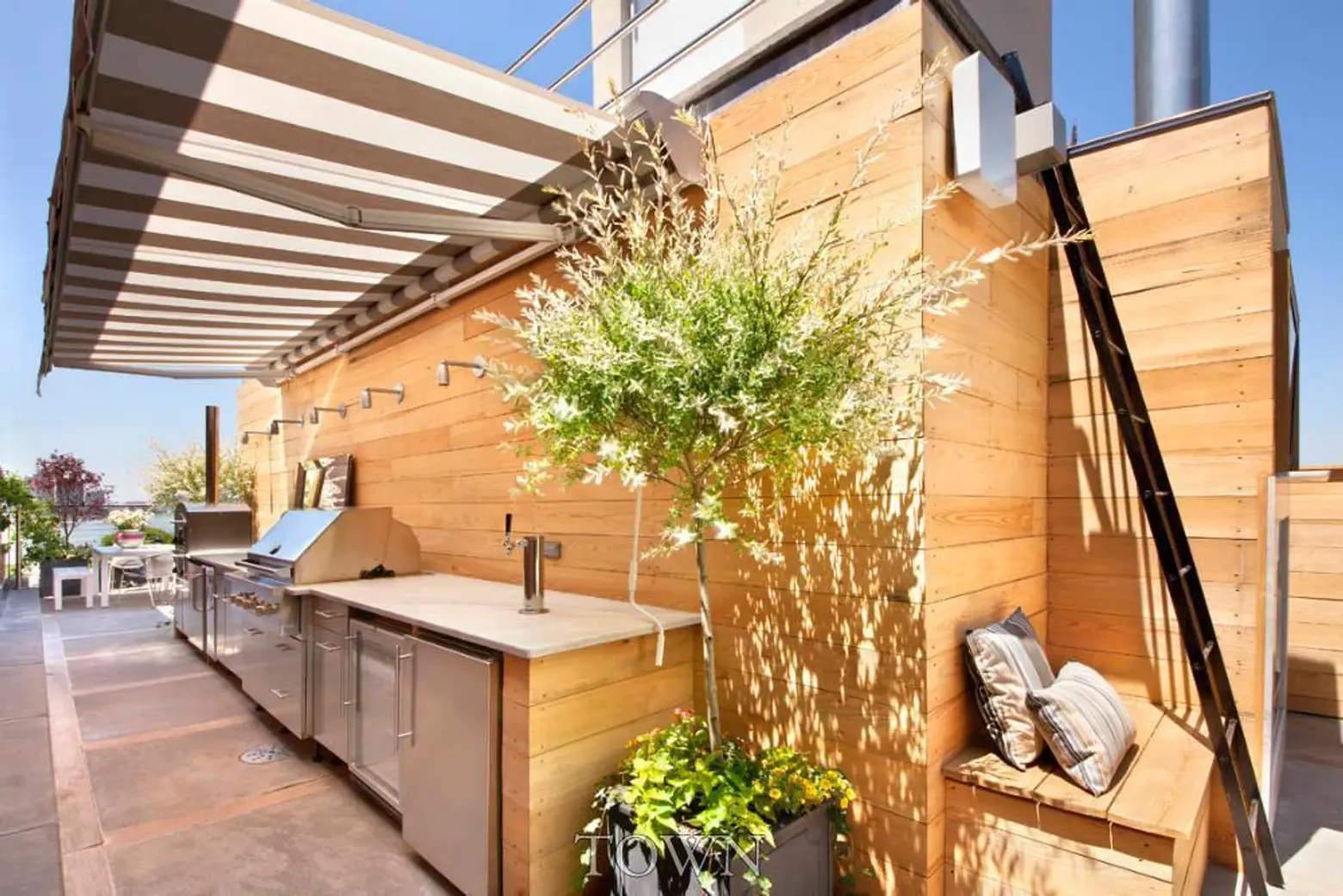 And if you're feeling particularly charitable, perhaps you'll consider donating to our new fund dedicated to acquiring unspecified housing accommodations for an unnamed group of real estate bloggers. Our goal is $70,000 for the month…
[Listing: 400 West Street #TH by Susan Green of Town Residential]
Photos courtesy of Town Residential