New Renderings of Vinoly's 125 Greenwich Street, Downtown's Future Tallest Residential Skyscraper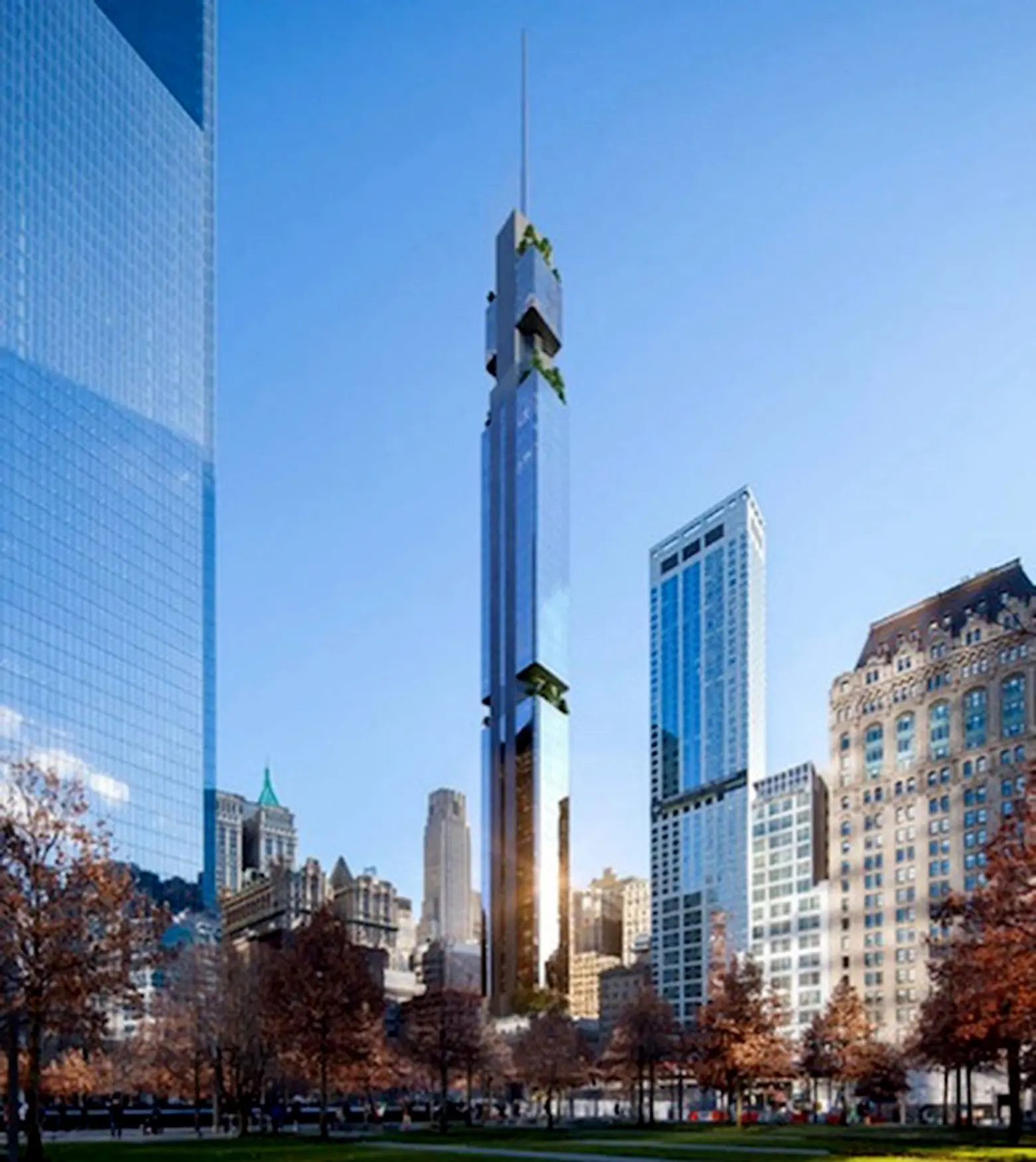 On the 14th anniversary of the day that caused the city to question our skyward building ambitions, we give you a new look at lower Manhattan's future tallest apartment tower, 125 Greenwich Street. Not only has the city regained its confidence in building high again, but it has now been feverishly erecting 1,000-plus-foot supertall towers at a faster rate than nearly any other global metropolis. This particular residential spire will soar 77 stories and roughly 1,100 feet high, some 200 feet taller than downtown's next tallest ground-up residential buildings, 30 Park Place (937 feet) and New York by Gehry (870 feet).
125 Greenwich Street is being developed by a consortium of heavyweights: Michael Shvo, Bizzi + Partners Development and Douglas Elliman Chairman Howard Lorber. The team picked up the tiny 9,000-square-foot lot for $185 million from a partnership comprised of the Fisher Brothers and the Witkoff Group, who are also busy erecting residential aeries nearby.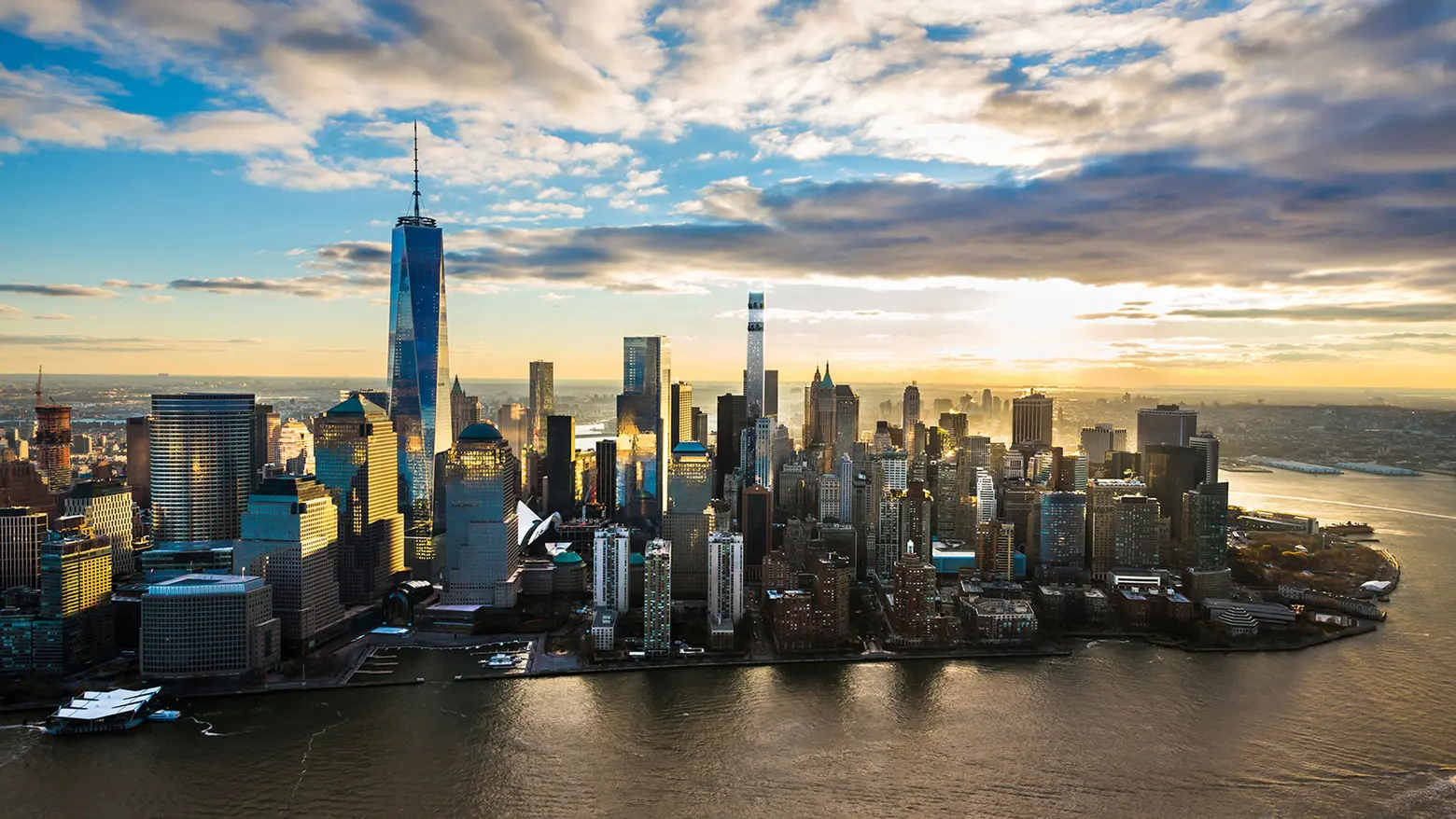 Rendering by ArX Solutions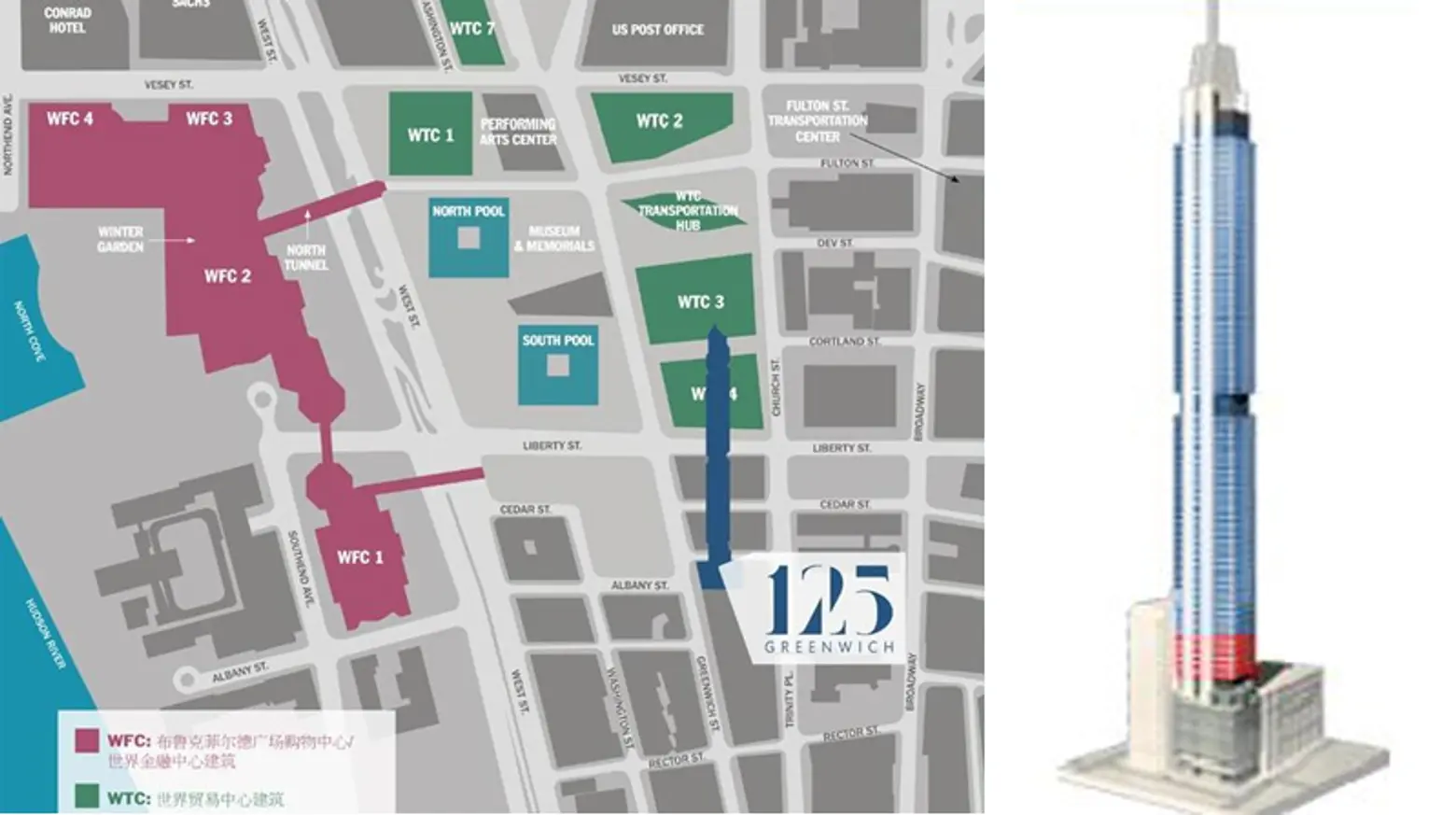 Situated at the southeast corner of Thames and Greenwich streets, the site is adjacent to the the former home of the Curb Exchange and the American Stock Exchange which is planned to be converted into a retail complex with an accompanying boutique hotel. Much of the site sits on Hudson River landfill. Some 400 years ago, the parcel lay just off the oyster-shell-lined shores of a much narrower lower Manhattan. The development replaces a dignified Romanesque-style commercial building at 22 Thames Street. Now, groundwork for the tower has been underway since winter and crews have been busy driving caissons for the 460,000-square-foot tower to rest on.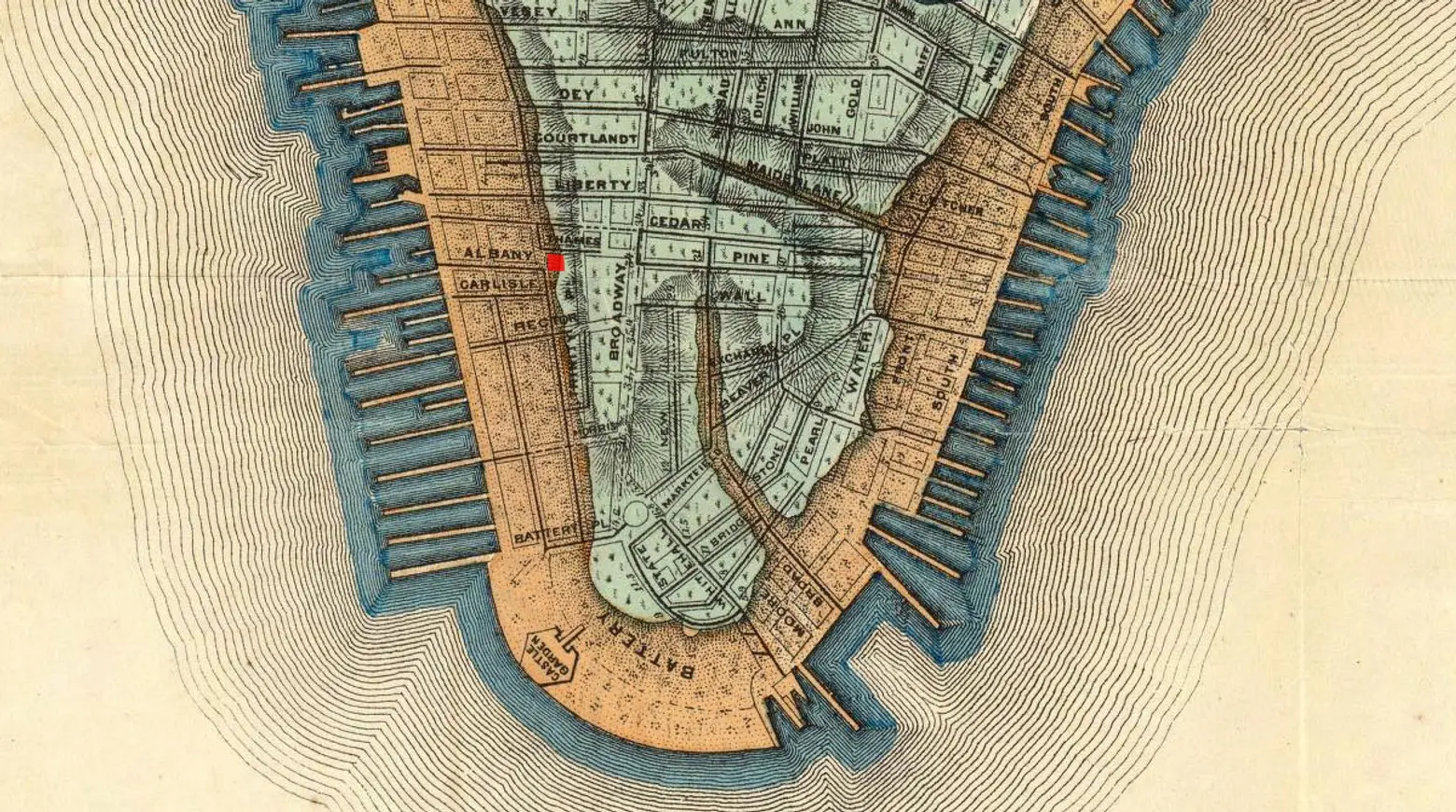 Viele Map of Manhattan depicting the original topography of Manhattan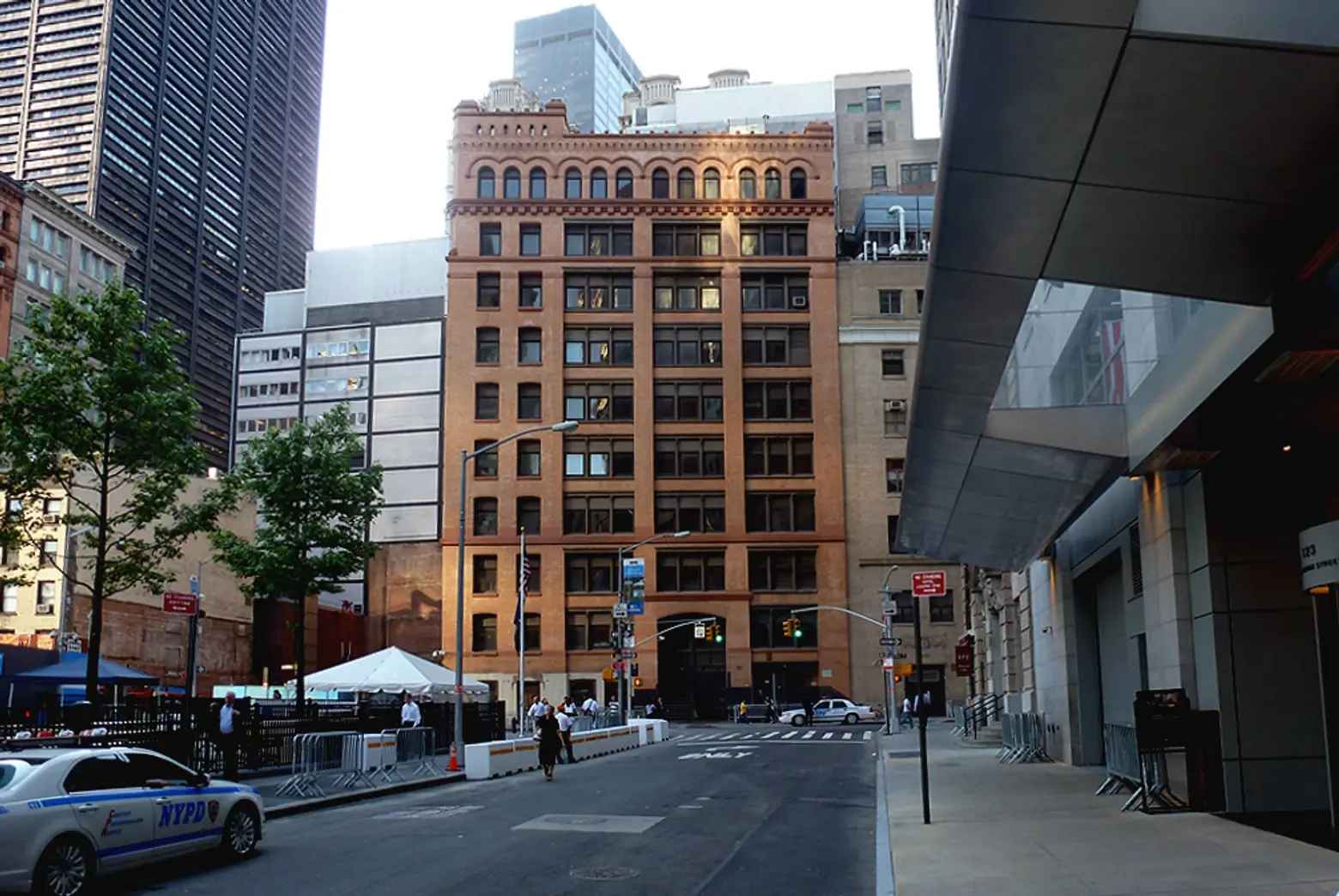 Demolished building that stood at 22 Thames Street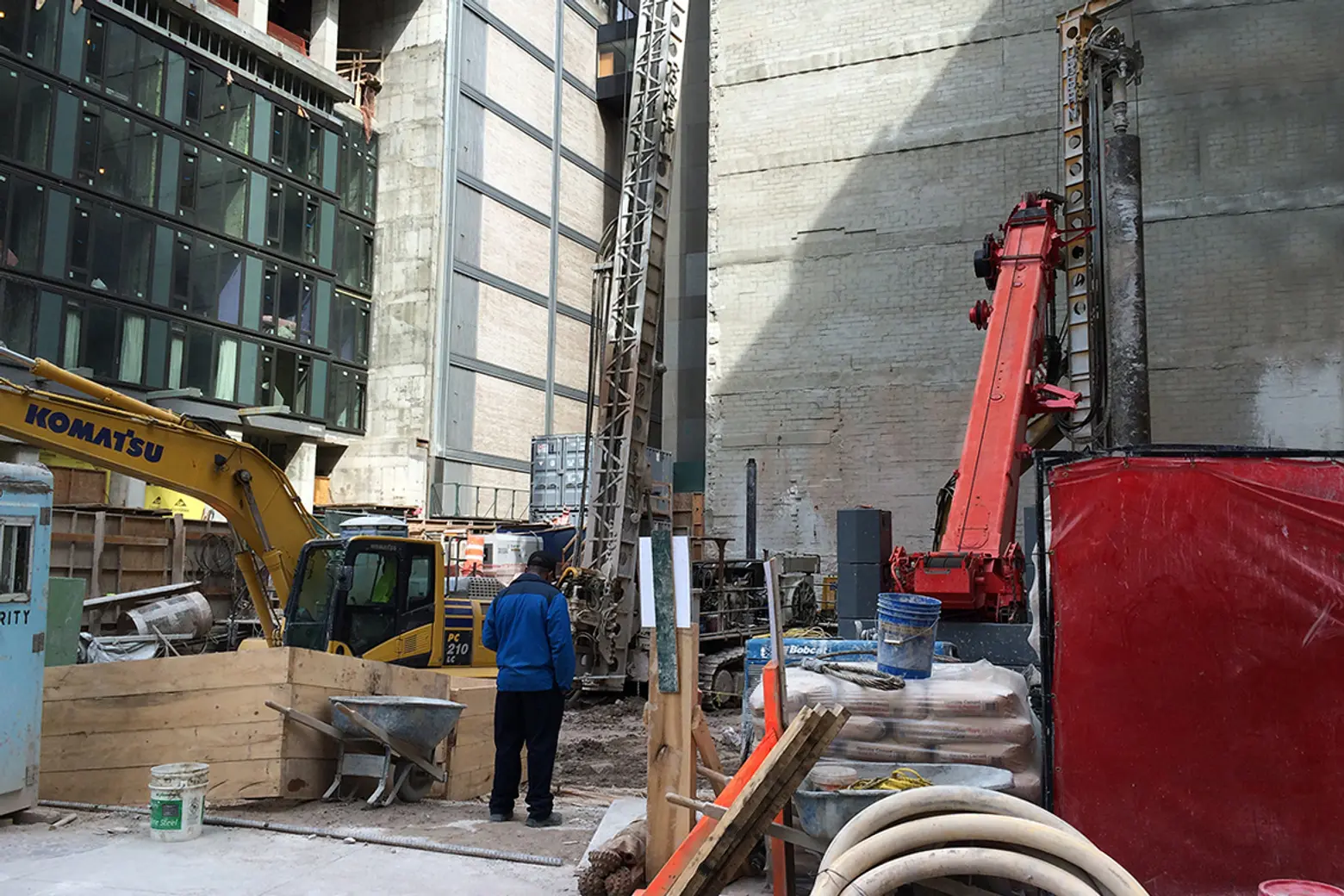 Groundwork underway. Image courtesy of ILNY's FLickr photostream
According to construction filings, the building is being designed by Rafael Viñoly Architects, who were first commissioned by the prior development team. Of course the firm is now best known for their 1,396-foot-tall, omnipresent stack of observational platforms in Midtown, a.k.a. 432 Park Avenue. Like a diluted protégé of the uptown tower, 125 Greenwich's earlier design depicted a no-frills 1,350-foot glass prism that would rival the 1,368-foot roof-height of nearby One World Trade Center.
Now with Shvo and company at the helm of the project, it seems the Argentinian-born architect is planning to insert some foreign flare into the serious and corporate Financial District skyline. Renderings posted on one of the project's EB-5 profile pages depict a glossy glass tower with a cloud-busting spire that could be comfortably sited in Shanghai, Jakarta, or Panama City. Three sets of cut-outs on the east and west elevations provide for landscaped terraces, and like Viñoly's 432 Park and his preliminary design for 281 Fifth Avenue, a central concrete core anchors the floating volume's residential units.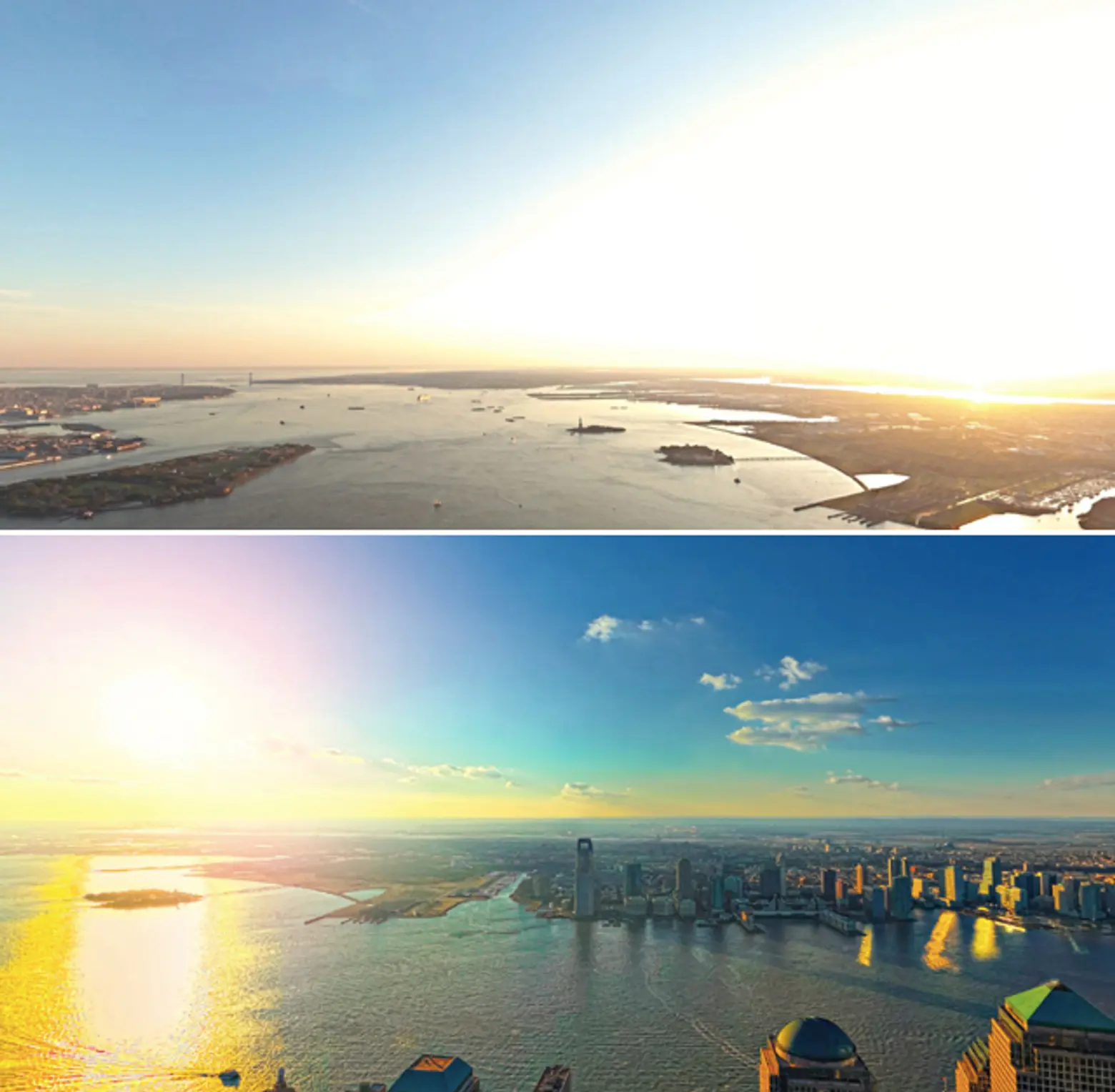 Like its lanky Midtown cousin on "Billionaire's Row," 125 Greenwich will have lots of supertall company when it's finished sometime in 2018. 3 World Trade is already more than halfway up to its 1,079-foot pinnacle, and Bjarke Ingels' Two World Trade Center will stair-climb upwards of 1,350 feet. Views from the tower to the south, east and west will be all-encompassing with world's foremost skyline and harbor below, and the rapidly growing skylines of Downtown Brooklyn and Jersey City to the east and west.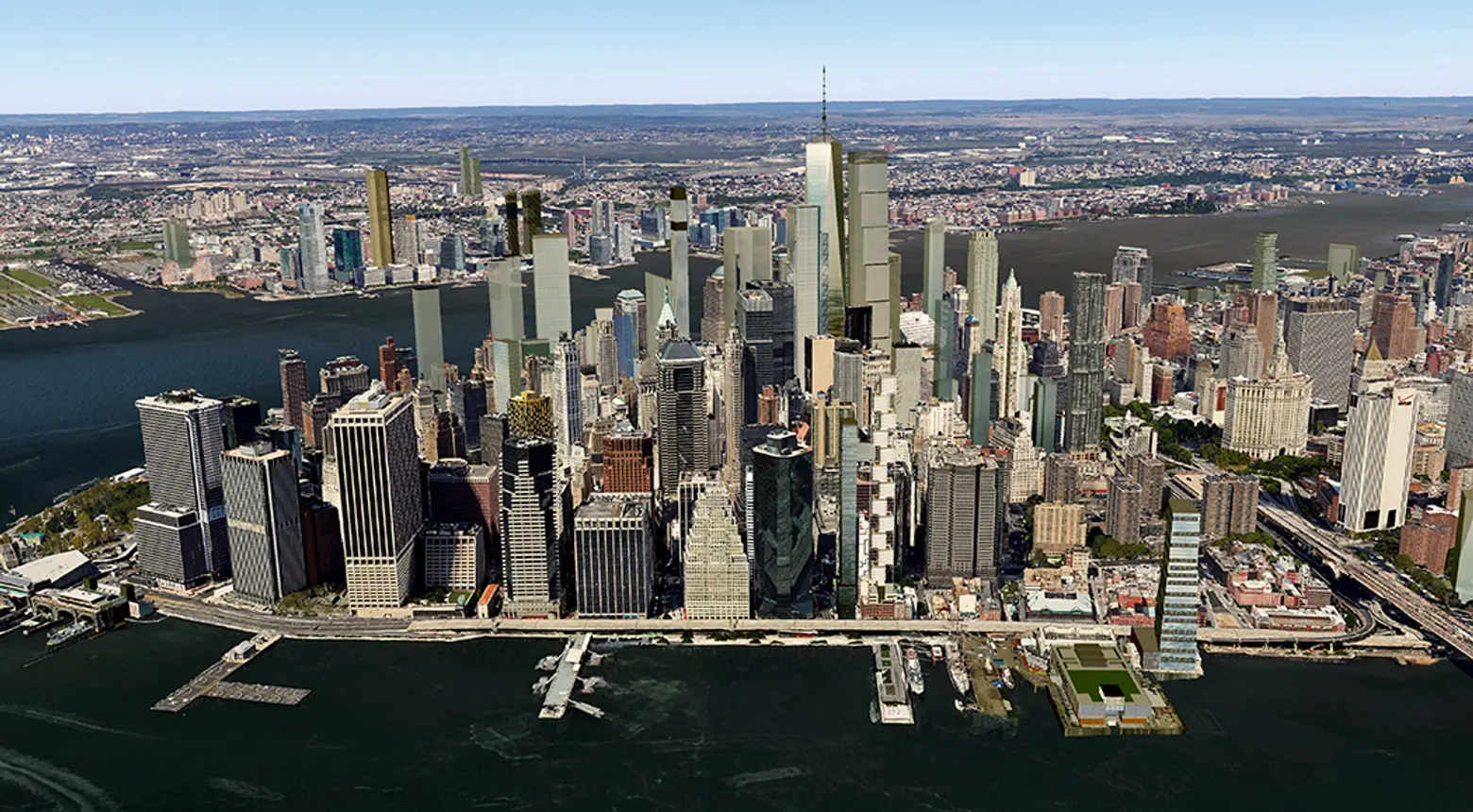 Google Earth view of lower Manhattan's future skyline. Courtesy of CityRealty
Stay tuned for updates and listings for 125 Greenwich Street at CityRealty

RELATED: