Could This Otherworldly 102-Story Tower Covered in Ornaments Be Coming to 57th Street?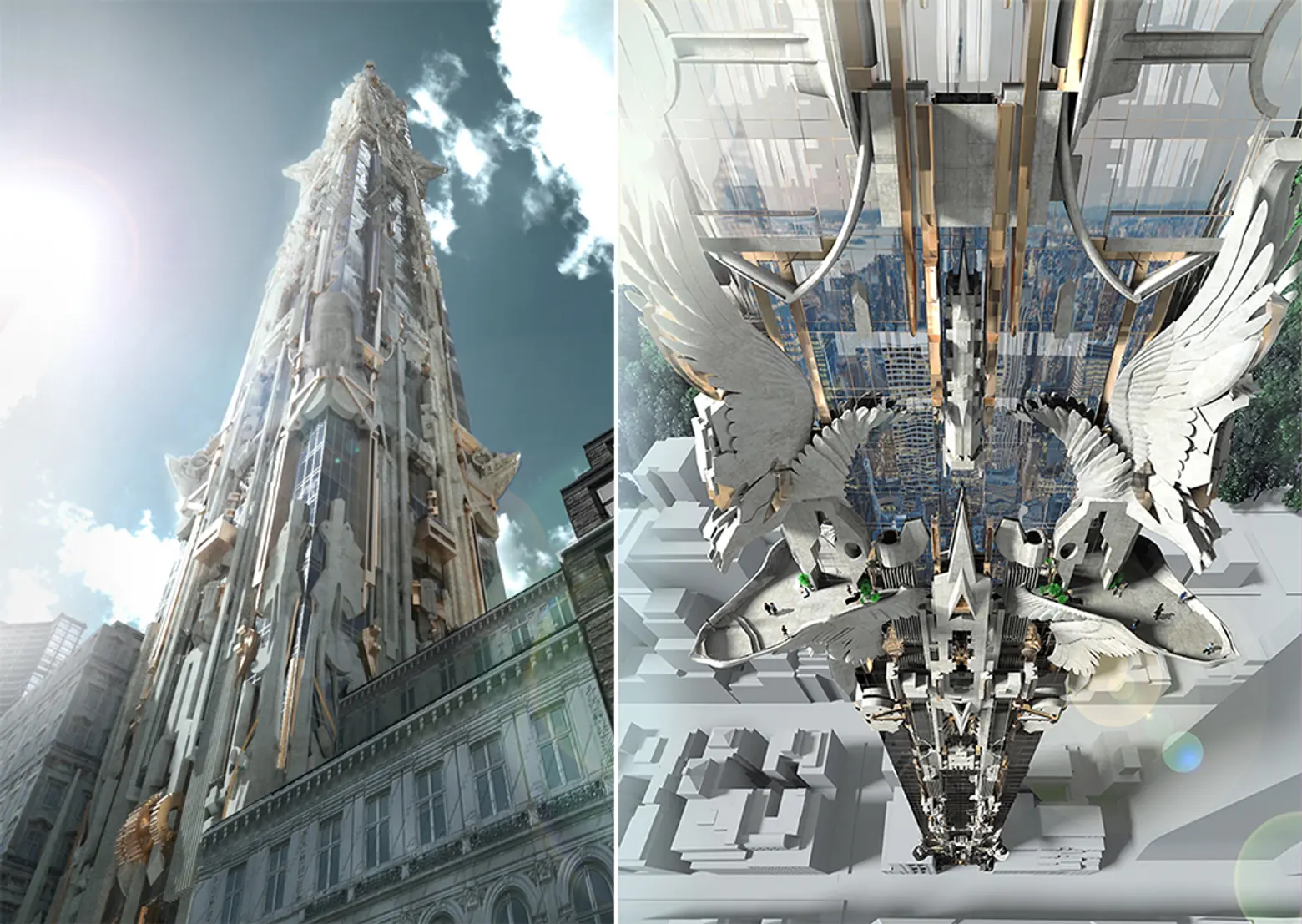 Jaded by glass boxes and architectural imitations of styles gone by? Well this fascinating design by Mark Foster Gage Architects is sure to turn your architectural world upside down. Here's our first look at their 102-story residential supertower seemingly flown in from some advanced airborne civilization in a galaxy far, far away. While details are scarce, this eagle lands in the heart of Midtown's Billionaires' Row along West 57th Street between Fifth and Sixth Avenues.
The whimsical design is a habitable sculpture of sorts, adorned from top to bottom in ornaments ranging from gears and propellers to an abstracted pair of birds diving in for a landing on two wing-supported balconies. The tower is topped by a temple-like observational platform which is then crowned by a golden wreath-like structure fit for any victorious Roman general.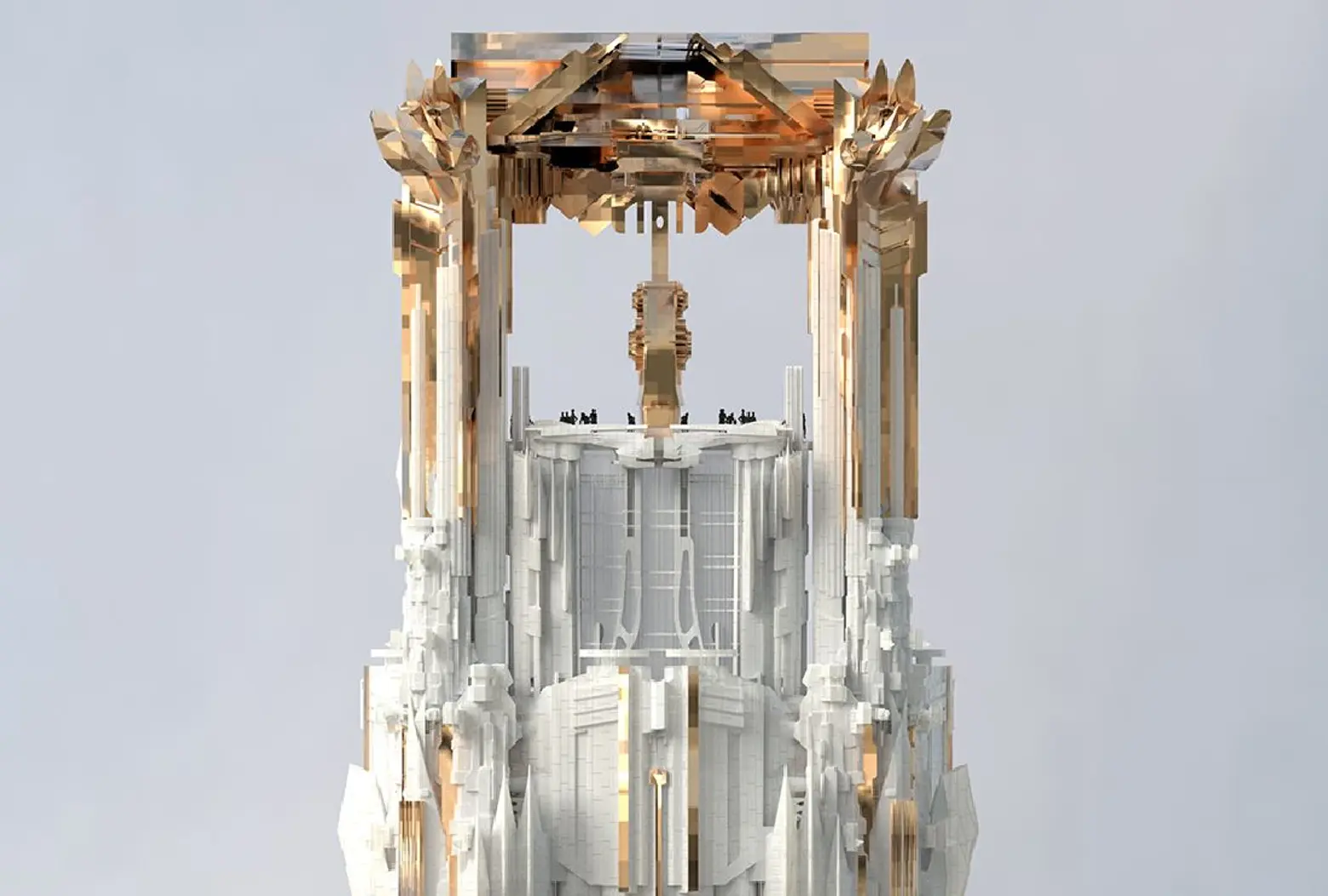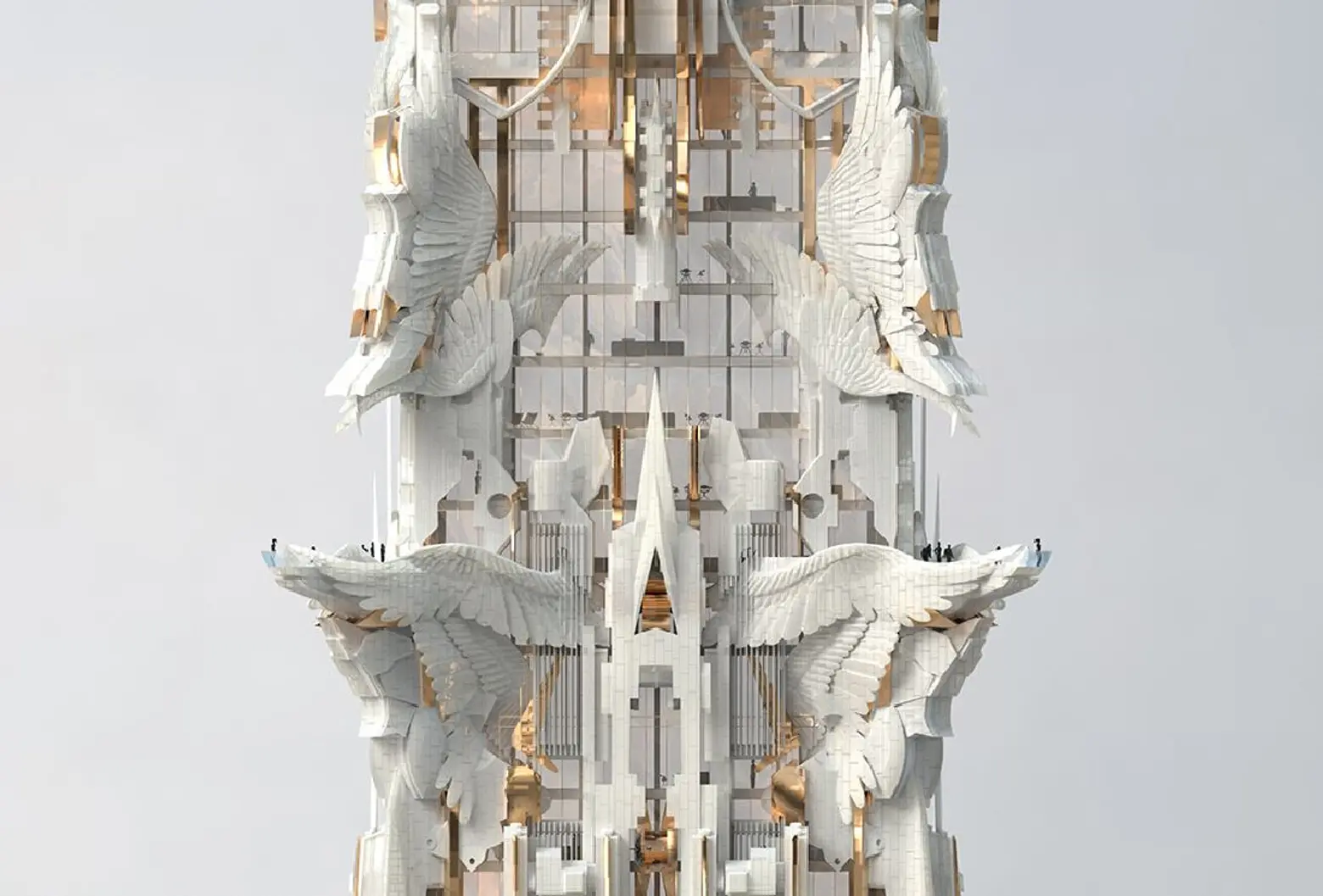 Videos and images courtesy of Mark Foster Gage Architects
Mark Foster Gage, who founded the firm bearing his name just one year ago, is a tenured professor and Assistant Dean at the Yale School of Architecture. The radical architect has dreamt up a crop of developments around the city and the world ranging from stores and outfits for Lady Gaga to sleek Manhattan condos. According to his profile page, his approach derives from a seemingly conflicting background of being a protégé of Robert A.M. Stern and a studio assistant to Frank Gehry.
In an INK talks presentation, Gage shares his interdisciplinary design approach that he says has been made possible by the incredible advances in material sciences and fabrication. Gage also presents a competition entry for a Guggenheim Museum in Helsinki, Finland, where a similar looking design to the Central Park tower was produced by downloading dozens of already made 3D models (like tyrannosaurus rex, file cabinets, Mickey Mouses) and recombining them to create a new architectural language. Gage says constructing entire surfaces of ornament is entirely possible since by making things robotically you can create forms with an unlimited amount of detail at the same price as doing something flat.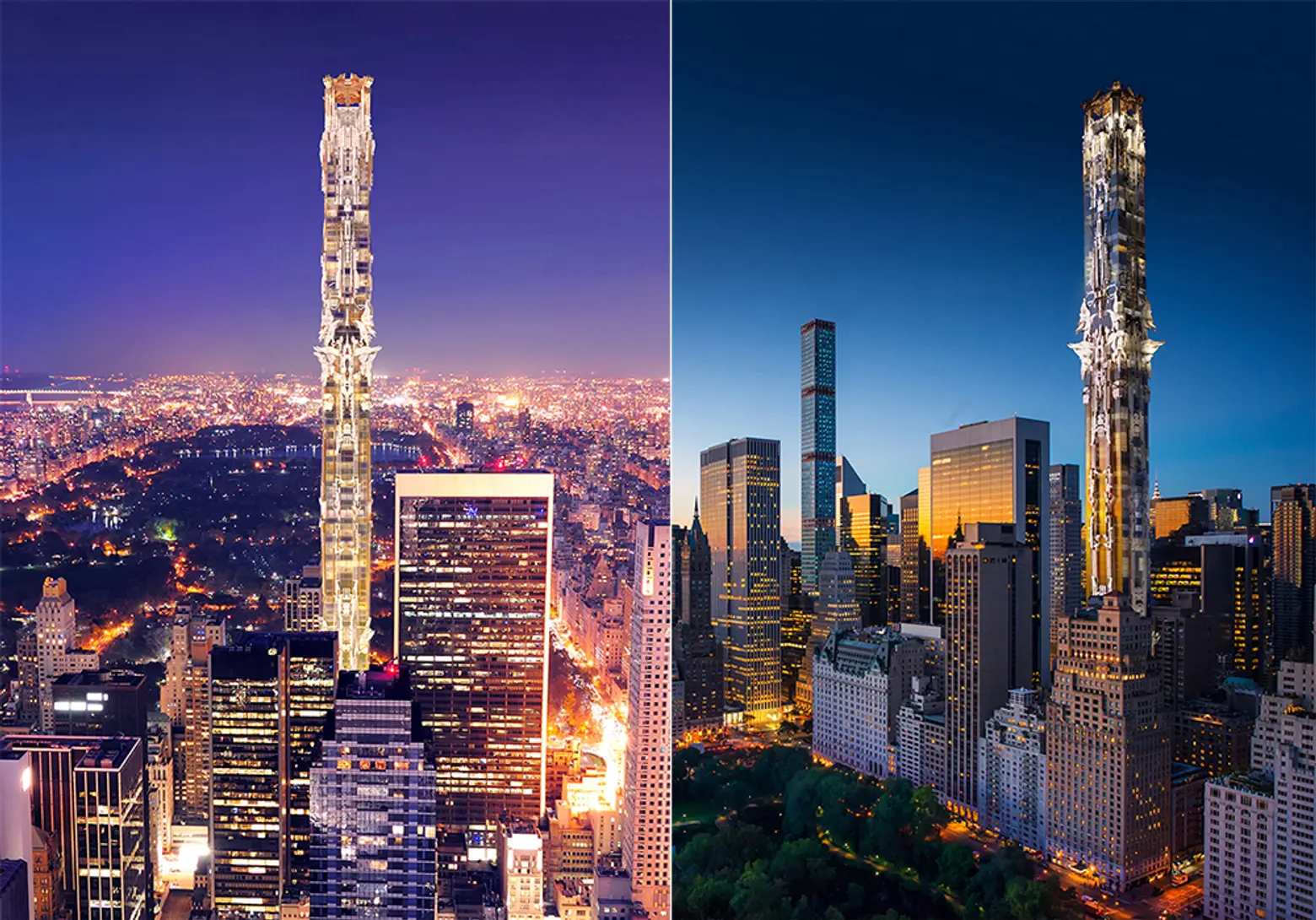 According to architect's website, "Each unit has its own unique figurally carved façade and balconies that frame particular features of the surrounding urban and natural landscapes. The building is draped in a façade of limestone-tinted Taktl© concrete panels with hydroformed sheet-bronze details and brass-tinted alloy structural extrusion enclosures. The 64th floor features a sky-lobby with exclusive retail stores, a 2-story high ballroom for events, and a 4-star restaurant all of which have access to four massive cantilevered balconies that offer an awe-inspiring event and dining experience unique to the city of New York."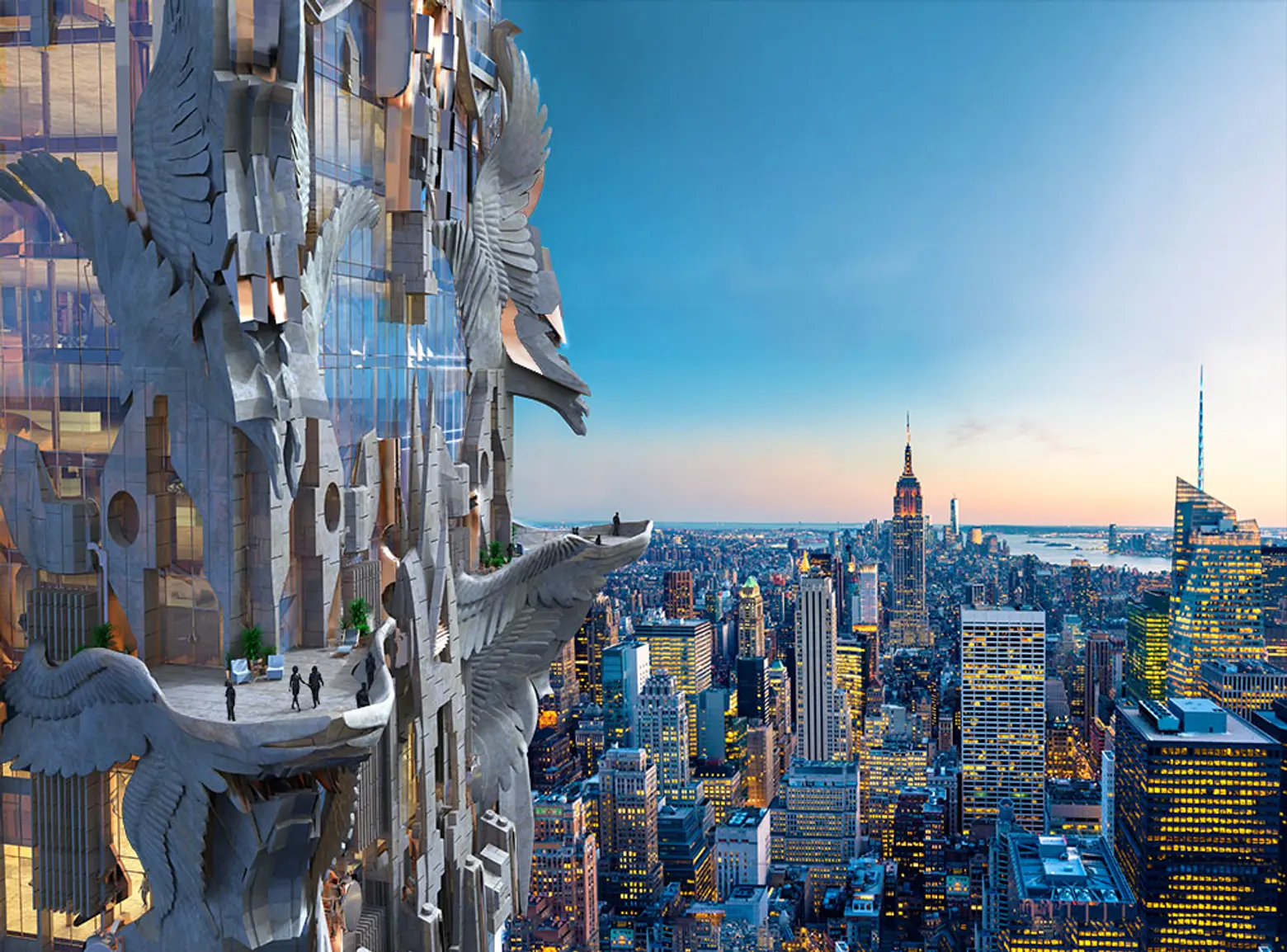 Though we are a bit skeptical that Gage's 41 West 57th design will go forward, the firm's project page lists its status as "ongoing." Mark Gage tells us that they must stay mum on the details but the design was commissioned by a developer to see what might be possible in terms of ultra-luxury on that site. The depicted scheme does rise from a legitimate block-through development site comprised of the addresses 41-43 West 57th Street and 50 West 58th Street. The latter address held the home of the national women's Jewish organization, Hadassah, who sold its building in 2012 for $71.5 million to the mysterious LLC, BOB 57. According to a 2012 Wall Street Journal story, Hadassah can occupy the 60,000 square-foot building for up to three years after the sale date but afterwards the building, along with two others parcels, will be redeveloped into a retail, office, hotel or condominium tower.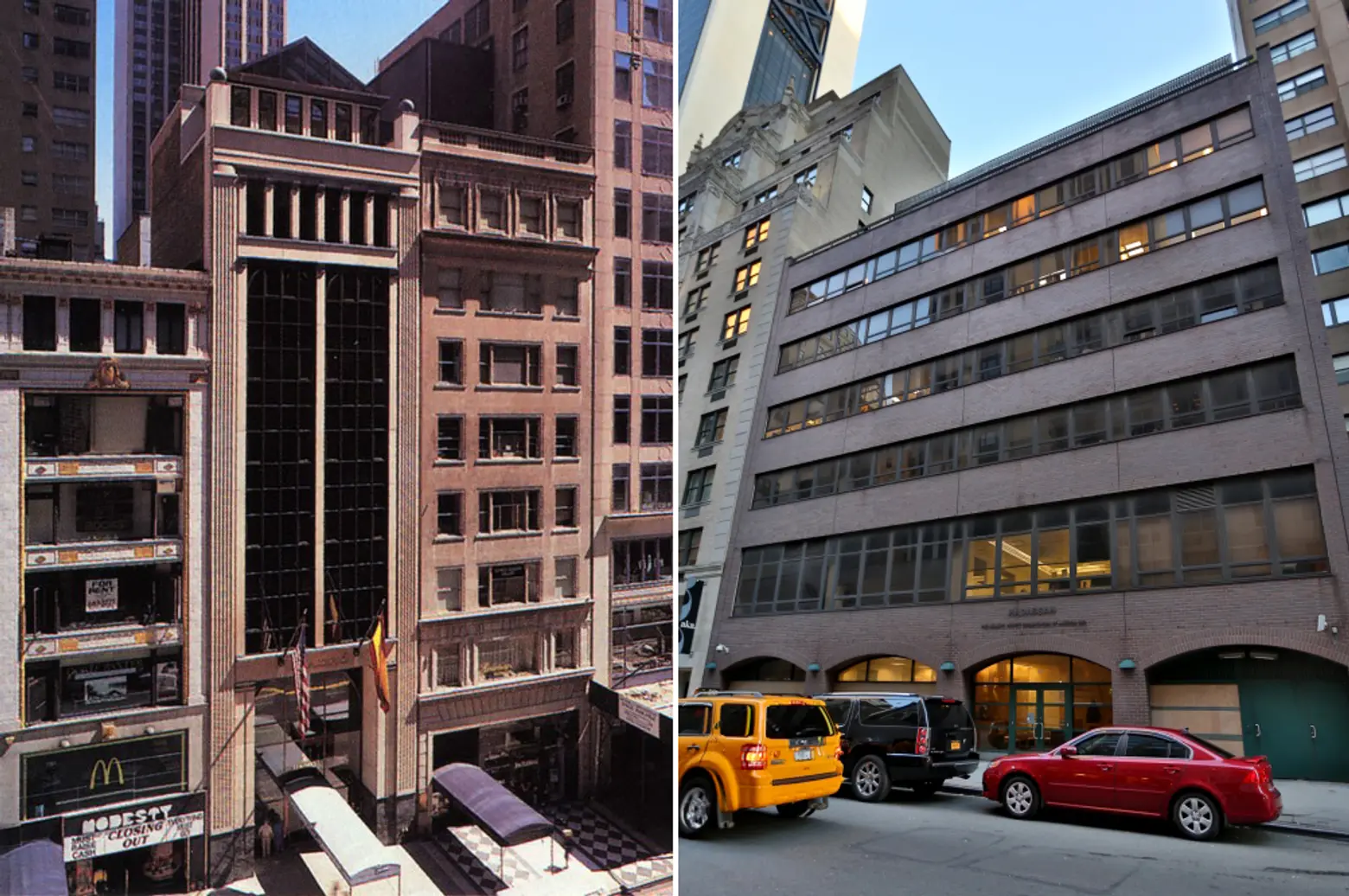 A few doors down at 29-35 West 57th Street, Steven Roth's Vornado Realty Trust is reportedly planning a seven-star hotel, and across 58th Street at 36 Central Park West, a partnership led by the Witkoff Group plans a redevelopment of the Park Lane Hotel into soaring condominium tower. Another tidbit that has been churning in the rumor mill since 2013 is that Michael Shvo has been putting together a deal to build a 100-story tower near Central Park. Coruscant on the Hudson here we come.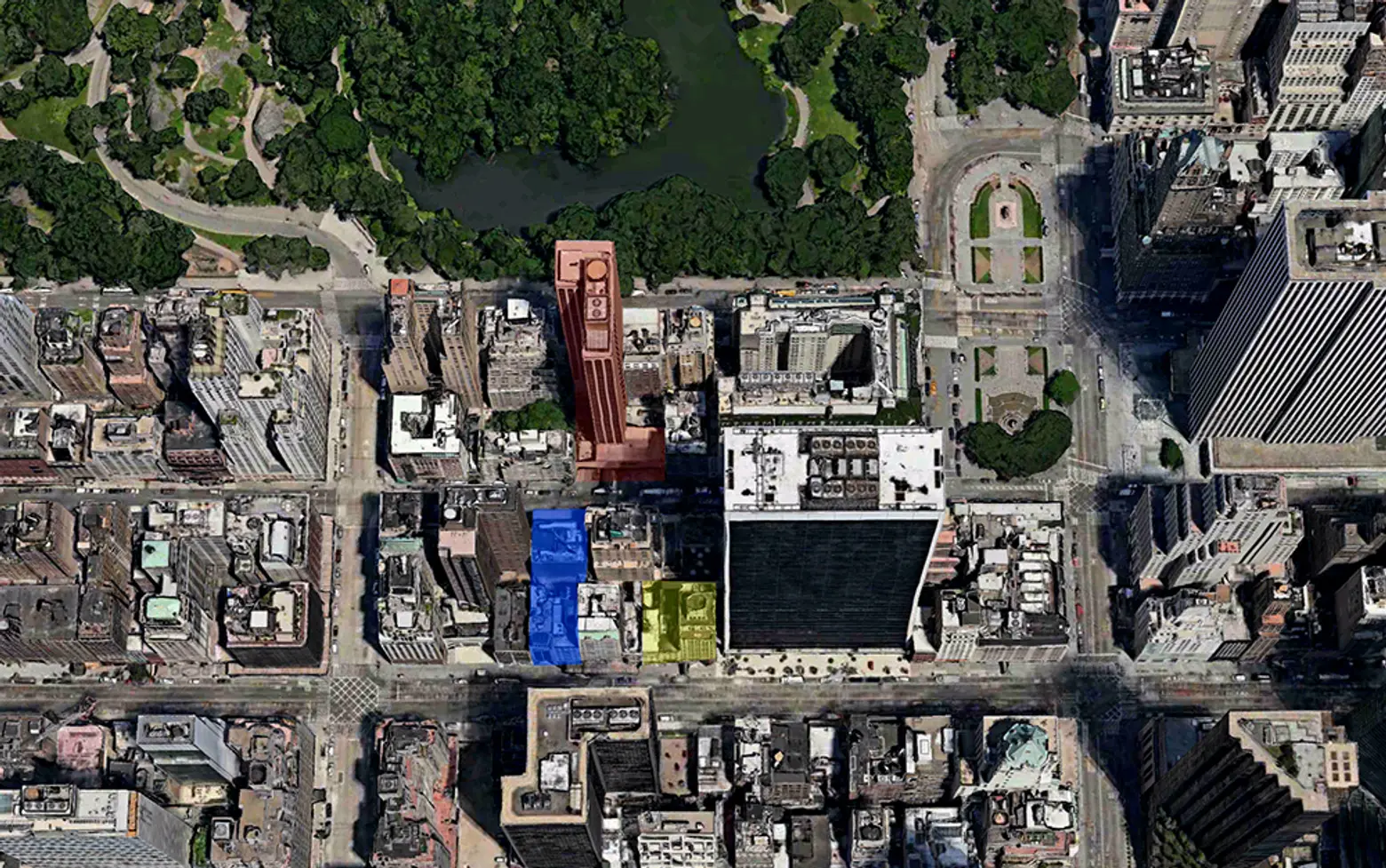 Blue: 41 West 57th Street, Yellow: 35 West 57th Street, Red: 36 CPS
Stay updated on the progress of 41 West 58th Street at CityRealty
RELATED: