Affordable Housing Lottery Launched for Related's Yorkville Rental Tower at 205 East 92nd Street
Photographs from mid-October of 205 East 92nd Street by the photoblogger Field Condition. 
Related Companies' playground-pouncing rental tower at 205 East 92nd Street has launched its housing lottery that provides below-market rents for 47 of the building's 231 units. The 36-story tower is in its home stretch of construction, prepping for occupancy in early 2016. Vested in the city's and state's Inclusionary Housing /421-a programs, 20 percent of the units will be reserved for low-income tenants. Fifty percent of the subsidized units will be reserved for residents of Manhattan Community Board 8 (covering the Upper East Side and Roosevelt Island) and an additional 5 percent for municipal employees.
Selected applicants will be provided apartments at a tremendous discount when compared to the neighborhood's market-rate rents. According to CityRealty, the median rental price for a one-bedroom in Yorkville stands at $3,210; and $5,398 for two-bedroom apartments. Affordable one-bedrooms at 205 East 92nd will start at $607 and two-bedrooms at $736.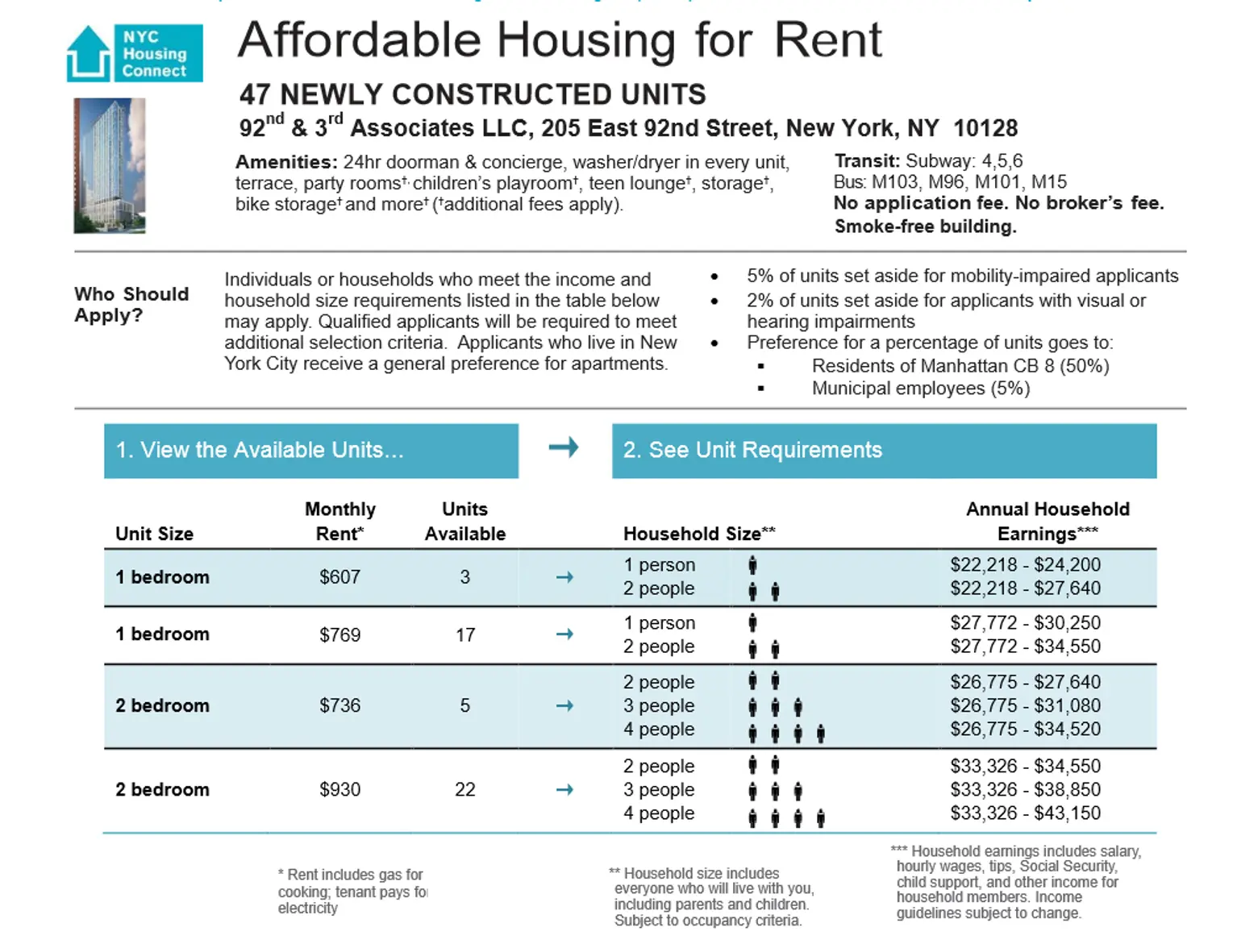 According to the application, which can be downloaded here (PDF), there will be three one-bedroom homes priced at $607 per month for a single-person household earning between $22,218 and $24,200 per year. For a two-person household, the income bracket ranges from $22,218 to $27,640 for those same three units. Seventeen one-bedrooms priced at $769 per month will be available for 1-2 person households earning between $27,772 and $34,520. There will be five two-bedroom units priced at $736 for households ranging from 2-4 people whose annual earnings fall between $26,775 and $34,520. And 22 two-bedroom units are available for $930 for 2-4 family households earning between $33,326 and $43,150.
Amenities will include a 24-hour doorman and concierge service, washer/dryer in every unit, a common terrace, party rooms, a children's playroom, teen lounge, tenants' storage, and bike storage. The housing ad notes that additional fees may apply for certain amenities.
By way of an agreement with the city, Related acquired the mid-block parcel between Second and Third Avenues for $10 million in 1983 and was required to maintain it as a community playground until 2008. Expectantly, the Ruppert Playground was cleared away in 2013 to much community dismay. The nearly finished 388-foot-tall tower is being designed by Handel Architects, and like many of the neighborhood's post-war developments, the exterior is a bit of a snooze. The building is visually bifurcated into two parts and clad in beige brick, dark glass, and grayish panels. To help compensate for the loss of the playground, Related has committed to providing the neighborhood with 12,000 square feet of open space at the project site.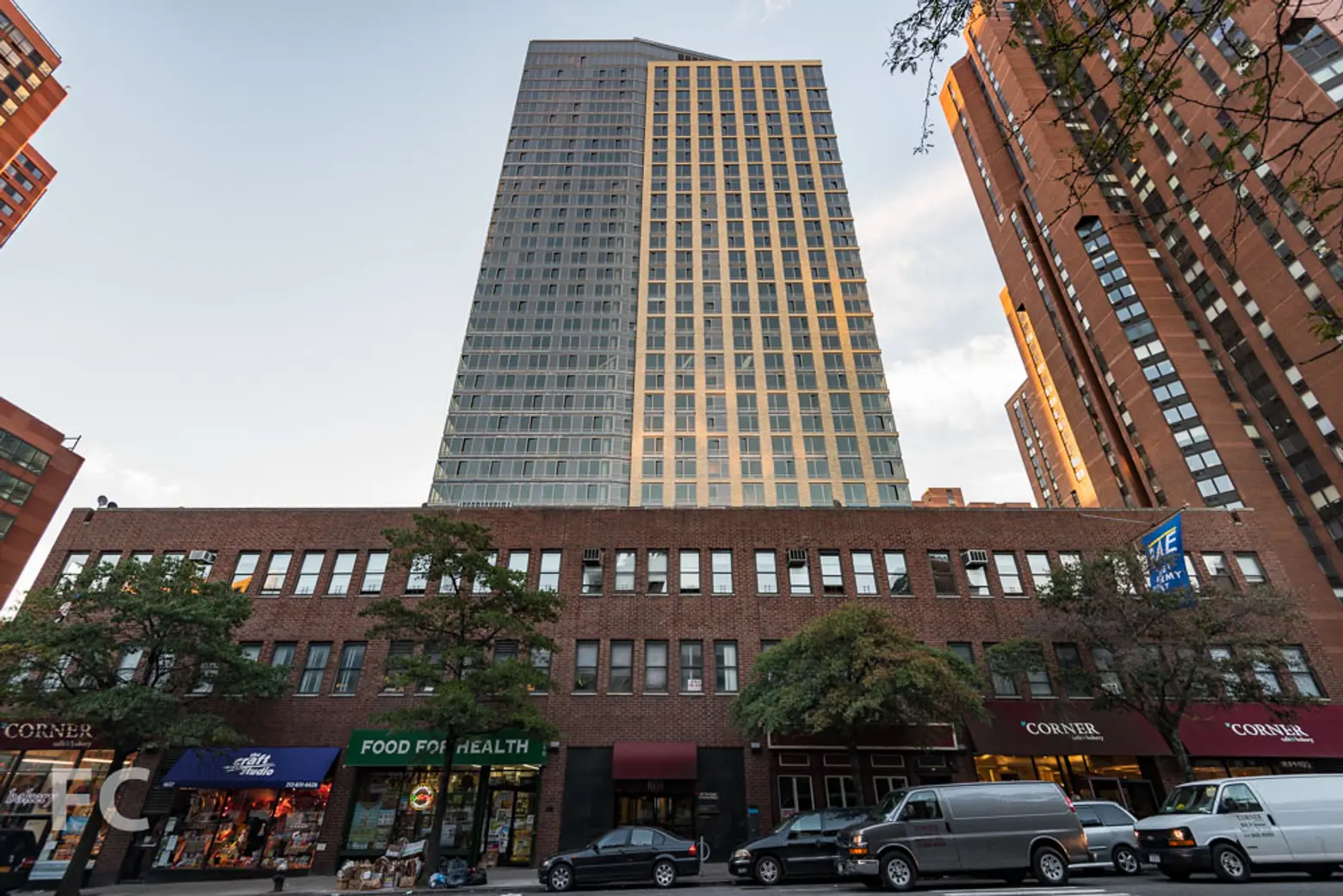 Yorkville, which stretches from about 79th to 96th Streets east of Lexington Avenue, has been one of the last pockets of affordability on the Upper East Side. However, with the the first phase of the Second Avenue subway expected to come online in 2016, the neighborhood has been experiencing a wave of new high-end developments poised to bring at least a dozen new towers to the relatively remote neighborhood. One block north of Related's site, Extell is building a 32-story, 90-unit condo tower named The Kent. And a few blocks south, DDG has begun construction on the tallest building in the neighborhood, an eccentric stone-face condo tower at 1558 Third Avenue.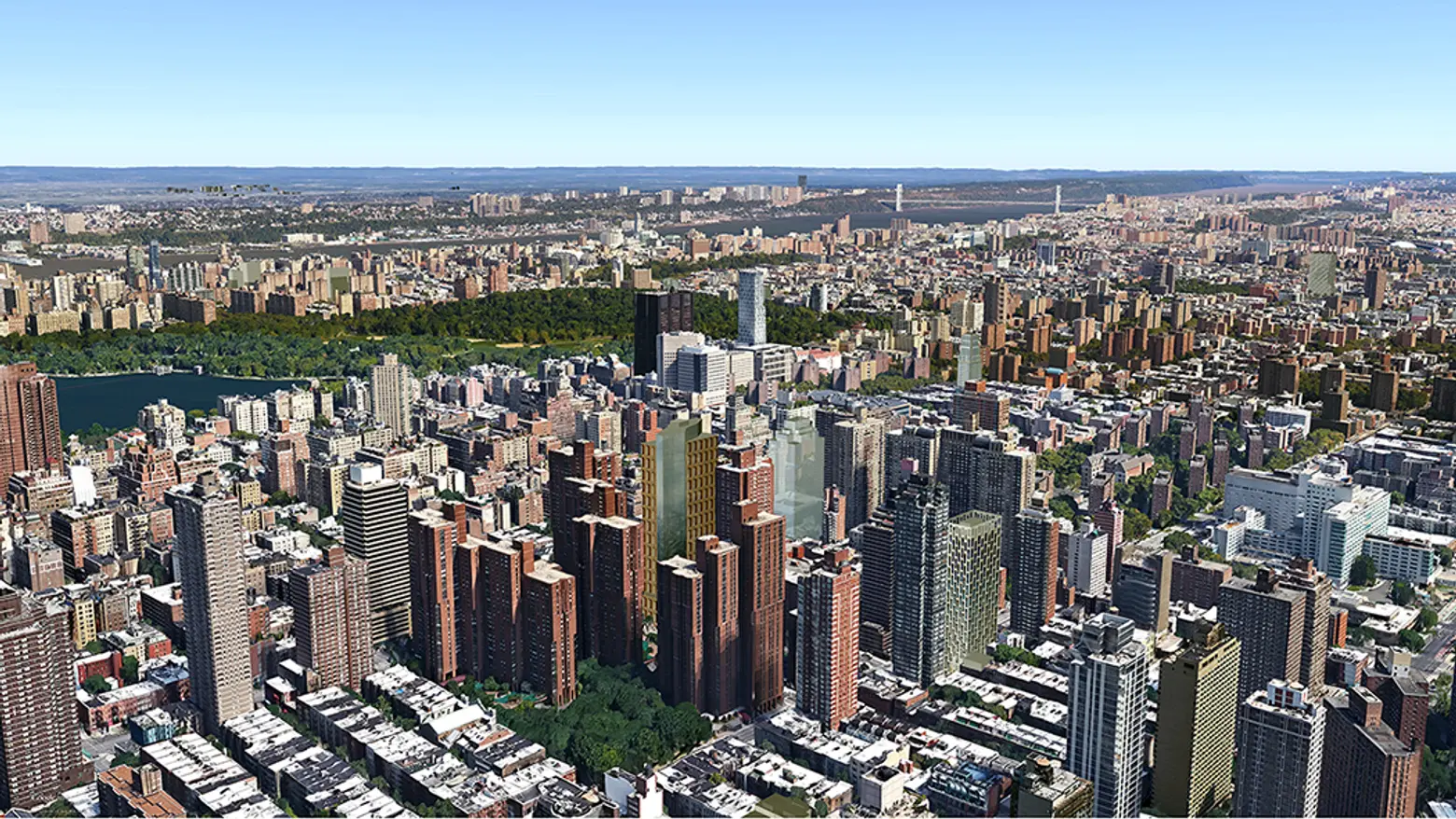 Applications for 205 East 92nd Street's housing lottery must be postmarked or submitted by February 1, 2016 and can be found online HERE >>
Follow updates and future listings for 205 East 92nd Street at CityRealty and browse hundreds of new developments here.
RELATED: